Pages 25-27
An Inventory of the Historical Monuments in London, Volume 4, the City. Originally published by His Majesty's Stationery Office, London, 1929.
This free content was digitised by double rekeying and sponsored by English Heritage. All rights reserved.
6. BREAD STREET WARD.
Bread Street Ward comprises the parishes of St. John the Evangelist, All Hallows, Bread Street, St. Margaret Moses and parts of the parishes of St. Mildred, St. Matthew Friday Street, St. Augustine Old Change and St. Nicholas Cole Abbey. The principal monument is the church of St. Mildred Bread Street.
Ecclesiastical
(1) Parish Church of St. Mildred stands on the E. side of Bread Street. The walls, where visible, are of brick except the W. front, which is faced with Portland stone; the roofs are covered with lead. The old church was destroyed by the Great Fire and the existing church was built, probably on the old foundations, by Sir Christopher Wren in 1681–87, at a cost of £3705 13s. 6¼d.
The church is remarkable for the comparatively unaltered state of the interior and fittings.
Architectural Description—The church is of pure Renaissance character, and consists of a rectangular body (59 ft. by 36½ ft.) and a tower on the S. side attached to the church by a short lobby.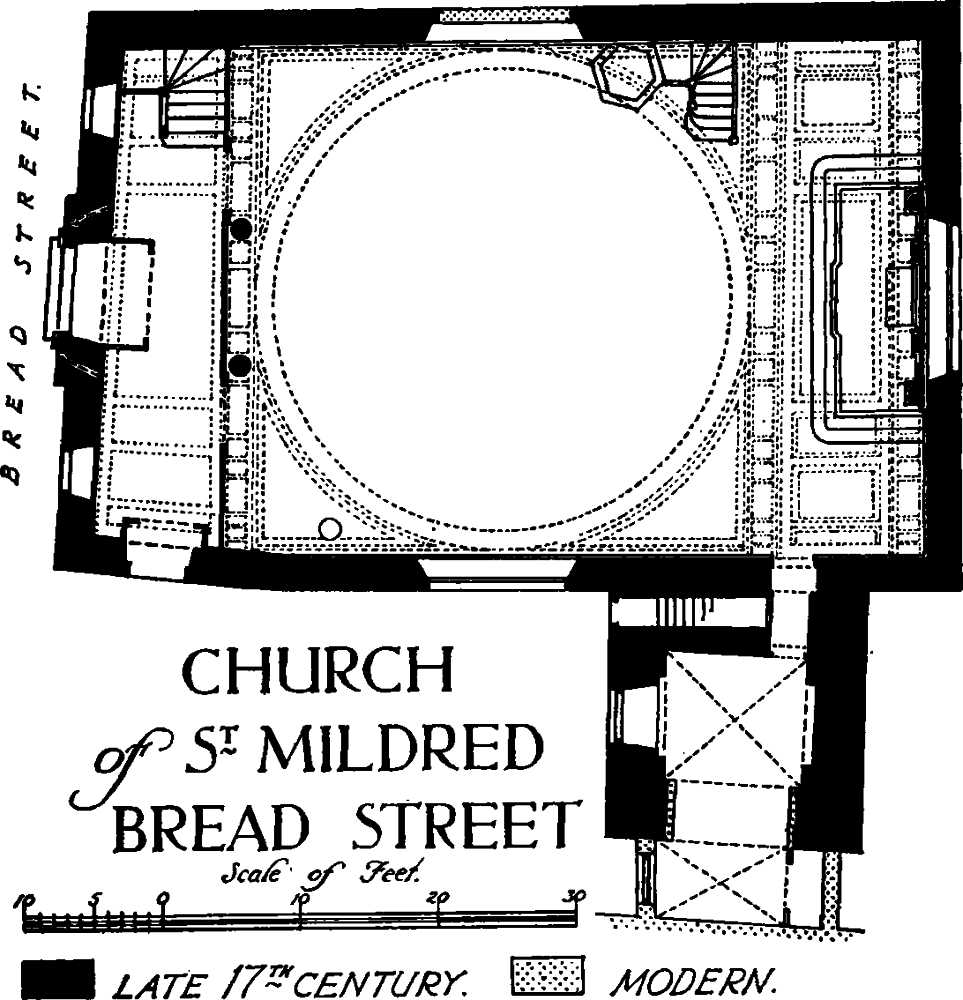 Elevations—The E., N. and S. walls have each a large window with a segmental head; the N. window is blocked and the whole of this side is covered by buildings. Towards the W. end of the S. wall is a doorway with a moulded architrave and square head. The W. front has a slightly projecting middle bay containing a large segmental-headed window with an eared architrave, key-stone with a carved cartouche and a cornice supported by consoles. This cornice is continued across the front. Below the window is a doorway with architrave and key-stone similar to the window. The side bays have each a simple sunk panel and below it a round window with an architrave. Above the cornice is a parapet surmounted by pineapples and rising with scrolled ramps to the higher middle bay, which is finished with a segmental pediment and vase.
The Tower is of four stages divided by brick bands and surmounted by a spire. The ground-stage has in the W. wall a segmental-headed window. The second stage has in the S. and W. walls a round-headed window. The third stage has in the same walls a round window. The bell-chamber has in each wall a round-headed window with moulded architrave and key-block; this stage is finished with a deep cornice. The spire is of timber covered with lead and consists of a concave base, a square lantern with pilasters at the angles, and a rectangular louvered opening in each face and a spire in the form of an obelisk with four ball-ornaments at the base and a ball and vane at the top.
Interior (Plate 77)—The church is roofed in three bays, the narrow bay at either end being introduced to make the middle bay a square. The middle bay has a plaster dome of saucer-form springing from a moulded band enriched with a deep continuous wreath of foliage, fruit and flowers; the pendentives have each a triangular panel filled with a large double spray of naturalistic foliage. The end bays are covered by barrel-vaults of plaster (Plate 80) with coffered cross-arches springing from consoles and with plaster rosettes and palm-branches in the panels; the barrel-vaults are each divided into seven panels, the four smallest filled with palm-branches and the largest central panels with enriched borders and cherub-heads; the spring of each vault is groined back over a round wall-arch enclosing panels of modelled plaster with cartouches, swags, cherub-heads, etc. The cartouches have each one quarter of the royal Stuart arms with crests. In the S. wall of the church is a square-headed doorway opening into the tower.
Fittings—All the fittings unless otherwise described are of late 17th-century date. Bell: one by Anthony Bartlett, 1673. Candelabra: two, of brass with shaped and moulded standard and modern branches, partly twisted suspension-rods with moulded connections at intervals. Chest: In vestry—plain iron chest, nail-studded and with two staples in front, from St. Margaret Moses. Communion Table and Rails. Table: with moulded edge, twisted and carved legs, ogee-shaped rails meeting in middle and supporting pedestal, below front, cartouche with swags and scallop-shells. Rails: with twisted balusters and panelled standards, curved out on either side gate, moulded and carved upper and moulded lower rails. Doors: In W. doorway—panelled and in two folds; in lobby of W. doorway, similar but with glazed upper panels; in S. doorway, similar doors but with architrave and frieze carved with cherub-head and scroll-work; similar doors to lobby of S. doorway; under stairs, door of three panels; between church and vestibule, two panelled doors each of two folds and upper panels glazed. Font: of white marble (Plate 12) with enriched balusterstem and round moulded bowl carved with acanthus-ornament and four cherub-heads. Cover of oak, and of bell-shape, carved band of flowers round rim waist carved with festoons and four scrolls, moulded and reeded top surmounted by crown. Gallery: across W. end of church—carried on two fluted Ionic columns, with cornice over panelled front with two panels carved with drapery, scroll-work, cartouche, etc., middle panel with foliage and clockface; across church, behind columns, panelled screen, with glazed upper panels and two round-headed doorways; staircase with square newels, twisted balusters and straight strings. Helmet: On S. wall—funeral-helmet of Sir Nicholas (?) Crisp. Monuments: On N. wall—(1) to Thomas Ball, 1679, Frances his wife, 1680, and Frances their daughter, wife of Benjamin Williams, 1685, marble cartouche (Plate 26) with scrolls, cherubs and two cartouches-of-arms. On S. wall—(2) to Sir Thomas Crisp, 1714, son of Sir Nicholas Crisp, large rectangular tablet of marble with architrave, festoons, cornice and cartouche-of-arms; (3) to Sarah, wife of John Coxon, 1683, marble tablet with scrolls, cornice and shield-of-arms. Panelling: walls wainscoted four panels high with cornicecapping. Plate (Plate 32): includes two flagons of 1617, given by Sir Nicholas Crisp in 1631 and with his shield-of-arms; two cups, one of 1549 and one of 1571, two patens of the same respective date-marks as the cups, a dish of 1684, dated 1631, and a paten dated 1631 but remade in 1741 and with the date-mark of that year. Poor-box: In vestibule—plain, with half-round front, square post with high plinth and panelled and carved front. Pulpit (Plate 78): hexagonal with inlaid panels having carved borders, surmounted by cherub-heads and flanked by swags, enriched cornice and base, with ogee soffit, stem with capital and base, hexagonal sounding-board with cartouches at the angles, and cherub-head on each face, moulded and carved cornice, panelled soffit and panelled supporting standard at back with scrolls at sides, ornamental wrought-iron stay above; stairs with carved and twisted balusters, panelled E. enclosure with scrolled iron screen as capping. Reredos (Plate 36): of oak, consisting of centre-piece and side wings; the centre-piece is divided into three bays by fluted Corinthian pilasters, with columns of the same order on the outer sides; they support an enriched entablature stopped on either side the middle bay and supporting a wide segmental pediment capped with two pedestals with flaming urns and small vases at ends; a third urn is now on the W. gallery; the middle bay has two round-headed panels containing the Decalogue and a round panel painted with the holy name and clouds with cherubs; the side bays have round-headed panels with paintings of Moses and Aaron and carved foliage above the panels; the main cornice is continued over the side wings which have richly carved panels, with eagles, and painted with the Creed and Lord's prayer; above each panel are cartouches and carved swags. Royal Arms: In recess of blocked N. window—Stuart achievement, of plaster, with the initials C.R. painted and gilt. Seating: church fitted with original pews of raised panelling, middle block of pews slightly re-arranged, churchwardens' pews at back with additional carved frieze panels to increase the height, also clerk's pew, W. of pulpit, with raised desk on carved cornice. Table of Benefactors: On N. wall, tablet of black marble with white marble architrave, pediment and scrolls, dated 1684. Weather-vane: with shield of the arms of Crisp, letters M.B. and crown. Miscellanea: On middle pews of church, carved lion and unicorn, probably marking former division between nave and chancel.
Condition—Good.
Secular
(2) Cordwainers' Hall, in the parish of St. Margaret Moses and on the N. of Cannon Street, is a modern building. Outside the livery hall are two tables of benefactors in carved frames, and in the corridor two carved wood escutcheons bearing arms of the city and company and a larger escutcheon of the company's arms, all of late 17th-century date.