Pages 10-11
An Inventory of the Historical Monuments in Middlesex. Originally published by His Majesty's Stationery Office, London, 1937.
This free content was digitised by double rekeying and sponsored by English Heritage. All rights reserved.
7 COWLEY (A.c.)
(O.S. 6 in. (a)XIV, N.E. (b)XIV, S.E.)
Cowley is a small parish 1½ m. S. of Uxbridge. The church is the principal monument.
Ecclesiastical
a(1) Parish Church of St. Laurence (Plate 1) stands on the E. side of the parish. The walls are of flint rubble, with some conglomerate and with dressings of Reigate and other freestone; the roofs are tiled. The Nave was built in the 12th century. The Chancel was re-built and probably widened in the 13th century. In the 15th or early in the 16th century the chancel-arch was removed and a window inserted in place of the S. respond. In 1780 the bell-turret was re-built. The church has been restored in modern times and the North Vestry, West Annexe and Porch are modern.
Architectural Description—The Chancel (15¾ ft. by 16½ ft.) has, in the E. wall, three partly restored 13th-century lancet-windows. In the N. wall is a modern doorway. In the S. wall, is a modern window and a partly restored 13th-century doorway with chamfered jambs and two-centred head.
The Nave (29½ ft. by 17¾ ft.) has, in the N. wall, two windows, the eastern of late 18th-century date and the western an enlargement of a 12th-century round-headed light. In the S. wall are four windows, the easternmost is of 15th or early 16th-century date and of one pointed light in a square head; the middle window is of c. 1300–10 and of two trefoiled ogee lights with a modified quatrefoil in a two-centred head with moulded labels; the other two windows, one to the W. and one partly in the roof, are of late 18th-century date; the lower window is set in the blocking of a 14th-century doorway of which the jambs and part of the head remain. In the W. wall is a modern opening with three 18th-century or modern windows above it.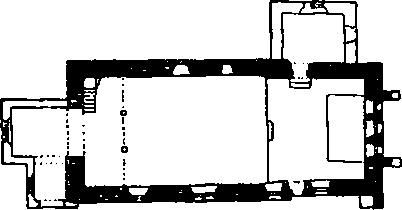 The Roof is of trussed-rafter type and ceiled; it has three king-post trusses and is probably of late mediæval date.
Fittings—Brass: In chancel—on N. wall, of Walter Pope, 1505, Johane his first and Alys his second wife, figures of man in civil dress and one wife with veiled head-dress, palimpsest on back of inscription, an inscription to Robert Symson, 1497, master of the hospital of St. James Northampton (recte Northallerton). Floor-slabs: said to be beneath altar-platform—(1) to Johnathan Keate, 1625; (2) to Daniel Collins, rector, Prebendary of Windsor and Vice-provost of Eton, 1648; (3) to Samuel Collins, M.D., 1685; (4) to George Harris, 1706. In nave—(5) to John Booth, 1701, with defaced achievement-of-arms. Panelling: Incorporated in gallery—moulded panelling of c. 1600 and two enriched panels. Screen: Incorporated in modern screen between chancel and nave, fragments of 15th-century tracery and some early 16th-century popey-heads from pews. Seating: In chancel—two similar popey-heads, incorporated in modern work. Sundial: On S.E. quoin of nave—traces of scratch-dial. Miscellanea: In churchyard—below E. window, remains of moulded stone bowl, 12th or 13th-century, probably font.
Condition—Good.
Secular
Monuments (2–11)
The following monuments, unless otherwise described, are of the 17th century and of two storeys; most of the buildings are or were timber-framed but many have been refaced in brick. Some of the houses have exposed ceiling-beams.
Condition—Good or fairly good.
b(2) Manor Farm, house and barns 690 yards S. of the church. The House, now two tenements, was built c. 1600 but has been heightened and added to. The Barns, N.N.W. of the house, are of the 17th century, timber-framed and weather-boarded.
b(3) Barnacre, house on the E. side of High Road Cowley Peachey and ½ m. S.W. of the church, has some exposed timber-framing.
b(4) The Old Cottage (Plate 29), opposite (3), was built early in the 16th century and has some exposed timber-framing. The upper storey projects on the whole of the E. side (Plate 30) on exposed joists and shaped brackets.
a(5) Maygood Farm, house 675 yards W.S.W. of the church, has been much altered and added to. Inside the building the staircase has some shaped splatbalusters and there are some doors of moulded battens.
a(6) Plum Tree Cottage, on the E. side of Cowley Road 10 yards N. of Station Road, contains an original panelled partition.
a(7) Crown Inn, 70 yards N.N.W. of (6).
a(8) House, now Post Office, 35 yards N. of (7).
a(9) Cowley Cottage, 280 yards N. of (8), is of brick and was built early in the 18th century but possibly incorporates remains of an earlier building.
a(10) House, on the W. side of Cowley Road 160 yards S.S.W. of (9), has been extensively altered and added to.
a(11) The Old House, 35 yards S. of (7), has been much altered in the 18th century. The walls are of brick.