Pages 11-13
An Inventory of the Historical Monuments in Middlesex. Originally published by His Majesty's Stationery Office, London, 1937.
This free content was digitised by double rekeying and sponsored by English Heritage. All rights reserved.
8 CRANFORD (B.d.)
(O.S. 6 in. (a)XV, S.W. (b)XX, N.W.)
Cranford is a small parish and village 3 m. N.W. of Hounslow. The church is the principal monument.
Ecclesiastical
b(1) Parish Church of St. Dunstan (Plate 47) stands in the N. part of the parish. The walls are of flint-rubble and brick with freestone dressings; the roofs are tiled. The Chancel and West Tower were built in the 15th century, but the top stage is probably of the 17th century. The Nave was destroyed by fire in 1710 and re-built in 1716. The church was restored in 1895 when the Vestry was added.
The church is of no great architectural interest, but the monuments are noteworthy and include that of Thomas Fuller, author of the 'Worthies.'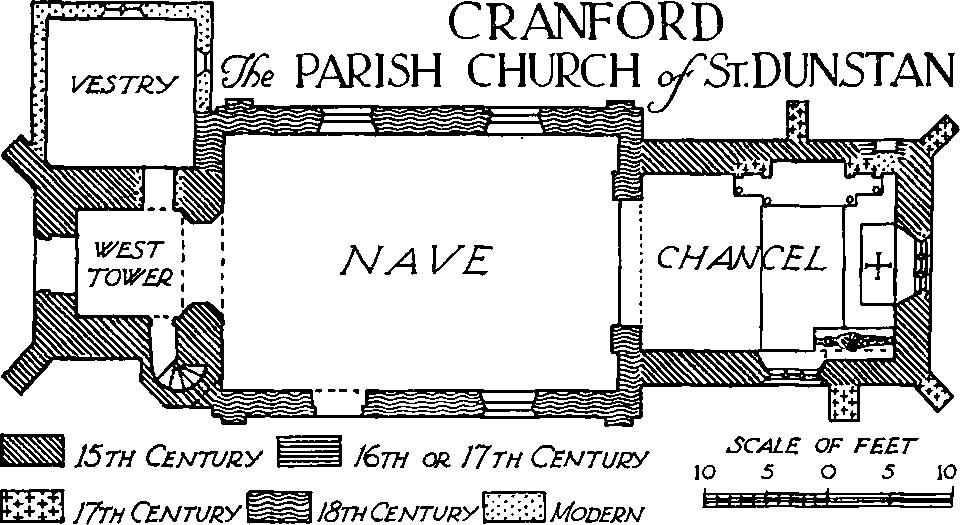 Architectural Description—The Chancel (20½ ft. by 14¼ ft.) has an E. window all modern except for the 15th-century splays and rear-arch. In the N. wall is a 16th or 17th-century doorway of brick, now blocked; it has hollow-chamfered jambs and four-centred arch. In the S. wall is a partly restored 15th-century window of three cinque-foiled lights in a square head with a moulded label. The chancel-arch is of early 18th-century date, with imposts and key-block.
The Nave (31¾ ft. by 20½ ft.) is entirely of early 18th-century date and of brick; it has two windows in the N. wall and one in the S. wall, all with round heads, stone imposts and key-blocks; over the S. doorway is a window-head of similar character; the S. doorway has rusticated jambs of stone and brick and a flat head with a stone key-block surmounted by a cornice.
The West Tower (8½ ft. square) is of three storeys, the two lower of the 15th century and the bell-chamber of 17th-century date and of brick with a plain parapet. The 15th-century tower-arch has moulded responds and two-centred arch. The W. doorway has moulded jambs, two-centred arch and label rendered in cement; the W. window, restored externally, is of three cinque-foiled lights in a three-centred head with a moulded label. The second storey has, in the N., S. and W. walls, a small restored light with a pointed head. The bell-chamber has, in each wall, a modern window.
The Roof of the nave is of five bays with tie-beams, collars and curved braces; it was renewed in 1895. The ceilings of the ground and second storeys of the tower have heavy 15th-century timbers and bell-ways; the roof of the tower incorporates some moulded 15th-century timbers.
Fittings—Bells: three; 1st inscribed in Lombardic capitals "Xpe pie flos Marie," probably by W. Burford c. r380; 3rd by Bryan Eldridge, 1636. Bell-frame, old. Brass: In vestry—to Nicholas Bownell, 1581, fragment of figure in civil costume and inscription-plate; palimpsest on back of effigy, uncertain subject and on back of inscription four Latin verses of the 15th century. Door: In doorway to stair-turret of tower—of two battens with strap-hinges, probably 17th-century. Monuments: In chancel—on N. side, (1) of Sir Roger Aston, 1612 and Mary (Stuart) his first wife, 1606, large monument (Plate 48) of alabaster and black marble with effigies and canopy, panelled base with projecting middle bay and gadrooned capping, canopy resting on pilasters and four free Corinthian columns (one capital partly renewed), supporting a flat entablature over the side bays and a round arch over the middle bay flanked by pilasters and finished with an entablature, strapwork, and achievement-of-arms, soffit of arch and side bays coffered and enriched with rosettes, in middle bay kneeling figures of man in armour and two wives at prayer-desk and figure of infant, and, in side bays, kneeling figures of four daughters, on back-piece four shields-of-arms; on N. wall, (2) to Thomas Fuller, S.T.D., rector, 1661, alabaster oval tablet (Plate 14) with scrolled frame; (3) to Sir Charles Scarburgh, 1693–4, white marble tablet (Plate 14) with drapery, cherubs and shield-of-arms; against S. wall, (4) of Elizabeth (Carey) widow of [Sir Thomas] Berkeley, 1635, grey and white marble monument consisting of altar-tomb, effigy and wall-piece, altar-tomb of two bays divided by Doric columns and having damaged shields-of-arms in the bays and W. end, white marble effigy of woman in shroud, wall-piece with side scrolls, broken pediment and swan-crest; on S. wall, (5) to George, Lord Berkeley, 1658, black and white marble tablet with side-pilasters, eared architrave, cornice, pediments and one shield-of-arms, erected c. 1700; (6) to George, Earl of Berkeley, 1698, tablet similar to last but with two shields-of-arms. In churchyard— S.E. of chancel, (7) to Elizabeth, wife of Edward Gibbs, 1711 (?), grave-slab; S. of chancel, (8) to Susanna, daughter of William Shorte, 1671, headstone. Plate: includes a flagon of 1649, cup of 1639 and a paten of 1650, all given by Elizabeth, Countess Dowager of Berkeley in 1700; also a paten of 1698 given by the Rev. W. H. Hicks in 1755.
Condition—Good.
Secular
a(2) Homestead Moat, site of manor house of Stanford le Mote, ¼ m. N.E. of the church.
b(3) Cranford House, immediately S.W. of the church, is of three storeys with cellars; the walls are of brick and the roofs are tiled. It was largely re-built in 1722 by Vice-Admiral James, Earl of Berkeley and the old house was subsequently pulled down. The E. block of the E. wing may be earlier than the main building and perhaps dates from early in the 18th century. The house was extended to the S. in 1792. Inside the building is a fireplace and overmantel made up of early 17th-century woodwork; this includes six terminal pilasters, four panels carved with foliage, one with a griffin and three with enriched arches; a small panel bears the date 1644. The stables, N.E. of the house, may possibly be rather earlier than 1722. A rockery in the garden contains a number of architectural fragments, probably of the 17th century.
Condition—Fairly good.
b(4) The Rectory, 500 yards E.S.E. of the church, is of two storeys with attics; the walls are of brick and the roofs are tiled. The E. wing was originally a timber-framed building of the 17th century but was faced with brick in the 18th century. A timber-framed barn, S.E. of the house, is probably of the 17th century.
Condition—Good.
b(5) Springfield House, now flats, 1,040 yards S.S.E. of the church, is of two storeys with attics; the walls are of brick and the roofs are tiled. It was built probably early in the 18th century with a central block and lower flanking wings; the wings have been heightened by one storey. The main block, on the S.E. front, has an original modillioned eaves-cornice with a central pediment. There is a similar pediment on the slightly projecting central bay of the N.W. front. Inside the building, the original staircase has turned balusters and panelled newels. The garden is entered by an elaborate wrought-iron gate with scrolled standards and overthrow; the square piers have cornices and ball-terminals.
Condition—Good.
Unclassified
b(6) Moated Mound, 80 yards N.N.E. of Cranford Bridge, is roughly circular, 45 ft. in diameter at the top and about 8–9 ft. high; the ditch is now mostly filled in.
Condition—Fairly good.