Pages 113-114
An Inventory of the Historical Monuments in Middlesex. Originally published by His Majesty's Stationery Office, London, 1937.
This free content was digitised by double rekeying and sponsored by English Heritage. All rights reserved.
47 STANMORE, GREAT (C.b.)
(O.S. 6 in. V, S.E.)
Great Stanmore is a village and parish, touching the N. border of the county. The old church is the principal monument.
Ecclesiastical
(1) Old Parish Church of St. John stands in the middle of the parish. The walls are of red brick with stone dressings. The mediæval church stood on a site 700 yards to the S.S.E. The later church was built by Sir John Wolstenholme and consecrated by Archbishop Laud in 1632; it is a rectangular building with an 18th-century annexe on the N. and a W. tower; a 'porch' is said to have been built by Nicholas Stone, but no such feature seems to have existed and he was perhaps responsible only for the S. doorway. In 1849–50 a new church was built further to the E. in the same churchyard and the old building was unroofed and suffered to fall into decay.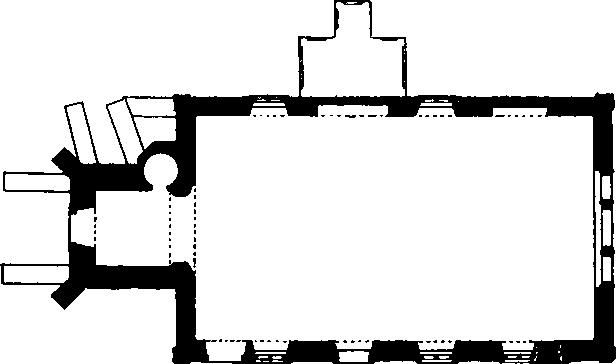 Architectural Description—The whole building is of c. 1632 and is mostly standing to the full height except the middle part of the S. wall. The Chancel and Nave (64½ ft. by 36¼ ft.) are without structural division; the walls have a moulded brick plinth, rusticated angles, a stone cornice and a brick parapet. The E. window is of three lights, the middle light with jamb-pilasters, round archivolt and key-stone; the side lights have stone architraves and are square-headed. In the N. wall is a round-headed recess with an opening in the upper part; further W. are two square-headed windows with brick architraves and key-blocks; they have moulded wooden frames with mullion and transom; between the windows is a round-headed recess with wood framing within it. In the S. wall were four windows similar to those in the N. wall; the two eastern have lost their heads but have remains of the wooden frames; the third window has been entirely destroyed but the westernmost retains parts of its jambs and sill; at the E. end of the wall is a doorway with a stone architrave and square head; the main S. doorway has rusticated jambs and round head.
The West Tower (12¼ ft. square) is of three stages (Plate 171) divided by bands or cornices and finished with an embattled parapet, now partly fallen. The tower-arch is two-centred and of three chamfered orders, with semi-octagonal responds and defaced brick bases. The W. doorway has rusticated stone jambs and round head; above it is a round-headed brick window, with an original moulded wood frame. The second stage has, in the N., S. and W. walls, a window of one round-headed light with a moulded archivolt, impost-blocks and plain stone jambs. The bell-chamber has, in each wall, a window similar to those in the stage below but each of two lights. Part of the floor of the second stage remains and has plain beams and moulded joists.
Fittings—In modern church, unless otherwise noted. Bells: eight, 3rd and 4th by James Bartlet, 1684; 8th by Bryan Eldridge, 1682. Old bells said to have come from Little Stanmore. Brass: In N. aisle—on N. wall, to John Burnell, 1605, inscription only. Font (Plate 12): octagonal white marble bowl with moulded rim and four cartouches with the arms and crest of Wolstenholme, grey marble baluster-stem, c. 1632, by Nicholas Stone. Cover, of oak, octagonal, with carved floral enrichment and concave top with enriched ribs and terminal, same date. Monuments and Floor-slabs. Monuments: In N. aisle—on N. wall, (1) of John Burnell, 1605, erected by his wife Barbara, alabaster and marble wall-monument (Plate 174) with kneeling figures of man and wife under a round arch, flanked by Corinthian columns supporting an entablature, obelisks and cresting, achievement and one shield-of-arms; below main figures, kneeling figures of four sons and four daughters; in recess at E. end of N. aisle, (2) of Sir John Wolstenholme, 1639, white marble effigy (Plate 163) in long gown with braided sleeves, slab with inscription and achievement-of-arms, parts of monument by Nicholas Stone. In N.W. tower—(3) of John Wolstenholm [1669], large marble monument (Plate 173) in the form of a four-post bed with columns at the angles supporting arched entablatures, with draped curtains, urns, achievement and two cartouches-of-arms; on base, effigy of man in wig, etc., reclining effigy of wife and figures of two children; on S. wall, (4) to Elizabeth, wife of John Colins, and Elizabeth, Margarett and Dorothie, their daughters, erected by Susanna Colins, 1670, alabaster and black marble tablet with scrolls, cornice, broken pediment and cartouche-of-arms; (5) to Valentine Lane (?), draped white marble cartouche. In old church—in S.E. angle, (6) to Sir John Wolstenholme, 1639, and John his father, and two Williams his grand-children, table-tomb with cartouche-of-arms. In churchyard—E. of old church, (7) to Isaac Young, 1705, table-tomb; (8) to Edward Billingsley, 1714, carved and enriched table-tomb with cartouche-of-arms; (9) to George Spurr and Ann Spurr, 1704 (?), slab. Floor-slabs: In old church—in main building, (1) to William, 1710, and Isabella, 17..., children of Dr. Richard Willis, Dean of Lincoln; on N. wall of tower, (2) to Elizabeth, wife of John Norwood, 1657; (3) to John Playford, 1685, also to Martha his sister, 1682, and his mother Ellinor, wife of Randall Nicoll, 1706, with achievement-of-arms; on W. wall, (4) to Prisca, 1666, and Nathaniel, 1666–7, children of John Boys. On site of mediæval churchyard—(5) to Baptyste [Will]oughby, incumbent, 1610–11. Plate: includes a flagon of 1616, given by Barbara Burnell, a cover-paten of 1637 and a stand-paten of 1709.
Condition—Of old church, ruinous and with a heavy growth of ivy.
Secular
(2) Range of tenements, on the S. side of Church Road 600 yards E.N.E. of the old church, is of two storeys, timber-framed and with tiled roofs. It was built late in the 16th century and the upper storey projects on the N. front. The W. chimney-stack has two shafts, set diagonally.
Condition—Fairly good.