Pages 61-63
An Inventory of the Historical Monuments in the County of Northamptonshire, Volume 1, Archaeological Sites in North-East Northamptonshire. Originally published by Her Majesty's Stationery Office, London, 1975.
This free content was digitised by double rekeying and sponsored by English Heritage. All rights reserved.
32 LOWICK
(OS 1:10000 a SP 98 SW, b SP 98 SE, c SP 97 NW, d SP 97 NE)
The parish, which now includes the old parish of Slipton, covers 830 hectares, on both sides of Harper's Brook and extends S. to the edge of the Cranford Brook valley. Most of the higher land is covered with Boulder Clay but along the valleys limestones, sands and marls are exposed. Apart from three Roman sites, the most im portant remains in the parish are the medieval deer park and moated lodge (6 and 5) which survive in a good state of preservation.
Roman
d(1) Settlement (SP 96507935), S.E. of Drayton Park, on a Boulder Clay-covered hill-top at 260 ft. above OD. A scatter of Roman pottery and building material, covering an area of 70 square m., has been found (BNFAS, 1 (1966), 12). It is possible that this is the site 'near Drayton House' where a small piece of tessellated pavement is said to have been found in 1736 (VCH Northants., I (1902), 194). However although the original source for this information was said to be in the Minutes of the Society of Antiquaries, no record can now be traced.
b(2) Settlement (?) (SP 982813), N.E. of Lowick village on a flat hill top of Boulder Clay at 270 ft. above OD. Small quantities of Roman pottery have been found hereabouts on a number of occasions (BNFAS, 3 (1969) 16; 4 (1970), 10).
b(3) Settlement (SP 97788026), near Harper's Brook, on clay at 120 ft. above OD. Pottery and building material have been found.
For Roman Roads 57a and 570, see p. 116 and 117.
Medieval and Later
d(4) Saxon finds (?) (SP 95287980), alleged to have been discovered in Barrow Hill Copse, near Slipton, some years before 1934. No details. (Northants. Past and Present, 1 (1948–53) pt. 4, 18)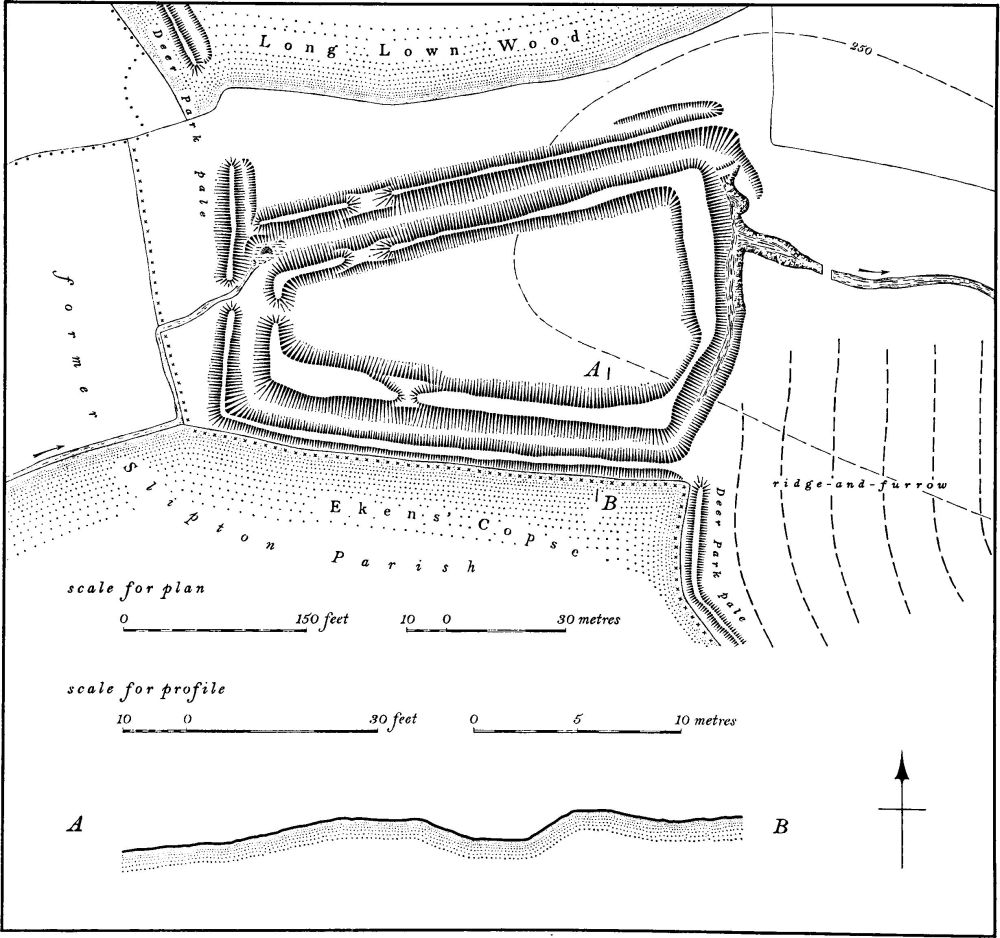 ab(5) Moat (SP 95038122; Figs. 33, 72; Plates 10, 11), just within the Deer Park (6) and near its S.W. corner, occupies the bottom of a small shallow valley at 250 ft. above OD. There is no evidence in support of the tradition that a nunnery was located here, and the site is more probably that of the medieval park-keeper's house. It had already been abandoned by the 18th century (NRO, maps of Drayton Old Park).
The moat forms a roughly trapezoidal-shaped enclosure with an interior of basin form resulting from the original shape of the valley bottom. On all sides, the ditch, now dry, is 2 m. deep and up to 12 m. wide with an inner bank 5 m. wide and 1. 5 m. high, but on the E. side it has been widened and dammed to provide a pond for cattle, but has now been filled in. There is a slight outer bank on the N. side and a larger one on the W. and S. sides. This latter, projecting N. from the N.W. corner and S. from the S.E. corner, is the boundary bank of the deer park, which can be traced further N. and S.E. (see (6) below). There is neither a clearly-defined original entrance nor any interior feature indicative of former buildings. The traditional name of the site is Money Holes.
ab(6) Deer park (centred SP 955815; Fig. 33; Plates 10 and 11), in the N.W. corner of the parish on land almost entirely covered by Boulder Clay. The park extends into the S.W. corner of Sudborough parish.
The first mention of a park is in the early 14th century when Simon Drayton received a licence to empark 30 acres of land here (VCH Northants., III (1930), 237). Little is known about it except that by 1670 Sudborough Park, so called, was said to consist of 550 acres of land with messuage (VCH Northants., III (1930), 247). In 1771, under the Enclosure Act for Lowick, an allotment for tithes due from several 'ancient inclosures' was made and these included 'certain old inclosures called Drayton Old Park'. The bounds of the later park and those of its predecessor are shown on two 18th-century maps of the area called Drayton Old Park (NRO). Several field names including the word 'Park' are shown.
The boundary of the park, which enclosed some 180 hectares (430 acres), can still be traced along most of its length. It exists E. of Slipton Lodge (SP 95368102) and runs W., parallel to, and N. of, the modern road until it meets the LowickSudborough parish boundary (SP 95768106). Along this length it consists of a low bank, 5 m. wide and 1.5 m. high, with a well-marked inner, northern, ditch, 5 m. wide and up to 2 m. deep. The ditch has been deepened throughout as a modern drain. It formerly ran N.N.E., past New Lodge on the line of the modern road (to SP 96008156), according to the 18th-century maps, but no trace now exists on the ground. However, air photographs (held by the Monk's Wood Research Station, Huntingdon) show the features as a crop-mark running along the N.W. side of the road. At the sharp bend in the modern road the boundary turned N.W. to the N. of Round Lown Wood ('a' on Fig. 33), and although no remains are now visible, the bank and inner ditch are shown clearly on air photographs taken just after the Second World War (RAF VAP 540/664, 4005; SP 96008156–95328196). From here the entire N.W. boundary still survives within Snapes Wood as a low bank up to 1 m. high with a shallow inner ditch. At the point where it reaches the W. side of the wood it turns and runs S. along the edge of Long Lown Wood. At the S.W. corner of the wood the boundary is broken by modern tracks and then reappears as the outer bank of the W. and S. sides of the moat (5) (SP 94958122). It presumably passed through the present Slipton Lodge Farm but no trace now exists.
Around the W., N. and E. sides of Round Lown Wood, in the E. of the park, are traces of low, much degraded banks and shallow ditches. These are shown on the 18th-century map as extending to the S. of the wood into the modern arable, and although there is no indication on the ground they are still visible on air photographs (RAF VAP F21 82/RAF/865, 0339–41). These banks and ditches would have enclosed an area of some 10 hectares (24 acres) and perhaps form the boundary of the original medieval deer park which was later extended.
To the N. of this park there is, within Snapes Wood, a further length of bank with an inner ditch which follows a continuous course to meet the boundary of Brigstock Park (11) at the N. corner of the wood. This may be an undocumented extension of the park. In the same area, there is a large bank along the S.W. and N. sides of Ekens' Copse ('b' on Fig. 33), S. of the moat (5), and another along the S. side of Little Green Wood ('c'). The purpose of these is unknown.
b(7) Dam (SP 95128062; Fig. 33), S. of Slipton Lodge, across a steep-sided valley, cut into limestone and clay at 230 ft. above OD. It was constructed to form a lake covering some four hectares which stretched N. as far as Slipton Lodge. A map of 18th-century date of Drayton Old Park (NRO; Plate 11) shows the lake in existence and has a note that 'ye pond and ye piece beyond the pond was added to ye park about ... years since'.
The dam consists of a massive earthen bank, 100 m. long, 30 m. wide at its base and up to 5 m. high, through which the modern stream flows in a culvert. Quarrying for ironstone on the S. and N.E. of it has made the dam appear larger than it was originally.
(8) Cultivation remains. The common fields of Lowick were enclosed by Act of Parliament in 1771 (VCH Northants., III (1930), 239). Ridge-and-furrow of these fields exists on the ground, or can be traced on air photographs, in only a few places within the old parish of Lowick. It is mainly confined to the sides of Harper's Brook, lying at right angles to the stream, and also within and S. of Drayton Park where it is arranged in interlocked furlongs.
The enclosure of the common fields of Slipton also took place in 1771 (VCH Northants., III (1930), 243). Ridge-and-furrow of these fields can be traced only around Slipton Lodge (SP 951811), where it lies within the Deer Park (6), and E. of Little Green Wood (SP 943807) but it does not survive over any large area. In both places are interlocked furlongs. (RAF VAP CPE/UK 1994, 4326–33; 450/664, 3003–7, 4003–4)