Pages 94-96
An Inventory of the Historical Monuments in the County of Northamptonshire, Volume 1, Archaeological Sites in North-East Northamptonshire. Originally published by Her Majesty's Stationery Office, London, 1975.
This free content was digitised by double rekeying and sponsored by English Heritage. All rights reserved.
47 THORPE ACHURCH
(OS 1:10000 TL 08 SW)
The parish covering 610 hectares lies S.E. of the R. Nene between 80 ft. and 200 ft. above OD. The greater part of the parish is a level plateau on Cornbrash, but on the slightly higher land in the S.E. Oxford Clay is exposed.
Crop-marks, readily discernible on Cornbrash deposits, have led to the discovery of large Iron Age and Roman settlements (1–4). The village of Thorpe Achurch is of interest as being a very late example of complete alteration of layout.
Prehistoric and Roman
For possible Bronze Age burials found in this parish, see Wadenhoe (1).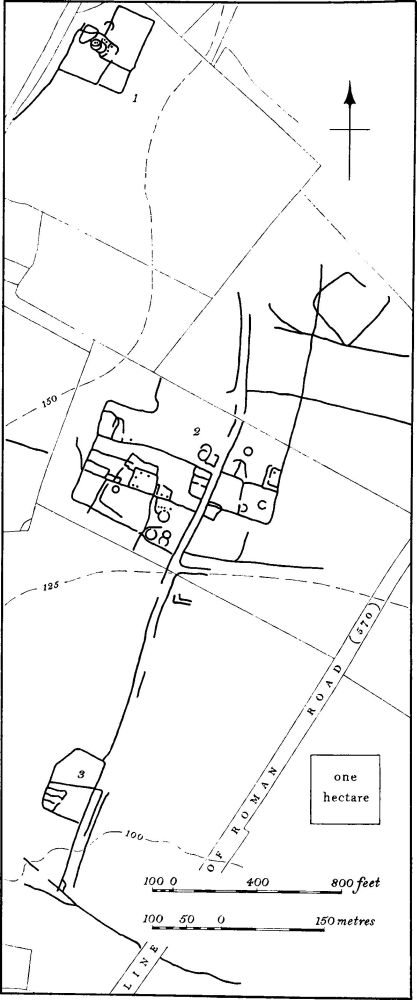 (1) Iron Age settlement (TL 02558308; Fig. 101; Plate 2), 200 m. N.E. of Achurch village on Cornbrash at 150 ft. above OD. Air photographs show a complex settlement with three main rectangular enclosures and an area of intensive occupation in the form of overlapping hut circles, ditches and pits. Iron Age pottery has been recovered. (BNFAS, 4 (1970), 42; CUAP, AGA3–4, ZB5)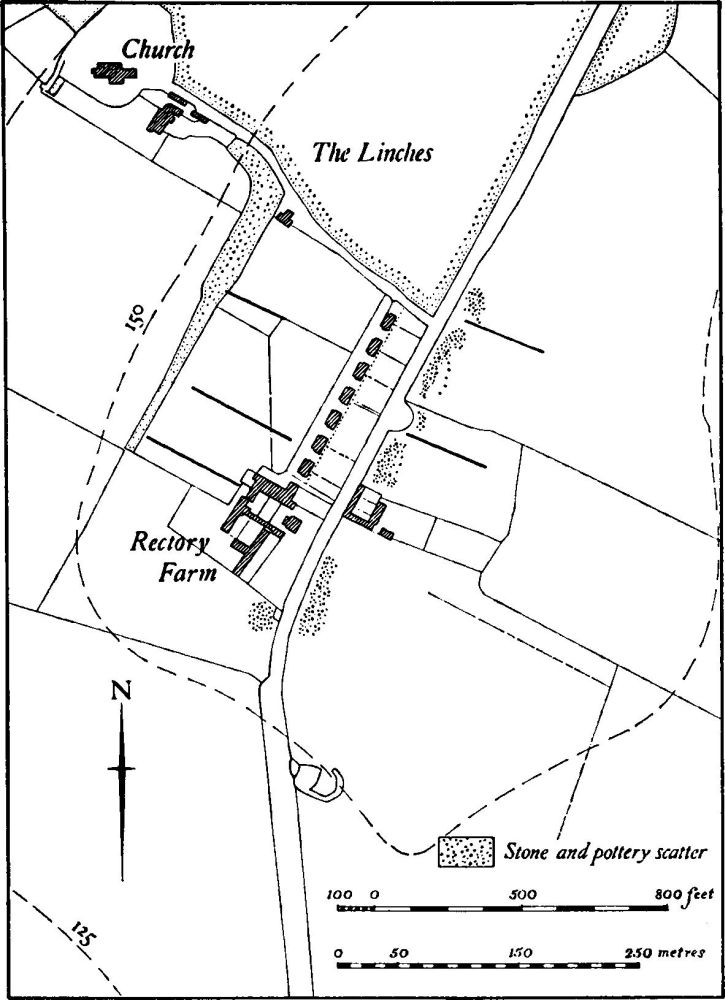 (2) Iron Age and Roman Settlement (centred TL 026824; Fig. 101; Plate 3), 500 m. S.E. of Achurch village on Cornbrash between 125 ft. and 150 ft. above OD. Air photographs have revealed a large and complex settlement site, arranged on either side of a well-marked trackway bounded by two parallel ditches. The settlement is markedly rectilinear and there are traces of numerous pits, small enclosures, and about ten circular hut sites. The Roman road from Water Newton to Irchester (570) passes to the S.E. on the line of the modern road. Iron Age and Roman pottery has been found. (JRS, LI (1961), 134; J. K. St Joseph (ed.), Uses of Air Photography, (1966), 120; BNFAS, 1 (1966), 12; 6 (1971), 17, Thorpe Achurch (1); OS Record Cards; CUAP, ADR47–48, ZA94–97; air photographs in NMR)
(3) Roman Settlement (TL 02558195; Fig. 101), 400 m. S. of (2) in a similar position and linked to it by a ditched trackway. The remains, not entirely clear on available air photographs, appear to consist of two conjoined enclosures and accompanying ditches. Roman pottery has been found within the area of the enclosures. (BNFAS, 6 (1971), 17, Thorpe Achurch (2); CUAP, ADR49, AKL83, AVD48)
(4) Enclosure (TL 02658134), immediately S.E. of Thorpe Waterville, on the N. side of Thorpe Brook on Cornbrash at 80 ft. above OD. Air photographs (in NMR) show a small sub-rectangular enclosure, with rounded corners covering about 0.3 of a hectare. No entrances or interior features are visible.
(5) Roman Settlement (TL 037812), around Thorpe Fox Covert on a patch of River Gravel at 110 ft. above OD. Roman pottery and limestone rubble have been found over a wide area.
For Roman Road 570, see p. 116.
Medieval and Later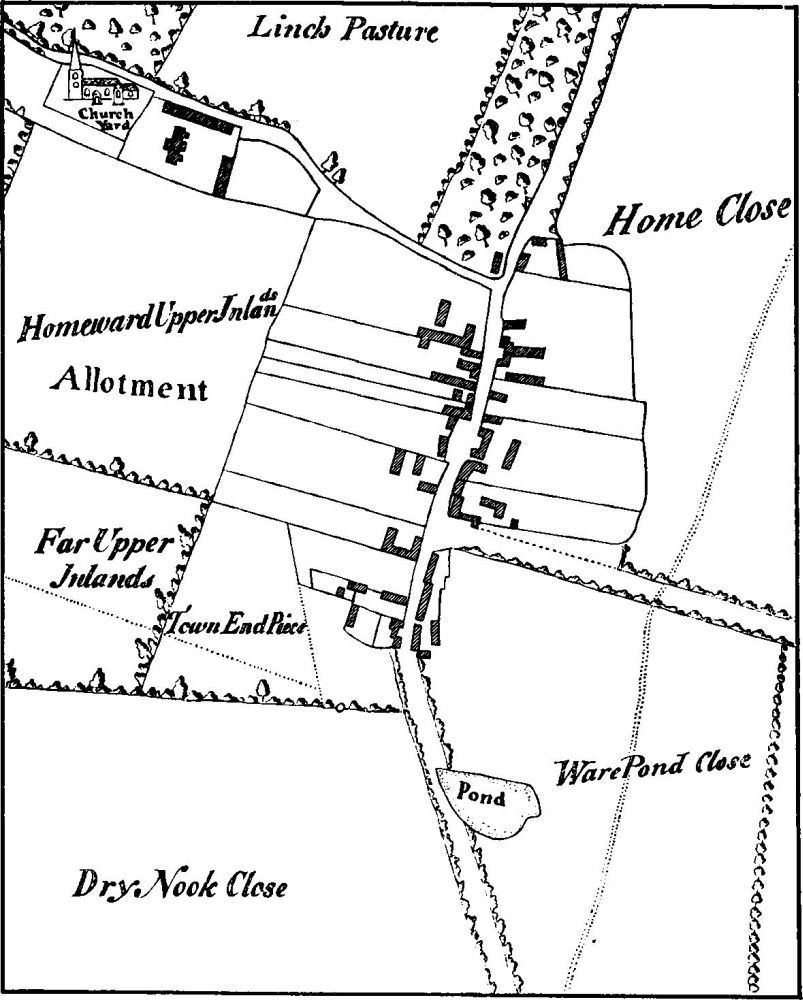 (6) Settlement Remains (TL 02408280; Figs. 102 and 103), formerly part of Thorpe Achurch village, lie immediately E. of the present single row of houses. Despite the unusual position of the isolated church, there is no evidence to suggest that the original site of the village was different from its present location. The arrangement of houses and Rectory Farm, lying on the W. side of the single street, is relatively modern. In the late 18th century there were houses on both sides of the road (NRO, maps of Achurch of 1772 and 1794); a large-scale plan of the village of 1807 (NRO) shows the same layout as well as a road running S.E. from opposite the present Rectory Farm to the existing A605 road. J. Bridges states that there were 18 houses in about 1720 (Hist. of Northants., II (1791), 264) but by 1807 only 16 houses remained, interspersed by a number of empty plots where houses had presumably once stood. All the existing houses were erected in about 1830 as estate cottages when the earlier buildings were apparently demolished.
Traces of former croft or garden boundaries can still be traced on air photographs (RAF VAP 541/602, 3073–4; OS, Crawford Collection, 1431/65/8), and pottery dating from the 13th to 18th centuries, as well as stone and brick rubble, has been found on the site. (K. J. Allison et al., Deserted Villages of Northants. (1966), 34)
(7) Settlement Remains (TL 025816), formerly part of Thorpe Waterville village, lay along the main A605 road E. of the village centre. During road-widening, limestone walling of former buildings was discovered together with clay floors; finds included 13th and 14th-century pottery (Med. Arch., XII (1968), 203; DMVRG Report, 15 (1967), 4). The 'moat' marked on OS maps to the W. (at TL 02168142) appears to be the result of quarrying, but it may have originated as a fishpond associated with the adjacent manor house.
(8) Cultivation Remains. The common fields of the parish were enclosed by Act of Parliament in 1772 (VCH Northants., III (1930), 360; maps of parish 1772 and 1794, NRO), but nothing is known of their arrangement. Ridge-and-furrow of these fields exists on the ground, or can be traced on air photographs, over much of the S.E. half of the parish and around Achurch village, laid out in end-on and interlocked furlongs. A well-marked sinuous ridge 25 m. wide and 800 m. long, formerly a headland, still exists E. of Thorpe Waterville village (TL 02898141–03618134). (RAF VAP 541/143, 3184–8; 541/602, 3070–5)