Page 96
An Inventory of the Historical Monuments in the County of Northamptonshire, Volume 1, Archaeological Sites in North-East Northamptonshire. Originally published by Her Majesty's Stationery Office, London, 1975.
This free content was digitised by double rekeying and sponsored by English Heritage. All rights reserved.
48 THRAPSTON
(OS 1:10000 a SP 97 NE, b TL 07 NW)
The parish, covering some 440 hectares, occupies a narrow strip of land immediately E. of the R. Nene, on ground rising E. between 80 ft. and 230 ft. above OD. The higher areas are covered with Boulder Clay, but close to the river and where tributary streams have cut down into the underlying rocks, sands, clays and limestones are exposed. Little of note has been recorded, but the Roman site (3), perhaps a temple complex, is potentially of importance.
Prehistoric and Roman
b(1) Settlement (TL 02247815; Fig. 104), immediately N.E. of Rectory Farm, near the head of a shallow valley, on Cornbrash and clay at 160 ft. above OD. Air photographs show a complicated settlement including four circular features; the larger two may be ring ditches and the smaller ones hut sites. (Air photographs in NMR; BNFAS, 6 (1971), 17, pl. 11 (2))
(2) Iron Age burial (?) (unlocated). OS Record Cards list a 'late Celtic' urn with a cremation as being found at Thrapston. No details.
b(3) Roman Shrine or Settlement (TL 00317820; Fig. 13), immediately E. of the town, on a W.-facing limestone spur at 200 ft. above OD. Air photographs show the S. part of a roughly-circular enclosure which has ill-defined interior features. On the ground a scatter of limestone rubble, probably the remains of a building, has been recorded, associated with Roman pottery and 'dozens' of coins mainly of the late 3rd and 4th centuries (air photographs in NMR; BNFAS, 4 (1970), 42; inf. D. A. Jackson). The site may be the otherwise unlocated circular earthwork recorded at Thrapston (T. J. George, Arch. Survey of Northants., (1904), 20). This may have been the provenance of a gold coin of Valentinian I (J. Morton, Nat. Hist. of Northants., (1712), 532) and a gold quarter-stater of Tasciovanus (J. Evans, Anc. Brit. Coins, (1864), 325).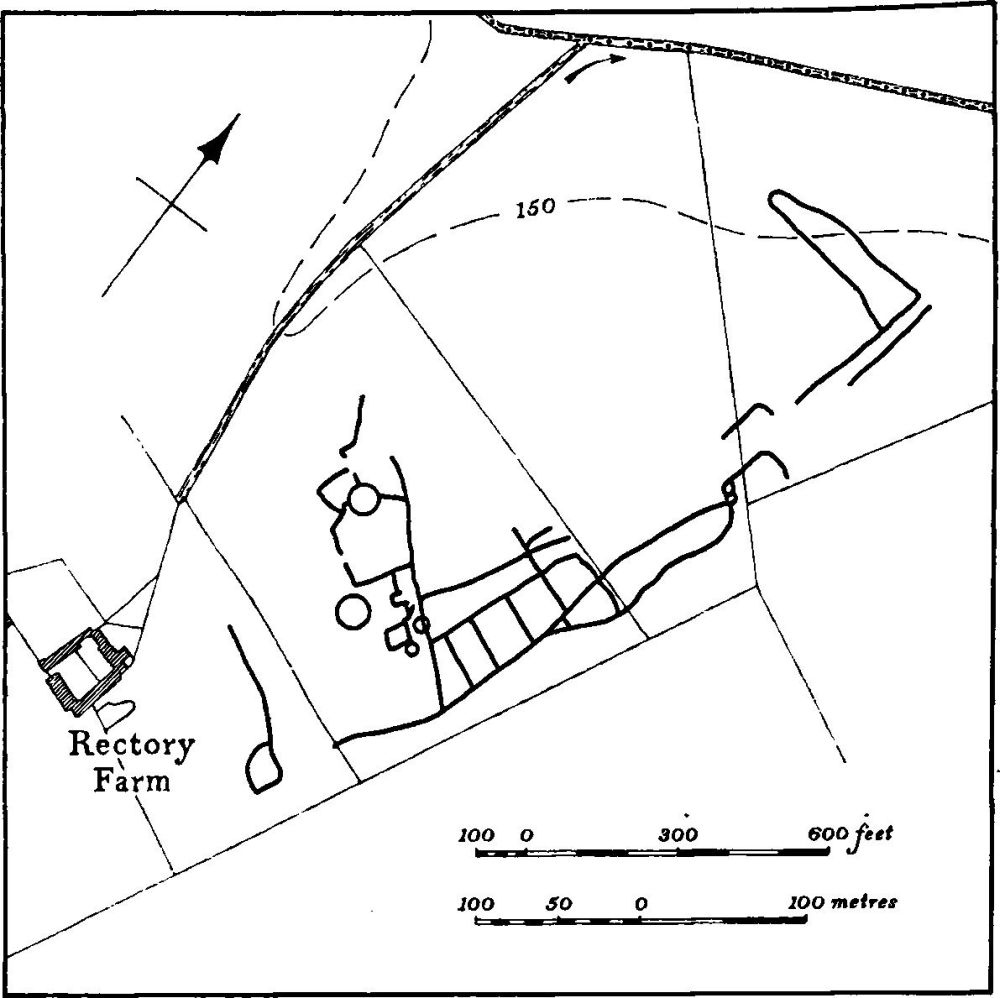 a(4) Roman (?) Burials and ditches (SP 99657877) found during building operations in Manor Close, Thrapston, in 1966. A row of at least six skeletons was cut through by a trench. A number of ditches were noted in the same area, a Roman date for which has been suggested. (BNFAS, 1 (1966), 12; see (5) below for medieval finds on the same site)
For reputed Roman Road 570, see p. 116.
Medieval and Later
a(5) Occupation site (SP 99657877). During building operations noted in (4) above, a large ditch or 'moat' was also exposed, and part of a mid-Saxon Ipswich Ware pot was found which probably came from the ditch. (BNFAS, 1 (1966), 12; 4 (1970), 42)
a(6) Occupation site (SP 99647875), N.W. of the church. Until its almost total destruction by recent building, there appears to have been a large artificial mound surrounded by a ditch. There were some indications of a stone structure, associated with medieval pottery, either within or on top of the mound (inf. D.A. Jackson).
(7) Cultivation remains. The common fields of the parish were enclosed by Act of Parliament in 1780. Ridge-and-furrow of these fields exists on the ground, or can be traced on air photographs, over parts of the parish, arranged in end-on and interlocked furlongs. (RAF VAP CPE/UK 1925, 4333–7; 1994, 2418–22, 4423–26)