Pages 130-131
An Inventory of the Historical Monuments in the County of Northamptonshire, Volume 2, Archaeological Sites in Central Northamptonshire. Originally published by Her Majesty's Stationery Office, London, 1979.
This free content was digitised by double rekeying and sponsored by English Heritage. All rights reserved.
50 ROTHWELL
(OS 1:10000 a SP 88 SW, b SP 88 SE, c SP 78 SE, d SP 87 NW, e SP 77 NE)
The parish is of irregular shape and covers 1050 hectares, immediately N.W. of Kettering, on the S. side of the R. Ise. The centre of the parish is occupied by a ridge, orientated E.—W. and capped by Boulder Clay, between 122 m. and 137 m. above OD. To the N. and S. the land falls steeply across Northampton Sand, to the valleys of the E.-flowing R. Ise and one of its tributaries which are cut into Upper Lias Clay between 91 m. and 99 m. above OD. Most of the prehistoric and Roman sites in the parish, as well as the Saxon cemetery (6), were discovered during extensive ironstone-quarrying from the late 19th century onwards.
The area of land which formerly belonged to the settlement of Thorpe Underwood lies in the W. of the parish, although the hamlet of that name is now in Harrington parish. Fishponds associated with this land are recorded below (9).
Prehistoric and Roman
A Roman coin (SP 81308145), Roman pottery (SP 81188100) and a barbed-and-tanged arrowhead (SP 81178108) have been found in the town (OS Record Cards).
(1) Bronze Age Burials (unlocated). Three Collared Urns, one of the Primary Series, and a handled Food Vessel were found, presumably during ironstonemining at Rothwell before 1903. (J. Northants. Natur. Hist. Soc. and FC, 12 (1903), 12; J. Abercromby, Bronze Age Pottery, (1912), Plates 22, 64 and 67; PPS, 27 (1961), 297, No. 123; T.J. George, Arch. Survey of Northants., (1904), 19; NM; CBA Group 9, Newsletter, 6 (1976), 14).
a(2) Bronze Age Burial (around SP 802817), found during ironstone-mining N.W. of the town in 1912–13. A Food Vessel decorated with stab ornament and with a large lug handle is known to have come from this locality (CM; Procs. Cambs. Ant. Soc., 20 (1916), 61; C. Fox, Archaeology of the Cambridge Region, (1923), 38, Pl. 6).
e(3) Roman Settlement (SP 79547969), S.W. of the town, on clay at 122 m. above OD. A cobbled floor was found in 1959, with Roman pottery, a late 3rd-century coin and indications of burning (KM; OS Record Cards).
a(4) Roman Building (?) (SP 81638114). A small fragment of a pavement, said to be from Rothwell Church, was given to NM in 1951. It was described as Roman (NM Records), but the only piece of pavement from Rothwell in the museum appears to be modern.
a(5) Roman Settlement (?) (SP 802817), N.W. of the town, on sand at 128 m. above OD. Roman pottery and coins associated with Saxon material were found during ironstone-quarrying (see (6) below; Procs. Cambs. Ant. Soc., 20 (1916), 61, 63).
Medieval and Later
a(6) Anglo-Saxon Cemetery (SP 802816), close to (5) and said to have been found during ironstone-quarrying in 1912–3. At least eight Saxon urns, a spearhead two strings of beads, various fibulae and brooches and two rings were discovered, as well as other bronze items (Meaney Gazetteer, 195–6; CM; Ashmolean). Doubts have recently been expressed as to whether all these finds are from the same place. The finds now in Cambridge definitely came from this site. Those in the Ashmolean may be from another, unlocated site (Northants. Archaeol., 10 (1975), 166).
For another Saxon burial, perhaps from Rothwell and from this cemetery, see Desborough (10).
a(7) Fishponds and Garden Remains (SP 81638089; Fig. 117), lie S. of the church and manor house, on the N. side of a broad valley, on Upper Lias Clay between 105 m. and 115 m. above OD. The fishponds, of medieval date, are probably those referred to in the early 13th century, when fish from ponds at Rothwell were granted to various people (Cal. Close 1231–34, 187, 209; Northants. P. and P., 4 (1971), 308).
Until recently there were two large rectangular ponds, up to 1.5 m. deep, cut back into the hillside. They were separated by a low dam, and kept filled by a large earthen dam, up to 2 m. high, which bounded the S. and E. sides of the easternmost pond. This latter pond has now been filled in. To the N. of these ponds there are three shallow rectangular depressions, also separated by low banks. These appear to be quite different in character from the main ponds, yet all are shown as water-filled on the Enclosure Map of Rothwell, 1819, and a map of the town of Rothwell, 1813 (both in NRO).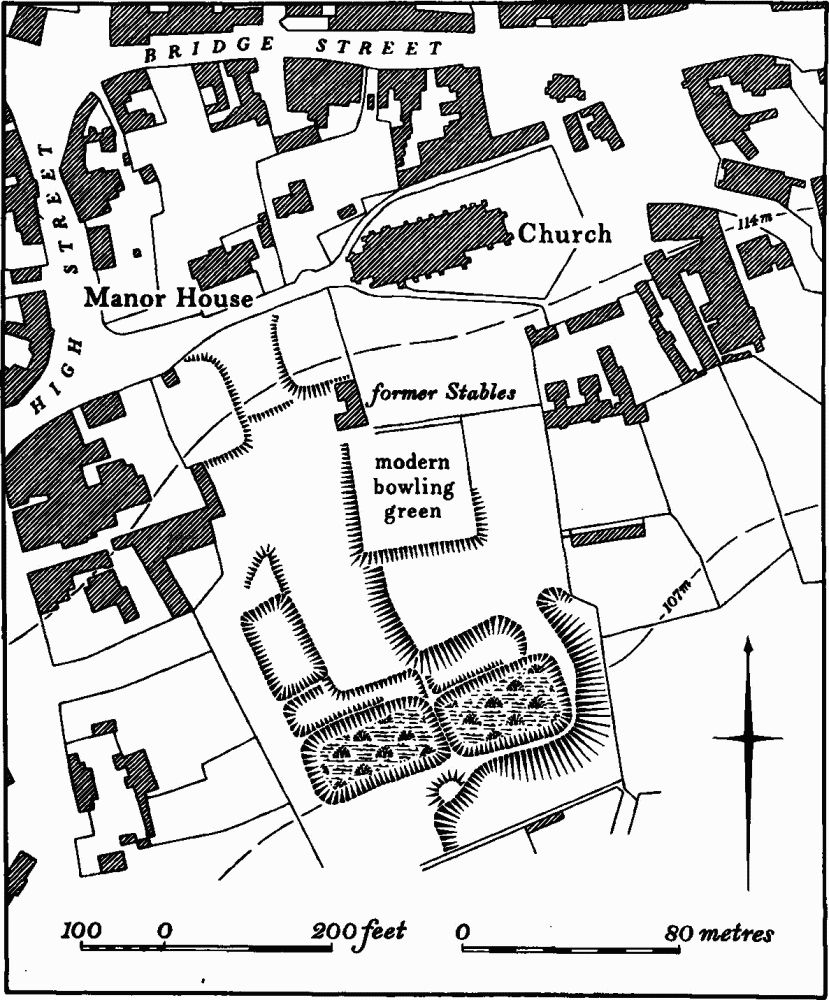 There are other earthworks to the N., consisting of two almost flat terraces, as well as a low mound below the fishponds. These are probably the remains of the former garden of the 18th-century manor house. On the 1813 map the area of the fishponds was called The Mount and a later undated pencil annotation calls the whole area Mount Close.
a(8) Linear Banks, Hollow-Way, Dam and Pond (centred SP 820805), lie on a steep N.-facing slope S. of the town, on clay between 90 m. and 115 m. above OD. An area of permanent pasture S. of a stream is bounded on the W. and S. by a well-marked bank, up to 2 m. high, which climbs the hillside, roughly parallel to the modern Rothwell—Kettering Road (A6). It has a hollow-way on its S.W. side. Within it are a number of low banks and quarry pits. The main bank was the boundary between an area of old enclosures and Ripton Field (see (12)) in 1819 (NRO, Enclosure Map). The hollow-way, on a steep slope, is presumably an alternative route, earlier than the present road, and the inner banks are abandoned field boundaries. The pond is shown as water-filled in 1819. The dam consists of a massive earthen embankment across the existing stream.
c(9) Fishponds (SP 792812), lie immediately N.W. of Hospital Farm, in a narrow valley, on Upper Lias Clay at 115 m. above OD. They are just inside the assumed boundary of the land of Thorpe Underwood (Fig. 73) and are thus probably associated with that settlement. They consist of two trapezoidal ponds, now dry, arranged end-on to each other in the valley bottom. They are cut some 2 m. into the hillside and have large dams, up to 2 m. high, on their downslope sides (RAF VAP F22 82/RAF/865, 0313–4).
a(10) Site of Priory (unlocated, but probably around SP 812815), lay 'on high ground on that side of the town nearest to Desborough' (J. Bridges, Hist. of Northants., II (1791), 266). A small priory of nuns of the Augustinian Order was founded here in the 13th century. Little is known of its history and it was finally suppressed in 1536 (VCH Northants., II (1906), 137–8). In the 19th century a residence called The Nunnery was said to stand on the site of the conventual buildings of the priory. During building work on this house in 1849 large numbers of inhumations were discovered with, in some cases, two or more bodies in the same grave (P. Cypher, Hist. of Rothwell, (1869), 51–3, 93–4).
(11) Coin Hoard (unlocated). A large quantity of coins of Edward III was found at Rothwell in about 1761 (Archaeologia, 3 (1776), 319).
(12) Cultivation Remains. The common fields of the parish were enclosed by Act of Parliament in 1812 (NRO, Enclosure Map, 1819). Before this date there were three open fields, Moor, Wood and Ripton Fields, and a large area of old enclosures around the town, some at least of which were described as 'very old' in the early 18th century (J. Bridges, Hist. of Northants., II (1791), 56). Ridge-and-furrow of these fields exists on the ground or can be traced from air photographs over much of Moor Field in the S.W. of the parish, parts of the other fields and over the old enclosures. It is all arranged in end-on-furlongs, running N.N.W.—S.S.E., following the general orientation of the ridges in neighbouring parishes (RAF VAP 541/602, 3190–7, 4176–82; 541/612, 4001–2; F21 82/RAF/ 865, 0314–21; F22 82/RAF/865, 0313–23).
For the S.W. corner of the parish which was formerly part of the lands of the deserted village of Thorpe Underwood, see Harrington (10).