Pages 71-72
An Inventory of the Historical Monuments in the County of Northamptonshire, Volume 2, Archaeological Sites in Central Northamptonshire. Originally published by Her Majesty's Stationery Office, London, 1979.
This free content was digitised by double rekeying and sponsored by English Heritage. All rights reserved.
28 HANNINGTON
(OS 1:10000 a SP 87 SW, b SP 86 NW)
The roughly triangular parish covers nearly 500 hectares, N.E. of Northampton. Most of the parish is on Boulder Clay and slopes gently to the W., between 114 m. and 137 m. above OD, except in the N.W. where the downcutting of a small S.W.-flowing stream has exposed areas of Northampton Sand and Upper Lias Clay. The prehistoric and Roman sites (1–3) are visible from the air only because they are on small patches of well-drained soil.
Prehistoric and Roman
Worked flints, said to be of Bronze Age date, have been found at three places in the parish (SP 810715, 814714, 816715).
a(1) Double Ring Ditch or Barrow (SP 81167131; Fig. 68), immediately N. of Hannington village, on Northampton Sand at 120 m. above OD. Air photographs (in NMR, and CUAP, YX 95) show cropmarks of a double ring ditch with diams. of 18 m. and 40 m., which is cut by a ditch of the settlement (2). The barrow mound survives, 28 m. in diam. and 0.5 m. high. The inner ditch is narrow, the outer one much wider (BNFAS, 1 (1966), 20; 4 (1970), 8; 6 (1971), 13).
a(2) Roman Settlement (SP 811712; Fig. 68), immediately S. of (1) and in a similar position. Traces of a ditched trackway, perhaps forming a T-shaped junction, two small enclosures, one with a large pit inside it and the other with a clear entrance on the N., as well as a number of indeterminate ditches, are visible on air photographs. A small quantity of Roman pottery has been found in the S.E. part of the site (BNFAS, 1 (1966), 20; 4 (1970), 8; 6 (1971), 13).
a(3) Ring Ditch, Enclosures and Ditches (SP 807712; Fig. 68), 400 m. N.W. of the church, on Northampton Sand at 120 m. above OD. Air photographs show a large ring ditch 40 m. in diam., apparently overlying two conjoined rectangular enclosures. The E. enclosure has an L-shaped feature within it and various ditches or incomplete enclosures extend W. and S. (CUAP, YX 96, 97).
Medieval and Later
a(4) Settlement Remains (SP 812709), formerly part of Hannington village, immediately E. of the church, behind the existing houses on the S. side of the main street. The site consists of a number of indeterminate embanked and ditched enclosures or paddocks, covering an area of about 2 hectares (RAF VAP CPE/UK 1925, 4229–30).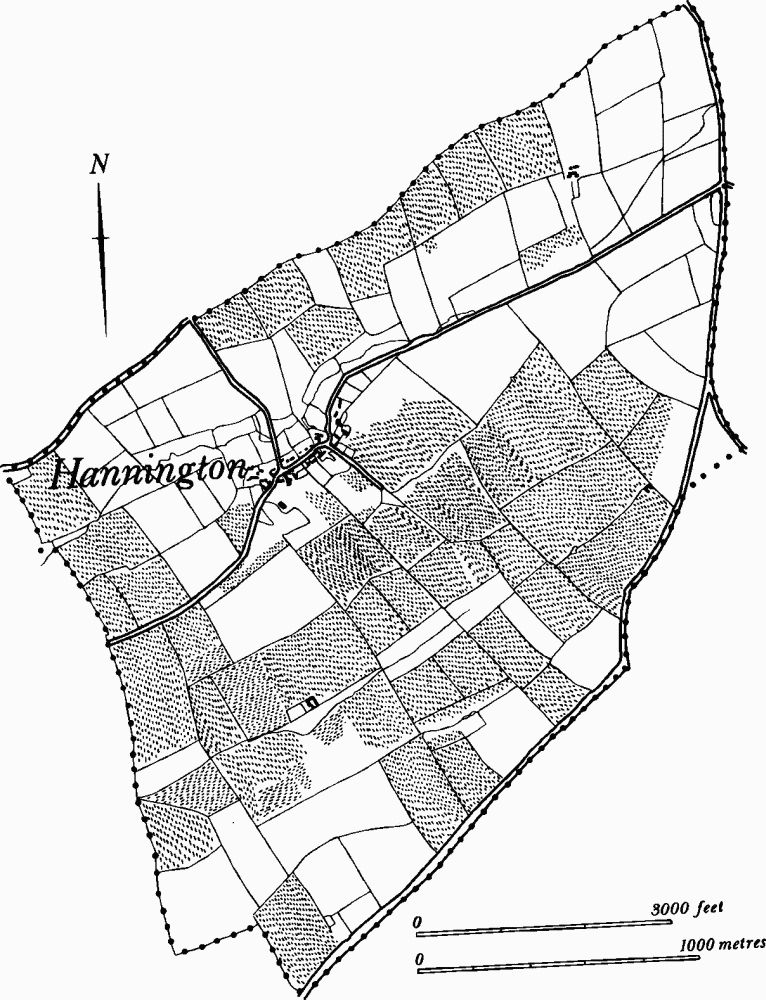 (5) Cultivation Remains. The common fields of the parish were enclosed by Act of Parliament of 1802. Ridge-and-furrow of these fields can be seen on the ground or traced on air photographs over almost the entire parish, in a very pronounced pattern of end-on furlongs, orientated N.W.-S.E., some of reversed-S form. Only three of the surviving blocks are at rightangles to this general trend. These are S.W. of Red House (SP 826717), and W. and S. of Rectory Farm (SP 810702 and 813700). There are well-marked headlands, the largest of which is some 800 m. long and 25 m. wide, running N.E. from SP 811702 (RAF VAP CPE/ UK/1925, 1363–8, 3362–8, 2227–33, 4231–3; F21 540/RAF/1312, 0239–43, 0214–8), (Fig. 69).