Pages 72-73
An Inventory of the Historical Monuments in the County of Northamptonshire, Volume 2, Archaeological Sites in Central Northamptonshire. Originally published by Her Majesty's Stationery Office, London, 1979.
This free content was digitised by double rekeying and sponsored by English Heritage. All rights reserved.
29 HARDWICK
(OS 1:10000 a SP 87 SW, b SP 87 SE, c SP 86 NW, d SP 86 NE)
The roughly rectangular parish, covering just over 500 hectares, lies to the N.E. of Northampton. The ground is mostly undulating, and covered by Boulder Clay, between 114 m. and 137 m. above OD, except in the N.E. where the down-cutting of a small stream near the village has exposed limestones, clays and silts along its valley sides. The medieval and later earthworks (1–4), though partly damaged, are interesting with regard to the possible origins of the settlement and its manorial history.
Medieval and Later
cd(1) Settlement Remains (SP 850698; Fig. 70; Plate 11), formerly part of Hardwick, lie immediately S. and S.W. of the church and manor house, on limestone and clay at 107 m. above OD. The extant earthworks have been much damaged by quarrying and modern agricultural activity and now only a group of rectangular paddocks, bounded by shallow ditches or low scarps, survives. They appear to be part of a rectilinear layout which follows the existing arrangement of village streets. This supposition is supported by the evidence of two maps of 1587 (PRO, copy in NRO) and 1684 (NRO). Both show the area of the earthworks already abandoned, but they depict, at the N. end of the village, an 'island' bounded on its S.W. and S.E. sides by the present roads, and on the N.W. and N.E. by roads now no longer in existence. This area may have originated as a rectangular village green which, by the 16th century, had been partly encroached upon. Slight traces of these roads and part of the island still survive as earthworks. The whole arrangement of earthworks and existing village may reflect a consciously arranged plan of the original settlement (CUAP, AWU 97, AZX 41). The available documentary evidence indicates that Hardwick was always small, and never suffered a major reduction in population. Domesday Book lists a recorded population of 14 (VCH Northants., I (1902), 354). In 1348–9 the vill paid a tax of 35s. 6d. (PRO, E179/155/3) and in 1974 14 people paid Hearth Tax (PRO, E179/254/14). In 1801 there was a total of 68 people in the parish.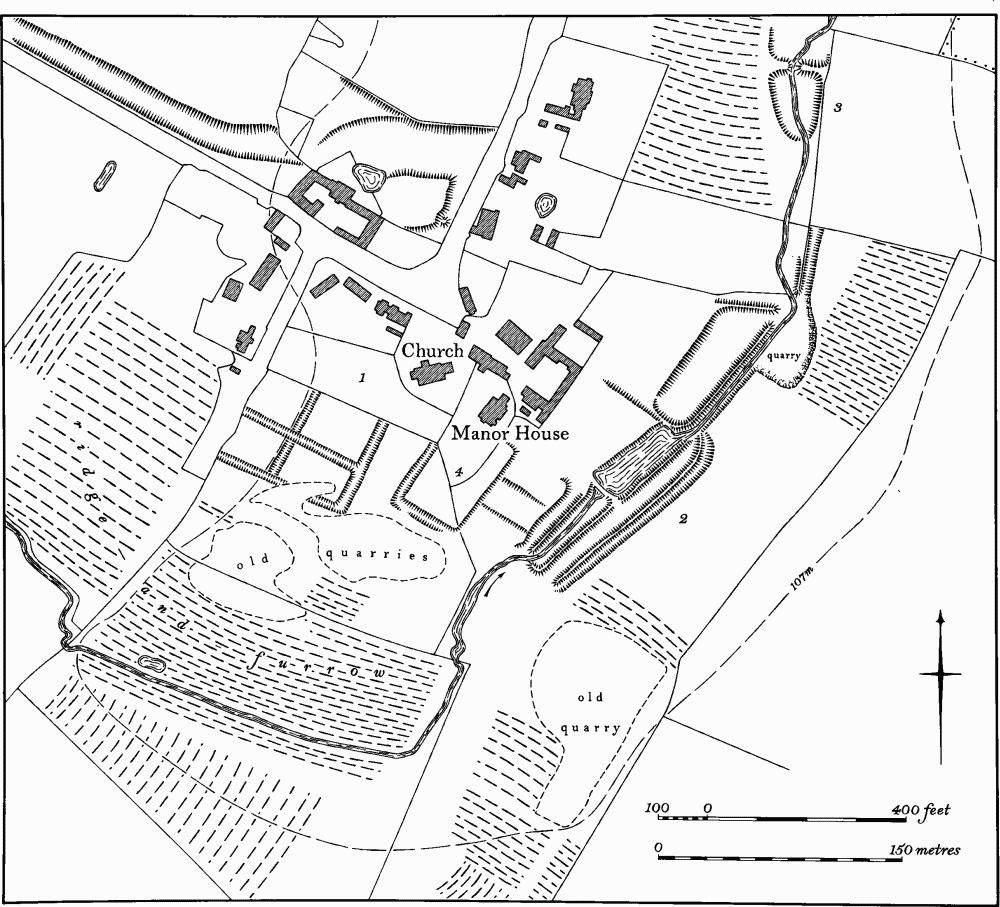 d(2) Fishponds (SP 852698; Fig. 70; Plate 11), lie immediately E. of the manor house in the shallow valley of a N.-flowing stream, on clay at 98 m. above OD. The site consists of a group of four ponds within, or to one side, of the stream. At the S.W. end are two long narrow rectangular ponds lying parallel to each other and much damaged by later activity, with a larger rectangular pond to the N.E. To the S.E. of these ponds is a bank and outer ditch, which appears once to have been a bypass-channel round them. To the N.E. is a larger shallow pond with a well-marked dam at its N. end (CUAP, AWU 97, AZX 41).
d(3) Pond (SP 853699; Fig. 70; Plate 11), lies 150 m. N. of (2) in the same valley and in a similar position. It consists of a small earthen dam 1.5 m. high, and broken in the centre, with traces of the original pond edges marked by low scarps.
d(4) Garden Remains (SP 85086971; Fig. 70; Plate 11), lie immediately S.W. of the manor and S. of the church between the fishponds (2) and the settlement remains (1). They consist of a simple rectangular enclosure extending S.W. from the manor house and bounded only by a shallow ditch or scarp. The enclosure appears to coincide with the boundary of an elaborate formal knot garden which is depicted on the 1587 map of the parish (PRO). This was probably laid out in 1567–8 by Thomas Neally who appears, from his arms which are on an overmantle in the manor house, to have altered the building at that time (VCH Northants., IV (1937), 175–6).
a(5) Pillow Mound (SP 83247033), immediately E. of Hardwick Wood, on Boulder Clay at 128 m. above OD. It consists of a low, flat-topped rectangular mound, orientated E.—W., 10 m. long, 3 m. wide and only 0.25 m. high, surrounded by a shallow ditch (RAF VAP CPE/ UK/1925, 4233–4).
(6) Cultivation Remains. The exact date of enclosure of the common fields of the parish is not known but it had certainly taken place by 1684 (map in NRO), and perhaps considerably earlier, since Bridges says that in 1720 the parish had been enclosed for about 100 years (VCH Northants., IV (1937), 175). In 1587 (Map in PRO, copy in NRO) there were three open fields, Moore, Wood, and East Fields ('Campi Orientalis'). A large area of pasture known as Little and Great Neates Pasture separated these fields from Short Wood in the W. which was at that time much larger.
Ridge-and-furrow can be traced on the ground or from air photographs over most of the parish in end-on or interlocked furlongs, not only in the common fields but also in Little Neates Pasture (SP 836705) and where parts of Short Wood have been cleared (e.g. SP 828701; RAF VAP CPE/UK/1925, 1358–64, 4232–8; F21 540/ RAF/1312, 0242–8; FSL 6603, 1971–3).