Pages 161-162
An Inventory of the Historical Monuments in the County of Northamptonshire, Volume 3, Archaeological Sites in North-West Northamptonshire. Originally published by Her Majesty's Stationery Office, London, 1981.
This free content was digitised by double rekeying and sponsored by English Heritage. All rights reserved.
51 PITSFORD
(OS 1: 10000a SP 76 NW, b SP 76 NE)
The roughly rectangular parish, covering almost 600 hectares, occupies a W.-facing spur between the Pitsford Brook which forms the N. and W. boundaries and a W.-flowing brook close to the S. boundary. The centre is a generally level area about 105 m. above OD, mainly on Northampton Sand, which slopes steeply to the streams on the N., W. and S. The lack of archaeological sites in the parish, compared with the geologically similar area further S. and S.W. in the Bramptons and Brixworth where indications of early occupation have come to light, is striking, but extensive ironstone-quarrying in the S.W. part of the parish may have destroyed the evidence.
The mount (4) known as Longmans Hill is of great interest. Its attribution as a long barrow is doubtful, but the Anglo-Saxon material said to have come from it or from the close vicinity is of considerable importance.
Prehistoric and Roman
Two Mesolithic or later cores have been discovered in the parish (NM Records) and other worked flints, including a thumb scraper, have been found in the N.W. (SP 744673) on Northampton Sand at 110 m. above OD (BNFAS, 5 (1971), 4). A metal bracelet, said to be Roman but probably post-medieval, was found in the village in 1969. It is of oval cross-section and is decorated with a narrow band of knurling (BNFAS, 4 (1970), 12; Northants. Archaeol., 8 (1973), 23).
a(1) Ditches (SP 755672), S. of the village on Northampton Sand at about 105 m. above OD. V-shaped ditches were discovered during ironstone-working. There was no dating evidence (BNFAS, 4 (1970), 33).
b(2) Enclosures (SP 760684), lie immediately N.E. of the village, on Northampton Sand, at 112 m. above OD. Air photographs (in NMR) show very indistinct cropmarks of a small rectangular enclosure, 40 m. by 35 m., orientated N.E.–S.W., with a number of other ditches or perhaps enclosures intersecting it.
a(3) Roman settlement (SP 764669), in the S.E. corner of the parish and close to Roman finds in Boughton (3) and Moulton, on Northampton Sand at 105 m. above OD. Field-walking around Bunkers Hill Farm has produced large quantities of Roman coarse wares (BNFAS, 5 (1971), 22, listed under Moulton).
For possible long barrow, see (4) below.
Medieval and Later
b(4) Saxon cemetery and (?) long barrow (SP 75086774; Fig. 123), known as Longman's or Layman's Hill, lies in a prominent position at the S.E. end of the village, on Northampton Sand at 110 m. above OD. There is a large rectangular mound, orientated E.–W., 30 m. long and 11 m. across. It is 1.5 m. high at the E. end and 1.75 m. high at the W., with a flat top 2.5 m. wide at the E. and 4 m. at the W. It is badly damaged and the W. end has been altered by a modern pathway. There is no trace of a ditch. It was first noted in the early 18th century when it was described as of 'oblong shape about 10 yards wide and not encompassed by a ditch' (J. Morton, Nat. Hist. of Northants. (1712), 548). When the adjacent road was widened in the early 19th century the mound was apparently cut into and skeletons were found.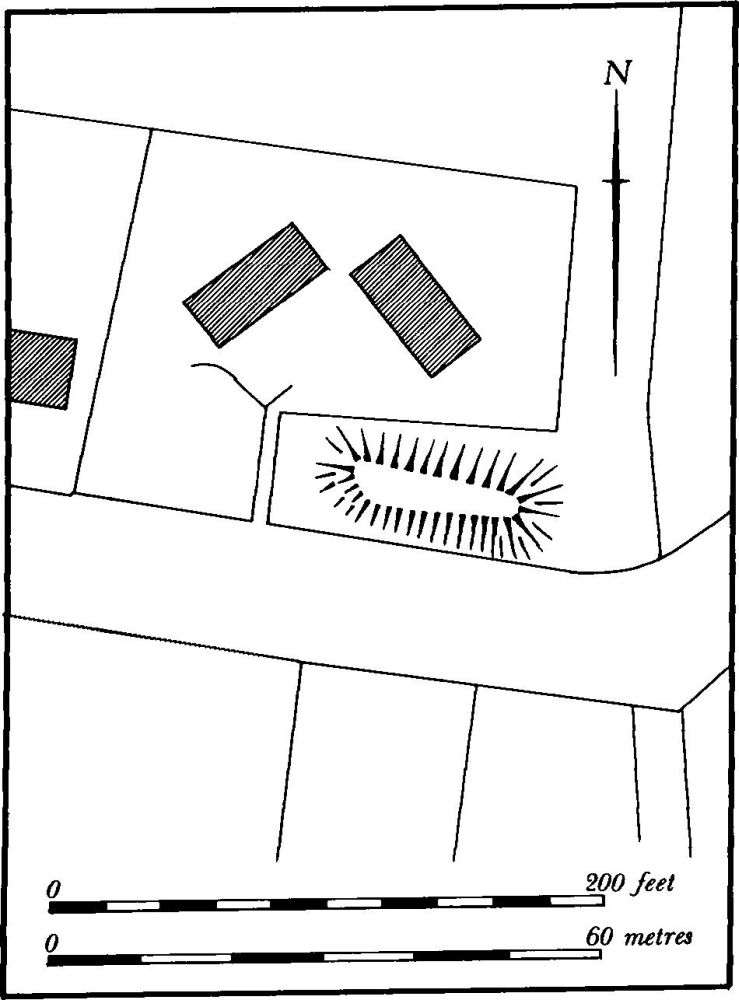 In 1882 Sir Henry Dryden investigated a 'tumulus' which he called 'Roman' in Brampton Lane, Pitsford, and reported that in an area 'about 90 yards by 10 yards' he had discovered 14 urns containing ashes, bones and pieces of glass and 'brass'. His sketches show that at least two of the urns were Saxon and one of the glass objects was the greater part of a Claw Beaker. There was also a socketed spearhead (Dryden Collection, Central Library, Northampton). It is not absolutely certain that these finds came from the mound and it has been suggested that their location was 600 m. to the N.W. (SP 74706840; NM Records). However it seems likely that Dryden's excavation was in or around the mound (VCH Northants., I (1902), 244; Meaney, Gazetteer, 195; J. Northants. Mus. and Art Gal., 6 (1969), 47–8).
A later authority claimed that bones were discovered at the E. of the mound when a local farmer dug there, and that a human thigh-bone had been discovered on the S. side. The same writer regarded the mound as an unchambered long barrow (Antiquity, 23 (1949), 218–20). It is no longer possible to say whether this is so.
a(5) Medieval pottery (SP 747667), discovered as a thin scatter of sherds W. of the village, on Northampton Sand at 110 m. above OD (BNFAS, 5 (1971), 34).
b(6) Medieval pottery (SP 764673), in the S.E. of the parish on Boulder Clay at about 110 m. above OD. Much 12th and 14th-century pottery has been found (BNFAS, 5 (1971), 34).
b(7) Settlement remains (SP 753682), formerly part of Pitsford village, lies on the edge of a valley immediately N.W. of the church, on Northampton Sand at 95 m. above OD.
Before recent development in the area, Pitsford church stood, with the Rectory, in an isolated position at the end of Church Lane, at a distance from the village centre. The surrounding land is now either built over or under permanent pasture and no trace of early occupation is recoverable. However, on arable land N.W. of the church there is an area of uneven ground, bounded on the N. by a long scarp running E.–W. along the valley edge. The scarp is now almost destroyed by ploughing but around and to the S. of it medieval pottery, mainly of 13th or 14th-century date, has been found in quantities sufficient to suggest former occupation in this area.
(8) Cultivation remains. The common fields of Pitsford were enclosed by Act of Parliament of 1756 (VCH Northants., IV (1937), 98; NRO, Enclosure Map).
Ridge-and-furrow of these fields survives or can be seen on air photographs in only a few places in the parish. Over most of the area all traces have disappeared. Three interlocked furlongs are visible S.E. of the village (SP 760672) but elsewhere only fragments exist (RAF VAP CPE/UK/1994, 4251–5, 4375–9).
Undated
a(9) Earthworks (SP 745672), lay S.W. of the village but have now been destroyed. In the early 18th century they were described as a square 'with two of the sides still remaining, one of them above 80 yards in length' (J. Morton, Nat. Hist. of Northants. (1712), 548). By the early 19th century they had already almost been destroyed (G. Baker, Hist. of Northants., I (1822–30), 65). There are discrepancies concerning the actual location of this site (Archaeologia, 35 (1853), 394; VCH Northants., IV (1937), 98; OS Record Cards) but the grid reference given here is that of the small earthworks shown on the original 2 in. OS drawings (OS 2 in. map No. 253 f. 119) and there called 'Burrow Dykes'. Their date and purpose are unknown. No trace remains as the area has been worked for ironstone.