Pages 204-206
An Inventory of the Historical Monuments in the County of Northamptonshire, Volume 3, Archaeological Sites in North-West Northamptonshire. Originally published by Her Majesty's Stationery Office, London, 1981.
This free content was digitised by double rekeying and sponsored by English Heritage. All rights reserved.
69 YELVERTOFT
(OS 1: 10000 a SP 57 NE, b SP 57 SE, c SP 67 NW, d SP 67 sw)
The parish, covering just over 900 hectares, occupies a narrow strip of land which widens at the E. end. Its W. boundary is formed by Watling Street. It lies on undulating land between 95 m. and 145 m. above OD and except in the extreme W. of the parish where Lower Lias Clay is exposed most of the area is covered by Boulder Clay. The western projection of the parish may relate to an undocumented settlement of Shenley (3) and the settlement remains (4) N. of Yelvertoft itself, though not of great significance as earthworks, may indicate an earlier location of the village.
Roman
b(1) Roman settlement (?) (SP 595745), in the S. of the parish, on Boulder Clay at 125 m. above OD. A few sherds of Roman pottery have been found (CBA Group 9, Newsletter, 7 (1977), 27).
a(2) Roman settlement (SP 598762), N. of the village, on alluvium at 103 m. above OD. A large quantity of Roman pottery, mainly grey ware, was found here in 1976 (NM; Northants. Archaeol., 12 (1977), 223).
For Roman Road 1f, Watling Street, see Appendix.
Medieval and Later
ab(3) Deserted settlement (?) (unlocated but possibly SP 570749 or 575752; Fig. 152), possibly lay somewhere in the W. part of the parish, on clay. There is no documentary record of any settlement here so no name is known, though it may possibly have been Shenley, the name given to the modern farm in the area, nor is there any cartographic evidence of a settlement here. The suggestion of a lost hamlet is merely based on the shape of the parish of Yelvertoft itself. The long narrow W. projection, lying against Watling Street, is similar in appearance to that part of Norton parish where the deserted village of Muscott is located (Norton (11)), to Brockhall parish and to Whilton parish. This indicates that the W. part of Yelvertoft parish may also once have been a discrete land unit. Moreover the line of villages situated just E. of Watling Street and set back from it, extending from Lilbourne in the N., through Crick, Watford, Whilton, Muscott, Brockhall and Flore, is broken at this point in Yelvertoft parish and this is another indication of a lost settlement.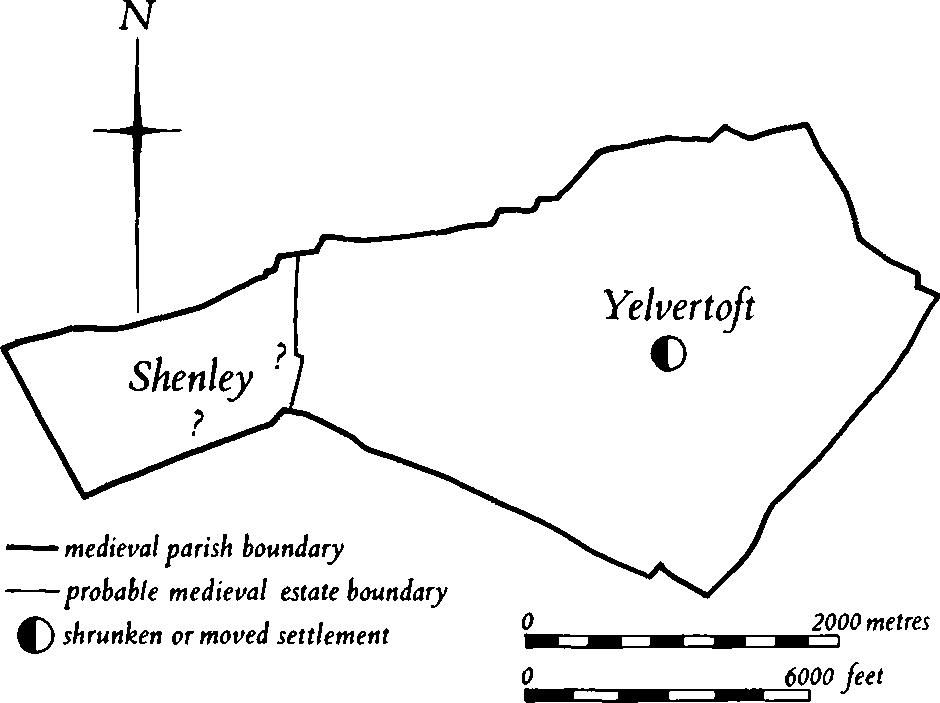 Ridge-and-furrow can be traced over almost all of this part of Yelvertoft, much of it still surviving on the ground. In only two places is there a complete absence of ridge-and-furrow, either of which might be the site of the assumed Shenley. The first is immediately N. and N.W. of Shenley Farm (sp 570749). The farm itself lies over ridge-and-furrow, but to the N. is a long narrow rectangular area orientated W.N.W.–E.S.E., situated between three distinct blocks of ridge-and-furrow and separated from them by a mutilated but continuous scarp. There are no earthworks within this area apart from a rectangular sunken pond with embanked edges but the soil revealed by cattle treading, or in molehills, is notably darker than that in the surrounding area. The second possible site is further N.E., E. of the M1 motorway, on the side of a very small E.-flowing stream (SP 575752). Here once more dark soil and absence of ridge-and-furrow might indicate the site of a possible settlement within a long rectangular area 200 m. by 60 m. and orientated E.–W. (RAF VAP CPE/UK/1994, 4478–80).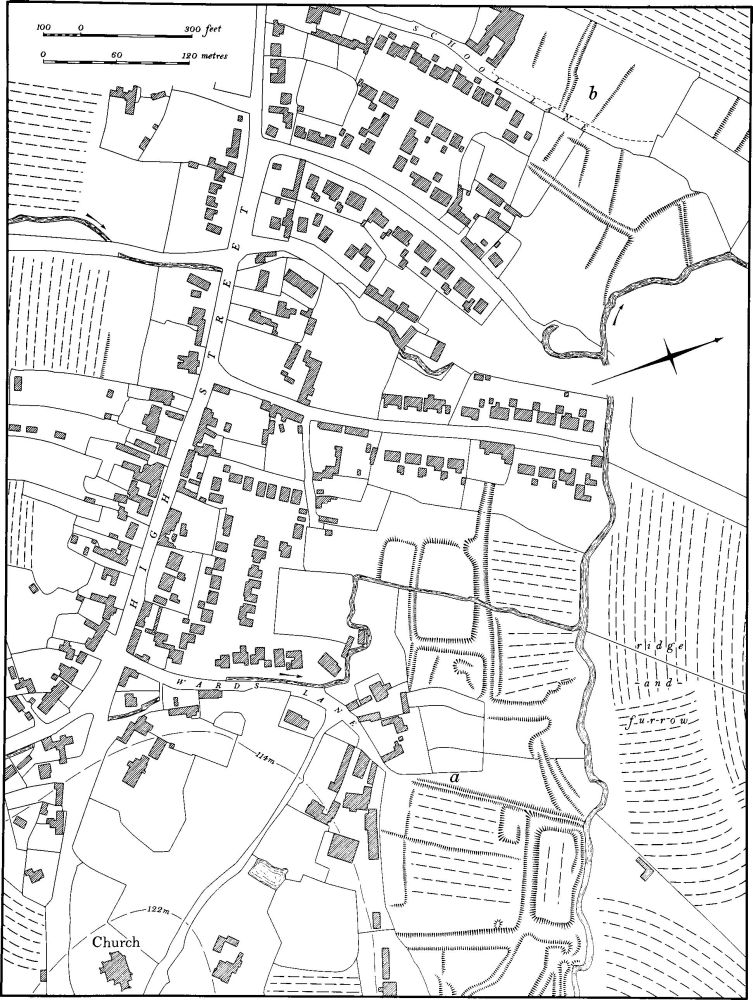 ac(4) Settlement remains, moat and mill site (SP 597758 and 602755; Figs. 152 and 153), formerly part of Yelvertoft village, lie in two places on the N. of the village, alongside a N.W.-flowing stream, on Boulder Clay at about 110 m. above OD.
Before modern development Yelvertoft consisted of little more than a single High Street with the church detached from it to the S.E. and with small extensions along lanes to the N.E. at either end of the main street. Some of the houses on the S.W. side of the main street still retain markedly curved gardens or paddocks, the alignment of which is continued further S.W. by ridge-and-furrow. The occurrence of such paddocks elsewhere has been interpreted as evidence that a village has been laid out over earlier fields with the closes determined by the curve of the ridges (RCHM West Cambridgeshire (1968), Caxton (24)). Whether this is the explanation at Yelvertoft is not known, but it is possible that the earthworks recorded to the N.W. might in part be the remains of an earlier village close to the stream which gradually moved or was deliberately resited some distance away on top of the earlier common fields.
The remains fall into two distinct parts. The larger and more complex area lies at the end of Wards Lane, N. of the church ('a' on plan), and consists of a number of embanked and ditched closes, some with traces of ridge-and-furrow within them; a hollow-way up to 2 m. deep passes between the closes towards the stream. Close to the stream is a large raised rectangular area, surrounded by a broad ditch 1.5 m. deep. Its interior has been ploughed but it is probably a moated manor house site for the area is known as Hall Close (local inf.). Immediately S.E. of this assumed manor house is an area of disturbed ground beyond which a narrow channel runs S.E. from the S.E. ditch of the moat. The channel is probably a leat for a water mill which perhaps stood in the disturbed area.
Further N.W. ('b' on plan) are some less well-preserved earthworks, now largely destroyed by modern housing. They consist of a number of small embanked or ditched closes, on either side of School Lane and its extension to the N.E. They may represent former house-sites but this is uncertain (CUAP, AMW68, AWQ9; air photographs in NMR; RAF VAP CPE/UK/1994, 4474–6).
(5) Cultivation remains. The common fields of the parish were enclosed by an Act of Parliament of 1776; no Enclosure Map survives. Ridge-and-furrow of these fields exists on the ground or can be traced on air photographs over most of the parish so that the pattern is almost totally recoverable. It is arranged in end-on or interlocked furlongs, many of reversed-S form. Among the minor details of the medieval landscape are trackways leading through the fields from Yelvertoft to Elkington (e.g. SP 608757; RAF VAP CPE/UK/1994, 2469–77, 4473–82; 106G/UK/636, 3440–4, 4160–9).