Pages 136-138
An Inventory of the Historical Monuments in the County of Northamptonshire, Volume 4, Archaeological Sites in South-West Northamptonshire. Originally published by Her Majesty's Stationery Office, London, 1982.
This free content was digitised by double rekeying and sponsored by English Heritage. All rights reserved.
55 STOKE BRUERNE
(OS 1:10000 a SP 75 SW, b SP 75 SE, c SP 74 NW, d SP 74 NE)
The modern parish, of over 500 hectares, is roughly diamond-shaped. Up to the 19th century it included Shutlanger which is now a separate parish. From an area of Boulder Clay with a maximum height of 122 m. above OD the land slopes generally S. across outcrops of Oolitic Limestone, Upper Lias Clay and riverine deposits, to the R. Tove here flowing at 74 m. above OD. The medieval settlement in Stoke Park (7) is of some interest in that it is completely undocumented and not even a name can be assigned to it.
Prehistoric and Roman
Worked flints of Neolithic type are said to have been found in the parish (OS Record Cards) and a Bronze Age palstave near Stoke Plain before 1904 (NM; T. J. George, Arch. Survey of Northants. (1904), 19; OS Record Cards). A Roman glass beaker, a unique import of the Flavian period, was discovered during ironstone-working before 1916, apparently with other remains (Ashmolean Museum; OS Record Cards; Burlington Magazine, No. 784, Vol. 110 (1968), 405) and a 'light-coloured urn', possibly Roman, is also recorded (OS Record Cards).
b(1) Enclosure (SP 75155085), E. of (2), on Blisworth Limestone, at 105 m. above OD. Air photographs (CUAP, ZJ60) show a D-shaped enclosure of about 0.3 hectare, with a straight ditch running roughly S.E. from its S. side. This may be the enclosure listed below (3).
c(2) Iron Age Settlement (SP 740497), 100 m. S. of Stoke Bruerne church, on limestone at 107 m. above OD. Several rubbish pits, containing a few sherds of Hunsbury ware, pieces of iron, mussel and oyster shells and fragments of chert, were discovered during building work in about 1957 (OS Record Cards).
a(3) Iron Age Settlement (?) (SP 745509), in the N. of the parish, on Boulder Clay at 112 m. above OD. Air photographs (not seen by RCHM) are said to show a Dshaped enclosure of about 0.25 hectare, with an entrance in the N.E. corner. Iron Age pottery and a scatter of limestone are reported from this site. However, the whole description may be a mislocation of (1) above. (BNFAS, 6 (1971), 17)
b(4) Roman Villa (SP 754500), midway between Stoke Bruerne and Ashton, on Boulder Clay at 96 m. above OD. Roman pottery was first noted on the site in 1945. In 1969 the foundations of a small corridor building 50 m. by 30 m., orientated N.-S., were observed as parchmarks in the pasture field and later excavations revealed foundations of walls, roof and flue tiles, pottery including samian, grey and colour-coated wares, glass, tesserae and animal bones. Recent air photographs (NCAU) show that this building is one part of a large villa. It appears to lie in the centre of the E. side of a courtyard at least 150 m. wide, with other buildings along the W. and S. sides as well as on the E. There are also indications of other well-defined structures lying obliquely to the visible buildings within the area of the courtyard. (BNFAS, 4 (1970), 12; OS Record Cards)
Medieval and Later
A medieval decorated floor tile was found in 1975 in the W. of the parish, some distance from any known medieval occupation (SP 73514987; Northants. Archaeol., 11 (1976), 200).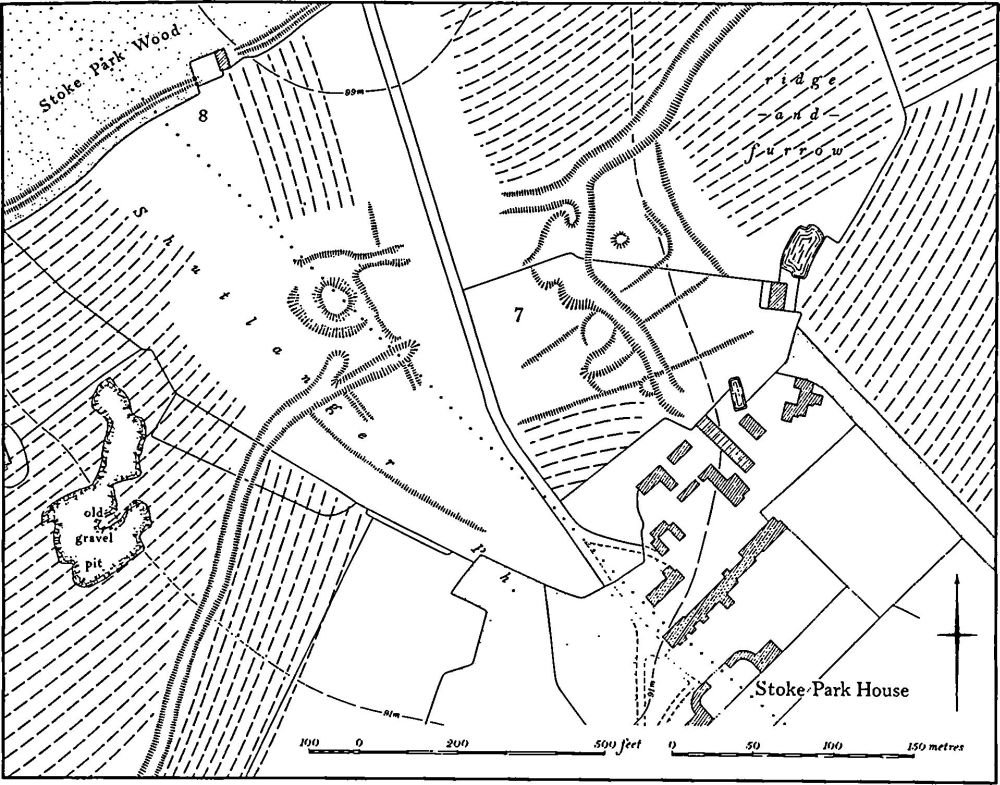 c(5) Saxon Burial (SP 740498), immediately W. of the church and close to an Iron Age site (2), on Boulder Clay at 107 m. above OD. A single inhumation, presumably Saxon, was discovered in about 1910 (Meaney, Gazetteer, 196).
c(6) Settlement Remains (SP 742497 and 745500; Fig. 14), formerly part of Stoke Bruerne, lay in two places in the village. Although not impressive as earthworks, the remains are important in the understanding of the morphology of the village. The construction of the Grand Junction Canal through the centre of the village accentuated the two parts of Stoke Bruerne, each with its distinct plan which must be of ancient origin. On the E. side of the canal the village is laid out around a wide cross-roads, but to the W. of it there is a neat grid of lanes with the church outside it at the N.W. corner and the remains of a triangular 'green' at the N.E. The grid pattern is now very incomplete, but on a map of 1726 (NRO) a further lane is shown on the S. side of the grid, giving it a rectangular form, with two intersecting streets dividing it into four units. By 1842 (NRO, Tithe Map) this southern lane had been abandoned, except at its W. end. The remains of this lane have recently been destroyed by modern housing, but on air photographs take in 1947 (RAF VAP CPE/UK/1926, 1242–3) part of it is visible as a rather degraded hollowway running N.E.-S.W.
On the E. side of the village, E. of the cross-roads and behind the existing buildings on the N. side of the Ashton road, is a series of long rectangular paddocks, bounded and sub-divided by low scarps and shallow ditches, all of which have later ridge-and-furrow within them. To the W., immediately below the canal (SP 743501), a short length of hollow-way which once ran S.W. to meet the old green emerges from the buildings alongside the canal and joins another running N.W. Further S.E., on the S. side of the Ashton road (SP 746499), a small triangular field has low indeterminate earthworks within it. These may be house-sites. (Air photographs in NMR)
The morphology of Stoke Bruerne is difficult to understand. It may be that the early medieval village lay around the cross-roads, with the church isolated on the adjacent hilltop. The rectangular grid layout might then be explained as a later planned extension of the earlier village towards the church. On the other hand the village may originally have been laid out on a grid plan near the church and the E. part may thus have been a later growth beyond the 'green'. The discovery of Iron Age material (2) and a Saxon burial (5), both close to the church, may be relevant here.
c(7) Deserted Settlement (SP 740488; Fig. 106), lies N. of Stoke Park House, on clay at 94 m. above OD. The surviving earthworks appear to be the remains of a small hamlet, though neither its name nor any documentary proof of its existence is known. There are records that a place known as Shaw existed between the 13th and 15th centuries (PN Northants., 107) and its whereabouts is unknown, but it is not certain if it is this site.
The earthworks are in poor condition. The W. part has been ploughed and returned to grass and the central part has been destroyed by the drive to Stoke Park House and by Second World War hut platforms. The settlement remains are associated with a hollow-way which can be traced from the end of an old lane from Stoke Bruerne (SP 742493), across Stoke Park and over the Shutlanger parish boundary to a small S.E.-flowing stream (SP 736486). Immediately N. of Stoke Park Farm another hollow-way leaves the main one and runs S.E. before it disappears under the farm buildings. On either side of this subsidiary hollow-way there are mutilated closes bounded by low banks and scarps; at least one of these banks crosses the hollow-way and thus must be later than it. In the N. a later drive, visible as a flat-topped bank (not shown on plan), crosses the area. To the W. of the main drive to Stoke Park House are further slight earthworks, but these have been so reduced by modern ploughing that little of their original form can be ascertained. (RAF VAP CPE/UK/ 1926, 1241–3; air photographs in NMR)
c(8) Deer Park (centred SP 736492; Fig. 106), occupies about 30 hectares in the S.W. of the parish and extends into the adjoining parish of Shutlanger, once part of Stoke Bruerne. It lies almost entirely on clay and glacial sands and gravels, between 107 m. and 90 m. above OD. The present Stokepark Wood occupies almost the same area. The deer park was created in 1270 when Pagan de Chaworth was granted permission to enclose his wood and make a park. Nothing is known of its later history except that it was still emparked in the 16th century. In the 18th century the area became part of the landscaped park of Stoke House. (Northants. P. and P., 5 (1975), 231)
The roughly wedge-shaped wood is bounded on the N.W., W., S. and E. by a large bank, much altered and damaged by later copse banks, drainage ditches and trees. In many places it is now reduced to a scarp with a copse bank on its crest (e.g. SP 736495). On the N. side, E. of the drive to Stoke Park House, a long narrow strip of land has been taken out of the woodland and the original park bank on its N. side has been destroyed and replaced by a low hedge bank and external ditch.
(9) Cultivation Remains. The common fields of the parish, together with those of Shutlanger, were enclosed by an Act of Parliament of 1840. Before that date there were three fields. Wood Field to the N. of the village, Ash Hill Field to the E. and Church Field to the S. To the N.W. of the village and extending across the present parish boundary into Shutlanger was a large area of open grassland known as Stoke Plain or Shutlanger Plain. In the extreme N. of the parish the woodland was much more extensive than it is today and there were several enclosed fields along its edges (NRO: Map of Stoke Bruerne, 1726; Maps of Shutlanger and Stoke Bruerne, 1727 and 1768; Enclosure Map, 1844; Tithe Map, 1842). Few changes took place between 1726 and 1844, apart from further encroachments on the woodland in the N. to create more enclosed fields. The whole of the S.W. of the parish was already part of Stoke Park by 1726.
Ridge-and-furrow of these fields exists on the ground or can be traced from air photographs in a few places. It is significant that no ridge-and-furrow is visible on Stoke Plain. In the former Wood Field only one block of ridge-and-furrow survives and this was known as Short Stocking Furlong in 1726 (SP 745504). Three end-on furlongs remain in Church Field (SP 742493) and a few indeterminate fragments in Ash Hill Field (SP 751497). Ridge-and-furrow is also visible along the eastern parish boundary, in areas which were already enclosed in 1726 (SP 754495 and 750492). Where clearances were made from the woodland in the N. (e.g. SP 740511 and 742518) the furlongs fit within the enclosed fields. The only extensive areas of surviving ridge-and-furrow are interlocked and end-on furlongs, mainly of reversed-S form within Stoke Park (centred SP 740488). Some of these blocks cross the parish boundary with Shutlanger. It is likely that some of this ridge-and-furrow is associated with the deserted settlement (7) which lies within Stoke Park. (RAF VAP CPE/UK/1926, 1025–30, 1241–4; FSL6565, 1999, 1001)
For the canal tramway over Blisworth Hill, see Blisworth (6).