Pages 21-23
An Inventory of the Historical Monuments in the County of Northamptonshire, Volume 4, Archaeological Sites in South-West Northamptonshire. Originally published by Her Majesty's Stationery Office, London, 1982.
This free content was digitised by double rekeying and sponsored by English Heritage. All rights reserved.
9 BRACKLEY
(OS 1:10000 SP 53 NE)
The generally diamond-shaped parish, covering less than 700 hectares, is bounded by the Great Ouse on the S.E. and by smaller watercourses on the other three sides. Boulder Clay covers the higher land in the N. rising to 152 m. above OD, and wide bands of Oolite Limestone and Upper Lias Clay are exposed along the valley sides. The town of Brackley was a deliberate plantation, laid out before 1173 along the existing main Northampton-Oxford road at some distance from the earlier village of Brackley (3) to the N.E.
Prehistoric and Roman
One barbed-and-tanged arrowhead has been found in the W. of the parish (SP 572382; BNFAS, 5 (1971), 1) and an Iron Age gold coin of the Dobunni is also recorded (Mack, 386; S. S. Frere (ed.), Problems of the Iron Age in S. Britain (1958), 251; Fitzwilliam Museum). A few Roman sherds and one scraper have been found at SP 573378 and other Roman sherds at SP 58403677 (Northants. SMR).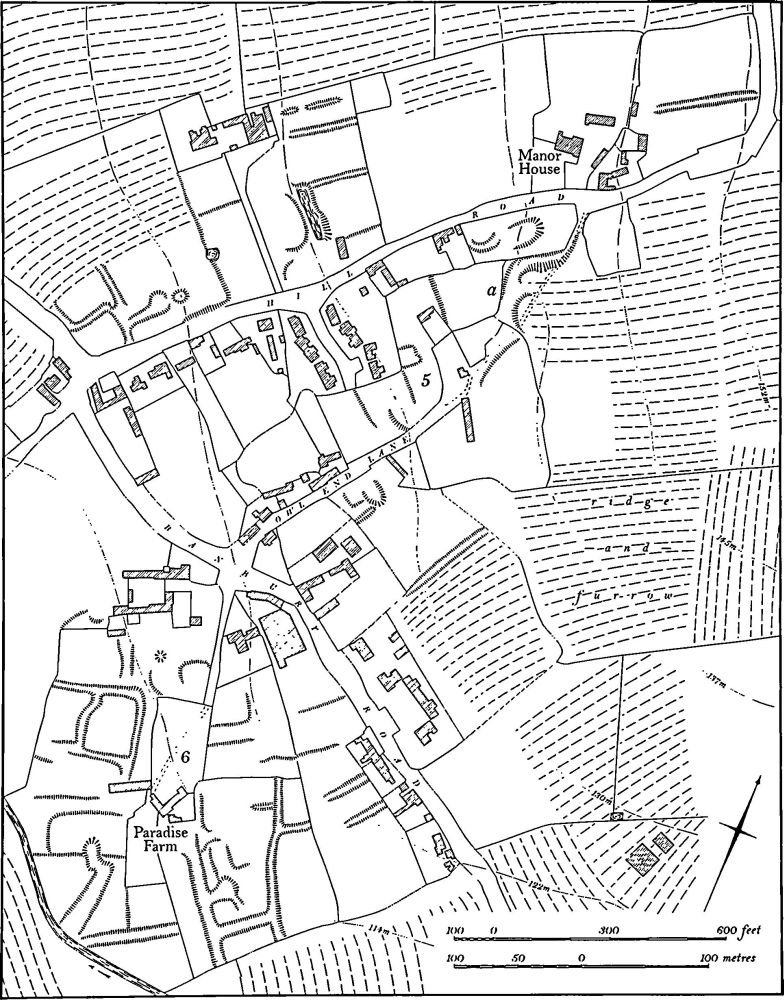 (1) Roman Settlement (centred SP 592372), lies S.S.E. of Brackley church, at 107 m. above OD. Building work between 1971 and 1974 revealed evidence of an extensive Roman settlement. Finds included: (a) (SP 594370) pottery and roof tiles (BNFAS, 5 (1971), 6); (b) (SP 592373) samian ware, roof and flue tiles, tesserae, plaster and much coarse ware indicating late Roman occupation, as well as coins of Severus Alexander, Tetricus I, Gallienus and Crispus, foundations of walls, a cobbled floor and a covered stone gully (Northants. Archaeol., 8 (1973), 5; 9 (1974), 86; Britannia, 4 (1973), 294; Northants. SMR).
(2) Roman Settlement (?) (SP 580378), N.W. of the town at 125 m. above OD. Evidence of a Roman settlement was noted before 1977 but no details are known. (Northants. SMR)
Medieval and Later
The site of the poorly documented Brackley Castle is said to have been S.W. of the town (SP 581346), but no trace of a castle has been discovered (J. Bridges, Hist. of Northants., I (1791), 143; OS Record Cards). A sceatta in NM was perhaps found in Brackley before 1902 (VCH Northants., I (1902), 255; Brit. Num. J., 47 (1977), 34).
A penny of Ethelred was found in a garden at Brackley before 1866 (JBAA, 22 (1866), 245). A Saxon spearhead and perhaps part of a shield boss were found in a pond somewhere in the parish before 1904 (T. J. George, Arch. Survey of Northants. (1904), 11; NM) and a late Saxon dagger said to be from Brackley is in the Ashmolean Museum. Medieval pottery has been noted over the years on the S. side of the town, near Bridge Street (SP 585366, 584365; Ashmolean Museum; Northants. SMR).
(3) Settlement Remains (centred SP 591372), formerly part of the village of Brackley, lie S. and W. of St. Peter's Church, in the area known as Old Town. Brackley is first mentioned in 1086 when Domesday Book lists it as a small manor of two hides with a recorded population of 24 (VCH Northants., I (1902), 330). By 1173 the new town of Brackley appears to have been laid out along the OxfordNorthampton road to the S.W. of the earlier village (M. W. Beresford, New Towns of the Middle Ages (1967), 468– 9). The old village with its parish church remained separate from the new town and even in the early 18th century it only contained 20 houses (Bridges, op. cit.). Similarly the Enclosure Map of 1830 (NRO) shows only a few houses to the N. and E. of the church. In recent years most of the area has been built over and little of the earlier village survives. Pottery of the 12th to 14th centuries, has been found in two places within the area of the village, in the allotment and graveyard extensions immediately S. of the church and further to the W. on the N. side of Pebble Lane (SP 589372).
Leland, writing in the 16th century, said that the town was then in decline and that there were the remains of abandoned streets (Itinerarium, II (1744), 36), but as a result of later growth no trace of these remains survives.
(4) Fishpond (SP 580366), formerly lay S.W. of the town in the valley of a small S.E.-flowing stream, at 105 m. above OD. The area N. of the stream was known as The Duke's Fishpond in the early 19th century (NRO, Enclosure Map, 1830). In 1978 large blocks of masonry, perhaps from the original dam, were discovered (Northants. SMR).
(5) Cultivation Remains. The common fields of Brackley were enclosed by an Act of Parliament of 1829 (NRO, Enclosure Map, 1830). At that date there were five open fields lying N. and W. of the town, with extensive old enclosures occupying the area immediately S.W. of the town and in the N.W. along the Greatworth parish boundary. Ridge-and-furrow of these fields exists on the ground or can be traced on air photographs and appears to correspond with the strips shown on the Draft Enclosure Map (NRO). It lies in end-on furlongs running across the contours on the valley sides in the S.W. and W. of the parish, except where small tributary valleys occur. Here the ridge-and-furrow is arranged at right angles to the minor stream and an interlocked pattern results (SP 570381 and 576374). This area lay in the former Castle and Middle Castle Fields in 1829. The same pattern of ridge-and-fur-row occurs immediately N. of the Old Town, along another valley side, in the former Old Town and Middle Old Town Fields (SP 594384, 594378 and 593372). On the higher flatter ground N. of the town, in the former High Field, a pattern of rectangular furlongs set at right angles to each other is traceable (SP 582388). Ridge-and-furrow is also visible within the former old enclosures in the N.W. of the parish. (Northants. P. and P., 6 (1975). 33–48; RAF VAP CPE/UK/1926, 2217–20, 4216–21; CPE/UK/1929, 1320–2; CPE/UK/2097, 3157–8)