Pages 19-21
An Inventory of the Historical Monuments in the County of Northamptonshire, Volume 4, Archaeological Sites in South-West Northamptonshire. Originally published by Her Majesty's Stationery Office, London, 1982.
This free content was digitised by double rekeying and sponsored by English Heritage. All rights reserved.
8 BODDINGTON
(OS 1:10000 a SP 45 NE, b SP 45 SE)
The oval parish, which covers 1265 hectares, lies with its W. boundary adjoining parts of Oxfordshire and Warwickshire. It is mainly on flat or gently undulating Lower Lias Clay between 100 m. and 150 m. above OD, but in the centre around Upper Boddington and in the N.W. the land rises steeply to a maximum of 180 m. above OD, based on an outcrop of Middle Lias clays and silts. There are two separate villages in the parish, Upper and Lower Boddington, each of which had, in medieval times, its own land and field system (Fig. 33).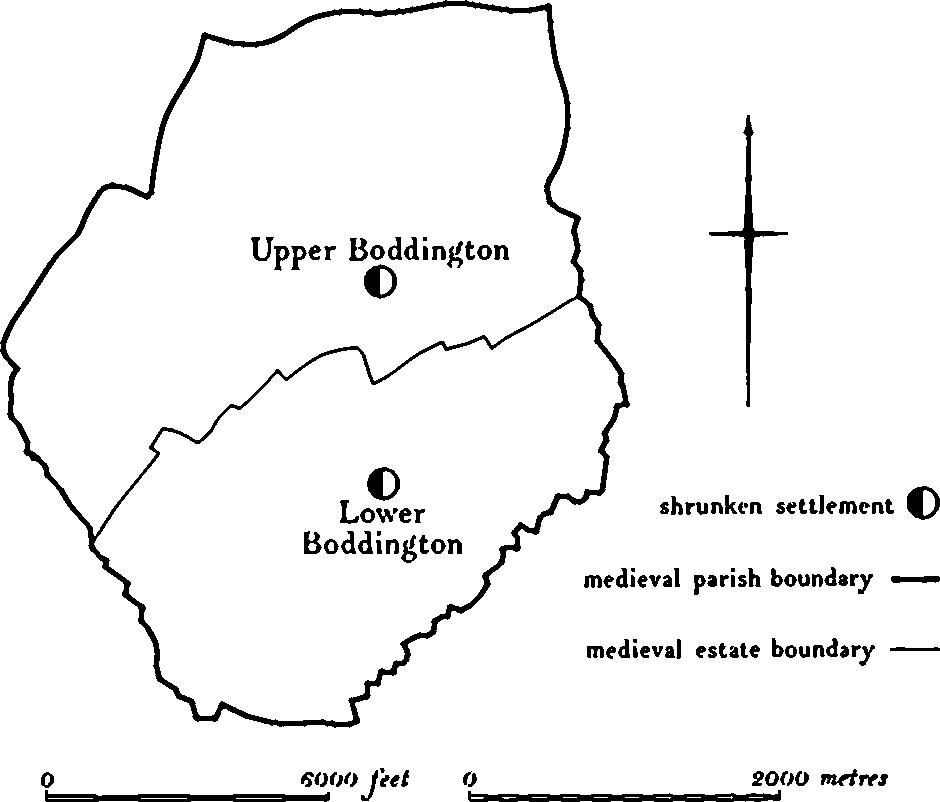 Prehistoric and Roman
Part of a Neolithic polished stone adze was found in Upper Boddington in 1978 (SP 48125371; NM; Northants. Archaeol., 14 (1979), 102).
b(1) Roman Settlement (?) (SP 481534), within the village of Upper Boddington, on clays and silts at 145 m. above OD. A quantity of Roman pottery has been found in this area over a number of years (NM; OS Record Cards).
b(2) Roman Coin Hoard (SP 480540). N. of Upper Boddington. In 1873 a brown-glazed red pot was discovered in this area. It contained 360 Roman coins dating mainly from the second half of the 3rd century, all 'third brass'. (NM; Northants. N. and Q., 1st Ser., 3 (1890), 151; OS Record Cards)
Medieval and Later
b(3) Settlement Remains (centred SP 482535; Fig. 34), formerly part of Upper Boddington, lie within and around the existing village, on clays and silts between 125 m. and 152 m. above OD. The plan of Upper Boddington consists of two separate elements lying to the W. of an undoubtedly ancient trackway known as the Welsh Road. The S. part is a simple N.-S. street with the church and manor house at its southern, higher end. To the N. is a more complex arrangement of streets and lanes arranged in an irregular grid. A possible interpretation of this plan is that the N. S. street was the earlier and that the N. part grew up, or was deliberately added, at a later date. The surviving earthworks go some way to supporting this idea.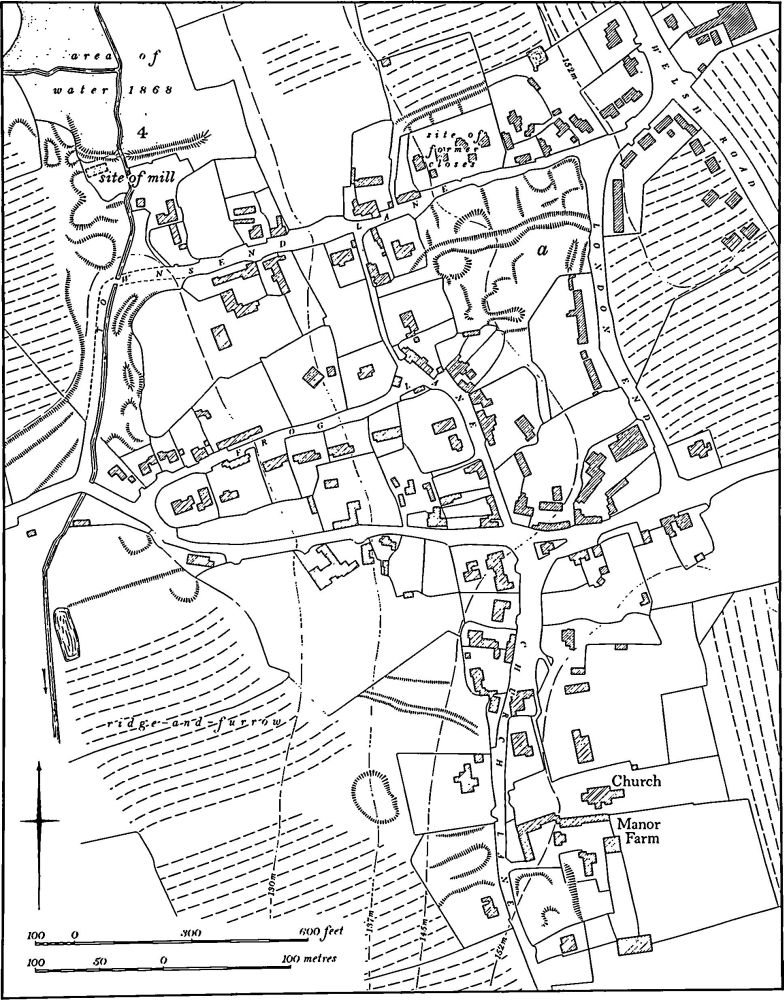 The main earthworks lie in the N.E. of the village, S. of Townsend Lane ('a' on plan). They consist of a broad irregular hollow-way extending E.-W. parallel to Townsend Lane and forming a link between London End and the hollowed footpath N. of Frog Lane. On either side of this hollow-way are earthworks, very disturbed, but with some indications that there was formerly a series of closes bounded by low scarps. A number of large depressions may represent former buildings. A little late-medieval pottery has been found in the side of the hollow-way.
A further set of abandoned closes, probably the sites of former houses, lay along the N. side of Townsend Lane (SP 481537). These have been destroyed by recent housing development, except for a short section of another E.-W. hollow-way, perhaps the N. boundary of the village at one time, and the ends of three closes. Fragments of an early medieval pot were found in this area in 1975 (SP 48155370; NM; Northants. Archaeol., 13 (1978), 186).
At the S. end of the village there are some indeterminate banks and scarps S. of Manor Farm; on the steep hillside to the W. of the farm, two wide, rounded depressions extend down the hillside, perhaps old tracks to the fields below. There is probably another hollow-way further N. All the earthworks were already abandoned by the mid 19th century (NRO, map of Upper Boddington, said to be of 1868, but probably before 1831). (RAF VAP CPE/UK/ 1926, 5071; 106C/UK/1698, 5283–4)
b(4) Dam (SP 478537; Fig. 34), lies in the N.W. corner of the village, N. of Townsend Lane, spanning the valley of a small S.-flowing brook, on Lower Lias Clay at 132 m. above OD. On a mid 19th-century map (NRO) a large pond covering almost 2.5 hectares is shown though there is no indication of its purpose. The dam is 15 m. wide and up to 2.5 m. high, with a break in the centre through which the stream now passes. Below the dam, to the W. of the stream, are the foundations of a stone building which certainly existed until 1947 and which are perhaps the remains of a mill. An irregular watercourse further W. and N.W. between the assumed mill and the adjacent ridge-and-furrow appears to be an overflow channel around the W. end of the dam. (RAF VAP 106G/UK/1698, 5284–5)
b(5) Settlement Remains (centred SP 482523; Fig. 35), formerly part of Lower Boddington, lie in and around the existing village, on Lower Lias Clay between 120 m. and 140 m. above OD. The present village lies along two streets, Banbury Road and Hill Road, which meet at a crossroads in the N.W. corner; another street. Owl End Lane, runs parallel to Hill Road. The remains of an L-shaped hollow-way some 3 m. deep show that Owl End Lane, now a cul-de-sac, once extended N.E. to meet Hill Road ('a' on plan). Other earthworks elsewhere appear to be sites of former houses and gardens. (RAF VAP CPE/UK/ 1926, 5070–1)
b(6) Enclosures (SP 482518; Fig. 35), lie immediately S. of Lower Boddington village, around Paradise Farm, on Lower Lias Clay at 115 m. above OD. All the fields around the farm contain small enclosures bounded by low scarps or shallow ditches. A hollow-way passes through them to the S.E. of the farm and the fragmentary remains of another run S.W. The date and purpose of the enclosures is unknown but they may be abandoned paddocks of the farm. (RAF VAP CPE/UK/1926, 5070–1)
(7) Cultivation Remains (Fig. 33). Upper and Lower Boddington appear each to have had separate common fields, but both were enclosed under the same Act of Parliament of 1758. Ridge-and-furrow of these fields exists on the ground or can be traced on air photographs over almost the whole parish except in a small area N. of Upper Boddington known as Little Common (NRO, 19th-century map of Boddington). However, on the higher land in the extreme N.W. of the parish known as Short Down Leys ridge-and-furrow is still visible. On the lower, flatter ground in the S. and S.W. the ridge-and-furrow is arranged mainly in large rectangular interlocked furlongs, but on the higher land in the N. and N.W., and especially on the steep slopes there, end-on furlongs are more common.
Several minor details of the common fields are of interest. To the S.W. of Lower Boddington (SP 480511) two large end-on furlongs of reversed-S form have been ploughed as one, with the result that the ridges twist as they rise over the older underlying headlands. This also occurs in other places for example W. of Lower Boddington (SP 469522) and W. of Upper Boddington (SP 475532). The most notable of the access-ways or roads through the ridge-and-furrow is a long lane extending from the parish boundary with Aston le Walls (SP 488512) to the S.E. corner of Lower Boddington (SP 484518). This appears to be an alternative route of the ancient drove road, known as the Welsh Road, and once continued S.E. to Aston le Walls village until blocked by the later fishponds (Aston le Walls (3)). (RAF VAP CPE/UK/1926, 5067–74; CPE/UK/1994, 4105–7, 4152–4; 106G/UK/1698, 5281–6)