Pages 1-5
An Inventory of the Historical Monuments in City of York, Volume 5, Central. Originally published by Her Majesty's Stationery Office, London, 1981.
This free content was digitised by double rekeying and sponsored by English Heritage. All rights reserved.
AN INVENTORY OF THE HISTORICAL MONUMENTS IN THE CENTRAL AREA OF THE CITY OF YORK
The dimensions given in the Inventory are internal unless otherwise stated. Plans of buildings are generally reproduced to a scale of 24 ft. to the inch; plans without drawn scales were not fully measured and are reproduced to approximately the same scale. Where a full key to the dating conventions is not given, black represents either primary work or all work before 1850, and white represents later alterations and additions. In some plans of buildings of more than one period, stippling indicates the extent of identifiable timber-framed structures.
For monuments not readily orientated to a cardinal point a conventional N. point has sometimes been assumed. The stained glass is recorded following the method used by the Corpus Vitrearum. This numbers each window and each panel within a window, and is explained in detail on pp. liii, liv.
The dates given in the descriptions of memorials are usually of the death of the persons commemorated.
For the street introductions A. Raine, Mediaeval York (1955), and J. H. Harvey, York (1975), have been valuable. The derivations of place-names are those given by A. H. Smith, The Place Names of the East Riding of Yorkshire and York (1937). Additional information on the earliest recorded occurrences of street names has been published by Dr. D. M. Palliser in 'The Medieval Street Names of York', York Historian, II (1978), 2–16.
Churches
(1) Parish Church of All Saints, Pavement (Plates 12, 18; Fig. 12), has walls of magnesian limestone and roofs covered with felt and lead. There was a church here before 1087 when Domesday Book records the confirmation by William I of the possession of the church by the Prior of Durham. Its position would be consistent with it being a Danish foundation of the 10th century. The church was probably enlarged or rebuilt to a cruciform plan in the mid 12th century; the gritstone footings for the E. and W. walls of a 12th-century South Transept were exposed in 1963 and the voussoirs and other details of an elaborately-carved mid 12th-century archway, now in the Yorkshire Museum, probably came from this church. In the 14th century the church was almost completely rebuilt, the only early masonry now surviving being in the present E. wall above the former chancel arch. The rebuilding followed the earlier cruciform plan but the roof-line remaining in the E. wall, and now off-centre, indicates a reduction in the width of the crossing. The new Crossing and Nave were built to a uniform width and Aisles were added, of a width equal to the projection of the transepts, to give overall a simple rectangular plan, but with the S. chancel aisle shorter than the chancel (Drake, 293). The foundation of five chantries in the church is recorded in the 14th century. A sixth bequest in 1482 was to construct a little choir with altar in honour of St. Christopher on the S. side of the church, but nothing of such a building remains. The West Tower was added c. 1400 and in the 15th century the W. crossing arch was removed and a clerestorey added, continuous over nave and crossing. This was perhaps c. 1443, when Henry Markett left a bequest to make a window and a battlement above (SS, xxx (1855), 88).
In 1782 the Chancel and Chancel Aisles, being dilapidated, were taken down and the space thus vacated was given to the town to enlarge the market place. A design for the new E. wall by William Bellwood, dated 1778, is preserved with the relevant faculty in the Borthwick Institute. Extensive restoration and reconstruction were undertaken in 1834. The N. wall was rebuilt without buttresses and with five windows in place of the previous three; the S. wall was at least refaced and the S. windows entirely renewed. The tower was partly rebuilt and the lantern above was completely rebuilt in 1837. New seating was designed in 1848 and a vestry was added in 1855, enlarged in 1912. In 1887 the E. end was remodelled to plans prepared by Messrs. Fisher and Hepper, based on a design by Street, with new windows and pinnacles, gargoyles and gable cross, which were carved by G. C. Milburn (Knowles, 207). An organ-chamber was added to the S.E. in 1898 and removed in 1963.
The W. Tower and its lantern make a notable contribution to the visual quality of the city. Among the fittings the 12th-century closing-ring on the N. door and the 14th-century stained glass are of special importance.
Architectural Description. The present Chancel was formerly the crossing. The E. wall, externally of 1782, with three-stage buttresses, has an E. window with reticulated tracery and added pinnacles and gargoyles, all of 1887. Internally, the former 14th-century chancel arch, of two chamfered orders, frames a recess in which the window is set; above the arch, 12th-century masonry rises to the line of a former steep-pitched roof, centred slightly to one side of the present central axis. The walling above the 12th-century roof-line is largely uniform with that of the clerestorey. To N. and S. the chancel opens to the transepts by 14th-century arches of two chamfered orders with labels, with 19th-century carved stops representing angels, a priest and a bishop. The arches spring from octagonal piers to the W., with matching responds to the E. Of the W. crossing arch only the springers survive. The North and South Transepts form part of the side aisles, from which they are only differentiated by 14th-century arches in line with the former W. crossing arch. The Nave is of three bays, with arcades of two-centred arches of two chamfered orders springing from octagonal piers with moulded capitals and bases, similar to the piers carrying the crossing arches but slightly smaller. The clerestorey, continuous over chancel and nave, is divided into four bays by simple buttresses with gargoyles and pinnacles, now largely missing, and has an embattled parapet. The windows are each of three cinque-foiled lights in a square head. The North Aisle, including the N. transept, has windows of three lights with reticulated tracery of similar design to the E. window of the chancel; they are not similar to those shown in drawings made before 1835. The South Aisle is generally uniform with the N., but with buttresses. The E. bay of the S. wall was rebuilt in 1963. The W. part is partly masked by the vestry. The Tower opens to the nave and aisles by two-centred arches of three chamfered orders springing from octagonal piers to the E., from a matching respond to N.W. and from the wall of the stair-turret to S.W. The wide E. arch gives a view of the great W. window, of five lights with vertical tracery in a two-centred head. Externally, the tower is designed in two stages but, internally, the upper part is divided into two storeys containing clock-chamber with bell-chamber above. Access to the leads of the side aisles is provided by passages in the thickness of the tower walls, and the stair to the top of the tower is in the S.E. corner. The bell-chamber is lit on each side by a window of three cinque-foiled lights in a low segmental pointed head with a label. The octagonal lantern has a pinnacled buttress at each corner and between the buttresses are unglazed openings, divided into three cusped lights on each side of a central mullion, with vertical tracery. Between the pinnacles is a parapet formed of cinque-foiled openings under crocketed gables. Roofs: the continuous roof over chancel and nave is low-pitched and divided into panels by moulded ribs with bosses at the intersections, carved with foliage, and painted with crosses, shields, a merchant's mark, etc., all repainted c. 1940. The aisle roofs are carried on 19th-century trusses with cusped ogee arches between vertical struts.
Pre-Conquest Stone: in N. aisle, coped grave-cover (Plate 23), of gritstone, 2 ft. 11 in. by 1 ft. 2 in., found during demolition of organ-chamber, decorated with entwined animal forms and interlace, 10th or early 11th-century (R. Cramp, Anglian and Viking York (1967), 20, Plate viii).
Fittings—Bells: four; (1) '+ Sce Iohaenns Ora Pro Nobis', late mediaeval; (2) '+Ihes Nazarenum Rex Iudeorum', late mediaeval; (3) 'Deo Gloria pax hominibus', probably by William Oldfield of York, with date 1633 no longer legible; (4) plain sanctus bell (Benson, Bells, 8). Bell-frame (Fig. ie): of oak, made for three bells and perhaps that referred to in YCA, B35, f. 244, when in July 1634 work was being done on bell-frames in All Hallows, but the reference may be to All Saints, North Street. Benefactors' Tables: three; in tower, on N.E. pier, (1) recording benefactions from 1628 to 1729; on S.E. pier, (2) similar to (1), recording benefactions from 1692 to 1818; both 19th-century perhaps of 1842. In N. aisle, (3) modern, but recording a benefaction of 1770. Book: in chancel, chained to lectern, under glass, The Defense of the Apologie of the Church of Englande by John Jewell, Bishop of Salisbury, date given as 1566 by J. B. Morrell in Woodwork in York, 183. Brasses and Indents. Brasses: in nave, (1) Elizabeth, widow of John Roscoa Senr., mother of seven children, 1804, see Floor-slab (3); (2) Marie and Margerie, daughters of Andrew Trew, draper and merchant, Lord Mayor 1585, 1600. In N. aisle, (3) Roger de Moreton, 1382, Isabella his wife, 1412, black-letter inscription, formerly in St. Saviour's church; (4) Mary, wife of John Gratrix, Quartermaster in H.M. Royal Dragoons, 1790; (5) Robert Crathorn, Knight, 1482; (6) three-quarter figure of Robert Askwith, 1597, with shield-of-arms (Plate 40), accompanying inscription plate lost (Drake, 298), formerly in St. Crux church. Indents: in nave, (1) for two shields; (2) in Floor-slab (6), for inscription plate; (3) for inscription plate and possibly also a figure; (4) for inscription plate and two shields. In N. aisle, (5) in slab with secondary inscription to John ..., for two figures, inscription plate and shield. In S. aisle, (6) for two quatrefoils; (7) for inscription plate and shields. Chairs: five armchairs, of oak, with carved and panelled backs of varying designs (Plate 38), two formerly in St. Saviour's church, 17th-century. Chest see Seating. Coffin Lid: in tower, built into roof of upper passage, fragment with incised cross, perhaps 13th-century. Communion Rail see Miscellanea (2). Communion Table: in chancel, originally in St. Crux and at one time in St. Saviour's, 17th-century (Plate 35). Doors: (1) to tower stair, plain, date uncertain; (2) in N. doorway, panelled, 17th-century, with 12th-century closing-ring (Plate 33); the ring held in a beast's head, in the mouth of which is a human head (see G. Zarnecki, 'A Group of English Medieval Door-Knockers' in Miscellanea Pro Arte (Dusseldorf, 1965)).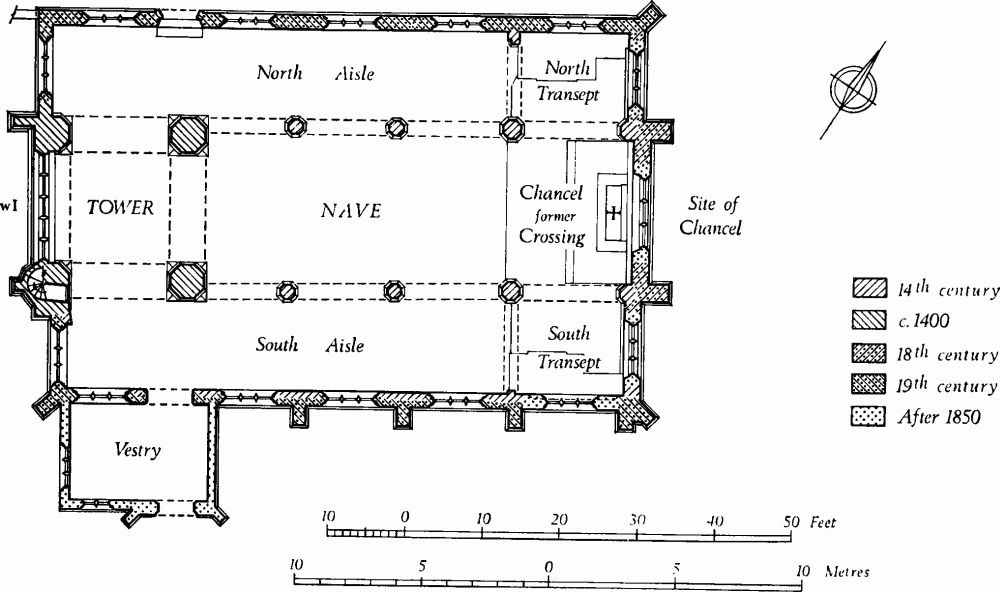 Glass: in nave, W. window, wl, of five lights, contains glass removed from the church of St. Saviour, Saviourgate, including a number of scenes from a Passion cycle (Plate 50). The glass, unless otherwise stated, is of late 14th-century date. Some of it may be that referred to in the will of William Rumlay in 1391 (SS, iv (1836), 158).
The tracery contains twelve single figures, including God the Father with papal tiara, the Virgin, several figures from a Last Judgment and four early 14th-century roundels. The main lights contain small panels flanking the Passion scenes in the three central lights. In 6a–6e are pinnacled canopies, all of the same design (Plate 56). The Passion scenes, each under a subcanopy, represent: (5b) Nailing to the Cross; (5c) Crucifixion; (5d) Deposition (Plate 48); (4b) Entombment (Plate 48); (4c) Harrowing of Hell; (4d) Resurrection; (3b) two Maries and Angel at empty tomb (Plate 48); (3c) Noli me Tangere; (3d) supper at Emmaus, with Christ dressed as pilgrim; (2b) The Incredulity of St. Thomas, the sub-canopy of a different design (Plate 48); (2c) Angel in canopied niche flanked by birds, mid 14th-century; (2d) Ascension. In outer lights, (5a) Crucifixion; (4a) Man of Sorrows, late 15th-century; (5e) Trinity; (4e) shield with Passion emblems (Plate 55).
Helmet: in S. aisle, helmet, gauntlets and sword, all of wood, probably from St. Crux, probably 17th-century. Lectern: of oak, with buttresses to central post flanking canopied niches containing late 19th-century figures of Evangelists (Plate 38), formerly in St. Crux church, 15th-century. Lord Mayors' Tables: in N. aisle, (1) from St. Crux, with monogram of William and Mary, 19th-century copy of (3). In S. aisle, (2) panelled and with rest for mace, headed W3 R 1696 and G2 R 1736, 18th-century, remade 19th century; (3) from St. Crux, tall narrow panel with small panel above and surmounted by third panel with polygonal head, painted with letters WM and RR, 'Rege & Regina, Anglia &c., Fidei Defensor', Royal Arms, arms of York, and names of fourteen Lord Mayors between 1688 and 1793, late 17th-century. Monuments and Floor-slabs. Monuments: in N. aisle, (1) Troop Sgt. Major John Polety, 7th Dragoon Guards, 1829, marble tablet, by W. A. Plows; added tablet to Charles his brother, 1838; (2) Tate Wilkinson, manager of Theatre Royal, York, 1803, Jane his wife, 1826, tablet, by Taylor; (3) John Nelson, 1836, tablet surmounted by urn, by Plows; (4) Samuel Woodhead, 1834, marble tablet shaped as sarcophagus, by W. Plows; (5) Henry Richards, Quartermaster, 15th Light Dragoons, 1783, stone tablet. In S. aisle, (6) Ursula Wyvill, 1790, Hale her husband, 1792, Sarah their daughter, wife of Capt. Thomas Prickett, 1817, oval tablet under curved pediment, with shield-of-arms; (7) Francis Jefferson, alderman, 1756, Dorothy his wife, 1783, and several children, marble tablet; (8) James Saunders, alderman, Lord Mayor 1818, 1824, marble tablet as sarcophagus, by M. Taylor; (9) Robert Bishoprick, surgeon, 1814, similar to last; (10) Nathaniel Frobisher, 1800, and infant son, marble tablet; (11) John Etty, 1779, Matthew his son, 1818, Esther, wife of Matthew, 1829, three grand-daughters, marble tablet, by Fisher. In churchyard, at S.W. corner of S. aisle, (12) John Gregory, 1792, Catherine his wife, 1823, four children, headstone carved with square and compasses; in S.W. corner, (13) John Calvert, 1782, three children, 1777, 1779, 1808, Sarah Trimneli their mother, 1808, headstone. Floor-slabs: in nave, (1) (?) Ann Wightman, 1738, Charles Wightman, merchant, 1758, Mary his second wife, 1789, Mary their daughter, 1804; (2) ... Thomlinson, 1709, Jos. Foster, 1709, Mrs. Jane Thomlinson, 1711, Robert Hilileigh, 1712, Jane Jeeb, 1718, Judith, wife of Robert Jeeb, 1718; (3) seven children of Elizabeth and John Roscoa, see Brass (1); (4) Katherine Wiggins, 1770; (5) William Daniel, 183.; (6) M. Lovell Doughty, druggist, 1748, Elizabeth his daughter, wife of J. Peirson, 1766, see under Brasses, Indent (2); (7) George Cowling, 1778, Jane his widow, 1790, and children; (8) John Maude, 179., Elizabeth (Rudd) his wife, 1772, Mary his second wife, 1825, Elizabeth Wilks, grand-daughter, 1837, and others; (9) Roger Newton of North Burton, (1777); (10) John Thompson, 1759; (11) Ann Ambler, 1823, Abraham Ambler, 182., Ann Priestley their daughter, 1831. In N. aisle, (12) George Bilton, 1773, and two children, 1766; (13) Emmanuel ..., Lord Mayor, 1717, Mrs. Hannah Peirson, 1769; (14) John Riley, n.d. In S. aisle, (15) Robert Bishoprick, 1814; (16) Joseph Lodge, 1758, Jeanetta, 1774; (17) (?) John Hearon, 176., Sarah his wife, 17..; (18) M. Close, 1767, D. Dobson, mother, 1758, and children; (19) William Wilkinson, 1751.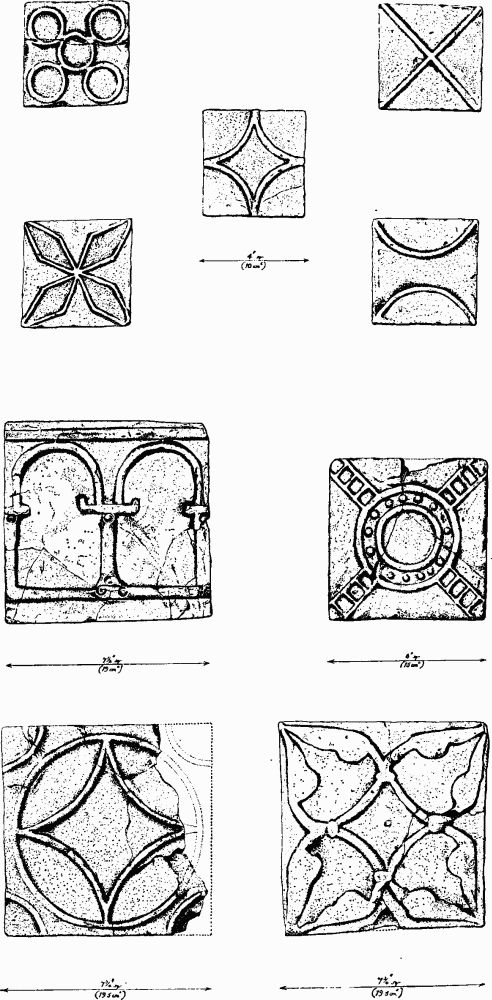 Plate: includes cups and cover-patens, two, by Roland Kirby, York 1682; cup by Hester Bateman, London 1785; salver by William Busfield, York 1681; flagons, two, 'The gift of Mrs. Ann Benson', by William Grundy, London 1763. Formerly in St. Crux church: cup, London 1635; cup, copy of last by Barber and Whitwell, York 1815; salver given by Mrs. Elizabeth Thomas, daughter of William Thomlinson, London 1740. Formerly in St. Saviour's church: cups, two, London 1829; patens, two, and flagons, two, by Barber and North, York 1841; cup, of base metal, of similar design to those of 1829, inscribed 1798; pewter flagons, two, with inscription 'Richd Cussons and Robert Cundell Church Wardens 1750'. (See Fallow and McCall.) Pulpit (Plate 36): of oak, hexagonal, with panelled sides in which are cusped arches, enriched with jewel ornament and grotesque carving, inscribed 'PREACH THE WORD BE INSTANT IN SEASON AND OUT OF SEASON TIMO' and 'WHERE THERE IS NO VISION THE PEOPLE PERISH PROVERB 29 18'; by Nicholas Hall, between 1633 and 1638 (Morrell, Woodwork, 180). Over the pulpit, a sounding-board surmounted by volutes and cherubs' heads and inscribed 'IT PLEASED GOD BY THE FOOLISHNESE OF PREACHING TO SAVE THEM THAT BELEEVE' and, below, 'ANO D 1634'. Royal Arms: in S. aisle, (1) from St. Crux, of William and Mary, painted panel with polygonal-headed centre, royal monogram and date 1688. In tower, (2) Hanoverian before 1801, painted panel (Plate 32). Seating: in nave, (1) pews, plain, 1848; (2) from St. Saviour's, bench, with straight back and arms, panelled chest under seat, 17th-century. Stalls: in S. aisle, two, from St. Saviour's, copies, without misericordes, of 15th-century originals, 19th-century. Tiles: in Yorkshire Museum, found under S. transept in 1963, embossed and green-glazed, with geometric patterns, foliage, birds and arcading, 12th-century (Fig. 13). Miscellanea: in Yorkshire Museum, (1) carved stone voussoirs, capitals and fragment of nook-shaft, mid 12th-century (see York IV, Plate 28). Reset in tower, below belfry, (2) two symmetrical turned balusters, probably remains of former communion rail, early 17th century.
Bedern Chapel, see Monument (33).