Pages 40-43
An Inventory of the Historical Monuments in City of York, Volume 5, Central. Originally published by Her Majesty's Stationery Office, London, 1981.
This free content was digitised by double rekeying and sponsored by English Heritage. All rights reserved.
Parish Church of St. Michael Spurriergate
(13) Parish Church of St. Michael, Spurriergate (Plates 13, 18; Fig. 27), stands at the corner of Spurriergate and Low Ousegate. It consists of a Nave with a sanctuary and no separate chancel, North and South Aisles and a West Tower within the body of the church. The walls are of gritstone and magnesian limestone, and the roofs are covered with tiles and slates.
A church existed on the site before the Conquest and was given to St. Mary's Abbey by William Rufus, probably as part of the foundation grant. The advowson passed to the Crown at the Dissolution and to the archbishop in 1868. The parish was united with St. Mary, Castlegate, in 1936 (VCH, York, 396–7).
The nave arcades were built in the late 12th century, when they were possibly five bays in length. The aisles would have been narrower then than those now existing but there is no evidence of the exact size of the church at that time. The N. aisle was widened in the 14th century, possibly in connection with the foundation in 1336/7 of a chantry of the Blessed Virgin, which was supported by rents from houses built on the churchyard immediately to the N.W. (Raine, 157). In an extensive remodelling in the 15th century the arcades were raised and a clerestorey was added; the latter has now gone, though evidence of it could formerly be seen on the E. face of the tower. At the same time, the S. aisle was widened and the W. tower built. The tower has remarkable piers and capitals in late 12th-century style to match the existing arcades. The floor was probably raised at this time since the tower pier bases correspond with the present level whereas the bases of the arcade piers are buried (except for two revealed by excavation). Money was left to the making of new bells in 1464–5 (Raine, 162), which probably gives the date by which the new tower was complete. In 1821 the church was reduced in size to allow street widening both in Spurriergate and Low Ousegate; the whole of the E. and S. walls and the W. wall of the S. aisle were rebuilt in a uniform style, the E. wall being set back 7 ft., thus halving the bay inside (YG, 11 Nov. 1820; 20 Jan. 1821; 22 Sept. 1821). The clerestorey may have been removed at this time. In 1868 the N. wall was partly rebuilt and two new windows made in it, the architects being J. B. and W. Atkinson (Borthwick Inst., R.IV.F. 1868/6). In 1966–7 the tower was reduced in height and much of the 19th-century seating was removed. Only a very small part of the original churchyard now remains, on the N. side.
The church is notable for its 12th-century arcades and for the repetition of 12th-century forms in the 15th century tower. Among the fittings, the early 18th-century reredos and altar rails are outstanding.
Architectural Description. The E. and S. walls and the W. wall of the S. aisle, rebuilt in 1821, are of gritstone with strongly marked vertical tooling. They have double chamfered plinths, moulded strings below and above the windows, and embattled parapets; the windows are identical, each with four cinque-foiled lights and Perpendicular tracery.
The Nave has N. and S. arcades, each of three full bays and a truncated bay at the E. end with a half-arch only. The arches are two-centred, of two chamfered orders, and stand on piers of quatrefoil section. The piers were originally 7 ft. high from the base and were raised by nearly 6 ft., the 15th-century heightenings being built of deeper courses of slightly smaller diameter than the original lower parts. The reset capitals, which differ only in detail, each consist of a water-leaf cluster with a hollow-chamfered abacus (Plate 27). The second pier from the E. in each arcade has been excavated to reveal the moulded base, showing that the 12th-century floor was 1¾ ft. below the present level.
The North Aisle has a N. wall built of a mixture of gritstone and limestone, with two windows of 1868 which have arched heads and Perpendicular-style tracery; the eastern end of this wall has a house of 1841 built against it, which contains the church vestry on the ground floor. The W. bay was rebuilt in the 15th century at the same time as the tower, with walls predominantly of gritstone; a plinth has been removed from the W. wall, but survives on the N. wall. The W. wall is gabled and has an unrestored window of four lights, with blocked tracery in the arched head.
The West Tower has openings to nave and aisles with pointed arches of three hollow-chamfered orders, the N. and S. arches being continuations of the nave arcades. The E. arch is higher than the nave ceiling, which slopes upwards to it. The eastern piers have four major and four minor shafts, with simple moulded bases, and there are corresponding responds to the W. Only the N. and S. arches spring from capitals, which are 15th-century copies of the late Norman water-leaf type, though not so well accomplished as the originals in the arcades (Plate 27). The W. wall of the tower has buttresses with moulded plinths which have been partly trimmed back to facilitate access along the narrow Church Lane. The central doorway has a four-centred arch of two hollow-chamfered orders, moulded label with carved stops, and segmental pointed rear-arch. Above is an arched window of four cinque-foiled lights with panel tracery and a moulded label. In the N.W. pier a stone newel stair opens off the N. aisle through an arched doorway; higher up, another door, to the interior of the tower, provided access to a former W. gallery. The top part of the tower is modern but, before it was reduced in height in 1966, creasing for the low-pitched roof of the former nave clerestorey was visible on the E. wall; the bell-chamber had a three-light opening with segmental pointed arch in each wall and there was an embattled brick parapet of 17th or 18th-century date.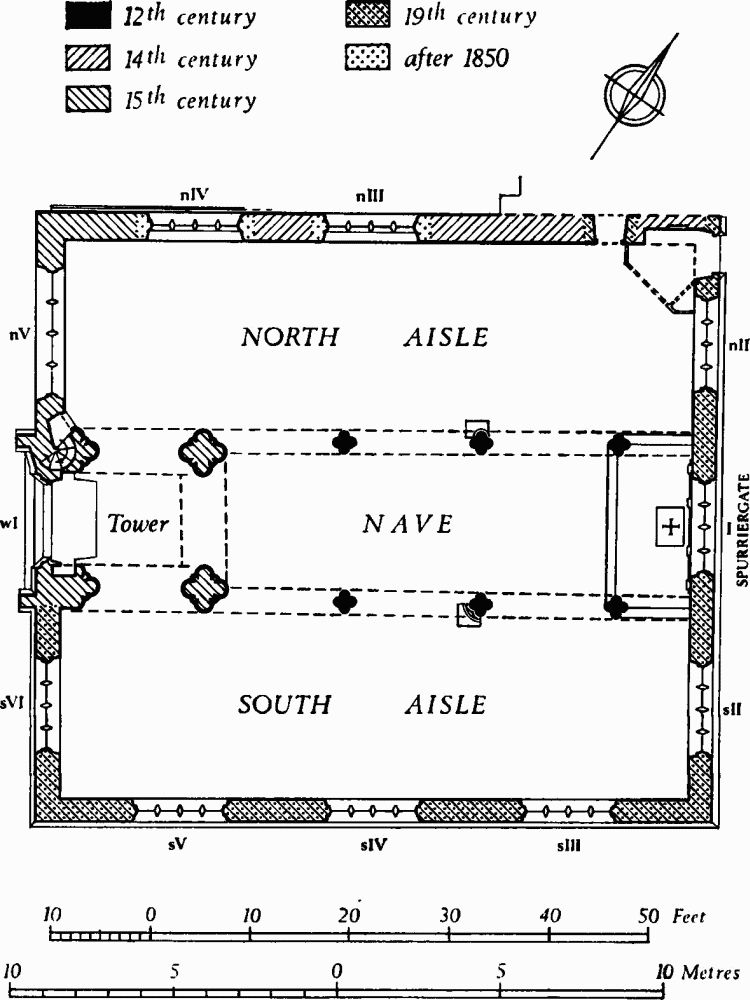 The Roofs are ceiled; in the N. and S. aisles the ceilings, which are probably 17th-century, are divided by moulded beams into large square plastered panels. The nave ceiling is of the 19th century.
Fittings—Altar-frontal: in S. aisle, in glass-fronted case on E. wall, of stamped leather with IHS in glory, probably 17th-century. Bells: six; in tower, (1) 'Sum Rosa Pulsata Mundi Maria Vocata', 15th-century. In S. aisle, on floor (Plate 39), (2–5) all inscribed '1681 SS Ebor' and, respectively, 'Gloria in excelsis Deo', 'Exultate Deo, Psal. lxxxi', 'Iubilate Domino, Psal. lxvi', and 'Deo et Regi Sacrum', by Samuel Smith; (6) 'Lewis Etty, Rector; R. Davis, T. Hessey, Ch. Wardens, 1765', probably by George Dalton (AASRP, xxvii Pt. 2 (1904), 639); all, except (6), brought to church from York Minster in 1765 (Benson, Bells, 6–7). Brasses: in N. aisle, (1) William Langton, rector, 1466, representation of chalice and rectangular plate with black-letter inscription. In nave, (2) William Wilson (d. 1517), rectangular plate with black-letter inscription (Plate 40) (see Floor-slab (11)). In S. aisle, (3) William Hancock, 1485, and his wife Ellen, rectangular plate with black-letter inscription; set in same stone as (3), (4) William Shaw, 1681, rectangular inscription plate, signed 'J. Mann, Ebor', Sculpt.'.
Chairs: two, oak, (1) with arms and carved panel back (Plate 38); (2) of 'Yorkshire' type with carved rails at back; both 17th-century. Chests: three, of oak, (1) three front panels, each with lozenge ornament, and with top rail carved as fluted frieze; (2) two front panels, decorated as enriched blind arcade beneath fluted frieze (Plate 35); (3) three front panels, each with lozenge ornament beneath stylized frieze; all 17th-century. Clock: in S. aisle, at S.W. corner, inscribed 'Reconstructed by G. J. F. NEWEY, YORK 1896'; face painted on exterior of S. wall. Coffin Lid: in external face of W. wall of N. aisle, fragment only, with incised calvary base for cross, probably 13th-century. Collecting Shovels: two, of wood, with long handles, 18th-century. Communion Rails (Plate 38): enclosing altar on three sides, with panelled standards at corners and flanking central gates, profusely carved balusters and heavy moulded and enriched rail, early 18th-century. Communion Tables (Plate 35): in nave, (1) with turned legs with thin Ionic capitals and rail in form of pulvinated frieze. In N. aisle, (2) with turned legs in form of squat Tuscan columns and rails at each end carved with scroll-work; both 17th-century. Doors: in nave, at W. end, (1) in two leaves with blind tracery on outer face, 15th-century, lower part replaced in 18th century by fielded panels and wicket door. In N. aisle, at N.E. corner, (2) set diagonally and serving as internal porch, door-case and panelled door in two leaves (Plate 36), moulded architrave and enriched segmental pediment over, frieze and tympanum with profuse carved ornament, early 18th-century, surmounted by achievement-of-arms of George IV painted on oval-shaped panel supported on early 19th-century pedestal.
Glass: of the first half of the 15th century unless otherwise stated, extensively restored and rearranged after the Second World War under the direction of the late Dean MilnerWhite. All tracery lights have clear glass. In N. aisle, E. window, nII, sixteen roundels with geometric patterns, early 19th-century, one signed and dated 'J. BARNETT YORK 1821', probably all by Barnett. N. wall, 2nd window, nIV, panels of the Adoration of the Magi and the Deposition, mid 19th-century. W. window, nV, sixteen roundels made up of old fragments, 15th-century and later.
In S. aisle, E. window, sII (Frontispiece), in outer lights, eight roundels, early 19th-century, as in nII, probably by Barnett; in heads of inner lights, (5b) and (5c) Coronation of the Virgin; in second light, (2b–4b) large figure of St. John the Baptist, below it, (1b) the angel appearing to Zacharias; in third light, (2c–4c) made-up figure in rayed mandorla under inscription 'cecidisti de c(a)elo Lucifer corruisti qui vuln(er)abas', beneath mandorla three devils and angel (? Lucifer); below it, (1c) the prophet Amos with scroll 'Qui (a)edificat in c(a)elo ascensione(m) suam'. S. wall, 1st window, sIII, in outer lights, eight roundels, early 19th-century, as in nII, probably by Barnett; in inner two lights, the Nine Orders of Angels (Plate 52), intact and in E. window of chancel in 1680 (Henry Keep, Trinity College, Cambridge, MS. 0.4.33); in head of second light, (5b) the Trinity with inscriptions 'laudam(us)' and 't(ri)nitas'; in head of third light, (5c) fragments including Lamb of God and inscriptions; each main panel contains three angels set under flat canopies of several different designs, (4b) '[Sera]phin', bareheaded, (4c) 'Cherubin' (Plate 53), bareheaded, each of outer two holding open book, (3b) 'Troni' (Plate 62), wearing crowns, middle angel holding scales, (3c) Powers (Plate 62), in full armour with orles on helmets, middle one possibly originally beating devil with birch rod, fragments of the inscription in head of third light; a fragmentary inscription 'Iosa[(?)phat]', with facial initial, is probably intruded from window sVI; (2b) 'D(omi)n[a]cio(nes)', in full armour with crowns on their helmets, middle angel holding sword, (2c) 'Princ[ipatus]', wearing diadems with crosses, (1b) 'V[ir]t[u]tes' with doctors' caps, (1c) '[Arc]hangeli' and 'Angil[i]' (Plate 53), bareheaded with their belts hung with alternately bells and leaves, middle one holding trumpet(?).
S. wall, 2nd window, sIV, the Tree of Jesse (Plate 52), the figures set between branches with vine leaves and bunches of grapes. Some have name scrolls, not necessarily in the correct panels. In heads of lights, (5a) king, (5b) fragments, (5c) eagle with young, (5d) prophet; in main lights, (4a) 'malachias', (4b) Virgin and Child, (4c) king, (4d) '[M]ichas', (3a) 'rex [Ma]nasses' (Plate 62), (3b) 'exechias' (Plate 53), (3c) 'Iohet r[ex]', with facial initial, (3d) 'Salateel', (2a) prophet, (2b) '[re]x Davit' with eleven-stringed harp (Plate 62), (2c) king with scrolls 'rex' and 'rex' (Plate 53), (2d) 'Reh(o)bo[am]', (1a) king in profile holding his beard, (1b) and (1c) recumbent figure of Jesse, 'le[sse]', flanked by attendants, (1d) 'ysaias' (Plate 53), with facial initial, early 15th-century.
S. wall, 3rd window, sV, in outer lights, eight roundels, early 19th-century, as in nII, probably by Barnett; in head of second light, (5b) heads and other fragments; in head of third light, (5c) lamb and fragments; in two inner lights, eight scenes under varying architectural canopies, (4b) sainted bishop or archbishop with inscription 'S(an)c(tu)s [A]mbrosius', small figure on left, open book on altar on right, (4c) St. John the Baptist with donor, (3b) Noah building the Ark, (3c) Drunkenness of Noah, (2b) made-up scene with king, possibly Herod, and donor-figure, also armed figure of mid 14th-century date, (2c) king and queen seated against tapestry curtain, both richly dressed and with bare feet (Plate 53), (1b) St. Margaret slaying the dragon, with scroll 'S(an)c(t)a margare[ta]' and kneeling donor-figure, (1c) unidentified scene of young saint with two attendants kneeling before two bearded saints, one seated on throne. W. window, sVI, sixteen roundels, mostly 15th-century, including two rectangular panels, one the Virgin and Child, the other Christ crucified on Tau cross held by God the Father. Some fragments have been grouped into made-up scenes.
Lord Mayors' Tables: two, in N. aisle, tall narrow panels with small shaped panels at top bearing painted arms of City of York and royal cipher; (1) with initials G II R and names of ten Lord Mayors from 1734 to 1801; (2) with initials G III R and names of six Lord Mayors from 1812 to 1870. Monuments and Floor-slabs. Monuments: in N. aisle, on E. wall, (1) William Harrison, 1799, Dorothy his wife, 1786, and others, white marble tablet with flanking pilasters and surmounted by urn, on grey marble backing; on N. wall, (2) Thomas Sanderson, 1803, Elizabeth his wife, 1782, and others, white marble tablet on black marble backing, signed Fisher, York; (3) Mrs. Elizabeth Bath, 1736, stone tablet with moulded base and cornice; (4) William Grews, 1770, Jane his wife, 1790, white marble tablet with shaped apron and segmental head surmounted by small urn; on W. wall, (5) John Harrison, 1729, stone cartouche. In S. aisle, on E. wall, (6) Mrs. Rebecca and Susannah Thorpe, spinsters, mid 18th-century, white marble tablet with obelisk slab of grey veined marble above, from which a shield-of-arms is lost; (7) John Barker, 1844, white marble sarcophagus-shaped slab on slate backing, signed Skelton, York; on S. wall, (8) Katherine Coppinger, 1763, white marble undulating tablet with grey marble pilaster strips to each side and shaped apron, surmounted by lozenge with arms of Coppinger with inescutcheon for Fysh; (9) William Hutchinson, sheriff 1724, 1772, white and greyveined marble tablet (Plate 43), flanked by canted lion-headed terms, between bands with fluting and guilloche ornament, enriched cornice and frieze with ox-skull and paterae, shaped apron with winged hour-glass and garland, surmounted by cherub leaning against urn and holding looking-glass, with obelisk-shaped backing, signed Fishers; (10) John Wood, sometime alderman and Lord Mayor, 1704, Anne his wife, 1679, Charles their son, 1684, coloured marble tablet with plain surround, flanked by scrolls, shaped apron, and broken pediment with central shield in cartouche bearing painted arms of Wood impaling Bean; on W. wall, (11) John Nelson, 1847, white marble tablet on grey backing, signed Fisher. In churchyard, (12) Richard Sutcliffe, sometime Sheriff, 1802, Mary his wife, 1820, children and grandchildren, slab; (13) Thomas Simpson, 1791, Ann his wife, 1783, children and grandchildren, double headstone; (14) William Weatley, 1806, shaped and carved slate headstone, signed Walker, Nottingham; several illegible headstones, 18th or 19th-century. Floor-slabs: in nave, (1) William Harrison, 1799, Dorothy his wife, 1786, and their children, Francis and Leonard; (2) George . . . . erman, sometime mayor of the city, 1683, Lady Issabill his wife, 1680; (3) Mrs. Grace Clark, 1689; (4) Richard Davies, . . . . ., Ann his first wife, 1758, Eleanor his second wife, 1759(?); (5) William Jennings, 1804; (6) nine children and grandchildren of Samuel and Sarah Fowler, 1780 to 1816; (7) Peter Richardson, sometime sheriff of the city, 1690; (8) Thomas Nursaw, merchant, 1765, Jane his wife, 1790, Jane his daughter, 1776; (9) Thomas Sanderson, 1803; (10) Benjamin Beilby, 176.; (11) mutilated slab, Alice, wife of John Darby(?), 1746, and others including one of 1698; Brass (2) in same slab; (12) Dorothy, wife of Joseph Hewan(?), 1735; (13) mostly illegible, Elizabeth . . . . and Richard . . . .; (14) . . . . Robson, widow of George Robson, 1778; (15) Alan Hamerton (d. 1405), Isabella his wife, with marginal inscription, corner medallions with symbols of Evangelists and shield-of-arms of Hamerton, later reused to Henry Myres, 1775, John Thorpe, Rebecca his wife, 1778, Susanna Thorpe, 1782; (16) Alice, wife of Benjamin Barst(ow?), and three children. In N. aisle, (17) (William) Stephenson, 1752, Frances his wife, 1727, Mrs. Alice Stephenson, 1685; (18) Francis Stephenson, Lord Mayor 1760 and 1766, 1783, Richard his grandson, 1781(?); (19) William Clark, watchmaker, 1796, Frances his wife, 1819, Frances Ann their daughter, 1799; (20) James Harrison, 1781, Mary his wife, 1810, Ann their daughter, 1766, Elizabeth Joy, 1767; (21) Robert Hartley, flax dresser, 1803, Jane his wife, 1808; (22) John . . . . and Sarah his wife, 1789; (23) Samuel Mancklin, 1687; (24) George Davidson, 1779(?), Elizabeth his wife, 1774. In S. aisle, (25) James Astington, 1774, Elizabeth his wife, 1787, James their son, 1780; (26) William Whytehead, attorney, alderman and sometime Lord Mayor, 1741, Margaret his wife, 1711; (27) Richard Wood, 1701; (28) Elizabeth Hardy, 1690; (29) Jacob Layland, merchant, 1760, Ellen his wife, 1751, George Fowler, 1802, Martha his wife, 1807; (30) Richard Clark, 1797, Margaret his wife, 1787, four of their children; (31) Ann Clark, 1775, Ann Clark her daughter, 1781, John Clark, 1792; (32) James Fryer, 1806, Margaret his wife, 1793, James their son, a Proctor of the Ecclesiastical Court of York, 1816, Margaret their daughter, 1776; (33) Elizabeth Copley, 1776, Elizabeth Long, 1780; (34) Mary, daughter of William Stephenson, merchant, . . . ., inscription set within decorative arch; (35) Mark Mitchell, 1778, and another; (36) John . . . ., goldsmith, 1703.
Plate includes: cup, inscribed, with cover paten, by Marmaduke Best, York 1678; paten, inscribed, London 1691, bought in 1692; flagon, inscribed, London 1821, given in 1870 by John Colburn, Lord Mayor; pewter flagons, two, dated 1767; brass alms-dish, with perforated pattern, probably Augsburg work of the 16th century (Fallow and McCall, 1, 23–4). Rainwater Heads: on W. wall, against tower, two, quadrant-shaped, dated 1821 and 1834. Reredos (Plate 37): of wood, three-part architectural composition defined by fluted Corinthian pilasters on pedestals, with full horizontal entablatures in side bays; in centre bay, cornice rises in semicircle and is surmounted by carved figure of St. Michael slaying dragon; between pilasters, round-headed panels bearing, in gilt lettering, the Lord's Prayer, Decalogue, and Creed; central panel wider and, above it, carved representation of the Holy Spirit in glory; early 18th-century. Royal Arms: see Doors (2). Table: plain turned legs, 17th-century, later altered by insertion of drawers.