Pages 44-46
An Inventory of the Historical Monuments in City of York, Volume 5, Central. Originally published by Her Majesty's Stationery Office, London, 1981.
This free content was digitised by double rekeying and sponsored by English Heritage. All rights reserved.
Parish Church of St. Sampson
(14) Parish Church of St. Sampson (Plates 10, 17; Fig. 28) stands S.E. of Church Street and backs onto Patrick Pool on the N.E., with a churchyard to S.E. The walls are mainly of magnesian limestone and the roofs are tiled. The church is aligned N.E. to S.W. and stands obliquely over part of the Roman city wall. A fragment of a cross-shaft of the first half of the 11th century, found built into a house in Newgate (289) within the area of the former churchyard, suggests a pre-Conquest date for the earliest church, but excavations by the York Archaeological Trust in 1974 revealed a stone wall under the S. arcade which appeared to be Norman (YPSR 1974, 28).
In the 12th century the advowson was in the possession of Pontefract Priory, and by 1226 it had been acquired by the Archdeacon of Richmond, but the form of the church at that time is not now ascertainable. After disputes between the two contenders for the advowson, the presentation came into the hands of the archbishop in 1332, and into the king's hands in 1334. It remained in the royal gift until 1394, when Richard II appropriated the church to the Vicars Choral of York Minster, in whose hands it remained until 1936.
The present church, though a Victorian rebuilding, is in general design and largely in actual fabric a 15th-century entity. The Chancel and Nave are contemporary with the two aisles. The North Aisle dates from after 1444 when Thomas Karr left 20 marks towards the building of the N. aisle with a gable, provided it was started within three or four years of his death. It was to be to the same design as the 'recently-built' South Aisle. Changes of alignment in the N. and S. walls suggest that the two eastern bays of the aisles represent rebuilding of earlier chapels. That to the N. may have been connected with the chantries to the Virgin Mary, set up in 1268 and 1337 (see Monument (291)), and subsequently referred to as being in the N. side of the church. In 1405 John de Helmsley established a chantry at the altar of the Holy Trinity, and this probably indicates the beginning of the building on the S. side, to which Robert de Louth in 1407 left 40s. for a glass window. Bequests by Richard Ripley and William Tod in 1485 show that the West Tower was then being built. In 1489 the executors of John Karr established a chantry in honour of the Holy Trinity, the Blessed Virgin Mary, SS. Nicholas, Benedict and Barbara, and All Saints. As there were already chantries to the Holy Trinity and the Virgin Mary, this seems to have been known mainly as St. Nicholas' chantry.
An attempt was made in 1549 to combine St. Helen's with St. Sampson's, but this was thwarted by an Act of Parliament in 1553. St. Sampson's, however, seems to have acquired two bells from St. Helen's. The tower was damaged by gunshot in 1644, and most of the monuments were destroyed by the Parliamentarians. The church was largely rebuilt between 1845 and 1848, except for the tower, the top stage of which was removed. The architect was Frederick Bell of York, with Mr. Laycock as mason and Mr. Gray as joiner. J. W. Knowles worked in the church, painting the chancel ceiling in 1865 and providing a new stainedglass window in the chancel in 1866. Further restorations at the E. end were carried out in 1875 under C. Hodgson Fowler, and again in 1881 and 1905. In 1910 the tower was restored and a new top stage added. The church was closed for services in 1969, and in 1974 was restored and converted into a centre for old people.
Architectural Description. The church is an aisled quadrilateral, with a tower at the W. end of the nave projecting slightly beyond the main body of the church. There is a vestry built against the E. wall of the S. aisle.
The Chancel and Nave, of five bays, are structurally undivided, with two eastern bays forming the chancel marked by a rood beam and a timber openwork screen. The E. wall is gabled, with a stone coping and a truncated finial. It has a weathered and chamfered plinth, and a weathered string-course at sill level beneath a window of three cusped lights with geometrical tracery, flanked by gabled two-stage buttresses with double offsets. The N. and S. arcades consist of octagonal piers with moulded capitals and chamfered bases with a square lowest stage, supporting pointed arches of two chamfered orders. The western arches spring from complete piers set against the piers of the tower, to which the wall faces above are linked by miniature arches on the sides facing the aisles.
The North Aisle is of six bays, divided by gabled two-stage buttresses. There is a difference in alignment and in profiles of mouldings between the two E. bays and the four W. bays. The E. window has three trefoiled lights with curvilinear tracery in a two-centred head. In the N. wall, two windows to E. have two ogee cinque-foiled main lights under an embattled transom and four tracery lights in a square head. In the four W. bays are windows of generally similar form but with two-centred arches to the main lights and no transoms. The W. window has three cinque-foiled lights with geometrical tracery in a two-centred head.
The South Aisle is generally similar to the N. aisle, also with a difference in alignment and in profiles of mouldings between the two E. bays and the four W. bays. The E. window has three ogee-headed lights with vertical tracery in a two-centred head. Below is a small doorway to the 19th-century vestry. The windows in the S. wall are uniform with those in the N. wall, and the W. window has three lights with plain two-centred heads and vertical tracery in a two-centred head.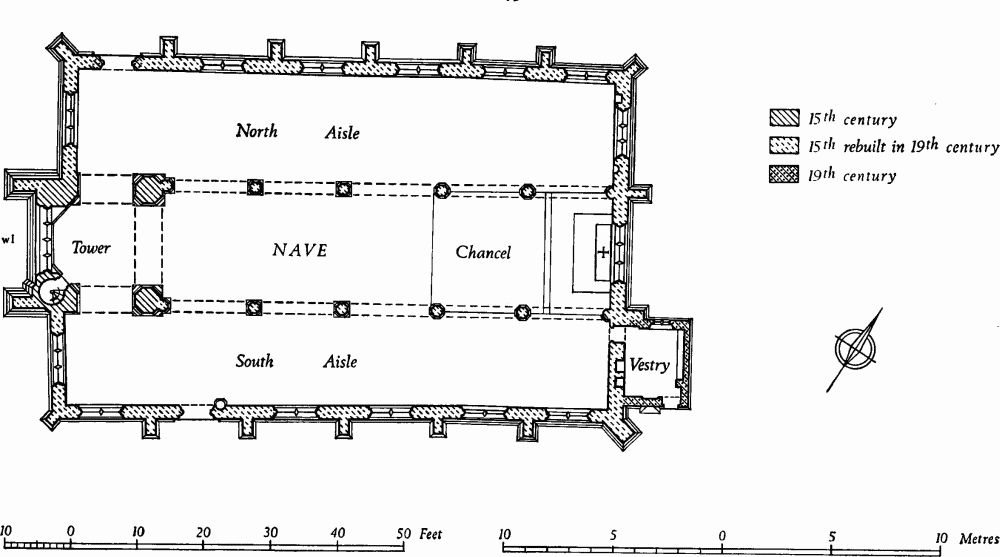 The West Tower, partly incorporated in the body of the church, has octagonal E. piers on square bases with spurs, with corresponding splayed inner angles to the W. responds, and a vice in the S.W. corner. The E. arch is of three chamfered orders, with the inner order resting on demi-angels with shields, that to S. charged with a merchant's mark, probably of John Karr, Lord Mayor in 1456 (Plate 29). The N. arch is of two orders, the S. arch of three, and the W. rear-arch of one, resting on the wing of a defaced angel on the S. side and springing from a wider reveal on the N., with a demi-angel with a shield to the right of the springing. The piers and responds, but not the W. wall, have a chamfered plinth. Externally the tower is divided into two stages. The whole of the W. wall was refaced in 1910. It has a moulded plinth and four-stage buttresses to the W. The W. window is of four lights, with vertical tracery. The bell-chamber above has a rectangular opening in the E. wall and louvred two-light arched openings in the N. and S. walls, with a restored canopied niche containing a statue of St. Sampson at the same level in the W. wall. The top stage dates from 1910.
The Roofs are of the 19th century, with some 15th-century bosses reused. The chancel roof is supported by three main trusses of arched-braced construction, and two intermediate trusses with tie-beams. The bosses are mainly of foliage but also include an eagle, a lion's mask, two wild men, and an animal amidst foliage. The nave roof has three arched-braced collar-beam trusses; each truss has three carved bosses, including an eagle, a moustachioed head with a square head-dress, a lamb with the bearded head of St. John the Baptist on a charger, and five shields; of these one has modern painted heraldry and another is carved with a cross encircled by a wreath; the other three are held by angels and are carved with the arms of Bromflet(?) and Knoll(?), and an unidentified design, possibly a merchant's mark.
The N. aisle roof has seven arched-braced collar-beam trusses, each with three carved bosses. The bosses include the heads of a wild man, crowned and bearded man, bearded man wearing a torce, bearded man with a bonnet, woman with a head-dress and woman with a wimple; muzzled bear, serpent coiled round a quatrefoil, lion of St. Mark, lion fighting a dragon, Catherine wheel, octagonal tower, and five shields, four held by angels; one shield is plain, others are carved with the merchant's mark of John Karr(?), the arms of Sandford(?) and Wistow(?), and a cross voided. The S. aisle roof has five arched-braced collar-beam trusses in the two E. bays. The subsidiary trusses have five bosses each and the central truss has a single boss at the apex. The bosses are mainly foliage, apart from four grotesque faces and two angels holding blank shields. The W. section of the roof, of common-rafter construction, has no bosses.
Fittings—Aumbry: in N. aisle, in E. wall, rectangular opening of uncertain date. Bells: (1) large bell inscribed '+FIAT VOLVNTAS TVA PATER OMNIPOTENS' and initials 'R B', 16th-century; (2) sanctus bell, dated 1775. Bell-frame: with posts and curved braces, probably 15th-century, much repaired, and not in original position. Benefactor's Table: in S. aisle, on W. wall, sarcophagus-shaped marble tablet, probably by Fisher, recording benefaction of £40 by Mrs. Alice Green, dated 1818. Brasses and Indents. Brass: in S. aisle, near E. end, to William Richardson, 1680, signed Joshua Mann. Indents: in slab reused for Atkinson (see Floor-slab (2)), three indents, two for kneeling figures and one for inscription, mediaeval. Doors: (1) in N. doorway, divided externally by mouldings into tall panels; in heads of four main panels are tracery forms based on repeated square-headed windows (Plate 26), 15th-century, extensively renewed; (2) in S. doorway, six-panel door, probably 18th-century. Glass: in tower, W. window, wl, 2nd light, various mediaeval fragments, including a bishop blessing, and 17th-century spiked flowers. Inscription: in S. aisle, on S. wall, white marble tablet with shaped lower side and rectangular background of grey marble, recording reopening of church in 1848 after rebuilding.
Monuments and Floor-slabs. Monuments: in N. aisle, on W. wall, (1) . . . ., daughter of John Awkingham, damaged, obelisk with cartouche beneath, 18th-century. In S. aisle, on S. wall, (2) Charlotte Thornton, 1850, white marble sarcophagus on black marble background, shaped top; (3) Richard Clarke, 1815, white marble sarcophagus with foliate bracket feet, black marble background with shaped top, signed Plows; on W. wall, (4) tablet flanked by pilasters, moulded cornice and base, pulvinated frieze and dentilled cornice, probably to James George Atkinson, 1729, inscription illegible. In churchyard, many headstones now relaid: in path on S. side of church, including (5) Ann Waud, 1810, and son; (6) Jeremiah Hall, 1751; (7) Joseph Munby, 1816, three infant children, widow Jane Munby, 1819, her mother Jane Pontey, 1840, flat slab; (8) Ann Welsh, 1797, . . . ., her daughter Ann, wife of Robert Heselgrave, 1797, Robert Heselgrave, fallen headstone with sarcophagus and torch and arrow in saltire at angles, signed R. Mountain; others to E., N. and W. of church, including, to W. of N. aisle, (9) Ann, daughter of Ann Potts, 1798. Floor-slabs: in N. aisle, (1) Martha, daughter of Dr. Green of Doncaster, 1723; (2) the Rev. Mr. Robert Atkinson, curate of Bulmer, 1767, see Brasses, Indents; (3) . . . . ., youngest daughter of . . . . d Seller, Gentleman; (4) Thomas Hands(?), woollen draper; (5) David Johnston, 1700; (6) Margaret Gee, 1818; (7) Elizabeth, widow of the Rev. John . . . . . ., formerly minister of this [congregation], 182(5)(?); (8) Christopher . . . . ., 1761, . . . . . ., 1791, . . . . ., 1797, John Bell, 1802, and others earlier, very worn. In S. aisle, (9) Ann Ingram, spinster daughter of M(etcalfe) Ingram of Fossgate, 1758; (10) . . . . . ., and Sarah, wife of John Clapham, 1843; (11) Mary Wilk[inson](?), 1832, Tobias Jackson, 1833.
Piscina: in N. aisle, in E. wall, trefoil-headed recess with blind spandrels, no bowl or drain, probably upper part of piscina, mediaeval. Plate: (dispersed; information from Fallow and McCall and later inventories) included, (1) cup with mark 'W.B.', London 1767–8, inscribed 'St. Sampsons Parish 1767 Wm Renald & Jas Woodhouse Church Wardens', now at church of St. James the Deacon, Acomb Moor; (2) copy of the foregoing, makers' mark R.C./J.B., York 1812–3, engraved 'St Sampson's Parish 1812 John Mounser & Wm Bean Church Wardens', now at Murton Parish Church; (3) paten with added foot, paten inscribed 'William Watson Thomas Bradley Church Wardens 1806', by I. H., London 1791, foot by N.W. & Co., York 1804–5, now at All Saints, Pavement; (4) two salvers from Holy Trinity, King's Court, inscribed 'The Gift of John Waller Gent for ye Communion Service in Christ's Church York in memory of Elizabeth his Wife who dyed Anno 1696', London 1695–6, now at church of St. James the Deacon, Acomb Moor; (5) brass alms-dish with inscription 'Wm. Simpson gave this Brass Bason to St. Samp' Church May ye 10th 1705', now in New Earswick Parish Church. Safe: in vestry, cast-iron, decorated with tracery forms, 19th-century. Stoup: in S. aisle, in S. wall, to E. of S. door, octagonal stoup with pendant base and lead-lined basin set in arched recess, probably mediaeval.