Pages 48-49
Survey of London Monograph 12, Cromwell House, Highgate. Originally published by Guild & School of Handicraft, London, 1926.
This free content was digitised by double rekeying and sponsored by English Heritage. All rights reserved.
APPENDIX B.
Pedigree of Sprignell of Highgate.
See Note opposite.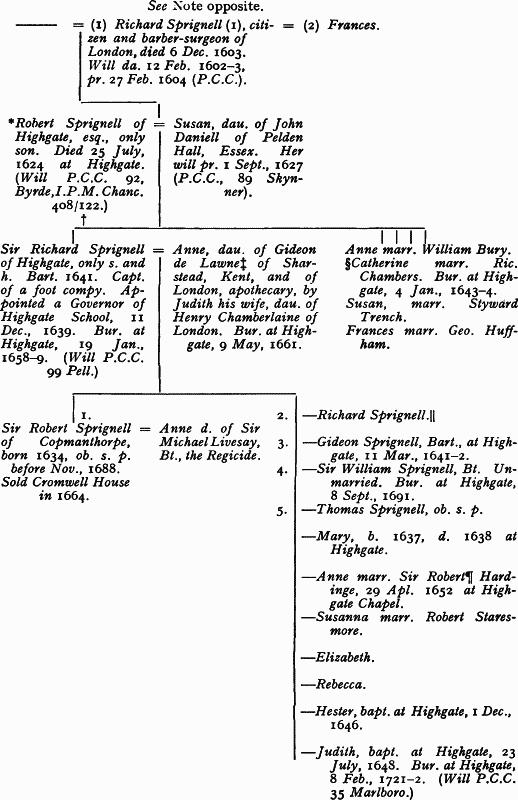 (fn. 1) (fn. 2) (fn. 3) (fn. 4) (fn. 5) (fn. 6)
Note on pedigree.
We begin the pedigree with Richard Sprignell, citizen and barber, who died 6 Dec. 1603, whose only son Robert purchased the property at Highgate, because from that point onwards it is absolutely verified. Records of preceding generations, however, place us in a difficulty. In Harl. MS. 1551, fo. 37 (Visitation Com. Middx.), transcribed below, which quotes records in the Guildhall, London, we are told that William Sprignell of Greate Horwood, Bucks., was the father of a Robert Sprignell, of London, who was admitted to the Barber-Surgeons' Company in 1523, and that this Robert (whom we will call Robert No. 1) was the father of Robert Sprignell of Highgate (whom we will call Robert No. 2). Robert No. 2, however, was the only son of Richard Sprignell and we can only surmise that if the earlier names can be accepted the Harleian MS. pedigree omits a generation, since the gap between the admission of Robert No. 1 to the Company in 1523 and the death of Robert No. 2 (25th July, 1624) is almost impossibly long. We give below the pedigree from the Harleian MSS. and the entries in the books of the Barbers' Company.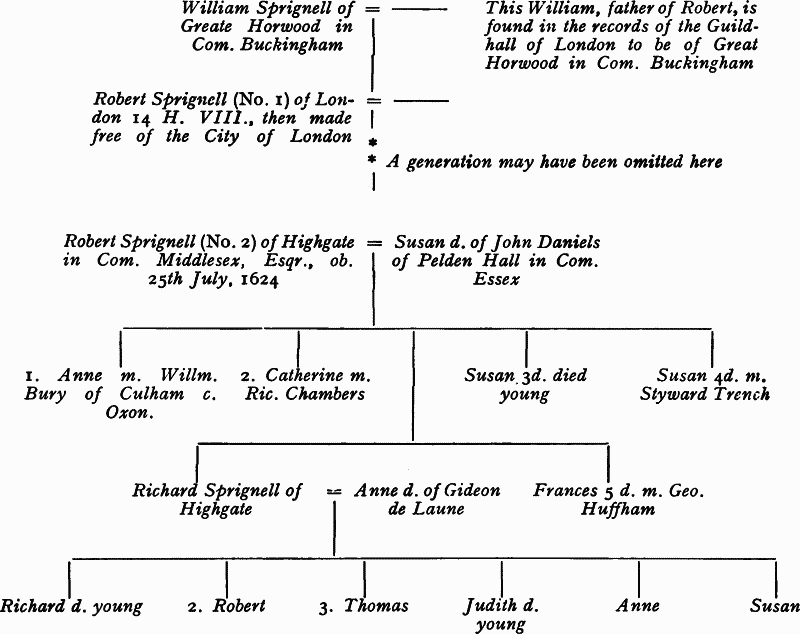 Mr. F. C. Lingard, clerk to the Barbers' Company, gives us the following entries of admission from the earliest book in their possession:—
Robert Sprignell.
1523.
(This is Robert No. 1.)
John Sprignell.
1552.
March 24th.
Richard Sprignell.
1556.
Nov. 10th apprenticed to . . . .
No particulars of parentage appear in these early entries and it might be thought that Richard was not the son of Robert for in that case he would have got his freedom by patrimony, unless he was born before his father's admission to the Company or because his father was not a practising member (i.e., had obtained his freedom by purchase). We may presume, however, that Richard was apprenticed when he was about 15 or 16 years of age and served 7 years and, therefore, was born not earlier than, say, 1534. It is a pity the entry in the Company's books fails to give the name of the man to whom Richard was apprenticed, for in another pedigree, prepared for "Captain Sprignell " and signed by Richard Mundy, the father of Richard Sprignell (d. 6 Dec. 1603) is given as "Thomas Sprignell of Beds :" We think it more likely that Richard was the grandson of William Sprignell of Great Horwood, unless Richard Mundy was right after all.
From Sidney Young's "Annals of the Barber-Surgeons," 1890, we learn that Robert No. 1 was master in 1554, while Richard's career is given in detail on pages 21, 22.