Pages 182-193
Survey of London Monograph 16, College of Arms, Queen Victoria Street. Originally published by Guild & School of Handicraft, London, 1963.
This free content was digitised by double rekeying and sponsored by English Heritage. All rights reserved.
YORK HERALD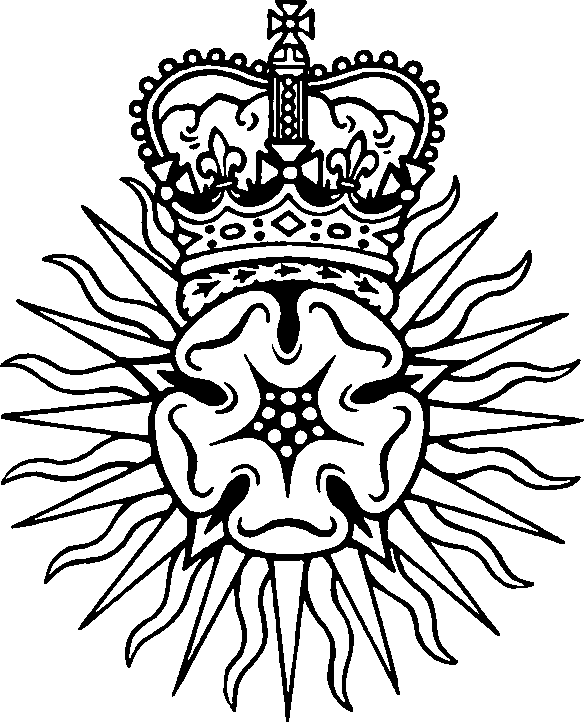 Spelman thought that York herald was originally the officer of Edmund of Langley, created Duke of York in 1385, but the first reliable reference to York is in 1484 (see John Water). He is now one of the six heralds in ordinary.
Badge: The Yorkist white rose en soleil royally crowned.
1. HENRY FRENCH or FRANKE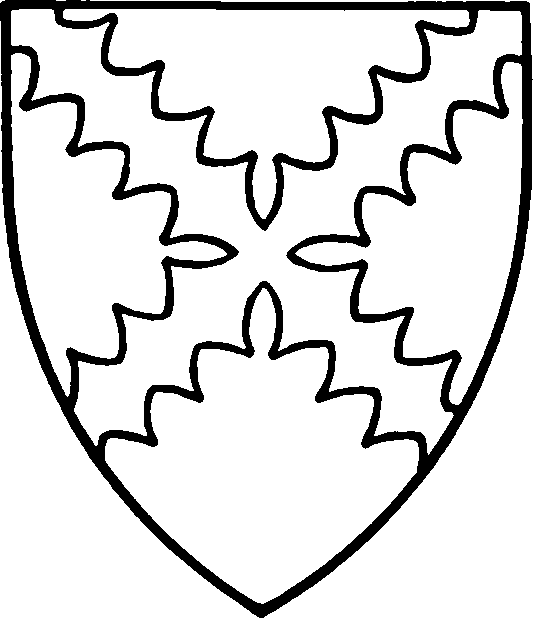 Comfort, temp. Ed. IV.
Bluemantle, temp. Ed. IV.
York, temp. Ed. IV.
Arms: Vert, a saltire engrailed or.
2. THOMAS HOLLINGSWORTH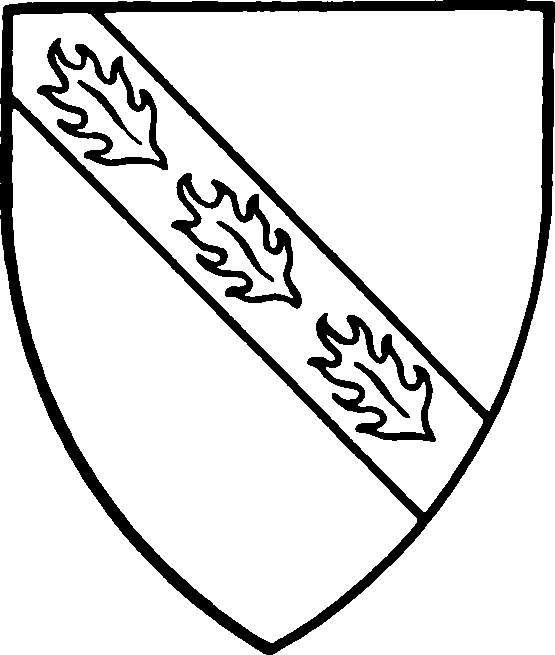 Rose Blanche, temp. Ed. IV.
Bluemantle, temp. Ed. IV.
York, temp. Ed. IV.
Arms: Azure, on a bend argent 3 (holly) leaves vert. Crest: A stag lodged argent.
3. JOHN WATER or WALTER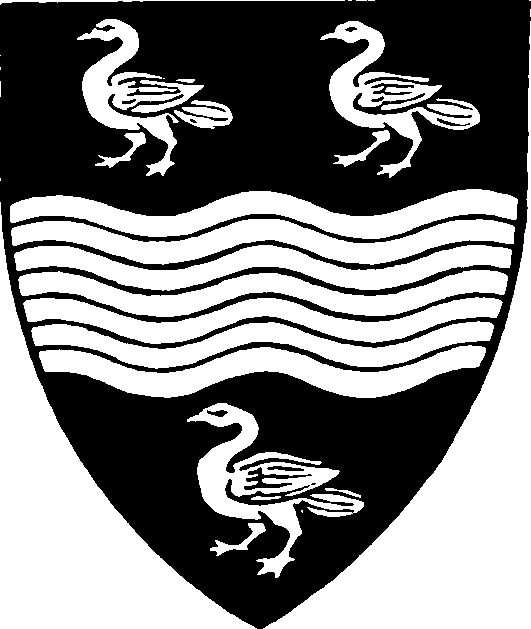 Rose Blanche, temp. Ed. IV.
Rouge Croix, temp. Ed. IV.
York, c. 17 February 1484.
Earliest trustworthy mention of a York herald is pat. 17 February 1484, granting to John Water alias Yorke, herald, as fee of his office and for services to Richard III, his predecessors and ancestors, manor of Bayhall, in Pembury, Kent, and £8. 6s. 8d. a year from lordship of Huntingfield, Kent; reappd York 25 September 1486; 1486 and 1488 sent to France; 1493 Garter mission to Duke of Calabria; d. 28 March 1502; burd in Greyfriars' Church (Christ Church, Newgate).
Lant's statement that he was Rose Blanche and Rouge Croix temp. Ed. IV unconfirmed. Query if he is not identical with John Water, Warwick and Chester. See Chester (7).
Arms: Sable, a fess wavy barry wavy argent & azure between 3 swans argent. Berry & later dictionaries add: Crest: A demi-talbot argent with an arrow gules in the mouth.
4. ROWLAND PLAYNFORD
Calais, temp. Ed. IV.
Bluemantle, temp. Ric. III or Ed. IV.
York, temp. Hen. VII.
It is possible that Playnford was the Bluemantle to whom an annuity previously held by Parvesyn, Collar pursuivant, was granted by pat. 11 November 1488. But see also Lawrence Alford, Bluemantle (18).
5. JOHN MYNNE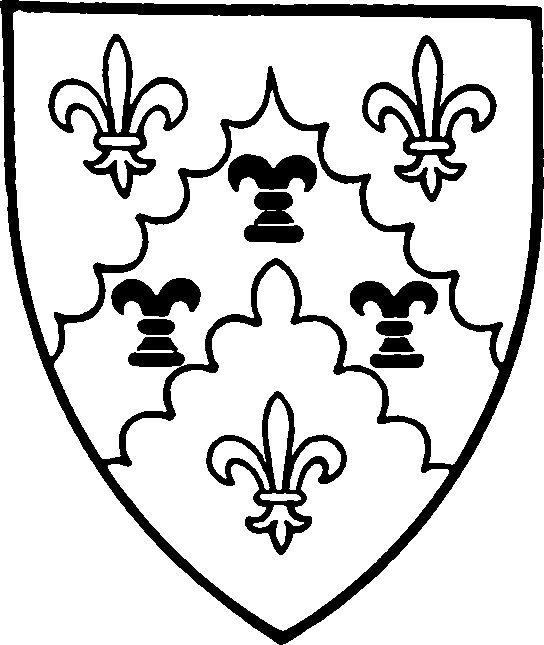 ? York, temp. Hen. VII
Of Windrush, co. Gloucester; husband of Garter Wrythe's eldest dau. Catherine and probably related to his third wife Anne Mynne. Noble names him York 'upon the authority of the Wriothesley's pedigrees in which he is styled York', but doubtful if he was a herald for although mentioned several times in Wrythe's will he is not called York, nor is he in the Mynne pedigree at the 1623 Vis'n of Gloucestershire; he is not in the Catalogues and is not named as York by Anstis or Leake.
Arms: Gules, on a chevron engrailed or between 3 fleurs de lis argent 3 chessrooks sable.
6. WILLIAM WRYTHE alias WRIOTHESLEY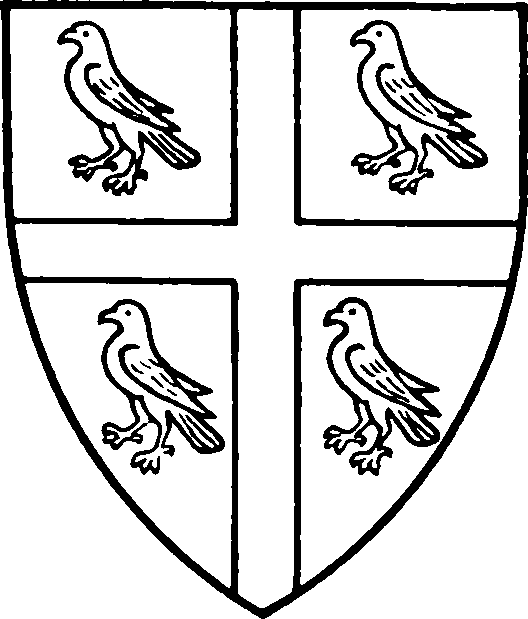 Rouge Croix, c. 1 December 1505.
York, appd between 9 April and 26 August 1509.
Second s. (not eldest as often stated) of John Wrythe, Garter, by Barbara de Castlecombe; like elder bro. Sir Thomas, changed name to Wriothesley; probably b. in London; lived in Barbican; citizen and draper 1509. His s. Thomas, b. 1505, K.G., Lord Chancellor, Earl of Southampton, etc.
Rouge Croix probably c. 1 December 1505, when unnamed Rouge Croix had pat. of £10 a year; still Rouge Croix April 1509, when named as 'Will'm Wrythesley alias dictus Rouge cross' in accounts for Henry VII's funeral (I. 11, 88b); York before 26 August following when Hawley had p.s. to be Rouge Croix 'on promotion of Rouge Croix to be York'; said to have d. young, probably before 26 April 1513, when Tonge became York.
Arms: Wriothesley, Castlecombe & Lusthill quarterly (see J. Wrythe) with crescent for difference in centre of the quarters (Coll. of Arms, Vinc. MS. 152, p. 71, 'Wriothesley's Crosses', no. 321).
7. THOMAS TONGE (1513). See Clarenceux (11).
8. RALPH LAGO or LAGYSSE
Calais, temp. Hen. VII.
Bluemantle, p. s. 17, pat. 24 March 1511, salary from Michaelmas 1510.
York, appd between 20 October and 5 November 1522.
Said to have been Calais; was Bluemantle and then York; employed mainly on the Continent; 1513 summoned Thérouanne to surrender; d. May 1527.
9. THOMAS BYSLEY
Risebank, temp. Hen. VII.
Bluemantle, pat. 5 November 1522.
York, pat. 12 February, cr. 1 November 1528.
Called Rouge Dragon in pat. of Bluemantle but that must be mistake for Risebank; York 1528; sent with despatches to Spain and elsewhere 1522, and 1527–8–9; d. June 1530. His s. Richard became Fellow of All Souls.
Arms: Argent, a chevron engrailed between 3 birds sable, beaks & legs gules. (Coll. of Arms MS. SML. 64, p. 291.)
10. ALLEN DAGNELL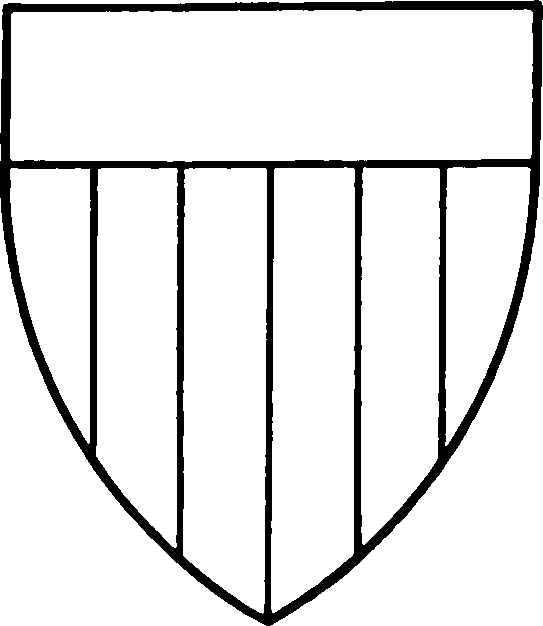 Guisnes, cr. 1 November 1528.
York, p. s. 31 August, pat. 4 September, cr. 1 November 1530.
Appd York direct from Guisnes; d. between 12 November 1537 and Lady Day 1538.
Arms: Paly of 6 pieces or & argent, a chief gules.
11. BARTHOLOMEW BUTLER (1538). See Ulster (1).
12. MARTIN MARROFFE
Calais, c. November 1536.
Rouge Dragon, p. s. 28 January, pat. 4 March 1539.
York, cr. 15, pat. 24 November 1553, salary from Michaclmas 1552.
As Calais attended Lord Lisle, Deputy of Calais, November 1536–8; Rouge Dragon 1539; thence York probably appd late 1552; 1544 with army in France; 1546 sent to Germany; d. 20 or 21 April 1564.
Translated from the French 'Rules for officers & officers' fees', now Coll. of Arms MS. 2 L. 10.
13. WILLIAM COLBARNE or COWARNE
Rouge Dragon, cr. 15 November 1553, pat. 11 January 1554.
York, pat. 25 January, cr. 19 April 1565.
S. of James Colbarne of Dudley, and probably kin to Francis Colbarne, who married Norroy Dalton's sister Elizabeth. Lord Cobham's servant; Rouge Dragon 1553 and York 1565; d. 13 September 1567; burd St Dunstan's in the West, near Dalton.
1558, when he and Dalton were attached to Lord Westmoreland's force against the Scots they made a so-called Vis'n of the north and continued that 1560–1.
Notes by him are in Add. MS. 6113, Caius Coll. MS. 573/280, fo. 42, and in several Coll. of Arms MSS., some of which belonged to him.
(Surtees Soc., 122, p. xxxi, etc.; Machyn's Diary, ed. Camden Soc., p. 49; Wagner, R. & C., pp. 14 n., 78–9; etc.)
Arms: Argent, a chevron between 3 bugle-horns sable stringed or. Crest: On a gold crown a stag's head erased argent attired or. Motto: Seur et Loyal.
(Brass, etc., formerly in St Dunstan's.)
14. RALPH LANGHAM or LANCIMAN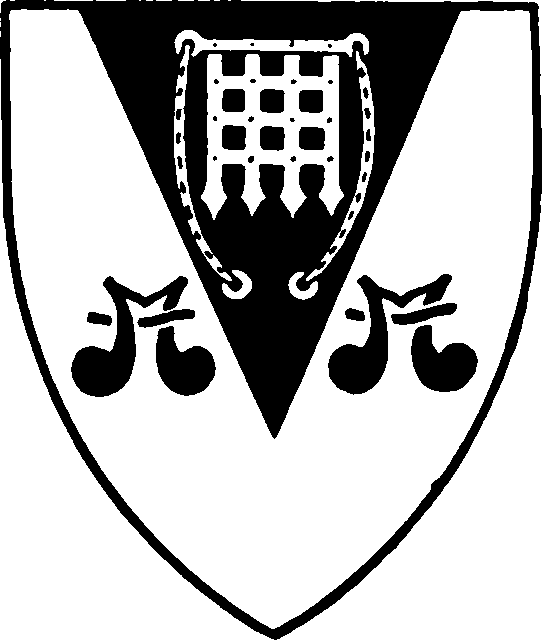 Portcullis, appd November 1559, pat. 16 June, cr. 2 December 1561, salary from Michaelmas 1558 (sic).
York, pat. 25 November 1567.
As Portcullis attached to the English army sent to Havre 1563; later York; d. 23 December 1569 at the College. Owned Coll. of Arms MS. 'M. 13 Arms'; MS. Harl. 1412 partly written by him.
Arms: Argent, on a pile between 2 bougets sable a portcullis argent.
15. WILLIAM DETHICK (1570). See Garter (8).
16. HUMPHREY HALES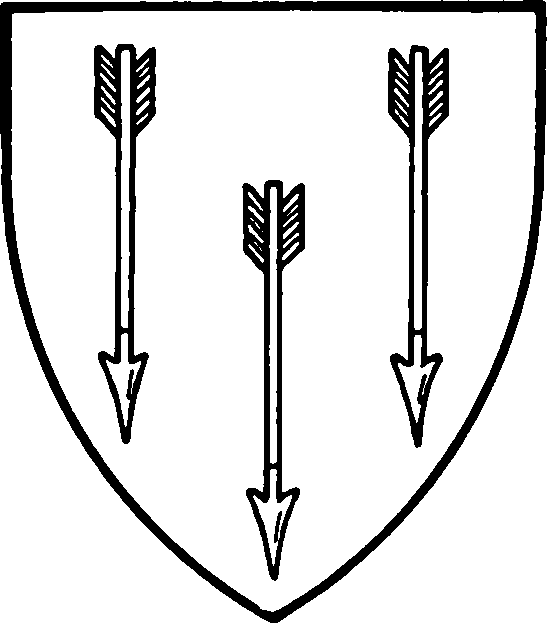 Bluemantle, appd 1583, pat. 23 June, cr. 3 November 1584.
York, pat. 30 April, cr. 4 June 1587.
S. of Humphrey Hales of the Dongeon, Canterbury, and younger brother of Sir James Hales; B.A. Pembroke College, Cambridge, 1572; Gray's Inn 1573; Bluemantle 1583; d. 16 January 1592.
(1619 Vis'n of Kent; etc.)
Arms: Gules, 3 arrows argent, barbs & feathers or. Crest: An arm in armour argent, the hand proper darting an arrow or, barbs & feathers argent, a scarf gules tied about the wrist.
17. RALPH BROOKE (BROOKSMOUTH)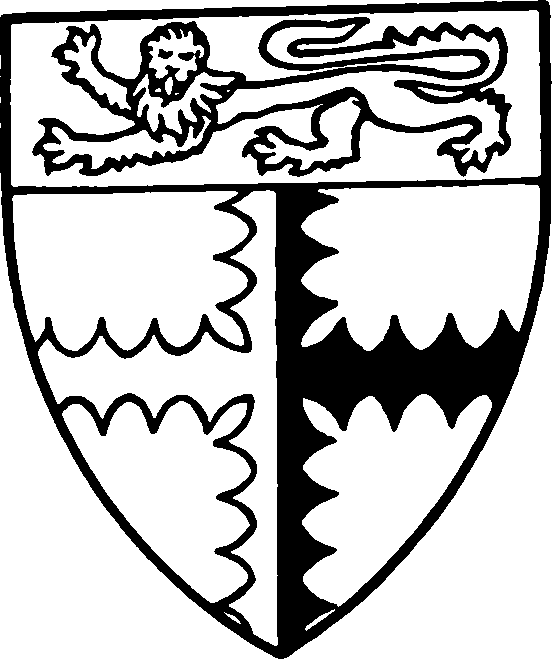 Rouge Croix, cr. 18 October 1580.
York, signet 1, pat. 4 February, cr. 26 March 1592.
Originally Brooksmouth; called himself Brooke and claimed descent from the Brookes of Leighton, Cheshire; b. Wigan c. 1553; educated at Merchant Taylors' School; practised as herald-painter (Free of Painter-Stainers' Co. 1576); Rouge Croix 1580; York 1592; d. at Reculver, Kent, 15 October 1625 (M.I.).
A skilled draughtsman and an able and industrious herald, but his preposterous vanity and envious disposition involved him in constant quarrels, notably with his colleagues and the Earl Marshal; suspended in 1616 and 1621.
Particularly incensed by Camden's appointment as Clarenceux he published c. 1599 A Discoverie of certaine Errours... in the 'Britannia'. A second Discoverie of Errours was written in 1619, but not printed till 1723 or 1724. Also published A Catalogue... of the Kings, Princes... of England (1619), revised 1622. Left valuable MS. collections, now scattered among the College of Arms, the British Museum, etc.
(D.N.B.; N. H. Nicolas, Memoir of Augustus Vincent, 20 sqq.; etc.)
Arms: (1) as Rouge Croix: Gules, on a bend argent a cross throughout gules (Lant). (2) granted 1593: Or, a cross engrailed per pale gules & sable, on a chief gules a lion passant guardant or. Crest: On a torse or & sable a hand fessways joined to an open wing argent & holding a sword erect proper entwined with a spray of leaves vert.
18. WILLIAM LE NEVE (1625). See Clarenceux (18).
19. GEORGE OWEN (1633). See Clarenceux (18C).
19A. GEORGE OWEN (1658). See Somerset (12B).
20. JOHN WINGFIELD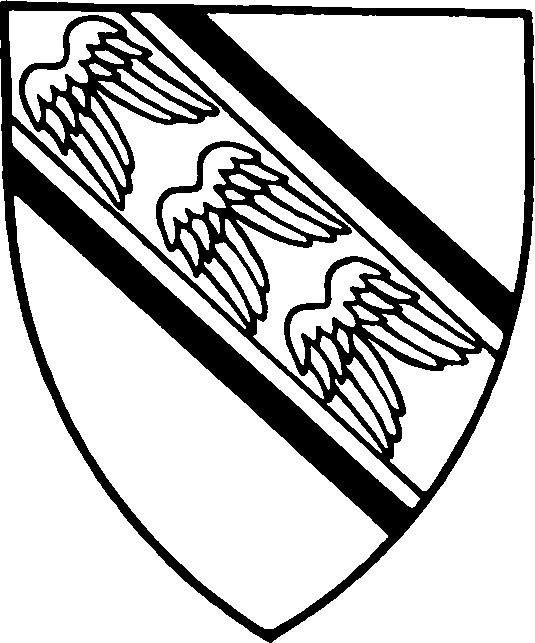 Richmond designate, June 1657.
Portcullis, R. wt. 23, p.s. 27 July, sworn 10 August 1660.
York, E.M. wt. 27 June, bill 18, docquet 25 July, R. wt. 21 October 1663, resd 22 December 1674.
B. c. 1619; third s. of Sir John Wingfield, of Tickencote, co. Rutland; second cousin of Elizabeth Wingfield, wife of Sir H. St George, junior; also connected with St Georges by marriage to Mary dau. and heiress of G. Owen, York, and Rebecca Dayrell, sister-in-law of Sir H. St George, senior; educ. an attorney; Captain of Horse in royal army 1641–8 (Cal. S. P. Dom. 1663–4, p. 108; 1670, p. 633), but nom. Richmond by Cromwell; Portcullis at Restoration and York on Owen's resignation; Customer of Berwick; 22 December 1674, owing to illness and debts sold place to Devenish, another St George connection; d. in King's Bench prison 30 December 1678; burd in St George's, Southwark.
Arms: Argent, on a bend gules cotised sable 3 pairs of wings conjoined argent.
21. ROBERT DEVENISH (1674). See Norroy (38).
22. LAURENCE CROMP
Portcullis, signet November 1689, R. wt. 3, cr. 17 January 1690.
York, nom. 18 September, signet October, pat. 23 November, R. wt. 5, cr. 11 December 1700.
Carolina, 1 June 1705.
Nephew of Gregory King, Lancaster; no doubt s. of Mrs King's sister Eleanor by Richard Cromp of Tuffley, Gloucestershire. Originally heraldpainter of Worcester; Portcullis 1690; afterwards York; d. insolvent 11 June 1715; burd St Benet's, Paul's Wharf; Deputy Register on several occasions.
By letters pat. dated 1 June 1705, the Lords Proprietors of the Province of Carolina appointed him Carolina herald.
(H. & G., v, 479; etc.)
23. THOMAS WIGHTWICK or WHITWICK
Portcullis, pat. 5, R. wt. 9, cr. 18 June 1713.
York, pat. 25 October, R. wt. 18, cr. 23 December 1717.
Of Kensington; b. c. 1690; s. of Richard Wightwick, a London merchant and cadet of Wightwick of Wightwick, co. Stafford; his aunt Elizabeth married Fryth, Mowbray and Lancaster; Portcullis 1713 and York 1717; d. 17 June 1722, at house of brother-in-law Charles White, Shear Lane, near Temple Bar; burd St Benet's, Paul's Wharf; intestate and insolvent; administration granted to White who gave College (March 1723) four of York's books.
Hearne says he married 5 August 1718 a lady 'of that name' (presumably Wightwick), see Collections, vi, 214; if so she must have predeceased him for sister, Martha White, his sole heir.
Arms, pat. by Camden 1613: Azure, on a chevron argent between 3 lions passant or 3 crosses formy gules. Crest: A demi-tyger argent, mane & tufts sable, holding a pheon or.
24. PHILIP JONES, F.S.A.
York, pat. 9 November 1722, resd 9 June 1735.
E.M's Secretary 28 January 1723; F.S.A. 5 December 1723; suspended 29 April 1735 being then in the Fleet prison for debt; resd for £400 in favour of Townley 9 June 1735.
25. CHARLES TOWNLEY (1735). See Garter (19).
26. GEORGE FLETCHER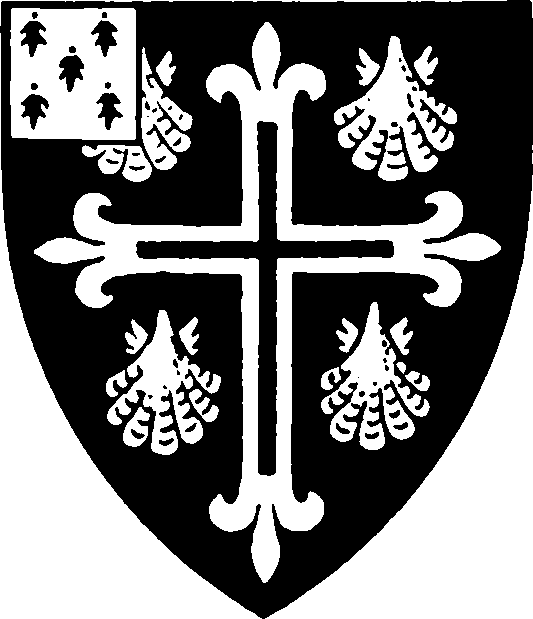 York, nom. 1751, pat. 23 November 1752, salary from 19 November 1751.
B. 13 February 1714, second s. of John Fletcher, of Chichester, Attorney at Law; d. unmarried 9 November 1785 at Chichester; burd at Hog Lane Church (St Martin's).
Nom. Rouge Croix 1751, but patent not having passed when Townley was promoted to Norroy in November of that year, was thereupon nom. York. Took little interest in heraldry and left all his College business to Heard.
Arms granted 1767: Sable, on a cross flory between 4 escallops argent a plain cross couped sable, a canton ermine. Crest: A talbot passant argent semy of roundels sable.
27. BENJAMIN PINGO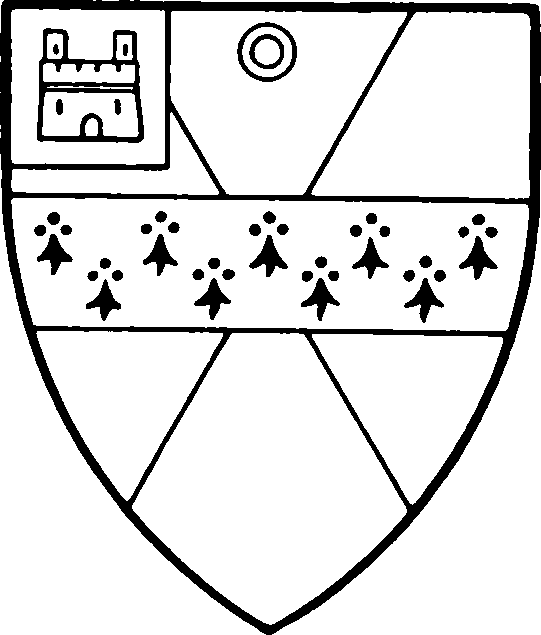 Rouge Dragon, pat. 5 May, salary from 20 April 1780.
York, E.M. wt. 23 January, Gazette 4, pat. 11 February 1786, salary from 9 November 1785.
Traditionally of French descent; b. St Andrew's, Holborn; baptized there 8 July 1749; fifth s. of Thomas Pingo, assistant engraver at the Mint; Clerk in H.M. Customs; Rouge Dragon 1780 and thence York; accidentally killed with J. C. Brooke in the crush, Little Theatre, Haymarket, 3 February 1794; burd in Chapel of Tower of London.
Left his heraldic MSS. to the College, four volumes of pedigrees and six of church notes, hatchments, heralds' wills, etc.
Arms granted 1782: Gyronny of 6 pieces or & azure, a fess ermine & on a canton gules a tower argent (drawn as a castle with 2 turrets somewhat resembling the Tower of London); an annulet for difference. Crest: A dragon passant gules collared argent, in allusion to his pursuivantship.
28. GEORGE NAYLER (1794). See Garter (23).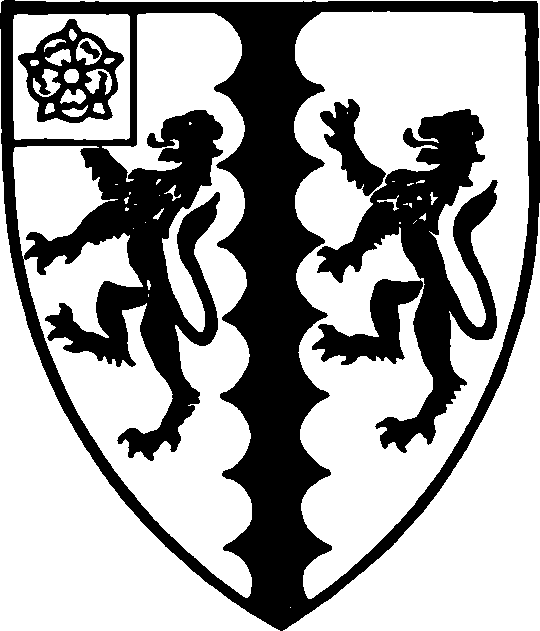 29. CHARLES GEORGE YOUNG (1820). See Garter (26).
30. EDWARD HOWARD GIBBON (1842). See Norroy (55).
31. THOMAS WILLIAM KING, F.S.A.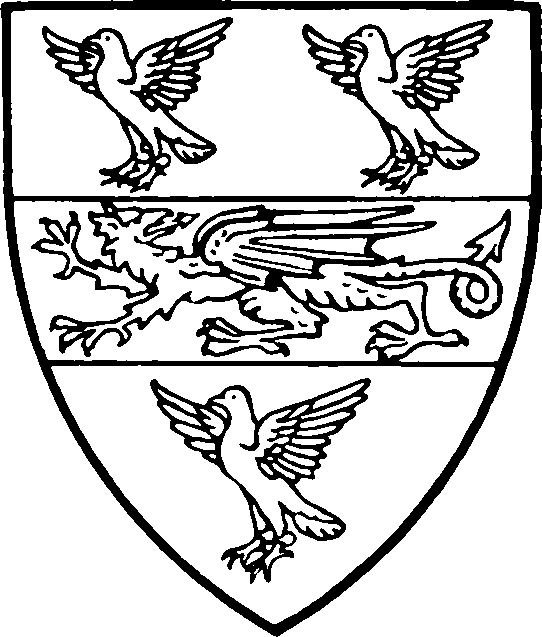 Rouge Dragon, Gazette 20, pat. 25 May, salary from 14 May 1833.
York, E.M. wt. 9, Gazette 17, pat. 24 June, salary from 9 June 1848.
S. of Thomas King of Great Yarmouth; b. there 1802; d. 4 February 1872; Rouge Dragon 1833 and later York. Treasurer of the College en titre 1848 having performed the duties since 1833; 1866 owed College £987 and College agreed to accept in part payment, at valuation £300, 142 volumes of his heraldic and genealogical collections, including 60 relating to history of Great Yarmouth, and several others concerning the College and heralds.
F.S.A. 1836, member of Council 1844, etc.; founder member of Cocked Hat Club; original member of British Archaeological Association; wrote article on heraldry in Encyclopaedia Britannica (before 1863); contributed many papers to Archaeologia, J. Brit. Arch. Assoc. and other learned periodicals.
Was Clerk in College before appointment as Rouge Dragon; regular attendant and highly competent officer; considerable private practice.
Arms granted 1835: Azure, on a fess argent between 3 falcons rising, belled or, a dragon passant looking backwards gules. Crest: On a mount vert a dragon as in the arms with a collar embattled & counter-embattled & chain over the back or. Motto: Draconis Metuenda Corolla.
32. JOHN VON SONNENTAG HAVILAND later DE HAVILLAND, F.S.A.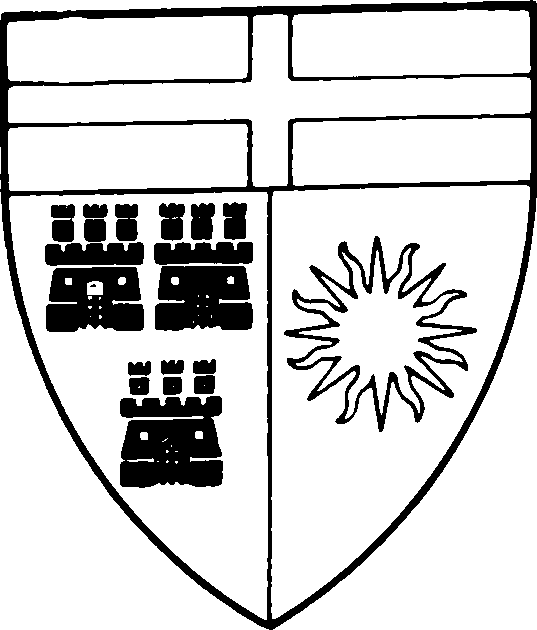 Rouge Croix, E.M. wt. 8, Gazette 17, pat. 28 August, salary from 31 May 1866.
York, E.M. wt. 5, pat. 26 March, salary from 4 February 1872.
'General' de Havilland, of Havilland Hall, Bishops Hill, near Taunton, and of Langford Court, Langford Budville, Somerset, a soldier of fortune who served in Spain under Don Carlos and in other foreign forces; of uncommon physical strength and one of the most picturesque characters in the history of the College.
B. 17 October 1826, probably in Philadelphia, U.S.A., where his father John Haviland practised as architect and engineer.
(Dict. Amer. Biog.; Gent. Mag., N.S. xxxvii (1852), 1.)
His mother, Mary Wright, was dau. of Captain W. L. von Sonnentag of the French Army, and sister and heiress of General Sir George von Sonnentag, Governor of South Russia. Professed Knight of Justice of Order of Malta; Barrister Inner Temple; F.S.A. 1872; Rouge Croix 1866; changed name to de Havilland, R.L. 21 December 1869; York 1872; helped in 1878 edition of Burke's General Armory; d. 18 September 1886; burd Langford Budville.
(Landed Gentry (1886); New England Hist. Geneal. Reg., xcv (1941), 303.)
Arms: (1) Recorded 1623 at Vis'n of Gloucester; Argent, 3 towers tripletowered sable, portcullises gules. Crest: granted 1866; a castle triple-towered argent, portcullis gules. Motto: Dominus Fortissima Turris.
(2) As used by York; de Havilland as above impaling von Sonnentag, Argent, a sun in splendour proper, the whole surmounted by a chief of Religion, Gules, a cross argent. The shield set on a cross of Malta. Crest: On a wreath of the colours a tower triple-towered argent, the portcullis gules. Motto as above.
33. ALFRED SCOTT GATTY (1886). See Garter (28).
34. GEORGE WILLIAM MARSHALL, LL.D., F.S.A.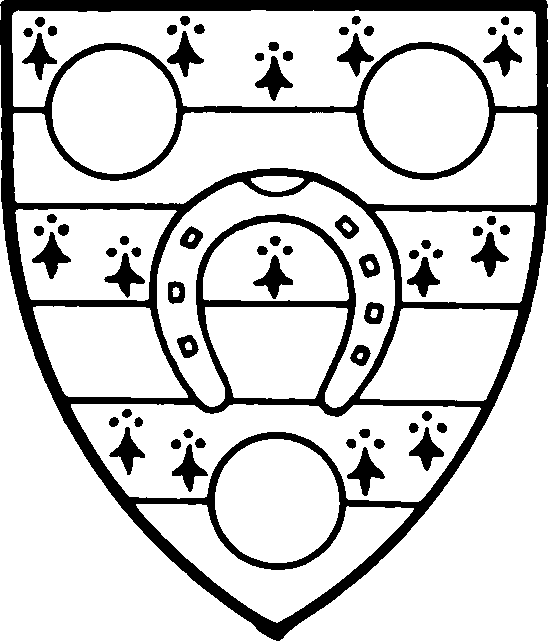 Rouge Croix, pat. 6 September, salary from 31 January 1887.
York, pat. 18 August, salary from 7 January 1904.
Of Onslow Gardens, Holmbush, Barnes, and Sarnesfield Court, co. Hereford; s. of George Marshall, of Ward End House, Warwickshire; b. there 19 April 1839; educ. Radley, Magdalene College and Peterhouse, Cambridge, LL.B. 1861, LL.D. 1874; Barrister Middle Temple 1865; F.S.A. 1872; Rouge Croix 1887 and later York; High Sheriff co. Hereford 1902, J.P. and D.L.; d. Barnes 12 September 1905, leaving over £200,000; burd Sarnesfield.
A keen and meticulous genealogist; made large collections of wills, pedigrees, registers, church notes and other genealogical material, of which College obtained 32 volumes under his will. As herald great believer in canting armory. Collected armorial china and medieval armorial glass.
Best known as compiler of the Genealogists' Guide (1879, etc.); founded the Genealogist (1877) and edited first seven volumes; contributed to it, Misc. Gen. & Her., etc. Published Miscellanea Marescalliana (1883, 1888); Handbook to the Ancient Courts of Probate (1889). Edited Le Neve's Pedigrees of Knights (Harl. Soc. 1873), and several Vis'ns and Parish Registers.
(See also obituary in the Genealogist, xxii, 198, etc.)
Arms granted 1867: Barry of 6 pieces ermine & azure, a horseshoe or between 3 bezants. Crest: Between 2 wings barry as the shield a bezant charged with a horseshoe azure. Motto: Vi Martiali, Deo Adjuvante.
As pursuivant sealed with the rouge croix of St George surcharged with a shield of Marshall.
35. GORDON AMBROSE DE LISLE LEE (1905). See Clarenceux (43).
36. THE HON. PHILIP PLANTAGENET CARY, F.S.A.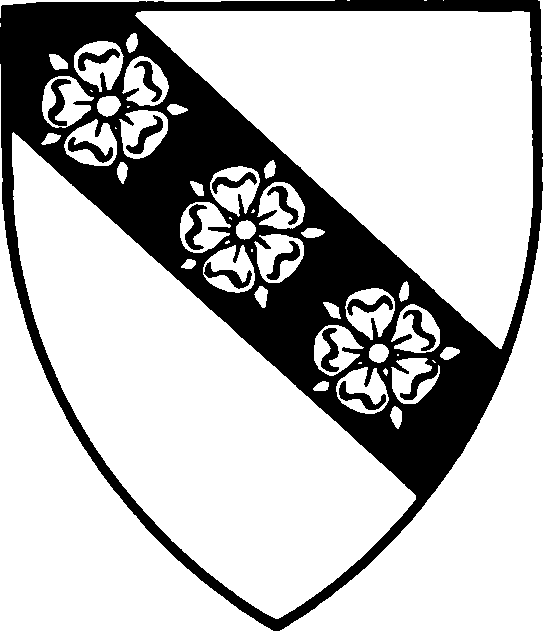 Bluemantle, pat. 14 March, salary from 24 February 1919.
York, pat. 1 January 1923, salary from 15 December 1922, resd 14 November 1932.
B. 24 September 1893, second surviving s. of the 12th Viscount Falkland. Captain Grenadier Guards; successively Bluemantle and York; resigned 14 November 1932; F.S.A. 1923.
Arms: Quarterly, (1 & 4) argent, on a bend sable 3 roses argent (Cary); (2) sable, 2 bars nebuly ermine (Spencer of Spencercombe); (3) France and England quarterly in a border gobony argent & azure (Beaufort). Crest: A swan with wings elevated proper. Motto: In Utroque Fidelis.
37. AUBREY JOHN TOPPIN (1932). See Norroy (68).
38. LORD SINCLAIR, M.V.O.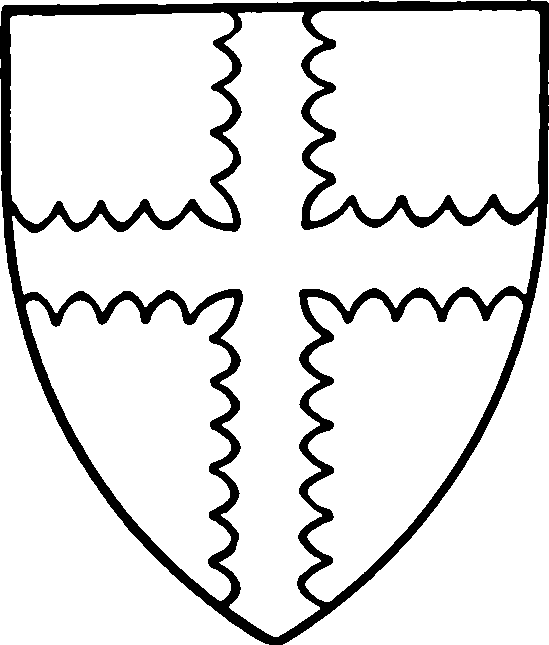 Portcullis, pat. 27 June 1949.
York, pat. 22 July, salary from 4 March 1957.
Charles Murray Kennedy St Clair, Baron Sinclair; b. 21 June 1914, s. of 16th Baron; educ. Eton and Magdalene College, Cambridge; Major Coldstream Guards; Portcullis 1949; 1953 M.V.O. and Extra Equerry to Queen Elizabeth the Queen Mother; York 1957; succeeded as 17th Lord Sinclair 25 November 1957; Scottish Representative Peer 1960.
Arms: Argent, a cross engrailed azure.