Pages 193-203
Survey of London Monograph 16, College of Arms, Queen Victoria Street. Originally published by Guild & School of Handicraft, London, 1963.
This free content was digitised by double rekeying and sponsored by English Heritage. All rights reserved.
BLUEMANTLE PURSUIVANT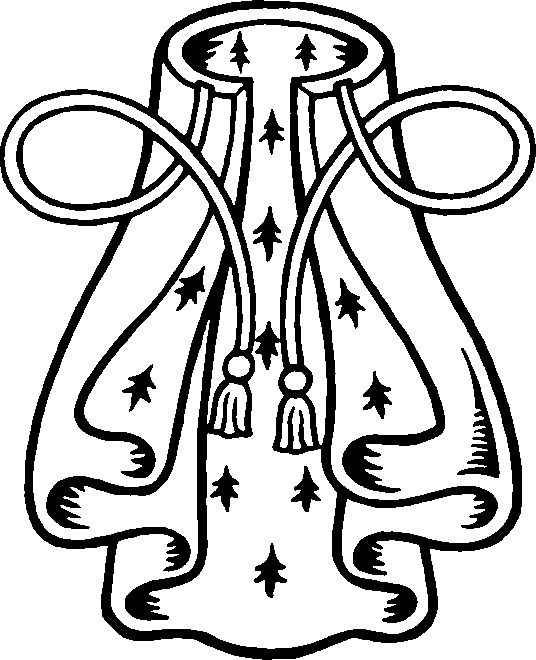 This officer, now one of the four pursuivants in ordinary, is said to have been instituted by Henry V for the service of the Order of the Garter, from whose blue mantle the title is almost certainly derived. There is nothing in the public records to corroborate this, though Bluemantle did accompany Garter Bruges to France in 1448 (Warrants for Issues, 26 Hen. VI, nos. 110, 206). The only Bluemantle whose name appears in the public records before 1500, John Brice, no. 15, is ignored by Lant and the later catalogues.
Badge: A blue mantle lined ermine and with gold cords and tassels.
1. JOHN ASHWELL or HAS WELL (temp. Hen. V). See Clarence (1).
2. JOHN ASHWELL (temp. Hen. V). See Norroy (7).
3. THOMAS MORE (6 Hen. V). See Guyenne (8).
4. THOMAS COLLYER (temp. Hen. V). See Ireland (3).
5. WILLIAM HAWKESLOWE (temp. Hen. VI). See Clarenceux (6).
6. JOHN HORSLEY (temp. Hen. VI). See Mowbray (5).
7. RICHARD STANTON (temp. Hen. VI). See Chester (8).
8. JAMES COLLYER (temp. Hen. VI). See Lancaster (9).
9. JOHN FERRANT (temp. Hen. VI). See March (2).
10. ROGER MALLETT (temp. Hen. VI). See Falcon (15).
10a. JOHN BILLETT or BISELEY
Bluemantle, temp. Hen. VI or Ed. IV (c. 1461).
Anstis cites this name on the authority of 'the catalogues' (Coll. of Arms MS. O.A. III, 121), but it lacks confirmation.
11. HENRY FRENCH or FRANKE (temp. Ed. IV). See York (1).
12. RICHARD CHAMPNEYS (temp. Ed. IV). See Gloucester (4).
13. THOMAS HOLLINGS WORTH (temp. Ed. IV). See York (2).
14. ROGER BROMLEY (temp. Ed. IV). See Chester (10).
15. JOHN BRICE
Bluemantle, c. September 1484.
Named Bluemantle in patent 21 September 1484, granting him lands in Andover, etc. Hampshire; dead by 31 March 1501 (Pat. 16 Hen. VII).
16. THOMAS FRENCH or FRANKE
Guisnes, temp. Ric. III.
Bluemantle, 1484.
Arms: Vert, a saltire engrailed or.
17. ROWLAND PLAYNFORD (temp. Ric. III or Ed. IV). See York (4).
18. LAURENCE ALFORD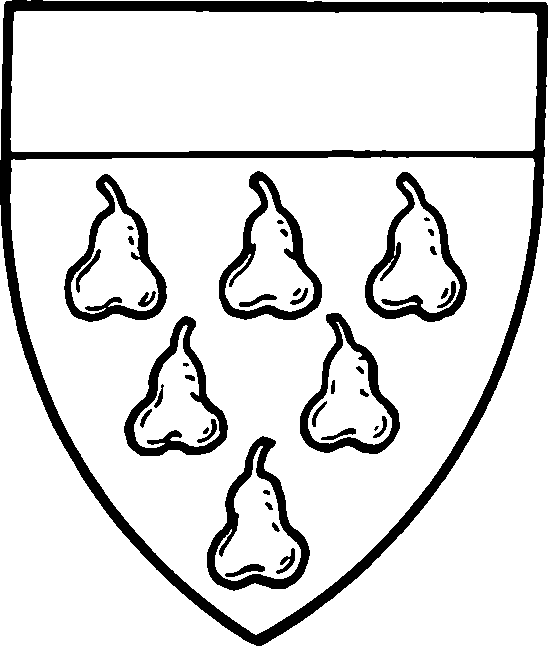 Rose Blanche, temp. Ric. III.
Bluemantle, 2 Ric. III, 1484.
Perhaps the Bluemantle to whom an annuity previously held by Parvesyn, Collar, was granted by pat. 11 November 1488. Said to have been previously Rose Blanche.
Arms: Gules, 6 pears and a chief or.
19. ... BANELEE
Risebank, c. 1501.
Bluemantle, c. 1503.
Rothesay, herald, c. March 1507.
Pat. 21 March 1503, granted to Risebank annuity of £10 previously held by Bluemantle; without doubt Bluemantle in question was Banelee and pat. marks his promotion from Risebank to Bluemantle. Appears in Scottish records as 'Banelee, pursewant of Ingland' from August 1501, but after May 1503 is replaced by 'Blewmantill pursewant to the Quene', i.e. Princess Margaret, to whose suite he was attached when she journeyed to Scotland in 1503. Remaining with the Queen left English service and was appd a Scottish herald, Rothesay.
(L.T.A., vols. ii and iii passim.)
20. FRANCIS DYES or DEES (1508). See Windsor (11).
21. RALPH LAGO or LAGYSSE (1510). See York (8).
22. THOMAS BYSLEY (1522). See York (9).
23. JOHN HUTTON
Guisnes, c. October 1527.
Bluemantle, p.s. 24 April, pat. 6 May 1528.
First named as Guisnes 1 November 1527, but may be the anonymous Guisnes who appears from 1517 onwards. D. soon after appointment as Bluemantle.
24. JOHN NARBOON (1528). See Richmond (9).
25. RICHARD RATCLIFFE (1536). See Somerset (6).
26. WILLIAM HERVY (1543). See Clarenceux (13).
27. EDMUND ATKINSON (1545). See Somerset (8).
28. NICHOLAS NARBOON (1550). See Ulster (2).
29. JOHN HOLLINGSWORTH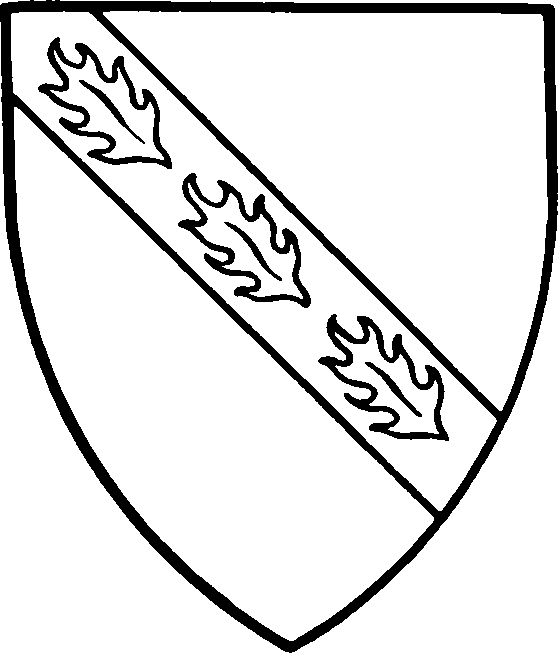 Risebank, pat. 29 April 1554.
Bluemantle, nom. 1557, cr. 9 December 1558, pat. 30 September 1559.
The last Risebank; in France at New Year 1559; burd St Bride's, Fleet St, 10 October 1559.
Arms: Azure, on a bend or 3 holly leaves vert. Crest: A Stag lodged argent.
30. RICHARD TURPIN (1559). See Windsor (14).
31. NICHOLAS DETHICK (1565). See Windsor (15).
32. HUMPHREY HALES (1583). See York (16).
33. JAMES THOMAS (1587). See Chester (18).
34. ROBERT TRESWELL (1589). See Somerset (11).
35. MERCURY PATTEN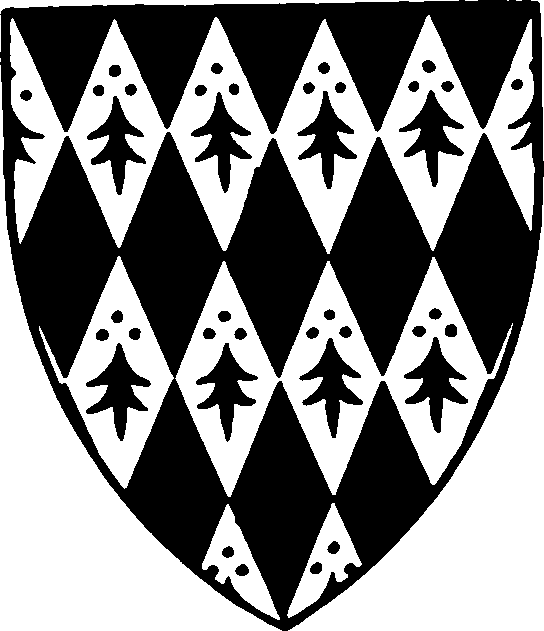 Bluemantle, cr. 23 October 1597, signet March, pat. 8 May 1604, resd between April and December 1611.
S. and heir of William Patten, sometime lord of manor of Stoke Newington; matric. Trinity College, Cambridge, 1567; Bluemantle 1597; irregular attendant at College; resd in favour of Henry St George between April and December 1611.
Skilful painter and calligrapher; executed gift books with recipient's arms and quarterings for Thomas Howard, Earl of Suffolk (University Library, Cambridge), Lord North (H. & G., iii, 474) and Thomas Spenser.
Arms: Fusilly sable and ermine.
36. HENRY ST GEORGE (1611). See Garter (11).
37. SAMPSON LENNARD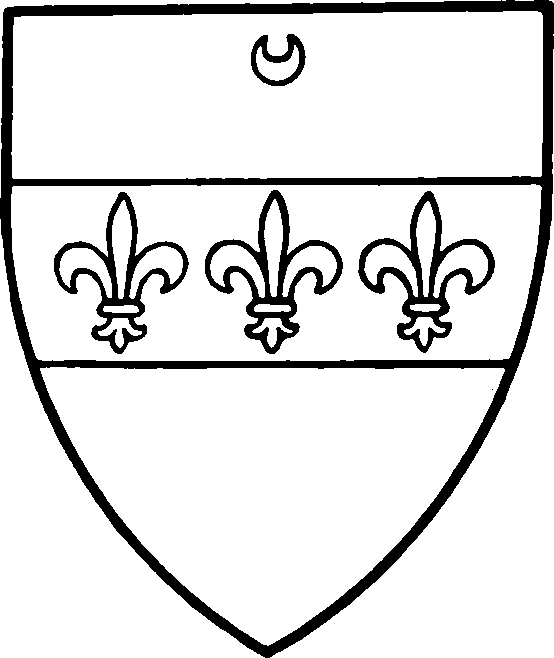 Rose Rouge, signet for tabard 1 January 1613, signet February, pat. 11 March 1615.
Bluemantle, signet February, pat. 13, cr. 22 March 1616.
S. of William Lennard, of London and of Chevening and Knole, Kent; first cousin of Sampson Lennard of Chevening father by Margaret Fiennes of Henry Lord Dacre of the South.
Campaigned with Sir Philip Sidney in the Netherlands; later devoted himself to literature; author of An Exhortatory Instruction to a speedy Resolution and Contempt of the Vanities of this Transitory Life (1609), and several translations (see D.N.B.).
Rose Rouge 1613; Bluemantle 1616; believed to be compiler of the oldest known catalogue of the College library, made 1618; visited Warwickshire and six other counties for Camden 1619–23; d. 14 August 1633; burd St Benet's, Paul's Wharf.
Two volumes of his heraldic collections, now MSS. Harl. 1178, 1452, were owned by Henry Parker and Robert Fisher, arms-painters, before Harley bought them. His copies of his Vis'ns also in British Museum.
Arms confirmed and crest granted 1626: Quarterly, (1) or, on a fess gules 3 fleurs de lis gold, a crescent in chief gules for difference (Lennard); (2) quarterly sable & argent with an eagle argent in dexter chief (Bird); (3) vair, a chief ermine; (4) argent, an eagle sable & on a canton or a dance between 10 billets sable; (5) paly of 6 pieces argent & azure, on a bend gules 3 molets or; (6) or, a pile gules. Crest: Out of clouds proper a demi-lion gules semy of estoiles or. Motto: Inter Nubes Resplendeo (above crest).
38. WILLIAM RYLEY (1633). See Clarenceux (18D).
39. ROBERT BROWNE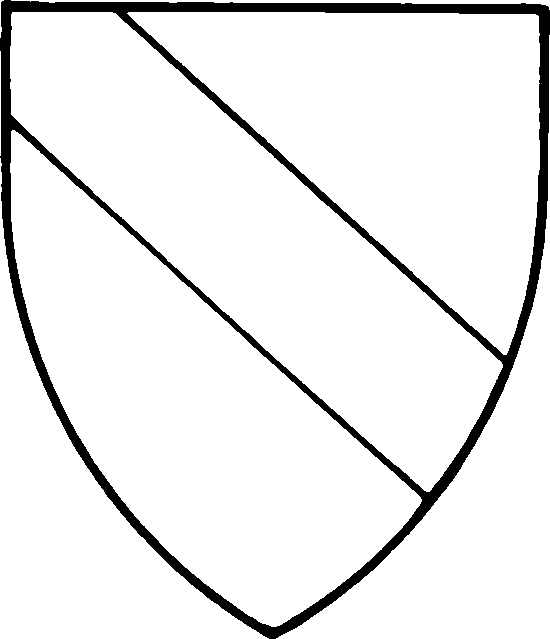 Blanch Lyon, cr. 18 March 1640.
Bluemantle, pat. 11 November 1641.
Eldest s. of Robert Browne, Rouge Croix; b. Wacton; baptized there 25 February 1616; scholar of Caius College, Cambridge; Blanch Lyon 1640; Bluemantle 1641; seems to have followed the King at first, but soon joined Parliamentary Party and was active at the College from early 1644 until his death in 1646; burd St Benet's, Paul's Wharf, 14 October.
Left a manuscript on 'The Order of Precedency', printed in An Historical and Critical Essay on the True Rise of Nobility (1718 and 1719).
Arms: Vert, a bend or.
(The Brownes of Wacton, p. 101, etc.)
39 A. JOHN WATSON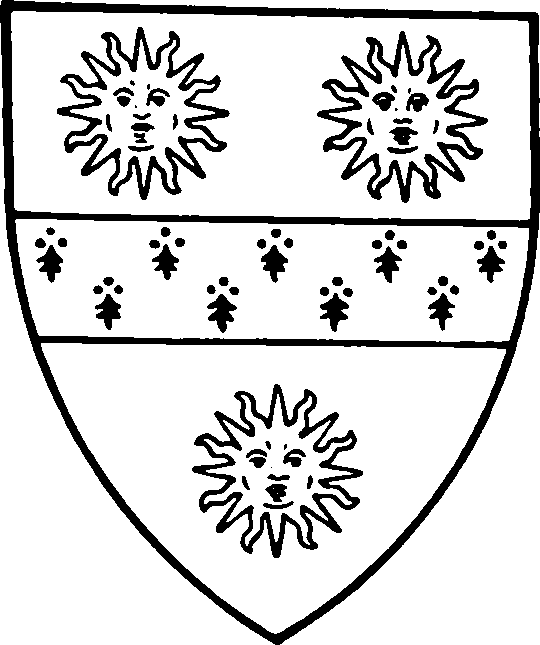 Bluemantle, intruded 1646, probably resd c. September 1658.
Of Bengeworth, near Evesham, co. Worcester; b. between 1612 and 1623, s. of William Watson of the same; married Anne, dau. and coheiress of George, eldest s. of Sir W. Dethick, Garter; Notary Public and Proctor in Doctors' Commons; 1646 Registrar of Parliamentary Court Marshal 14 April, Acting Bluemantle at Lord Essex's funeral 22 October, confirmed by Parliamentary Commissioners 22 December; Register, Treasurer and general factotum at College; 1657 opposed Owen's appointment as Clarenceux (see 'George Owen, York Herald', op. cit., Trans. Cymmrodorion Soc., 1946, 86 sqq.); still working at College June 1658, but not named as one of the officers of arms at Cromwell's lying-in-state September 1658, having probably resd in favour of his wife's cousin, Henry Dethick; still living August 1683 at Vis'n of Worcestershire; perhaps the John Watson burd St Benet's, Paul's Wharf, 11 February 1690.
'Misc. Grants VIII', bought by College from Tixall library, 1899, contains copies of grants collected and mostly certified by him; previously belonged to Peter Le Neve and Thomas Martin.
By his marriage to Anne Dethick was connected with Exton and more distantly with Ralph Brooke, Gregory King and Laurence Cromp.
Arms: Azure, a fess ermine between 3 suns or (Coll. of Arms MS. 2 D. 14, 65).
40. ROBERT CHALONER (1660). See Lancaster (26).
41. RICHARD HORNEBROOKE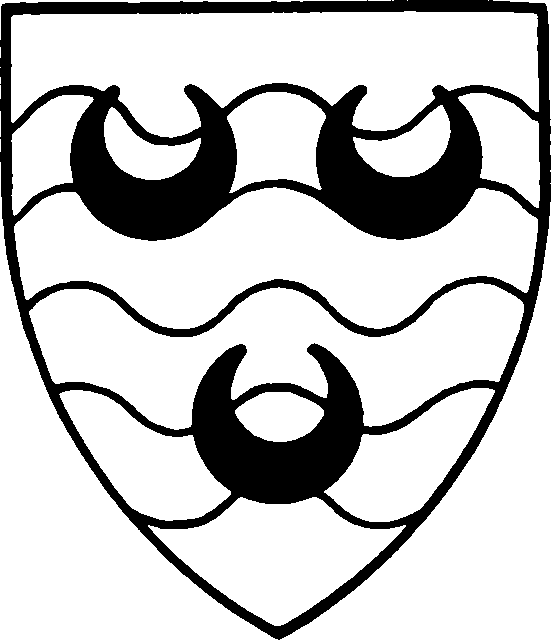 Bluemantle, E.M. wt. 28 August, signet 6 September, R. wt. 14 November 1667.
S. of Richard Hornebrooke of Exeter, served Charles II overseas; at Restoration Captain in Life Guards of Horse; one time servant to Walker, Garter; Bluemantle 1667; shot himself at Newmarket November 1668.
His father a herald-painter in Exeter; 1620 John Estcott, deputy of the Office of Arms in Devon and Cornwall, complained of his misdoings, but 7 May 1634, St George, Clarenceux, licensed him to paint funeral scocheons, etc. under supervision of the then deputy Henry Davy, and 1637 William Le Neve renewed the licence without mentioning any deputy; during Civil War his estate was seized by Parliament but released because he had not taken arms against them.
According to family tradition among Hornibrooks, of Bandon, Ireland, Bluemantle's wife was natural dau. of Charles II by a Dutch girl of good family; they claimed descent from that match (ex. inf. Mr Murray Hornibrook, 1947).
Arms granted gratis by Sir E. Walker 16 December 1663: Barry wavy of 6 pieces argent & azure, 3 crescents sable. Crest: Out of a crescent sable an arm in armour proper holding a sword, the blade argent blooded at the point, pomell or.
42. THOMAS SEGAR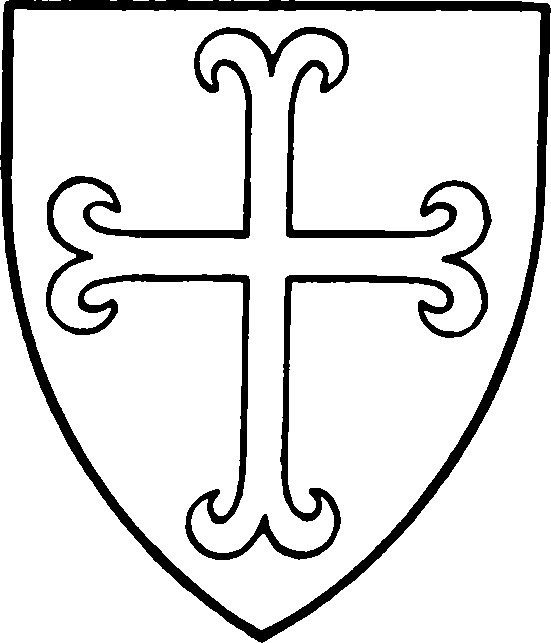 Bluemantle, signet 29 January, docquet 18 February, R. wt. 25 April 1669.
Youngest s. of Sir Wm. Segar, Garter; b. February 1609; Gray's Inn 30 April 1638; perhaps one of the two sons who accompanied Sir William on Garter mission to The Hague, 1627; Bluemantle 1669; d. 26 September 1670; burd in St Peter's, Berkhampstead.
Grandfather of Simon Segar; Keeper of Gray's Inn Library 1674; author of Honores Anglicani (1712); compiler of 'Baronagium Genealogicum' now in College, 'Aspidora Segariana' (list of grants made by Sir William, now Coll. of Arms MS. E.D.N. 57) and of other heraldic MSS. (see R. & C., pp. 40–1, Coll. of Arms MS. MP. 1. 55).
Arms: As Sir William.
43. JOHN GIBBON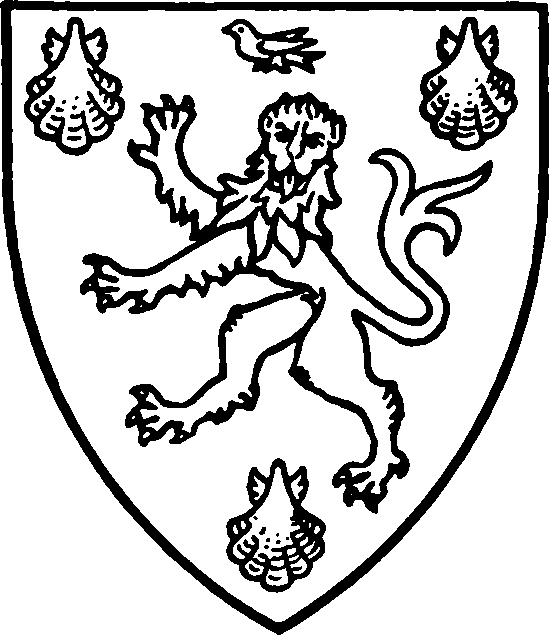 Bluemantle, nom. November or December 1670, pat. 23 February, R. wt. 16 April, cr. 21 May 1671.
B. 3 November 1629, s. of Robert Gibbon of Rolvenden, Kent, citizen and draper of London, educ. Merchant Taylors' School and Jesus College, Cambridge; migrated to Virginia 1659 but returned to England 1661. Though Bluemantle nearly fifty years was not promoted; d. in Ivy Lane (parish of St Faith), London, 2 August 1718 aged 89 and still Bluemantle; burd in St Mary's Aldermary. Had previously lived in 'Cattshole in St Catherine's near the Tower'.
Friend of Dugdale and others of like standing; reputed learned and skilled in many tongues, but was arrogant and used to scrawl disparaging remarks about his colleagues in the College books; suspended more than once; Hearne thought him 'whimsical & craz'd'.
Best known as author of Introductio ad Latinam Blasoniam (1682), and Day Fatality (1678), both of which include many personal details. Also compiled, under the title 'Inquisitio sincera facta in Collegium Fecialium anno 1673', or 'Heraldo Memoriale', interesting notes on heralds, contemporary and other; this is often quoted by Anstis, Leake, etc. 'Gybbon's Ordinary', a MS. which belonged to him and which is now in the College, contains transcripts of ten rolls of arms.
The historian Edward Gibbon claimed mistakenly to be descended from Bluemantle's brother.
(D.N.B.; Hearne's Collections, ii, 194, etc.; Gent. Mag., lxii (1792), 523; C.E.M.R.A., p. 129; etc.)
Arms: Azure, a lion rampant guardant between 3 escallops argent, a martlet for difference. Crest: A demi-tyger looking backwards argent with a mural crown gules about its neck.
44. JAMES GREEN
Bluemantle, pat. 3, sworn 24 June 1719.
B. c. 1683; clerk successively to Sir Henry St George, and to John Anstis, Garters; d. in the College 4 September 1737; burd St Benet's, Paul's Wharf. An efficient and hardworking officer, but a sloven in person and extravagant; d. insolvent.
45. THOMAS BROWNE (1737). See Garter (20).
46. JOHN PINE
Bluemantle, pat. 1 December 1743.
Better known as engraver; b. 1690; Bluemantle 1743; also Engraver to the Signet and Stamp Office, and a Governor of the Foundling Hospital; d. at his house the 'Golden Head', King St, Soho, 4 May 1756; burd St Anne's, Soho. Father of Robert Edge Pine, portrait painter (d. 1790) and Simon Pine, miniaturist (d. 1772); father-in-law of Alexander Cozens, nom. Rouge Croix 1751.
Engraved inter alia 'The Procession ... of the Order of the Bath, 1725', published 1730; facsimile of Magna Carta 1733 and Plan of London 1746.
A stout, jovial man, said by Toms to resemble a satyr in person and manners; model for the friar in Hogarth's 'The Gate of Calais' whence nicknamed 'Friar Pine'.
47. RALPH BIGLAND (1757). See Garter (21).
48. ISAAC HEARD (1759). See Garter (22).
49. HENRY PUJOLAS (1761). See Richmond (27).
50. PETER DORE (1763). See Norroy (47).
51. GEORGE BROWNE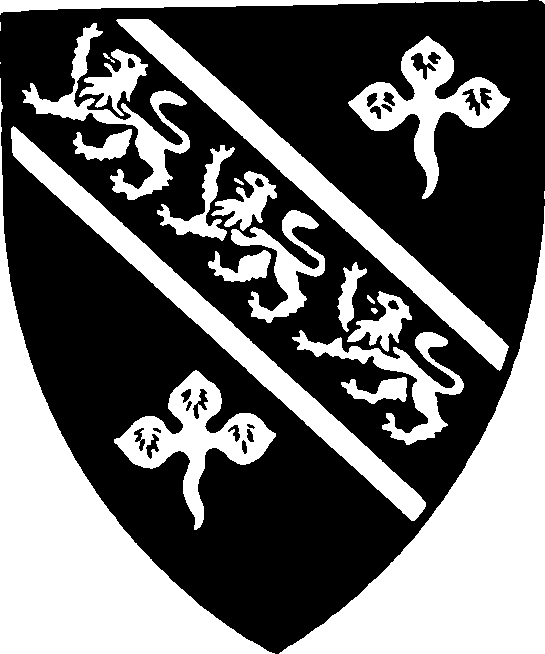 Bluemantle, pat. 12 November 1764, resd 27 November 1766.
Eldest s. of Thomas Browne, Garter; b. Hatfield 10 November 1734; Bluemantle 1764; resd 27 November 1766; migrated to Bermuda; d. there 1767; burd in St George's Church.
(Genealogist, N.S. xxxvi, preface.)
Arms: As his father.
52. GEORGE HARRISON (1767). See Clarenceux (29).
53. CHARLES TOWNLEY (1774). See Lancaster (36).
54. EDMUND LODGE (1781). See Clarenceux (33).
55. GEORGE NAYLER (1793). See Garter (23).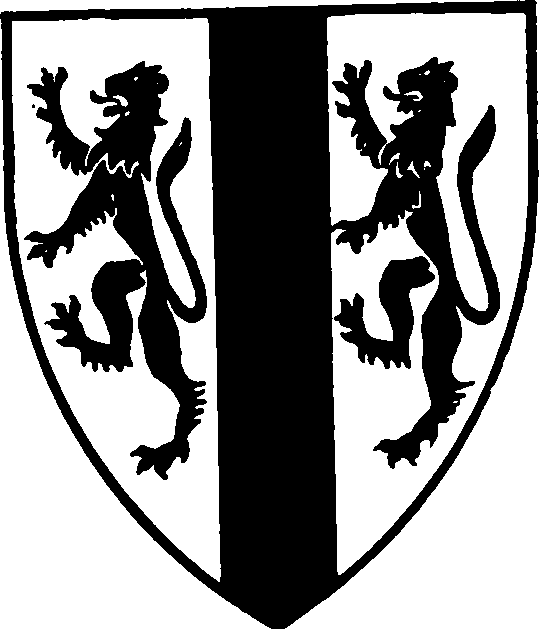 56. JOHN HAVERS
Bluemantle, E.M. wt. 11 April, pat. 8 May, salary from 3 February 1794.
D. unmarried 25 January 1797.
57. FRANCIS MARTIN (1797). See Clarenceux (35).
58. WILLIAM WOODS (1819). See Garter (25).
59. GEORGE HARRISON ROGERS-HARRISON (1831). See Windsor (36).
60. HENRY MURRAY LANE (1849). See Chester (33).
61. HENRY HARRINGTON MOLYNEUX-SEEL (1864). See Richmond (33).
62. EDWARD BELLASIS (1873). See Lancaster (41).
63. CHARLES HAROLD ATHILL (1882). See Clarenceux (41).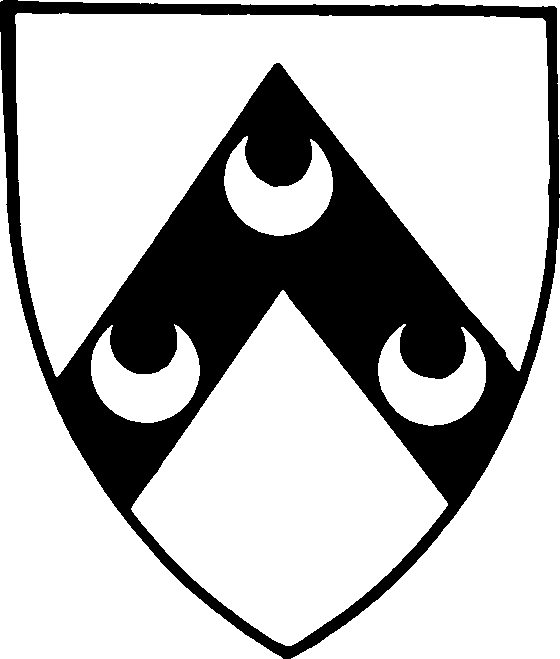 64. GORDON AMBROSE DE LISLE LEE (1889). See Clarenceux (43).
65. GERALD WOODS WOLLASTON (1905). See Garter (30).
66. HON. PHILIP PLANTAGENET CARY (1919). See York (36).
67. EDMUND CLARENCE RICHARD ARMSTRONG, F.S.A., M.R.I.A.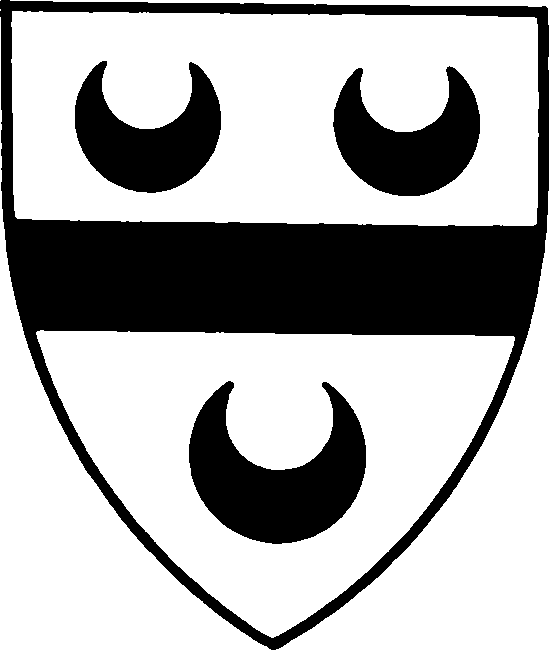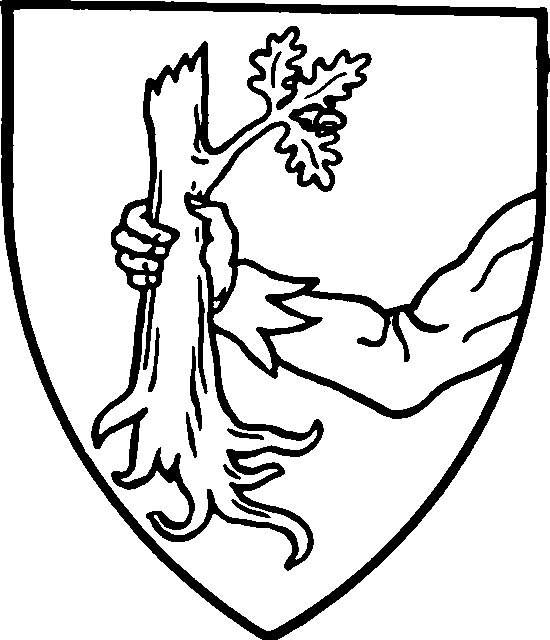 Bluemantle, pat. 5 March, salary from 1 January 1923.
B. 1879, s. of Charles Armstrong by Alice Maria dau. and coheiress of Sir Clinton Murdoch, K.C.M.G., Keeper of Irish Antiquities in the National Museum, Dublin, 1914. Published Irish Seal-Matrices and Seals (1913), and many papers on Irish antiquities. D. 29 March 1923, three and a half weeks after becoming Bluemantle.
(Who's Who; Burke's Peerage sub Armstrong of Gallen Priory; etc.)
Arms conferred by Ulster 10 February 1919: Quarterly, (1 & 4) argent, issuing from the sinister a dexter arm embowed habited gules grasping the trunk of an oak-tree eradicated and broken at the top proper (Armstrong); (2 & 3) argent, 2 ravens hanging paleways sable suspended from an arrow gules headed & feathered proper piercing both their heads fessways (Murdoch). Crests: (1) for Armstrong: An arm in armour embowed the hand grasping the broken trunk of an oak-tree, all proper; (2) for Murdoch: A raven rising sable pierced through the breast by an arrow as in the arms. Mottoes: Invictus Maneo (below arms); Omnia Pro Bono (over second crest).
68. AUBREY JOHN TOPPIN (1923). See Norroy (68).
69. RICHARD PRESTON GRAHAM-VIVIAN (1932). See Windsor (41).
70. JAMES ARNOLD FRERE (1948). See Chester (37).
71. JOHN PHILIP BROOKE-LITTLE, M.A., F.S.A.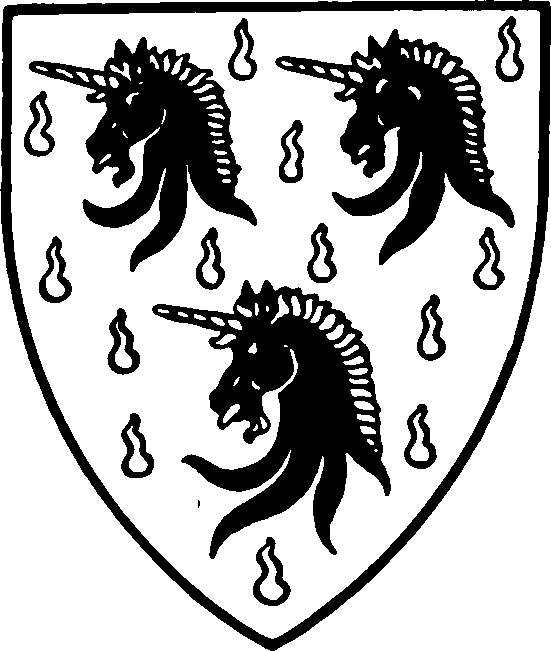 Bluemantle, pat. 22 November, salary from 23 January 1956.
B. 6 April 1927, s. of Raymond Brooke-Little of East Knoyle, Wiltshire, and Constance dau. and coheiress of Alfred John Egan; educ. Beaumont Ho. Oratory, Clayesmore and New College, Oxford; E.M's Ceremonial staff 1952–3; Kt. of Magistral Grace of Order of Malta 1955; Bluemantle 1956; F.S.A. 1961.
Founded 1947 Society of Heraldic Antiquaries, now the Heraldry Society; editor in chief The Coat of Arms. Published Royal London (1954), The City and University of Oxford (1955), etc.
Arms: granted 5 March 1952: Argent goutté gules, 3 unicorn heads erased sable armed & crined or langued gules, a label for difference. Crest: On a wreath argent & gules a demi-unicorn erased sable armed, crined & unguled or, langued azure & collared gobony or & gules with a chain or. Motto: Recte Aut Nil.