Pages 17-18
Survey of London: Volume 10, St. Margaret, Westminster, Part I: Queen Anne's Gate Area. Originally published by [s.n.], [s.l.], 1926.
This free content was digitised by double rekeying and sponsored by English Heritage. All rights reserved.
IV.—No. 2 GREAT GEORGE STREET: (Demolished).
General Description and Date of Structure.
By assignment of 7th April, 1769, Samuel Cox and Thomas Parker granted (fn. n1) to William Eves "all that parcell of ground, with messuage thereon "and all buildings to be erected hereafter, being the 18th house on the south side of Great George "Street … reckoning from King Street," having measurements as follows: frontage 25 feet, rear 23 feet 3 inches; east side 55 feet 9 inches, west side 42 feet with a break of 4 feet 6 inches. The premises were demolished in 1910 to make way for the new building of the Institution of Civil Engineers.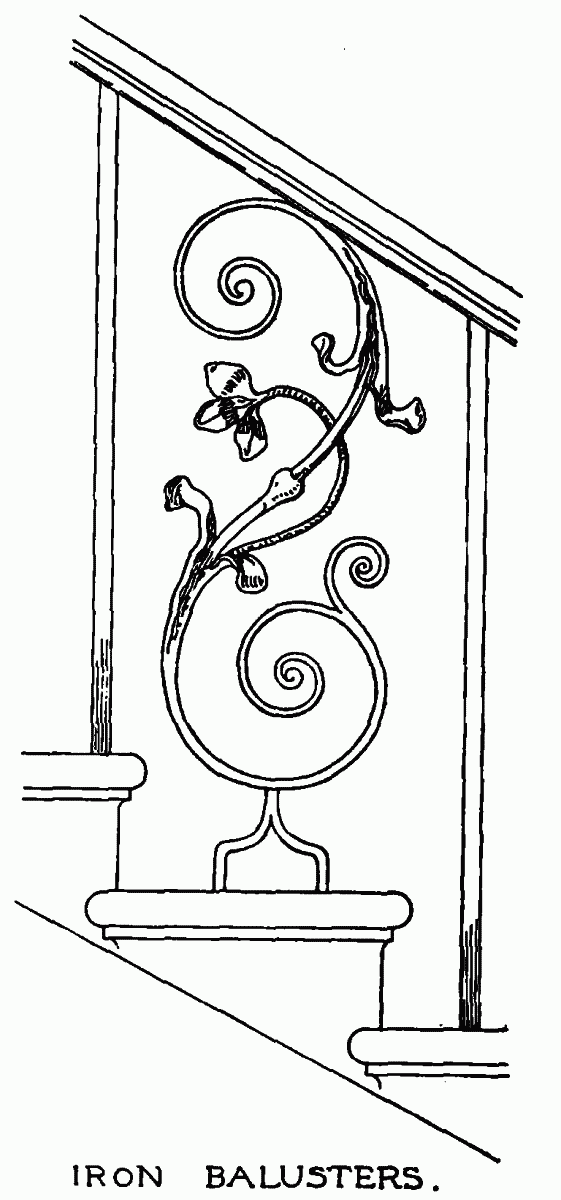 The entrance doorway had a wood case, decorated with Doric columns, supporting a pedimented hood with an ornamental frieze over a semicircular fanlight (Plate 20). An iron lamp-bracket on the railings of the area was an interesting survival.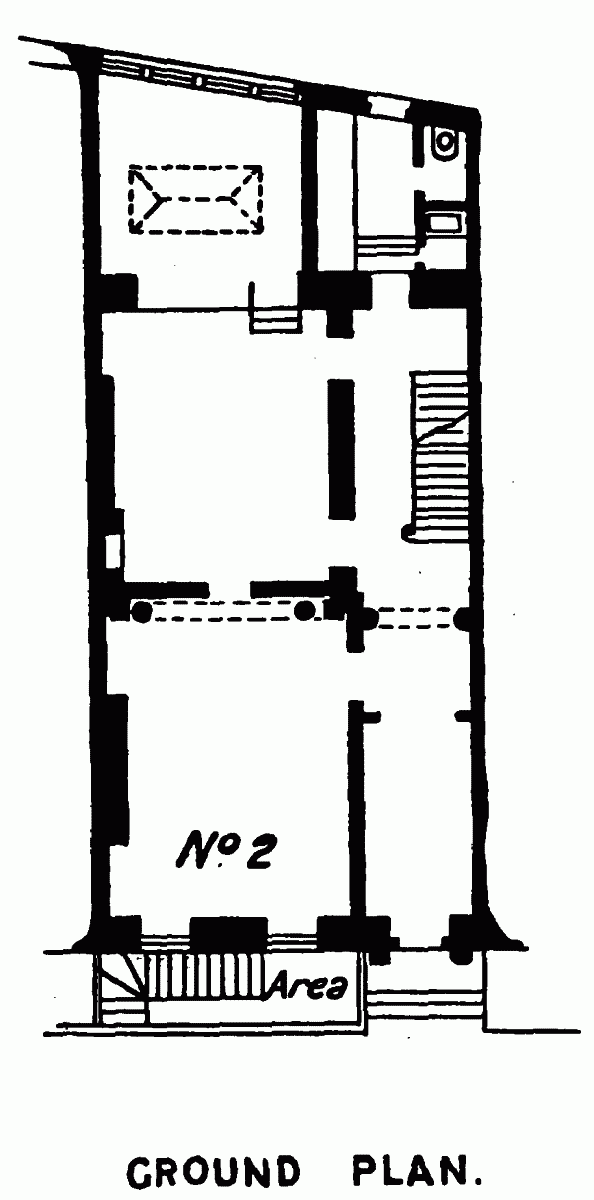 The hall had ¾-diameter columns in wood, similar in architectural character to the entrance door, and supporting an elliptical arch (Plate 20), while the stone staircase had plain wrought-iron balusters between panels of scroll design with leaf enrichment. The front room on the ground floor had panelled walls with a decorated frieze (Plate 21), and a shallow recess at the end formed by wood columns and pilasters, while the mantelpiece (in wood) had enrichments in composition. The mantelpiece in the rear room was treated in a similar way.
In the front room on the first floor was a delicately designed plaster ceiling with an enriched modillion cornice. The joinery details were also carved, and the mantelpieces to the front and rear rooms had plaster enrichments.
Historical Notes.
The ratebooks show the undermentioned as occupiers of this house before 1840 (fn. n2) :—
1770–74
Nath. Cholmley.
1776–81
Abr. Grimes.
1781–85
Wm. Halhead.
1786–88
Lady Mary Meyrick.
1789–1800
Lady Lucy Meyrick.
1801
Miss Lucy Meyrick.
1802
Miss Ann Elz. Mayrick.
1803–16
Mrs. Ann Elz. Meyrick.
1817–21
Bodn. Sparrow.
1822–35
Stephen Lushington.
1836–
Hen. Robinson Palmer.
On 15th May, 1770, the assignment of the lease of this house was conveyed (fn. n3) to Nathaniel Cholmley, who on 23rd June, 1770, also acquired the freehold. (fn. n4)
Of the succeeding occupiers of the house the most notable was Dr. Stephen Lushington.
Stephen Lushington, second son of Sir Stephen Lushington, was born in 1782. After a time at Eton and Christchurch, Oxford, he was elected a fellow of All Souls in 1802 and took the degree of D.C.L. in 1808. In 1801 he had taken up the study of the law, and was called to the Bar in 1806. At the end of that year he entered the House of Commons, where he soon obtained a reputation as an ardent reformer and abolitionist. Throughout the anti-slavery campaign he warmly supported Buxton. In 1808 he resigned his seat and for some years devoted himself entirely to practice in the courts, but in 1820 again entered Parliament. Thereafter, except for a few months in 1830, he continued a member until 1841. In 1820 he was counsel for Queen Caroline, was present at her death in the following year, and also acted as her executor. In 1828 he was appointed judge of the consistory court of London, and ten years later became judge of the high court of admiralty. In 1858 he was made Dean of Arches, an appointment which he held for nine years, when he resigned both that and the judgeship in the Admiralty court. In both positions he had gained a high reputation. On his removal from No. 2 Great George Street in 1835 he crossed the road to No. 29. He died in 1873.
In the Council's Collection are:—
(fn. n5) Exterior of entrance doorway (photograph).
Iron staircase balustrade (photograph).
Ground and first-floor plans (measured drawing).
(fn. n5) View of entrance hall (photograph).
(fn. n5) View of front room on ground floor (photograph).