Pages 19-20
Survey of London: Volume 10, St. Margaret, Westminster, Part I: Queen Anne's Gate Area. Originally published by [s.n.], [s.l.], 1926.
This free content was digitised by double rekeying and sponsored by English Heritage. All rights reserved.
V.—No. 3 GREAT GEORGE STREET (Demolished).
General Description and Date of Structure.
Inasmuch as the plot on which No. 4 was afterwards built was described in November, 1755 (see p. 21) as bounded on the west by Delahay Street, it is evident that No. 3 had at that time not been built. The house first appears in the ratebooks in the year 1762.
A description of the premises is contained in a deed of 30th May, 1765, (fn. n1) whereby Archibald Edmonston and others sold to John Seagrave, assignee of Arabella and Jane Cox, the 17th house from King Street on the south side of Great George Street. The premises are said to measure 25 feet 10 inches in front and rear, 59 feet on the east side and 55 feet 9 inches on the west side. They had been comprised in a lease, dated 16th April, 1760, for a term of 99 years from Lady Day, 1754, and were in the occupation of Richard Hoare. It may be taken therefore that the house was, at any rate partially, built by April, 1760. It was demolished in 1910, and the site is now occupied by the building of the Institution of Civil Engineers.
The exterior of these premises was treated like that of No. 2, the main cornice and the respective floor levels being carried through. The entrance had a wood pedimented doorcase (Plate 22).
The front room on the ground floor had a segmental alcove (Plate 21), with fluted wood columns and pilasters, which formed a sideboard recess and also helped to mask the small service door to the rear room. The wall surface in the centre of the alcove had an oval plaster plaque which contained a well-modelled female figure (Plate 22), while over the mantelpiece was another plaster plaque (about 30 inches in diameter) illustrating the escape of æneas from Troy. æneas was represented carrying his father Anchises, while his little son Ascanius held on to his loin girths, and his wife Creusa followed at a distance (Plate 23).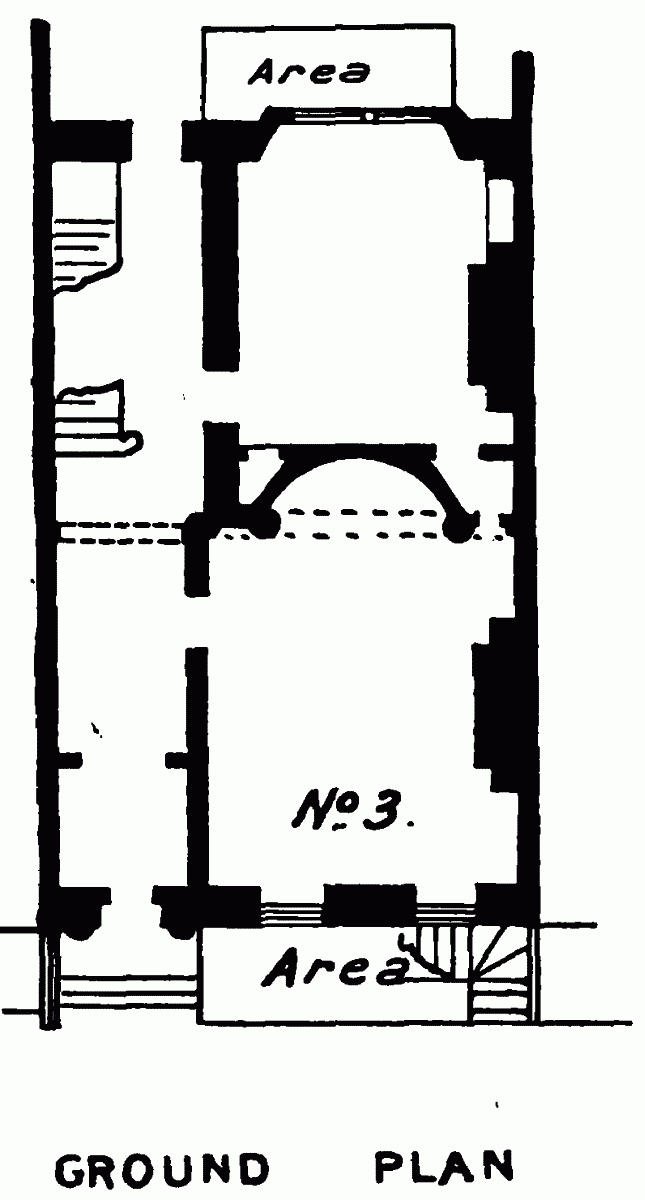 The doorcase to the front room was decorated with pilasters, which supported a moulded cornice and fluted frieze enriched with figures in composition, while the mouldings of the general joinery to the whole of the ground and first floors were carved.
Historical Notes.
According to the ratebooks the occupants of this house up to 1840 were (fn. n2) :—
1762–67
Richard Hoare.
1768–82
Chas. Morgan.
1784–1820
John Hosier.
1821–28
William Rickford.
1829–32
Dr. Mackinnon.
1833–
John Pemberton Plumptree.
In the Council's Collection are:—
General exterior of premises (photograph).
(fn. n3) Entrance doorway (photograph).
(fn. n3) General view of alcove to front room on ground floor (photograph).
(fn. n3) Detail of plaster plaques to front room on ground floor (photograph).
Detail of door head to front room on ground floor (photograph).
Ground and first-floor plans (measured drawing).