Pages 49-50
Survey of London: Volume 10, St. Margaret, Westminster, Part I: Queen Anne's Gate Area. Originally published by [s.n.], [s.l.], 1926.
This free content was digitised by double rekeying and sponsored by English Heritage. All rights reserved.
XX.—No. 30 GREAT GEORGE STREET: (Demolished).
General Description and Date of Structure.
This house is first mentioned on 4th November, 1755, when a parcel of land, with a messuage and other buildings, was leased (fn. n1) to John Horne and William Wilkinson. The house was the twelfth on the north side of the street reckoning from King Street, and the plot was 33 feet 1 inch by 120 feet. As in the case of certain other of the plots on this side of the street, the northernmost 20 feet of it were reserved for the formation of a stableyard (Boar's Head Yard).
The exterior was characteristic of the street and contained no special features of interest.
The main stone staircase, which finished at the first floor, had ornamental panels of wrought-iron, interspaced between plain bars, while the service stair had a crinoline-shaped iron bar balustrading and stone treads. The skirtings, chair-rails and window linings to the rooms on the ground and first floors were carved in wood and enriched with fret ornament, while the doors to these two floors were of mahogany. A cast-iron fire-grate from the front room on the first floor has been refixed in the new Crosby Hall at Chelsea.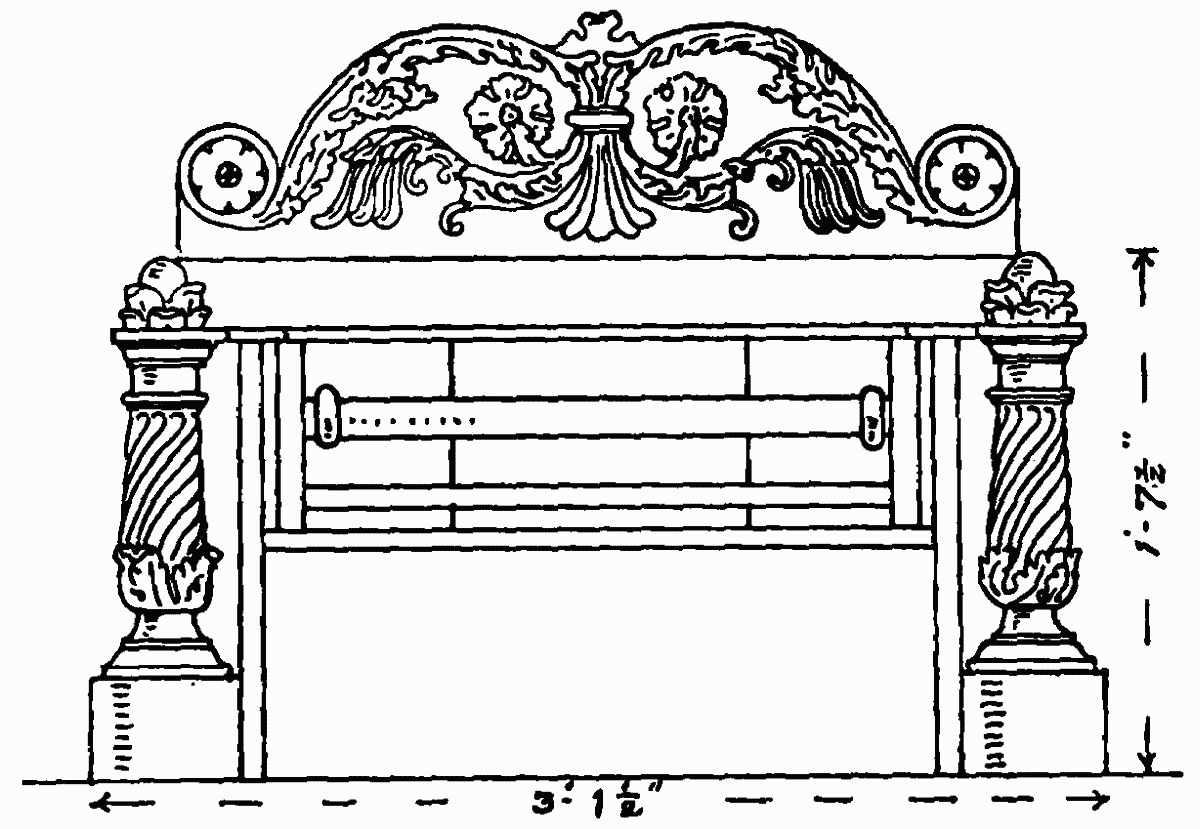 Historical Notes.
The list of occupants up to 1840, according to the ratebooks, is as follows:—
| | |
| --- | --- |
| | |
| 1761–74 | Mrs. Sweet. |
| 1775 | Chris. Griffith. |
| 1776–77 | Peter Berlon. |
| 1781–82 | Bishop of St. David's. |
| 1783–1800 | Bishop of Bangor. |
| 1801–16 | Mrs. Eliz. Warren. |
| 1817–22 | Jas. Drummond. |
| 1823–26 | Duke of Atholl. |
| 1827–38 | Sir Edw. Knatchbull. |
| 1839– | Archibald Grahame. |
On 24th November, 1762, the lease of this house was assigned (fn. n2) to Esther Swete, widow, who was confirmed in possession of the premises. She had evidently by that time been in occupation for over twelve months. On 21st December, 1774, she assigned (fn. n3) her interest to Christopher Griffith "of Podworth, Berks, Esq."
John Warren, second son of Richard Warren, Archdeacon of Suffolk, was born in 1730 at Cavendish, in Suffolk, where his father was rector. He was educated at Bury St. Edmunds School and Gonville and Caius College, whence he graduated B.A. as seventh wrangler in 1750. He decided to enter the Church, was ordained in 1753 and took priest's orders the following year. He was successively Rector of Leverington, Teversham and Snailwell. In 1772 he became D.D. In 1779 he was appointed to the See of St. David's, whence in 1783 he was translated to Bangor. He died on 27th January, 1800, at the house in Great George Street, and was buried in Westminster Abbey.
On 12th April, 1777, he married Elizabeth Southwell, who remained in occupation of the house apparently until her death in 1816.
The Duke of Atholl given by the ratebooks as the occupant of this house for the years 1823–26 was John, the fourth duke.
Sir Edward Knatchbull was born in 1781, and succeeded to the baronetcy in 1819. In the same year he entered Parliament, where, except for short intervals, he represented Kent (after 1832 the eastern division of the county) until his retirement in 1845. He opposed corn-law reform and Catholic emancipation. Towards the end of his parliamentary career he was a steady supporter of Peel, in whose two ministries (1834–35 and 1841–45) he was paymaster of the forces. He died in 1849.
In the Council's Collection are:—
(fn. n4) General view of exterior (photograph).
General view of main staircase (photograph).
General view of back staircase (photograph).
Detail of cornice and window linings, ground-floor front room (photograph).
Detail of marble mantelpiece, ground-floor rear room (photograph).
Detail of cast-iron fire grate (photograph).
(fn. n4) Plans of ground and first floors (measured drawing).
(fn. n4) Sketch of cast-iron fire grate (measured drawing).