Pages 249-256
Survey of London: Volume 13, St Margaret, Westminster, Part II: Whitehall I. Originally published by London County Council, London, 1930.
This free content was digitised by double rekeying and sponsored by English Heritage. All rights reserved.
CHAPTER 24: RICHMOND TERRACE
Ground Landlords, Etc.
The premises are the freehold of the Crown, and are at present occupied by: No. 1, the Director of Public Prosecutions; No. 2, the Colonial Office; No. 3, Viscount St. Davids; Nos. 4 and 5, Mr. Walter Spencer Morgan Burns; Nos. 6–8, the Ministry of Labour.
Date And Description of Structure.
The work of clearing the ruins of Richmond House was begun on 2nd January, 1792, (fn. n1) and the duke temporarily took up his residence in the house of his brother, Lord George Lennox (fn. n2) (see p. 243). Richmond House was never rebuilt.
In 1819 the 5th Duke intimated his willingness to consider an offer from the Crown for the purchase of the lease, which had still 22 years to run. Terms were arranged, and on 25th March, 1822, the duke disposed of his interest in the property.
Plans were forthwith prepared for the utilisation of the site by the erection of a terrace of houses on the southern side, and, in order to provide the necessary stable accommodation, the adjoining house in Parliament Street, with ground running down to the river, was purchased. On these two sites it was decided to erect "eight residences of the first class, and appropriate domestic and stable offices thereto, with a terrace at the north front of the houses and a mews in the rear of the stabling, besides allotting a considerable portion of pleasure ground next the river for the enjoyment of the occupiers of the new residences, and a suitable lodge and gates at the north-west angle of the ground, where the general access to the said terrace is to be made." (fn. n3) A lease was accordingly granted for 99 years from 10th October, 1822, to George Harrison, who in due course built the eight houses known as Richmond Terrace. (fn. n4) (fn. c1) (fn. c2) The first entries in the Post Office Directory respecting the houses appear in the issue for 1826, and it may therefore be assumed that they were all occupied for the first time in 1825.
The exterior of the premises (fn. n5) is treated as an architectural composition with Greek details, and comprises a façde in brick and stone, with a central feature, comprising six Ionic columns embracing two storeys, and standing in advance of the main face, with a pedimented attic storey. (fn. n6) (Plate 115 and 116.) At either end of the block is a pavilion treatment comprising two columns between antae, with complementary effect to the return fronts. The eastern front (Plate 117), in addition, has a pediment containing a semi-circular window. The ground storey forms a rusticated podium pierced with semi-circular-headed openings. The two upper storeys contain square-headed windows, with stone dressings and plain brickwork to the general wall surface. The main entablature in stone is surmounted by a balustraded parapet screening the slated roof and dormers. The appearance, however, has been marred by openings made in the blocking course to increase the light to the attic windows. An iron balcony railing to the first-floor windows continues across the entire front and the two returns. The east side, in addition to the area, has a broad terrace with steps to the garden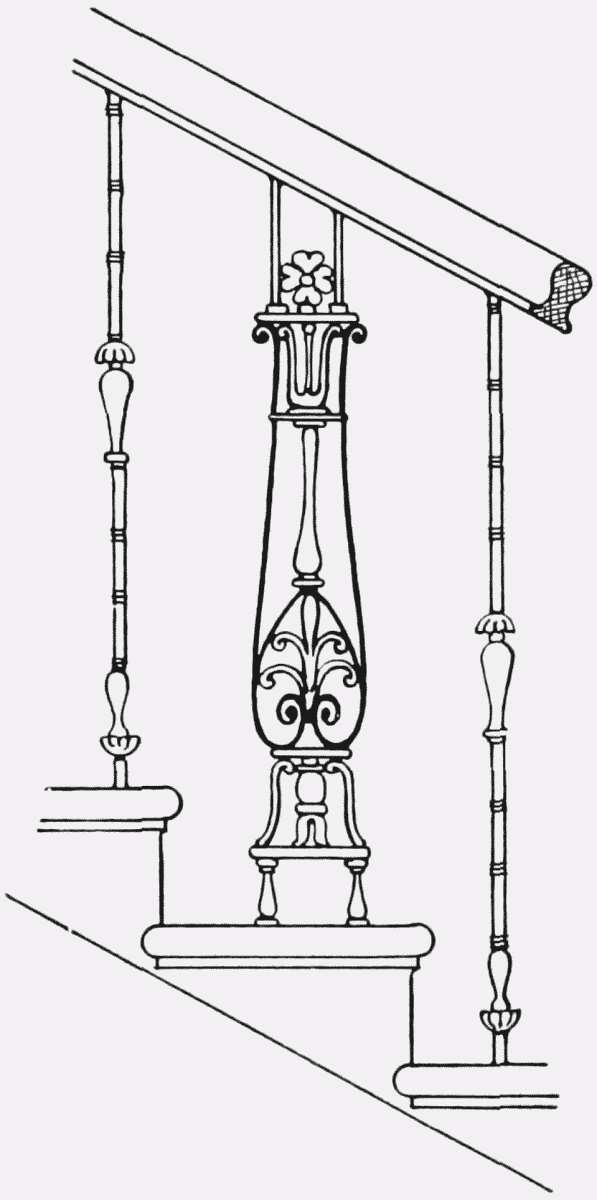 No. 1 has the south-east corner carried up an extra storey and further south a onestorey building has been added.
The interiors generally are restrained, the staircases being in stone with an iron balustrading. Some of the rooms contain enriched cornices and ornamental plaster ceilings in light relief, and marble mantelpieces. Many alterations, however, have taken place, and features of decoration introduced according to the tastes of the respective tenants.
Nos. 4 and 5 have been joined and an entrance porch added, the old doorway to No. 5 being converted into a window. A larger hall has also been built and a new staircase to the principal floor constructed, with a scrolled iron balustrading.
An entrance lodge of one storey with Doric columns to the porch is situated at the north-west corner of the terrace gardens. The entrance gates and railings are in cast iron with Greek detail. A balustraded wall portions the drive from the terrace-garden.
Condition of Repair.
Good.
Historical Notes.
According to the directories the occupants of Richmond Terrace before the utilisation of certain of the house for official purposes have been:
No.1
1826–47
John Irving
1852–76
E. Horsman
1878–97
Bertram Wodehouse Currie
1898–1918
Laurence Currie
No. 2
1826–30
Sir Robert Townshend Farquhar
1831–8
Lord Edward Thynne
1839–49
Lady Edward Thynne
1853–67
Dowager Countess Harrington
1869–73
Charles Tennant
1874–91
Mrs. Tennant
Chas. Coombe Tennant
1892–96
Mrs. Tennant
Chas. Coombe Tennant
Henry Morton Stanley
1897–1904
Mrs. Tennant
(Sir) H. M. Stanley
1905–8
Mrs. Tennnt
Lady Stanley
1909–18
Mrs. Tennant
Mrs. F. W. H. Myers
1919–26
Henry Curtis
Lady Stanley
1927–8
Henry Curtis
No. 3
1826–7
Rt. Hon. Wm. Huskisson
1828–31
Sir Robert Harland
1832
Edward and Lady Hannah Ellice
1833–6
Charles and Lady Mary Wood
1837–9
Col. and Lady Caroline Wood
1840–48
Sir Robert Harland
1849
Lady Harland
1851
William Mundy
1853
Lady Harland
1854–65
Sir Thomas Tomlinson
1866–8
Sir Thomas Tomlinson
Wm. Ed. Murray Tomlinson
1869–74
Wm. Ed. Murray Tomlinson
Thomas Tomlinson
1875–7
Mrs. Tomlinson
Thomas Tomlinson
1878–91
Mrs. Tomlinson
Thomas Tomlinson
Wm. Ed. Murray Tomlinson
1892–4
Mrs. Tomlinson
Wm. Ed. Tomlinson
1895–1902
Wm. Ed. Tomlinson
Miss Tomlinson
1903–9
Sir Wm. Ed. Tomlinson
Miss Tomlinson
1910–20 (fn. n7)
Lord St. Davids
1923–30
No. 4
No. 5
1826–8
Robert Wilmot Horton
1826–62
Sir Charles Burrell
1829–30
Rt. Hon. Wm. Huskisson
1831
Archbishop of Canterbury
1833–4
E. Ayshford Sanford
1835–50
John and Lady Frances Ley
1851–76
Lady Frances Ley
1863–72
Sir Walter Wyndham Burrell
1873–80
Qiontin Hogg
1877–81
Quintin Hogg
1878–80
Thos. Henry Clifton
1881
Mrs. Clifton
1882–92
William Penn
1882–92
Wm. Geo. Fredk. Cavendish Bentinck
1898–1913
Wm. Geo. Fredk. Cavendish Bentinck
1915–22
Mrs. Cavendish Miller Bentinck
1923–6
Mrs. Burns
1927–30
Walter Spencer Morgan Burns
No. 6
1826–34
Joseph Marryat
1835–8
Sir Richard Vyvyan
1839–41
Earl of Selkirk
1842–52
Joseph Marryat
1853–67
Dr. A. J. Sutherland
1868–91
Mrs. Sutherland (fn. n8)
1892–6
Henry Sutherland (fn. n8)
1898–1904
John William Logan
1908–18
Hon. Weerman Miller Harold Pearson
No. 7
1826–34
Thos. Tooke
1835–8
Richard Bethell (fn. n9)
1839–67
Chas. W. Packe
1868
Mrs. Packe
1872–9
Lord Gwydyr
1880–1912
Earl of Onslow
1913
Dowager Countess Onslow
No. 8
From 1826 to 1850 the house was occupied by Messrs. E. and G. N. Driver, land-agents and surveyors. In the latter year the General Board of Health was established here, and the house has ever since been used for official purposes.
No. 1
Edward Horsman, politician, was born in 1807, and was educated at Rugby and Trinity College, Cambridge. He entered Parliament in 1836 for Cockermouth, and was still member for that constituency when he took up his residence at Richmond Terrace in 1851. He afterwards represented successively Stroud and Liskeard. From 1855 to 1857 he was Chief Secretary for Ireland. At first a member of the Liberal party, towards the end of his career he was more or less independent. He was chiefly notable for his criticism of weak points in the ecclesiastical system. In 1866 when opposing Gladstone's Reform Bill he was attacked by Bright, who stigmatised his "party" as a political "Cave of Adullam." a nickname which persisted. Horsman died in 1876.
No. 2
Sir Robert Townshend Farquhar, son of Sir Walter Farquhar, a well-known physician, was born in 1776. He was for many years commercial resident at Amboyna, and afterwards Lieutenant-Governor of Penang. At the Peace of Amiens in 1802 he was appointed commissioner to adjust the British claims in the Moluccas, and to deliver up those islands to the Batavian republic. In 1812 he was appointed Governor and Commander-in-Chief of Mauritius, in which capacity he made strenuous and successful efforts to put an end to the slave trade carried on in that island. In 1821 he was created a baronet. He resigned his governorship in 1823 and returned to England. In 1825 he entered Parliament as member for Newton, Lancs., and died on 16th March, 1830 "in Richmond Terrace, Whitehall." (fn. n10)
He was succeeded at No. 2 by Lord Edward Thynne (b. 1807), sixth son of Thomas, second Marquess of Bath. Lord Edward married on 1st July, 1830, Elizabeth Mellish, and they made their home at Richmond Terrace. After 1838 Lady Edward Thynne is shown alone at the house until 1849, when she died. Lord Edward lived until 1884.
The Dowager-Countess of Harrington (née Maria Foote, the actress) came to live at No. 2 after the death of her husband in 1851 (see p. 178). She died on 27th December, 1867 "at her residence, No. 2, Richmond-terrace, Whitehall." (fn. n11)
For details of the early life of Sir Henry Morton Stanley, the explorer, the reader is referred to the standard biographies. Stanley returned to Europe from the Emin relief expendition in 1890, and on 12th July of that year married Dorothy Tennant (daughter of Charles Tennant, sometime M.P. for St. Albans), a lady who, with other accomplishments, was a talented painter, well-known for her studies of London street arabs. In 1891 Stanley and his wife returned from a lecturing tour in the United States and Australasia, and settled down at the house of the latter's mother in Richmond Terrace. Stanley became re-naturalised as a British subject, and in 1895 was returned to Parliament as member for North Lambeth. At the general election of 1900 he did not seek re-election. In 1899 he was made G.C.B. In 1903 he had a paralytic stroke, and after much suffering died "at his residence in Richmond Terrace" (fn. n12) on 10th May, 1904. Lady Stanley in 1907 married Henry Curtis, F.R.C.S. She died in October, 1926, "at her residence, No. 2, Richmond Terrace, Whitehall." (fn. n13)
"Mrs. Tennant who died in April, 1918, in her 99th year, was a notable survivor of the grandes dames of the 19th century, and her house, No. 2, Richmond-terrace, was long famous as the meeting-place of political, literary, and artistic celebrities." (fn. n14)
Mrs. F. W. H. Myers, who is bracketed with Mrs. Tennant as occupying the house from 1909 to 1918, was the latter's youngest daughter, and widow of F. W. H. Myers, poet and essayist.
No. 3
William Huskisson was born in 1770. From 1783 to 1792 he lived in Paris, where he was for some time private secretary to Lord Gower, the British ambassador. In 1795 he became Under-Secretary at War, and in the following year entered Parliament as member for Morpeth. He was appointed Secretary to the Treasury for the first time in 1804 and again in the Duke of Portland's ministry in 1807. In 1810 he published a pamphlet on the Depreciation of the Currency which earned him a great reputation as a financier. In 1814 he became Minister of Woods and Forests, and from 1823 to 1827 was Treasurer of the Navy and President of the Board of Trade. In 1828–8 he was Colonial Secretary and Leader of the House of Commons under Goderich and Wellington. In 1830 he was killed at the opening of the Manchester and Liverpool Railway. Huskisson was a supporter of free and Catholic emanciptaion, and his reputation, though considerable, is hardly in proportion to his great abilities.
His residence at No. 3 Richmond terrace lasted only until 1827. The ratebooks for 1828–30 show him next door at No. 4.
Edward Ellice, born in 1781, was son of Alexander Ellice, managing director of the Hudson's Bay Company. He was educated at Winchester and Marischal College, Aberdeen, and afterwards entered his father's London office. By his marriage in 1809 with Lady Hannah Althea Bettesworth (who died in 1832 "in Richmond-terrace" (fn. n15) ), sister of the second Earl Grey, he was brought into intimate contact with the Whigs. In 1818 he was returned to Parliament as member for Coventry, which borough he continued to represent (except from 1826 to 1830) until his death. In 1821 he succeeded in bringing about the amalgamation of the Hudson's Bay Company with several rival concerns. From 1830 to 1832 he was Secretary to the Treasury, and in 1833–4 was Secretary at War. Although he never again held office he continued to be the confidential adviser of Liberal governments, and was influential in forming many ministries. "Politics cost him large sacrifices, for he was a busy and successful merchant; the first to pass from the counting-house to the cabinet." (fn. n16) He died in 1863.
Ellice's residence at No. 3 Richmond Terrace was very brief, and he was succeeded in 1832 by Charles Wood, afterwards 1st Viscount Halifax. Wood was the eldest son of Sir Francis Lindley Wood, and was born in 1800. He was educated at Eton and Oriel College, Oxford, and in 1826 entered Parliament as member for Grimsby. In 1832 he was appointed Joint Secretary to the Treasury, and from 1835 to 1839 was Secretary of the Admiralty. In 1846 he became Chancellor of the Exchequer, which position he held until 1852. In the latter year he was appointed President of the Board of Control, and in 1858 Secretary of State for India. In 1846 he had succeeded his father in the baronetcy, and in 1856 had been created G.C.B. He resigned his secretaryship in 1866, as the result of an accident when hunting, and was raised to the peerage as Viscount Halifax of Monk Bretton. He died in 1885. He had married in 1829 Mary, daughter of the 2nd Earl Grey and niece of Lady Hannah Ellice.
No. 4
Sir Robert John Wilmot Horton, born in 1784, was the son of Sir Robert Wilmot, Bt., of Osmaston, Derbyshire and Juliana Elizabeth, daughter of the Hon. John Byron. He was therefore first cousin to Lord Byron, the poet. He was educated at Eton and Christ Church, Oxford, and entered Parliament in 1818 as member for Newcastle-under-Lyme. From 1821 to 1827 he was Secretary of State for War and the Colonies. In 1830 he retired from the House of Commons, and in the following year was knighted. From 1831 to 1837 he was Governor and Commander-in-Chief of Ceylon. He succeeded his father in the baronetcy in 1834, and died in 1841. In 1806 he had married Anne Beatrix Horton, the subject of Byron's lines: "She walks in beauty," and in 1823, in compliance with the provisions of his father-in-law's will, he assumed the additional name of Horton. In conjunction with Col. Doyle, as representatives of Byron's sister, he destroyed the poet's Memoirs.
For details of William Huskisson, see under No. 3. He left No. 4 in the early part of 1830 some six months before his death, and the house was taken by the Archbishop of Canterbury. (fn. n17)
William Howley, born in 1766, was the only son of William Howley, vicar of Bishop's Sutton and Ropley, Hants. He was educated at Winchester and New College, Oxford. He became a Fellow of Winchester College in 1794 and ten years later a canon of Christ Church, Oxford. In 1809 he was appointed Regius Professor of Divinity. He had in 1796 been instituted to the vicarage of Bishop's Sutton, and in 1802 to that of Andover, and in 1811 he obtained the rectory of Bradford Peverell. Two years later he was made Bishop of London, and in 1828, Archbishop of Canterbury. He opposed the Roman Catholic Relief Bill (1829), the second reading of the Reform Bill (1831), the Irish Church Temporalities Bill (1833), and the Jewish Civil Disabilities Repeal Bill (1833), and denounced Lord John Russell's education scheme (1839). He died in 1848.
No. 5
Sir Charles Merrik Burrell, Bt., born 1774, was the eldest son of Sir William Burrell, brother of Peter Burrell, the builder of Gwydyr House (see p. 223). He died in 1862 and was succeeded in the baronetcy and in the occupation of No. 5 Richmond Terrace by his son, Walter Wyndham Burrell, born in 1814. He died in 1886.
Quintin Hogg, seventh son of Sir James Weir Hogg, and brother of the 1st Lord Magheramorne, was born in 1845. On leaving Eton in 1863 he entered the office of a firm of tea merchants in the City, but eighteen months later joined the firm of Bosanquet, Curtis & Co., sugar merchants, in which he afterwards became a senior partner. He retired in 1898. Not commerce, however, but philanthropy was his main concern. In 1864 he started a ragged school for boys in Of Alley, now York Place, Charing Cross. A "Youths' Christian Institute" was formed in Castle Street and afterwards transferred to Long Acre. In 1882 Hogg purchased the lease of the Polytechnic Institution in Regent Street, and the "Polytechnic" grew and prospered under his direction. He was thus the initiator of the Polytechnic movement in London. In 1889, on the coming into being of the first London County Council, Hogg was elected an alderman, an office which he held until 1895. He died at the Polytechnic in 1903.
"In May [1872] they [Quintin Hogg and his wife] moved to their first home in Richmond terrace." (fn. n18) This, as the directories show, was No. 5, but the same authorities indicate that in or about 1877 Hogg moved next door, to No. 4. It was at the former house that D. L. Moody, the American evangelist, stayed on the occasion of his two visits to London in 1872 and 1875. "Mr. Hogg had met him in America, and when he heard that the evangelist had no friends in London, and was going to a hotel, he immediately sent and invited him to make Richmond Terrace his home during his stay in London." (fn. n17) An interesting incident in the course of Moody's second visit, exhibiting Hogg's goodness of heart, is the following story by one who had experienced it: "I am an old Endell Street boy, and was picked up by Mr. Hogg at the Opera House, Haymarket, in 1875, when Messrs. Moody and Sankey were there. Mr. Hogg took me to his house in Richmond Terrace, when I was introduced to Mrs. Hogg as 'my young friend J— H—' Poor Joe from Slumland, to ride in a hansom cab, and to be introduced to a lady in Richmond Terrace as a friend of Mr. Hogg's." (fn. n19)
No. 6
Sir Richard Rawlinson Vyvyan, born in 1800, was the eldest son of Sir Vyell Vyvyan, Bt., of Trelowarren, Cornwall. He was educated at Harrow and Christ Church, Oxford, and in 1820 succeeded to the baronetcy and the family estate. In 1825 he entered Parliament as a member for Cornwall. He was an unbending Tory and strenuously opposed the Reform Bill. He retired from Parliament in 1857, and spent the remainder of his life at Trelowarren in scientific and literary pursuits. He died in 1879.
The Earl of Selkirk, who succeeded Vyvyan at No. 6, was William Alexander Anthony Archibald, born in 1811, eldest son of the 10th Duke of Hamilton. He succeeded to the title in 1852 and died in 1863.
No. 7
Thomas Tooke, economist, was born in 1774 at Cronstadt, where his father was chaplain to the British Factory. The early part of his life was devoted to his business interests in the City, and it was not until 1819 that he took any prominent part in the discussion of economic questions. In that year he gave evidence before Parliament on the resumption of cash payments by the Bank of England, and in the course of the next few years published very important contributions on the subjects of the cause of the increase or lowering of prices of commodities. His most valuable work was the History of Prices, published in several volumes from 1838 to 1857. Tooke was an earnest supporter of the Free-Trade movement, and drew up the petition of the merchants of London, presented to the House of Commons in 1820, which had much influence on the subsequent development of commercial policy. He died in 1858.
The Lord Gwydyr who resided at No. 7 Richmond Terrace during 1872–9, was Sir Peter Robert Burrell, the 4th Baron. He was born in 1810 and succeeded to the title in 1870. He died in 1909, aged nearly 100. He was present at the coronations of George IV, William IV and Victoria, and was only prevented, by an accident, from attending that of Edward VII.
He was succeeded at No. 7 Richmond Terrace by the Earl of Onslow.
William Hillier Onslow, born in 1853, in 1870 succeeded his great-uncle as 4th Earl of Onslow. In 1887 he was appointed Parliamentary Under-Secretary of State for the Colonies, and in the following year became Parliamentary Secretary to the Board of Trade. From 1888 to 1892 he was Governor of New Zealand. In 1895 he became Parliamentary Under-Secretary of State for India and in 1900 resumed his old position at the Colonial Office. In 1903 he was made President of the Board of Agriculture, and from 1905 to 1911 was Chairman of Committees in the House of Lords. His interest in municipal affairs is attested by his service as alderman first of the London County Council (1896–9) and afterwards of the City of Westminster (1900–3). He died in 1911.
In The Council's Collection Are:—
(fn. n20) General elevation to Richmond Terrace (photograph).
Detail of central feature (photograph).
(fn. n20) East elevation (photograph).
Another view shewing extension at south-east corner (photograph).
(fn. n20) West elevation (photograph).
View of entrance lodge and railings (photograph).
No. 1 Richmond Terrace, view of mantelpiece in Room No. 2 (photograph).
No. 1 Richmond Terrace, view of alcove in Room No. 2 (photograph).
No. 1 Richmond Terrace, view of wood mantelpiece in Room No. 4 (dated 1873) (photograph).
No. 1 Richmond Terrace, view of doorway in Room No. 4 (photograph).
No. 1 Richmond Terrace, view of Room No. 7 (photograph).
No. 1 Richmond Terrace, view of mantelpiece in Room No. 7 (photograph).
No. 1 Richmond Terrace, view of oak panelling (dated 1882) to Room No. 8 (photograph).
No. 1 Richmond Terrace, view shewing mantelpiece in Room No. 8 (photograph).
No. 1 Richmond Terrace, view shewing doors in Room No. 8 (photograph).
(fn. n20) Plans of ground and first floors (copy of plan in possession of H.M. Office of Works).
(fn. n20) Elevation to Richmond Terrace (measured drawing).
Elevation to Richmond Terrace (east end) (measured drawing).
Elevation to Whitehall (measured drawing).
(fn. n20) Alternative elevations to Richmond Terrace by Chawner, 1827 (photograph of drawing in the Crace Collection).
(fn. n20) Details of iron balustrading to staircases in Nos. 1, 2, 6, 7, and 8 Richmond Terrace (measured drawing).