Pages 75-92
Survey of London: Volume 15, All Hallows, Barking-By-The-Tower, Pt II. Originally published by London County Council, London, 1934.
This free content was digitised by double rekeying and sponsored by English Heritage. All rights reserved.
(B) MONUMENTS AND WALL TABLETS
Note.—The numbers are shown on the plan (p. 57) enclosed by circles.
North chapel, east wall.
1. SAMUEL WALKER, 1818.
2. ELIZABETH SEDGWICK, 1849.
3. JAMES GRAVES, 1726–7.
Inscribed wall tablet.
Near this Place
lyeth, in the Church Yard
the mortal part of
Mr JAMES GRAVES
late Clerk of the Petitions
to the Honble Navy Board
He married a Gentlemans Daughter of
this Parish and Died without Issue
the 8th of January 1726
He left Several Legacies to poor Relations
and Ten Pounds to the Charity School of
Tower Ward to be lay'd out in Books,
Intitled the Whole Duty of Man,
one to be given to each Boy & Girl
at their leaving the School until the
full Number fhould be given away.

Ito, et fac Similiter.
4. JOHN FARRER, 1824.
North chapel, north wall.
5. CHARLES DE BEAUVOIR, 1702–3.
A draped cartouche bearing the inscription with a pair of cherubs' heads, and skull below; surmounted by a shield of arms and crest. (Plate 83.) The work is of the City School of Masons. (fn. 1)
In a Vault in the Chancel lies the body of
Charles de Beauvoir Esqr. Descended of
the Ancient Family of ye Beauvoirs in ye iland
of Guernsey he was Son of Charles de Beauvoir
Doctor of Divinity & Tutor to Henry Duke of Gloucester
Brother to King Charles the Second
He Married Barker Sherwin Daughter of Iohn Sherwin
Esq by whom he had Eleven Children whereof two of
the Sons Viz. Charles & Daniel and three of the
Daughters Elizabeth Iane & Iudith Survived him.

He was one of ye Searchers of Her Majesties Customs
House in London in ye Reiges of King Charles ye 2d.
King Iames ye 2d. King William ye 3d and
Queen Mary & her present Majestie
Queen Ann. He departed this life
ye 7th of Mar Ano Dom': 1702. Aged 66.

Intus Belvoriæ Guernsæis flenda poetis
Non Indigna Domus. Ossa sæpulta jacent
Quem suus Optaret socium Glovernus Egena
Hunc familum gravibus Gens habvere Malis
Quisquis es Hunc cupias Factis Æquare parentem
Invenias similem Filia nupta virum
Arms: Argent a cheveron between three cinqfoils gules for BEAUVOIR, impaling Sable a griffon between three crosses paty fitchy or for SHERWIN. Crest, a demi-dragon vert.
Beauvoir lived in a house in the Seething Lane Precinct, together with his wife, his son Daniel and his three daughters. (fn. 2)
6. DANIEL DE BEAUVOIR, 1706.
A rectangular tablet with an inscription beneath No. 5.
In the Same Vault in the Middle Chancell, Lyes Interr'd the Body of Daniel youngest Son of Charles De Beauvoir Esq; and Barker his wife, who Died the 6th of December 1706. in the Eighteenth year of his Age.
In the Same Vault Lyes Interr'd the Body of Charles their Eldest Son, who died the 24th of August 1719. in the Thirty and Sixth year of his Age
In the Same Vault Lyes Interr'd the Body of Jane, their Second Daughter, who was Married to William Dowman of the County of Cambridge Gentleman: She died the First of March 1723. in the Forty first year of his [sic] Age.
In the Same Vault Lyes Interr'd the Body of Barker wife of Charles De Beauvoir Esq: who died much lamented by her Children which Surviv'd her the third of March 1724. In the Seventy Second year of her Age
In the Same Vault Lyes Interr'd the Body of Judith Lillie widow another Daughter of the Said Charles De Beauvoir Esq: and Barker His wife, who Died the 15 July 1742.
In the Same Vault Lyes Interr'd the Body of Elizabeth Beauvoir another Daught'r of the Said Charles De Beauvoir Esq: and Barker His wife, who Died the 12 January 1742.
7. JOHN CROKE, 1477, Alderman, and MARGARET his wife.
Consists of an altar tomb, canopy and wall panel, all of Purbeck marble. The altar tomb has a panelled front with three square quatrefoiled and sub-cusped panels enclosing blank shields and four upright panels each with a pedestal. The ends have square panels like those in front. The moulded base is enriched with a series of small square quatrefoiled panels. The canopy is supported by two free-standing octagonal shafts and two shafted responds against the wall. The front has two depressed arches, trefoiled and sub-cusped and surmounted by a cornice with blank shields alternating with carved paterae and the Holy Name; above this is a frieze of quatrefoils and a cresting of Tudor flowers. The ends of the canopy are similarly treated. The soffit of the canopy has elaborate fan tracery. In the slab at the back of the monument are effigies of both husband and wife described under Brasses (No. 20) on page 71. (Plates 84, 85 and 86.)
John Croke, skinner, was elected alderman of Bishopsgate Ward in 1470 and removed to Lime Street in the same year. He was excused service, 9 December 1470, on the plea of old age and infirmity. He was son-in-law of William Gregory, the Chronicler (Mayor 1451–2). One of his daughters married Sir William Stokker (Mayor 1485). His will is given in full in the first part of this Survey, and his connection with the church and the foundation of his chantry has been fully described. (fn. 3) He lived in a large house on the east side of Mark Lane adjoining the parish boundary. (fn. 4) He also owned a beerhouse called "The Cup," near the Wool Quay. (fn. 5)
His widow, Dame Margaret, died in 1490. By her will (fn. 6) she desires to be buried in the church of the Friars Preachers of London, and bequeaths to the church of All Hallows Barking, "where the body of my Husband John Croke lyeth burried," her great chalice of silver gilt.
8. JANE BLAND, 1807.
On the north wall over the Croke tomb is a white elliptical inscribed tablet on a shaped ground, surmounted by palm leaves and arms on a lozenge.
In Memory of
JANE BLAND
Relict of
Joseph Bland Esqr Merchant, London;
who died June 8th 1807. aged 60 Years
and whose Remains are deposited
in the Vicar's Chancel Vault
of this Church.
Joseph Bland lived at No. 2 Catherine Court (vide ante).
9. HIERONIMUS BENALIUS, 1583–4.
An elaborate wall monument having the figure of Benalius facing east, and kneeling at a prie-dieu. He is clothed in a long gown. The effigy is within a square recess, flanked by Ionic pilasters, panelled and carved with cords and tassels, which support an enriched entablature. An elaborate achievement of arms forms the top of the monument, and the whole is supported on a panelled plinth and apron adorned with strapwork. The background behind the figure has swags of fruit and flower. The work is of the late Southwark School of Masons. (fn. 7) (Plates 87, 88.)
Hic iacet Hieronimvs Benalivs Bergomi natvs qvi dvm vixit pietatem colvit et fvtvrÆ vitÆ resvrrectionem expectat obiit 4° die Martie Anno Domini 1583 Ætatis SvÆ 58.
Arms: Argent a cheveron sable with two fighting cocks in the chief and a lion in the foot all gules.
He was living in a house in Seething Lane. (fn. 8)
10. GILES LYTCOTT, 1696.
A large wall monument consisting of an inscribed column, without a capital, but standing on a moulded and inscribed pedestal, with an architectural background and two children that act as supporters to the upper part of the column and hold inverted torches, one of which is missing. The lower part is elaborately designed with carved consoles, and a substructure of a cove three times recessed, over foliage surrounding a mask. The character of the memorial suggests the work of William Palmer the mason. (fn. 9) (See Plates 89, 90.)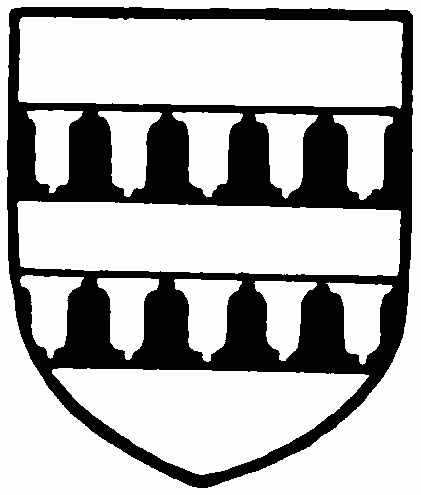 Inscription on the column:
Near
this place lyeth the Body of Giles Lytcott, [late of]
Stratford Langthõne in ye County of
Efsex Esqr youngest son of Sir Iohn Lytcott of
East Moulsey in ye County of Surrey by M [argaret]
Daughter of Sir Nicolas Overbury [& Sister of]
Sir Thomas Overbury who was [poisoned in]
the Tower. He was born ye 2nd of November,
1633 and dyed August ye 11th 1696 in ye
63rd year of his age. He was ye first Controller
General of allye Accompts of ye Customs [of]
England & of all ye English Colonies
which Office he executed from
1671 to ye time of his death. He married Sarah
Daughter & Heiress of Richard Culling of
Woodlands in ye County of Devon Gent: by whom
(he had) 5 sons & 5 Daughters. His eldest son Giles
dy'd inye Eaft Indies in ye Streights of Molucca
going to China in ye year 1688. His second son
Iohn dy'd in ye Weft Indies Comander of His Majests.
shipp ye Pembroke 10 months after his Father
aged 27 years. He had ferved his Majefty King
William in all ye war with France & was [in all]
engagements by fea during ye war but dy'd in
ye squadron under ye Comand of Admiral Nevil
in ye fatall ficknefs wherein so many Brave
men Lost their Lives.
Inscription on the pedestal:
Near
This place lyeth also the Body of
Sarah Lytcott wife of the
above said Giles by whom He
had 5 Sons & 5 Daughters Viz.
Giles John Richard Cullen & Richard
Mary Elizabeth Sarah Iane & Iane
of which only were living at Her
Death Richard Mary & Sarah.
She departed this life the 28th. day
of February 1713: in the 68th. year
of her age.
Here are likewise Interr.d. the Body
of Coll: NathL Long who died the
14th. of August 1714, and Sarah Long
his Onely wife daughter of Giles
Lytcott Esq:r who died the 3d:
of IanRY: 173½: both Aged 63.
The inscription to Giles Lytcott is, as described by Maskell, inscribed on a Doric column and is in places much defaced. The above copy has been compared with that given by Maskell and is believed to be correct. The "terrific skull at the base" is now masked by the head of a knight in armour with visor of helmet open.
11. BALDWIN HAMEY, 1640.
An elliptical inscription tablet of black marble, of slightly convex section with moulded frame, having four key blocks, the upper of scrollwork, the lower a skull, and heraldic shields at the sides, the whole being enclosed in a rectangular moulded frame with black marble spandrels. The upper angles of this frame are in the form of a pair of volutes, and it is surmounted by a bold achievement of arms. Beneath is a moulded shelf with a pair of scrolls as apron. (Plates 91, 92.)
D. O. M.
S.
BALDVINVS HAMEY
post adeptv' svmmo cvm honor
apvd Lvgdvnenses in Batavis svpremv'
Medicinæ gradv' Post svperata Prima
Praxeos pericvla tanta cvm peritia et
Favore in magni Mvscovitarv' Dvcis Avla
vt ægerrime dimitteretvr; Dimissvs
semel Itervmq per amplissimos Legatos
repeteretvr. Post transactos apvd
Londinenses non minore Fidelitate qvam
Fælicitate, qvadraginta dvos in eadem arte
Annos: Post totam vitam svam, cvm morvm
simplicitate tvm literarv' et lingvarvm
varietate nobilitatam: tandem morti . de
qva innvmera trophæa privs reportaverat.
in qvalecvnqtrophæv'. confecta ætatecessit.
Ano a se nato 72, a Christo, 1640 tribvs, ex
vnica et vnice dilecta vxore sva Sar
Oeils relictis liberis qvi pietatis
ergo hoc monvmentv' vtrio
parenti posvervnt.
Arms: Gules a fesse or between a roebuck or running in the chief and three stars argent in the foot. Crest: A demi-hart.
Dr. Hamey was born at Bruges in 1568 and was physician to the Czar of Muscovy 1592–8, (fn. 10) and the presence of the Muscovy Company in this parish may account for his residence here. His more famous son is buried in Chelsea Old Church. (fn. 11)
12. JOHN NIXON, 1828.
13. MARGARET NIXON, 1841.
North aisle of nave.
14. Edward Alexander, 1775.
A square moulded inscription tablet, flanked by a pair of scrolls, and surmounted by a flat marble truncated pyramid with an urn finial which carries an elliptical medallion portrait in relief of the deceased, in profile. Beneath the tablet a slightly moulded base covers an ogee-shaped apron with a shield of arms upon a raised cartouche. (Plates 93, 94.)
This Monument
Sacred to the Memory of
Mr. Edward Alexander, Citizen & Glazier
and many Years an Inhabitant of this Parish,
(whose remains are deposited
near the Font in this Church,)
As a Tradesman, He was Eminent in his Profession.
Nor less distinguifh'd for those Social
Characteristics which engage Esteem & command
Respect, than He was for filling the other
Departments of Life, in which he was engag'd in,
With Manly dignity, and Inflexible Integrity,
He departed this Life Augt; 28th 1775 Aged 62 Years.
Death has no dread, but what frail Life imparts,
Nor Life true Joy, but what kind Death improves.
Arms (which are much defaced) appear to be: Party argent and sable a cheveron between two molets in the chief and a crescent in the foot all counter-coloured, for ALEXANDER, impaling the same coat.
15. FRANCIS SHERWOOD, 1744.
A square inscribed tablet within a moulded and pedimented frame surmounted by an urn and a pair of swags. The tablet is flanked by two elongated scrolls, and on a shaped apron below is a shield of arms within an enriched cartouche. The monument is signed by Peter Scheemakers. (Plates 95 96)
Near this Place lies Interred the Body of
FRANCIS SHERWOOD
younger Son of RICHARD and JOANNA
SHERWOOD who departed this Life
the 13th: Day of August 1744,
in the Twelfth Year of his Age.
He was of a sweet good Nature
And filial Love the most endearing:
Of a bright and solid Understanding:
Having an uncommon quick Apprehension,
And (for his Years) a vast Depth of Reason.
In whom his afflicted Father, after the Death
of his truly virtuous and learned Elder Son
RICHARD, M.D. and that of his dearly beloved
Wife JOANNA which follow'd, had (next
under GOD) his greatest Hope of Consolation.

In Memory of all whom the said
RICHARD SHERWOOD, the Father, with the
utmost Grief of Heart, hath caused to be
erected this Monument.
Arms: Party bend-sinisterwise sableand argent a bull passant ermine and looking backwards.
16. CHARLES WATHEN, 1721.
The rectangular inscription tablet is framed in a wide moulded architrave supported by scrolls, enriched with swags and winged cherubs' heads. Over a pulvinated frieze carved with oak leaves is a pediment enclosing a small cartouche. The tablet stands on a moulded shelf, supported by consoles between which is a festoon of leaf and flower, above a terminal formed of a shell and acanthus ornament. The work is signed by Peter Scheemakers. (Plates 97, 98.)
Opposite to this Monument, in the middle Isle,
lies interred the Body of Charles Wathen, Citizen
and Draper, late of this Parish, who resigned up his Life
on the 16 May 1721, Aged 63 Years:
The Indulgent Parent of Nine Children, by his Wife Elizabeth
Viz, Five Sons, Charles, Edward, George, John, William,
& Four Daughters, Elizabeth, Elizabeth, Katharine,
Hannah, most of whom preceded their Father to the Grave,
as the two Elizabeths & Katherine in their Infancy,
Edward in a more advanced Age of a Confumption, George,
endeavouring to save a Companion, was unfortunately drowned,
William received his Deaths-wound in Battle with a Pirate in
the EAST INDIES, & John followed, dying at ANTIGUA.

Near the Fathers Ashes, under a Marble Stone are deposited
Those of his Daughter Hannah, the Virtuous & beloved Wife
of Thomas Gordon of this Parish, (together with five of their
Infant Children) whose Exemplary Conduct & truly Christian Piety
throughout her whole Life, make less Wonderful, her enduring
with the greatest Patience & Resignation, That painful & lingering
Illness, which put an end to her Mortal Dayes on the 1st
July 1740, & in the 40th Year of her Age.

Adjoyning, underneath the fame Stone, lie the Remains
of her Elder Brother, Charles Wathen, who dyed
on the 5th. of March 1745 in the 60th Year of his Age;
A Plain, Honest Man, of great Industry & Application to Bufiness
which was bless'd with as great Success: Leaving no Issue.
This Monument is erected out of Respect & Gratitude
to Him & All, by the abovementioned Thomas Gordon,
in behalf of his Daughter Elizabeth, the only
Surviving Child of the Family.
Elizabeth, the wife of Charles Wathen the Elder
died the 21st day of June 1751. Aged 83 Years.
Grace, the Wife of Charles Wathen the Younger
died the 7th day of March 1753. Aged 59 Years.
Thomas Gordon lived on Tower Hill, 1738–1754, in a house adjoining that of Slingsby Bethell, the Lord Mayor, and died in 1759 (see p. 102). (fn. 12) A John Wathen was churchwarden in 1763 and 1764, and lived at No.7 Catherine Court from 1759 to 1787.
Chancel, south-east respond.
17. JOHN KETTLEWELL, 1695.
A draped cartouche of slightly convex section flanked by palm leaves and a pair of cherubs' heads supporting a small moulded urn. (Plates 99 100.)
Quod mori potuit
JOANNIS KETTLEWELL A. M.
Ecclesiœ Anglicanœ Presbyteri,
Integerrimi Instructissimi que.
Viri Pietatis Modestiae Singularis
Ut verbo omnia vere Christiani
Qalem fateare par est
Qui Totius OFFICII NOSTRI RATIONES
(Annum ad huc agens vigesimum quartum)
Feliciter adeo, atque ex animo, explicuit
Ut dictu haud sit facile, mores alienos
Ad Virtutem Evangelicam efformaverit magis
An ad vivum depinxerit suos.
Ecclesiœ Paroch: de Coles-Hill in Agro Warwic:
Per annos septem invigilavit.
Pastor fidissimus Prudentissimusque
Fortunae tandem utriusque victor.
Animam Deo Reddidit
Aprill: 12: An: Dom 1695 æta 42:
Morte Tali Vita Digna.
John Kettlewell (1653–1695) was a devotional writer and celebrated as a non-juror. He was Vicar of Coleshill, Warwickshire, from 1682 and was deprived in 1690. He published The Measures of Christian Obedience in 1681. He died at Coleshill and was buried here at his own wish. (fn. 13)
South chancel chapel, east wall.
18. JOSEPH STEELE, 1835.
19. THOMAS SCALE, 1801.
20. JOHN CROSIER, 1806.
Sacred
to the Memory of
Iohn Crosier Esqr;
late of Catherine Court
died 2nd Feby 1806
Aged 71 Years
Whose Remains are deposited in the
great Vault near this Place.

He was the proprietor of Catherine Court and lived at No. 8 from 1770 till the time of his death. (fn. 14)
21. ANNE COLLETON, 1741.
This fine tomb by Peter Scheemakers can be compared with his original drawing preserved in the Victoria and Albert Museum. On a base, with moulded cornice and plinth, and consisting of a projecting inscription panel, flanked by panels carved with flaming urns, stands a richly moulded and carved sarcophagus in high relief, bearing in the centre a scrolled cartouche with a lozenge of arms. Above, there rises a stone background of truncated pyramidal form having a large sunk and moulded roundel which serves to frame a portrait bust of the deceased, which is supported on the sarcophagus. On each side are figures of weeping cherubs standing on the base and resting their arms upon the tomb. (Plates 101, 102.)
The inscription reads:
In a vault near this place belonging to the Family of the Richardson's and now closed up
Is Interred the Body of Ann Colleton of Stratford Langthorne in Essex, youngest Daughter of Sr. Peter Colleton of St. James's Baronet who dyed the 5th of July 1741.
At whose Desire and Cost this Monument was Erected by her Executor in Memory of Her, and the Family of the Richardson's particularly Robert Richardson.
Katherine his Second Wife Eldest Daughter of Sr. Peter Colleton & their
four Children
John, John, Leslie and Elizabeth, Also two Children of her Brother Sr. John Colleton
Baronet: Elizabeth & Katherine Hannah.
Gifts & Charitys given to this Church
From Robert Richardson the Elder in 1685 The whole large Altar with
the Pillars Carvings Guildings Inscriptions &c.
And by Ann Colleton in 1741 Twenty Pounds
to the Charity Children of the Parish & Ten Pounds to the poor
of the Parish not Pensioners.
Arms: Or three harts' heads proper cut off at the neck.
22. REV. GEORGE STINTON, 1783.
Near this place are deposited the Remains
of the Rev GEORGE STINTON. D.D.
late Vicar of this Parish, Rector of Wrotham in Kent,
and Chancellor of the Church of Lincoln,
he died April 30th. 1783 Aged 52.
The inscribed tablet is rectangular in shape on a white marble background, and is surrounded by a moulded frame of black marble.
The Rev. George Stinton was Vicar from 1767 to 1783.
23. WILLIAM GEORGE BUNYAN, 1813.
South chapel, south wall.
24. FRANCIS GOLDSMITH, 1618.
A much perished fragment of an inscribed tablet flanked by a pair of enriched pilasters. The upper portion is missing except for a shield of arms within a circular cartouche. The tablet stands upon a projecting basemould beneath which is a richly carved apron between a pair of slightly projecting brackets, and the work is of the Southwark School of Masons. (fn. 15) (Plate 103.)
Here lyeth the body of Francis
Eldest davghter of sR Roger
Appleton Knight Baronet of
Essex who was married to Fra
ncis Goldsmith, sonne and
heire to sR Francis Goldsmith
of Craiforde in Kent. she
lived virteovsly and
died religiovsly the
12 of dec 1618
Hic sit mortalis qua quinq per
F                   pietate
(Rest illegible: eight lines in all.)
Arms (which appear to be incorrectly painted) should be: Gules a cheveron between three goldfinches argent with three crosslets argent on the cheveron and a chief or a lion passant azure therein, for GOLDSMITH, impaling Vert a fesse engrailed between three apples argent stalked gules.
A grant, dated 3rd June, 1550, of property in All Hallows Barking to Francis Goldsmith is recorded in a Patent of that date. (fn. 16) There are eleven houses of which the tenants are given, but no other details.
25. SAMUEL PROUDFOOT, 1797.
A plain inscribed elliptical tablet within a moulded frame and beneath it a small medallion with a carved border bearing a shield of arms and a crest. (Plate 104.)
In a Vault
Beneath this Aisle are deposited the Remains
of SAMUEL PROUDFOOT, Esqr;
late of Clapham Common, Surrey
Who died the 8th. February, 1797.
Aged 63 Years.
He was the last Survivor
of Several Sons and Daughters of Edmund Proudfoot
formerly of this Parish, Merchant, deceased;
the Remains of whom,
and also of one of his Daughters
are likewise deposited
in the same Vault.
Arms: Vert a leg in armour argent bent at the knee and cut off at the thigh, under the foot a bezant charged with a millrind cross. Crest: An arm in armour with the hand holding an arrow.
Motto on border: In hoc signo vinces.
26. UNKNOWN. See also under Brasses, No. 21.
An altar tomb and canopy of Purbeck marble. The tomb has three square quatrefoiled panels set diagonally and enclosing blank shields. The canopy is of slight projection, with shafted jambs, a flat arch, curved at the angles, and a cusped and panelled soffit. Above the arch is a frieze of quatrefoils, a moulded cornice and cresting of Tudor flowers. On the wall at the back of the recess is a brass with a figure-subject of the Resurrection and remains of two scrolls with prayers. The monument dates from c. 1500. (Plates 101, 105 and 106.) For possible ascription to Robert Tate, see pp. 2, 72.
27. JOHN WINDER, 1699.
A large wall monument with a centre fluted column of the Ionic order carrying a cartouche of arms with mantled helm and crest (see below). Behind the column a composite capital of three times the scale rises from a pair of foliated consoles and supports two weeping children each with a hand upon the cartouche. The whole stands upon a carved bracket of inverted ogee section supported by a winged cherub's head, and is probably the work of William Palmer, the mason. (fn. 17) (Plates 107, 108.)
Near this Place lieth interred the Body of
John Winder of Grays Inn Esqr. Barrister at Law Eldest Son & Heir of John Winder, Gent.
of Lorton in ye County of Cumberland where ye Family flourished, in a Lineal Succession, above 300 Years.
He married Lettice, one of ye Coheirs of William Williams of Johnby Hall in ye same county Gent.
by whom he had two Children, William and Mary, and died 27 Jul. 1699 Aged 41.

And also the Body of
Ionathan Winder, Esqr. his 3d Brother, sometime Agent for ye Hon E. India Com' at Bengall
who departed this Life, unmarried, 12 Jañ 1717, in the 48th. Year of his Age.
Pursuant to whose Will and Desire, his Executors erected this Monument.

And likewise the Body of
Samuel Winder.
Arms: Checky or and vert a fesse gules with a molet for difference. Crest: A bull's head ermine coming out of a crown or.
Samuel Winder lived in a house on the west side of Mark Lane, part of the property of the Drapers' Company. In 1695 he appears in the Special Assessment for births, deaths and marriages, when his household consists of his wife Elizabeth, his son (?) Beal and his daughter Mary and four servants.
28. REV. GOSTLING WHITE, 1846.
29. FRANCIS MARY HAMILTON, 1850.
South wall of south aisle.
30. JAMES HICKSON, 1689.
A large wall monument consisting of an oblong inscribed tablet flanked by a pair of Corinthian columns and elongated scrolls supporting an entablature which extends across the top of the tablet. Upon a cleft and scrolled pediment recline a pair of full-length figures of children, each holding a skull upon its thigh and between the scrolls of the pediment a cartouche of arms: Or two eagles' legs razed at the thigh and crossed saltirewise feet downwards sable, with mantled helm crested with a griffon's head (much defaced) coming out of a crown. The columns stand on a moulded shelf supported by brackets with half-brackets against the wall over a small cherub's head with wings and swags. The work is of the City School of Masons. (fn. 18) (Plates 109, 110.)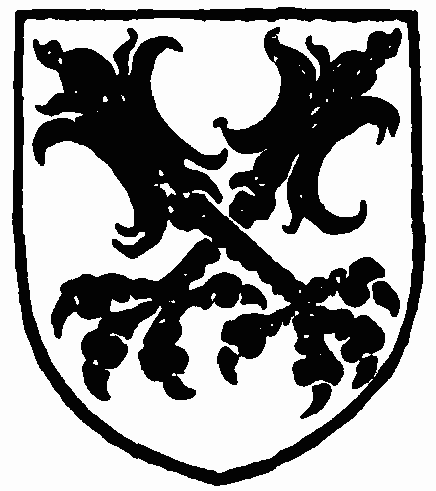 Near this place
Lyeth ye Body of IAMES HICKSON, Esq
Who dyed ye 16 day of Iune
In ye year of our Lord 1689.
of his Age 82
Who in His lifetime Built an Almshouse
for Six Poor People in ye Parish of S. Mim's
in ye County of Middlesex
And at His death Endow'd ye sd, Almshous
with a Salarie of £24 p Año. with some
other Advantages:
He also Founded a School in Plough yard
in this Parish for ye Educating 20 Poore
Children to ye Head Master of which
he appointed £20 p Añ. his dwelling and
two Chaldron of Sea Coales and to
a Writing Master £8 p Añ.
He also Gave to ye Poore Freemen of ye Brewers
Company £10 p Añ to ye Poore of ye Hamlet of Wap
pin Whitechapple £3 p Añ. and to 15 Poore People of
this Parish 2 shifs, I pair of Hose and I pair of
shoes yearly.
Also, to ye Minister of this Parish 20s p. An. for a
Sermon to be preacht yearely upon New yeares
day & to ye Clark and Sexton 5s.
For ye performing whch; He gave all his Mannor of
Williats & certain other Lands & Tenements in
S. Mim's aforesd in trust to ye Worshipfull Comp
any of Brewers in London.
He also, gave Seueral other Charitable Lega-
cyes to be pd. by his Execes.
IN MEMORY of wch. pious & Charitable Acts: and
as a TESTIMONY of their gratitude.
Elizabeth Peach & Dorothy Wright Execcs;
of his last Will, Erected this
Monument.
South aisle, south wall.
31. JOHN DRINKALD, 1841.
32. FRANCIS, 1621, AND MARGERY COVELL, 1643–4.
This wall monument contains the kneeling effigies of Francis Covell and his wife, each in long robes and with ruffs at the necks. They kneel facing one another, and probably had originally a desk between them which has disappeared. The framework consists of two arched recesses for the figures beneath an entablature and a shaped and cleft pediment enclosing a skull in an elliptical frame. The entablature is raised on lateral pilasters carved with tasselled ribbons, shields and fruit, and a centre pilaster cut away to form a corbel between the figures ornamented with a cherub's head. The base has two inscribed tablets within three panelled supports terminating above in shaped brackets and below in a moulded shelf. Under this, forming a large apron, is a third inscription in an ornamental frame. This monument is probably by Gerard Christmas, the mason. (fn. 19) (Plates 111, 112.)
The three inscriptions are as follows:
In the ile against this place lyeth the
body of Francis Covell citizen and
skinner of London He lived in this par
ish 52 yeares was married to his wife
Margery 42 yeares had issve by her
Thomas his only son he had borne
all office in his company and in this war
de with good repvtation was in his
life religiovs peacable and charitable
and at his death gave cloathing to the
poore of this parish yearly for ever
he lived 69 yeares and rendered
his sovle in peace to God Septem
ber the 7th 1621

as also in ye same ile lieth
Margery his wife who lived a
widowe by ye space of 19 years
& having attained to ye age of
85 years peacably surren
dred her sovle into the
hands of her Redeemer the 20
of feb. 1643 Leaving behind her
a good remembrance of her
piovs life to ye poore of this
parish forever vpon record.
In this ile lies bvried captaine thomas
covell sone of ye said Francis Covell
Skinner of london who likewise bare all
Offices in his Company and in this parish
with good esteem having lived well he
died to ye lord the 16 of Jany 164[4] aged
73 leaving a svcceeding bovnty to ye poor
Arms: To the left the Corporation of the City of London; to the right the Company of Skinners, Ermine a chief gules with three crowns or therein.
For gifts to the church plate by Margery and Francis Covell, see Part I of this Survey.
33. WILLIAM HENRY BUTLER, 1826.
34. JOSEPH DENT, 1768.
An inscribed tablet of marble within a simple moulded frame upon a plain marble background with a pediment upon a pair of fluted brackets and a cartouche of arms. Beneath the pediment is a pair of crossed palm branches in relief. Below, a moulded shelf rests on a pair of brackets with a shaped apron carved with a cherub's head and wings. Beneath the apron there are three acanthus drops. (Plates 113, 114.)
Near this Place
lies Interred the Body of
M.R Joseph Dent
late of Tower Street, who Died July 22:nd 1768
Aged 64 Years.

Also the Body of
M.R Isaac Dent
late of Birchin Lane Cornhill,
who Died February 12:th 1790
Aged 76 Years.

This Monument
is Erected to their Memories,
by their two Neices
Elizabeth and Mary Hearle
of LIMEHOUSE.
Arms: Argent a bend sable with three lozenges ermine thereon.
Joseph Dent was churchwarden 1764 and 1765.
35. WILLIAM GARRETT, 1832.
36.REV. WILLIAM ROMAN, 1782.
An inscribed tablet contained within an architectural frame composed of fluted pilasters and plain entablature, with three paterae, on a fluted shelf and brackets. The fluted pilaster strip is carried up in semicircular shape to form a tympanum containing a white marble urn in low relief. The whole is mounted on a darker marble background following the general shape of the tablet, with a shield of arms below. (Plate 115.)
This Tablet is Sacred to the Memory of
the Rev.DWilliam Roman, Batchelor of Laws,
Rector of Upper Clatford and Farringdon in the County
of Southamption and many years Lecturer of this Parish.
He departed this life february 28.th 1782,
Aged 59 years.

and also of M.RS Jane Roman,
wife of the above:
she departed this life March 3.D 1802,
Aged 62 years.

also of their only daughter Jane,
who died an infant.

this simple but not the less grateful tribute of affection
bears witness to an union,
which was gifted by the blessing of heaven
with an uninterrupted happiness.
they had but one wish
it was to make each other happy,
and render themselves worthy of resting in the bosom
of their redeemer.
Arms: Argent a fesse gules with three crosses formy or thereon.
The Rev. William Roman lived (1764–1780) in a house on Tower Hill at the corner of Barking Alley, where he was preceded by Richard Roman (q.v.), whose name appears on a plan of 1739 in the Crace Collection. He was Curate and Lecturer to St. John's College, Oxford, and Chaplain to Lord Mayor Thomas Winterbottom, 1752. Richard Roman was churchwarden of All Hallows 1731 and 1732.