Pages 22-26
Survey of London: Volume 17, the Parish of St Pancras Part 1: the Village of Highgate. Originally published by London County Council, London, 1936.
This free content was digitised by double rekeying and sponsored by English Heritage. All rights reserved.
III—BISHAM HOUSE (SITE) AND ENGLEFIELD HOUSE, NO. 23, HIGH STREET
Ground Landlord, Leaseholder, Etc.
Englefield House, which was originally copyhold of the Manor of Cantlowes, now enfranchised, is owned by, and is in the occupation of, Dr. Francis Allen.
General Description and Date of Structure.
Bisham House stood until 1884 south-east of the Gould Charity property (see Section II), within grounds which at one time included the present Englefield House, and extended from the High Street to Swain's Lane (see Plate 3). The house gave their name to Bisham Gardens. A reference to the plan (Plate 15) will show how Englefield House is interlocked with its neighbours on each side and the natural inference would be that it filled the gap between them after they were built. It is, however, probably earlier than either, since its detail belongs to the first quarter of the 18th century and its plan may be probably explained by the fact that the adjoining houses have been rebuilt, those to the east being traceable in the Court Rolls as early as the middle of the 17th century.
Englefield House has a frontage of close on 30 feet and at the back it is some 2 feet less, the space lost by the overlapping of the powder closet in No. 21 being compensated by its own projection on the east beyond No. 25. The front section of the plan is divided into two equal parts, that on the left on the ground floor being the entrance hall and on the right a sitting room, while above are two bedrooms. This leads to an interesting arrangement of the front elevation (Plate 18) which is symmetrical on the first floor with four windows—two to each room—flanked by recessed brick panels at each end. On the ground floor the entrance door, with a pedimented head on brackets and panelled pilasters, is beneath the second window from the left but appears central since to the left of the door the single upper window is replaced by a double window separated by a mullion only. This makes it necessary to omit the left-hand brick panel while retaining that on the right. The first-floor treatment, however, appears again in the basement.
The door is approached by a flight of seven steps, and the basement windows are mostly above ground. A chamfered plinth course, a projecting band of brickwork, with moulded bottom course at first-floor level and a prominent wood-blocked cornice at the eaves, are the chief features of the elevation. The cornice returns on itself on the left side. The roof is tiled and was furnished with two dormers, with flat tops hung with sash windows now replaced by a continuous range. The main window frames are practically flush with the brickwork, which has rubbed brick arches and flush quoins. The chimney on the left has been heightened to master the roof of No. 21.
The garden elevation is similarly treated and has the same eaves cornice. Its three windows on each floor light one room, to the east of which is the stair, now masked by a modern projection. The "powder closet" of No. 21 blocks the light from a small room adjoining the stairs which on the first floor has been thrown into the front room to form a recess.
In the interior the stair (Plates 19a and 21) is of early close-string design with square newels (with pendants) and turned balusters. The rooms generally are panelled and many of the doors are of two-panel type. The back room on the ground floor is a remarkably fine example of an early Georgian interior (Plates 120 and 121). It has a bold cornice with dentilled bed mould, and walls furnished with fielded panels, carved dado rail and skirting. The fireplace end of the room is elaborately designed. The mantelpiece and overmantel are richly carved with foliage and strings of fruit and flowers with a seated Cupid in the centre of the frieze, festooned with draped swags. All the mouldings are enriched and the external angles of the chimney breast have husk ornament. Of little less elaboration are the doors of the room, which number four, one on each side of the fireplace (leading to cupboards), the entrance door and one communicating with the front room. They are all of six panel with eggand-leaf mouldings, bold egg-and-tongue architraves and pedimental overdoors, with richly carved frieze and mouldings. The last named has in addition a small bust within the pediment.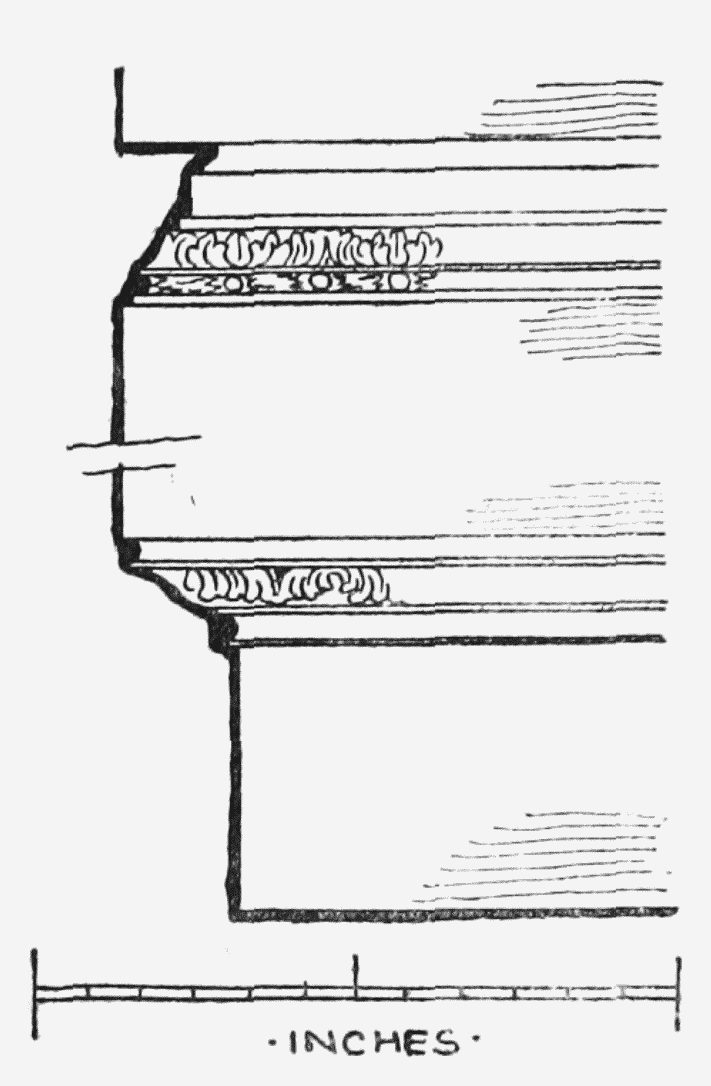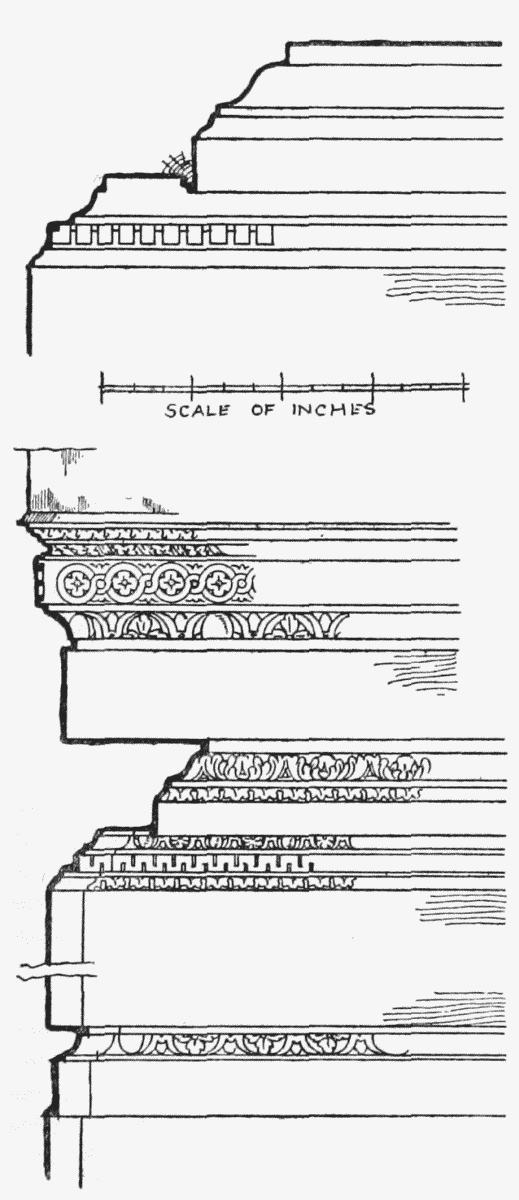 In one of the bedrooms is a fireplace with a bolection moulded wood surround of a date not later than the early part of the 18th century. In the opening is fitted a magnificent example of a hob grate of the Adam period, of duck's-nest pattern enriched with fan-shaped reeding and husk ornament, the central point being occupied by a sphinx in an elliptical panel (Plate 19b).
Condition Of Repair.
Good.
Historical Notes.
In the middle of the 16th century Sir Roger Cholmeley, the founder of Highgate School, owned all the land between High Street and Swain's Lane, southward to the grounds of Lauderdale House and northward to South Grove (excluding Angel Row and the Angel). The southern portion, including "Andrew Marvell's Cottage" and what later became the estates of Hertford House and Fairseat, descended, as described before (p. 16), to William Cholmeley, gentleman, great-grandson of Jasper Cholmeley, the legatee of Sir Roger.
The site of the three houses to-day belonging to the Gould Charity, Nos. 17, 19 and 21, High Street, also descended, as we have seen (p. 19), to William Cholmeley, but the remainder of Sir Roger's land, northward of the present Waterlow Park, was conveyed by him to Richard Hodges, one of the Foundation Governors of his school. The frontage of this land is now occupied by houses numbered 3 to 15 (odd) and 23 to 33 (odd). In 1553 Sir Roger conveyed to Richard Hodges of Highgate, gentleman, (fn. 28) a messuage, barn, garden and half an acre of land adjoining the messuage. Twelve years later Richard Hodges and Joan his wife obtained from Sir Roger (fn. 28) a cottage late in the occupation of Margaret Wilkinson, widow, and 1 acre 34 perches called "powles," abutting on the said cottage and barnyard east, on Swain's Lane west, on a close in the occupation of Sir Roger Cholmeley south, one head abutting on the common highway called the Green (South Grove).
Richard Hodges remained a Governor of the Grammar School from his first appointment on 7th June, 1565, until his death on 10th October, 1572. Another Governor was William Hodges of Highgate, gentleman, from 16th June, 1581, until his death on 9th January, 1581–2. The land of Richard Hodges came to his niece, Ann Grant, in 1599, (fn. 28) when she was the widow of Thomas Widmore of Hughendon, Bucks, gentleman, who died on 20th May, 1586, leaving two sons, Richard Widmore and Nicholas aged 17. (fn. 37) In 1610 Anne Widmore, widow, and Nicholas Widmore took out a licence to lease a tenement to Thomas Russell, yeoman, for 21 years, afterwards converted by him into four tenements. There was also another house, occupied by John Glover, which he leased in 1635 from Nicholas Widmore, after the death of Anne Widmore. This was Bisham House, or its predecessor on the same site.
Nicholas Widmore lived at Old Thame, in Oxfordshire. In 1641 he conveyed his land to Sir Robert Payne on condition that if Sir Robert failed to pay him £100 a year for the remainder of his life, the land should revert to Widmore. In 1654 Sir Robert Payne mortgaged the estate to Robert Holt, along with Dorchester House, which he also owned (see p. 88). In the account of Sir Robert Payne under Arundel House (see p. 51) it will be seen that he died in embarrassed circumstances, which may account for his falling into arrear with his payments to Nicholas Widmore, with the result that Widmore proceeded to claim possession. (fn. 38) This endangered the interests of the mortgagees, and Robert Holt's daughter, Sara, with her husband, William Roberts (both under age), had to enter an action in Chancery, alleging that the £100 a year had been paid for 17 years and was now only three-quarters of a year in arrear, which they were willing to pay to Widmore for Sir Robert Payne. They got judgment in July, 1658, (fn. 39) to stay the forfeiture on condition they paid into court or to Widmore the £75 owing. The parties evidently came to terms, Widmore foreclosed, and surrendered his rights to William Roberts and Sara his wife in the next year.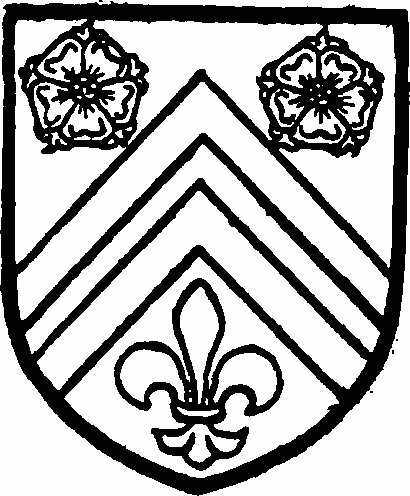 As stated before, the occupier of Bisham House after 1635 was John Glover. He must have been the John Glover mentioned as Steward of the manor of Cantlowes in 1648, when Alderman John Warner, Mayor of the City of London, was lord of that manor. Richard Gower succeeded Glover as lessee, obtaining a lease for 31 years from Robert Holte in 1657 (fn. 28) and acquiring the ownership of the estate from William Roberts and his wife in 1661. His father was Colonel Thomas Gower of Highgate, a Governor of the Grammar School from 1st October, 1658, until his death in 1676, when he was buried at Highgate. Other burials there, as recorded in the Register, are those of Susan, daughter of Mr. Richard Gower, 9th July, 1670; Penelope, daughter of the same, 28th August, 1670; Thomas, son of the same, 25th April, 1671; Mrs. Anne Gower, wife of Richard Gower, esquire, 10th May, 1687; and Richard Gower, esquire, 14th December, 1688. The hearth tax assessed on this house in 1665 was on 11 hearths and was payable by Richard Gower.
Richard Gower was succeeded by Edward Gould of London, merchant (afterwards Sir Edward), in right of his wife Elizabeth, daughter of Richard Gower, whom he married at Highgate on 17th September, 1683 (see p. 20). In St. Michael's Church, Highgate, is a memorial cartouche to Sir Edward Gould removed from the old chapel. It is described on p. 55. In addition to this estate in St. Pancras Sir Edward, in 1709, acquired the "Duke's Head" on the Hornsey side of the High Street and 16 acres of land behind it, which, on 11th August, 1713, he settled on himself and Frances Monoux his "wife designate." In her will, proved 5th April, 1738, Dame Frances Gould of Gloucester Street, St. George the Martyr, Middlesex, gave to Edward Gould (the eldest son of Mrs. Jane Gould) "all my goods in the inventory belonging to my house at Highgate that is now let to Mrs. Decostey, and two hundred pounds." The house referred to was in Hornsey, on the 16 acres of land mentioned before.
Sir Edward Gould was succeeded by his great-nephew Edward Gould of Mansfield Woodhouse, Notts (1703–75), son of Edward Gould of Highgate (1677–1721), son of James Gould, China merchant (1641–80), brother of Sir Edward. Edward Gould of Highgate in 1701 married Jane, daughter of Sir Francis Pemberton of Grove House (see p. 93). He died on board the Montague in the East Indies, leaving a widow aged 41 and a son aged 18. Mrs. Edward Gould was buried at Highgate on 7th March, 1746–7. (fn. 40)
Edward Thoroton Gould of Mansfield Woodhouse, only son of Edward Gould, was the last of the family to own this estate. Three years after the death of his father he sold to Robert Mendham, esquire, a messuage formerly in the occupation of Richard Gower, esquire, afterwards of Sir Edward Gould and now of Robert Mendham, with 1 acre 2 roods 26 perches of land. It will be observed that this area very closely corresponds with the amount of land conveyed by Sir Roger Cholmeley to Richard Hodges, namely a garden and ½ acre plus 1 acre 34 perches, together 1 acre 2 roods 34 perches. Included in Hodges' land was a small area on the north-west, now occupied by Church House, No. 10, South Grove (see p. 34), and the site of Nos. 23–33, High Street, on the north-east.
Robert Mendham, a merchant in Walbrook, was elected a Governor of the Grammar School on 10th April, 1796, and died on 7th April, 1810, aged 77, leaving a son, John Mendham, who conveyed the estate in 1813 to John Pennell (the owner-occupier of Hertford House), who immediately conveyed it to Charles William Hick, who was a hatter, of Cheapside, and also owned property in Southwood Lane, north of the Baptist Chapel there.
Charles William Hick and Rebecca his wife, who had occupied the house, in 1817 conveyed it to Peter Heywood of the Royal Navy. He was a midshipman on board H.M.S. Bounty when the crew mutinied against Captain Bligh. His aunt, Mary (daughter of Thomas Heywood, esquire, a Deemster of the Isle of Man), married Admiral Thomas Pasley (1734–1808), who was created a baronet for his gallant conduct on the First of June, 1794, when he commanded a division of the fleet. In his will Captain Heywood mentions the portraits of his parents and of his uncle, Sir Thomas Pasley. In Highgate Cemetery is the following monumental inscription: "In memory of/ Frances Heywood, / widow of Capn Peter Heywood, R.N. / She died Octr 28th, 1863, aged 81. / Also of/ Capn Peter Heywood, R.N. / One of the Midshipmen on board / H.M.S. ' Bounty,' Capn Bligh. / He died February 10th, 1831, aged 58. / His remains are deposited in the vaults / Under the Old Church, Highgate. / Requiescat in pace /." Captain Heywood bequeathed the house to his wife. (fn. 41)
In 1832 Joseph Gardiner, esquire, leased the house from Mrs. Heywood and ten years later became the owner. He died on 2nd August, 1853, leaving it to his wife, Harriet Gardiner.
Englefield House.
This house was conveyed by Edward Thoroton Gould to William Pilton of Piccadilly, wireworker, in 1783, as a messuage late in the tenure (amongst other premises) of Mrs. Terry, and "now of — a schoolmaster," with a garden. The "other premises" referred to were a small messuage, coachhouse and stable, occupied in 1879 by Mr. Charles Sparrow, now No. 29, a house at the end of the yard which is entered by a passage between No. 27 and No. 31.
The "schoolmaster" mentioned as tenant in 1783 was John Rosier, who was still the occupier in 1794 when Mrs. Anne Pilton succeeded on the death of her husband. In 1799 she sold the house to Thomas Ensor and it continued in the ownership of his descendants until purchased in 1884 by the late Thomas Horsley of South Grove, baker.
On the death of Thomas Ensor in 1820 it came to his son, James Ensor, who was of Brill Terrace, Somers Town, in 1808, of College Street, Camden Town, in 1813, of Totteridge in 1823 and of Hammersmith when he died on 18th January, 1868, in his 80th year. (fn. 25)
Thomas Ensor appears to have occupied the house from 1794 to 1819 and was followed successively by William Addison, schoolmaster (from 1821), Mrs. Millington and Miss Millington, the last mentioned being the occupier in 1884.