Pages 27-31
Survey of London: Volume 17, the Parish of St Pancras Part 1: the Village of Highgate. Originally published by London County Council, London, 1936.
This free content was digitised by double rekeying and sponsored by English Heritage. All rights reserved.
IV—NOS. 33–5, HIGH STREET, THE ANGEL TAVERN AND ANGEL ROW AND RUSSELL HOUSE (NOS. 1–9, SOUTH GROVE)
Ground Landlord.
All these houses were originally copyhold of the Manor of Cantlowes.
General Description and Date of Structure.
The houses fronting the High Street have no special features though at one time the backs presented a picturesque appearance, while the Angel Tavern itself after successive alterations has been practically reconstructed in recent years.
Angel Row also, to-day, is of no great architectural importance. Nos. 1 and 2 have weather-boarded backs to the first floor, while No. 8, though smaller than its neighbour No. 9 (Russell House), contains a very beautiful little staircase with turned and shaped balusters constructed round a well less than two feet square, with but a single baluster to each portion of its close string and two half balusters against the square newel posts. A detail of this stair is reproduced on Plate 23.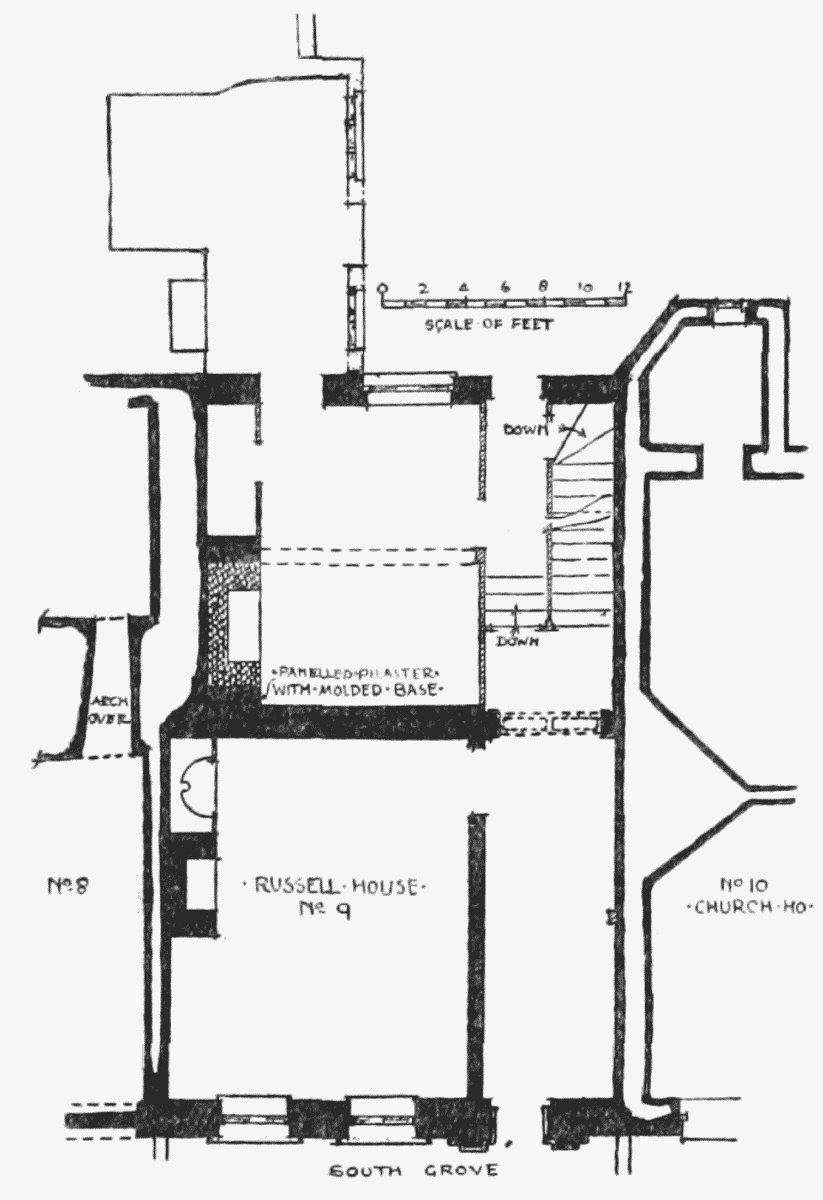 No. 9, South Grove (Russell House), is of three relatively low storeys, three windows in width, the entrance door occupying the position of the westernmost window on the ground floor. The house probably dates from the early part of the 18th century, and is possibly a little older than Church House, which adjoins it, but the street front, which is of half-timber construction, has been cemented over and treated in a manner which belongs to the end of the century (Plate 24a).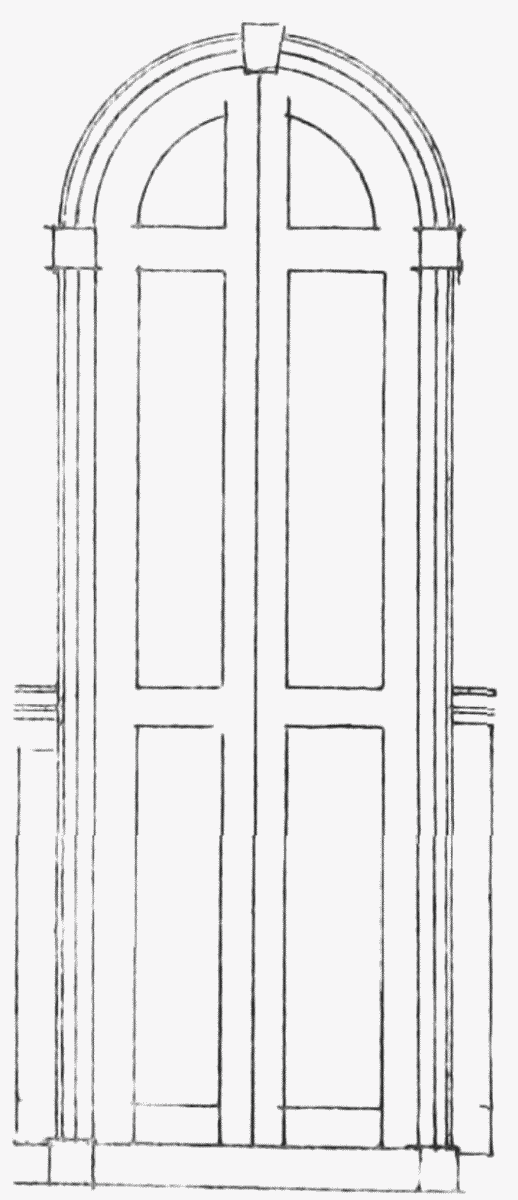 The door case (drawing, p. 31), with pilasters, horizontal entablature and architrave, rising in the centre of the frieze, is probably of the earlier date. The back overlooking the garden (Plate 24b) has a gable which has been altered in shape by the inclusion of an additional upper window, but its original form was probably that of its neighbour to the east seen in the same view.
The entrance hall is panelled, with the staircase at the farther end, approached through a square opening spanned by a beam supported by square fluted pilasters similar to those on either side of the front door. The front room on the ground floor is also panelled in the style common in the early 18th century. There is a cupboard, illustrated on p. 27, with semicircular head and shaped shelving adjoining the fireplace.
Condition of Repair.
Good.
Historical Notes.
The frontage originally comprised in the Angel and Angel Row estate extended from No. 33, High Street to No. 9, South Grove, both inclusive. The available records provide a continuous succession of owners only from 1610, but the following entries of nearly four and a half centuries ago so clearly refer to this site that they deserve reproduction here. In 1489 John Wyking surrendered at the Cantlowes Manor Court for himself and his wife a cottage, curtilage and enclosed garden at "Highgate Grene" called the "Cornerhous," described as "lying between the land of Giles Eustace on the west and the king's way (High Street) on the east, abutting north on Highgate Grene (South Grove) and south on land of John Leeche." The reversion was to Giles Eustace. Six years later Giles Eustace died, bequeathing to his daughter "a tenement in which John Wyking dwelleth" with another tenement next it inhabited by Henry Kyrkby. His will, made on 2nd and proved on 10th April, 1495 (Appendix I), shows that Eustace held considerable landed property in the parishes of St. Pancras, Islington and Hornsey. An interesting bequest is that of 6s. 8d. to "Richard Baker, heremyte of the Chapel of Hygate." Eustace's land in Hornsey lay to the east of Southwood Lane. His three sons died childless and their sister, Alice, outlived them and came into the property. She married Thomas Harte and was ancestress of Sir Eustace Hart of Highgate, knight, who died on 18th September, 1634, and was buried at St. Benet's, Paul's Wharf, in the City of London.
As early as the year 1610 the site was occupied by the inn and a row of cottages, the owner being William Steere, citizen and skinner of London. In 1611 he conveyed it to George Humble, citizen and leatherseller of London, in whose family it remained for 158 years. The occupiers then were William Steere, John Cranmer, William Partington, Michael Merrall, William Smith, William Trynnoel and Owen Cope. In that year it consisted of eight cottages and eight gardens, but in 1769 it is described as an inn, three cottages in the High Street and six in South Grove. The original houses must have stood farther back from the road because several grants of the waste in front of them were made. In 1671 Richard Nickes of London, brewer, the lessee under the Humble family, was granted a piece of the waste before his two messuages, containing from east to west 36 feet and from north to south at the east end 18 feet, in the middle 16 feet and at the west end 14 feet. Again, in 1692, Stephen Humble was granted a piece of waste before his tenements there, extending from the rail before the messuage in the occupation of Weekes to the corner posts of the rail of his inn, called the Angel, towards the east, containing from east to west 6½ poles and from north to south 18½ feet. Finally the ground in front of Nos. 2 to 8 was enclosed up to the present frontage in 1831.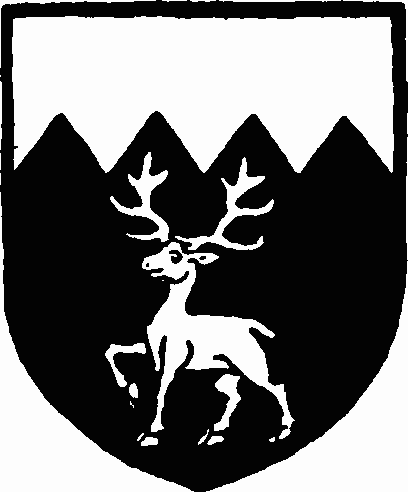 The lessee of the inn in 1723 was James Crompton, senior, innholder, and three of his neighbours were named Robert Munday, Widow Heybourne and Thomas White. Crompton assigned his 40-year lease to his son, James Crompton, junior, of Highgate, carpenter, in 1725. The inn was then referred to as the Angel, formerly the White Lyon. In 1745 the tenant was Widow Neale, her predecessor being George Neale, deceased, and the three houses in High Street were occupied by Edward Wilton, Wallis, and William Quench. Six cottages faced South Grove, in the occupations of George Wilkinson, Anthony Wells, John Musine, and Widow Browne, one then empty, had previously been occupied by Samuel Eames. The whole estate was sold in 1769 in lots by the coheiresses of the Humble family, viz. Sara, wife of Samuel Taylor of Bygrave, Herts, and Catherine, wife of William Mason of Nortonbury, Norton, Herts. Thereafter we are able to trace the story of each house separately.
No. 33, High Street was in the same ownership as the Angel from 1769 until at least as late as 1876. Some of the tenants were: William Bowstread, seedsman (1769); James Bristow, circa 1812; Thomas Stedman, plumber; Mrs. Woodland, 1876.
No. 35, High Street. This formed two houses in 1769 occupied by Samuel Feary, shoemaker, and later by— Allcock, shoemaker. It was purchased in that year by John Southcote of Highgate, in Hornsey, esquire, who died without issue in 1779, when his two brothers, Thomas and George, succeeded. They left it to their wives, by whom it was sold to James Sutton, shopkeeper, in 1801. In 1832 Hannah Eedes, widow, was admitted under the will of Edmund Slaughter, by which time the houses had become one, and were occupied by William Clarke, fishmonger. She sold the property in 1833 to John Matthias Clark, fishmonger.
No. 37, High Street, The Angel. In 1769 this house was bought by Andrew Aspden of Old Street, St. Luke's, ivory turner. It was then in the possession of John Southcote, esquire. In 1772 when Andrew Aspden died the property passed to his son, John, also of Old Street, ivory turner. The subsequent owners were: Jennet Jones and Mary, wife of Thomas Poole, daughters of John Aspden, 1828; John Dunning, 1829; Thomas Townshend, 1841; John Ogle, 1856. The tenants during this period were—John Baret, 1770–4; Jeremiah Lister, 1774; Thomas Baker, 1777; Thomas Sheppard, 1778; James Bristow, 1808–14; Richard Houlder, 1817; Anthony Richardson, 1818; Richard Yeo, 1819–24; William Rowe, 1825; Thomas Stedman. (fn. 42)
No. 2, South Grove. Elizabeth Austin and Eleanor Austin, grocers, bought this house in 1769, and occupied it until 1772, when Elizabeth died and her sister became sole owner. She died on 18th November, 1792, and it passed to the three daughters of her brother, Edward Austin, who had died on 31st December, 1791. One of the three sisters was Mrs. Elizabeth Bolton, widow, who, in 1794, married James Nathaniel Prickett, shopkeeper. From them it passed to Samuel Yexley of Highgate, victualler, in 1801, and to his widow, Elizabeth, a few months later, who leased it to George Hipwell for 14 years in 1816. She died in 1829, leaving it to Mary Fitch, her niece, who died in 1871 leaving a daughter, Sarah Fitch, who died on 25th November, 1879.— Yexley owned the "Coopers Arms" now No. 48, High Street.
No. 3, South Grove. From 1769 to 1794 this house was owned by the proprietors of No. 2, passing to Eleanor Austin in the latter year under the will of her aunt Eleanor. The occupier in 1769 was Rothwell, a coachbuilder; in 1780, John Dorsett. In 1782 it was empty. Joseph Chandler was there from 1808 to 1818, followed by Joseph Houghton. Eleanor Austin, the owner in 1794, at once conveyed it to Charles Marion Welsted of Kimbolton and it passed from him to Jeremiah Mangaar in 1805, the tenant still being Mr. Houghton. In 1821 it passed to his widow under his will, and on her death to Sarah Berny Thomas, wife of David Thomas, and Anne Leigh, wife of Philip Leigh, her daughters. Sarah Berny Thomas, died on 12th February, 1858, without issue, and Mrs. Leigh died on 9th October, 1846, leaving two sons, both silk factors, one being Lewis Leigh of South Glastonbury, Hartford, Connecticut, U.S.A. They sold it, in 1860, to John Newman of No. 19, Tavistock Terrace, Holloway, gentleman, who died in 1879.
No. 4, South Grove. This house was bought in 1769 by the tenant, Doily Chandler, baker, being then described as two houses adjoining, with the oven and out offices. When Doily Chandler died, in 1772, his mother, Jane Chandler, succeeded him. At her death, in 1779, it passed under his will to his two sisters, Rose, wife of James Gray, and Elizabeth Wilson. In 1808, Mr. and Mrs. Gray ceased to occupy the premises and conveyed the house to John Hernon of King Street, Covent Garden. From him it was acquired in 1834 by John Fisher. The Fisher family were occupiers from 1809 and owners from 1834. Robert Edward Fisher of Kew Gardens, who came into possession on the death of Isabella Fisher, the surviving trustee, sold it in 1920 to Thomas Frank Horsley, Frederick Horsley and Stanley Horsley, trading as T. Horsley and Sons, bakers and confectioners. Thus the house has been occupied and used as a baker's shop from at least as long ago as 1769 until the present time.
Nos. 5, 6, 7, South Grove. No. 5 was bought in 1769 by Joseph Copeland and William Watts, butchers, the occupiers, and Nos. 6 and 7, then occupied by Mr. Musine, whitesmith, by William Watts alone. Joseph Copeland died in 1771, William Watts thereafter being sole owner of the three. No. 6 and No. 7 seem to have been occupied together. In 1804, after the death of William Watts, his son, Joseph Watts, became the owner and conveyed the houses to Charles Lyne in the following year. The occupiers of No. 5 were Elizabeth Clarke in 1779, Stephen Preston, 1794 to 1819, and then John Clarke. Nos. 6 and 7 were occupied by William Watts in 1779, and leased by him in 1789 to Charles Lyne. He was followed by Thomas Lyne, 1817–8; Widow "Line," 1819–23; and Mary Lyne in 1824. Thomas Fleming (a trustee, who had been admitted in 1825) conveyed to William Horrell a seventh share in the premises in 1852, and the remaining shares during the next three years, so that by 1855 Horrell was in possession of the whole. He died on 14th September, 1867, leaving the property to his nephew Henry Lyne Dixson of Little Sussex Place, Hyde Park Square, licensed victualler, and to Henry Smith Styan. It was then in the occupation of Arthur Fry, butcher, and Samuel Hill, gardener (two houses). The estate of Charles Lyne comprised also cottages in Swain's Lane and houses in York Place, Nos. 43, 55, 57, etc., High Street.
No. 8, South Grove. This house was bought in 1769 by George Stow of St. John's Street, brushmaker, the occupier then being Elizabeth Werden, grocer, who remained there until 1779. In 1779 it was acquired from John Stow by John Davis of Islington, carpenter, and by him conveyed to Richard Walklin, gardener, in 1781. His only son succeeded on his death in 1818, and mortgaged the premises to John Ramsbottom, who foreclosed in 1823 and conveyed it to the son of the mortgagor, Richard Hartley Walklin, and Martha his wife. In 1828 it was sold to John Paul Woolley of Staines, gentleman, who leased it to J.C. D. Jenkins for 21 years. John Matthias Clarke acquired it in 1844 from Sarah Woolley.
Russell House, No. 9, South Grove. This house, the last and most interesting of the row, was bought in 1769 by John Southcote of Highgate in Hornsey. On his death in 1779 his two brothers succeeded, the occupier then being William How, who was followed by Thomas Sandys in 1794. The brothers both predeceased their wives, who sold the house in 1801 to Elizabeth Thorne, wife of Richard Thorne of Rathbone Place, St. Marylebone, coachmaker, the tenant then being the Rev. Edward Porter, who was pastor of the Congregational Church in Southwood Lane and died in 1812. (fn. 43)
In 1810, Mrs. Thorne, then being a widow, leased the house to Hyman Hurwitz of Highgate, schoolmaster, for 50 years at £42 per annum. (fn. 44) He will be noticed more fully in connection with Church House, No. 10. Mr. Hurwitz held the lease for only two years, assigning it in 1812 to Thomas Price of Kingsgate Street, Holborn. Mrs. Elizabeth Thorne bequeathed the house to her niece Elizabeth Rogers, after the death of her mother, Hannah Rogers, which happened on 27th August, 1829. Elizabeth Rogers came into possession in 1835 and died on 22nd September, 1872. The tenants following Thomas Price were Mesdames Cuttell and then — Marks.
Elizabeth Rogers bequeathed the house to John Edward Hopkins of Hollybush Cottage, Bethnal Green, gentleman, and another. Hopkins died on 1st March, 1886, when John Barry Hopkins of No. 10, Wildash Road, East Dulwich, succeeded.