Pages 32-38
Survey of London: Volume 17, the Parish of St Pancras Part 1: the Village of Highgate. Originally published by London County Council, London, 1936.
This free content was digitised by double rekeying and sponsored by English Heritage. All rights reserved.
V—CHURCH HOUSE (NO. 10, SOUTH GROVE) AND SITE OF THE HIGHGATE LITERARY AND SCIENTIFIC INSTITUTION
Ground Landlord and Leaseholder, etc.
The house was formerly copyhold of the Manor of Cantlowes but has been enfranchised and is now owned by the Highgate Literary and Scientific Institution and is in the occupation of Mr. J. Issacs.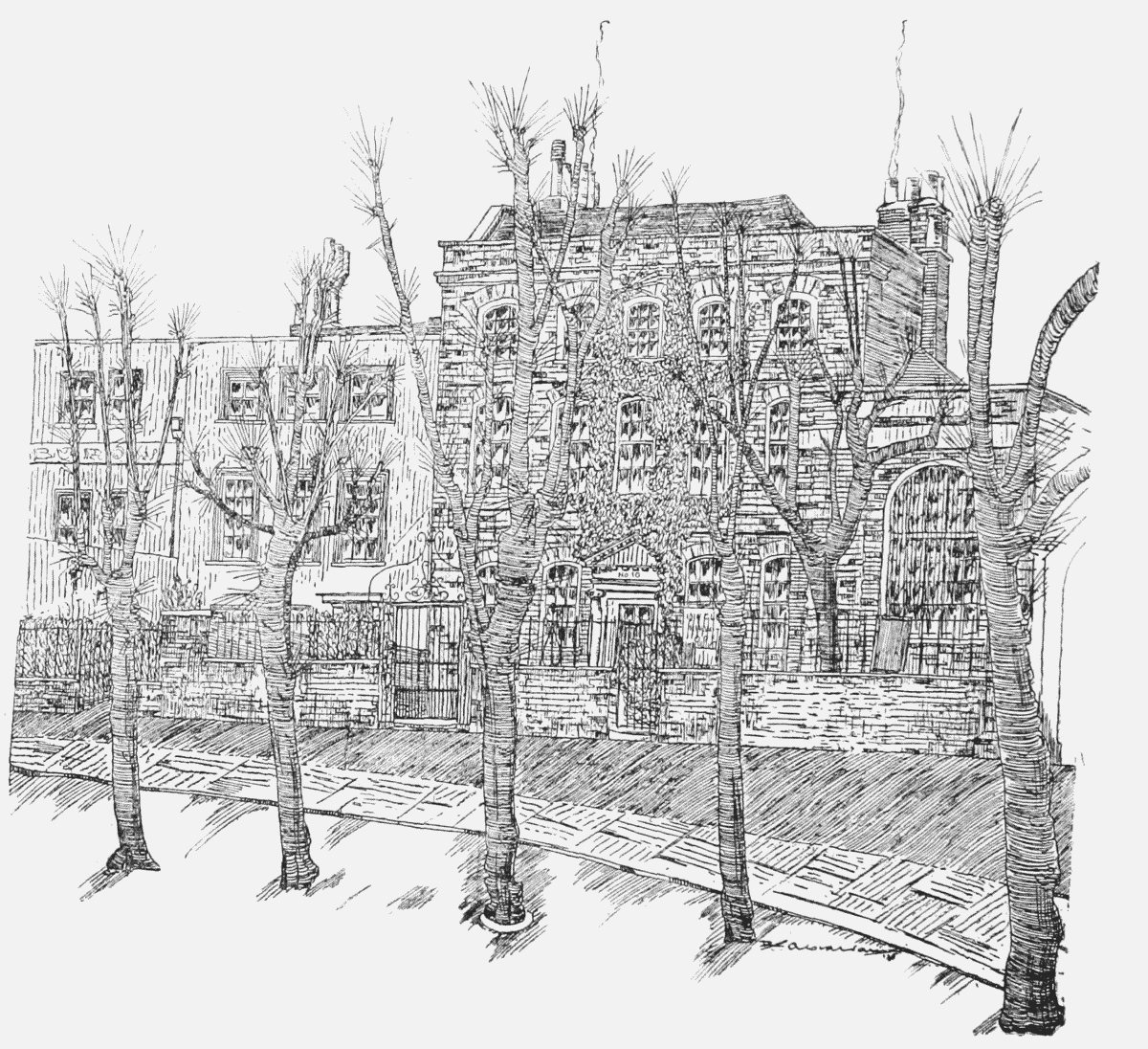 General Description and Date of Structure.
Church House has a fine brick front five windows in width and three storeys in height above a basement. It is distinguished by the segmental heads not only to the brick arches over the openings but to the window frames themselves. The entrance is placed in the centre and has a good example of a wooden doorcase (Plate 29 and drawing below), with Ionic columns and pediment, which is practically a replica of that at Moreton House. The entrance hall is panelled throughout and has a dado rail and moulded wooden cornice all painted, the stair being approached through a semicircular-headed opening with panelled soffit springing from a fluted pilaster on either side. Similar panelling lines the staircase walls. The stair ascends in two flights (dog-leg fashion) from floor to floor, and has cut strings and carved brackets, while the turned and shaped balusters are grouped two to a tread, each having the small intermediate block that became usual in the reign of George I. The newels are fluted columns, with moulded caps and bases, over which the moulded handrail breaks to form a square capping. All the principal rooms are panelled.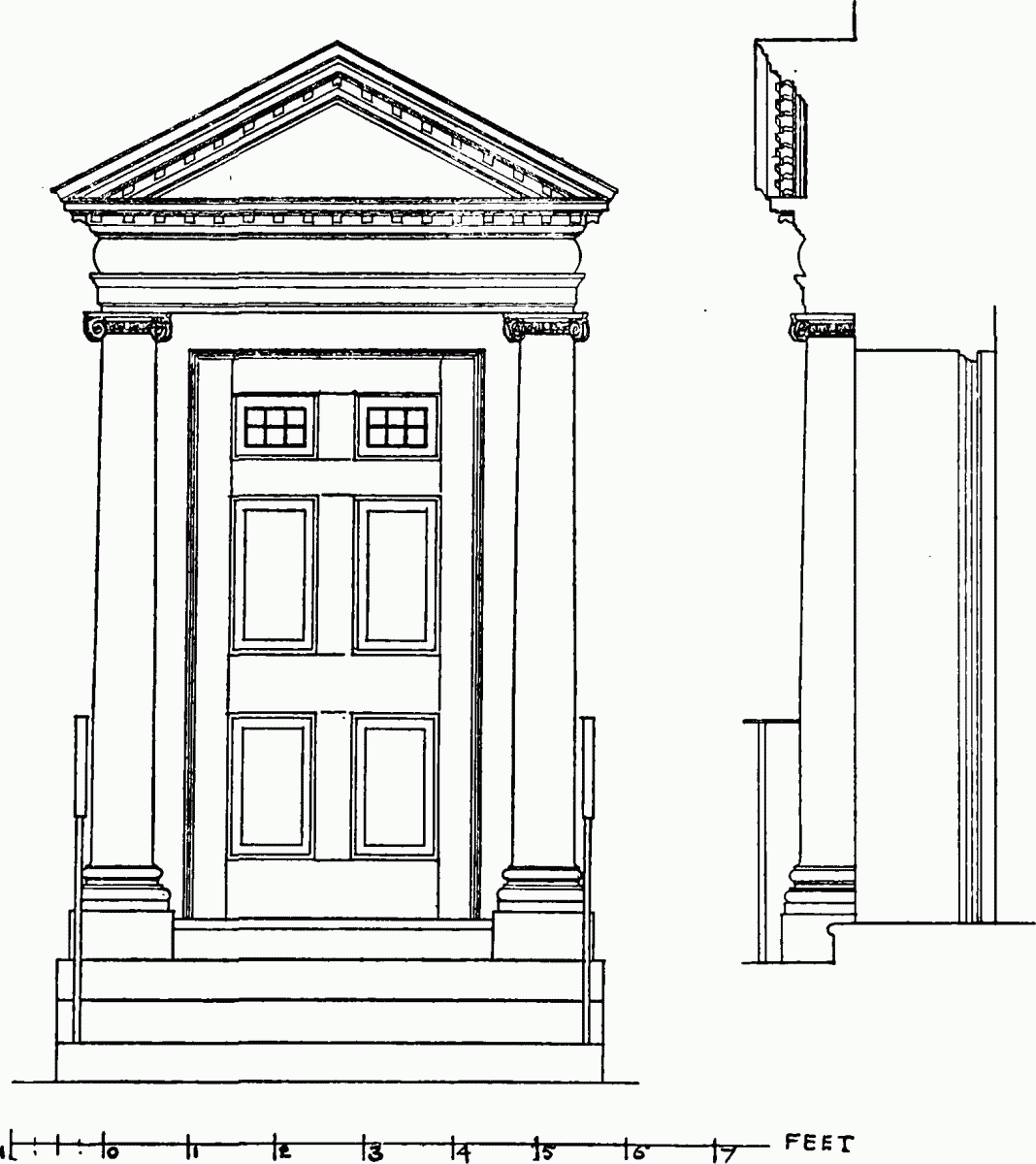 The plan of this house, which is L-shaped (see measured drawing, Plate 25), provides for two little additional rooms on each floor which were probably intended for dressing rooms or powder closets projecting from the adjoining bedrooms, and these add to the interest of the garden elevation (Plates 26 and 27b).
The front garden is enclosed with a dwarf wall with railings, and the entrance has a good wrought-iron gate hung to panelled sides with iron scrollwork (see measured drawing, Plate 92). Over the side panels and centre is a wrought-iron overthrow with scrolls and there are brackets attached to the railings. In addition there is a heavy arched bar surmounting the whole, intended to carry the lamp bracket. The house is fully illustrated (Plates 25, 26, 27, 28, 29, 30).
Condition of Repair.
Good.
Historical Notes.
As shown in the notes to Bisham House (p. 24), the site of Nos. 10 and 11, South Grove originally belonged to Sir Roger Cholmeley and part came into the hands of Nicholas Widmore of Old Thame, Oxfordshire. He conveyed in 1665 to Hugh Dorrell of Old Thame, and Merrell his wife, a messuage in "Swines Lane," which they in turn conveyed in 1683 to John Welbe, citizen and grocer of London, who also obtained at that time the grant of a piece of waste lying before two messuages, containing from east to west 60 feet, from north to south at the east end 22 feet and at the west end 30 feet. This was evidently at the eastern corner of Swain's Lane (west of Church House), now the site of the Highgate Literary and Scientific Institution and the cottage behind. In 1698 the messuage had become two messuages, one in the occupation of Sisera Lambert and the other then vacant but lately occupied by Charles Prior, gentleman, and a parcel of land before the messuages, heretofore purchased of Hugh Dorrell, esquire, and a parcel of waste before the houses, and a pump. John Welbe died in 1698, and his wife, Mary Welbe, described in her will as of St. John's, Wapping, died in the year following, leaving her daughter, Mary, (fn. 45) two copyhold messuages in Highgate, one in the possession of Daniel Coachman, and the other late of — Pryor, esquire, and now of herself, with the free use of the pump standing in a partition pale, and the well thereunto belonging for both the said messuages. This will was dated 8th March, 1699, and proved 30th March, 1699, the executor being widow Welbe's father, Robert Marcy. Mary Welbe, the daughter, married Joseph Hurt of Maidstone, brazier. They conveyed the houses in 1711 to William Brown, citizen and skinner of London (who lived in a house on the site of No. 16, South Grove).
William Brown died on 29th October, 1715, leaving to his grandson, William Brown, "two new purchased messuages in the occupation of Aaron Sparling and John Monk which I lately bought of Joseph Hurt and Mary his wife, near my dwelling house at Highgate." (fn. 46) William Brown, son of this William Brown, succeeded in 1752 and immediately conveyed the two houses to Peter Storer, by whom they were bequeathed to his sister, Sidney, the wife of John Hawkins. Peter Storer lived in the adjoining Church House, which had originally been in all probability part of the Cholmeley estate, but of which the earlier history has not been traced.
The actual site of Church House seems to be represented by a cottage and little yard leased in 1611 to John Panton, esquire, for 21 years, by Thomas Westfield, clerk, who owned it in right of his wife. He was rector of Hornsey from 1615 to 1637 and afterwards Bishop of Bristol. He died on 25th June, 1644, and was buried in the Cathedral. (fn. 47) The reversion belonged to Sarah Birchinshaw, widow, the sister of Mrs. Westfield, whose daughter, Sarah, married Robert Storie, citizen and clothworker of London. Sarah died before her mother, and left a daughter, Anne, who was five years of age when her grandmother died in 1621.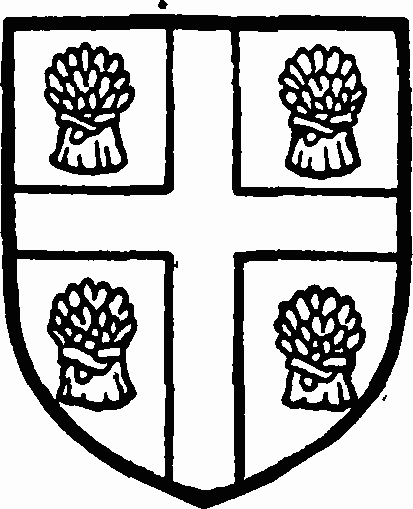 In 1638 Anne Storie conveyed the cottage to John Parker, citizen and haberdasher of London, who is recorded in 1659 as being then long since dead. In that year his two daughters, Mrs. Johanna, the wife of Mr. Robert Wilson, and Mrs. Elizabeth Parker, conveyed it to the tenant, Richard Wright, yeoman, whose predecessor was William White. From an incidental mention of Richard Wright in 1646 when he was ordered to scour his ditch at Highgate Hill it appears likely that he then lived in this cottage. He died in 1666, leaving a widow, Anne, and three sons under age, Edward, aged 17, John, aged 16, and Joseph, aged 13.
Mrs. Wright took for her second husband Owen Lewis of Highgate, yeoman, and when her eldest son, Edward Wright, came of age in 1670 he conveyed his third share to his stepfather. In 1672 Mr. and Mrs. Lewis, with her second son, John Wright, then of age, conveyed a third share to John Storer of Highgate, clerk. In 1674 the youngest son, Joseph Wright, on coming of age conveyed his third share to John Storer of the Middle Temple, son of the first-named John Storer. John Storer was a clergyman of the Church of England, who matriculated at Emmanuel College, Cambridge, in 1633, took his B.A. degree in 1637 and M.A.in 1640. He was curate at Doddinghurst, Essex, 13th October, 1637, Lecturer at St. Giles, Cripplegate, 18th March, 1641–2, vicar of Barking, 5th March, 1646/7, and Rector of Beckenham, Kent, 19th October, 1647. He married on 1st January, 1644–5, Joanna, daughter of John Christmas. Four of his children were baptised at Beckenham, viz. John in 1651, Elizabeth in 1653 and another Elizabeth, and Peter, on 3rd November, 1657. Calamy says that during his eleven years' stay at Beckenham he was well beloved though he sometimes met with rudeness from such persons as despised the ministerial office. He was appointed rector of St. Martin Vintry in Upper Thames Street, 23rd June, 1658. At the Restoration he became Lecturer at Stowmarket, Suffolk. This appointment he resigned before St. Bartholomew's Day, 24th August, 1662, because he would not accept the Act of Uniformity, which came into force then. Preferment in the Church being at an end for him, he came to Highgate and was licensed to keep a school there, on 17th April, 1672. (fn. 48) In 1678 the two Storers surrendered a messuage in the tenure of Robert Poulson of Highgate, to Robert Massey of London, joiner, on condition that he did not build or allow to be built any building to the prejudice of them or the obstruction of their view. Robert Massey, with Joanna, his wife, immediately surrendered a half of the above, then in the occupation of John Storer, senior, clerk, to the said John Storer, and the other half to his son, John Storer. Apparently this indicates either a division of John Storer's dwelling house, or the erection of another adjacent to it.
John Storer of the Middle Temple was born at Beckenham in Kent, was Sizar at Christ's College, Oxford, at the age of 16 on 8th July, 1668, and was admitted to the Middle Temple on 2nd February, 1671. (fn. 49) He succeeded in 1717 on the death of his father and immediately, with his wife, Elizabeth, surrendered to Peter Storer of the Inner Temple, gentleman, his son. John Storer, clerk, appears regularly on the "Homage" of the manor court from 1672 to 1689, as "John Storer, gentleman." Then there is a break of eight years before "John Storer, gentleman" again appears. He continued to sit on the Homage fairly often until 1714. Evidently the Rev. John Storer died about 1689, and the John Storer who appears from 1697 to 1714 was his son.
Peter Storer married Anne, only daughter of Christopher Ansty, a widow, who had a daughter, Ann Ansty Wether by, by her former husband. The daughter married Gilbert Bear block, as appears from the record of a surrender made by Peter Storer, son of the above, in 1754. In addition to the house formerly belonging to the two John Storers, Peter Storer acquired from the trustees of Mrs. Frances Bromfield, wife of Peter Bromfield, in 1736, a messuage, coachhouse, stables and garden, and a parcel of waste before the house, late the estate of John Wynn, gentleman, deceased. Mrs. Bromfield was formerly the wife of Mark "Winn" of St. Mary, Newington Butts, soapmaker, by whom she had two sons, John and Mark, under age in 1699, when their father was dead. The house came to her under the will of her son, John Wynn, of Highgate, gentleman, who died in July, 1730, leaving her his freeholds in Peckham and Bermondsey Street, Southwark, as well as his copyhold at Highgate by way of satisfaction for the great expenses she had in the Court of Chancery in order to get him during his minority under her care and out of gratitude for her tender care of him during several illnesses. (fn. 50) Her former husband, Mark "Winn," had been admitted on the surrender of John Welbe of London, grocer, in 1692, the house being then described as a messuage on the east of "Swines Lane" in the occupation of Christopher Foster, apothecary. In his will dated 13th May, 1699, and proved 1st June, 1699, (fn. 51) Mark Wynn mentions this as "the copyhold I had of Capt. Thomas Welbye of East Smithfield," at a cost of £300. The signature to his will was proved by Thomas Hall of St. George Martyr, Surrey, goldsmith, who said he was formerly a partner with the testator in the office of "Bayliffs of the Hundred of Brixton." John Welbe of Whitechapel, gentleman, had been admitted in 1682 on the surrender of Robert Massey of London, joiner, to a messuage in the occupation of Robert Poulson. Thus the records take us back to a house described in the same words as that owned by the two John Storers in 1678.
Peter Storer of the Inner Temple made his will on 30th March, 1749, and it was proved by his son, Peter, on 16th January, 1750. He desired to be buried in the chancel at Ashford, Middlesex, the funeral to be made with a hearse and one mourning coach with four horses each, without any ornaments or noise. To his wife he left for life the use of all his household goods, plate, linen and furniture in his dwelling house at Highgate except such of them as were Sir John Austin's or Mrs. Wright's, as well as £100. Also he gave her for life his farm at Old Ford. To his daughter, Martha, he gave £5,000 stock in the Bank of England and £50; to his daughter Sidney the like sum of £5,000 and £50. The remainder of his estate he left to his son Peter. This will was witnessed (with two others) by John Hawkins, afterwards the celebrated Sir John Hawkins, who married Sidney Storer on 24th March, 1753. (fn. 52)
The copyholds at Highgate inherited by Peter Storer the younger were a capital messuage (as in 1717) and a piece of waste granted to John Storer in 1689. In 1752 he acquired the two houses from William Brown mentioned before (p. 34), thus completing his ownership of the whole site now occupied by Church House, the Institution and the cottage behind. His will was proved on 9th August, 1759. (fn. 53) He desired to be buried in the chancel at Ashford near his parents. To his sister, Martha, wife of William Baker, esquire (of Rawston), he left his manor of Ashford, houses and land in Bethnal Green, Middlesex, Baddow in Essex, an estate in Bedfordshire, with all the plate, jewels, furniture, etc., in the houses. To his sister, Sidney, wife of John Hawkins, he gave his freeholds at Mile End, Old Ford Marsh, Bearbinder Lane and Church Lane in Middlesex, at Somerton in Suffolk and Cateaton Street and Lad Lane in the city of London, fee farm rents in various counties and his copyhold estate in Hornsey and Highgate. He mentions that John Hawkins was steward of his manor of Ashford. An interesting bequest to his "sister Baker" in addition was "the spring clock which is now in the back bed chamber of my house at Highgate, the repeating gold watch with the chased gold case thereto belonging and also the gold chased chain which hath a swivel fastened in the back part of it, the plain gold watch with the chain and ornaments which I commonly use therewith, the set of diamond shoe and knee buckles, the diamond stock buckle, the diamond buckle, for my shirt bosom, the diamond buttons for my shirt sleeves, my largest ring set with four great and two small diamonds." There was also a bequest to Mary Russell then living with him "as a grateful acknowledgment of her unwearied care and diligence in nursing and attending both my mother and myself to the prejudice of her own health and reputation" £3,000 Bank Stock and £300. In addition to several other substantial sums of money he left various amounts to Highgate people, viz. to Mr. John Pardoe of Highgate £100; to his neighbour John Southcots, esquire (who lived next door in Russell House) £100, and £200 to his wife; to Archdeacon Yardley £100; to the Rev. Mr. Felton, Master of the Free School of Highgate, £100; to Robert Thomas, esquire, of Highgate, £100 to Mr. John Walklin, his gardener, £100. Storer had been elected a Governor of the Grammar School on 27th October, 1755, and he died on 8th August, 1759.
Thus Church House came into the possession of its best-known owner, John Hawkins, in right of his wife. He was born on 30th March, 1719, and was the youngest son of John Hawkins, carpenter and builder, and Elizabeth his wife, daughter of Thomas Gwatkin of Townhope, Hereford, gentleman. After qualifying as a surveyor he adopted the profession of the law and was employed by Mr. Peter Storer, whose acquaintance he made at the Academy of Ancient Music, and whose daughter, Sidney, as we have seen above, he married. The £5,000 which his wife had on the death of her father, augmented by the considerable property which her brother Peter Storer bequeathed to her, enabled Hawkins to retire from practice and devote himself to music and literature. He became Chairman of the Middlesex Quarter Sessions on 19th September, 1765, and was knighted. Leslie Stephen in the Dict. Nat. Biog. sums him up as "a man of coarse fibre, absurdly proud of 'my coach,' rough to inferiors and humble to men like Walpole, but not without solid good qualities." Dr. Johnson characterised him as "an honest man at bottom, but to be sure he is penurious and he is mean, and it must be owned he has a degree of brutality and a tendency to savageness that cannot easily be defended." His daughter, Laetitia Matilda Hawkins (who died unmarried at Twickenham on 22nd November, 1835, aged 75), published Anecdotes, Biographical Sketches and Memoirs in 1822, in which she wrote (p. 139): "My mother had, as I have stated, an only brother—a man whose name still lives in sweet hereditary remembrance in that part of Middlesex where we have copyhold property. Times then afforded a single man, with an unincumbered landed property of £2,000 a year, to keep six carriage horses, and to live with a liberality equal to this. Mr. Storer, a perfect gentleman, kept up this style, but without ever suffering the smallest accumulation of debt;—consequently he died rich. My mother had always been his favourite sister; her lively temper and pretty person, together with the pains he had bestowed on her when hardly treated by her father because she was not a boy, had endeared her to him." Neither the style nor the matter of her books is particularly attractive but the following passage (p. 154) is interesting because it concerns Church House and its inmates. " My mother was born, I think, in or about 1726, and from her birth had lived on the very summit of Highgate Hill, and with a high road in view. She was at that period (the time of the '45 Rebellion) therefore of an age to be highly as well as deeply interested, in the event of so important a contest. She used to describe her father, who was a zealous Whig, as thoroughly dejected while matters were approaching to their crisis, and well recollected his burying two hundred guineas in his garden. She could describe all the scenery when the troops passed through to Finchley Common, and had even then before her eyes, the sumpter-mules and all the detail of the Duke of Cumberland's baggage."
Sir John Hawkins died on 21st May, 1789, leaving this property to his wife for life (fn. 54) and then to his son, John Sidney Hawkins. It has been usual to write of Sir John as a Highgate man, but it does not appear that he ever lived there. In 1782 he took out a licence to lease for 21 years, premises described as a messuage formerly in the tenure of Henry Playford and lately of David Duvaleoz, esquire, with the coachhouses and stables adjoining and also a yard and garden and small messuage behind the coachhouses formerly in the tenure of John Walklin and now of Cornelius. Sir John's brother-in-law, Peter Storer, left Mr. John Walklin, his gardener, £100, as mentioned before, and Sir John himself in his will mentions "the gardener's house adjacent thereto now inhabited by William Cornelius," the mansion house being then in the occupation of William Blamire. When Dame Sidney Hawkins came into the property in 1789 it was described as a capital messuage heretofore in the occupation of Peter Storer, etc., and a messuage then lately erected heretofore in the occupation of John Walklin, gardener, which ground abuts south on a garden heretofore in the tenure of —Paul, esquire, and had formerly standing thereon a messuage and coachhouse (purchased by Peter Storer the elder) and land adjoining the dwelling house heretofore of Peter Storer the younger, on which ground formerly stood two messuages, formerly the estate of William Brown.
Dame Sidney Hawkins died in 1793 and her son, John Sidney Hawkins, then came into possession. He was born in 1758 and died on 12th August, 1842, in his 85th year at Lower Grove, Brompton, where he had long resided and was succeeded by his brother, Charles Sidney. According to Warwick Wroth, F.S.A., in the Dict. Nat. Biog., he was "a learned antiquary whose talents were overshadowed by a sour and jealous temper." His library was sold in 1842. Of greater interest in the history of the house is Hyman Hurwitz (1770–1844), Professor of Hebrew in the University of London, who was born at Posen in Poland in 1770. He was a learned Jew who came to England about 1800 and conducted a private academy for Jews at Highgate, where he established a close friendship with Coleridge and corresponded with him. In 1828 he was elected Professor of the Hebrew language and literature at University College, London. (fn. 55) His tenancy of the house appears to have commenced in 1804, and to have lasted until 1820. (fn. 42) The landlord, John Sidney Hawkins, of Charlotte Street, Fitzroy Square, in 1821 granted to Hyman Hurwitz of Highgate, schoolmaster, for 17 years, a lease of Church House and a messuage abutting east and north in part on the before-mentioned premises (Church House), west on Swain's Lane and south on the garden belonging to the other premises. This latter was on the site of the Institution. It has been mentioned (p. 30) that Hurwitz took the place of the Rev. Edward Porter as tenant of the adjoining Russell House, No. 9, in 1810, but soon gave it up. Hurwitz (who died on 18th July, 1844) was succeeded as occupier by Leopold Newmigan in 1821 (fn. 42) and who carried on the school. He was still there in 1831.
In 1839 the High gate Literary and Scientific Institution was formed and entered into its present premises at the corner of Swain's Lane on 12th May, 1840. (fn. 56) When Charles Sidney Hawkins succeeded his brother as owner in 1842 the premises were described as a messuage, garden, coachhouse and stable formerly in the occupation of William Blamire, esquire, and the gardener's house adjacent thereto formerly inhabited by William Cornelius, esquire, "which coachhouse and stable has been some time since pulled down and upon the site thereof a certain messuage and building has been erected now called the Highgate Literary and Scientific Institution." This rebuilding is again mentioned in a lease granted on 22nd April, 1843, by Charles Sidney Hawkins to Kilham Roberts of Highgate, schoolmaster, for 21 years, of a dwelling house late in the occupation of Leopold Newmigan, as separated and parted off by a wall or wooden fence from a cottage and buildings formerly parcel of and held with the messuage, but now for the most part converted and used as a place of meeting of certain persons called the Highgate Literary and Scientific Institution.
A further lease of the Institution for 21 years was granted in 1861 by Charles Sidney Hawkins of Broughton, near Swindon, esquire, to William Gladstone of Fitzroy Park, esquire, Josiah Wilkinson of Fitzroy Park, esquire, and William Peter Bodkin of Merton Lane, esquire, where the premises are described as a messuage and buildings, etc., with a garden in front and a cottage behind, the said cottage being underlet to William Potter and then in the occupation of the widow of the late Jonathan Bower, stone mason, abutting on a messuage, garden and premises of Charles Sidney Hawkins leased to Henry Daniels. When the premises of the Highgate Literary and Scientific Institution and Church House, Nos. 11 and 10, South Grove, were enfranchised in 1897, Church House was stated to have been formerly in the occupation of William Bedmore and "now" of Robert Payne Grace. The story of the Cow and Hare on the site of which an unfounded tradition says the Institution was erected will be found in Section XI.