Pages 54-62
Survey of London: Volume 17, the Parish of St Pancras Part 1: the Village of Highgate. Originally published by London County Council, London, 1936.
This free content was digitised by double rekeying and sponsored by English Heritage. All rights reserved.
IX—THE SITE OF ASHURST HOUSE, AND THE MONUMENTS IN ST. MICHAEL'S CHURCH
General Note.
The church of St. Michael was built in 1832 from the designs of Lewis Vulliamy on the site of a fine 17th-century house built by Sir William Ashurst, Lord Mayor of London, as his Highgate residence. The best representation of the house is an engraving of circa 1720 (Plate 41), and its character agrees with the date of 1675, when Sir William acquired the site of the Banqueting House of Arundel House. An interesting architectural problem is raised by earlier views of this site. In the first place we may dismiss an engraving in the Heal Collection (St. Pancras Public Library, Chester Road) which shows a building entitled "Ashurst House," together with a shield of what purports to be the Ashurst arms. This engraving, in spite of its title, is quite clearly of Abingdon Town Hall, a not dissimilar building in its roof and general proportions. The architect of the Town Hall is unknown, and the mistake of the engraver might be explained if the designs for both buildings came from the same architect's portfolio. There are two early 19th-century drawings of the house (Plates 42a, 42b) which confirm the details in the earlier engraving of the "Seat of Sir William Ashurst."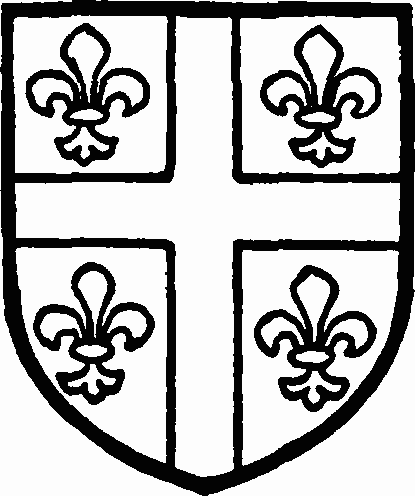 The predecessor of Ashurst House is shown in the bird's-eye view of William Blake's Ladies' Hospital at Highgate (Plate 39) about 1688, and it is curious that while it has marked differences from the later house, it yet shows much the same proportions and is similarly roofed. It seems possible that this house of William Blake's was his adaptation of the original Banqueting House of the Earls of Arundel, a subject already discussed (p. 50) in connection with the remarkable early drawing of Arundel House formerly in the Gardner Collection (Plate 36a).
The view of the Ladies' Hospital also shows an elaborate courtyard with cloisters and a large flanking building (marked C, C and D) to the east of the "Petitioner's own House" (marked EE, the predecessor of Ashurst House), which if they had been built, would have occupied the site of Old Hall and No. 16, South Grove. A more elaborate version of the scheme, with the addition of a large three-storeyed institution to the south was engraved and is reproduced on Plate 40. It is clear that this engraving is from an architect's drawing, and the quality and distinction of the design shows him to have been someone of eminence.
The building of St. Michael's Church followed the judgment given by the Court of Chancery in 1826, which restored the status of Highgate School Chapel which had hitherto been considered as the Chapel of Ease for both Highgate and Hornsey (see Introduction, p. 4). Many inhabitants of Highgate had been buried at the school chapel, and the following monuments were removed here at the building of the new church, two of them being beneath the south gallery; two more in a room in the tower, and the last on the west wall above the gallery. The first memorial to be erected in the church was that to the poet Coleridge, who was buried in a vault in the old chapel. Beneath the church are some foundations which in all probability belonged to Ashurst House. It may perhaps be added that in addition to a fragment already referred to on page 97 a doorway bearing the Ashurst arms is preserved at No. 42, High Street, on the Hornsey side of the border. The dedication to St. Michael is the same as that of the Hermitage that used to occupy the site of Highgate School Chapel.
Sir Edward Gould. . . .
Under the gallery on the south side of the church.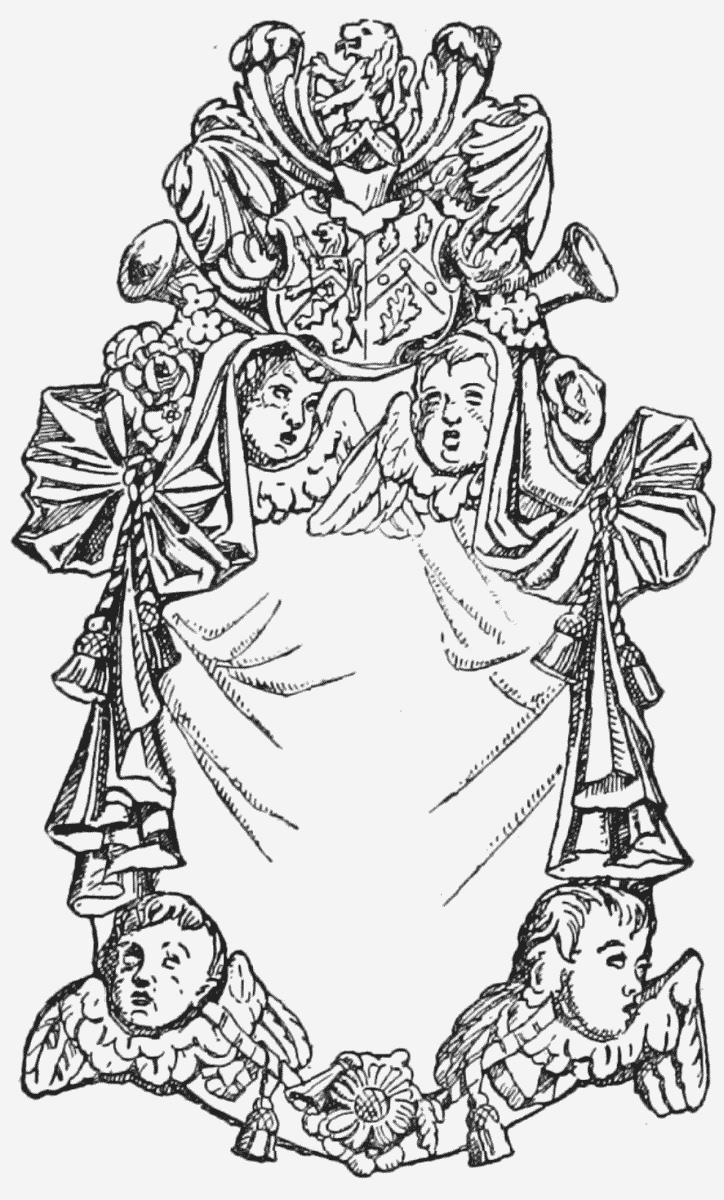 An inscribed tablet framed in festoons of drapery with cords, tassels and two pairs of winged cherubs' heads. Above the inscription is an achievement of arms with mantling and crest.
Arms
Party saltirewise or and azure a lion likewise parted and counter-coloured, for GOULD, with in pretence Azure a cheveron between three wolves' heads razed or, for GOWER (referring to Elizabeth Gower his first wife), impaling Argent a cheveron sable between three oak leaves vert with three bezants on the cheveron, for MONOUX, (referring to Frances Monoux his second wife).
Crest
A demilion azure bezanty (but the bezants seem to have been omitted).
Near this Marble lyes the Body of
Sir Edward Gould Kn.t
(one of ye Governours of this Chapel)
who departed this life the 26th day of Septemr [1728]
Aged 80 years
His first wife was Elizabeth Gower Daughter of
Richard Gower of Highgate in ye County of Midd.sx Gen.t
his second wife was Frances Monoux, Daughter of
Sir Humphry Monoux of Wootton
in ye County of Bedford Bart.
He left a large real Estate after the Death of his
Widow Frances to Edward Gould and
William Gould, the Surviving Sons of Edward Gould
his Nephew; He also left to this Chapel a Legacy
of joLo; and left Several Legacies to
his Nephews & Nieces, & Several
Charitable Legacies.
This Monument is Set
up by his Widow
Samuel Forster, 1752,; Mary Forster, 1744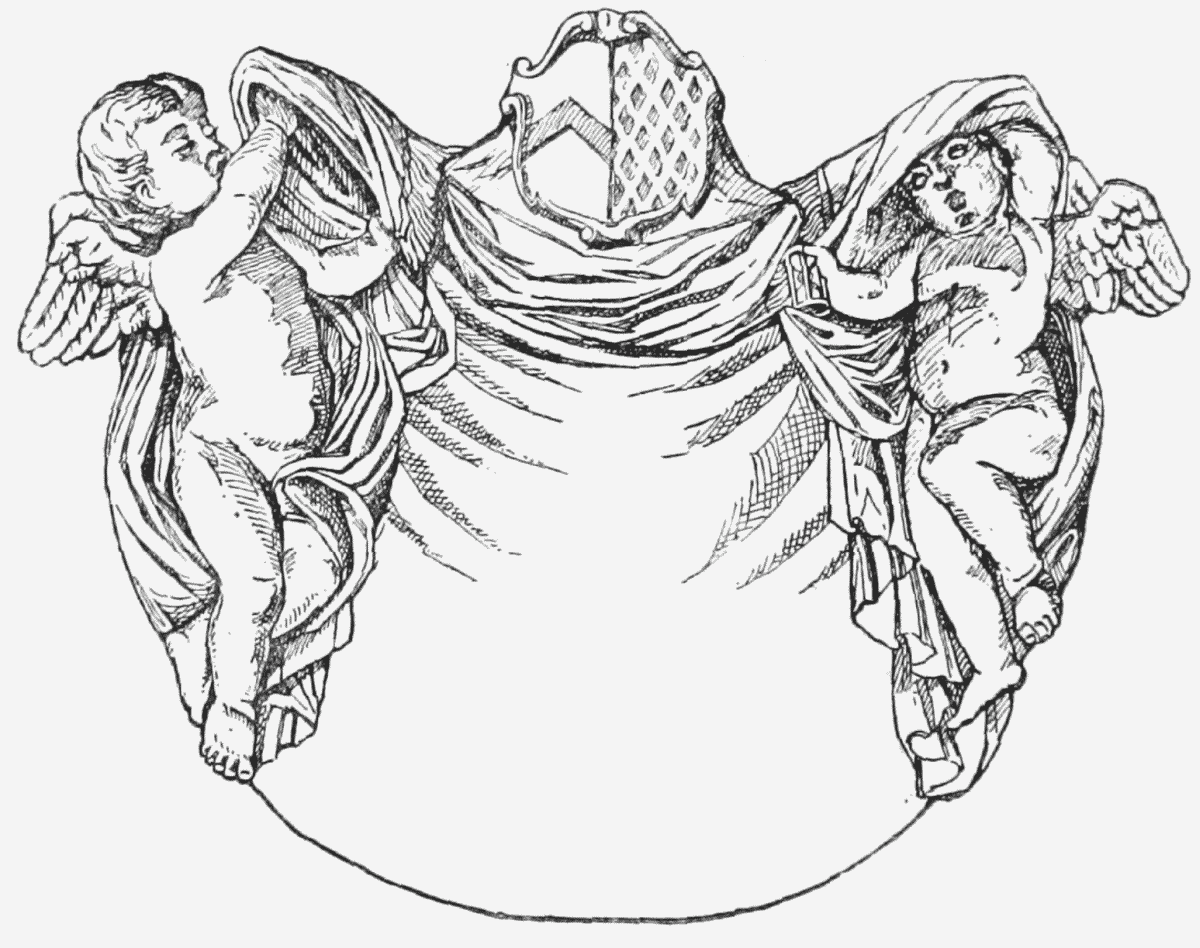 On the south wall of St. Michael's Church under the gallery adjoining the foregoing.
An inscribed tablet in the form of drapery displayed by two full—length figures of cherubs. Above is a shield of arms nearly obliterated shewing a cheveron but no other charges impaling a fretty coat.
Near this Place
the Bodies of Samuel Forster Esqre.
and of Mary his wife
are buried in their own Vault.
He died on the 25th. day of April 1752
in the 65th. year of his Age:
She died on the 14th. day of June 1744
in the 65th. year of her Age.
In their lives they were lovely, & in their Deaths
they were not divided. May their Ashes rest in Peace,
untill they arise to a bliffull Immortality
thro' our Lord and Saviour Jesus Christ!
MR Forster, one of the worthy Governors of the
Free Grammar School of this Town, bequeathed
to them by his last Will three hundred pounds,
to be laid out at their Discretion for the Increase
of the Pensions of the poor Widows in the
Almshouses here.
Rebecca Pauncefort, 1719.
This monument, which was originally in the Grammar School chapel, was placed in the room in the tower of the church of St. Michael. It became dangerous and had to be taken down, only the two portions bearing the inscriptions remaining in the tower, the flanking columns being removed to the crypt.
On the smaller slab,

M.S.E.
Rebecca Edwardi Pauncefort
de Highgate Armigeri Uxor:
Eademq7 Filia Natu Maxima
D: Samuelis Moyer, de Pitsy Hall
in Comitatu EssexiÆ Baronetti.
Excessit Secundo Die Novembris,
Ætatis XLII,
Salutis MDCCXIX, Anno.
On the larger slab,

Mulier, dum Vita suppetebat
Dictis, Factisque juxta,
Prudentiâ Virili.
Erga Deum Pietate,
Beneficentia in Egentes
Prope Singulari
Sic Vita erat Sanctæ Religionis
Officiis infervire et tenuioribus
Quam plurimum prodeffe
Ast Ægritudinis humanæ,
Funerisque præ maturi,
Eheu! non ideo Exfors.
Quippe adversa Valetudine
Conflictabatur diu
Quam tamen gravescentem indies
Egregie toleravit.
Morbiq7 Sævâ Vi evicta tandem
Composito Animo, Summisoq7
Etiam in Extremis egit.
Ingens ademptæ Defiderium
Conjugi manet Desolato,
Omnibufq7, quæ in Vitâ
Videntur esse, Blandimentis.
Uxore cum Placenti,
Uná Viduato.
Maerens hunc Lapidem Sacravit
Propter reposto Cineri:
Ipse quoque, Quandocunque
Diem expleverit Supremum,
Ibidem Tumulandus:
Non in Morte Deserturus
In Vitá unicè Dilectam.
John Schoppens, 1720.; Mary Schoppens, 1718.
Architecturally the most imposing of the memorials removed from the old School Chapel, it is now placed upon the west wall of St. Michael's Church above the gallery (Plate 43). The inscription tablet, which is semicircularheaded, is surmounted by a tent-like canopy. Surrounding it is an elaborate architectural frame composed of two fluted columns with composite capitals supporting an entablature which forms a semicircular arch. Above the arch is an achievement of arms and on each side a fluted vase. The columns are flanked by carved scroll ornament on the wall face and the whole rests on a moulded shelf over moulded and carved console brackets. On the apron, which terminates in a winged cherub's head, is a cartouche also bearing a shield of arms.
Arms
Quarterly: 1 and 4, Gules three running deer argent; 2 and 3, Azure three axes or.
Crest
An arm in armour, the hand holding a broken object (perhaps an arrow). On the apron a shield of the first quarter of the above arms with a scutcheon in pretence (nearly illegible).
M.S.
Near this place lieth the Body of
John Schoppens
late Merchant of London & Inhabitant of this Hamlet
who after an industrious Life pass'd with Integrity
& Honour & clos'd at last by a tedious Illness born
with Patience & Resignation.
died in ye 71st. year of his Age ye 22d. of June A.D. 1720
having surviv'd about a Year & Six Months
the loss of his Dear Wife
Mary
The Daughter of William Gibbes Citizen & also
Merchant of London a loss irreparable to all to whomsoever
she was related, as a Wife, a Matron, a Mistress or a Friend.
Being faithful in the Discharge of every Duty of Life,
& so holding herself in a constant stedfastness for Death,
She was seiz'd but not surpriz'd, by a sudden one on ye
28th. of December A.D. 1718, in ye 55th. year of Her Age:
having that Morning receiv'd ye Holy Communion here,
in perfect health.
They both lie in a decent Vault, a little eastward from hence
which (John) their Eldest Son purchas'd
to preserve the Remains of his Family.
by whom also this Monument was erected
to the Memory of his Parents.
John Edwards, 1769.
This tablet, now in the room in the tower, possesses two inscriptions, the lower one being on a rectangular stone which projects boldly in front of a moulded background in the form of a sarcophagus. The upper one is circular and is linked by carved ribands to a vertical recessed pier, diminishing upwards, with a crowning cornice supporting a large urn with flames. The circular panel is flanked by weeping cherubs. The lower part of the tablet has a deep cove beneath the centre on a fluted and foliated corbel and scallop shells as pendants at the sides.
Near this Place
are deposited the Remains of
John Edwards of Highgate Esqr:
only surviving Son of the
undernam'd Thomas Edwards Esqr:
and Jane his Wife who died Decembr. 18th.,
1769 Aged 82 Years
The many Virtues, by Which He was
deservedly distinguish'd through a long
and happy Life have given to Posterity
an Example worthy Imitation
in the Character of this truly
benevolent and upright Man.
Subtùs
In loco Sepulchrali Joannis Schoppens Armigeri
Mortalitatis suæ exuvias deposuit
Josephus Edwards
Secundo genitus ThomÆ Edwards
Nuper de Civitate Bristol Armigeri
et Janæ Uxoris ejus
Dignus Parentum filius
Quem in ipso virilis ætatis flore correptum
Febris Continua ab hâc valle Miseriarum
Ad meliorem transtulit vitam
Ea ibi accepturum præmia
Cum judicabit Christus et vivos et mortuos
Quæ tam bene meruerunt
Sincera erga Deum Usq7 a plueritiâ pietas
Erg` Parentes obedientia
Erga fratres et forores amor plusquam fraternus
Erga clientes sides integerrima
Erga omnes deniq7 ut uno complectar verbo
Candor et benevolentia.
Obijt Cælebs 22do. die Julij An°. Dom. 1728vo. Ætatis Suæ 43tio.
Note. The above are all exact transcripts from the originals.
Historical Notes.
In 1674 Francis Blake of Highgate (father of William Blake) conveyed the westernmost section of the Arundel estate to Andrew Campion, clerk, and Anne his wife. It was described as a messuage called the Banqueting House, with orchards, gardens, etc., enclosed with a brick wall, then or late in the occupation of Francis Blake and formerly the inheritance of William Payne, esquire, abutting north on Highgate Green, east on the garden of Francis Blake then in the occupation of Thomas Johnson, south on a field belonging to Francis Blake, and west on a field in the occupation of John Ives. The frontage thus extended from the site of Old Hall (the residence of Thomas Johnson) to Bromwich Walk, including Ashurst House (site of St. Michael's), Voel and South Grove House. John Ives owned what was afterwards Cutbush's Nursery on the west side of Bromwich Walk (Nos. 45, 46 and 47, West Hill).
1675–82.
Andrew Campion conveyed the Banqueting House to William Blake of London, vintner, in 1675, and settled on himself at the same time a newly erected house in his own occupation. This new house was South Grove House (Section X), built on land previously attached to the Banqueting House, an alteration indicated by the fact that the copyhold quit rent was at the same time apportioned at 3d. In 1681 William Blake conveyed the original house to his son, Daniel Blake, citizen and vintner of London, by whom it was conveyed in the following year to William Ashurst. It was the residence of William Blake (see p. 52), nephew of William, the vintner, whose efforts at founding an extensive charity at Highgate are described on p. 52.
1682–1725.
William Ashurst of Paternoster Row and Highgate, mercer of London, was a son of Henry Ashurst of London, merchant tailor (d. 1680) by Judith his wife, daughter of William Reresby of London, gentleman, and grandson of Henry Ashurst of Lancashire. He married Elizabeth, daughter of Robert Thompson of London, by whom he had a numerous family. He was knighted on 29th October, 1687, was Lord Mayor 1694–4, M.P. for the City 1689–90, 1695–1702 and 1705–10. He was elected a Governor of the Grammar School on 23rd June, 1697. Ashurst died on 12th January, 1719–20, and his widow, Dame Elizabeth Ashurst, on 14th March, 1724, when their grandson, William Pritchard Ashurst, esquire, of Monken Hadley, succeeded. He was the son of Henry Ashurst, Town Clerk of London, who died in 1705. In 1725 he conveyed the estate to John Edwards of London, merchant, Charles Shales, esquire, being then mentioned as the occupier, succeeding Sir William Ashurst. Charles Shales (a member of a firm who were goldsmiths (fn. 80) to William and Mary, Anne, George I and George II), was elected a Governor of the Grammar School on 1st November, 1728. His wife, Anne, daughter of Thomas Barrington, esquire, died on 17th November, 1729, and he died on 5th October, 1734.
1725–69.
John Edwards married the daughter of John Schoppens, a Dutchman who was naturalised by Act of Parliament in 30 Charles II. Schoppens was buried in Highgate Chapel and his monumental inscription was removed to St. Michael's Church, where it remains (see above, p. 58). John Edwards was elected a Governor of the Grammar School in place of Charles Shales on 7th November, 1734, and died on 18th December, 1769, bequeathing to the Governors of the School £300 for the better support of the almswomen. He also directed that the legacy of £150 left by his brother-in-law John Schoppens (son of the John Schoppens mentioned above) should be paid over to them. John, son of John Edwards, born in 1716, died on 17th March, 1747, of a quinsy contracted by catching a cold at Lord Lovat's trial. He left three daughters, Sarah, born on 2nd February, 1741, and Frances (by his first wife Sarah Holford, whom he married in February, 1740), and Mary (by his second wife, Ann Manship), who married Jacob Preston of Beeston St. Lawrence, Norfolk. The last mentioned became the owner of Nos. 1–6, The Grove (Pemberton Row), and her mother married at Gray's Inn Chapel (fn. 81) on 5th June, 1753, Thomas Allen Greenhalgh, who had changed his name from Allen. Their son, Thomas Allen of Henrietta Street, Cavendish Square, was lord of the manor of Bibsworth, in Finchley.
1769–1830.
Sarah, the eldest daughter of John Edwards, married Thomas Cave of Marylebone, son of Sir Thomas Cave, baronet, on 7th August, 1778. They had an only daughter, Sarah, who married Henry Otway of Stanford Hall in the counties of Northants. and Leicester, who changed his name to Henry Otway Cave. Frances Edwards married John Fremantle, by whom she had four sons and two daughters. Thomas Cave was elected a Governor of the Grammar School on 13th January, 1770, and died on 30th May, 1780, aged 43. His father collected material for the History of the County of Leicester and was Chairman of the Committee for printing Bridges' History of Northampton. The tenant of the house following John Edwards was Thomas Walker, esquire, Accountant-General of Chancery, who was elected a Governor of the Grammar School on 2nd October, 1796. He died on 29th January, 1802. Dame Sarah Cave seems to have lived at the house in 1804–5, followed by Sir Alan Chambre, 1806–11. Sir Alan Chambré was a judge, described by Lord Brougham as being "among the first ornaments of his profession, as amongst the most honest, and amiable of men." He was the eldest son of Walter Chambré, of Halhead Hall, Kendal, barrister, by his wife Mary, daughter of Jacob Morland of Capplethwaite Hall, Westmorland, and was born at Kendal on 4th October, 1739. In 1767 he went the northern circuit, of which he soon became one of the leaders, and in 1796 was appointed Recorder of Lancaster. In 1799 he was appointed a Baron of the Exchequer, and was translated in the following year to the Court of Common Pleas, where he remained until his retirement in 1815. He died at the Crown Inn, Harrogate, 20th September, 1823, in his 84th year, and was buried in Kendal Parish Church. He was unmarried. In 1812 (21st March) an advertisement appeared in the newspapers as follows: "Grove House, Highgate.—To be Let and entered upon at Lady-Day, all that elegant Mansion, known by the name of Grove House, Highgate, now in the occupation of Sir Alan Chambre. It is situated on the summit of the hill, boldly commanding a view of the Metropolis, with the Surrey, Kentish and Essex Hills, and the meanderings of the River Thames as far as the Nore, together with that beautiful and variegated country through Middlesex and Herts, to the North, and the surrounding rich domains. A servant will shew the premises, . . . "Dr. Daniel Dowling took the house about this time and kept a school there, apparently until it was demolished.
In 1830 Sarah Otway Cave, widow of Henry Otway Cave, and her eldest son, Robert Otway Cave, with the Right Hon. William Henry Fremantle of Stanhope Street, Mayfair, only surviving son of Frances Fremantle, widow, deceased (the sister of Dame Sarah Cave), sold the house to H.M. Commissioners for Building New Churches, who thereupon erected the present St. Michael's Church.
In conclusion it may be noted that the section of South Grove between the Angel and St. Michael's Church was at one time known as "Pembrook Row," as may be seen by referring to the map of 1804 reproduced on Plate I. The explanation of this name has not so far revealed itself.