Pages 46-53
Survey of London: Volume 17, the Parish of St Pancras Part 1: the Village of Highgate. Originally published by London County Council, London, 1936.
This free content was digitised by double rekeying and sponsored by English Heritage. All rights reserved.
VIII—SITE OF ARUNDEL HOUSE, OLD HALL (NO. 17, SOUTH GROVE), AND THE SITE OF THE LAWNS (NO. 16, SOUTH GROVE)
Ground Landlord, Leaseholder, etc.
Old Hall was originally copyhold of the Manor of Cantlowes but has been enfranchised and is now in the ownership and occupation of Lord Rochdale.
General Description and Date of Structure.
The site of Old Hall, and more particularly of its eastern neighbour, No. 16, South Grove, was occupied in the middle of the 16th century by a house belonging to the Cornwallis family which passed later to the Earls of Arundel. This house was believed to have occupied a site on the Bank which lies within the border of Hornsey. Its story, however, is to be found not in the records of Hornsey but in the Court Rolls of the Manor of Cantlowes, as will be seen from the historical notes which follow. The present building may contain some fragments of the early fabric, part of the basement of the north-east wing having brickwork of English bond. The existing structure consists of a centre block of three storeys flanked on one side by the one-storey wing referred to above and on the other by modern additions.
The plan of 1804 (Plate 1) shows a considerable range of buildings to the east of the main block of Old Hall and their general appearance can be gathered from a study of the houses shown on the skyline of the engraving of Ashurst House (Plate 41). There is also an engraving in the Potter Collection now in the British Museum which appears to have been taken from the prospectus of Messrs. Grignon & Hull's Academy (Plate 36b), which occupied the east wing of Old Hall and the house to the east, the site of which is covered to-day by a tennis court. From these drawings it is evident that the buildings were extensive and of Elizabethan character, and there is little doubt that they represent the remains of the actual fabric of Arundel House.
The main part of Old Hall dates from a rebuilding of 1694 but appears to have been refronted in stock brickwork with red bricks as dressings to the windows and external angles. The front (Plate 37) is symmetrically arranged with five sash windows on the first and second floors. There is an additional block or annexe to the north-east (slightly recessed from the face of the main building), which contains a second staircase. The centre of the front projects a few inches and in this is set a plain doorway with a modern porch.
The face of the building is relieved by a string course above the ground-floor windows and another which forms a slight cornice above the second-floor windows, over which is a plain parapet. The back elevation though considerably broken into by the two large projecting bays already noted shows several original windows with curved heads. Two central openings above the garden entrance have semicircular heads. There are brick string courses at the first- and second-floor levels and a small one just below the parapet to the main block only. The chimney stacks are at the sides of the house and the parallel roofs terminate in small twin gables. On one of these, to the south-west, is a rain-water head with the date 1691 with initials arranged thus 16/W A 91/E for William and Elizabeth Ashurst, recording no doubt the rebuilding of the house at this period. Twenty years before this date from the evidence of the Hearth Tax Rolls (see Appendix II) the building which then occupied the site had been divided into two tenements. To-day, however, the two portions are restored to one occupation. It seems reasonable to suggest that the year 1691 saw its separation from the mansion house which at one time was occupied by the Earls of Arundel.
The plan (Plate 38) of the centre block now comprises a front hall running the full width, but in all probability it was at one time subdivided into a passage with flanking rooms. Towards the garden is a staircase hall with a room on each side, fitted with large modern bay windows. The one to the east is panelled in large squares with bolection mouldings, separated by plain square deal uprights which may be the remains of earlier panelling of the normal type. There is the usual cornice but below it is a plain frieze with a very small architrave moulding above the main panels. The doors, which are three in number, are of six-panel bolection moulded type with similar but very narrow panels above them. At one time a large conservatory led out of this room, but this has been replaced in recent years by a bay with canted sides round which the details of the panelling are continued.
On the first floor there is a typical 18th-century panelled room to the right at the head of the stairs over the ground-floor room just described. There are also some six-panelled doors with fielded mouldings somewhat similar to that in the main entrance to Russell House (No. 9, South Grove). The central stair seems to have been replaced by a modern one, but that in the east wing has spiral balusters, plain newels and continuous strings—probably of the late 17th century. There are one or two fragments of panelling of Jacobean date re-used in different parts of the basement, one being at the foot of the main stairs. There is also one 17th-century beam.
The entrance gate to Old Hall is an excellent example of 18th-century iron-work with elaborate scroll-work panels each side and an ornamental overthrow. The piers with ball finials have been cased in cement.
Although they are importations from elsewhere mention must be made, for the purposes of record, of the two magnificent panelled rooms that Lord Rochdale, the present owner of Old Hall, has fitted into the ground and first-floor apartments in the main block, with the circular bays overlooking the garden. The ground-floor room bears the date 1595 and was brought from an old inn on the quay at Great Yarmouth. It has a splendid modelled plaster ceiling. That on the first floor came from Rochdale in Lancashire. In addition to other woodwork the house contains to-day Lord Rochdale's famous collection of ancient painted glass consisting of 67 principal pieces of every period from the 13th to the 17th century. These were fully described by Mr. F. Sydney Eden in the Connoisseur for July, August and October, 1934.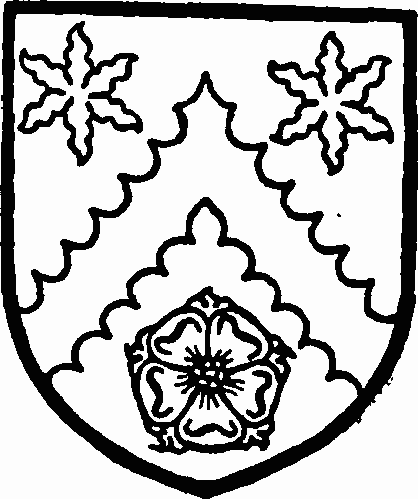 Historical Notes.
On the site now occupied by Old Hall, St. Michael's Church, Voel and (till recently) South Grove House, stood the celebrated mansion where Sir William Cornwallis lived during the reigns of Queen Elizabeth and James I, followed by Thomas Howard, 14th Earl of Arundel and 4th Earl of Surrey (later 1st Earl of Norfolk), and where Sir Francis Bacon, Lord Verulam, died in 1626. The frontage of the Arundel House estate extended from Bromwich Walk to Bisham Court. It is probably represented by a messuage, barn, stable, orchard and 3 acres of land conveyed to William Cornwallis, esquire, by Henry Draper in 1588, " late in the tenure of Richard Boyce" and in which Cornwallis (then Sir William) lived in 1610. In the same year, 1588, Cornwallis also acquired, from Sir Henry Cromwell and Susanna his wife, 10 acres of land, part of Broadmede. Some facts throwing light on the history of the estate may be found in the record of an action in Chancery (fn. 69) brought against him in 1603 by one Joan Sandbache, widow of Francis Sandbache, who claimed to have an annuity charged on some of the property. Her complaint was that Sir William had built on the land and so altered the old boundaries that she could not now identify the premises which had belonged to her husband. Sir William in reply stated that one Tarry dwelt in the messuage long since and built a new house, joining it to part of the old house, and was succeeded in ownership by one Warren, and he supposed that one or both of these two were responsible for altering the boundaries. Sir Henry Cromwell, who owned the property in right of his wife, sold it to him for £630, being £200 more than it was worth. Though not admitting liability Sir William stated that he had in fact paid her £3 6s. 8d. a year for many years. Then he offered £13 6s. 8d. in settlement, being four years' purchase, and " as much as her annuity was worth, even if her claim was good, because she was a very old woman and not likely to be of long continuance in this world." Her nephew, Martin, on her behalf demanded 15 or 16 years' purchase. The Sir Henry Cromwell referred to, who died on 7th January, 1603, was the grandfather of Oliver Cromwell, and married the daughter and heiress of Sir Ralph Warren, Lord Mayor of London in 1536–7 and 1544, who died in 1553. The reference to Warren in the pleadings of Sir William Cornwallis, given above, suggests that the property in Highgate belonged formerly to Sir Ralph Warren.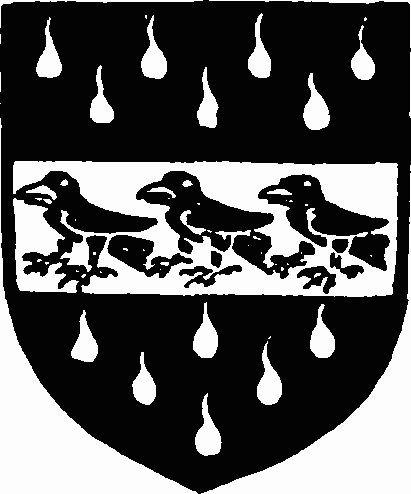 Sir William Cornwallis was the eldest son of Sir Thomas Cornwallis, K.G., Comptroller of the Household to Queen Mary. In the year 1591 (10th March) he was elected a Governor of the Grammar School. His father died in 1604. Although we have the date (1588) of his purchase of his house at Highgate, there is a letter at Hatfield House (fn. 70) written by his father on 23rd July, 1587, to Lord Burghley. Queen Elizabeth paid visits (fn. 71) to Highgate on 11th June, 1589, 7th June, 1593, and in 1594, probably to Sir William Cornwallis. John Norden wrote in 1593, " At this place — Cornwalleys, Esquire, hath a very faire house from which he may behold with great delight the staitlie citie of London, Westminster, Greenwich, the famous river of Thamyse, and the country towards the south very farre." The house must indeed have been an attractive dwelling place, on the brow of the hill, with the village green in front to the north and the slopes of Highgate Hill behind with open country all the way to the city, affording a splendid panorama, Old St. Paul's being only some four miles away. William Cornwallis accompanied the Earl of Essex in his expedition against the Irish rebels in 1599 and was knighted at Dublin on 5th August, 1599. Notwithstanding the favour shown him by the Earl of Essex he is said to have been unfriendly behind the Earl's back. In the Frere MSS. is a note that on "Shroven Monday," 1601, six gentlemen were hanged for robbing Sir William " Cornwalleys." On May Day, 1604, King James I on his way to London on his accession to the throne visited Highgate, when he knighted Sir Basil Brook of Madeley, Salop. The royal guests were entertained by the performance of a masque written by Ben Jonson called The Penates, a private entertainment by Sir William Cornwallis of the King and Queen on the morning of May Day.
The first wife of Sir William Cornwallis was Lucy, one of the four daughters of John, Lord Latimer, by Lucy his wife, daughter of Henry, Earl of Worcester. She was buried at Brome, Norfolk, on 5th May, 1608. The estate was entailed on her four daughters: Frances, wife of Sir Edmund Withipole, Elizabeth, wife of Sir William Sandes, Cornelia, wife of Sir Richard Farmer, and Anne, wife of Archibald, 7th Earl of Argyll, the last named being married at St. Botolph's, Bishopsgate, on 30th November, 1610. On 14th March, 1610, the four daughters surrendered their rights to their father at his Brick House in Bishopsgate Without, London, between the hours of 8 and 9 p.m., and he then conveyed the estate to Thomas, Earl of Arundel, and Dame Alathea his wife. Sir William took for his second wife, Jane, daughter of Hercules Meautys, and she afterwards married Sir Nathaniel Bacon, son of Sir Nicholas Bacon, who was half-brother of Sir Francis. (fn. 72) He died at Bishopsgate on 13th November, 1611.
1610–32.
Thomas, 14th Earl of Arundel (1586–1646), was 24 years old when he became the owner of this house in Highgate. He was the only son of Philip Howard, Earl of Arundel, by his wife, Anne, coheiress of Dacre and Gillesland, and was born at Finchingfield in Essex on 7th July, 1586. His father died in the Tower on 19th October, 1595, attainted of treason. Thomas was then nearly 10 years old and he was carefully brought up by his mother, "a lady of great and eminent virtues," with his only sister, who died at the age of 16. By the attainder of his father he lost the family estates and titles, but was called Lord Maltravers by courtesy. On 18th April, 1604, King James restored him in blood and gave him his father's titles of Arundel and Surrey, but did not restore the estates. When 20 years old he married Alathea, third daughter and ultimately heiress of Gilbert Talbot, Earl of Shrewsbury (30th September, 1606) and, with the help of her fortune gradually bought back some of the family property, including Arundel House, London, for which he gave £4,000 in 1607. He went abroad for his health in 1609, travelling in the Low Countries, France and Italy, where he bought immense quantities of works of art. Horace Walpole called him the "Father of Vertu" in England, and his name is linked for all time with the Arundelean Marbles presented by his grandson to the University of Oxford. Like his wife, he was brought up a Roman Catholic, but on 25th December, 1615, was received into the English Church, to the great grief of his mother, who vainly tried to persuade him to return to the Romish faith. In 1616 (16th July) he was sworn a Privy Councillor. His circle of literary and artistic friends included Francis Bacon, Lord Verulam, two of whose visits to his house at Highgate are on record, the first made when Bacon was in the heyday of his prosperity; the second when he was ill and in disgrace and went there only to die.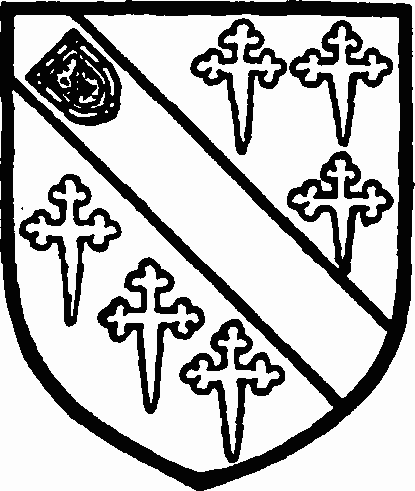 When Lord Arundel was away in Scotland with the King in 1617 Lady Arundel entertained Sir Francis Bacon, then Lord Keeper, with the two Lords Justices, the Master of the Rolls (Sir Julius Caesar) and others to a grand feast at Highgate. (fn. 73) "It was after the Italian manner, with four courses and four table cloths, one under another; and when the first course and table cloth were taken away the Master of the Rolls thinking all had been done, said grace (as his manner is when no divines are present) and was afterwards well laughed at for his labour." Seeing that he was the son of an Italian it seems curious that Sir Julius Caesar should not have been acquainted with "the Italian manner." He was a son-in-law of Sir Nicholas Bacon, the half-brother of Sir Francis, and a very remarkable man. In the course of a long life he married four times, his first wife, whom he married in 1578, being Dorcas, sister of Richard Martin, goldsmith (of Lauderdale House) who died at Muswell Hill in 1595, and his third wife was Anne, daughter of Sir Nicholas Bacon, widow of Sir Robert Drury. The chart pedigree (Appendix IV) illustrates the curious way in which the occupants of Lauderdale House and Arundel House were connected with each other and with Sir Julius Caesar (whose tomb is in the church of St. Helen's, Bishopsgate) (fn. 72) and with Francis Bacon. It may be remarked also that Bacon succeeded as Attorney-General Sir Henry Hobart, another owner of Lauderdale House. In 1621, when the House of Lords were considering the evidence against Viscount St. Albans for taking bribes whilst Lord Chancellor, Lord Arundel recommended that Bacon should not be summoned to the Bar of the House nor deprived of his peerage.
The story of Bacon's death is so well known that it requires no more than the briefest record here. He is alleged to have caught a chill while stuffing a dead fowl with snow to see whether it would not be thereby preserved from decay. Being too ill to go home to the Temple he stayed at Arundel House in Highgate, the Earl being absent from home. He was put into a bed duly warmed with a pan, but it was a damp bed, not having been used for a year, and he evidently developed pneumonia, of which he died in the arms of Sir Julius Caesar on 9th April, 1626, at the age of 65. On his death-bed Bacon sent the following letter to Lord Arundel, which shows that they were on intimate terms.
"My very good Lord,—I was likely to have had the fortune of Caius Plinius the elder, who lost his life by trying an experiment about the burning of Mount Vesuvius; for I was also desirous to try an experiment or two touching the conservation and induration of bodies. As for the experiment itself, it succeeded excellently well; but in the journey between London and Highgate, I was taken with such a fit of casting as I know not whether it were the Stone, or some surfeit or cold, or indeed a touch of them all three. But when I came to your Lordship's House, I was not able to go back, and therefore was forced to take up my lodging here, where your housekeeper is very careful and diligent about me, which I assure myself your Lordship will not only pardon towards him, but think the better of him for it. For indeed your Lordship's House was happy to me, and I kiss your noble hands for the welcome which I am sure you give me to it. I know how unfit it is for me to write with any other hand than mine own, but by my troth my fingers are so disjointed with sickness that I cannot steadily hold a pen." In communicating this letter to the Gentleman's Magazine in 1827, Mr. Basil Montague said he would be grateful if anyone could tell him the site of Lord Arundel's house. Some 85 years later Frank Marcham took the first step towards solving the problem by copying the relevant entry on the Court Roll of the Manor of Cantlowes, for 5th May, 1610, showing that the house was situated in the parish of St. Pancras, thus disproving the statement, first circulated by Frederick Prickett in 1842, that the house was on the Bank, in Hornsey. The only drawing so far discovered which bears the title of Arundel House is an engraving, formerly in the Gardner Collection, with a portrait of Lord Bacon inset below (Plate 36a). As already mentioned, however, in the architectural description above, the original house in its latest stage appears on two engravings, one of Ashurst House in 1710 (Plate 41) and the other of Messrs. Grignon & Hull's Academy, in the late 19th century (Plate 36b). These both show a long range, furnished with gables, which appears to have been the south front of the main part of the house towards Highgate Green. It is just possible that the Bacon view is really a representation of the elaborate Banqueting House, probably built by Lord Arundel, and which seems to have been converted into a residence by William Blake and ultimately became Ashurst House (q.v.). Plans of the house itself must surely exist somewhere, though so far it has not been possible to identify them. There is an interesting further field of research for students of Highgate history in looking not only for plans but also for the identity of the architect. The same suggestion applies to the adjoining Ashurst House and also to Lauderdale House.
1632–41.
In 1632 Thomas, Earl of Arundel, and Dame Alathea his wife conveyed this estate to Thomas Gardner of the Inner Temple and Rebecca his wife. He was the son of Michael Gardner, Rector of Greenford Magna, where he was baptised on 4th March, 1591. His mother was the daughter of Thomas Brown, a wealthy alderman of London, and his wife was a daughter of a merchant of London named Childe. In 1636 he was appointed Recorder of London, and a Governor of Highgate Grammar School on 6th May of the same year. Until the beginning of the Long Parliament he stood well with both King and Parliament, for he was admitted to the freedom of London by the Court of Aldermen on 6th October, 1640, and six weeks afterwards was knighted by the King. King Charles had intended him to be Speaker of the new House of Commons and Lord Clarendon describes him as being eminently qualified for the post, "he being a man of gravity and quickness, that had somewhat of authority and gracefulness in his person and presence," but he failed to secure a seat in the newly elected House of Commons. In 1641 he sold his Highgate property to Sir Robert Payne, who, like himself, was a royalist. Gardner was impeached in the House of Commons on 22nd March, 1642–3, for siding with the King, but the outbreak of the Civil War prevented further proceedings and he joined the King at Oxford before the end of the year and was discharged by the Court of Aldermen from his Recordership for absence from his post. Sir Thomas Gardner's two sons were killed in the war and he died at the age of 61 in 1652, being buried at Cuddesdon, in Oxfordshire.
1641–58.
Sir Robert Payne was the son of William Payne of Barton Stacey, Hampshire, and of Highgate, by Susan his wife, daughter of John May of Kent. (fn. 74) William Payne died on 9th October, 1628, when his son was 28 years of age. Robert Payne was appointed Sheriff of Hampshire in 1631 and was knighted on 4th August, 1632. The following entries concerning his family are contained in the Register of Highgate Chapel:
1644–5
March 5. Susanna, daughter of Sir Robert Pane baptised. Buried 20 December following.
1646
July 1. William, son of Sir Robert Pane, baptised. Buried 11 July, 1646.
1647
October 16. Mr. William, son of Sir Robert Pane and Lady Mary Pane, baptised.
1649
August 18. Mary, daughter of Sir Robert Pane, baptised. Buried 8 April 1653 (M.I.)
1652
June 26. Lady Mary Pane, wife of Sir Robert Paine of Highgate, buried.
1654
May 19. Robert, son of Sir Robert Pane, buried.
1654
August 9. Susanna, daughter of Sir Robert Pane, buried.
1658
September 16. Sir Robert Pane, knight, buried in the vault in the yard.
1659–60
March 1. Mrs. Susanna Payne buried in the vault.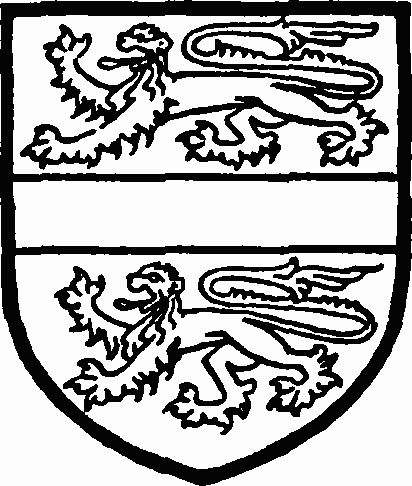 It will be seen that William Payne, the heir of Sir Robert, was aged 11 when his father died. His claim to be the lawful heir was challenged by one Robert Wayte, describing himself as "of Barton Stacy, gentleman," claiming that Sir Robert had married his mother, Patience Wayte, widow of Bartholomew Wayte, esquire, and stating that they had lived together as man and wife for 10 or 12 years. In the Bill of Complaint which he entered in Chancery (fn. 75) against Thomas Howe, esquire, on 29th June, 1660, he tells a most romantic story and was evidently a most unscrupulous liar. He alleged that Sir Robert made a will in his own hand dated 7th June, 1658, appointing him executor and therefore responsible for the maintenance of Sir Robert's mother, Susanna, and his son, William, and leaving £ 20 a year to Patience Wayte, etc., and he quoted verbatim a letter said to have been sent him by Sir Robert from the house of one Thoroughgood in Old Street, London, as follows: "Robert, I would have you send up my cows and horses by John Sneller as soon as you can, you had need send up the key of my house now, I may have my house robbed of my goods if you be not mighty careful. I would have you to sow what grounds you think fit. Pray Robert pay the poor men and the contribution; you need not write to me for money for I love you too well to wrong you, nay, I have found you to be true and careful in all my business, and you have let me have money at all times when I was at want; you have all my corn and other things at your command and whatsoever you do let or sell I will stand to, for I know I left you in debt when I came away, but let nothing trouble you therefore, if it please God to take me away before I come down into the country. I have laid a writing under my bed mat which you shall have, tied to the bed cords with a black ribbon; there is that which will give you satisfaction for all your love you have had of me, but I do charge you to keep this as safe as your life and let not your own wife know of it. I rest your dear and loving friend Robert Payne."
Wayte said he received this letter on a Saturday about the middle of June, 1658, and sent the cows and horses on the following Monday by John Sneller. He alleged that Sir Robert died in August, 1658 (which is incorrect), and that before his death he sent for Wayte and held his hand for half an hour and wept to him and said he had done his mother and him much wrong, but hoped God and they would forgive him. He gave a detailed account of finding the will afterwards, tied with a black ribbon, etc., exactly as in the letter. (There is no trace of his having proved it in the Prerogative Court of Canterbury.) Finally he stated that Sir Robert maintained him, declared he was his son and employed him in the management of his Hampshire estates.
Whatever the position of Robert Wayte, he does appear to have obtained possession of some at least of the Hampshire property, since Thomas Howe in his answer says he was endeavouring to get possession on behalf of the heir, William, and that Wayte had committed great waste and spoil there. Thomas Howe was the son of Thomas Howe of South Ockendon, Essex, esquire, and was admitted to Gray's Inn on 12th May, 1637. He was aged 26 in 1641. He married (22nd March, 1640–1) Sara, daughter of William Geere of All Hallows, Honey Lane, citizen and draper of London, and his wife's half-sister was Mary, the wife of Sir Robert Payne, and mother of the infant William. Thus he was uncle by marriage to the boy, and was appointed his guardian at the manor court held on 9th June, 1659, after the grandmother Susanna was dead. In his answer to Wayte he denied that Sir Robert Payne made a will and made the astonishing statement that Thoroughgood's house was in fact a prison, into which he (Sir Robert) had been committed for debt and "endeavoured to get out of the same with what speed he could," and after some months' imprisonment was permitted to go to his own house at Highgate hoping never to return to prison again. He pointed out that in these circumstances it is not probable that if he had made a will Sir Robert Payne would leave it behind him and never go to fetch it away, especially as he was often in London near the prison during the three months that elapsed between his coming out of prison and his death, which was about 8th or 9th September, 1658. (He was buried on 13th September.) (fn. 76) Howe also said that the keeper of the house "presently" (i.e. immediately) after the departure of Sir Robert turned out the room to air the curtain valance hangings, bedding and bed, and tightened the bed cord because it was loose, but no paper or writing was found. Sir Robert whilst in prison, and after coming out, declared his disaffection to the said Complainant and said he would go down to Hampshire to punish him for his "ill carriages and abuses to him." When his friends urged him to make his will he said it was time enough and he would do it hereafter. According to Mr. Howe, Sir Robert kept Wayte as a boy to run errands and for servile employment.
1658–70.
William Payne, esquire, son and heir of Sir Robert Payne. From a monumental inscription in Watford parish church, (fn. 77) it appears that William Payne, son of Sir Robert Payne, married Mary, daughter of Samuel Blackwell of Watford, and that she died on 27th July, 1669, aged 21. On 2nd August, 1669, he had licence to lease the Highgate property to his father-in-law, and in 1670 he conveyed the estate to Francis Blake of Highgate, esquire. It was then described as a capital messuage, etc., and two other messuages, etc., late in the occupation of William Payne and late of Samuel Blackwell, esquire, or his assigns, and formerly belonging to Thomas Gardner, esquire, Recorder of London, and Rebecca his wife. The Hearth Tax assessment for 1665 shows a house in the occupation of "Baron Turner" with 23 hearths. This was Christopher Turner, serjeant-at-law, son of Sir Christopher Turner of Milton Ernest, Beds., which gives us the name of an interim tenant, and was made third Baron of the Exchequer on 7th July, 1660. His father was knighted nine days later.
1670–91.
Francis Blake of Highgate, esquire. In 1674 the Hearth Tax shows, in place of Baron Turner's house, one of 10 hearths (reduced from 23 mentioned above), occupied by Mr. Johnson, and another of 11 hearths owned by Mr. Blake, but empty. Thomas Johnson, gentleman, occupied the house now represented by Old Hall, a portion of which, as we have already indicated, stands on part of the actual site of Arundel House, and the adjoining house, afterwards occupied by Elizabeth Cornish, must have formed a portion of the same structure, the explanation being that Arundel House was not at that time pulled down but simply divided into two houses. One of these was conveyed in 1674 by Francis Blake to Elizabeth Ashby and the other in 1691 to William Ashurst. There was also a third house on the estate, the Banqueting House (the site of St. Michael's Church), conveyed by Francis Blake in 1674 to Andrew Campion (see Section IX). Although these conveyances were made by the father, the houses were actually in the hands of his son, William Blake of Covent Garden, woollen draper.
A printed Almanack (fn. 78) published in 1655 mentions "the glorious invention of wind guns by E. Blake, the Governor of the new Hospital at Highgate." This was the Ladies' Hospital or Charity School (Plates 39 and 40) projected by William Blake for the education and maintenance of about forty fatherless boys and girls, to be supported by the voluntary subscriptions of ladies. The boys were to be taught the arts of painting, gardening, casting accounts and navigation, or to be put forth to some good handicraft trade and to wear a uniform of blue lined with yellow. The girls were to be taught to read, sew, starch, raise paste and dress, that they may be fit for any good service. Exactly what Blake achieved remains obscure, though he struggled for many years to establish this school, publishing a considerable amount of print as propaganda and finally landing himself in the Fleet as a prisoner for debt. From a print which he published entitled "A Delineation of the Ladyes Hospital at High-gate" (plate 39) it appears that his own residence, afterwards the residence of Sir William Ashurst (see p. 60), stood on the site of St. Michael's Church. Referring to this he says it was "first only a Sumer's Recess from London, which, having that great and noble City, with its numerous Childhood, under view gave the first thought to him of so great a Design: intended now for Lodgings for Retyrement for Such as by His Maties Favour might be Governors of the Hospitall." The School itself appears to have stood on the site of Old Hall. Dorchester House, on the opposite side of the Green, he acquired in 1682, intending it as a boarding house for the girls (see p. 90). That the Hospital was taken seriously by responsible people may be inferred from the bequest by John Bill of "Caine Wood" in his will dated 25th September, 1680, of £13 6s. 8d. "to be putt into the Register of the Ladyes Hospital founded by Master Blake at Highgate." (fn. 79)
1691–1724.
As stated above, Francis Blake conveyed the western portion of Arundel House to William Ashurst in 1691. It was then described as a capital messuage in the occupation of Benjamin Richards, gentleman (except a garret belonging to Elizabeth Cornish), and two closes containing 13 acres, whereof one close abutted on the wall late of Elisha Coish, east (Section VI) and west on the garden of Sir William Ashurst, south on a close of the Hon. Francis, Lord Holles (Section VII), and north on the green walk adjoining the orchard of Elizabeth Cornish; and the other close formerly containing 8 acres, then divided, and 5 acres converted to gardens and walks, extending to the wall of William Brown, citizen of London, on the north, formerly in the possession of William Blake, and the other 3 acres, remainder of the said 8 acres, now divided into two closes, abutting north on the last-mentioned garden, south on Traytors Hill, west on land of John Ives and east on Lord Holles' land; and a parcel of waste adjoining north against the king's way on Highgate Green. The date 1694 found on a rainwater pipe indicates the erection of the building now known as Old Hall by Ashurst. Four years later Sir William Ashurst entailed the estate on himself, Elizabeth, his wife, and their heirs (1698) and Lancelot Stepney, merchant, is given as occupier. Dame Elizabeth Ashurst died on 14th March, 1724.
The later owners and occupiers of Old Hall were:
1724–5.
William Pritchard Ashurst of Monken Hadley, son of Sir William Ashurst and Dame Elizabeth his wife. He conveyed it to Thomas Bayly, the tenant then being Brook Bridges, esquire.
1725–49.
Thomas Bayly of Highgate, gentleman, who was elected a Governor of the Grammar School in 1728 and died on 17th June, 1749.
1749–75.
Katherine, daughter of Thomas Bayly. Her second husband was George Langdale of Queen Square, St. George the Martyr, surgeon, she being Katherine Armitage, widow, before that marriage. At her death her husband sold the house to John Gorham, builder.
1775–1820.
In 1782 John Gorham had licence to lease the house for 21 years, the occupier then being William Newdick. Gorham devised it to his nephew, Ebenezer Maitland, who with Mary his wife in 1802 conveyed it to Benjamin Price, who occupied the house at least as early as 1795, as shown by the Land Tax assessments. He died at Cheltenham on 4th November, 1820.
1820–22.
Sarah, the daughter of Benjamin Price, wife of Sir John Maclean, bart. In 1820 and 1821 the house was empty. Sir John Maclean and Sarah his wife sold it in 1822 to Sir William Domville for £1,850.
1822–33.
Sir William Domville, baronet. He served the office of Lord Mayor of London 1813–4 and presided during his mayoralty at a banquet given by the Corporation to the Prince Regent and the Allied Sovereigns on 18th June, 1814. He was created a baronet on 28th July following. He died on 8th February, 1833.
1833–47.
Sir William Domville, baronet, son of Sir William. In 1837 he had licence to lease to Sir Robert Chester for 21 years.
1847–1911.
In 1847 Sir William Domville, baronet, then of Southfield Lodge, Eastbourne, and Dame Maria his wife, conveyed the house to the Rev. Thomas Henry Causton, M.A., who was rector of St. Botolph's, Aldersgate, from 1824–38 and vicar of St. Michael's Church, Highgate, from 25th June, 1838, until his death on 15th May, 1854. (fn. 47) He served as a Governor of the Grammar School from 1828. His first wife, the Hon. Frances Esther, was buried at Highgate on 17th June, 1840. On 7th April, 1842, Causton married Frances Louisa, eldest daughter of T. T. Tatham, esquire, of Highgate. Charles Causton, who succeeded, conveyed Old Hall to Andrew Wark, esquire, of Bartholomew Close in 1870. Alderman Cotton had occupied the house prior to that date. Mr. Wark died in 1883 and his widow, Margaret Cuthbertson Wark, on 10th April, 1911.