Pages 103-108
Survey of London: Volume 18, St Martin-in-The-Fields II: the Strand. Originally published by London County Council, London, 1937.
This free content was digitised by double rekeying and sponsored by English Heritage. All rights reserved.
CHAPTER 14: ADELPHI TERRACE (Demolished)
General Description.
Adelphi Terrace (originally known as Royal Terrace), which was demolished during 1936, comprised a block of 11 houses four storeys in height over double basements. Their exterior was originally faced with brick, with strings and main cornice executed in patent stone. The two corner and middle three houses had a series of pilasters ornamented in low relief in similar material. The main front was designed with the ground-floor stage treated as a podium upon which stood the pilasters embracing the first and second floors and an attic storey above the main cornice. The windows to the first storey had light iron balconies, which were discarded when the alterations to the front were carried out in 1872. Under the terrace roadway and overlooking the river were so-called cottages, one to each house.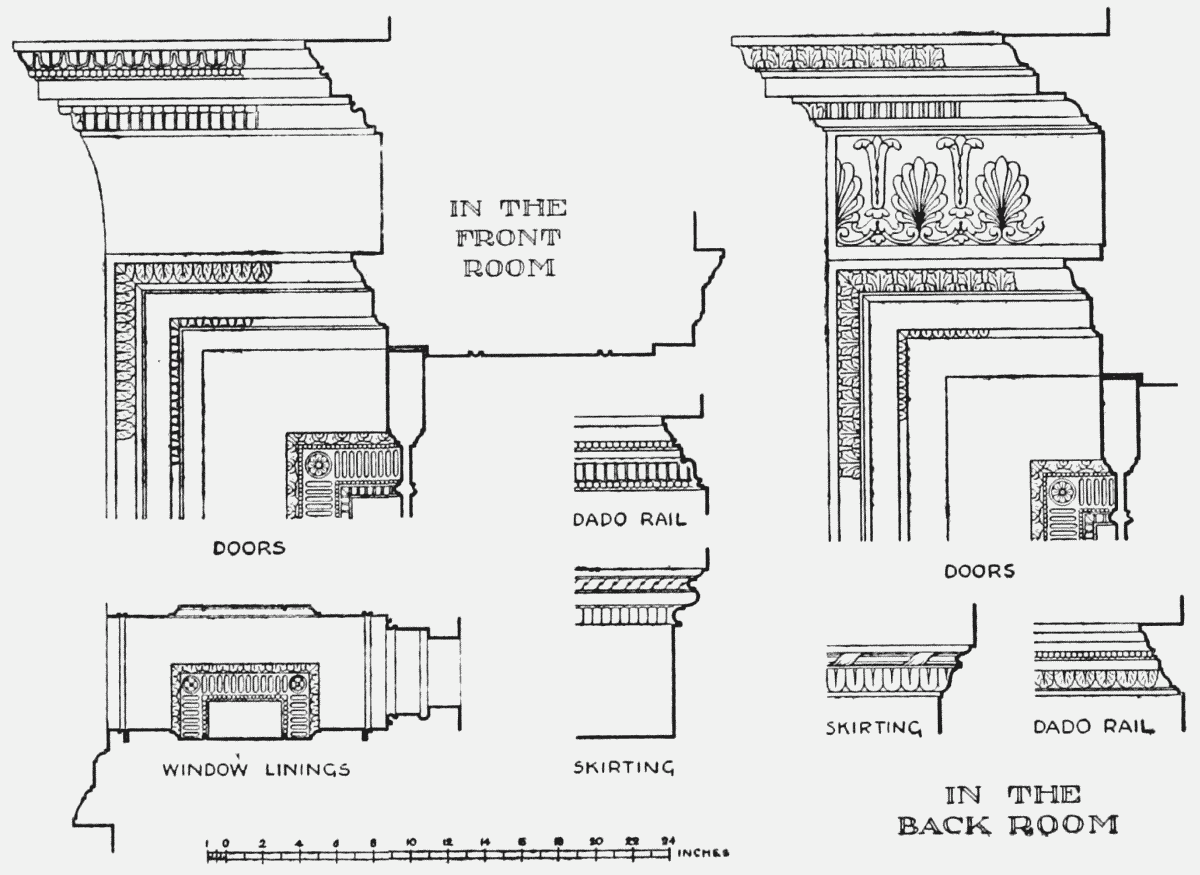 The houses in the terrace were, with the exception of the two corner houses, which were entered from the side streets, constructed on the same plan. The entrance passage leading to the hall had a groin-vaulted ceiling with the staircase beyond in stone and an iron balustrading. No. 5, the home of David Garrick, had a handsome bronze balustrading (Plate 76b). The end of the front room on the ground floor was divided from the main portion by Ionic columns and responds (Plate 75a). The principal rooms generally contained enriched cornices and friezes and ornamental ceilings set out with radiating centres in low relief stucco work, and in some cases with medallions containing classical subjects painted on paper by Zucchi, Angelica Kauffmann and other famous artists. The mantelpieces were carved in marble or wood. It has been found impossible to describe or illustrate all the features of decorative interest in the houses, and a selection has, therefore, been made for illustration in this volume from the large collection in the possession of the Council. Examples of some of the joinery details from No. 10 are given on the preceding pages.
Historical Notes. (fn. n1)
No. 1a.—This house, which until 1845 was numbered 20 in Adam Street, was, with No. 5, the first in the Terrace to be completed. (fn. n2) Dr. John Turton, the first occupant, was a fashionable physician who enjoyed the patronage of the royal family. His mother, the daughter of Gregory Hickman, was the lady to whom Dr. Johnson wrote the verses To Miss Hickman playing on the Spinet. (fn. 119) Dr. Turton acquired a considerable fortune through his practice, and during the last years of his life he bought and rebuilt Brasted Place, Kent, where he died on 14th April, 1806. (fn. 129) His wife, Mary, the daughter of Joseph Kitchingman of Balk Hall, near Thirsk, retained possession of the Adelphi house until 1809.
The Junior Garrick Club occupied this house in 1878–88 and from 1897 until its demolition in 1936 it was used by the Police Institute.
No. 1.—The second house west from Adam Street, which was valued for the lottery at £3,200, was leased to John Hart Cotton from Lady Day 1773 at a rent of £210 a year. In the first year of his residence the rate collector apparently confused him with Sir John Hind Cotton, baronet, a Cambridgeshire man. John Hart Cotton came from Warfield, Berkshire. He died unmarried in 1784. (fn. 309)
Sir John Mitford, who lived here in 1793–1801, was the author of several treatises and pamphlets on legal and political matters. He was knighted in February, 1793, two days after his appointment as Solicitor-General. He became Attorney-General in 1799, Speaker of the House of Commons in 1801, and Lord Chancellor of Ireland in 1802, when he was raised to the peerage with the title of Baron Redesdale. "His integrity was unimpeachable, his manners were stiff, and his sense of humour was deficient." (fn. 119)
Sir Edward Banks, who started life as a day labourer, was, at the time of his residence in Adelphi Terrace (1820–35), the chief partner in the firm of Jolliffe & Banks, contractors for the erection of Waterloo, Southwark and London bridges and for other public works. Having made his fortune from these contracts, Banks was knighted in 1822. He died at Tilgate, Sussex, on 5th July, 1835, and was buried at Chipstead. (fn. 119)
Thomas Allen, who occupied the house from 1857 until 1869, was the inventor of a light cable for submarine telegraph transmission which he patented in 1853, though it does not seem to have been widely used. (fn. 311) The United Kingdom Electric Telegraph Company had its offices at No. 1 during the early years of its existence. The house was occupied by the French Club in 1883–8 and the Arundel Club in 1883–1901.
No. 2.—None of the residents at this house seem to have been of outstanding importance. The National Cottage Hospital for Consumption was housed there in 1870–4, and from 1880 until 1907 the London Bible Mission and the Indian Female Normal School Society had their offices here.
No. 3.—Topham Beauclerk, a brilliant talker and a collector of books, lived at this house from 1772 until 1776. He owes his fame mainly to the fact that he was a friend of Dr. Johnson and a prominent figure in Boswell's Life. His wife, Lady Diana Beauclerk, the eldest daughter of Charles Spencer, 2nd Duke of Marlborough, in addition to being a charming conversationalist, was an amateur artist with abilities above the average. In 1775 Beauclerk fell ill and his life was thought to be in danger, but thanks to Lady Di's assiduous nursing, he recovered, and a month or so later entertained Garrick and Boswell to supper. The former, being pleased with the report that Dr. Johnson had praised his prologues, proceeded to take up one of the doctor's favourite topics, the nationality of the Scotch. "Come, come, don't deny it: they are really national. Why, now, the Adams are as liberal-minded men as any in the world, but, I don't know how it is, all their workmen are Scotch." (fn. 312)
No. 3 was the town residence of William, 1st Baron Weir, from 1919 to 1936.
No. 4.—The fifth house west from Adam Street was, in the words of the lottery prospectus, "let on lease to Messrs. Robert and James Adam … from Ladyday 1773 … at 230l. per Annum with valuable Fixtures." (fn. 307) In all their work together, and James seems to have done little of any worth apart from his brother, Robert supplied the ideas and the initiative and James acted as his aide-de-camp, reducing his rough sketches to neat working drawings and helping with the practical realisation of his schemes. During the time in which they lived in Adelphi Terrace Robert and James Adam published the first two volumes of their Works in Architecture in folio parts. In 1778 they removed to No. 3, Robert Street (see p. 110), and the quack doctor, James Graham, took possession of No. 4 on the Terrace. In a pamphlet published in 1780 he described his "Temple of Health" as "situated in the centre of that noble pile of buildings called the Royal Terrace, Adelphi … [it is] light, airy, healthful and retired … commanding as beautiful a prospect as can be conceived or anywhere seen… The stately and highly ornamented pilasters, which run up in the front distinguishing this and the other two centre houses, give my house a temple-like appearance." The hall, after the fashion of certain places of pilgrimage at the present day, was hung with "walking sticks, ear trumpets, visual glasses, crutches, etc., left, and here placed as most honourable trophies, by deaf, weak, paralytic and emaciated persons, cripples, etc., who being cured had no longer need of such assistance." (fn. 313) Graham possessed the showman's art in high degree; a small amount of elementary electrical apparatus was displayed to the fullest advantage by metallic globes, a flying dragon, "its eyes ablaze with electrical fire," and a bench "firmly insulated with green glass," while Room III contained "a curious machine" brought from America "for throwing by the force of electricity, æthereal essences, vivifying air, and the magnetic effluvium through the whole body or into any particular part of it." In actual fact he seems to have relied for his cures on faith, fresh air and plain diet. One of the chief attractions of his establishment was his "celestial bed" for the use of which he charged £100. In 1781 he is said to have exhibited Emma Lyon, afterwards Lady Hamilton, as the Goddess of Health. The Adelphi house proved too expensive for Graham, and in the spring of 1781 he was forced to move to Schomberg House, Pall Mall, and in the following year his goods were sold to pay his debts.
John Henderson, who had previously lived at No. 3, on the Terrace, occupied No. 4 from 1790 until 1797. He was an amateur artist of some merit and an early patron of Thomas Girtin and J. M. W. Turner, who were probably introduced to him by Dr. Monro, the occupant of No. 8. (fn. 314) John Henderson, junior, who bequeathed his valuable collection of water-colour drawings to the British Museum, was born at No. 4 in 1797. (fn. 119)
Brook (afterwards Sir Brook) Watson, having been left an orphan at an early age, went to sea. When he was only 14 years old a shark removed his leg, but though he was forced to give up the sea, he served as a commissary to the army in Canada. In 1759 he settled in London as a merchant and made a considerable fortune. In 1798, the year in which he moved to Adelphi Terrace, he was appointed commissary-general to the forces in Great Britain, and he was made a baronet in December, 1803. He died at East Sheen on 2nd October, 1807. He was described by Lord Liverpool as "one of the most honourable men ever known." (fn. 119)
Sir William Bolland, who was knighted in 1830, occupied this house from 1811 until 1835. Though he was by profession a successful lawyer his hobby was the study of early English literature, and it was at a dinner party held at his house on the 16th June, 1812, that a few "enthusiastic and resolute Bibliomaniacs" founded the Roxburghe Club. (fn. 315)
The Royal Literary Fund and its secretary, Octavian Blewitt, were accommodated at No. 4 from 1861 to 1872. Blewitt, though trained as a surgeon, held the secretaryship of the Fund from 1839 until his death in 1884, and he did much to increase the scope of the institution and to put its finances on a firm basis.
Richard D'Oyly Carte, who occupied No. 4 from 1888 until 1901, was perhaps the best known of its residents. He had the house redecorated in flamboyant fashion, gilding and colouring the carvings and ceiling mouldings in the principal rooms, thus completely transforming their previous sober appearance in accordance with his theatrical tastes. He was the son of Richard Carte, a partner in the firm of Rudall, Carte & Co., army musical instrument makers, and after serving an apprenticeship in his father's firm he set up for himself as a concert agent in Craig's Court in 1870. In 1875 he produced Gilbert and Sullivan's Trial by Jury, which was such a success that he formed a small syndicate to rent the Opera Comique Theatre for the presentation of other light operas by the same author and composer. Afterwards D'Oyly Carte, Gilbert and Sullivan went into partnership. The Savoy Theatre, the first public building in the world to be lighted by electricity, was opened on 10th October, 1881, with Patience. Among his other achievements D'Oyly Carte was responsible for the introduction of the theatre queue into England. (fn. 119)
No. 5.—On 29th April, 1772, when Dr. Burney and his daughter, Fanny, were out on a round of visits, they called, by invitation, "at Mr. Garrick's and saw his new house in the Adelphi buildings," where Mrs. Garrick received them with "a politeness and sweetness of manners inseparable from her." (fn. 316) Garrick was a friend of the Adams and he supported their venture by taking a lease of the centre house on the terrace before it was completed, he and Dr. Turton (at No. 1a) being the earliest residents there. During the last four years of his professional life Garrick was acting at Drury Lane with undiminished brilliance. He made his last appearance on the stage in June 1776. His house in the Adelphi became a social centre for the wits and savants of the day, and contemporary memoirs and letters teem with references to the gatherings held there. "No wonder, Sir," said Dr. Johnson, "that he is vain; a man who is perpetually flattered in every mode that can be conceived. So many bellows have blown the fire, that one wonders he is not by this time become a cinder." Dr. Johnson was a frequent visitor at No. 5, and although he often made sly gibes at Garrick he would never allow anyone else to abuse him. Garrick used occasionally to take off the worthy doctor's provincial accent, "squeezing a lemon into a punch-bowl, with uncouth gesticulations, looking round the company, and calling out, 'Who's for Poonsh?' " (fn. 312)
In 1776 and many subsequent years Hannah More lodged at the Garricks' home during her visits to town. She seems to have had her own rooms at the top of the house where she sometimes entertained, but to have joined the Garricks' party on any festive occasion. On one "great evening" Hannah informed her family that "Lord and Lady Camden, their daughters, Lady Chatham and daughters, Lord Dudley, Mr. Rigby, Mrs. Montagu, the Dean of Derry and his lady, Sir Joshua [Reynolds] and his sister, Colman, Berenger" and others were all present. Lord Camden, she thought, looked like an elderly physician though there was "something of genius about his nose." (fn. 317) On another evening Miss More herself entertained Mrs. Boscawen, Mr. and Mrs. Garrick, Miss Reynolds, Dr. Johnson and Dean Tucker. Dr. Johnson kept the party at the tea-table for an hour and a half, but the company were not bored, for "they all stayed till near eleven." (fn. 317)
On 20th January, 1779, David Garrick died at his Adelphi house. He was buried in Westminster Abbey with exceptional honours. Crowds thronged the streets, and the route to the Abbey was blocked with carriages. Mrs. Garrick lived on at No. 5 for another 43 years. She ceased after a time to enjoy much society, though Hannah More, who herself became increasingly strait-laced with advancing years, continued to visit her when she was in London. Mrs. Garrick died "seated in her armchair in the front drawing-room of her house" in October, 1822, and was buried beside her husband. (fn. 318)
None of the later occupants of the house was of outstanding importance. For many years part of it was used as the headquarters of the Institution of Naval Architects. Miss Lillah McCarthy had rooms here from 1919 until 1922.
No. 6.—The third of the centre houses in the terrace, valued for the lottery at £3,700, seems to have been the last to be let. In 1836–40 it was used as an office by the Colonisation Commissioners for Southern Australia, to whom Rowland Hill was secretary. It was while holding this appointment that Hill in his out-of-office hours planned his scheme of penny postage. (fn. 119) From 1841–5 the house was occupied by the Census Commission, and thereafter successively by the Metropolitan Public Carriage Office, the Metropolitan Buildings Office, the Cambridge University Commission, the Agents-General for Crown Colonies, the Chancery Funds Commission, and the Sea Fisheries Commission. The house was used by the Savage Club from 1890 until March, 1936 (see Plates 85 and 86).
No. 7.—Sir Thomas Mills, who is the first person named in the ratebooks as resident at this house, was knighted in 1772. He had been town major of Quebec. He was one of Garrick's many friends and was present at his funeral.
John Cator, who moved into No. 7 in 1782, had a country seat at Beckenham, Kent, where Bozzy and Johnson sometimes found "a cordial solace." (fn. 312) He died in Adelphi Terrace on 21st February, 1806.
Joseph Chitty, barrister, lived at No. 7 for a short time in 1811. Though he himself was never in the front rank of his profession he trained many eminent lawyers and issued a large number of standard legal works. His four sons, Joseph, Thomas, Edward and Tompson, all followed in their father's footsteps. (fn. 119)
The musician, William Hawes, moved from No. 27, Craven Street, to No. 7, Adelphi Terrace, in 1817. During his residence at the latter house he composed and published a number of songs, and he assisted in the production of several operas at the Lyceum and Drury Lane theatres. He died in Adelphi Terrace on 18th February, 1846. (fn. 119) His daughter, Maria Billington Hawes, was a well-known singer.
The Royal Literary Fund and the Society of Schoolmasters had their offices at this house in 1880–90. Thereafter it was annexed to No. 6 as part of the Savage Club.
No. 8.—This house, valued at £3,600 for the lottery, was not occupied until 1776. The first tenant, Sir Edward Dering, baronet, of Surrenden, Kent, and M.P. for New Romney, remained there only for a year.
Archibald (afterwards Sir Archibald) Macdonald, judge, was made a King's Counsel in 1778, the year in which he moved to Adelphi Terrace. He was appointed Solicitor-General in 1784 and Attorney-General in 1788. In 1792 he prosecuted Thomas Paine for publishing the Rights of Man. He was a Member of Parliament from 1777 until 1793, when he was appointed Lord Chief Baron of the Exchequer. Macdonald owed his successful career mainly to his marriage with Lady Louisa Leveson-Gower, the eldest daughter of Granville, 2nd Earl Gower, afterwards Marquess of Stafford, for he was not outstanding either as a lawyer or a speaker. He was, however, a great favourite in society, and earned "the nickname of the Arabian knight for having a thousand and one tales." (fn. 119)
Dr. Thomas Monro, who lived here from 1794 until 1820, became a fellow of the College of Physicians in 1791. He succeeded his father as physician to Bridewell and Bethlehem Hospital in the following year, a post which he retained until 1816, when he in turn was succeeded by his son, Dr. Edward Thomas Monro. Beside being a distinguished physician, Thomas Monro was a good amateur artist, and he used his leisure in training young artists in the painting of landscape in water colour. A number of young men, including Turner and Girtin, used his house in Adelphi Terrace as a studio on winter evenings. The "good Doctor," as Turner always called him in after life, "was in the habit of giving them half-a-crown each for their night's drawing, and a supper afterwards." (fn. 314) His large collection of water-colours, which was sold at Christie's after his death in 1833, contained a number of early drawings by Turner.
Arthur (afterwards Sir Arthur) William Blomfield, architect, had offices on the first floor of No. 8 from 1864 until 1868, having moved thither from No. 8, St. Martin's Place. He had not at this time established his reputation (he was not elected a Fellow of the Royal Institute of British Architects until 1867), but he had a considerable practice. It was in his office that Thomas Hardy learnt the architectural vocabulary which he afterwards made use of in drawing the character of George Somerset in The Laodicean. To a correspondent Hardy wrote some years later: "I sat there drawing, inside the easternmost window of the front room on the first floor occasionally varying the experience by idling on the balcony. I saw from there the embankment and Charing Cross Bridge built, and of course, used to think of Garrick and Johnson. The rooms contained fine Adam mantelpieces in white marble on which we used to sketch caricatures in pencil." (fn. 319) The groundfloor rooms were at this time occupied by the Reform League, whose members were greatly tormented by Blomfield's "Tory and Churchy" pupils. (fn. 319)
During the last sixty years of its existence the house was mainly used for club or office premises, but in 1919 part of it was for a short time the London home of E. Temple Thurston, the novelist and playwright, best known, perhaps, as the author of The City of Beautiful Nonsense. The British Drama League had its offices here from 1926 until the demolition of the house in 1936.
No. 9.—Although Sir John Skinner is the first resident to be mentioned in the ratebooks the house was occupied at least three years before his advent, for in 1775 John Robinson dated a letter thence. (fn. 320) Robinson was at this time Secretary of the Treasury and the chief agent for bestowing ministerial bribes. Sheridan, when attacking government corruption in Parliament, in response to shouts of "name, name," looked at the Treasury bench and replied, "Yes, I could name him as soon as I could say Jack Robinson." But though Robinson corrupted others, he was himself incorrupt, and he died in 1802 a comparatively poor man. (fn. 119)
It was in 1791 that Francis Plowden wrote from Adelphi Terrace to Lord Kenyon concerning his proposed "revision and compression of the statutes," (fn. 321) for which Oxford University conferred on him the honorary degree of D.C.L. two years later.
Sir John William Anderson was Lord Mayor of London in 1797–8, when he moved to No. 9 on the terrace.
From 1860 onward the house was mainly used for the offices of various societies and institutes, among which were the Royal Statistical Society in 1885, the Institute of Chemistry in 1885–93, and the Royal Literary Fund in 1890–1. Charles Booth, who had been president of the Royal Statistical Society in 1892–4, occupied part of the house in 1894–1901, while he was compiling his Life and Labour, one of the earliest attempts to make a scientific investigation into the working and depressed classes of London. The passing of the Old Age Pensions Act, in 1908, was largely due to his influence.
No. 10.—The first occupant of the most westerly house on the terrace was Thomas, 3rd Earl of Effingham, Deputy Earl-Marshal of England. He was Governor-General of Jamaica at the time of his death in 1791. (fn. 290)
Richard (afterwards Sir Richard) Colt Hoare lived in this house for the two years of his married life. As a young man he had worked in the family banking house, No. 37, Fleet Street, but having become independent through an allowance from his grandfather, he devoted himself to the study of antiquities, producing in later life a voluminous History of Wiltshire. His wife, Hester, daughter of William Henry Lyttelton, afterwards Lord Lyttelton, died in August, 1785, and Hoare gave up his London home in order to assuage his grief by continental travel.
In 1820–1 the house was occupied by Henry Nugent Bell, a professional genealogist, who had won fame by his successful advocacy of the claim of Mr. Hans Francis Hastings to the long dormant Earldom of Huntingdon. As frequently happens with genealogists his imagination was sometimes too active for accuracy. He died on 18th October, 1822, on the day on which a verdict was given against him in an action for debt brought by Cooke, the engraver. (fn. 119)
During the second half of the nineteenth century the house accommodated various clubs, the best known being perhaps the Crichton Club which was there in 1891–6, but in 1897 a lease of it was taken by "Miss Payne Townshend, afterwards Mrs. Bernard Shaw, and she and her famous husband lived there" (fn. 322) until 1927. The London School of Economics and Political Science, which had begun life in John Street in 1895 (see p. 113), was moved here in 1897 and remained until 1900, when, having been admitted as a school of London University, it removed to a new and more adequate building in Clare Market.