Pages 120-123
Survey of London: Volume 18, St Martin-in-The-Fields II: the Strand. Originally published by London County Council, London, 1937.
This free content was digitised by double rekeying and sponsored by English Heritage. All rights reserved.
CHAPTER 18: SALISBURY HOUSE
Prior to the Reformation another episcopal mansion, that of the Bishop of Carlisle, occupied the site west of Durham Place on the opposite side of Ivy Lane. Early in the fifteenth century the Bishop granted out the Strand and Ivy Lane frontages to the Prior of Carlisle, and shops and small houses were built there which became known as Carlisle Rents. In 1539 an exchange took place by which Carlisle Inn passed into the possession of John Russell, afterwards Earl of Bedford. (fn. n1) Francis, the 2nd Earl of Bedford, who died in 1585 at Russell Place (sometimes called Bedford House), left that house to his twin grand-daughters, Anne and Elizabeth, and his stables and ground on the north side of the Strand to his grandson, Edward Russell, (fn. 325) who became the 3rd Earl of Bedford, and who built the second Bedford House there "over against the olde." (fn. 301) The old house was renamed Worcester House, for it became vested in Anne Russell, who married Henry Somerset, Lord Herbert, afterwards 1st Marquess of Worcester. (fn. n2) In the reign of Henry VIII Thomas, Lord Dacre, built himself a house in Carlisle Rents and in 1527 his successor, William, 3rd Lord Dacre, obtained a lease thereof from the Bishop of Carlisle. (fn. 288)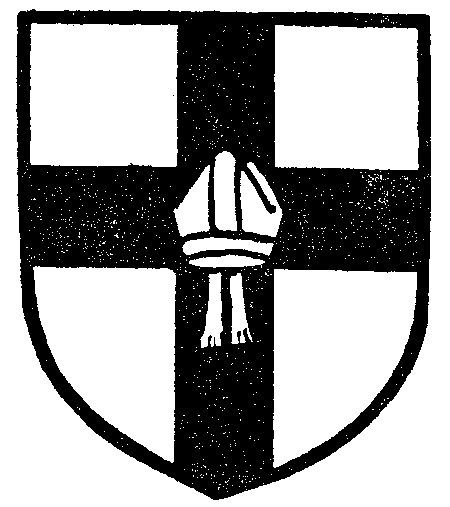 Elizabeth, granddaughter of the 3rd Lord Dacre, married Lord William Howard, who rebuilt this house and used it as his London residence. (fn. 327) In 1598 it was occupied by Sir Thomas Cecil, Lord Burghley, who afterwards leased it to Thomas Sackville, Lord Buckhurst (afterwards Earl of Dorset). In 1599 Sir Robert Cecil, afterwards Earl of Salisbury, bought the house (fn. n3) from Lord Herbert, together with the tenements on the north-west corner of Ivy Lane, (fn. 327) and proceeded to pull them down and erect a new house on the site. The ground proved too restricted for his plans, and he therefore purchased Durham Rents on the west side of the lane from William Fortescue, (fn. 328) (fn. n4) and all that part of Durham House garden which lay to the south of the Rents from the King, who had obtained a surrender thereof from Toby Matthew, Bishop of Durham. (fn. 329) (fn. n5) He also enclosed a strip of ground four feet in width along the Strand front of his new house, and closed up Ivy Lane, which was "verie narrow, foule, and solitarie," and built a new lane farther west, broader and "more commodious" than the old, with a footpath fenced off from the horse-way with "faire and stronge Timber Railes and Postes." For this he afterwards obtained sanction by Act of Parliament. (fn. n6) (fn. 330)
Simon Basil, Surveyor of the Works, superintended the building of Salisbury House, the main part of which was finished by the end of 1602, for in December of that year the Queen was "verry royally entertained" there and was "marvelous well contented" with her reception, though "at hir departure shee strayned hir foote." (fn. 332) Building operations, probably mostly in connection with Little Salisbury House, which occupied part of the ground bought by the Earl on the west of the original site of Ivy Lane, were going on until 1610. (fn. 333) Thomas (afterwards Sir Thomas) Wilson, who was in the Earl's employment and in residence at Salisbury House, complained that the labourers crept "about their business like snails." (fn. 201) There seems to have been some difficulty in getting building materials, and stone was brought from such diverse places as Berwick, Oxford and Canterbury. (fn. n7) Little Salisbury House was let to various tenants. William Cavendish, 3rd Earl of Devonshire, who married Elizabeth, daughter of the 2nd Earl of Salisbury, occupied it for a time and made a home there for his former tutor, the philosopher, Thomas Hobbes. Aubrey relates in his Life of Hobbes that when, two or three days after his restoration, Charles II "was passing Salisbury House in his coach, he saw Mr. Hobbes, who was then living there with his patron. The King called Hobbes to come to him, offered him his hand to kiss and enquired after his health and welfare." (fn. n8) A view of the river front of Salisbury House by Hollar is given in Plate 2c.
In 1672 James, 3rd Earl of Salisbury, obtained permission by patent to build on his ground west of Great Salisbury House. (fn. 334) A copy of Sir Christopher Wren's plan of the ground dealt with in this patent is given here, the area to be newly built on being indicated by the thick line. Accordingly, in Strype's words, Little Salisbury House "was pulled down and made into a Street called Salisbury-street; which being too narrow, and, withal, the Descent to the Thames too uneasy, it was not so well inhabited as was expected. Another Part, viz., that next to Great Salisbury-house and over the long Gallery, was converted into an Exchange, and called the Middle Exchange, (fn. n9) which consisted of a very long and large Room, with Shops on both Sides, which, from the Strand, run as far as the Water side, where was a handsome Pair of Stairs to go down to the Water side to take Boat at; but it had the bad Luck to have the Nick-name given it of the Whores-nest; Whereby few or no People took Shops there, and those that did, were soon weary and left them: Insomuch that it lay useless, except three or four Shops towards the Strand."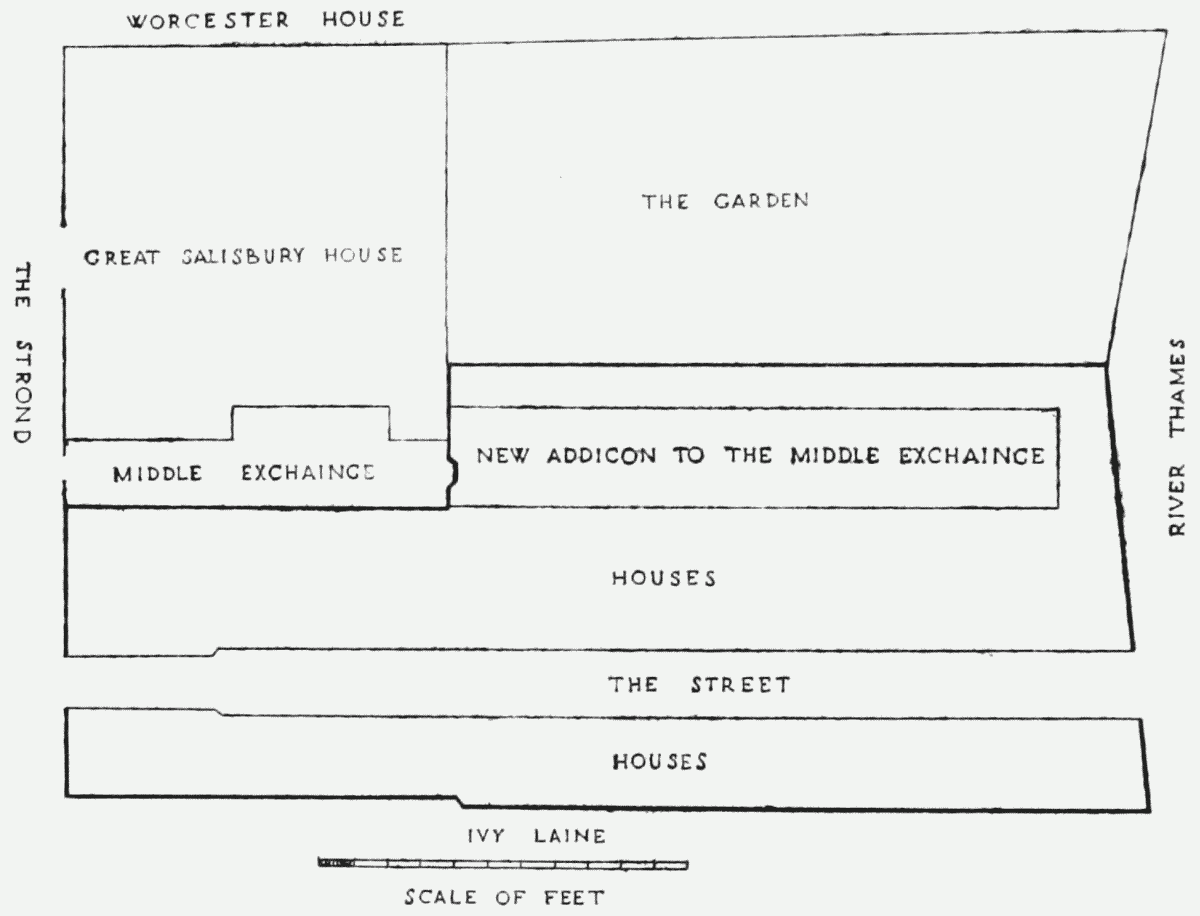 By 1690 most of the large houses along the south side of the Strand had disappeared, and James, 4th Earl of Salisbury, decided to pull down Great Salisbury House and put up shops and houses on the site. The enabling Act (fn. 335) did not, however, become law until after his death in 1694, when the guardians of his infant son carried out his intentions, and Cecil Street, "having very good houses fit for persons of repute," was built.
Salisbury Street was rebuilt in 1783, the architect being James Paine. (fn. n10) The general street façade was treated as a comprehensive architectural composition in brick. The middle blocks were carried up a storey above the general height of the houses and their fronts were slightly advanced, forming thereby a central feature. The houses at the southern end were also similarly carried up and their fronts treated in a more decorative manner (Plate 110a). A plan is here reproduced which indicates the general lay-out of the street.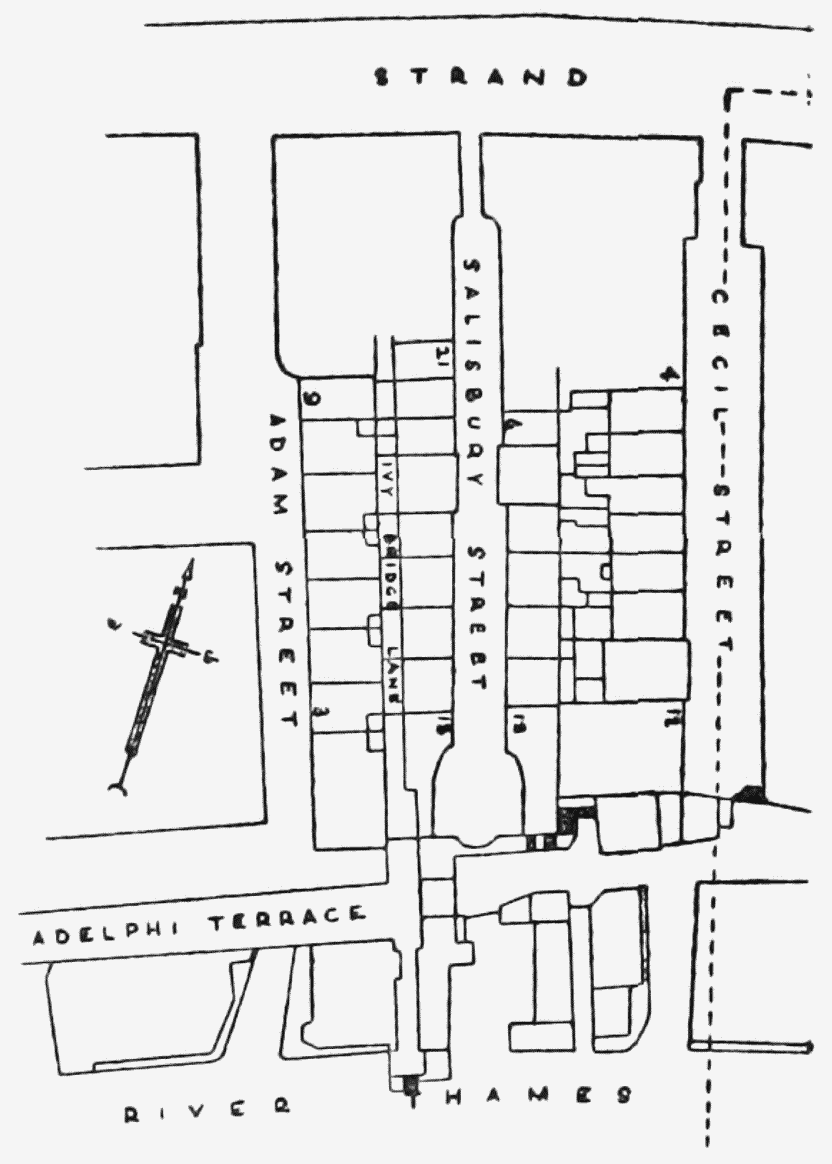 The whole of the Salisbury estate in the Strand was sold in 1888. Shell-Mex House now occupies the greater part of the site.