Pages 63-69
Survey of London: Volume 19, the Parish of St Pancras Part 2: Old St Pancras and Kentish Town. Originally published by London County Council, London, 1938.
This free content was digitised by double rekeying and sponsored by English Heritage. All rights reserved.
XXVI—GROVE TERRACE
The houses were originally copyhold of the Manor of Cantelowes but except in two or three cases have now been enfranchised and are in individual ownerships.
Architectural Description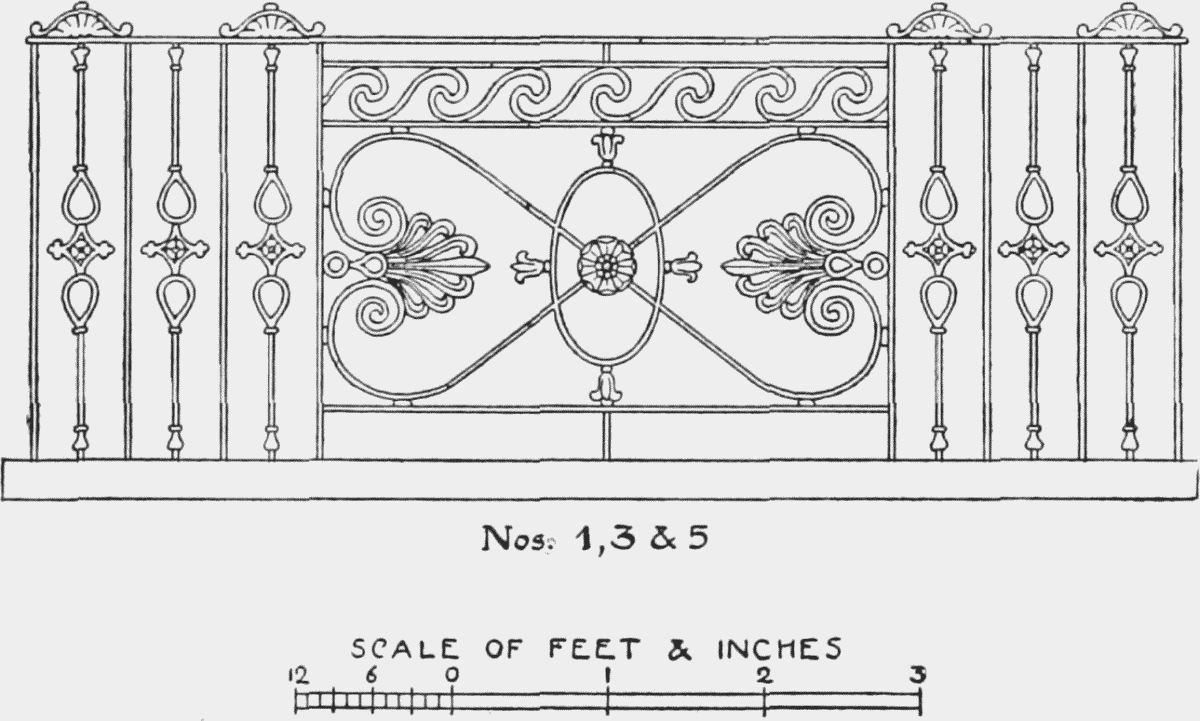 The terrace is composed of a block of 22 houses (Nos. 6 to 27) with a smaller block (Nos. 1 to 5) of later date separated by a service roadway. The main (or earlier) group is composed of houses of three storeys (also in two groups), with one of loftier proportions in the centre of the larger group. The houses to the north of this central feature were the first to be erected and are stepped upwards in sympathy with the rise in the ground. The material of the walls is stock brickwork with brick bands above the ground and second floor windows. The chief feature of each house is its entrance doorway which has a semi-circular headed opening flanked in the majority of cases by threequarter columns of Doric character, with a simple fanlight over the door. The columns in some instances carry horizontal entablatures and in others have pediments which are occasionally steeply pitched (Plate 13a). The reveals to the doorways are panelled with the mouldings of the door cases enriched. There is a good wrought-iron support for a lamp in front of No. 27 and of a number of others, notably in the later houses (Nos. 13 to 6). In the case of Nos. 21 and 22 which flank the northern outlet of the service roadway the ground floor surface is rusticated in stucco and the arched doorways are placed in lateral porches projecting north and south. That to No. 21 has no flanking columns. A lateral porch with doorcase also occurs to No. 6 which adjoins the southern service roadway. (fn. n1) The centre house of the principal group is numbered 14. Its windows are much loftier than those of its neighbours. It has a plain-arched doorway and a balcony with wroughtiron balustrade to the first floor windows. Balconies of great variety occur elsewhere, that to No. 21 being roofed.
The houses were erected at three different periods in the district marked as "Green Street" on Rocque's map of 1746, and on the eastern side of the main road leading from Kentish Town to Highgate. The northern end of the row is indicated on J. F. King's drawing but it is strange that only 3 or 4 houses appear and that they are enveloped with scaffolding. King may have remembered them like this when he was a boy. His story (see page 36) indicates that they were commenced between 1783 and 86. Actually the rate-books preserved in the St. Pancras Public Library reveal that seven houses were already occupied in 1780. In 1782 they are headed "Cheeke's Row," after the builder John Cheeke who was living at No. 24 between 1793 and 1800 and probably earlier but the entries are lacking.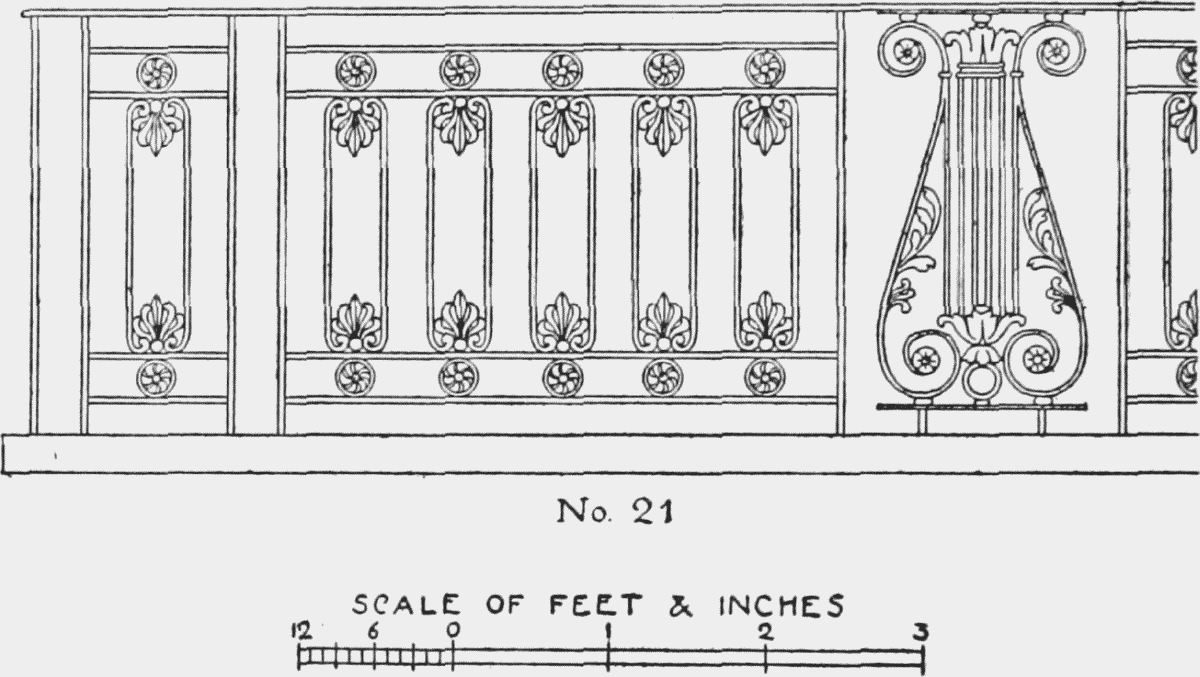 By the end of 1780, nine houses were occupied while in 1782 there were eleven. A gap of ten years then occurs but in 1793 we find thirteen occupied houses and nine empty ones. These were numbered 6 to 14 which J. F. King says were completed by Cheeke's son-in-law Richard Cook whose father (presumably) appears at No. 14 from 1797 to 1811. In Aldenham Church, Herts, is an immense slab to "Richard Cooke of the Terrace, Kentish Town", who died in 1829. It should be mentioned that Ann Chawner residing at No. 15 in 1793 paid rates for two houses and that there is to-day an arched opening (blocked) between 15 and 14. Richard Cook senr. was no doubt the first occupier of the latter house. The rate-book entries are summarised below, but reference should be made to the fact that to begin with the numbers ran in the reverse direction to that of to-day. That is to say that No. 27 was then No. 1.
The houses generally are built on a similar plan except in the case of Nos. 14 and 27 which will be separately described, while Nos. 21 and 22 on either side of the service road are larger and have three windows on the front instead of only two in addition to the extra space afforded by the lateral porches already described. As a general rule therefore the front door opens on a narrow passage which leads into a staircase hall at the rear with the principal sitting-room in the front and a smaller one at the back. The houses have wooden staircases generally panelled and with plain square balusters of very small section, except in the cases of No. 14 and the second stair at No. 27. No. 15 has been chosen for record as being representative.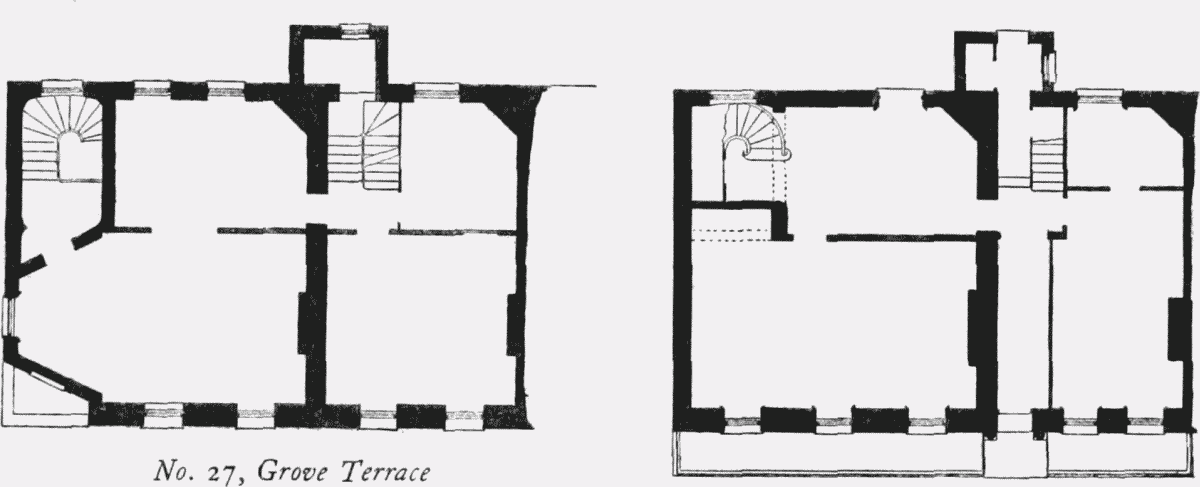 No. 27 is a double-fronted house built in all probability to a plan of its own to suit some special requirements. It was also probably altered again a few years later, perhaps about 1793, a date suggested by the similarity between its second staircase and that at No. 14. A study of the plan just above, shows that, as in the case of the other houses, the front door opens into a passage leading into the earlier staircase hall with access on the left to the back room of the adjoining house, which has been converted into a second hall with a staircase projecting to the north and leading to the first floor only. This stair is circular in plan and has a charming balustrade of open ironwork design (Plate 14). The north front sitting-room is entered from this second hall which also gives access to the garden. On the floor above the front room is shaped by the canting of the opposite walls at its northern end. Through a door in one of these canted walls access is gained to the room from the circular stair. The back room on this floor is approached from the earlier staircase but there is communication between the two rooms. On the 2nd floor access to both houses is from the earlier staircase only. The front elevation externally shows two blank windows in the canted wall which is extended to the second floor.
The internal details are very simple and small in scale but are beautifully designed. The entrance passage has moulded panelling but that of the staircase is plain and the internal doors are all six-panelled. The plaster cornices are composed of a number of small moulded members with modillions which appear to give place to a variety of enrichments in the houses at the southern end of the terrace. There are many examples of fireplaces, both grates and surrounds, some of which are illustrated here, notably at No. 27 (Plate 13), at No. 15 (Plate 17a and 17b), at No. 14 (Plate 14a and 14b), and at No. 12 (Plate 20).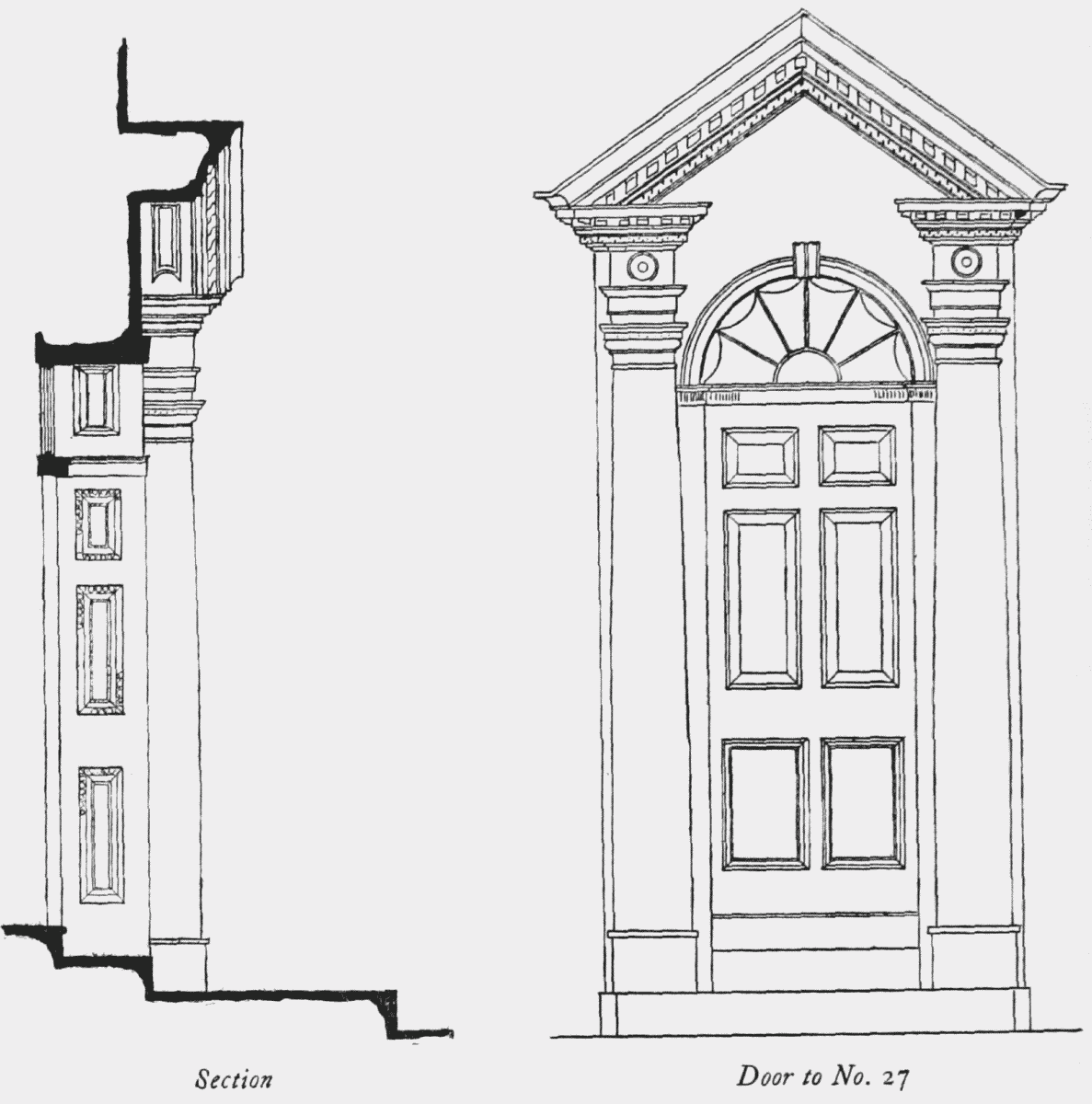 No. 14 has also an individual plan and is a much more important structure than the rest. As has been mentioned above it seems to have been in its early days in the ownership or occupation of Ann Chawner who paid rates on two houses. The house has a basement, ground, first and second floors now sub-divided into flats. The front-door communicates with the entrance hall from which a stair of Portland Stone (Plate 19) with openwork iron balustrades of delicate design with intermediate enrichments of lead and zinc leads to the first-floor. On the left a door opens into the front room and one almost opposite the entrance, into a room now sub-divided but which extends the full width of the site with three French windows opening onto a terrace with ironwork balustrading overlooking the garden. On the basement and ground floor the back wall is set out on a curve, the main wall of the floor above being supported by a pair of columns of Corinthian character set between the three ground-floor windows in the curved bay. There is an ornamental plaster cornice to both front and back rooms and the windows are divided into six lights with mullions and transomes panelled, the latter being ornamented with scroll enrichments, but the framework is of heavy character. Similar windows but of diminishing heights occur on each floor (Plate 20a). Above the curved bay is a balcony running the width of the house similar to that to the front room on the first floor. The balconies to this house are of both cast and wrought iron.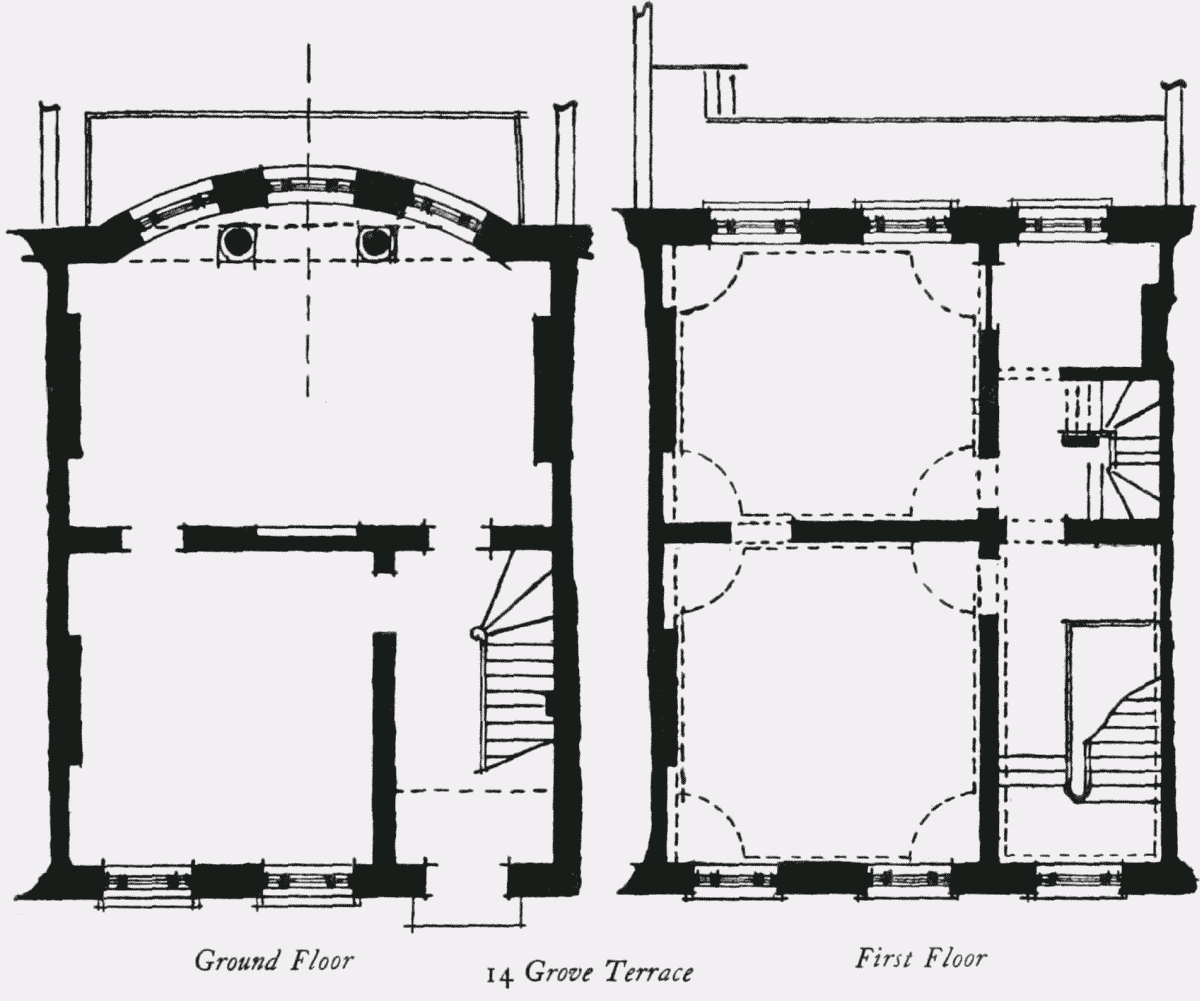 The main staircase-hall reaches to the height of the first floor ceiling and the staircase leads only to the first floor, and lands above the front door, the rooms and the secondary stair to the top floors being approached by a gallery round the north and east sides of the hall. The plaster ceiling is curved in section and rises from a cornice, the mouldings of which are interrupted at intervals by small square panels bearing wreaths. The front room on this floor corresponds to the one below but the back room is sub-divided and may have been approached by a door in a recess with an arched head in the corner of the gallery corresponding to the door to the larger back room. Between the recess and this door an insignificant stair ascends to the floor above. The principal rooms on the first floor have good plaster ceilings and white marble fireplace surrounds (Plate 20a) and there is one original hob-grate.
No. 15. This house has certain special features meriting description. On the first floor in addition to the mirror-doors, there is a plaster ceiling to the front room having a circular panel with an enriched moulding and spandrels filled in with a fan pattern and moulded husk ornament. In the back room is an original hob-grate with delicate interlacings and a white marble surround. On the ground floor on the cornice is a band of plastic ornament of vine leaves and grapes. In this room is a large imitation Gothic window with perpendicular tracery in ironwork (Plate 17).
Rate-Book Entries
The following are the residents in Grove Terrace extracted from the Rate-books, as far as they are available, between the years 1780 and 1824. These books are kept at the Public Library in Chester Road, Highgate. The later ones are at the Town Hall. The following years are missing: 1781, 1783 to 1792, 1794 to 6, 1798, 1799, 1801, 1802, 1805. The modern numbering is used.
No. 6. (fn. n2)
Lewis Peacock entered at Ladyday, 1793; John Smith in 1803 who was still in occupation in 1824 when he was rated at 45. (He was at No. 17 in 1800.)
No. 7. (fn. n2)
Empty in 1793. John Laidner in 1797; Ann Stable in 1800 who was still in occupation in 1824, rated at 50. (Ann was at No. 16 till 1797.) Richard Cooke of Terrace House on 23rd March, 1810, leased to Ann Stable of the Terrace, widow, the second house from the south end of the Terrace. (fn. 150)
No. 8.
Empty in 1793; Joseph Scaley in 1797; William Stone in 1803-1813; Empty in 1814 (Stone moves to No. 14); Richard Marriott, 1815 to 1822; Thomas Thomas, 1823 and 1824.
No. 9.
Empty in 1793; Penelope Birch in 1797 and till 1818; Robert Frith, 1819 to 1824.
No. 10.
Empty in 1793; James Manistone in 1797 and 1800; Mary Manistone in 1803, changing to Angelica Manistone (Manstone) at some date not indicated, who was still there in 1824. (A Jos. or Jas. Manistone at No. 25 in 1793.) Mrs. Cooke (see p. 36) left £100 to Angelica Manistone of Beech Cottage, Princes Risborough, spinster in 1832, and a copyhold messuage in Green Street "in the occupation of Miss Sophia Mainstone" to the said Sophie for life, and after her death to Adelaide Walker, daughter of Thomas Walker of Danes Hill, Notts, esquire.
No. 11.
Empty in 1793; Wm. Knowles in 1797, changing at some time to Fanny Knowles (Knoles) until 1820; Capt. Bidden, 1821 to 1824.
No. 12.
Empty in 1793; Wm. Pass in 1797 and 1800; Charles Brunsden in 1803; John Eddison, 1804 to 1817; Thos. Eddison, 1818 to 1820; Wm. Haines, 1821 to 1824.
No. 13.
Empty in 1793; Samuel Devis in 1797 and till 1811; John Barker, 1812 to 1824 when he was rated at 45.
No. 14.
Empty in 1793; Richard Cooke in 1797 and till 1811; empty, 1812, 1813; William Stone(s), 1814 till 1824, when he was rated at 75. Mrs. Cooke (see p. 36) left a "leasehold messuage in Lower Terrace, Green Street", in the occupation of Mrs. Stones, widow, to Mary Stones of Terrace House, widow, and after her death to her daughter Mary, wife of Thomas Walker.
No. 15.
Ann Chawner (for 2 houses), in 1793 and till 1800; Mary Brown, 1803, 1804; no entry, 1806 (Mary was at No. 22 in 1806); James Alexander, 1807 till 1824, when he was rated at 45.
No. 16.
Ann Stable, 1793 to 1797; William Stone, 1800; William Dyne in 1803 till 1809 (empty in 1808); Eleanor Powney, 1810, 1811; George Heald (Hale), 1812 to 1824. He was scratched out in 1824.
No. 17.
George Granville, 1782; John Smith in 1783 to 1800; John Hunter in 1803 till 1816; Thomas Gardener, 1817 till 1824.
No. 18.
—. Brailsford in 1782 (he was at No. 26 in 1800); Wm. Inwood in 1793 and till 1804; George Hall in 1806 till 1824.
No. 19.
Sarah Forel in 1780 and was there in 1782; Elizabeth Milburn in 1793 changing to Susanna Milburn in 1806; William Stables, 1807, 8 and 9; James Gardener, 1810; but Joseph Gardener in 1814; John Thompson, 1815, 16 and 17; Thos. Poynter, 1818 to 1823; William Wright, 1824.
No. 20.
Joseph Bond in 1780 and was there in 1782; John Myers in 1793; Sarah Harding in 1797; John Cook in 1800; Alexander Stokoe in 1803 till 1822; Richard Cook, 1823, 1824 (see page 36).
No. 21.
John Oliver in 1780 and 1782; John Parry in 1793; John Francis in 1804; Mary Francis, 1804 to 1824.
No. 22.
Charles Grignon in 1780 and to 1804, Mary Brown, 1806 to 1809; William Stable, 1810 to 1812 (at No. 24 in 1810); Anne Vogel, 1813 to 1824.
No. 23.
George Gable in 1780 and 1793; John Gable in 1800; George Gable, 1803 to 1809; Anthony Goodeve, 1810 to 1818; James Croft, 1819 to 1823; empty in 1824 (Croft also rated at No. 24).
No. 24.
James Hollowley in 1780 and 1782; John Checke in 1793 and 1800 (probably earlier as he was the builder of the "row"); Hon. A. Frazer in 1803 and till 1809; Wm. Stables, 1810 to 1814; Thomas Wills, 1815; James Croft, 1816 to 1824.
No. 25.
John Harrison in 1780 and 1782; Jos. (? Jas.) Manistone in 1793; Wm. Block in 1797 and 1800; Wm. Jackson in 1803 to 1814; Wm. Ward, 1815 and 1816; Samuel Dark, 1817 to 1824.
No. 26.
—. Brailsford in 1780; Wm. Bayles in 1782; Wm. Randall in 1793 and on to 1823; John D. Pool, 1824.
No. 27.
A note says: Before 1780, —. Robinson; then James Brown in 1780 and 1782; Wm. Cates in 1793; George Jackson in 1797 and on to 1824 when he is rated at 80.