Pages 72-95
Survey of London: Volume 19, the Parish of St Pancras Part 2: Old St Pancras and Kentish Town. Originally published by London County Council, London, 1938.
This free content was digitised by double rekeying and sponsored by English Heritage. All rights reserved.
XXVIII—ST. PANCRAS OLD CHURCH
Architectural Description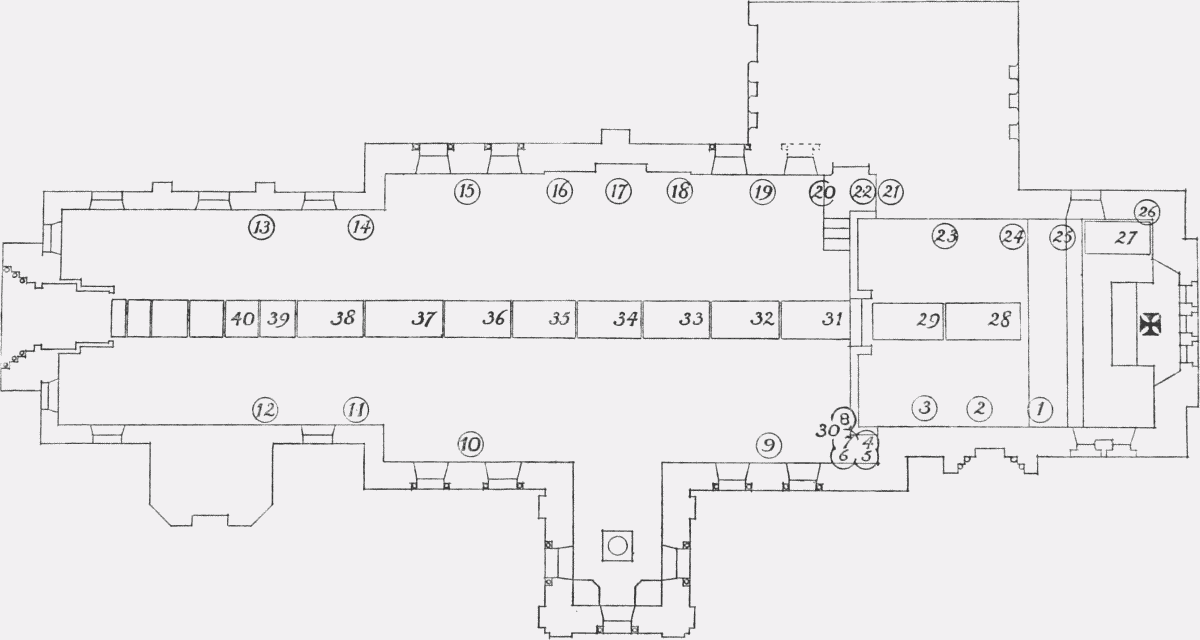 The Church stands on the east side of Pancras Road and was altered and enlarged in 1848 by Alexander D. Gough, architect. From the drawings made before alteration (Plates 32 and 33) we may see the original plan and dimensions of the church. This consisted of an unaisled nave, a chancel without chancel arch, and a west tower. The entrance was originally by a door in the south wall, protected by a porch converted in 1787 into a vestry. The tower possessed a west door and tower arch, and a newel stair in a south turret.
The medieval features have almost entirely disappeared, but where a section of the north wall has been cleared of plaster, the reveals of the north door and part of its circular arched head can be seen. The unusual height of the arch (9 feet to the underside of the crown) and its general character accord with an 11th-century date, and point to the walls of the nave being little later than the Conquest, if not before. To the east of the north door is the western jamb of a tall lancet window, apparently of the 13th-century, when the chancel may have been rebuilt. Outside the south wall of the chancel is a doorcase (but no door) built in Norman form of four orders largely of cement but incorporating some cushion capitals found on the site. The old tower was chiefly interesting on account of its lead cupola-shaped roof which seems to have belonged to the early 17th-century. The comparative lightness of its east and west walls may indicate that the tower itself was rebuilt at that period, when the church appears to have received its queen-post roofs.
The alterations in 1848 consisted of removing the tower and lengthening the nave westwards, removing the porch and building a new tower on the south side, and building a new vestry to the north. The exterior was then completely refaced or reworked. When this work was in progress a small altar-stone, with five incised crosses, was found buried six feet deep in the south-east angle of the tower. This is now let into the modern Communion Table. The chancel walls were stripped, and vestiges of brick niches were uncovered on the east wall but were covered up again. These may have been of Tudor date. In the south wall of the chancel is a 13th-century piscina with moulded jambs and trefoil head, much restored. Beside it to the west is a four-centred arch, with hollow chamfer and steeple stops, enclosing a recess probably designed as sedilia. (fn. n1)
There was a further restoration in 1888 and again in 1925 when the roof timbers were exposed, and the side galleries were removed. A fire in 1928 did little damage.
In addition to the small altar slab, which may have belonged to one of the nave altars, the church possesses a font-cover of early 18th-century date of wood with a moulded base and enriched ogee-shaped capping terminating in a crown. There are also a number of early 18th-century carved panels which are let into the modern gallery front and the walls of the chancel, baptistery, etc.
Piscina and Sedilia. The completely restored piscina and sedilia have already been described. (fn. n2)
Historical Notes.
The dedication to St. Pancras is evidence of the antiquity of the first church occupying this site. The existence of a church is not expressly mentioned in the Domesday Survey, but the name occurs twice to indicate the locality of property held by the canons of St. Paul's Cathedral. Apart from the architectural evidence of the building we may therefore fairly postulate a preConquest church serving an area more or less commensurate with the present parish.
The first mention of the church occurs in two deeds, (fn. n3) which date from 1160–80, by which Ralph de Kentewode confirms a grant of lands to the church and parish of St. Pancras. At this time the church and its endowments formed part of the prebend of St. Pancras in St. Paul's Cathedral, and in 1183 William de Belmeis, the holder of the prebend, granted to the Chapter of St. Pauls "his church of St. Pancras," situated in his "Solanda" or prebend. The grant included all that pertained to the church whether in lands, men or tithes, and was for the benefit of the soul of the giver, his uncle Richard de Belmeis, Bishop of London, and his father Robert de Belmeis. A witness to the deed was Ralph de Diceto, the famous and energetic Dean of St. Paul's, who made the Survey of the capitular property in 1181. (fn. 151) It may well be that the grant was made partly to facilitate the ordination of the vicarage for in the same year Fulcherius, the priest, was made perpetual vicar of St. Pancras with an annual pension of 2s. (fn. 152) Ralph de Diceto was at that time holder of the prebend of Tottenhall, and his grant of the tithes of that manor was no doubt a confirmation of part of the transaction of William de Belmeis. As will be seen below, the Dean and Chapter assigned 100s. a year to the vicar of St. Pancras as part of the endowment of the vicarage. The great or rectorial tithes were shortly afterwards ear-marked for the hospital within the Cathedral founded by Henry de Northampton, a canon, the Chapter reserving only an annual pension of one mark.
Among the Chapter records there is an account of a visitation made in 1249–50 a translation of which is given in Appendix II. It gives a list of service books, vestments, plate and other ornaments of the Church. It records the number of houses in the parish as 36 beside the manor houses of Tottenhall, Rugmere, Northbury (? Cantlowes) and "Alkichesbury". Another house is mentioned as owned by Adam de Basing, who held the lay manor of St. Pancras and became Mayor of London in 1252.
The document proceeds to state that the perpetual vicar occupied the buildings near the church, beside 4 acres of arable land, and that he received the small tithes with an augmentation of 100 shillings allowed by the Chapter from the great tithes. There is a further reference to the site of the rectory or prebendal house of St. Pancras, where it is stated that "there is on the north side of the church there, another piece of ground where the great tithes are collected and the entrance to that ground has been blocked by Master W. de Lichfield, and he is making a road to it by the high altar." William de Lichfield held the prebend from 1250 to 1257.
The next visitation of which we have a record, held in 1297 (see Appendix III), mentions the chancel, nave, tower and porch, gives the structural condition of each part of the fabric, and lists the ornaments and fittings. We gather from it that beside the high altar, there were two nave altars, one dedicated to Our Lady and the other to St. Nicholas. The rood is mentioned with images of Our Lady and St. John, and there was an image of St. Catherine, beside those of St. Nicholas and Our Lady on their altars, the latter with a tabernacle. Another figure of St. John the Baptist is referred to. The church was well provided with service books, vestments, etc., the account of which provides interesting reading. The report of the Visitor concludes: "The buildings of the vicarage are in a ruinous state and badly roofed, and the vicar receives from the small tithes about twenty shillings a year. Also the rectory houses are fairly well roofed but their walls in places require plastering, and there belong to the said rectory two acres of land which are worth twelve pence a year. Also Paulinus the Botiller holds the profits of the church and the rectory glebe as a farm from the farmer Master Ralph de Ivingho, for four pounds a year". Ralph was a Canon of St. Paul's and became Chancellor of the Cathedral.
Although the right of presentation to the vicarage of St. Pancras had been clearly confirmed to the Dean and Chapter, we find Roger Holm, prebendary of Cantlowes in 1390, claiming it as "belonging wholly to my presentation by reason of my dignity of St. Pancras" and putting forward a candidate, John Harpedene. In 1441 the Dean and Chapter granted the tithes rents and profits of the Church of St. Pancras together with the advowson of the vicarage to Walter Shirington, Canon, at an annual rent of ten marks.
In 1331 Edward III had given permission to the Dean and Chapter of St. Paul's to enclose the parish church and to construct houses for the minister and others. Reference is made to the "overflowings of the River Fleete", and at many times it would seem the parishioners must have been inconvenienced by the stream, which frequently covered the road below the church. By the 15th-century houses had begun to spring up at Kentish Town and at Highgate, and in the year 1456 Robert Warner built a chapel at "Kentiston" to provide for those who could not get to the parish church "when foul ways is and great waters". The site of this chapel and its history are described above (pp. 54–56). At the beginning of the 16th-century the inhabitants of Highgate were apparently accustomed to attend Mass at the chapel attached to the Hermitage (fn. n4) in Hornsey, the successor of which, the Chapel of Highgate School (founded by Sir Roger Cholmeley in 1565), rapidly developed into what came to be regarded as a chapel of ease serving the whole village of Highgate. (fn. n4)
An inventory of church goods made in 1549, in the regin of Edward VI, is printed in Appendix IV. It will be seen that there is mention in it not only of the rood in the church, but also the rood in the chapel. We have no information regarding a chapel attached to the church, (fn. n5) and we may therefore conclude that the chapel at kentish Town is the one referred to. During this resign the vicar was one John Bedow, a zealous reformer, who "forsaking the pulpit of this his Parish Church, hath of times preached out of a high tree in the said Churchyard that the names of churches might be altered . . . and then entering the church, forsaking the altar, to have sung his high Masse in English upon the tomb of the dead toward the Northe".
In 1593, John Norden, the topographer, gives a vivid description of the isolation of the parish church: "Pancras Church standeth all alone, as utterly forsaken, old and weather-beaten, which for the antiquity thereof it is thought not to yield to Paules in London. About this church have bin many buildings now decayed, leaving poor Pancras without companie or comfort, yet it is now and then visited with Kentishtowne and Highgate, which are members thereof; but they seldom come here for they have chapels of ease within themselves; but when there is a corpse to be interred, they are forced to leave the same within this forsaken church or churchyard, where (no doubt) it resteth as secure against the day of resurrection as if it laie in stately Paules." Its condition remained the same in the 17th-century and in November, 1642 we find "the deserted church of Pancras" was "disposed of unto lodgings for fifty Troupers".
The report on the living, made in a Survey of Church Livings, in 1650 (see Appendix V), gives John Elborow, clerk, of Wennington, Essex, as holding the rectory (by a lease granted by Dr. Wynniff, Dean of St. Paul's), and William Birkhed as the minister. The church is stated to be "in the fields, remote from any of the houses of the said parish", and we learn that certain sums of money, intended for the repair of the church, have been used "for the building of the chapel that is now in the said parish, which is very convenient for all the parishioners to come unto". This no doubt refers to the rebuilding of Kentish Town Chapel. A later Survey, in 1668 (see Appendix VI), gives precise and interesting information concerning the vicarage house and lands, and the tithes and dues belonging to the vicar.
During the 18th-century the church was chiefly used for burials. In 1726 the churchyard was enlarged by taking in an adjoining plot of land called the Pindle. Again in 1792 additional land to the north (179 by 60 yds.) was purchased and added to the existing burial ground. In the last decade of the century services were held only on the first Sunday of the month and normal services were only resumed after much trouble. In 1822 the new parish church in Euston Road was opened, the Rev. James Moore, the vicar, going thither from the old church which now lost its parochial status and became a chapel of ease.
In 1848 the old church, which had not been materially altered since medieval times, except for the roofing of the tower and nave in the 17th-century, was drastically restored. The architect for the reconstruction was Mr. A. D. Gough, whose plans included the removal of the west tower and the lengthening of the nave, a new south tower and north vestry. The south porch, which had long been used as a vestry, disappeared. The church was furnished with new windows, doors, etc., in the style of the 12th-century and the historical interest of the ancient building was largely destroyed.
From 1850 to 1887 the church was in the care of a perpetual curate, since when it has again had a vicar. Further restoration took place in 1925 when the plaster ceiling was removed and the roof trusses exposed. The side galleries were also removed and a new organ placed in the west gallery.
Wall monuments
1. DANIELL CLARKE, 1626
KATHARINE CLARKE, 1613
The inscription tablet, which is rectangular and has black lettering on a gilded background, is surmounted by a horizontal entablature, the architrave of which frames the tablet and breaks upward into the frieze; on each side a scrolled ornament projects on to the wall; below is a similar projection with a boss forming an apron. Over the entablature is an achievement of these arms: Party cheveronwise azure and argent in chief three leopards' heads or in base an eagle gules, with the crest of a leaping goat, argent with horns or against a pine tree (Plate 35).
John Izod, "one of the Gentlemen Ushers of the Queen's Majesty's Prlvie Chamber," by his will, dated 29th November, 1606, proved 12th February, 1606–7, left all his plate, jewels, household implements and household stuff to his daughter and sole executrix Catherine, wife of Daniel Clarke, esquire, one of His Majesty's Master Cooks. (fn. 153) Administration of Daniel Clarke's estate was granted to his daughter Catherine Bateman in 1626.
(See under Tottenhall, p. 14.)
A Memoriall Both Of Daniell Clarke Esq Who Left
This Life Most Comfortablie The Last Of Ivne 1626
A° Ætat. Svæ 79. Having Bene Master Cooke To Qveene
Elizabeth & To King Iames 29 Yeare Called
To That Peace Betimes For His Worthines Beloved
There & Else Where For His Honest Heart & Open
Hand & Also Of Katharine His Good & Loving
Wife Who Left This Life The 24 Of Ivne 1613 A°
Ætatis SvÆ 50:
Reader Before This Monvmentall Stone
Two Bodyes Lye Interd That Once Were One
Whom Death Did For A Tyme Divorce
And Now Hath Married Coarse To Coarse
Their Ashes Meete In Death And Have
For Their New Marriage Bed The Grave
A Third They Yet Expect That Fate
Nor Time Nor Force Shall Violate
Wher Both Shall Married And Vnmarried Bee
Not To Them Selves But To Eternitie
Then Sleepe Yee Happy Ashes Here
Nor Let A Groane A Sigh Or Teare
Destvrbe Your Rest, Tell The Glad Noyse
Of The Worlde Wakeninge Trvmpitts Voyce
Raise You From This Dead Sleepe & Call
Your Dvst From Ths Sad Fvnerall
To Wed Their Sovles And Sovle And Body Bring
vnto The Marriage Of The Lambe Their King
2. RICHARD FITS-GERALD, 1702
A small plain inscription tablet, about fifteen inches square.
Under this place Lye's
the body of Richard
Fits-Gerald, Who
departed this life
the 27th of November
1702.
Aged 52 years.
3. WILLIAM PLATT, 1637
MARY PLATT, 1687
This is perhaps the most striking of the monuments preserved in the church. It was originally erected in the old School Chapel at Highgate, being removed to its present position when the chapel ceased to be used for parochial purposes in 1833. One of the remarkable features of the memorial is the number of shields of the heraldry of Platt, Hungerford and allied families which form part of the design. There are thirty-eight in all and they occupy nearly all the space available for ornamental details. The portrait busts of William Platt and his wife, Mary, the daughter of Sir John Hungerford, kt., stand in oval recesses within an architectural frame. Three pilasters enclose the busts and carry an entablature of which the cornice and frieze run across the full width of the monument, and the entablature forms the caps of the side pilasters and supports the central feature described below. Above the outer pilasters rise sections of a cleft and scrolled pediment, each surmounted by a skull. The central feature is formed by a part of the entablature which breaks forward over a scrolled apron, taking the place of a cap to the middle pilaster, and which carries a bold achievement of Platt heraldry and a helm crested with a demi-lion holding a plate, cut against a pedestal with curved pedimental cornice. Between the principal features surmounting the main cornice are two small pedestals which have lost whatever they formerly carried. The pilaster stands upon three bold console brackets, each with a coat of arms, which enclose two inscription tablets. Between the busts and these inscriptions is a band carrying shields of arms, the lower part of the centre pilaster being meshed by a cartouche charged with Or fretty sable with a plate at each crossing of the fret, for Platt, impaling Sable two bars argent with three plates in the chief, for Hungerford. Beneath the bracket and inscription is a band and moulded course, the former recording the restorations of 1848 and 1871 undertaken by St. John's College, Cambridge.
The two inscriptions are of some interest from the differences in the character of their lettering, executed presumably at an interval of fifty years. The one is gilt letters on a black ground and the other black letters on a gilt ground, and while one uses V for U, the other adopts the ordinary U. They are in capitals with larger initial capitals (Plates 36 and 37)—
On the left hand—
Dedicated To The Memorie Of William Platt of High
Gate In The Covntie Of Midd: Esqr; Sonne And Heire Of
SR; Hvgh Platt of Kerbie Castle Of Bednall Green
In The Covntie Of Midd: Knight Who Married Ye Yovngest
Davghter Of Sr; John Hvngerfoord of Downamay In
The Covntie Of Glocester Knight He Had One BroTher Of The Whole Blood And Three Sisters Viz:
Robert Platt. Anne Platt, Jvdeth Platt & Mary
Platt He Departed This World vpon The Eleventh
Day Of November One Thovsand Six Hvndred And
Thirtie Seaven Aged Five And Forty Yeares.
On the right hand—
Here By Lieth The Body Of Mary
Daughter of Sr. Iohn Hungerford Of Downamay
In The County Of Glocester Knight Who Was
First Married To WM. Platt Esq; & Afterwards
Was Married To Edward Tucker Of Madingly In
The County Of Wilts Esq; By Whom She Had One
Onely Daughter Married To SR. Thomas Gore Of
Barrow In Ye County Of Sommersett Knight
And Was Here Interr'd Ye . . Day Of . . Anno 1687
In The 86 Year Of Her Age
Downamay probably in error for Down Ampney.
On the east wall of the nave on the south section.
4. SAMUEL COWPER, 1672;
CHRISTINA COWPER, 1693
A white marble inscription tablet in the form of a cartouche measuring three feet six inches by two feet three inches over all with a pair of cherubs, elaborate scrollwork and a shield for arms. In place of a crest is an artist's palette gilded with brushes (Plate 40).
Samuel and Christina Cowper
Samuel Cooper of St. Paul's, Covent Garden, esquire, made his will on 1st May, 1672, and it was proved on the 22nd of the same month. His widow was Christina Cooper. He directed that he should be buried in "Pancrosse Church." He had property in Coventry. (fn. 154) "He was born in London in the year 1609, and bred up by his uncle Hoskins, a miniature painter of great eminence. He soon excelled his master; and, having commenced business for himself, came into very great employ. A picture of Cromwell is esteemed his chef d' ocuvre. . . . His works are in great esteem all over Europe. . . . Cooper was intimate with the author of Hudibras and taught him to paint. His own genius was not confined to that art, he was a proficient in music also, and excelled on the lute. . . . Cooper's wife was sister to Pope's mother."
H. S. E.
Samvel Cowper Armger:
Angliæ Apelles, Sæculi sui et Artis
Decus in quâ excolendâ sicut neminem
quem sequeretur invenit: ita nec qui
eum asequatur, est habiturus Supra
Omne Exemplum, simul et Exemplar,
Miniographices artifex summus summis
Europæ principibus notus, et in pretio
habitus cujus porro egregias animi dotes,
Ingenium expolitissimum, linguarum
plurimarum peritiam, mores suavissimos
ut tam brevis Tabella ritè complecti posset
ipsius unicè manu delineanda fuit sed
modestior ille, dum per ora, oculosq, omnium
fama volat, cineres hic potius suos optavit
delitescere, ipse in ecclesiæ pace feliciter
Requiescens, una cum charissimâ conjuge
Christinâ (et obiit quinto die Maii Anno
MDCLXXII Ætatis suæ 63.)
Quae Obiit 24. Aug 93 C A P D ✠ Ætatis Suæ 70
Note. H. S. E. = Hic sepultus est. C A P D (perhaps) = Caritas Amicorum Ponendum Decrevit.
5. JOSEPH RICHARDSON, 1697
A plain oval tablet two feet three inches deep and two feet in width with beaded edge.
In a Vault
near this Place
lies Interred the Body of
JOSEPH RICHARDSON ESQRE.
youngest Son of
Wm. WESTBROKE RICHARDSON ESQRE.
late of East Barnet Herts.
who departed this Life
January the 16th. 1797,
Aged 39 Years.
6. PHILADELPHIA WOOLASTON
No date [early 17th-century]
A sculptured monument consisting of a curtained recess with the draperies drawn up to one side displaying a column in the background and a lady in Elizabethan costume with a ruff reclining on a couch with a baby lying beside her. Upon either side of this scene stand emblematic female figures, that on the left bearing an ewer and basin. These figures are supported on carved brackets with acanthus ornament and between them is set the inscription in black letters on a gilded background and beneath it a cartouche of arms (? a Vincent coat) showing a cheveron between three quatrefoils. Above the recess is an architectural composition consisting of a narrow entablature surmounted by a broken pediment. Within this rises a tablet with console sides and a pedimental urn enclosing a lozenge with a coat of arms as on the cartouche but with the cheveron inverted, framed in ornamental strap work. On the principal cornice above the sculptured figures stand obelisks carrying ornamental shields, one of which is missing. The inscription is in capitals with larger initials and sets forth the virtues of the deceased and her daughter. Three shorter inscriptions in black lettering on a gilt background upon the frieze are now rather difficult to decipher. The two outer ones on a slightly raised ground appear to be in capital letters. Cansick gives all three as follows, he does not divide the lines up correctly, but makes them to suit his page (Plates 38 and 39).
On the main frieze—to the left hand.
Who Shall Finde A Vertvovs Woman For
Her Price Is Farr Above The Pearles
Pro. XII. X.
In the centre (five lines).
To the pivovs and Sacred Memorie of that
vertvovs gentlewoman PHILADELPHIA WOOLASTON
Sometyme the most deare and loving wife of
Thos. Woolaston of London Esr. who lyeth Herevnder
Buried as appeareth engraven in a marble.
To the right hand.
Hovse & Riches Are Ye Inheritance Of Ye Fathers
But A Prvdent Wife Cometh Of Ye Lord
Pro. XIX. XIIII. (fn. n6)
On the tablet.
If Yovth If Featvre Lovlynesse Or Ovght,
That In Ovr Sex May Ornaments Be Thovght
Or Those More Heavenly Beavtyes Of The Mynd
As Chastitie Or Meeknesse In Ovr Kynd
To God And Man Soe Gracyovs And Approv'd
Covld Any Way Impartyall Fate Have Mov'd
I Had Not Dy'd; But Death (Alasse To Soone)
Clos'd Me In Night An Hower Before My Noone
Then Fetch'd My Child A Mate For Me Most Fitt
A Payre Of Saynts Th[at] Now In Heaven We Sitt.
Philadelphia Woollaston, one of the two daughters of John Vincente of Kentish Town, married at St. Anne's Blackfriars, on 15th December, 1614, Thomas Woollaston of Brett's Manor, Essex, who was the second son of Henry Woollaston the elder, citizen and draper of London. She died in childbed with her infant son in 1616, and her husband Thomas died in April, 1674, aged 87, having married as his second wife Sabina, daughter of Sir George Aldrich. (fn. 155) The mother of Mrs. Woollaston (née Vincente) was Rose, daughter of Robert Carr, who owned a meadow at Tottenham Court Containing sixteen acres, which he had bought from John Gwilliams in 1590. (fn. 156)
7. Below the above is a brass recording the installation of electric light in 1895 in memory of Robert Eden, Bishop of Moray and Ross who died 1886 and his wife Emma who died in 1880.
8. THOMAS PERCIVAL CRAWLEY, 1822;
SUSANNAH CRAWLEY, 1849 (fn. n7)
9. HELEN ELIZABETH COOKE, 1905
A modern brass.
10. MABEL TERDREY STIFF, 1905
A modern brass.
11. JOHN WALDRON WRIGHT, 1850
ANN WRIGHT, 1843
THOMAS EDWARD WRIGHT, 1836
12. AMELIA ROGERS, 1870
On the north wall of the nave starting from the west end.
13. FANNY MARIA STERLING, 1873 ELIZA STERLING, 1884
14. ALBERT HENRY JOSEPH KLINCKENBERG, 1830
15. ROBRT LINDSAY, 1803
16. MARY ARROWSMITH, 1877
17. A stone recording the repair of the church in 1848.
18. Unidentified.
The canopy of an altar-tomb of stone five feet in width and three feet nine in depth (probably designed as an Easter sepulchre) of the early 16th-century now stands in the centre of the north wall of the nave, having been removed from the north wall of the Chancel. (fn. n8) The tomb has disappeared, but the canopy has "moulded and shafted jambs, flat head with rounded angles, frieze of quatrefoils and embattled cornice, reveals and head of recess panelled with cinquefoiled heads to the panels." (fn. n9) The stone at the back has a group of indents for brasses. Below are the kneeling figures of two men and one woman, the men having two and three sons respectively kneeling behind them, and the woman eight daughters. These all formed one brass. From each of the three figures proceeds a scroll, and above are the indents of three shields and apparently the seated figure of the Virgin (Plate 41).
19. JOHN DILLON, 1800
A square marble inscription tablet two feet deep and one foot nine inches wide surmounted by a small curved head on which is carved a cross.
To the Memory of
JOHN DILLON Esqr Of BELGRADE
who departed this Life
for a much better April 14th. 1800
He was a Father to his Tenants
The Best of Masters to his Servants
and everything to his loving Servant,
Who was so happy to serve him
From 1762 till God was pleased
To call him to Everlasting Glory.
I pray God Almighty
to grant me grace to meet again
to part no more.
John Dillon, late of Belgarde, Dublin, by his will dated 8th January, 1796, with a codicil dated 15th November, 1797, proved 30th April, 1800, entailed his lands in Belgarde, Cookstown, Co. Dublin, and Blacklin and Lissolney, co. Roscommon. He was at Welbeck Street in 1797, and at the time of his death apparently at Brompton, Middlesex. (fn. 157) The transposition of letters in the second line of the inscription is presumably a sculptor's error.
20. MARY ANN ARNOLD, 1878
21. Part of a Roman brick from the first church dedicated to St. Pancras at Canterbury. It forms a support for a crucifix partly of old work.
On the east wall of the nave, the northern section—
22. THOMAS DOUGHTY, 1694
An oval mural tablet, four feet six inches deep and two feet six inches in width, with slightly convex surface and an ornamental border of husks, surmounted by an urn and a pair of swags one of which is now missing. Beneath the tablet is an apron of palm-leaves around a shield of the arms of Doughty of Hanworth, co. Norfolk—Or a cross paty gules charged with a bezant (Plate 42).
THOMAS DOUGHTY,
Nuper De Parochia STI. P.C. Garden
Westmon.
Generosa Familia in Agro Norfolciensi
Oriundus.
Ingenio Acri, Et FŒ
Iudicio Sano Et Subacto,
Morum Comitate Cum Modestiâ Conjuncta
Spectatus
Erga Familiares, Amore,
Cognatos, Beneficentia,
Pauperes, Charitate,
Omnes Æquitate
Clarus
Immaturâ Morte Præreptus
Obijt Aug. 16.
Anno Ætat 39. Dom. 1694.
23. JOHN LAWSON, 1791
Adjoining the vestry door the lower portion of an oval tablet two feet one inches deep and one foot ten inches wide with a shaped upper section upon which is carved a shield of arms.
Here also are
the Remains of
IOHN LAWSON Esqr:
of Brough Hall,
in the County of York.
who departed this Life
Janry: 28th:, 1791,
Aged 69.
Requiescat in Pace.
John Lawson, of New Inn, gentleman, made his will 13th April, 1784. (fn. 159) It was proved 10th November, 1791. He was the third son of Sir John Lawson of Brough Hall by Mary, eldest daughter of Sir John Shelley, bart. Two of his sons were priests, as well as his brother James.
On the north wall of the chancel starting from the west—
24. JOHN OFFLEY, 1667
ELIZABETH OFFLEY, 1678
ROBERT, 1678
THOMAS, 1667
EDWARD, 1668
ANN, 1669
AND STEPHEN, 1673
A large inscribed tablet of white marble in the form of a curtain gathered up at the top and sides with a fringe and tassels at the bottom. The curtain is carved upon an architectural background composed of black and white marble leading up to a curved and broken pediment within which and over a cherub's head are the arms of Offley [Argent] a cross paty [sable] between four choughs with a leopard [or] on the cross, the whole crowned by a second pediment. On either side of the inscription are carved cherub-heads with very long graceful wings in turn flanked by a pair of elongated consoles, ornamented with sprays of tulips. Beneath the monument upon a moulded base is a death's head with a pair of dragon's wings. The shaped bracket is ornamented with palms and bears a shield of arms, Offley quartering [Argent] a cheveron [gules] between three fleurs de lis [azure] for Belasyse. The monument is signed just to the right of these arms, W. Linton fecit (Plates 44 and 45).
The inscription is in black letters on a white ground set out in curves that gradually flatten out towards the bottom of the tablet.
Near to this place lye the Bodys
of JOHN OffLEY of London
Merch:t and Eliz:bth his Wife (da
ughter of RObert Moore
of London Goldsmith) by
Whom he had Fourteen Sons
and Three daughters. John dyed ye 28th of August
1667 in ye 74th year of his Age: Eliz: dyed the
17th. of October 1678 in the 65th. year of her Age.
Here also lye ye body's of Robert OffLEY
Esqr (one of ye Masters of ye Bench of ye Hono:ble
Society of ye Middle Temple) and First Son of
the said John and Eliz: he dyed the 10th: of
September 1678, in ye 44th year of his Age
Thomas their Seventh Son who dyed
ye 26th of Janry: 1667, in ye 26th year of his Age
Edward their Eight Son who dyed ye
12th of July 1668 in ye 24th: year of his Age,
Stephen their ninth Son who dyed the
27th of Septber: 1673, in ye 25th. year of his Age
Ann their Third daughter who dyed ye
6th: of Janry: 1669 in ye 20th year of her Age.
Joseph Offley of the Middle Temple, esquire, by his will dated 30th June, 1719, and proved 8th March, 1721–2, left his lands in Icklesham and Gestling, Sussex, Kentish Town in St. Pancras, Carrington and Wiltshead, Beds., Clavering, Henham, Cowfield, High Easter and Dunmow, Essex, in trust for his cousin Stephen Offley of Norton, Derby, eldest son of Robert Offley of Norwich, merchant, remainder in tail to his sons. (fn. 160)
25. MARY BERESFORD, 1588
Three portions of a brass, set in a stone one foot nine inches square, the left-hand upper portion a shield of arms, Quarterly 1 and 4 [—] a bear upright [—], 2 and 3 party cheveronwise [—] and [—] three pheons [—], and in the right hand the initials [I.M.B.] with motto. The lower portion bears an inscription in black letters.
At this pues end here lyeth buryed Marye Beresford (the
daughter of Alexander Glouer of Tottenham Courte and
the late, dear and wellbeloued wife of John Beresford
gentelman, and ouster barester of Steple Inne) who de-
parted this life the xxi day of August in the year of
our Lorde God 1588. Whose soul is with God for she
trusted in the Lorde and reposed her saluation wholye
in Jesus Christ, in whom is al peace and rest all joye
and consolation all filicitye and saluation and in
whom arre all the promises. Yea and amen
Her father Alaxander Glover had the manor house of Tottenhall (see page 14).
26. ROWLAND BELASYSE, 17—.
LADY BARBARA BARNEWALL
A wall tablet with the inscription on a raised centre imitating a fielded panel within a square frame surmounted by a simple pediment. Beneath the tablet is a shaped apron bearing a cartouche of the arms of Belasyse [Argent] a cheveron [gules] between three fleurs de lis [azure] (Plate 43).
Near this Monument
Are intered the Remains of the
HONB. ROWLAND BELASYSE
Who departed this life Apl ye 9th. 1768
Aged 65.
He was only Brother to the present
EARL OF FFAUCONBERG
As also the Remains of
LADY BARBARA BARNEWALL
Second daughter of the above
EARL
Requiescant in Pace.
Rowland Belasyse, brother of the Earl of Fauconberg, died at Dublin. The Earl was Thomas (Belasyse) 4th Viscount and 1st Earl Fauconberg.
Lady Barbara Barnewall, second daughter of Thomas (Belasyse), 1st Earl of Fauconberg, died 22nd October, 1761. Her husband was the Hon. George Barnewall, who died in June, 1771, aged 60. His brother was Henry Benedict (Barnewall) 4th Viscount Barnewall.
27. RICHARD DRAPER, 1756
A three-quarter column five feet nine inches high and pedestal one foot six inches deep of the Roman Doric Order supporting a small urn. Upon the upper part of the shaft of the column, a shield of arms of Draper (see The Armorial, p. xviii). On either side of the pedestal is a small pile of books (Plate 46).
The inscription on the pedestal is as follows,
To the Memory of
RICHARD DRAPER Esqr.
One of His Majesty's Sergeants at Law
who Died at Highgate
the 5th. Day of January 1756
in the 61st. Year of his Age
This Monument is erected
by his only Surviving Sister
MARTHA DRAPER
For Richard Draper, serjeant at law, see Part I Village of Highgate, page 17.
Floor Slabs
28. FRANCES WINTOUR, 1720
In the north-easternmost corner of the chancel on the altar step, a ledger stone with two impaled coats of arms, one on a lozenge the other on a shield, at its head. On the lozenge is [Sable] a fesse ermine for Wintour impaling [—] a cross engrailed [—] between four roses [—] perhaps for Burton. On the shield is Gules a cross ermine, for Nevill of Holt impaling the engrailed cross and roses.
Here lyeth the Body of the
Lady FRANCES WINTOVR
widdow of Sr:
CHARLES WINTOVER, of
Lidney in Glocestershire, and late
wife of Thomas Nevell Esqr
of Holt in Leicestershire, who
departed this life the 14th: day
of December, 1720. in the 69th:
year of Her age
Requiescat in pace.
In the centre of the chancel, the first stone westwards from the altar steps—
29. RICHARD NICOLLS, 1612
ISABELL NICOLLS, 1652
WILLIAM NORFOLK JOHNSON, 1818
Two inscriptions and two coats of arms on white stone inset into a large black ledger stone with the modern inscription cut on it. W. N. Johnson was lay-impropriator of the Great Tithes of this parish.
On a white oval stone about 1' 9" × 1' 6" in capitals with larger initial capitals.
Here Lyeth
YE Body Oe Richard
Nicolls of Kentishtown
Esqvier Who Dyed In YE Faith
Of Christ YE 20 Day Of Aprili
Ao D[omi]ni 1612. Beinge Of YE Age Of
59 Yeares, Having Bene 14 YeaRes Married To Isabell Davghter
Of Iohn Clarke Of Eloesto In
YE Covnty Ov Bedf; Gentlemã
Who Cavsed This stone
To Be Here Laid For YE
Memoriall Of Him
Line two is given as on the slab.
In the same ledger stone just beneath the above, a square white stone with an inscription in similar characters.
Here Also Lyeth Bvried YE Body
Of The Said Isabell Nicolls Who
Lived 40TY: Yeares And vpwards
The Widowe Of The Said
Richard Nicolls And Died In
The Faith Of Jesus Christ
The Fovrth Day Of Jvly In
The Yeare Of Ovr Lord God
1652 Aged 77 And Upwards
There are also four shields, showing (but very imperfectly) the heraldry of Nicolls and Clarke.
Richard Nicolls stated in his will that "my estate is diminished and my lands, leases and moveable goods to a great quantity are sold for the necessary use and relief of myself and my family". He directed that his body should be "conveyed in a coffin covered with a black cloth unto my grave to be made in the parish church or chancel of St. Pancras in the Fields, where now I dwell". He gave four marks to the poor and 40s. or gravel "to mend the footways betwixt my house where I dwell and the causey or footway lately made by Mr. Toomes by Grays Inn Lane, against the brick kilns there". (fn. 161)
Despite the suggestion of reduced means implied in the will of Richard Nicolls, the will of his widow Isabel Nicolls suggests that she was quite well to do and contains numerous bequests to her relatives. Her sole executrix was Mrs. Jane Powell, her niece, who received her household furniture, set out at length and minutely described. "Every poor body" at Kentish Town was to receive 20s. at her funeral, and she left money for apprenticing poor boys at Kentish Town, Elstow, and elsewhere. (fn. 162)
Adjoining the above westwards.
30. FRANCES HARLAND, 1716/17.
WILLIAM HARLAND, 1716
An incised black ledger stone with a fine achievement of the arms of Harland at its head—
Arms [Or] a bend engrailed between two sea lions [sable] with three harts' heads caboshed [argent] on the bend impaling (?) [—] two bends [—].
FRANCES
The wife of Capt: ROBERT HARLAND
of HIGHGATE in this Parish who died
January 6, 17/16/17 In ye 25th. year of her Age;
Lyeth here interred:
She was Daughter of SAMUEL CLYATT,
late of Butly-Abby in the COUNTY of
Suffolk Esqr: by FRANCES his wife
Also WILLIAM Son to ye Said ROBERT &
FRANCES HARLAND, who died Augt: 5th: 1716
Aged Seven Months
Here lies the Body of
Capt. ROBERT HARLAND
who died the 5th. of March 1750
Aged 75 Years
In the south-east corner of the nave,
31. ANN WILLIS, 1731
Here Lyeth the Body
of ANN Daughter
of IAMES WILLIS
of Ringwood in
Hampshire Gentl:
by MARTHA his wife
who Departed this
life the 9th: of Iuly
1731 Aged jj years
In the centre of the nave
32. WILLIAM TALBOT, 1660
A large black ledger stone adjoining the chancel step, a shield of arms partially defaced.
Here Lyeth The Body Of William
Talbot Of Carr In The Covnt.
Of Lancashir Gent.; Who Dyed
The 2 Day Of May In The Yeare
Of Ovr Lord 1660
Aged 60 [Year]s
Proceeding westwards.
33. ANNE BELASYSE, 1731
Penelope Belasyse, 1750
A large black incised ledger stone with shield of arms completely defaced.
Here lies the Body of
The Honble. ANNE BELASYSE
obiit 14 of March 1731
ætatis 27
And of her Sister
The Honble. PENELOPE BELASYSE
obiit 5 of April 1750
ætatis 44
34. GRACE NEWSOME, 1738
KATHARINE SARE, 1735
Here Lies the Body of GRACE
Late Wife of THOMAS NEWSOME
of Grays Inn Gent:
and one of the Daughters of
RICHARD SARE Late Citizen & Stationer
of LONDON
&KATHERINE His Wife
who Departed this life
on the 17th. of Septr. 1738
Aged 46
Near this Place also lies the Body of
KATHARINE Daughter of the above
RICHARD & KATHARINE SARE
who Departed this Life
the 25th. of Septr. 1735
Aged 38
35. CATHARINE SARE, 1706
RICHARD SARE, 1723
RICHARD SARE NEWSOME, 1747
Here lyeth ye Body of
Mrs CATHERINE SARE
(late wife of RICHARD SARE
of LONDON STATIONER)
who departed this life
December ye 30th 1706
In ye 46th year of her Age
Leaving behind her two
Daughters viz
GRACE & CATHARINE
Likewise the Body of the said
RICHARD SARE
who Departed this Life
the 2d. of February 1723
In the 68th year of His Age.
Also the Body of RICHARD SARE NEWSOME
Son of THOMAS & GRACE NEWSOME & Grandson
of the abovesaid Richard Sare who died
the 29th of Febry. 1747 Aged 26 Years
Richard Sare, citizen and stationer of London, by his will dated 27th July, 1719, with a codicil dated 16th December, 1722, and proved 3rd February, 1723–4, directed that he should be buried with his late Wife Catherine in St. Pancras Church "and my name to be added to the inscription on the stone laid over my said wife." His daughter Grace was the wife of Thomas Newsom. (fn. 163)
36. MRS FRANCES MONSON, 1658
With coat of arms now indecipherable.
(fn. n10) [Here lieth buried the body] of Frances
[Monson wife of Anthony] Monson
[Of Northorp In The] covnty of Lincolne
Esq And Second Davghter Of SR Philip
Tirwhit[t] Of Stainefeild In The Said
Covnty B[Aronet She] Departed This
Life The Sixteenth Day Of Aprill
Anno [Dn 1658]
[Her Faith and sickness] both together straue
[That Christ may] have [her soule] her corps ye grave
[Death ends the strife] both conqueros appeare
[Christ hath her] soule. Her body resteth here.
37. MRS MARY FRANCES TASBURGH, 1706
MARY CLARE, 1768
Here [lieth interred] the Body of
[MRS. MARY FRANCES] TASBURGH
wife of [HENRY TAS] BURGH Esqr.
Daughter and [Coheiress] of
ANTHONY MONSON of [Nort] horpe
in the Covnty of [LINCOLN Esq] who
[Departed this Life the eighteenth
day of May, 1706
Siccine Separat Amara Mors
aged 32
Reg. lib. 1 . cap 15]
Note. The quotation is from the Vulgate, Kings I. Ch. 15, v. 32, (which corresponds with Samuel I. Ch. 15, v. 32, in A.V.). This the Douai Bible translates "Doth bitter death separate in this manner ?"
[Here lies the Body of] MARY CLAR
[Lady] GERARD [who depar]ted this Life
[October the 27th. 1768] in the [43rd.] year of
her Age
She was Daughter [and] Sole Heiress
of HENRY [TASBURGH Esq] and July
2nd [1749 married SR. THOMAS] GERARD
of Bryn in Lancashire] Baronet
By whom [she left issue three] daughters
Elizabeth [Catherine] and Mary
Requiescat in pace
38. FRANCES SOMERSET, 1707
CHARLES SOMERSET, 1721
In a lozenge at head of stone.
[Hic Jacent]
Reliquiæ [Illustris Foe] Minæ D[omi]næ
Francis [Cæ Somerset Quæ E
præclar[A Et Perantiqva Fa]Milia
Hanford[Orum De] Woollas=Hill In Com:
Wigorn: Oriv[Nda Carolo Somerset]
Here[Fordiensi Arm: Matrimonio]
Conjun[Cta Fuit XIV Oct:] Anno D[omi]ni Mdcciv
Ac Demum T[Abem Molestam Perpessa Piissime]
Obiit &III¯. Dec. Anno D[omi]ni mdccvii, ætat: Vero
Suæ XXXII
Epitaphium]
Francisc[Æ Flores Dare Sic Meruisse Juvabit]
Non Fuit [Illa Brevis QuÆ Bona Vita Fuit]
Pht[Hisis Iners, Placidum Depasta Est Corporis Artus]
Vix [Manet E Totâ Parva Quod Urna Capit]
[Ast Mens Virtutum Teneris Diffusior Annis]
Coelestes [Petiit Limina Nota Domos]
Requiescat In Pace:
Hic Etiam Jacet
Carolus somerset, Arm:
Æt. 57. Obiit 28 Julii, 1721
Requiescat In Pace.
39. MARGARET ANDERTON, 1720
Here Lyeth ye Body of
Lady Margaret Anderton
[wife] of SR. Charles Anderton
[She] Departed this Life [August 1720
in the 62] year of her Age
. . . . . .
. . . . . .
Requ[iescat] in pace
40. ANN BROWN, . . .
ISABELL BROWN, 1680
A flat stone with a lozenge at its head, with the arms entirely defaced.
Vnder This Stone Lyeth The
Bodies Of MRS Ann And Isabell The
Davghters Of SR Valentine
Brown Of Croft, In YE Covnty
Of Lincoln KT. Both Maids Above
YE Age Of Fovrscore Years
Isabell Departed This Life YE
3RD Of January 1680
And the Ann The Day
41. MRS MARY DANIELL, 1806
MISS MARY DANIELL, 1811
On the exterior of the north wall, two inscription tablets.
42. JOHN HORTON, 1738
and two infants.
Under this stone lyeth the Body of
Sarah and James Horton
Who dyed in their Infancy.
Also the Body of John Horton
who Departed this Life
the 18th day the November 1738
in the Eighteenth Year of his Age.
The rest is difficult to decipher and does not appear to have been recorded by Cansick.
On the base, Requiescat in Pace. Amen.
43. JAMES HORTON, 1759
SARAH HORTON, 1766
MARY CUGNONI, 1798
JAMES CUGNONI, 1827
In Memory of
James Horton, Gent.
who departed this life on the
5th. day of June 1759 aged 68 years.
Also MRS. Sarah Horton, Relict
of the abovesaid James Horton.
She died on the 8th of Decbr 1766
Aged 73 years.
Also of MRS. Mary Cugnoni daughter
of the above James & Sarah Horton
and Relict of Ignatius Cugnoni:
She died the 31st. July, 1798
Aged 66 years
Also James Cugnoni M.D.
Who departed this Life the 17th
of February, 1827 in his 74h year;
and 4 of his children
who died in their infancy
Requiescant in Pace