Pages 7-11
Survey of London: Volume 21, the Parish of St Pancras Part 3: Tottenham Court Road and Neighbourhood. Originally published by London County Council, London, 1949.
This free content was digitised by double rekeying and sponsored by English Heritage. All rights reserved.
XXXVIII—PERCY STREET
Francis Goodge and William Goodge granted building leases of land on the south side of Percy Street in 1764 (fn. 1) and on the north side in 1766 (fn. 2); in 1770 28 houses were complete. There are now 37, the south side being numbered consecutively from No. 1 near the corner of Rathbone Street to No. 20 where it meets Tottenham Court Road and the north side from No. 21 next the Crab Tree in Tottenham Court Road to No. 37 which adjoins No. 2 Charlotte Street. Both sides exhibit (with two exceptions only) an unbroken uniform design, three storeys high in stock brick with red brick flat arches to the sash windows, of which there are three to each of the upper floors. Each house has a basement, with two windows, lit by an open area and its façade terminates in a stone moulded cornice and brick parapet, above which is a mansard roof with two attic windows, and plain brick chimneys. The brick facing of Nos. 6 and 12 and of the two houses immediately opposite them, Nos. 28 and 34, projects forward 4½ inches, as also does that of No. 30. The exceptions to the uniform design of the street occur in two of these, Nos. 6 and 34. Both houses have a single window on the second floor and No. 6 has a pair of windows only on the first floor. In No. 34 there is one circular headed window of Adam design and the ground floor has three arched openings with keystones to two windows and the door. Each house has a single dormer in the roof.
The windows were fitted with sash frames but it is doubtful if any of them retain their original material, while a few have been altered to casements. In Nos. 13, 24, 36 and 37 the sills of the first floor windows have been lowered to the floor level, the last two being provided with balconies. There are or were plain plastered string-courses at first floor level and others also in line with the sills, and fragments of the latter remain between the deepened windows. In Nos. 1, 2, 7 and 8 the middle first floor windows were heightened nearly to the second floor sills. In No. 28, the ground floor windows remain but their sills are lowered to the floor. Those of Nos. 22 and 24 were later provided with cement moulded architraves.
Most of the houses have had modern shop fronts inserted, especially on the south side, but in No. 8 and in nine fronts on the north side the original fenestration remains unchanged on the ground floor, although in some cases treated with cement. Original doorways are more numerous. They all appear to have been roundheaded and quite plain with red brick arches as in No. 8. In Nos. 2, 3, 5, 24 and 37 the ground storeys have been (at some time preceding the shop fronts) faced with plaster, treated with wide sunk horizontal grooves to represent masonry and quasi-voussoirs to the doorways. More interesting are the wooden doorcases which must have been added to Nos. 9, 13, 19, 20, 23, 31, 32 and 35 soon after the erection of the buildings. They have jambs with plain pilasters with moulded caps, a semi-circular head with key block and panelled soffit flanked by enriched consoles above the pilasters that support an entablature with a fluted frieze and moulded dentilled cornice. At No. 19 the cornice is missing. Three doorways, Nos. 12, 28 and 30, have later shallow porticoes with detached columns carrying a projecting entablature over each and a pediment under which the entablature is omitted. In No. 28 the columns have Doric capitals and in Nos. 12 and 30 they are Ionic.
The wrought iron railings, with spear-head tops and cast iron finials to the standards, remain in all the houses on the north side except in the case of the restaurant at No. 24, where the area is covered with pavement lights and at Nos. 27–28, where the ironwork is renewed. On the south side only Nos. 8 and 11 now have the areas uncovered. At No. 8 there is an additional tall standard of bar and scroll-work with an arm or bracket for either a sign or a lamp.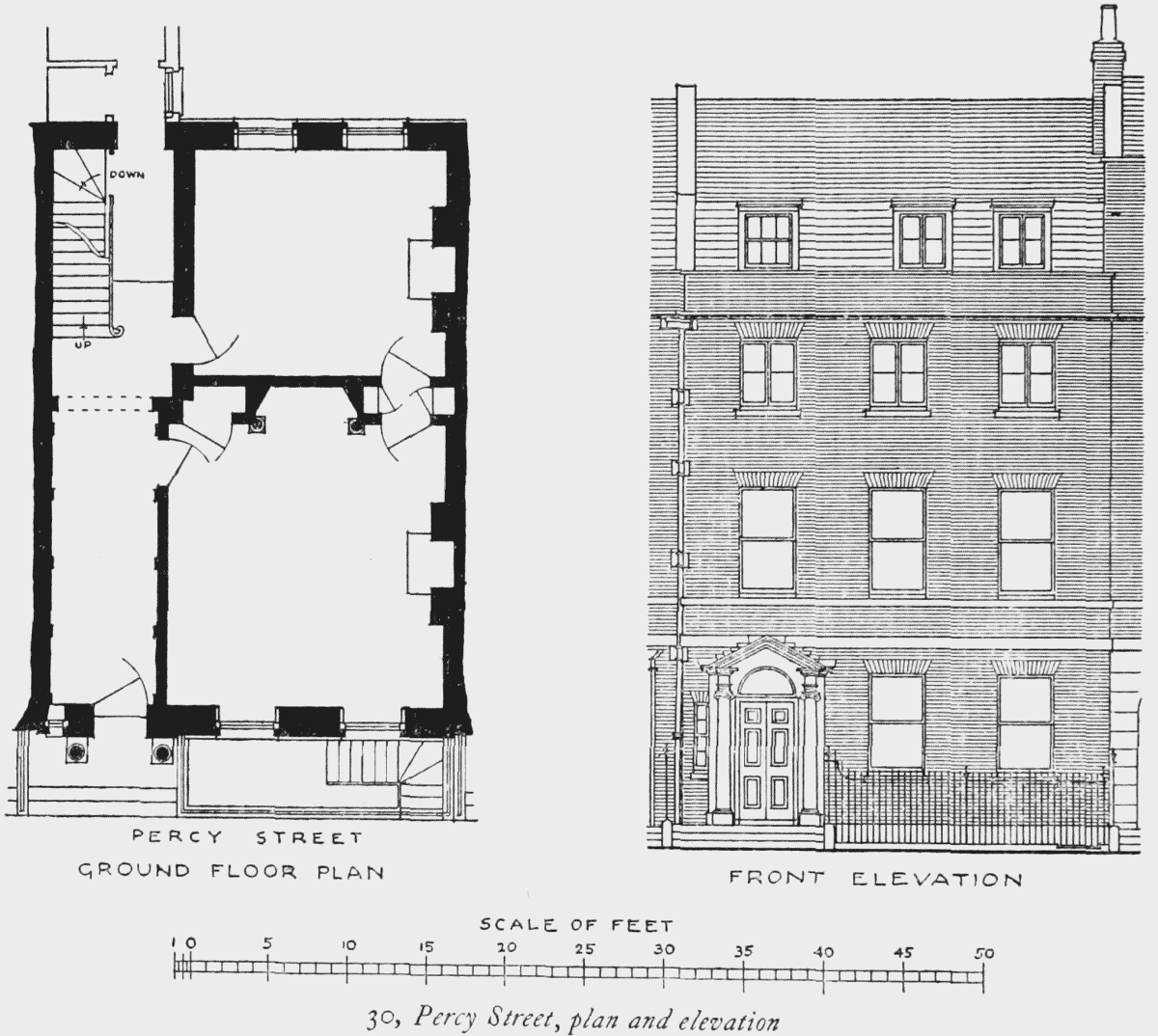 Alterations in the street include the 19th-century rebuilding of Nos. 4, 10 and 11. Four houses have been refaced without altering the design. Additional top storeys occur in Nos. 1, 24, 25, 28 and 33 while Nos. 24, 25 and 26 are entirely faced with modern cement.
Air-raid damage is responsible for the demolition of No. 21 and other houses have suffered. No. 22 is still derelict and No. 23 unoccupied. The upper parts of Nos. 15 to 18 and the angle of No. 20 have been repaired with stock brick following the original design.
The plans of all the houses in Percy Street seem to have been alike, the ground floor having a front room and an entrance hall, east or west of it, with an archway leading to the staircase behind and a back room narrower than that in front. The stairs are not all exactly alike; they are of doglegged type and mostly have cut strings with brackets carved on the end of the steps. The brackets are simple in outline, varying here and there in shape, and at No. 25 they are more elaborately carved with scrolls and foliage. The balusters to this stair are turned and fluted but most of the staircases have turned balusters only with the characteristic block introduced in the early part of the 18th-century while a few are straight balusters unturned. Some of the newels are turned and have ball finials, and all have ramped handrails. In some cases stone stairs and iron balustrades have been introduced.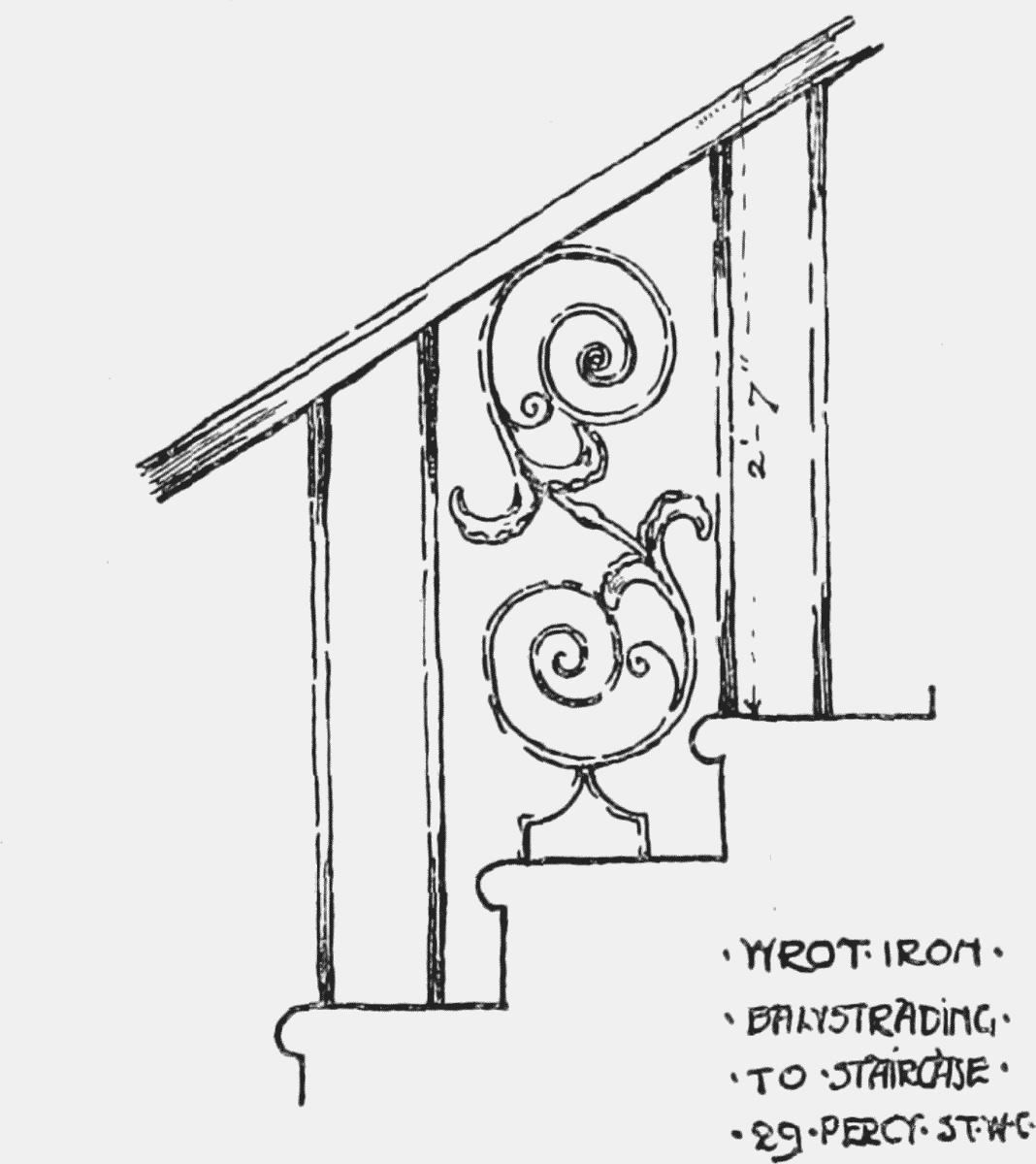 Few of the rooms retain any special features. The ceiling of the front room on the first floor of No. 3 is of ornamental plaster, a rather heavy florid design showing French influence with scrolls, flowers and foliage and a cornice enriched with foliage and brackets. Another ceiling of similar type is in No. 29. (Plate 2.) Most of the hall passages and some of the rooms have moulded cornices, some with brackets or modillions. The care with which these interiors were designed is shown in the measured drawings on Plate 3. The passage has an arcade of four arches on each side and the front roon has a sideboard recess under an elliptical arch carried on Ionic columns.
Inhabitants
No. 2.
1770–1773, The Swedish Ambassador. (He is not named and the rates are charged to William Franks.) 1776–1779, Sir Peter Dennis, Bt. 1783–1781, Mrs. Dennis.
No. 3.
1818–1822, Dr. M. Fitzgerald.
No. 4.
1846–1854, 1871, William Harding, surgeon.
No. 5.
1770–1788, William Franks. He took a prominent part in developing Percy Street, Rathbone Street and Charlotte Street. He died 1790 and the inscriptions on his memorial tablet and floorslab in St. John's, Kentish Town are given in St. Pancras, Pt. 2, pp. 146–7. His wife Mary, who is also commemorated, lived here till her death in 1805. Their son, William (d. 1797), was also buried at St. John's. See 1a Fitzroy Square.
No. 6.
1781–1788, Dr. William Osborne. 1804–1824, Alexander Peter Buchan, son of Dr. William Buchan, (1729–1805), physician to the Foundling Hospital (Ackworth, Yorks) and author of a popular work entitled Advice to Mothers.
No. 8.
1794–1798, Samuel Cotes (1734–1818), miniature painter, third son of Robert Cotes, Mayor of Galway, who practised as an apothecary in London. Samuel's brother was Francis Cotes, R.A. who taught him painting. Samuel was a Fellow of the Incorporated Society of Artists and also exhibited at the Royal Academy. He had previously lived at No. 25 Percy Street. He retired to Paradise Row, Chelsea, where he died. 1825–1828 Edward Hodges Bailey (1788–1867), sculptor, R.A. (1821). See also No. 10.
No. 9.
1794, Sartorius. This may be one of the family of painters who were well known for their pictures of animals and sporting subjects.
No. 10.
1817–1826, Peter de Wint (1784–1849) landscape painter. Apprenticed to John Raphael Smith and in 1809 entered the Schools of the Royal Academy. He lived from 1802 to 1827 with his friend William Hilton, R.A. whose sister Harriett he married in 1810. He moved from 10 Percy Street in 1827 to 40 Upper Gower Street (now No. 113) where he died in 1849. Mrs. de Wint remained there from 1850 to 1867. 1830–1846, Edward Hodges Bailey, R.A., sculptor, see also No. 8.
No. 12.
1832–1846, Henry Pierce Bone (1779–1855), painter, son of Henry Bone, R.A. enamel painter to George II, George IV and William IV. He began as a painter in oils but in 1833 took up his father's art and became enamel painter to Queen Adelaide and Queen Victoria. He lived subsequently at No. 22 Percy Street where he died. 1852–1854, Albert (Richard) Smith, author and lecturer.
No. 14.
1770–1779, Dr. James Walker. 1794, Mordecai Lopes, father of Sir Manasseh Lopes (see Fitzroy Square).
No. 16.
1804–1808, Robert Abraham, probably the architect (1773–1850). His work included Arundel Castle, Synagogue near the Haymarket, Westminster Bridewell, etc. He was the son of a builder and had a wide connection among Roman Catholics.
No. 17.
1823–1826, John Wade, grandson of Field-Marshal George Wade. His mother Helen, widow of the Field Marshal's natural son John, died here, 24th September, 1823, in her 93rd year.
No. 19.
1776–1781, James Bailey. May have been the engraver. 1794–1812, Samuel Harrison (1760–1812), vocalist. As a boy he sang as soprano at the Ancient Concerts and later as principal tenor (1785–1791). "He became the most finished singer of his age." He died at his house in Percy Street. His wife was Miss Cantelo, a soprano, who sang at the Ancient Concerts and the Three Choirs Festival. She died in 1831.
No. 20.
1838–1854, Henry Tamworth Wells, presumably the merchant of that name who married Charlotte Henman and whose son was Henry Tamworth Wells, R.A. (1828–1903). He was preceded at No. 20 by Edward Wells, saddler, 1802–1835, and was followed by other members of this firm of saddlers, who also carried on business in Tottenham Court Road.
No. 22.
1828–1846, Robert Lindley, violoncellist, (1776–1855). He was preceded at No. 22 by Hannah Lindley, 1808–1830. 1848–1854, Henry Pierce Bone, for whom see No. 12 Percy Street (above).
No. 23.
1794–1804, Sarah Rose, On the authority of Hayley, Mr. Beresford Chancellor gives this house as the residence of Samuel Rose, the friend of William Cowper, the poet. His wife was Sarah, elder daughter of Dr. William Farr, a fellow student of Goldsmith. They were married in Bath in 1790. Samuel Rose (1767–1804) died according to D. N. B., at his residence in Chancery Lane and was buried in St. Andrew's, Holborn. It is not obvious why his wife's name should appear in the rate-books, unless the house was taken by her, owing perhaps to his absence on circuit. He was called to the bar from Lincoln's Inn in 1796 and was later appointed Counsel to the Duke of Kent. 1812–1826, John Adolphus (1765–1845), barrister and historical writer. Published Biographical Memories of the French Revolution, (1799), etc. He defended Thistlewood and the Cato Street conspirators.
No. 25.
1770–1788, Samuel Cotes. See No. 8 Percy Street (above).
No. 27.
1776–1779, Colonel James Rainsford. 1781, Colonel, and in 1788 General Lascelles.
1794–1796, Stephen Storace, see No. 23 Howland Street.
No. 29.
1840–1846, George [Frederick] Kiallmark. See No. 1 Fitzroy Street.
No. 30.
1776–1783, Lady Elizabeth Grant. 1788, Rev. Dr. Price. 1871–1872, Henry Tidey (1814–1872), water colour painter, younger brother of Alfred Tidey, miniature painter. Commenced as a portrait painter but had great success with historical and poetical subjects after the manner of Watteau. He died at his house in Percy Street.
No. 33.
1794–1798, Governor William Brown. 1804, Colonel Delavel. 1824–1841, Charles Cranmer, artist.
No. 34.
1781–1804, Lady Gosling. 1821–1826, Jacob George Strutt, painter and etcher. Exhibited at the Royal Academy and British Institution between 1819 and 1858. Known chiefly for his etchings of trees. From 1831–1851 was abroad and returned to England in the latter year.
No. 36.
1776, Sir Charles Price (1732–1788) succeeded his father in 1772 as second baronet and on the former's resignation in 1753 to the Speakership of the House of Assembly of Jamaica. He returned to England in 1775 for four years and then went back to Jamaica and died there. 1815–1822, George Francis Joseph (1764–1846), portrait and subject painter. Constant exhibitor at the Royal Academy from 1788 and also at the British Institution. He was elected associate R.A. in 1813. He retired in 1836 and from that year lived in Cambridge where he died. He was cousin of Samuel Joseph (see No. 90 Charlotte Street).
No. 37.
1838–1840, Henry Duesbury, architect.