Pages 129-132
Survey of London: Volume 22, Bankside (The Parishes of St. Saviour and Christchurch Southwark). Originally published by London County Council, London, 1950.
This free content was digitised by double rekeying and sponsored by English Heritage. All rights reserved.
CHAPTER 26: NELSON SQUARE
Nelson Square was laid out circa 1807 on land, previously demesne land of the manor of Paris Garden, belonging to Sir Francis Lindley Wood, ancestor of Lord Halifax. (fn. 258) The houses on the north side were completed and occupied by 1808, but the square was not fully tenanted until 1814. (fn. 248) William Hansard (fn. 250) seems to have built most of the houses in the square and it seems likely that Samuel Pepys Cockerell, who was certainly concerned with several of the houses there, designed the whole.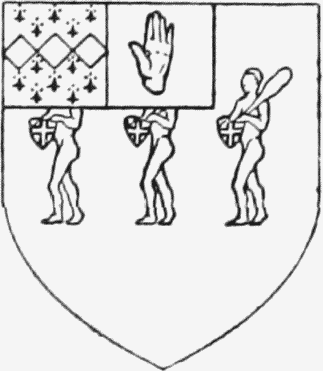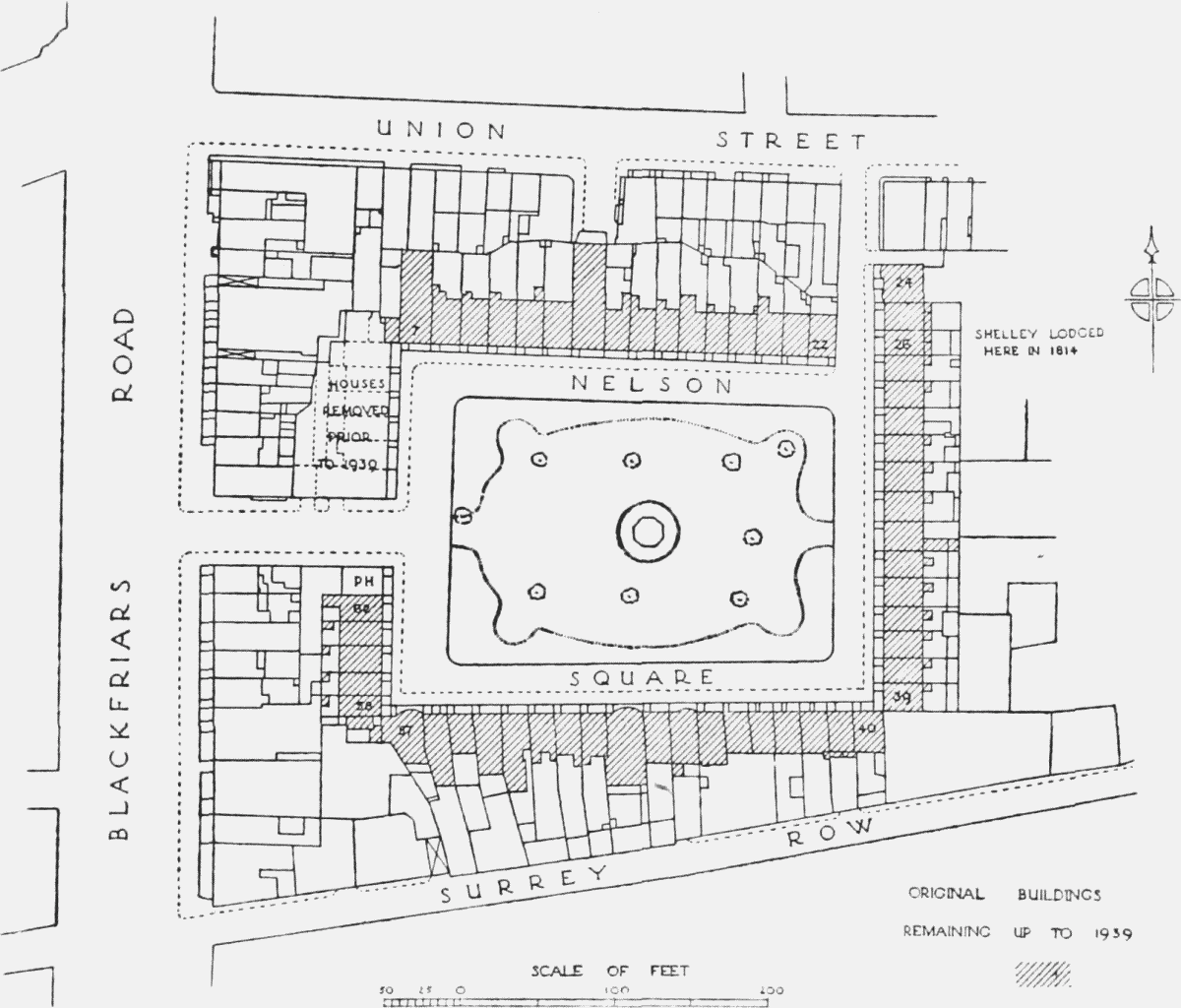 Architectural Description
The houses are of stock brickwork with a few ground floor fronts stuccoed. The east and part of the north sides are of three storeys with segmental headed dormers in a slated mansard roof above a parapet, but those on the south side, together with some on the north, are of four and five storeys without dormers.
The front doors, with their surrounds and patterned fanlights, are of varied design. Many of the ground floor window heads retain their original curved sash bars. The majority of the houses have iron balconies of varying patterns at first floor level. The railings to the basements are of plain spearhead type, some with iron lampholders over the gateways.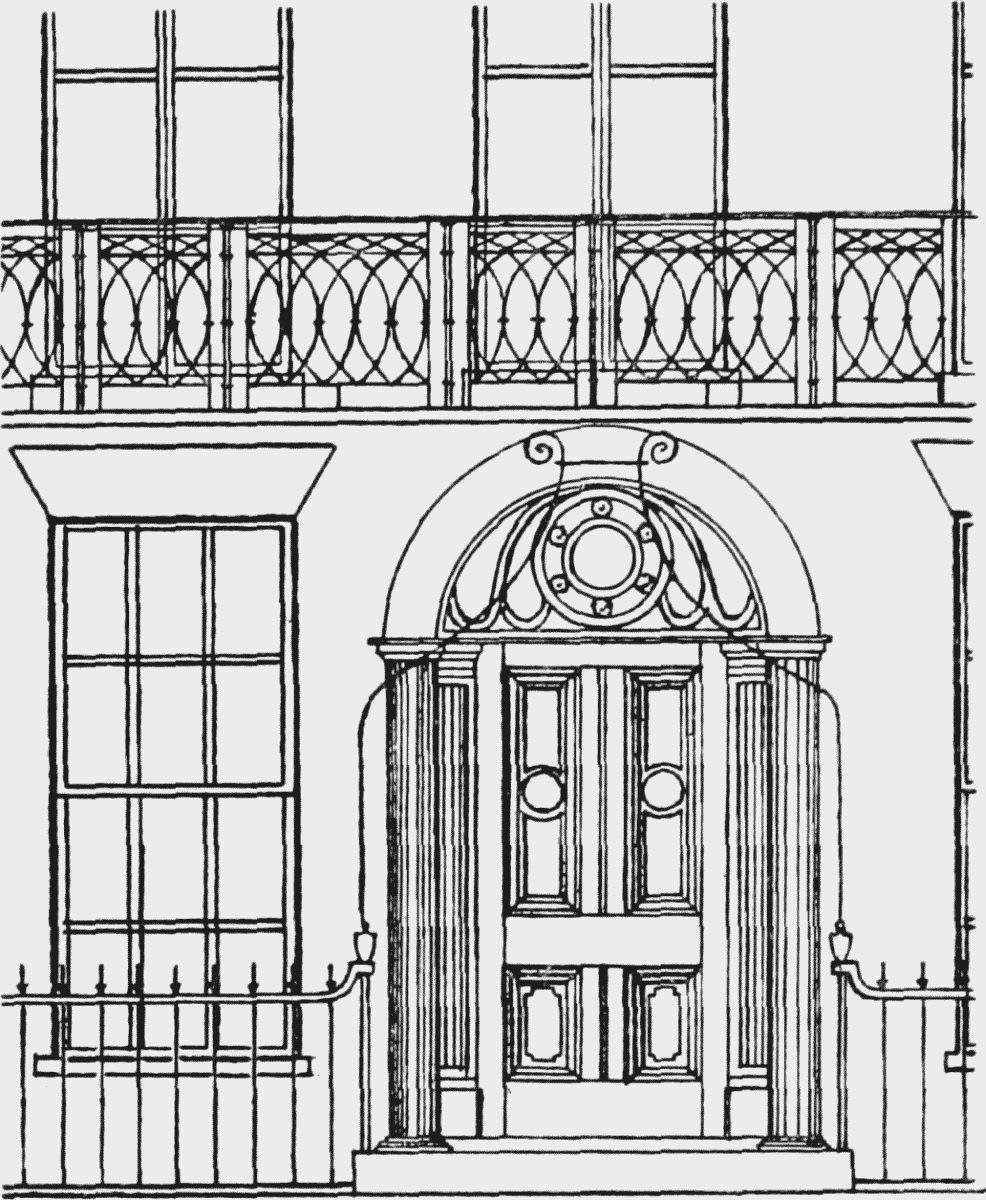 The upper window openings have gauged brick arches and plain reveals, those on the first floor, in a number of cases, being set in gauged brick semicircular arched recesses. The ground floor openings are generally round-headed.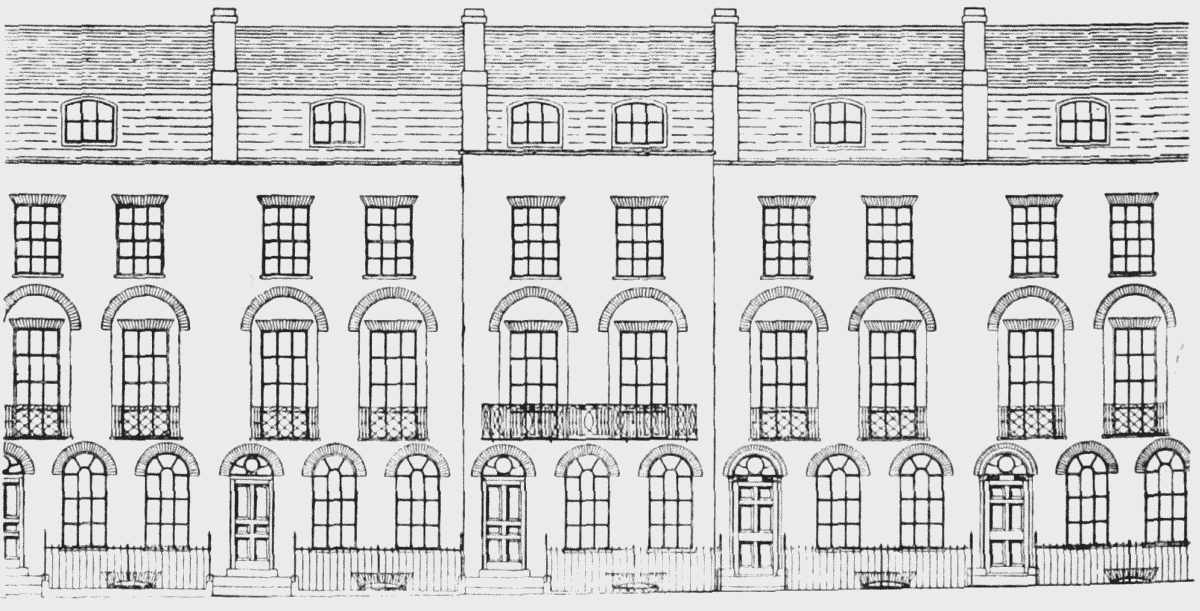 Nos. 1–6 have been replaced by a commercial building and many of the houses in the square have been badly damaged or destroyed by enemy action. The whole square is being acquired for a housing scheme by the Southwark Borough Council.
A sketch of the pump, which used to stand in the square and is now in the churchyard of St. Mary Newington, is reproduced on p. 132.
Few of the inhabitants of Nelson Square have attained eminence. The outstanding exception was Percy Bysshe Shelley who took lodgings at No. 26 as a tenant of Thomas Lillo on 9th November, 1814. Shelley's fortunes were at a very low ebb at this time and his anxieties were increased by the ill-health of Mary Godwin and the difficult temperament of "Claire" (Mary Jane Clairmont), both of whom were living with him. (fn. 255) In January, 1815, his grandfather died and Shelley was able to find relief from his financial worries by selling his reversionary interest in the Shelley estates to his father. He moved to Hans Place on 8th February, 1815. In 1932 the London County Council erected a memorial tablet on No. 26, Nelson Square.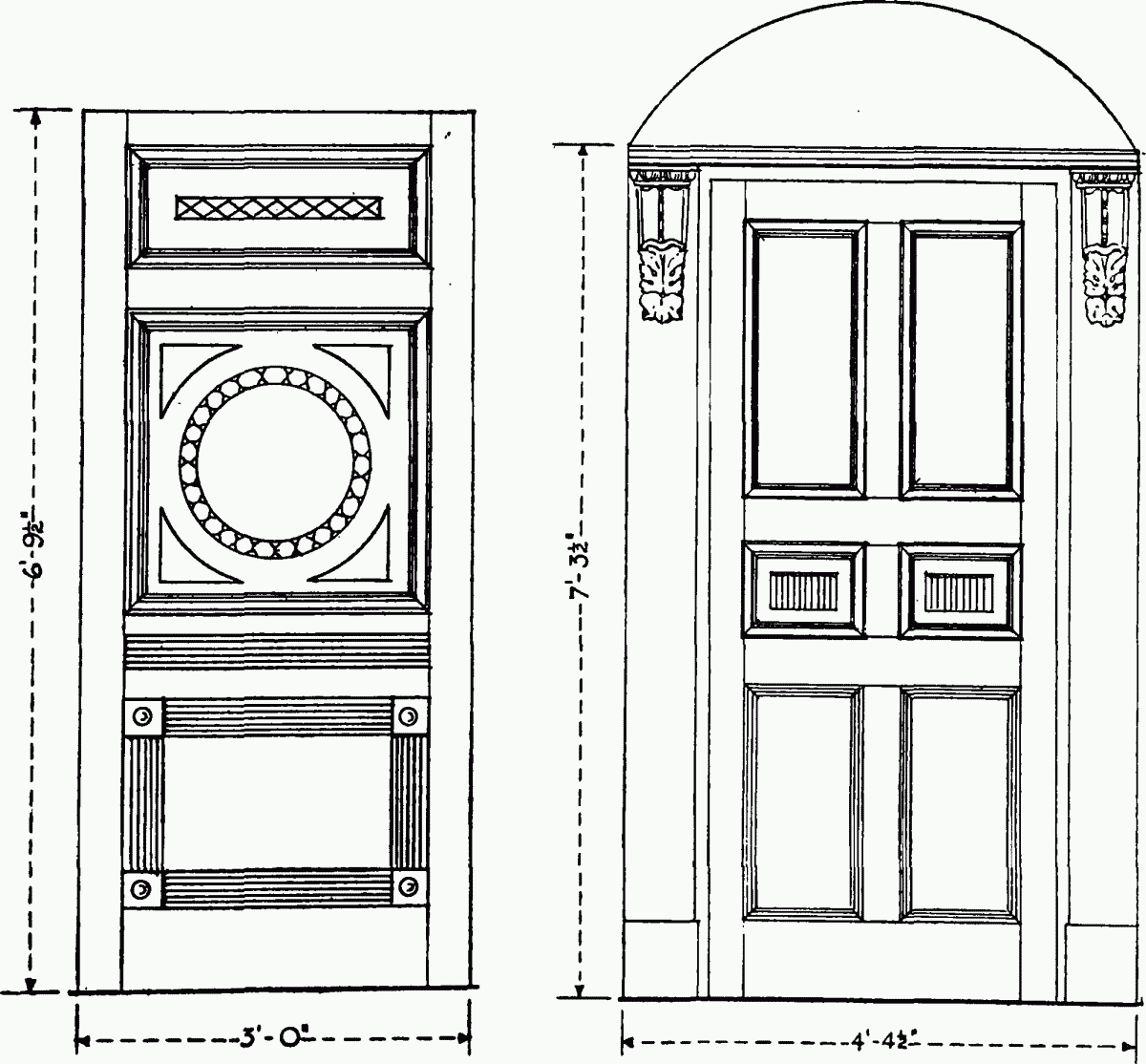 William Hansard, the builder of the square, lived at No. 1 from 1808 to 1814, and Augustus Applegarth, brother in-law and partner of Edward Cowper, inventor of printing machinery, was at No. 24 from 1813 to 1818.
Messrs. Lincoln & Bennett, hat manufacturers, occupied No. 24 from 1862 to 1932 and for some years they also tenanted the houses on either side.
In 1891 the Women's University Settlement took over No. 44. They now occupy Nos. 44–47.
Thomas Barnes, editor of The Times, was at No. 48 from 1826 to 1831 and at No. 49 from 1832 to 1835.
Sir Charles Aldis, surgeon, lived at No. 57 (formerly 53) from 1808 to 1812 and at No. 49 from 1813 to 1830, being the first occupant of both houses. He was for a time surgeon to the parish of Christ Church. A short account of him is given in the Dictionary of National Biography. His wife died in Nelson Square in 1822.