Pages 56-69
Survey of London: Volume 24, the Parish of St Pancras Part 4: King's Cross Neighbourhood. Originally published by London County Council, London, 1952.
This free content was digitised by double rekeying and sponsored by English Heritage. All rights reserved.
CHAPTER 4: THE CALTHORPE ESTATE
The Calthorpe Estate occupies the south-eastern corner of the parish of St. Pancras between Gray's Inn Road on the west, the Fleet River on the east, the parish boundary on the south and Battle Bridge Field on the north. It would seem to have been part of the Prebendal manor of Portpool, the southern part of which comprises Gray's Inn in Holborn. It certainly belonged to the Priory of St. Bartholomew in West Smithfield at the Dissolution, but detailed records are lacking and the subsequent title is rather obscure. It may be noted that in 1315 the Prior obtained (fn. 22) a licence in mortmain to acquire from John, son of Reginald de Gray, 30 acres of land, 2 acres of meadow and 10s. rent in "Kentissheton next London" and in St. Andrew Holborn for the purpose of finding a chaplain to celebrate divine service daily in the chapel of the manor of the said John de Pourtepole without the Bar of the Old Temple, London, for the soul of John, etc. This chapel was doubtless in Gray's Inn.
After the Dissolution the manor was granted (fn. 23) to Robert Fuller, the late Prior of St. Bartholomew, but an entry in the Ministers' Accounts of the Crown (fn. 22) for 1540 seems to indicate that the Portpool land in St. Pancras had already been separated from the rest of the manor. This is the payment of £6 13s. 4d. for the farm of two fields late in the tenure of William Huddeston, in St. Pancras (26 acres), leased to Richard Hudson in 1533 for 41 years; a property which appears to be identical with the two closes in "Porte Pole" in St. Pancras (22 acres) previously in the tenure of William Hudson and Richard Hoddleston, then of William Roper and Richard Clyflf, and formerly belonging to the Priory of St. Bartholomew in West Smithfield which John Hobson, citizen and haberdasher of London conveyed to John Robinson, citizen and merchant taylor of London in 1585. This John Robinson, elected alderman for Aldgate Ward in 1592, died on 19th February, 1600. (fn. 24) His son, John Robinson, died 22nd November, 1609, holding in St. Pancras three closes of pasture (36 acres) in the occupation of Lewis Owen, Knyston and Smith, which he bequeathed (fn. 25) to his third son, William Robinson. He also owned the manor of Denston Hall or Denardiston Hall in Suffolk which went to his eldest son, John Robinson, aged 25. In 1659 William Robinson, then of Great Stanmore, Middlesex, sold (fn. 26) the estate to his nephew, John Robinson of Gravesend. It was then described as Middle Close (13 acres), a close adjoining this on the north side (11 acres), formerly in the occupation of Thomas Cotterell and then of William Blunt, and a close of 10 acres (fn. n1) adjoining the last mentioned close on the north. All were in "Portepole" in St. Pancras, near the north end of Gray's Inn Lane, abutting west on the highway and east on Turners Brook [the Fleet] and the "way or Comon there belonging to Kentish Town."
John Robinson of Gravesend bequeathed (fn. 27) it to his younger son, William, on whose death without issue it came to his elder brother, Sir John Robinson of Denardiston, who married Amy, daughter of Sir Gervase Elves, and died in 1704. (fn. 28) Dame Amy Robinson and her son in 1706 conveyed (fn. 11) to Richard Gough, of London, merchant, Dry John's Field now Cotterell's Close (12a. 2r. 3p.) in the occupation of William Gray, yeoman, Middlefield (13a. 1r. 32p.) and Old Merchant Field (9 acres) with a house, barn, cowhouse, etc., in the occupation of Thomas Green, yeoman.
[Sir] Richard Gough of London, merchant, dying in 1728, was succeeded by his son Henry Gough of Edgbaston, who was created a baronet the same year. He married Barbara, only daughter of Reynolds Calthorpe, and died in 1774. Their son, Sir Henry, added the name of Calthorpe in 1788 and was created Baron Calthorpe in 1796. (fn. 29)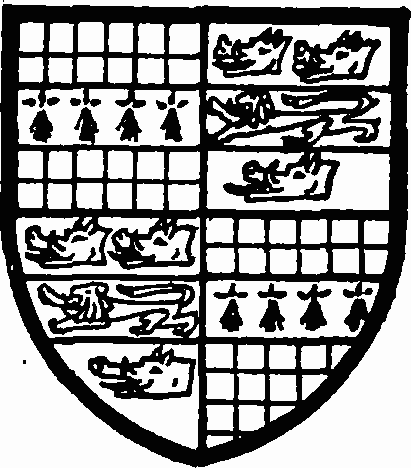 In 1745, Sir Henry Gough of Edgbaston leased (fn. 30) the three fields to Daniel Harrison of St. Pancras, bricklayer. The property was then described as a messuage in Gray's Inn Lane and ground (8 acres) adjoining the common sewer dividing the parish of Holborn from St. Pancras on the south, and Turnmill Brook [the Fleet] on the east; north of that, Middle Close (14a. 1r. 36p.) in the occupation of Daniel Harrison, abutting east on Black Mary's Bridge; and further north, Cotterell's Close (12a. 3r. 22p.).
In Rocque's Map (1746) can be seen traces of the extensive brickearth excavations made by the Harrison family (see also the Harrison Estate, Chapter 5). In 1773 Sir Henry Gough sold (fn. 31) to James Swinton of Greenwich, builder and surveyor, part of Cotterell's Close on which he built the houses in Swinton Street and Acton Street shown on Tompson's Map (c. 1803). South of this the same map shows Bagnigge Wells (see p. 66) bordering on King's Cross Road and west of it two fields called at that time Upper and Lower Bagnigge Meadows. In the angle between these meadows lay the Welsh Charity School, removed here in 1772 and the burial ground belonging to the Church of St. Andrew's, Holborn, which had been acquired in 1747. These were both taken out of Middle Field and are described later. The burial ground adjoined the old Blue Lion on the south, and then came Mr. Leader's Coach & City Cavalry Stables below which was a farmyard with a large pond in the occupation of George Dennett. Here was built in 1811 the Chapel of St. Bartholomew (see p. 58). These last named properties occupied the third and southern field of Portpool.
In 1814, George, Lord Calthorpe applied for an Act of Parliament (fn. 32) for the paving, etc., of the streets on his estate which is therein described as consisting of 23 acres, bounded on the north by James Swinton's land, west by Gray's Inn Road, St. Andrew's Burial Ground and the Welsh Charity School, east by the Fleet River, and south by the sewer dividing the parish of St. Pancras from St. Andrew's, Holborn. This comprised the remaining meadows that were so far unbuilt upon. In 1823 Lord Calthorpe leased (fn. 33) the northern part (south of the Swinton property) to Thomas Cubitt who had already established his building works (soon after 1815) in Gray's Inn Road. (fn. 34) He built Frederick Street, Ampton Street, Arthur (now Cubitt) Street and other thoroughfares subsequently mentioned in this Survey. Messrs. Cubitt's works occupied a site south of Ampton Street and below this the Royal Free Hospital was built in 1855–56.
CII—Gray's Inn Road. East side, Nos. 214–252 (even numbers)
Nos. 214–224 are early 19th century houses with shops and three storeys over, partly renovated.
St. Bartholomew's Church, now demolished, was built in 1811, at a cost of £9,000 by admirers of William Huntington (1745–1813), coalheaver and preacher, who added to his name the initials S.S. (Sinner Saved). (fn. 35) His previous church, Providence Chapel in Titchfield Street, had been burnt down. St. Bartholomew's seated about 1,300. After Huntington's death several dissenting preachers (fn. n2) occupied the pulpit, (fn. 7) but in 1837 it was opened as an Episcopal Proprietary Chapel, having been sub-leased to the Rev. Thomas Mortimer (fn. 36) by the trustees of George Davenport. (fn. n3) A plan of the site made in 1836 includes an almshouse. (fn. 37) The chapel was eventually purchased, consecrated and endowed as the district church of St. Bartholomew in 1860. (fn. 36) It was almost entirely destroyed by bombing on 17th October, 1940. Architecturally the church was of the plainest type of early 19th century meeting house with a flat ceiling of considerable span. Among the memorial tablets was one to Clarissa Murray, Sunday School leader, d. 1864.
Incumbents:
1837
Thomas Mortimer (d. 1850)
1850
Canon Edward Garbett
1863
R. J. Golding-Bird
1907
Herbert Henry Abdy
1940
Sidney Gordon Dickens
1949
Gerald Caldecott Anthony
Two old houses (Nos. 226 and 228 Gray's Inn Road) remain south of Calthorpe Street. At the northern corner of the latter, No. 240, and Nos. 242–250 are of early 19th century date, No. 244 having an early shopfront, flanked by wood columns, placed between two doorways.
CIII—Gray's Inn Road. East side, Nos. 254–294 (even numbers)
St. Andrew's Gardens. These lie north of Wren (formerly Wells) Street, the land being purchased by the Church of St. Andrew, Holborn as a Burial Ground under an Act of 1747. (fn. 38) It was consecrated by the Bishop of Chester on 3rd December, 1754, (fn. 39) and was deemed a part of the parish of St. Andrew until 1900 when it reverted to St. Pancras. On the ground (on its northern side) was built a church dedicated to the Holy Trinity, which was dependent on the rectory of St. Andrew, Holborn. This church, designed by (Sir) James Pennethorne, was erected in 1837, (fn. n4) and consecrated on 13th December, 1838. It seated 1,500 people. It was restored in 1880 and re-opened in 1881. (fn. 40) During the 1914–18 war it was closed, but was in use again about 1921 and finally closed in 1928. (fn. 41) The parish is now united with St. George the Martyr, Queen Square. The drawing by Mr. F. A. Evans, on this page, which is based on a photograph in the possession of the late verger of the church, Mr. Jackson of Holsworthy Square, gives details of the interesting brick front facing Gray's Inn Road. The following were the incumbents—
1838
James William Worthington
1879
Henry Wilfrid Blunt
1884
Frederick Thorne
1920
Arthur Hope Hope-Smith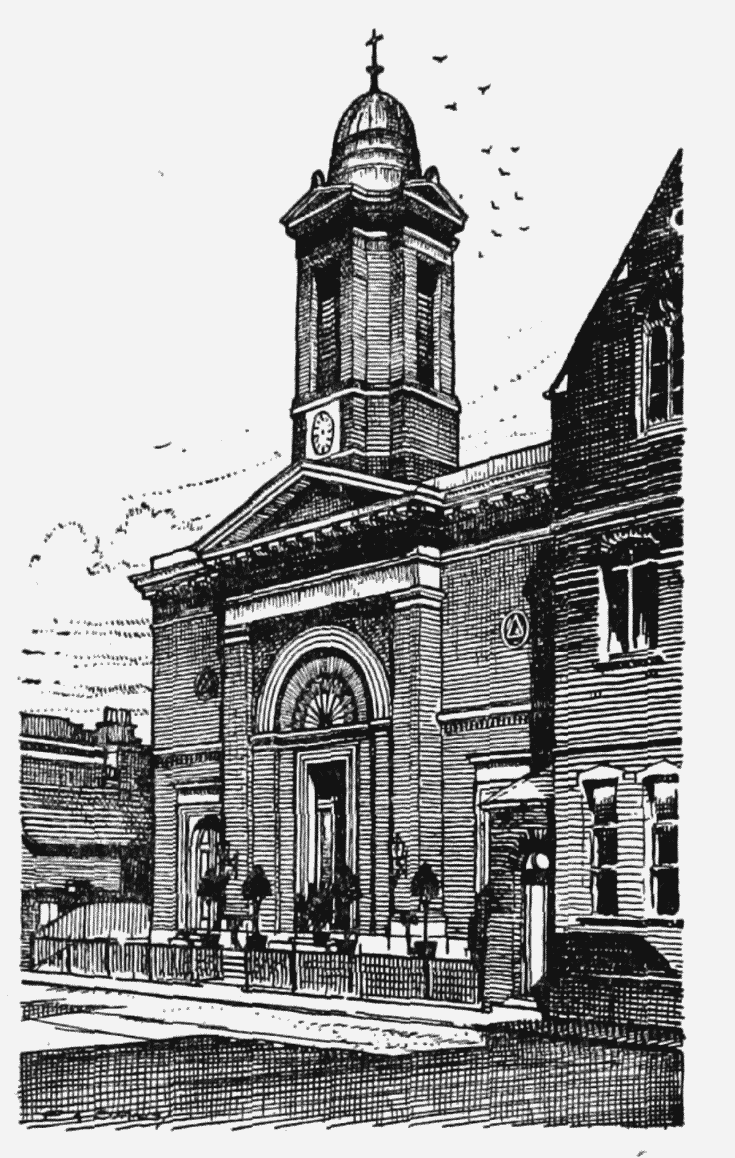 In 1872 Dr. J. W. Worthington, incumbent of Holy Trinity Church, obtained an Act (fn. 42) enabling him to erect a school on the ground formerly occupied by the lodge. When Prospect Terrace Schools were built in 1882 the old building was disused and was subsequently let. (fn. 39) In 1885, interments having ceased, a faculty was procured for laying out the grounds as a garden. (fn. 39) A strip of land ten feet wide running the whole length of the south side was added at this time. A granite drinking fountain was presented by Emily Orbell.
To this burial ground were removed the bones of Thomas Chatterton, the poet, together with those of the paupers interred in the Shoe Lane Workhouse graveyard. (fn. 39) Among others buried here were Sir Robert Burke, senior Bencher of Gray's Inn; William Russell (1813), organist to the Foundling Hospital; Richard Jones (1792), treasurer of the adjoining Welsh Charity School, and Abigail (1855), wife of the Rev. J. W. Worthington, first incumbent of Holy Trinity Church. (fn. n5)
Immediately north of St. Andrew's Gardens stood the Welsh Charity School, founded in 1718 for clothing and educating poor children of Welsh parents. From 1737 to 1772 it occupied a house on the north side of Clerkenwell Green. In the last mentioned year it was moved to Gray's Inn Road. (fn. 43) Its buildings are shown in a drawing by T. Hosmer Shepherd in 1850 (Plate 54), where the house appears as a four-storeyed building with the badge of the Prince of Wales (its patron) over the clock, and the school building standing forward as a substantial wing on the right. The plan is shown clearly on Tompson's map of St. Pancras (Plate 3). The land—1 acre 3 poles, part of Middle Field, St. Pancras, and abutting north on Cotterell's Close, west on the road from Gray's Inn Lane to the Pindar of Wakefield, east on Black Mary's Bridge and the grounds adjoining, and south on St. Andrew's Burial Ground (fn. 44) —was leased by Sir Henry Gough in May, 1771, to David Humphrey, treasurer and the trustees of the school. The site had been previously in the tenure of Daniel Harrison. In 1772 the field to the north is described as a brickfield in the tenure of Ann Harrison. (fn. 45) The charity moved in July, 1857, to Ashford, near Staines. (fn. 43)
North of the Welsh Charity School lay the barracks of the Light Horse Volunteers of London and Westminster. The site was leased to Colonel Charles Herries by George, Lord Calthorpe in 1812. (fn. 46) The buildings passed in 1830 (fn. 47) to Thomas and George Seddon, cabinet makers and upholsterers, and later to the Royal Free Hospital (founded in 1828) which received a lease from Lord Calthorpe in 1863. (fn. 48) The frontage is in two parts, the southern (Eastman Dental Clinic) is modern, but the northern (Sussex) wing with a classical treatment including a pediment was built in 1855–56. Messrs. Holland & Hannan and Cubitt's works adjoin the hospital on the north, and beyond them the following houses date back to the early 19th century: Nos. 270–272, Nos. 274 and 276, at the south and north corners of Ampton Street (the upper storeys of which are plastered), Nos. 278, 282–292, and No. 294 at the north corner of Frederick Street. No. 280 is destroyed.
CIV—Calthorpe Street
Calthorpe Street was named after Lord Calthorpe, the owner of the estate. From the parish rate books it appears that the section between Gray's Inn Road and Gough Street was built gradually between 1821 and 1826. The section east of Gough Street was built between 1842 and 1849.
The street is numbered from west to east, the odd numbers on the north side and even on the south.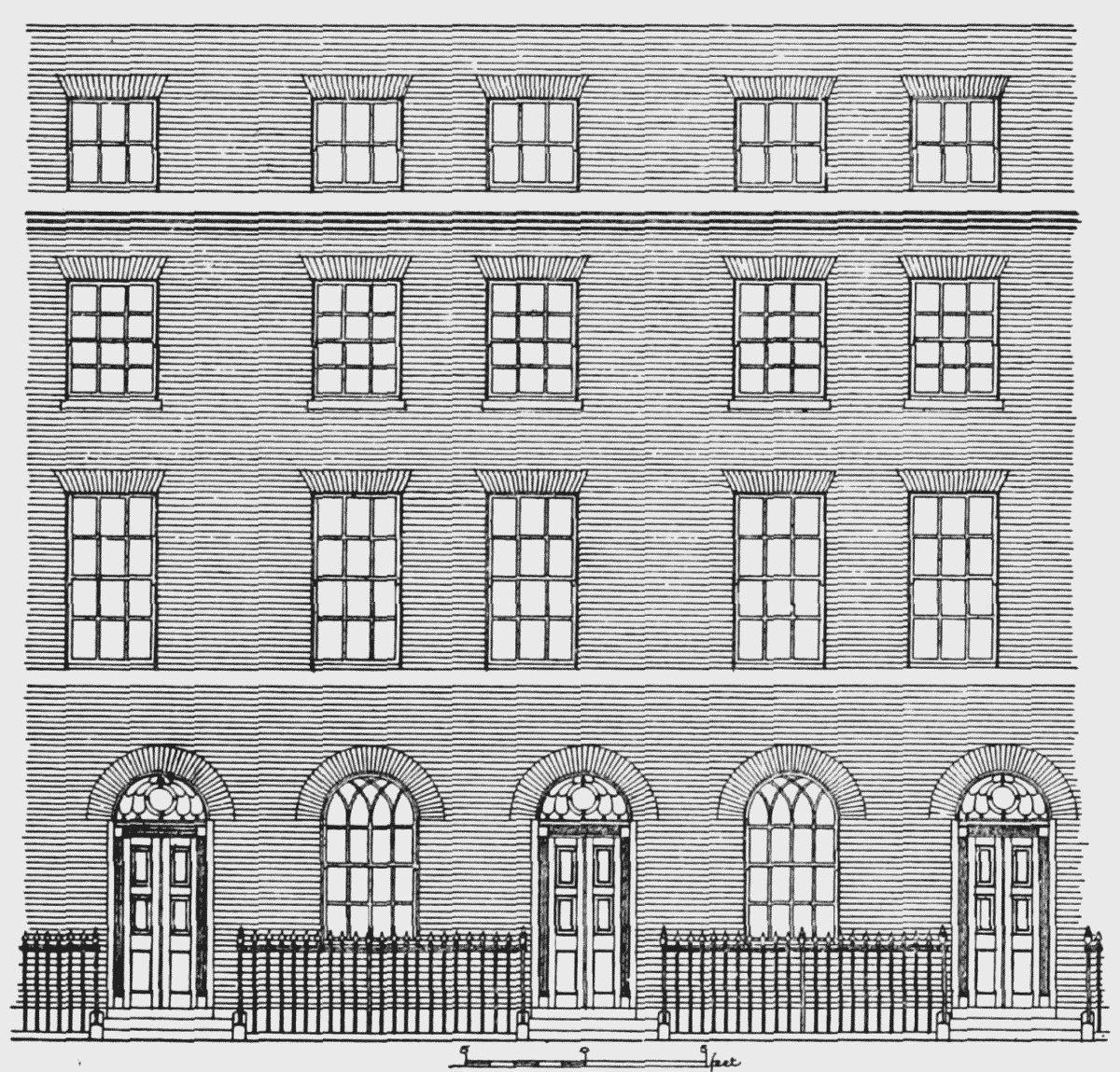 Nos. 1 to 21, from Gray's Inn Road to Gough Street, are of stock brick with basements and railed areas, ground storeys with round-headed doorways and windows, and two storeys above, having a moulded stucco or stone cornice and an attic storey. The first floor windows mostly have lowered sills and balconies.
Nos. 6 to 24 on the south side are similar, but the first floor sills are not lowered and there are no balconies. At first floor level is a plain plastered string course. No. 10 is illustrated in Plate 58b and Nos. 18–22 above, where the Gothic interlacing of the sash-bars in the windows is shown.
The two sides east of Gough Street, up to Pakenham Street on the north side and Phænix Place on the south, differ from those already mentioned, and are treated as integral designs for the whole length, excepting the corner house, No. 26, on the south side, which is of the same type as the houses west of it, but modified on the ground storey.
Nos. 28, 30 and 32 have channel-jointed stucco to the basements and ground storeys. Steps lead up to the square-headed entrances. There are two storeys above of stock brick, the top having been rebuilt. The first floor windows are embellished with stucco architraves and pediments, and have balconies; the second floor windows have architraves only.
Groups Nos. 36, 38 and 40, and 44, 46 and 48 on the south side, and Nos. 23, 25 and 27, 31, 33 and 35, and 39, 41 and 43, on the north side repeat this design. No. 23 is at the corner of Gough Street and has a roundheaded side door in that street; it is also rounded in plan at the angle where there was formerly a doorway. The houses between these groups, Nos. 34, 42, 29 and 37, are similar in the basement and ground floor but have roundheaded windows with architraves to the first and second floors, and moulded cornices.
The same group design is repeated in Nos. 45, 47 and 49, east of the junction with Pakenham Street; No. 45, now derelict, has its squareheaded doorway in Pakenham Street. East of No. 49 are No. 51 (mid-19th century building, now a factory) and Rowton House at the corner of King's Cross Road.
Pakenham Street, which opens from the north side of Calthorpe Street and connects it with Cubitt Street, retains fifteen houses on its east side (Nos. 4 to 18). They are of two storeys and basement, arranged in five groups of three houses, with channelled stucco below, and brick to the first floor. The upper windows have cornices and each central pair of windows has pediments in addition.
CV—Wren Street (formerly Wells Street)
Wren Street lies immediately south of St. Andrew's Burial Ground and connects Gray's Inn Road with Pakenham Street. It was formerly called Wells Street because there was a path there to Bagnigge Wells, but it lies mainly on the site of the old Blue Lion. The street dates from 1824 when the first three houses on the south side at its west end were built. In 1830 these had increased to nine. The part east of Gough Street was completed by 1849.
The houses on the south side are numbered 2 to 10, from west to east; the last house at the corner of Gough Street is demolished. They are of three storeys in brick with basements, and some have mansard roof attics in addition. The doors are arched and the first floor windows have balconies. No. 6 is set back slightly from the face and is lowered to meet the gradient of the street. No. 4 has later rusticated stucco to its entrance.
East of Gough Street, Nos. 11 to 20 have stucco basements and ground floors and only one upper storey with a moulded cornice and windows with architraves and pediments. The entrance to No. 11 is in Gough Street, the front of which has blank windows. The frontage deflects southwards between Nos. 15 and 16 but the line is kept in the ground floor by a wall, standing free, with a pair of open arches leading to the flank doorways of the two houses.
CVI—Ampton Street
Ampton Street runs eastwards from Gray's Inn Road and at its eastern end meets Cubitt (formerly Arthur) Street. It figures on the plan accompanying the lease, dated 1835, from Lord Calthorpe to Cubitt, who built Cubitt Street in 1839. (fn. 43) Ampton Street now incorporates Ampton Place. Rate book entries show that Ampton Street was built in 1821–27 and Ampton Place in 1845–47.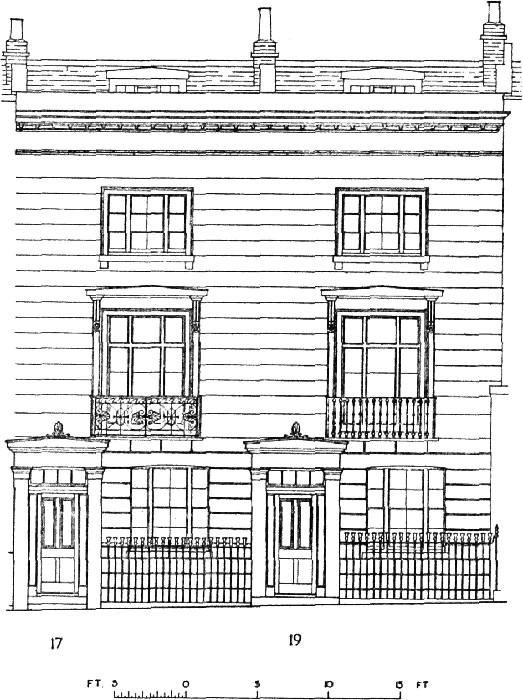 The street is numbered from east to west, odd numbers on the south and even on the north. Much of it has been destroyed, especially the eastern part. Nos. 18 to 36 are partly brick and partly stucco. On the south side Nos. 1 to 9 were destroyed by bombs; Nos. 11 to 17, opposite the bombed area, have been repaired. Nos. 19 to 39 are still standing and among them is a group of three houses (29 to 33) which were of an interesting stucco design (Plate 56). Each house had an arched door and window in the ground floor, the window with interlacing sash-bars, and the two upper floors were framed in pilasters with anthemion ornament in place of capitals. Each floor had a single segmental-headed window, with good balconies at first floor level. Each house had a separate cornice with a shaped enriched parapet, which remained on No. 33. These houses have now been stripped of their ornament and rendered in plain cement. Thomas Carlyle lodged at No. 33 (then No. 4) in 1831 with a family named Mills belonging to the Rev. Edward Irving's Presbyterian congregation of Regent Square. He returned here in 1834 before moving to Chelsea. (fn. 49)
To the east of Ampton Street, in what is now Cubitt Street, stands Ampton Chapel, formerly Arthur Street Church, a plain building of brick with stucco dressings, which now serves as a non-denominational chapel and community centre.
CVII—Frederick Street
This street occupied the northernmost part of the Calthorpe Estate and connects Gray's Inn Road with King's Cross Road. Thomas Cubitt, to whom the ground was let in 1823, (fn. 33) started building here in 1826, in which year he built the first four houses at the west end of the south side. (fn. c1) Britton's map of 1834 shows both sides built nearly as far as Arthur Street.
Cubitt evidently took some care in designing the houses, which show an ingenious handling of brick and stucco. The houses are numbered from east to west, odd numbers on the south and even on the north. Nos. 12 to 46 (east of which the buildings are demolished) form a composite symmetrical design with few variations. Nos. 12, 18, 26, 34 and 40, each have channeljointed stucco to the basements and ground floors, with two upper floors of smooth stucco with tall pilasters and a moulded cornice, beneath an attic storey. The doors are square-headed. The intervening houses (in groups of twos and threes) are of plain stucco, the same height and with the same cornice, and having balconies at the first floor. Nos. 28–32 and Nos. 42–46 have round-arched doors, and windows to the ground floor and the upper storeys are brick-faced.
West of these are three houses, Nos. 48, 50 and 52 (Plate 57) which face the opening into Ampton (formerly Frederick) Place. They are of stucco, with central projections, to which the cornice is confined, with large first floor windows having elaborately roofed balconies with open ironwork pilasters. The attic storeys had scrolled parapets, and the ground floor doors and windows have semi-circular heads. (See the drawing, p. 65.) Nos. 54 to 72 repeat the treatment of the houses east of this group with slight variations.
On the south side No. 1, next King's Cross Road, has a mid-19th century shop. Nos. 3 to 27 are all stucco fronted, with a bracketed cornice, the first floor windows having architraves and pediments. No. 9 at the west corner of Cubitt Street has a porch. Nos. 13, 23 and 31 (corner of Ampton Place) have brick upper storeys and the last has a porch. From Ampton Place to Gray's Inn Road there is a variation of the scheme used in Nos. 12–46. The nine houses (Plate 55), Nos. 33 to 49, have three houses at each end with paired pilasters and entablature embracing the two upper floors. The intermediate three have the entablature only. All have stucco ground and basement storeys with round-headed doors and windows and large balconies to the first floor. The three houses at each end have large segmental-headed windows to both upper floors, while those between have plain sash windows. The entablature has disappeared from Nos. 43 to 49. (See drawing, p. 65.)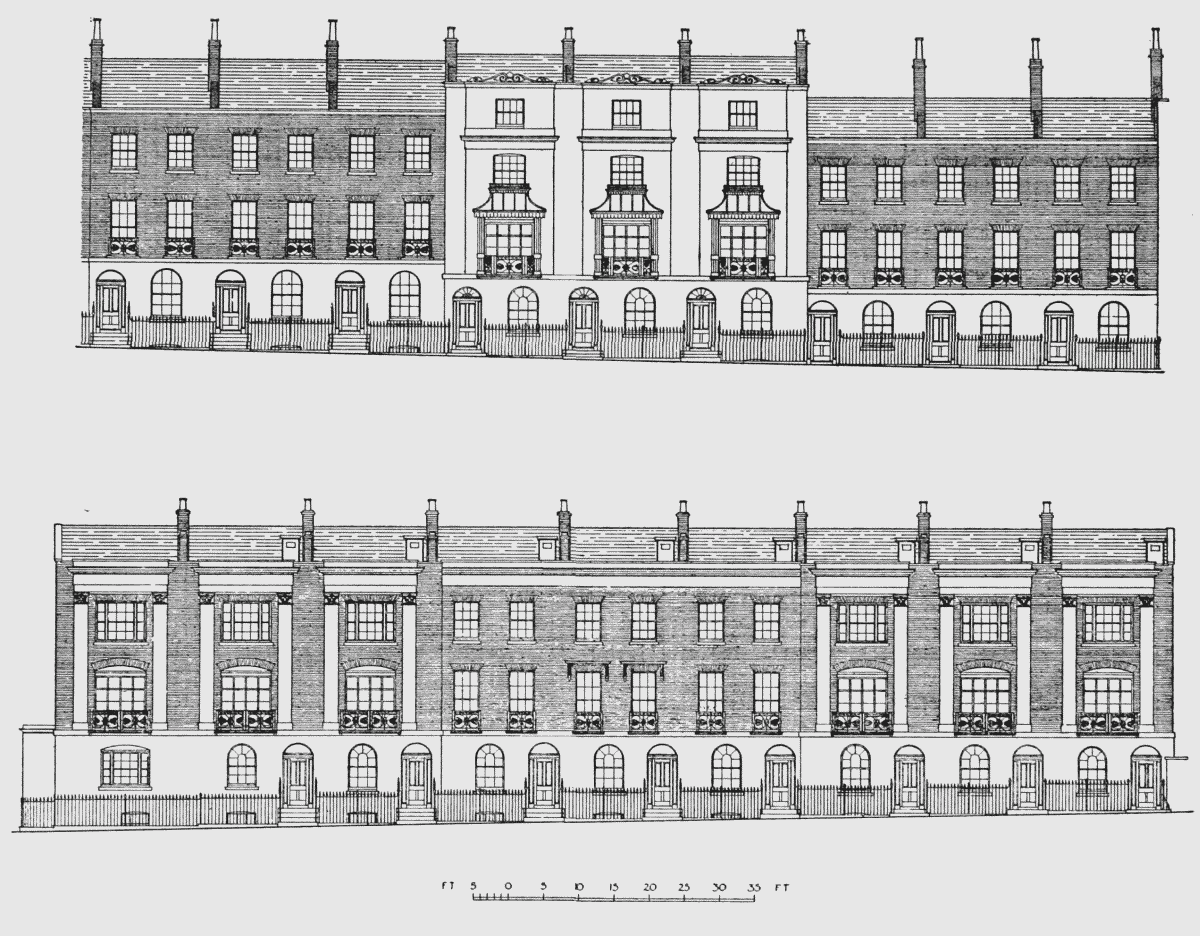 CVIII—Bangigge Wells
Between the Fleet and King's Cross Road was a strip of unenclosed land, "waste" of the manor of Cantlowes. Cubitt Street now runs where the stream reached its greatest distance from the road. Northward the stream met the road where Frederick Street joins King's Cross Road and at the south it crossed Calthorpe Street near the Model Buildings.
The earliest record of any enclosure here is in 1665 when George Touffie and Grace his wife were granted (fn. 50) a parcel of the waste not far from the Pindar of Wakefield at Battle Bridge, containing from north to south 10 poles, from the footbridge to the field path leading to the Pindar of Wakefield on the north of the said bridge, and containing from east to west 2½ poles from the stream adjoining the waste on the west part. A footpath is clearly shown across "Acton Meadow" in Tompson's map (Plate 2) but this appears to be too far north. The condition attached to this grant is interesting, viz., "whereas George Touffie heretofore was accustomed to burn bones upon the premises whereby not only the inhabitants of the parish of St. James, Clerkenwell, but also those dwelling within the manor aforesaid frequently complained that the burning of bones as aforesaid is a common nuisance to the people of the lord King, greatly offensive to them; if then the aforesaid George Touffie hereafter burn or cause to be burnt any bones upon the premises granted by these presents to the common annoyance of the king's people, then it shall be lawful for the Lord to re-enter the premises." William Clarkson, who had acquired this property in 1701, was presented at the manor court in 1704 (fn. 50) for encroaching on the king's way at Black Mary's by digging a ditch there and planting trees.
Rocque's map of 1746 marks part of the roadway east of the Fleet (later part of King's Cross Road) as Black Mary's Hole, but the actual well from which the name was derived was east of the road in Clerkenwell. (fn. 51)
Thomas Hughes, described as a tobacconist of St. Andrew's Holborn, acquired Clarkson's ground on the manor waste in 1757. (fn. 50) On the authority of Dr. John Bevis, scientist and astronomer (1693–1771), he announced that the well there had chalybeate and cathartic properties and he opened it to the public in 1759. The place soon became a popular pleasure garden and its amenities were increased when, a few years later, Hughes added to it ground west of the Fleet on lease from Daniel Harrison.
In 1760 Dr. Bevis published An Experimental Inquiry concerning the Contents, Qualities, and Medicinal Virtues of the two Mineral Waters lately discovered at Bagnigge Wells, near London. He mentions that over one of the chimneypieces in the house was carved the Royal Arms, the Garter of St. George, and also a bust of Eleanor Gwyn. The latter may have been the one said to have been the work of Sir Peter Lely, (fn. n6) but these adornments may of course have been collected by Hughes to add to the interest of the place. It is worth noting that beside these springs there were others which were said to have the same properties at the back of Powys House, Great Ormond Street, St. Chad's Well and St. Pancras Well, each within a half a mile of each other and probably having a common source.
To add to the attractions of the gardens exhibitions by various performers, including Thomas Topham the strong man, were arranged. The gardens were furnished with seats and arbours; the Long Room had an organ and was used for concerts. The original charges were threepence to each person who drank the waters; the latter were also sold at eightpence a gallon.
Whether Mr. Hughes personally managed the place at first is not clear, but he leased it in 1762 (fn. 52) to John Davis of St. Pancras, vintner, who was there for many years. This lease was surrendered in 1769 (fn. 52) for another, in which it was described as—
A messuage and gardens called Bagnigge Wells "at Bagnalls Marsh otherwise Bagnigge Marsh," in St. Pancras, with the coffee room and women's garden and that part of the house adjoining to a messuage then late in the possession of George Hall; and the springs and purging "Chalybeat and other Mineral Waters," and the pump room, brewhouse, cellars, etc.; also all that other "copyhold House at Bagniggs called . . . Nell Gwins" with the mill and yard then late in the occupation of Mr. Blisson, apothecary; and the garden adjoining leased to Samuel Masters and opposite to the dwelling house in the occupation of John Davis; and also ground, being part of a brickfield belonging to Daniel Harrison, containing 3r. 4p. 12 yards, which was part of the east side of the brickfield, and on the north, south and west was enclosed with posts, rails and pales and was bounded on the east by a ditch called "the River Fleet or Turnmill Brook, which runneth between the said Brickfield and other Ground formerly called Bagnigge Marsh"; and all the other premises demised on 20th June, 1769 (sic), by Daniel Harrison of Islington to Thomas Hughes for 28 years, charged with a mortgage to Joseph Houghland.
In 1784 Thomas Hughes died and his daughter, Sophia, wife of Thomas Mallinson of Wendover, apothecary, succeeded under his will subject to a mortgage to John Davis. John Clarke of Bagnigge Wells, gentleman, grand-nephew and heir of Thomas Hughes, died in 1815 and the trustees for his widow (then Jane Hodgkinson) surrendered the property to William Grosvenor Wallis of Norwich. It was enfranchised in 1904.
John Davis died in 1793 and the gardens were subsequently under the management of Thomas Salter, W. Stock, William Thorogood, Richard Chapman, John Hamilton and a Mr. and Miss Foster. In 1813 the furniture and garden fittings were sold by auction but the place was re-opened on a smaller scale and was not finally closed until 1841.
As late as 1885 (fn. 50) the "springs and purging calybeate and other mineral waters and a pump room" were mentioned in a mortgage of the property. There is a stone (Plate 58a) fixed to the wall of a later building in King's Cross Road (No. 61) beneath a keystone carved with a mask, with the inscription:

†
S T
THIS Is BAGNIGGE
HOVSE NEARE
THE PINDER A
WAKEFEILDE
1680
The lettering has been re-cut and it is difficult to tell whether the S. T. is correct or whether it was originally S. P. (i.e. St. Pancras).
During its heyday Bagnigge Wells was a favourite resort of London citizens and is frequently referred to in contemporary satirical literature and songs. There is a sepia drawing in the Crace Collection (Plate 61a) that gives a good idea of its character. The print entitled "Mr. Deputy Dumpling and Family enjoying a Summer Afternoon" (Plate 60) shows these worthy folk about to enter the gardens. (fn. n7)
Nearby stood the pottery works, shown on Plate 59b. Here were made the chimney-pots that have been found in Doughty Street with the name "Bagnigge Wells" impressed upon them.
CIX—King's Cross Road, West side, Nos. 1–103
The southern extremity of the waste of the manor of Cantlowes, east of the Fleet river, lying between Pakenham Street on the north and the parish boundary east and south, was occupied by Clarke's Place, 1–13 King's Cross Road (now Rowton House) and Brooks Gardens. This property was surrendered in 1758 by Mary Camden of Hornsey, widow, and her son William Camden, citizen and clockmaker of London, to Bryan Philpot of London, merchant. Thomas Philpot succeeded his father in 1759, when he surrendered it to James Everest of Queen Square, St. George the Martyr. Everest, by his will in 1765, bequeathed it to his wife Elizabeth, under the description of a parcel of land whereon were standing 8 messuages. On her death in 1797 it went to the three sisters of her late husband. It belonged to these ladies and their numerous descendants in common, until in 1824 it was acquired by William Rathbone of Upper Norton Street, Rathbone Place. It was enfranchised in 1886. When leased (for 85 years) to William Thorogood the elder, of Bagnigge Wells, victualler, it was described as part of a larger piece of copyhold land on the south-west side of Bagnigge Wells, opposite the Union Tavern and tea gardens (at the corner of Baker Street), leading from Clerkenwell Workhouse to Bagnigge Wells, in the manor of Cantlowes, containing on the front abutting on Bagnigge Wells Road (now King's Cross Road) 58 feet 5 inches, on the south-east side abutting on land of the trustees for the county of Middlesex 112 feet 10 inches, then in an oblique direction south-west 46 feet 1 inch, then in an oblique direction southwest 75 feet 10 inches, and on the south-west abutting on the river Fleet 35 feet 11 inches, and on the north-west side 170 feet 11 inches. (fn. 50)
Behind Clarke's Place is an unusual survival of a mid-19th century alley called "Model Buildings," which figure in Edmund Daw's Map of St. Pancras (1868). They consist of very small houses of two storeys, numbered 1 to 12 from north to south on the west side and 13 to 24 from south to north on the east. They are of brick with rudimentary stucco pediments to the doors and ground floor windows.
Between Calthorpe and Cubitt Streets only one of the old houses (No. 27 King's Cross Road) survives. Further north are No. 45 (re-faced) and Nos. 47 to 59 (odd numbers), which have basements and railed areas. The ground floors are stucco-faced and the two upper storeys in brick, with balconies to the first floor. No. 61 and No. 63 (which have the inscribed stone referred to on page 68) are brick-faced, with basements and three storeys. No. 71 is the only old house that remains north of this.