Pages 70-79
Survey of London: Volume 24, the Parish of St Pancras Part 4: King's Cross Neighbourhood. Originally published by London County Council, London, 1952.
This free content was digitised by double rekeying and sponsored by English Heritage. All rights reserved.
CHAPTER 5: THE HARRISON ESTATE
This estate was originally, it appears, a field of 18 acres, which even as early as 1623, was the scene of the brickmaking industry and in the 18th century was part of the considerable holdings in the parish of the family of Harrison, brickmakers, who ultimately developed it as a building estate. It corresponds with the meadow called Peperfield in the manorial map opposite p. 1 in Survey of London, XIX, but the northern part of the field was separated early in the 19th century and it is therefore treated separately as the CromerLucas estate (see p. 94). The southern boundary of the Harrison Estate adjoined the property of the Foundling Hospital; on the west it touched the old parish boundary of St. George's, Bloomsbury, and on the east it reached Gray's Inn Road.
At its northern end an inn called the Pindar of Wakefield gave its name to the locality. (fn. n1) It is described in 1623 as "one greate Bricke howse . . . called the Pinder of Wakefeild," with nine acres of land late in the occupation of John Younge, viz. seven late in the occupation of widow Virton [the later Cromer-Lucas Estate] and two taken out of a field of eighteen acres [the Harrison Estate] which was demised and employed for "digging and making of Bricks." This property was then owned by Mary Balthrop, daughter of Richard Balthrop, (fn. 53) citizen and brewer of London, by whom the 18 acres had been acquired from Hugh Platt in 1604. (fn. 54)
In 1693 Francis Staunton leased to Richard Gray, for 43 years a cottage in the Pindar of Wakefield, adjoining a capital messuage of Francis Staunton, etc., and two closes containing 16 acres (fn. 55) [apparently the rest of the 18 acre field]. In 1710 the remainder of this lease was mortgaged to Humfry Hyde by Richard Gray's son, Richard, with liberty to dig brick earth. In 1713 Henry Procter sold three acres of this 16 acre field for two burial grounds (see St. George's Gardens, p. 78) with a roadway, which was later called Prospect Terrace, adjoining Richard Gray's dwelling house. (fn. 56) In 1724 Richard Oliver of St. Giles, vintner, mortgaged a toft whereon were then erected two new houses, a brewhouse, and a shed with a cellar, on the west side of Gray's Inn Road, part of the ground belonging to the Pindar of Wakefield. (fn. 57) In 1741 nine houses were said to have been lately erected on seven acres [i.e. on the seven acre field] near the Pindar of Wakefield, (fn. 58) on land leased for 1,000 years by Henry Procter of Hemel Hempstead, gentleman, to Isaac Robinson of Chesham, gentleman. (fn. 59) It seems probable that these nine houses were part of Greenland Place, built at the west end of the 7 acre field and shown on Tompson's map (Plate 2) next to the Bowling Green.
The Pindar of Wakefield and the adjoining property belonged to Richard Balthrop, and it is recorded that two acres of his land (across which Cromer Street now runs) were charged with the payment of 56s. yearly to the vicar and churchwardens of Hampstead in 1635 in return for £50 paid by Thomas Cleave, citizen and haberdasher of London to Richard Balthrop. The money was to buy 13 penny loaves of wheaten bread to be distributed weekly every Sunday forenoon after divine service or sermon in Hampstead, 12 to the poor and one to the clerk. (fn. 60)
The Pindar of Wakefield was destroyed in a hurricane in 1724, the landlord's two daughters being buried in the ruins. (fn. 35) According to Wheatley's edition of Cunningham's Handbook to London, it stood on the site of Nos. 235 to 243 Gray's Inn Road and is referred to in A Comical View of London and Westminster (1705), by Tom Brown and Ned Ward, when it was standing amid fields. The inn was subsequently removed to its present site on the east side of Gray's Inn Road, No. 328, just north of Swinton Street. It is given as the northern boundary of the Swinton Estate in 1773. (fn. 61)
On 11th/12th April, 1739, Peter Bennett of Furnival's Inn, gentleman, conveyed (fn. 62) to Daniel Harrison of St. Pancras, bricklayer, two messuages, with cowhouse, stables, yard, etc., at the Pindar of Wakefield, a close (formerly two closes) lying behind and adjoining the said messuages and the tile kiln, ash-house, etc., on the said close, all previously in the possession of Richard Gray deceased and afterwards of — Brown. One of the houses was occupied at this time by Lewis Smart, distiller (under-tenant of Daniel Harrison) and the other was occupied by William Roades (Rhodes) yeoman.
In a lease (fn. 63) of 22nd December, 1783, to Thomas Rhodes of Gray's Inn Lane, farmer, Thomas Harrison is described as "of Gray's Inn Lane, farmer." He is also stated to be the grandson and heir-at-law of Daniel Harrison, late of Islington, deceased, and son and heir of Daniel Harrison, late of Gray's Inn Lane, deceased, and only brother and heir of Daniel Harrison, son and heir to the last named Daniel Harrison. (fn. n2) Harrison retained the freehold since his name appears in Tompson's map (Plate 2), where the kiln is also shown. The acreage shown on the map totals just over 13 acres. After the development of the estate had begun, Thomas Harrison in 1819 conveyed Sidmouth Place, Street and Mews, Wellington Square, James Street and part of Harrison Street to Thomas Rhodes of Hampstead, Esquire. (fn. 65) He also authorized the lease of land north of Harrison Street and adjoining Gray's Inn Lane to Elizabeth Lucas, widow, of Dalston in 1820. (fn. 66)
In the Penny London Post of 7th June, 1749, is a record of an accident to "a servant of Mr. Harris [sic], brickmaker of Grays Inn Lane, who was run over by a cart." There are records of leases by Ann Harrison, apparently his widow, as late as 1775. (fn. 66) The enormous hill of ashes stacked at the north end of Gray's Inn Road in Battle Bridge Field (see Plate 75) had been accumulated for many years by the Harrisons for mixture with the brick earth. The fine quality and great depth of the latter have been confirmed by recent excavations for blocks of flats on the estate.
The development of the Foundling Hospital Estate caused the Harrisons to consider whether their property was not more valuable for building land than for brickmaking, and on 18th August, 1802, Thomas Harrison waited on Cockerell, the architect to the hospital, and showed him a plan (fn. n3) of the proposed streets. (fn. 15) No immediate action was taken and on 19th December, 1807, Cockerell reported to his committee that Harrison had proposed an exchange of ground so that Tavistock Place could be continued into his estate. By that time nothing had been built except a row of houses fronting Gray's Inn Road, called Sidmouth Place, in one of which Harrison was living. (fn. 15) In 1809 he had moved to Grove House, Kentish Town; from there he wrote to Cockerell on 13th January telling him that he was applying for an Act of Parliament for developing his estate. This Act was passed six months later. (fn. 67)
The immense demand for bricks no doubt delayed the development of the estate and it was not until 1818 that the first leases for building in Harrison Street were granted. (fn. 68) Details of subsequent building are given below. An idea of the character of the area before development can be obtained from Tompson's Map, c. 1803 (Plate 2) and the view looking towards the Foundling Hospital (Plate 61b).
CX—Regent Square
The houses in Regent Square were not built until 1829 (fn. 69) but the lay-out was earlier, since St. Peter's Church (Church of England) and the Presbyterian Church were built before this.
Church of St. Peter. This church, which fronts the east side of the square and adjoins Sidmouth Street on the south, was built in 1822–26, the site being purchased by the vestry of St. Pancras and paid for out of the parochial rates. The cost of the building, about £26,000, was met by a grant from the commissioners for building new churches under the Act of 1818. (fn. 71) It was consecrated by the Bishop of London on 8th May, 1826. The architects were William Inwood and his son, Henry William, who collaborated also in the churches of (New) St. Pancras, All Saints, Camden Street, and St. Mary the Virgin, Eversholt Street.
The church is a simple parallelogram with a flat ceiling, lit by a series of tall round-headed windows on each side, those on the north being blocked in the lower halves. The sanctuary is recessed between two vestries, the wall behind the altar being further recessed with two Ionic columns in antis, between which is a single east window. At the west end there is a porch under the tower, flanked by two staircases which lead to a western gallery supported by columns. Externally the west front has an Ionic hexastyle portico the full width of the church, with an entablature, which continues round the building, and a pediment which is repeated at the east end above a recess treated with two columns in antis like the interior. The tower is of two stages above the roof and is circular on plan. Each stage is surrounded by six columns standing free, with a clock facing west on the main cornice. The tower, columns, etc., are of Portland stone, the main fabric being faced with stock brick and stone dressings. The church was badly damaged in the 1939–45 war and the nave has been partly demolished.
Incumbents (perpetual curates):
1826
William Harness
1845
Alfred Jenour
1851
Charles Sweet Escott
1851
George Albert Rogers
1858
Thomas Nolan
1874
Robert Henry Augustus Bradley
1905
Ralph Sadleir Stoney
1916
Carl William Steffens
1926
Arthur Chandler
1934–42
William Charles Smith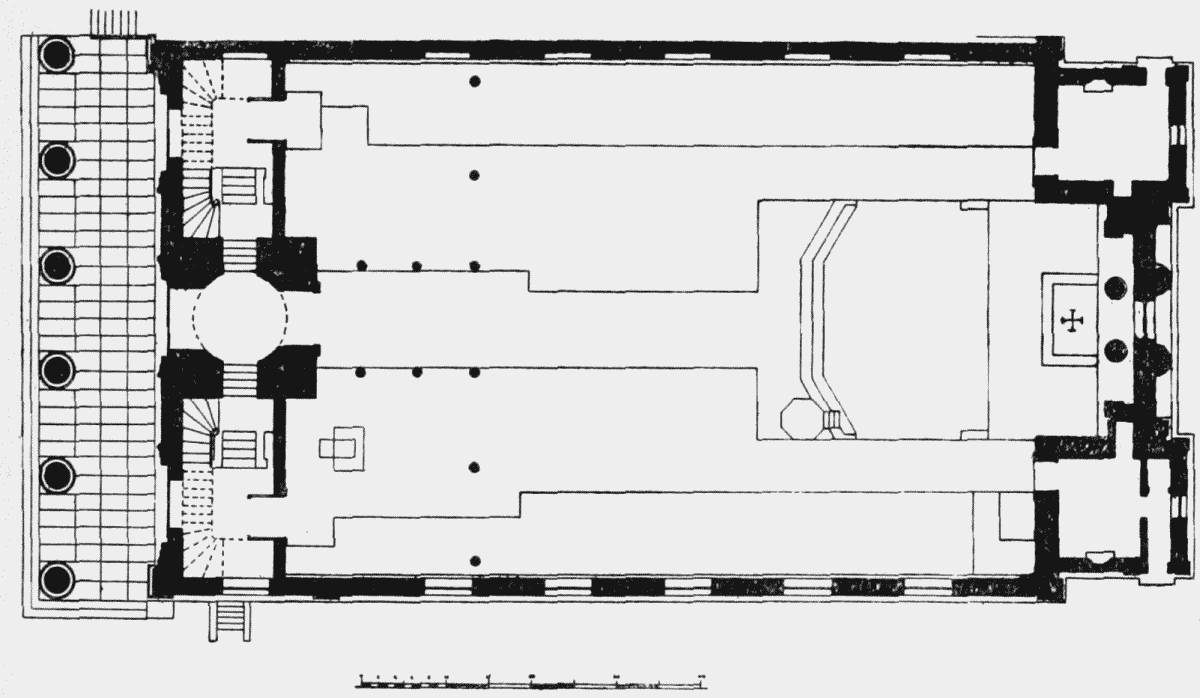 The Presbyterian Church. This church was built in 1824–27 on the south side of the square to the design of [Sir] William Tite. Until 1818 the London Presbytery was associated with the National Scottish Church but was not under its jurisdiction; in that year a congregation under Presbyterian government was formed. (fn. 71) The first minister was the Rev. James Boyd of the church in Cross Street, Holborn, which he served in 1818 and 1819. In the latter year he baptized John Ruskin, who was born on 8th February at 54 Hunter Street. The Scottish congregation increased enormously under the ministry of the Rev. Edward Irving (later to found the Irvingites) and it was resolved to build a church worthy to be the "cathedral" of the Scottish Church in London on a freehold site in Regent Square which was bought for £1,500. (fn. 72)
An advertisement was inserted in The Times of 27th February, 1824, inviting designs, and according to Robert Wallace, one of the unsuccessful competitors, forty-two designs were received. (fn. 73) Wallace, who had sent in two designs, one in the Greek style and one in Gothic, published an open letter to the subscribers illustrated by a drawing, protesting that his design had been the first selection of the committee. In spite of this Tite's design was accepted. The foundation stone was laid on 1st July, 1824, by the Earl of Breadalbane, deputizing for the Duke of Clarence who was ill; Thomas Carlyle, a friend of Irving's, was present. The church was opened for services on 11th May, 1827, and among those who attended were Sir Robert Peel and S. T. Coleridge. (fn. 72) When Irving was removed from the church by the trustees on 3rd May, 1832, owing to the unorthodox character of his "apostolic" mission, some 800 communicants left with him. In 1843 the congregation withdrew from the Church of Scotland and became the Presbyterian Church of England. The church, which is planned on a northsouth axis, is in a decorated Gothic style with pinnacled twin towers at the north end fronting the square. The towers and north front are of Bath Stone and the body of the church, which is less ornate, is of brick with stone dressings. The interior is without pillars, having a low-pitched roof and galleries on three sides borne on cast-iron columns. The building is derelict, having suffered severe war damage in February, 1945.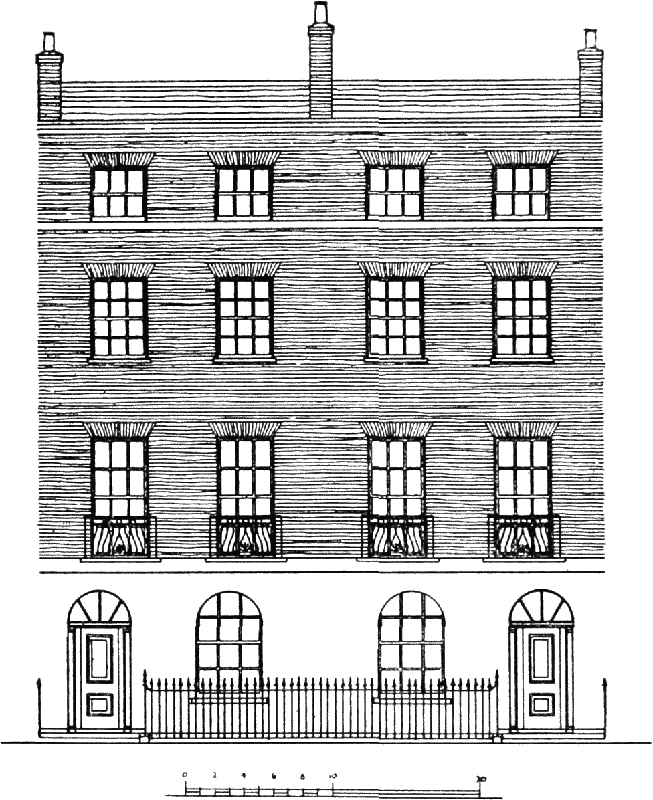 Ministers:
1822
Edward Irving
1832–35
Vacancy
1835
Peter Macmorland
1839–41
Vacancy
1841
James Hamilton
1867–69
Vacancy
1869
James Oswald Dykes
1888–89
Vacancy
1889
John McNeill
1891–93
Vacancy
1893
Alexander Connell
1906–07
Vacancy
1907
Ivor Johnstone Roberton
1925–26
Vacancy
1926
Geoffrey Turner Bellhouse
1938–44
Vacancy
1944
Percy Bernard Hawkridge
1946–47
Vacancy
1947
Patrick Figgis (minister-in-charge)
1950–52
Vacancy
1952–
Richard Conn Whitehouse
During vacancies, the church is managed by a moderator. The Rev. P. Figgis is described as minister-in-charge because he was not a Presbyterian minister, but a Congregationalist.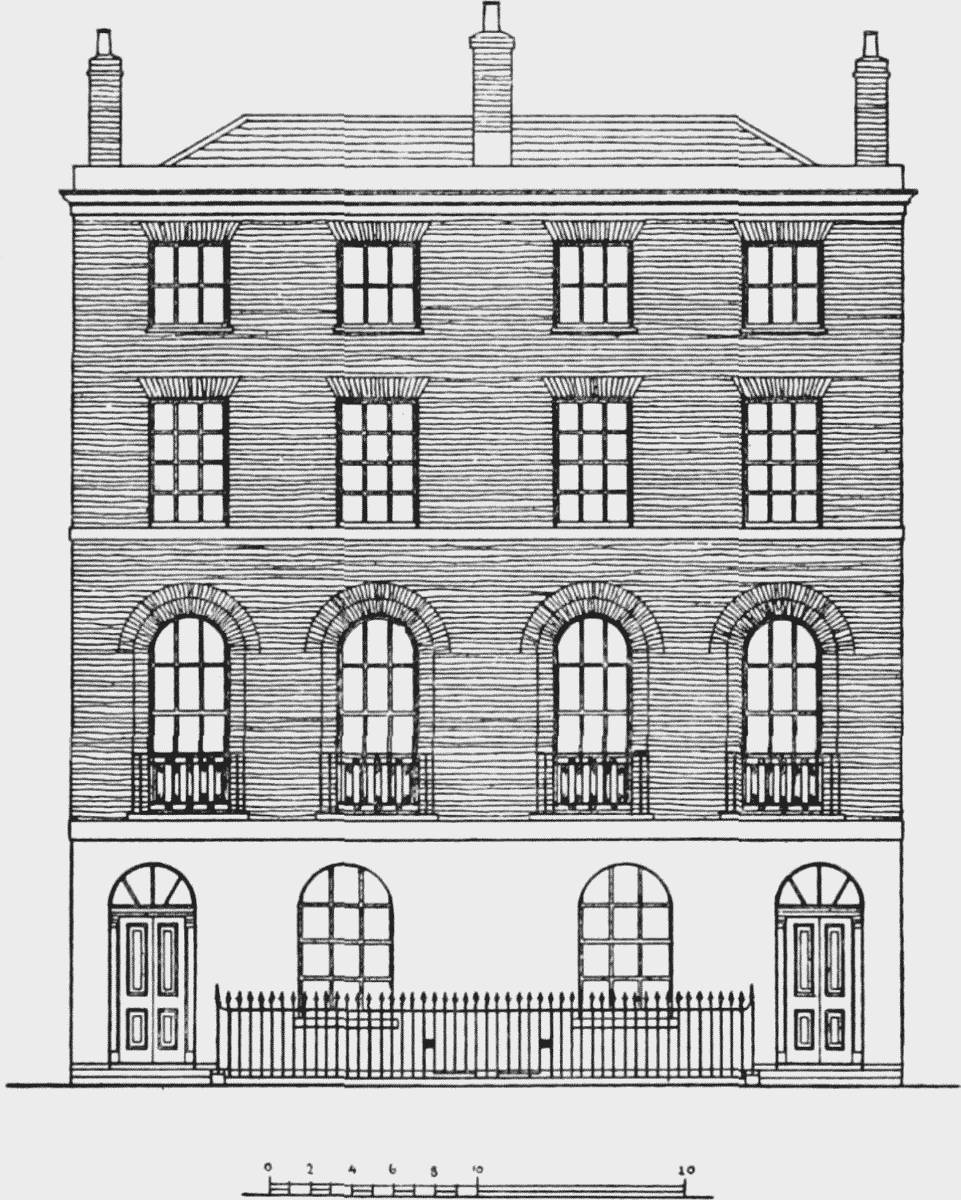 According to the rate books the occupation of houses in Regent Square began in 1829. On the south side of the square, those of the original houses that remain, are numbered (from east to west) 1 to 8 and 11 to 17. On the west side Nos. 18 to 26 (south to north) and one house on the north, adjoining No. 26, are left. The character of their elevations can be seen from the drawings (pages 74, 75), Nos. 16 and 17 being distinguished by arched windows to the first floor. The three houses on the east side shown north of St. Peter's Church (Plate 63) were in stucco with channelled joints to the ground floor and cornices to the first floor windows. They have now been re-built as also have Nos. 9 and 10 on the south side.
Among the inhabitants of the square were the following:
No. 1.
1834–35 and 1838–44, Isaac Seabrook, builder of St. Pancras Church; 1848–54, Charles Templer Depree, solicitor.
No. 2.
1848–49, Sir Edward Shepherd Creasy (1812–78), author of Fifteen Decisive Battles of the World.
No. 4.
1836–46, James Michael Holdship, solicitor.
No. 5.
1832–36, E. I. Lloyd, barrister.
No. 6.
1834–52, Henry Lent Keys, architect.
No. 7.
1831, Isaac Seabrook (see No. 1 above).
No. 11.
1831–46, James Hodgson, solicitor; 1860–73, Rev. John William Gleadall.
No. 12.
1853–56, William Stroud, physician.
No. 13.
1831–37, L. W. Lloyd, architect and surveyor; 1838–46, Archibald M'Donnell, surgeon; 1847, Rev. Alfred Jenour; 1849–50, Rev. William Taylor Wild; 1852–54, Archibald M'Donnell, surgeon.
No. 14.
1832–37, Wentworth Malim, surgeon.
No. 15.
1834, Dr. Partridge; 1844–54, Richard Perkins, solicitor; 1860, Walter Henning, artist.
No. 16.
1832, Lady Henniker; 1833–35, Dr. Wilton; 1848–51, Rev. Alfred Jenour.
No. 18.
1832–47, John Barber, solicitor; 1848–50, Angier March Perkins, engineer and inventor (? 1799–1881).
No. 19.
1831–35, Joseph Lowless, attorney; 1837, Sir William Henry Maule, judge (1788–1858).
No. 21.
1840–50, James Dodsley Tawney, solicitor.
No. 22.
1840–43, John Macqueen, barrister; 1844–45, John Daniel Pinero, solicitor; 1860–75, Major Wellington Guernsey.
No. 23.
1832, J. Bolton, solicitor.
No. 24.
1833–42, James Johnston, attorney; 1847–55, Samuel Clegg, civil engineer. Probably the younger Samuel Clegg (1814–56), professor of civil engineering and architecture at Putney College from 1849.
No. 26.
1842–60, Rev. George Kenrick.
No. 27.
1832–33, Isaac Seabrook (see No. 1 above); 1843–45, Henry Empson, solicitor; 1846–51, Robert Lee, probably the famous obstetric physician (1793–1877); 1856–59, John Beale, artist.
CXI—Harrison Street
This street is named after the owners of the estate, on the northern boundary of which its houses were built. It runs westward from Gray's Inn Road and turns south beyond the west side of Regent's Square, its southern projection being named Wakefield Street. If Tompson's map of c. 1803 (Plate 2) is compared with Britton's map of 1834 (Plate 5) it will be seen that the street was set out well below the old road that led to Greenland Place and the Bowling Green. The land on the north side of the street was leased to Thomas Phillips, builder, of New Union Street, Moorfields, in 1818 (fn. 69) and some eighteen houses were started in that year and were let by 1820. The first five houses from Gray's Inn Road on the south side were built by Ralph Adams of Gray's Inn Road, brickmaker, who obtained a lease of the ground in 1820. (fn. 74) The east part of the street has now been almost entirely re-built, the area between Harrison Street and Cromer Street being part of the large scheme for residential flats, promoted by the St. Pancras Borough Council and designed by Robert Hening and Anthony Chitty.
CXII—Sidmouth Street
This street connects the southern side of Regent's Square with Gray's Inn Road. It does not appear in the rate books in 1806 but in the following year seven houses are entered. In 1808 a further house was built, and by 1818 it had its full complement of twenty-eight houses. The street is numbered with even numbers from east to west on the north side which was badly damaged by enemy action in 1939–45. Nos. 4 to 14 and 22 to 24 remain and are of the usual type in this area—four storeys and basement faced with stock brickwork and arched doorways. On the south side all the houses have been demolished between Gray's Inn Road and Prospect Terrace, except No. 21, which is a late-19th century house with bay windows. West of this Nos. 43 to 55 were all badly damaged. They have stucco-faced basements and ground storeys and are similar to the houses on the south side of Regent Square (q.v.).
The houses of Sidmouth Street are shown on the 1813 edition of Horwood's map (Plate 1).. South of the street, however, the triangle east of St. George's Gardens seems to have been laid out almost as planned with Wellington Square, Prospect Terrace and an intermediate James Street, all of which are shown on Britton's plan of the parish (Plate 5).
CXIII—217–241 Gray's Inn Road, West side
This section of the west side of Gray's Inn Road lies within the Harrison Estate. The part south of Harrison Street (known as Sidmouth Place), was built by Thomas Harrison before 1807, and he himself occupied one of the houses. (See Tompson's map, Plate 2.) The houses are now numbered 217 to 231a, south to north (odd numbers) and resemble the buildings of this period on the Foundling Estate. Several have had the ground floors converted into shops, and under No. 223 is a way leading to Sidmouth Mews.
Nos. 235 to 241 (as well as 243 on the Cromer Estate) stood on the site of the Pindar of Wakefield which was destroyed in 1724 (see p. 71).
CXIV—St. George's Gardens
These gardens, formerly the burial grounds provided for the churches of St. George-the-Martyr, Holborn, and St. George, Bloomsbury, lie immediately north of the Foundling Hospital. They were purchased on 12th August, 1713, by the commissioners for building fifty new churches in London and Westminster. The whole area, which comprised three acres, was thus assigned—one acre and a quarter to St. George-the Martyr (which had just been separated from St. Andrew, Holborn), another piece of the same size for a new church (eventually St. George's, Bloomsbury) and the remainder for the approach road from Gray's Inn Road, later known as Prospect Terrace.
The land was purchased for £300 from Henry Procter of Hemel Hempstead, "practitioner in physic," and is described as a parcel of ground lying in the hamlet or "Inship" of the Pindar of Wakefield in the parish of St. Pancras. (fn. 59) In Bowles' print of Red Lion Square (1731) (Plate 42a) "The New Burying Ground" can be seen enclosed by a wall, looking very isolated in Lamb's Conduit Fields. Its isolation appears at first to have prejudiced its utilization, since Robert Nelson directed in his will that he should be buried in this ground "to overcome the aversion that has been discovered to its use." He was accordingly interred here on his death on 28th January, 1714–15, and his tomb, with panelled sides, moulded cornice and base, and a richly-ornamented urn above, is still in position (Plate 67a). Robert Nelson (1656–1715) was the son of John Nelson, a citizen of London and member of the Turkey Company. He wrote a number of popular devotional works including The Practice of True Devotion and A Companion for the Festivals and Fasts of the Church of England. Among others buried here were:—Anna, wife of Dr. Thomas Gibson, physician-general to the Forces and sixth and favourite daughter of Richard Cromwell, the second Protector. She died in 1727 and her tomb has a later inscription cut on it (Plate 67b); Thomas Falconer, 1729; Sir John Cotton, 4th Baronet, grandson of the donor of the Cottonian Library, 1731; Sir Brocas Gardiner, 1739, and his wife Elesia, 1734; Jonathan Richardson, the painter (1665–1745), and his son of the same name (1694–1771); Nancy Dawson, actress (? 1730–67), who danced the hornpipe in The Beggars' Opera, 1767; Marmaduke, 5th Lord Langdale and Baron of Holm, 1771; John Campbell (1708–1775), the historian; Sir Peter Dennis, Baronet, Vice-Admiral of the Red Squadron, who lived at No. 3 Percy Street (see Survey of London, XXI, p. 10), 1778; George F. F. Young, Lieut., R.N., son of Rear-Admiral Sir George Young, 1799; Elizabeth Fenning, hanged at Newgate, 1815; Dr. James Jones, Archdeacon of Hereford, who lived at 84 Charlotte Street (see Survey of London, XXI, p. 25), 1823; Sir John Woolmore, 1837, and his wife Harriett, 1845; Zachary Macaulay, F.R.S. (1768–1838), father of Lord Macaulay, and prominent in the anti-slavery movement; Sir Digby Mackworth, Baronet, 1838; Sir John Richardson, judge of the Court of Common Pleas, an original member of the Nobody's Club, which was founded in his honour, 1841; and William Brockedon, F.R.S., a remarkable man who combined the three careers of artist, author and inventor. He inspired Murray to publish his Guides, and was buried here, with his son and first wife, in 1854.
The bodies of the eight officers belonging to the Manchester regiment of volunteers in the service of the Young Pretender, who were executed on Kennington Common on 30th July, 1746, were buried here, and also those of Captain James Bradshaw and John Hamilton, Governor of Carlisle, who were executed on 28th November. (fn. 39)
With the assistance of the Kyrle Society the two graveyards were laid out as public gardens, that of St. George's, Bloomsbury, being formally opened by H.R.H. the Marchioness of Lorne on 1st July, 1884; that of St. George-the-Martyr was opened on 12th August, 1889. The principal monuments and table tombs have been left in position (see Plate 66). The drinking fountain was the gift of Miss Orbell.