Pages 101-104
Survey of London: Volume 25, St George's Fields (The Parishes of St. George the Martyr Southwark and St. Mary Newington). Originally published by London County Council, London, 1955.
This free content was digitised by double rekeying and sponsored by English Heritage. All rights reserved.
CHAPTER 14: NONCONFORMIST CHAPELS IN WALWORTH
Unlike the established church, which made no attempt to provide additional church accommodation for the rapidly-growing population of Walworth until 1820, the Wesleyans, then in their first fervour of enthusiasm, began building in 1813, while the Independents or Congregationalists erected their first chapel in York Street in 1790. Other nonconformist bodies followed their lead, and by 1819, when the third edition of Horwood's map was published, there was a good sprinkling of chapels and meeting houses among the newly-formed streets, and additional chapels were added as the district expanded. Some of the buildings are still in use, though altered to conform with modern needs; some have been re-built; while others, no longer required for their original purpose, have been turned into warehouses or factories. Details of a few of the chapels whose buildings or history are of special interest are given below.
The York Street Chapel (Browning Hall)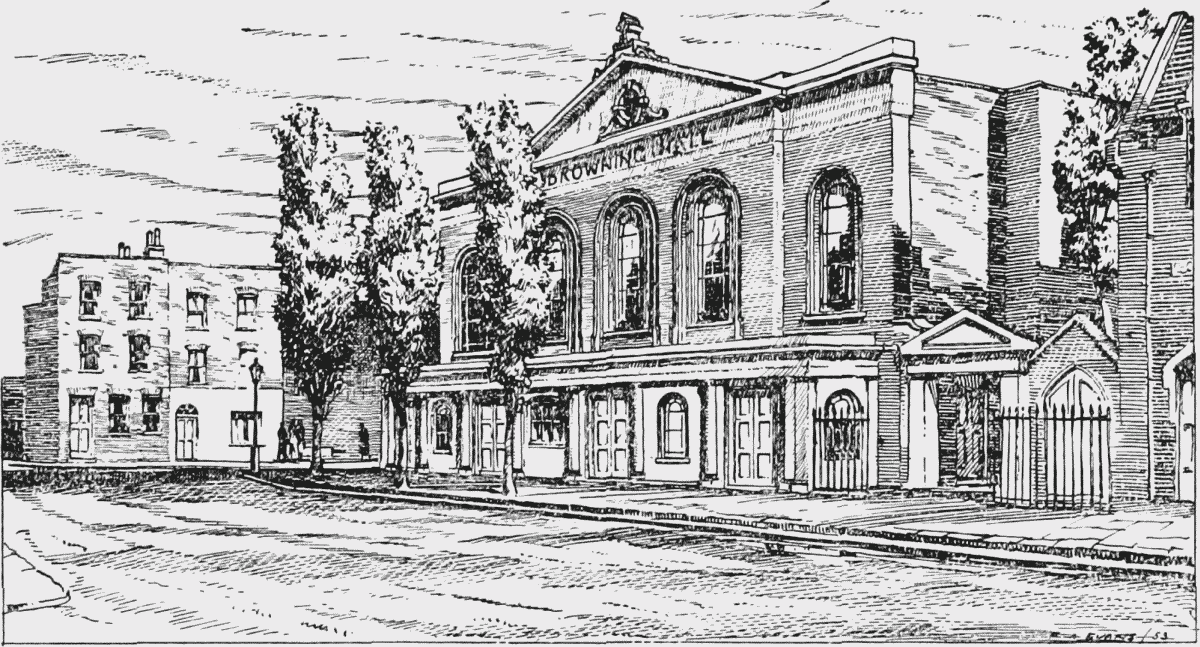 An Independent or Congregational chapel was built in 1790 on the south side of York Street (now Browning Street), then recently laid out across ground on lease to the Brandons. Some architectural embellishments have been added to the façade, but the present-day Browning Hall remains in all essentials the same structure as the plain pedimented chapel shown in early 19th century drawings. (fn. n1) A number of well-known people served and worshipped there, among them Captain James Wilson, son-in-law of Richard Holbert, one of the founders of the chapel. Wilson was the honorary commander of the first purely missionary ship of British origin. (fn. 297) His tomb, illustrated on Plate 82b, still stands behind the chapel. Robert Moffat, a pioneer of missionary work in Africa, was a member of the church as was his daughter, Mary, who married David Livingstone. (fn. 25) Robert Browning was baptized there in 1812 and [Sir] Henry Doulton in 1821. (fn. 298) The Rev. George Clayton, pastor of the church for more than fifty years, and after whom Clayton Hall in Browning Street is named, is said to have administered a rebuke from the pulpit to Browning when a youth for inattention to the sermon. (fn. 297)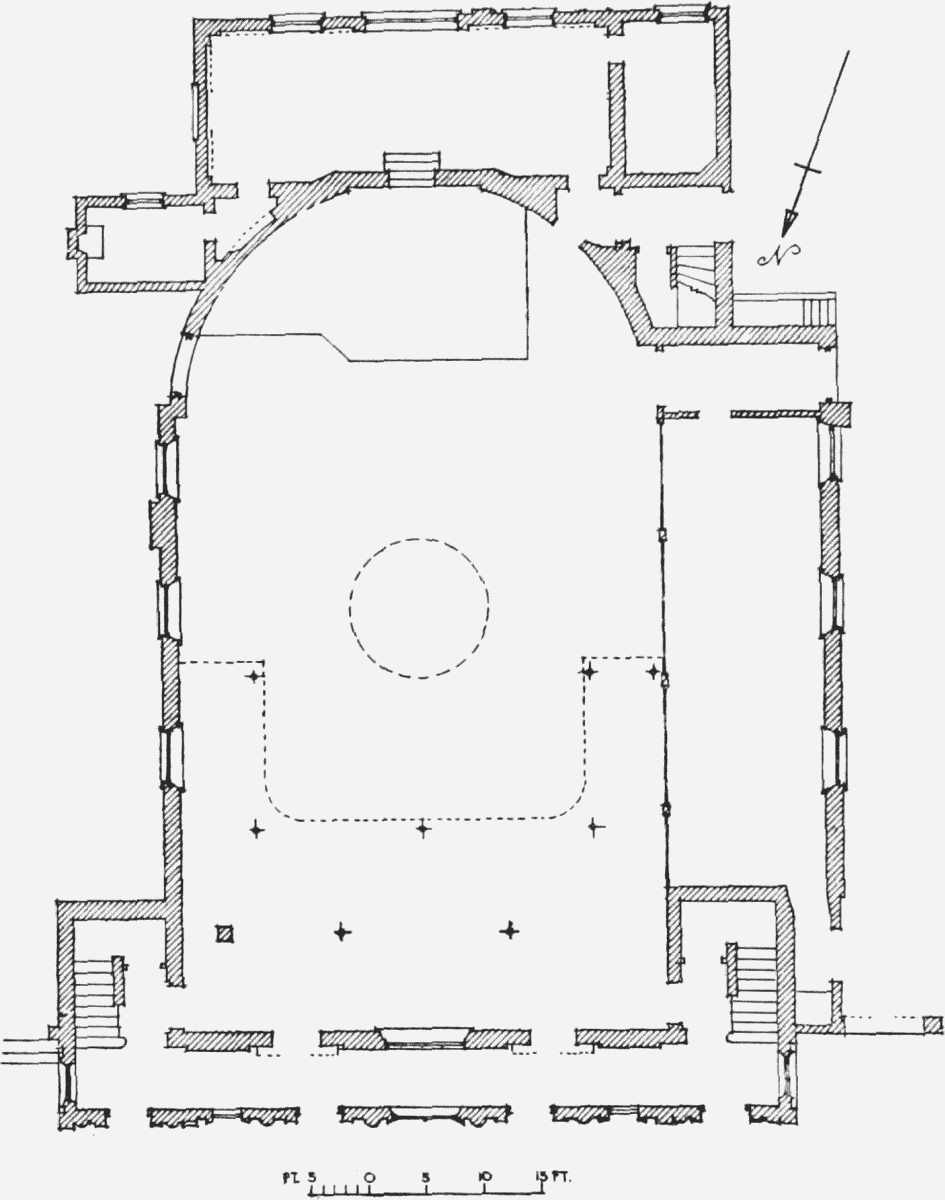 During the second half of the 19th century social work based on the chapel did much to alleviate distress in Walworth. The Browning settlement was publicly inaugurated in November, 1895, by an address given in Browning Hall by Herbert Asquith, while the campaign which culminated in the Old Age Pensions Act of 1908 was begun at a conference held there by Charles Booth in 1898. (fn. 299)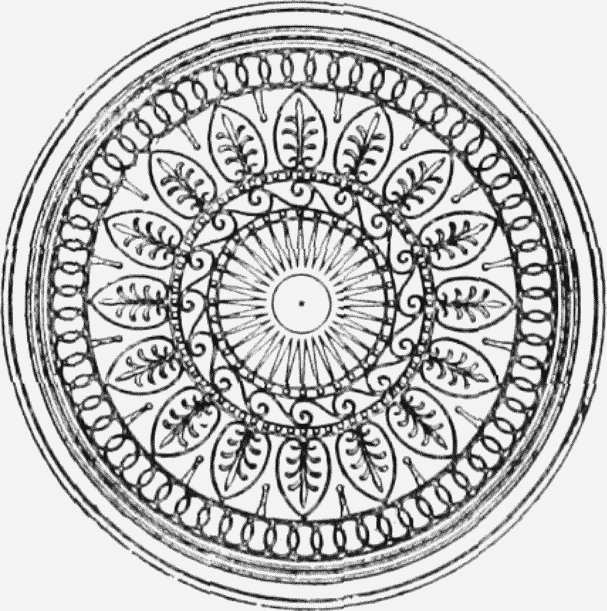 The Walworth Chapel
In 1808 the Methodist Conference decided that two new chapels were needed in South London. One was built in Long Lane, Southwark, in the same year, and land on the west side of Camberwell Road was purchased for the Walworth Chapel in 1812. (fn. 300) The latter was erected in 1813. There are in the possession of R. D. L. Ford, Esq., three drawings made by Michael Searles of possible elevations for this chapel. One of them has a fan motif in the tympanum similar to that used by Searles in Surrey Square. The chapel as built was plain and unadorned and, except in general outline, bore little relation to Searles' designs. The drawing reproduced on Plate 84a shows it in 1826 after it had been enlarged by the raising of the roof. The building was altered and added to from time to time, but it was not re-built until 1928–30 when the Clubland Church, designed by [Sir] Edward Maufe, was erected on the site. (fn. 301) The latter was seriously damaged by fire due to enemy action on the night of 10th May, 1941, and is now awaiting rebuilding. (fn. 302)
Beresford Street Chapel
There are watercolour drawings of several of the early 19th century chapels of Walworth in the Guildhall Library and other collections. John Ruskin's description of the Beresford Street Chapel where, as a boy, he sat under Dr. Andrews, is applicable to most of them: "An oblong, flat-ceiled barn, lighted by windows with semi-circular heads, brick-arched, filled by small-paned glass, held by iron bars, like fine-threaded halves of cobwebs; galleries propped on iron pipes, up both sides; pews well shut in, each of them, by partitions of plain deal, and neatly brass-latched deal doors, filling the barn floor, all but its two lateral straw-matted passages; pulpit, sublimely isolated, central from sides and clear of altar rails at end, a stout four-legged box of well-grained wainscot, high as the level of the front galleries, and decorated with a cushion of crimson velvet … " (fn. 303)
The Independent or Congregational Chapel on the south side of Beresford Street was built about 1826 and remained in use until 1923, when it was turned into a billiard saloon; (fn. 304) it is now a factory. The street was re-named John Ruskin Street in 1937. (fn. 305)
Sutherland Chapel
In 1842 a Congregational chapel, the Sutherland Chapel, was built between St. Peter's Church and the Walworth Road for Dr. Edward Andrews, the father-in-law of Coventry Patmore, and the minister of Beresford Street Chapel. (fn. 180) He died before the chapel was completed and the first minister was the Rev. John Wood. In 1904 the building was closed and was later taken over by the Electric Theatre Company and was for a time a place of entertainment. It is now used as a theatre store. The building has a heavy pedimented façade embodying a Tuscan order.
The Metropolitan Tabernacle
The meteoric rise to fame of Charles Haddon Spurgeon is one of the most remarkable stories of the Victorian era. He was born at Kelvedon, Essex, in 1834. His father was minister of an independent congregation, and Charles did not formally become a Baptist until 1850. He was "called" to the pulpit of the Baptist congregation in New Park Street, Southwark, in 1854, and within a few months attracted more people than the chapel could hold. The chapel was enlarged, but still proved too small and a large tabernacle was planned, Spurgeon preaching in the meantime at Exeter Hall in the Strand and at the Surrey Gardens Music Hall, where his congregation rose to 10,000. At 22 Spurgeon was the most popular preacher of his day. (fn. 15) On 19th October, 1856, a malicious alarm of fire was given during a service in the Surrey Gardens Music Hall and in the resulting panic seven people were killed and many others injured, (fn. 306) but Spurgeon's popularity continued unimpaired.
The Metropolitan Tabernacle in Newington Butts was designed by W. W. Pocock (1813–99) and cost just over £31,000. Spurgeon delivered the opening sermon there on 25th March, 1861, to a congregation of more than 6,000.
The building was 146 feet long, 81 feet broad, and 62 feet high. In front was a massive stone portico supported by six Corinthian columns, and flanked by side wings surmounted by balustrades (Plate 81a). The interior was planned on the lines of the Surrey Music Hall and had two galleries extending round the entire building. (fn. 307) Seats were provided for over 4,000. Beneath the chapel were schoolrooms and a lecture hall. (fn. 308)
On 20th April, 1898, six years after Spurgeon's death, the chapel was burnt. (fn. 180) It was re-built on the old site and to a similar design (Plate 81b), but only the shell now survives, the building having been severely damaged by enemy action in 1941. Services are still held in the rooms below ground. No. 75 Great Dover Street, where Spurgeon lodged in 1854–56, was seriously damaged by enemy action and was pulled down in September, 1953. His residence there was recorded on a commemorative tablet.