Pages 122-125
Survey of London: Volume 26, Lambeth: Southern Area. Originally published by London County Council, London, 1956.
This free content was digitised by double rekeying and sponsored by English Heritage. All rights reserved.
THE JACKSON ESTATE
In 1804 Robert Slade, proctor-at-law, and Randle Jackson, barrister-at-law and an expert on Indian affairs, (fn. 127) were admitted tenants to 23 acres of copyhold land near the Washway on the west side of Brixton Road. (fn. 128) They partitioned the estate in 1806, Jackson taking the northern half (fig. 37) and Slade the southern. (fn. 129)
Nos. 186–192; 194, 196, 198–204; 206, 208–220 (even) Brixton Road
Formerly Nos. 1–4 (consec.) Grove Place; Grove House, Elm House, Nos. 4–1 (consec.) Fir Grove Place; Fir Grove House, Nos. 7–13 (consec.) Grove Place
Although Jackson immediately obtained licence to demise his land for building purposes, only a few houses were erected before his death in 1837; these are illustrated in a water-colour, dated 1820, reproduced on Plate 47a. This shows the layout of the Brixton Road frontage as originally intended, with two terraces of six houses each, flanked by two pairs of houses at the north and south ends, all three storeys high with attiics. The northerly terrace was not built until a few years after 1837, (fn. 130) when Nos. 194–204 were erected; their design differs considerably from that shown in the water-colour. Two piers incised "Grove House" and "Elm House" respectively, still stand in front of these houses, the latter retaining its anthemion finial (not shown on Plate 47a). The two pairs of houses flanking the southerly terrace were pulled down about 1928 to make room for a three-storey row of shops. (fn. 131) The rest of the houses illustrated still stand. Nos. 186–192 are linked by their coach-houses and each has a segmental bay projection at the rear. Their attractive verandahs have long since been removed, but they retain delicate lattice guards to the first-floor windows. The southerly terrace comprises Nos. 208–218 (Plate 47b), but two houses were added, one at each end, i.e. No. 206 and No. 220. Together they form a plain undistinguished terrace with unhappily designed Greek Doric porches to the entrances and light bowed cast-iron window guards of lozenge pattern on the first floor. A shop has been built across the front garden of No. 220. No. 206, erected by Randle Jackson for his own occupation, (fn. 132) is built on the same line as the rest of the terrace but on the north side there is a projecting wing with rounded corners. The entrance is on the north side of the wing and is relieved above and on its flanking pilasters by key ornament. The house has been divided and is now numbered 206 and 206A. The pier illustrated on the extreme right of the water-colour marked the boundary between the Jackson and Lambeth Wick estates; it is still standing. Nos. 186, 188 and Nos. 208–214 were let on lease to various tenants between 1810 and 1831. (fn. 132) Robert Pledge and Skinner Chart were connected with the erection of Nos. 208 and 210, so the whole terrace may have been built by the firm of Pledge, Chart and Mason which had the contract for building St. Mark's school, Harleyford Road (see page 26).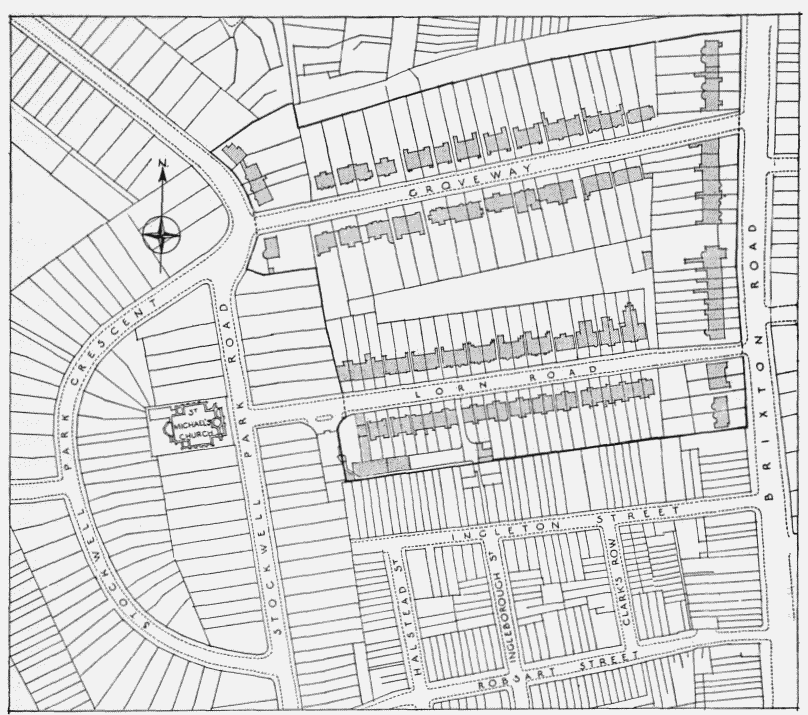 Nos. 2–8, 12–34 (even); 15, 17–29 (odd), 31, 33, 37, 39 Lorn Road
Formerly Nos. 1–4 (consec.) Swiss Cottages, 32–43 (consec.) Lorn Road; Nos. 19–15 (consec.), 11A, 10, 9A, 8 Lorn Road
The land at the back of the houses in Brixton Road was used as pleasure ground and garden to the house called Fir Grove. In 1835 Jackson was granted licence to demise this land on building leases for 99 years, but in 1837 when James P. Macdougall was admitted as trustee of the property on Jackson's death it was still undeveloped. (fn. 133) Macdougall was granted licence to make roads, i.e. Lorn Road and Groveway, to pull down the greenhouse, stables, and out-buildings which stood on the land, and to cut down trees. Groveway and Lorn Road were laid out about 1840, (fn. 134) Lorn Road forming an approach road to St. Michael's Church from Brixton Road. Most of the houses in Lorn Road are of the cottages ornés type (Plate 56).
Nos. 15, 25, 27 and 29 are the survivors of four pairs of houses (Nos. 17–23 were destroyed in the war of 1939–45) which were built by William Ball Docter of Cowley Road about 1843. (fn. 135) They are two-storeyed stock brick villas, with rendered semi-basements, and attics in the slated roofs. The main windows are architraved but surmounted by Gothic cresting on the ground floor, which also appears, inverted, below the main cornice and in the frieze of the linked Classical entrances. The angular-headed attic windows are set in hipped and barge-boarded gables. Nos. 31, 33, 37 and 39 are two pairs not unlike the last but with no Classical features. The gables are very steeply pitched, with finials, the central parapet is battlemented and the windows have either label mouldings or arched heads. The porches are buttressed and pinnacled and have sharply pointed arches. Nos. 2–8 are two pairs similar to Nos. 25–29 but with no basements or attics and with shallow pitched gables, those to Nos. 2 and 4 being hipped. Nos. 6 and 8 have a very high central parapet and the linked entrances are topped with small obelisks. All four houses have been altered.
Nos. 12–34 are well designed pairs of stock brick houses, three storeys high on semi-basements and with two-storeyed wings containing the entrances. The latter are ornamented with incised fret patterns and with wreaths in the frieze. The detail generally is Greek and very restrained.
All these houses were erected shortly after the street was formed.
Groveway
Formerly Grove Road
The houses in Groveway vary considerably but with some exceptions they are built of stock brick, two or three storeys high above a semibasement and either singly or in pairs. They all have architraved windows, many have rendered and coursed ground floors, and parapets and eaves appear in equal numbers. Several houses have the flank walls brought forward to form antae, an idea which, like the treatment of Nos. 40 and 42 with open pediments containing lunette windows, can be seen in Stockwell Park Road and Crescent. No. 16 is exceptional in having a pilastered front and Ionic portico. Other entrances have incised frets or wreaths in the frieze while several larger houses have free-standing Roman Doric porticos.
Nos. 33–41 (odd) Stockwell Park Road
Formerly Nos. 25–33 (odd) Stockwell Park Road
In 1832 Randle Jackson added a piece of freehold land, part of Stockwell Manor, to his copyhold estate; (fn. 135) it is now covered by these houses. No. 33 is a rather dull two-storey villa with a semi-basement. It is fronted with grey brick and has a recessed porch flanked by pilasters with wreaths in the frieze above. Nos. 35–39 form a symmetrical yellow brick terrace with an extra storey. The porches are like that of No. 33 except that the pilasters are coupled at the end houses. No. 41 is of the same height as No. 33. It is stuccoed on two sides and has a Greek Doric recessed porch wedged against a semi-circular bay at the south-west corner. The house is pedimented on the Groveway elevation and the composition is unified by a scroll-ornamented band at first-floor level.
THE SLADE ESTATE
Robert Slade's part of the 23 acres which he divided with Randle Jackson is now covered by Ingleton, Halstead, and Thornton Streets and
Ingleborough Road, named after places in Yorkshire where the family also owned property. Slade let part if not all of this piece of copyhold in 1808 to Simon Vowell, who erected a row of houses fronting Brixton Road called Loughborough Place. (fn. 136) In 1805 Slade purchased another copyhold estate consisting of seven acres on the east side of Brixton Road between the present Burton and Loughborough Roads, from William Brown Angell. (fn. 137) This land had previously been part of John Scaldwell's estate (see page 127). The White Horse public house on the corner of Loughborough Road and Brixton Road stands on the site of an older building of the same name first mentioned in 1786. (fn. 138) Robert Slade's youngest son Felix inherited the property after his brother William's death in 1858. Although both his father and brother were distinguished for their public service in Lambeth, Felix Slade is better known for the professorial chairs which he endowed at Oxford and Cambridge, and for the School of Art which he founded at University College, London. (fn. 32)
St. Michael's C.E. Primary School, Halstead Street
This school was probably founded shortly after the completion of St. Michael's Church in 1841. (fn. 139) The one-storey building, which is of brick with a low-pitched slate roof, was considerably altered in 1892, when Elphicke and Howell were the architects. (fn. 140)
ST. Helen's Roman Catholic Church, Robsart Street
This church was probably designed by F. W. Tasker and was opened in 1905. (fn. 141) It was extended in 1938 by the building of a Lady Chapel on the west side of the nave. The architect for this extension was J. O'Hanlon Hughes. (fn. 142) The congregation moved to the disused Independent Church in Brixton Road (see page 130) in 1953 and St. Helen's is now (1955) being converted for use as an annexe to Corpus Christi Primary School. It is a plain stock brick gabled building with slated roofs, and lean-to entrance lobbies across the whole street frontage. There is a large circular window above the lobbies, and the gable is surmounted by a cross.
MASTICKS AND THE FOURTEEN ACRES
These lands comprised the northernmost part of John Scaldwell's copyhold estate (see below). Masticks was bounded by the northern parcel of Lambeth Wick Manor on the north and west, the Manor of Milkwell on the east and the fourteen acres on the south. Together with the half of the fourteen acres on which Mostyn Road now stands Masticks was inherited by Scaldwell's grandson Thomas Fox, (fn. 143) who sold the property in 1735 to James Wall. (fn. 144) At the beginning of the 19th century all these lands comprised the Washway Farm, in the occupation of Robert Martin; they were then part of the Thurlow estate.
Mostyn Road Methodist Church
The foundation stones of this building (plate 27a) were laid on June 23, 1868. The architect was John Tarring, and the builders George Myers and Sons. (fn. 145) The church is designed in the Decorated Gothic style and faced with Kentish ragstone. At the north-west corner there is a tower surmounted by an octagonal spire. The church was heavily damaged in the war of 1939–45, and was restored in 1954–5.