Pages 62-65
Survey of London: Volume 26, Lambeth: Southern Area. Originally published by London County Council, London, 1956.
This free content was digitised by double rekeying and sponsored by English Heritage. All rights reserved.
THE COPYHOLD LANDS
Most of the copyhold lands in the Manor consisted of small fields amalgamated into two holdings known as the 34 acres and 32 acres. At the beginning of the 16th century most of these small fields were held by Sir John Leigh. (fn. 5)
THE 34 ACRES
In 1672 William Hall, citizen and fishmonger of London, surrendered to the use of his will two third parts of four messuages and 34 acres, which he bequeathed to his sons, Richard and John. (fn. 47) They purchased the remaining third part from Thomas Cason in 1689 (fn. 47) and the whole property was subsequently divided between their heirs. Richard Hall's share was sold in 1793 by Mary Cleaver, widow, and Mary Ann Cleaver, her daughter, to John Wilkinson of Woodford, Doctor of Physic. (fn. 48) It comprised the Pightle (plot 43) and the 14 acres (plots 25, 37 and 39), in the tenure of John Ismay. Wilkinson died in 1818 and left one moiety of his estate to his nephew, Joseph Wilkinson, and one moiety to another nephew, Josiah Williamson. (fn. 49) In 1843 an Act of Parliament vested Joseph Wilkinson's moiety in trustees and empowered them to join with the owners of Josiah Williamson's moiety to grant building leases for the development of the estate. (fn. 50) Hanover Gardens was built on the Pightle, and Albert Square, Aldebert Terrace (formerly Williamson Street), Wilkinson Street and St. Stephen's Terrace were built on the 14 acres in the late 1840s and early 1850s. Most of the houses were the work of local builders (fn. 51) including John Snell who also erected houses on the 12 acres (see page 63).
Albert Square
Fig. 19, plots 37 and 39
The houses in this square are interesting and vigorous examples of early Victorian architecture and share the distinction with Angell Terrace of being the only examples of their type in the area covered by this volume. The square is joined to Clapham Road by a broad tree-lined approach, and surrounded by substantial four-storey houses of Classical design (Plate 50d). These are closely and symmetrically grouped, singly, in pairs, and in threes, and are given the appearance of being continuous terraces by the linking together of their single-storey entrances. The square was the work of a north London builder, John Glenn of Islington, who was granted a building lease of the land from September 29, 1846. (fn. 52)
St Stephen's Church, St Stephen's Terrace
Fig. 19, plot 37
In 1857 the increasing number of inhabitants in this part of his parish prompted the Rev. Charles Kemble, incumbent of St. Michael's, Stockwell, to urge the need for a new church in this district. Two years later the copyholders conveyed their interest in the site of St. Stephen's Church and parsonage to the Ecclesiastical Commissioners, and the Dean and Chapter of Canterbury enfranchised the land. (fn. 53) The church (Plate 15c), which accommodated 1,200 persons, was designed by John Barnett, (fn. 54) and the contractor was George Myers (fn. 55) who was also responsible for the building of St. Barnabas'. It was consecrated by the Bishop of Winchester on April 23, 1861, and a district was assigned in the same year. (fn. 56) The spire was damaged by the cable of a drifting barrage balloon in 1940; it is to be rebuilt shortly.
St. Stephen's is a Decorated Gothic building with an exterior of Kentish ragstone dressed with Bath stone. The plan is T-shaped, with a wide aisleless nave and short transepts, the altar being placed in a shallow projection from the east end. The most prominent external feature is the steeple at the north-east corner. This is of three stages and each face is flanked by offset buttresses surmounted by tall octagonal corner pinnacles. From the centre of each face rises a gabled dormer containing a two-light louvred window. The dormers project from the belfry stage of the octagonal spire. Each of the nave windows is surmounted by a gable. Internally, the timber roofs, which are braced and of scissors construction, have exposed members and are carried on moulded corbels borne by short shafts. Over the altar is a distinctive Catherine-wheel window containing blue and green glass. The geometrically patterned glass of the five-light transept windows is also richly coloured. A deep organ gallery extends across the west end and is supported on slender cast-iron columns.
St. Stephen's Church of England Primary School, Dorset Road, was erected in 1847; it was originally the church school of the parish of St. Michael, Stockwell, but the school was transferred to St. Stephen's parish in 1862. It now occupies several one- and two-storey buildings erected at different times. (fn. 57)
John Hall's portion of the 34 acres descended to John Wilkins, who died in 1778. (fn. 58) In 1806 (fn. 59) it was purchased by James Humphrys and included the 12 acress (part of plot 22) and four acres on the west side of Wandsworth Road (part of plot 3). Humphrys died in 1861 (fn. 60) and was probably the architect who partnered Isaac Clarke in the designing of St. Barnabas' Church, which stood on his land. It seems likely that he was also personally responsible for the well-planned layout of his estate.
Lansdowne Gardens and Neighbourhood, St. Barnabas' Church, Guildford Road
Fig. 19, part of plot 22
On the 12 acres the pattern of development took the form of a circus at the centre, containing a garden, with roads radiating towards the cardinal points (fig. 22). The land was divided into small plots and developed under licences to demise granted between 1843 and 1850. (fn. 61) The houses in the circus (Plate 51c) which, together with most of the others on the estate, were erected by John Snell of Dorset Street (now Road), builder, are simple well-proportioned two-storey villas with semi-basements. They are built of stock brick and most have projecting porches carried on Doric columns. In Hartington Road, however, the porches are recessed, the openings being flanked by antae with wreaths in the friezes above. In Lansdowne Way there are plain three-storey terrace houses. No. 45 Guildford Road is a small cream-painted Gothic house with battlemented gable, angle buttresses and carved head stops to the labels (Plate 58a). The house was erected about 1844 under a lease granted to Humphry Joseph Lightly of the City of London. (fn. 61) The large vicarage adjoining the church of St. Barnabas was erected by John Snell (fn. 61) and also has Gothic detail.
While the estate was being developed a site was conveyed to the Church Building Commissioners for the erection of St. Barnabas, Guildford Road. The first stone was laid on July 27, 1848, by Adolphus Frederick, Duke of Cambridge, and the fabric (excluding the bell-turret) was erected by George Myers at a cost of £4,800 (fn. 62) to the designs of Isaac Clarke and James Humphrys. (fn. 63) The building provides accommodation for about 1,500 people; it was consecrated on June 24, 1850, by the Bishop of Winchester, (fn. 62) and a district was assigned in 1851. (fn. 63) Dr. Ralph Vaughan Williams, O.M., was at one time organist here. (fn. 64)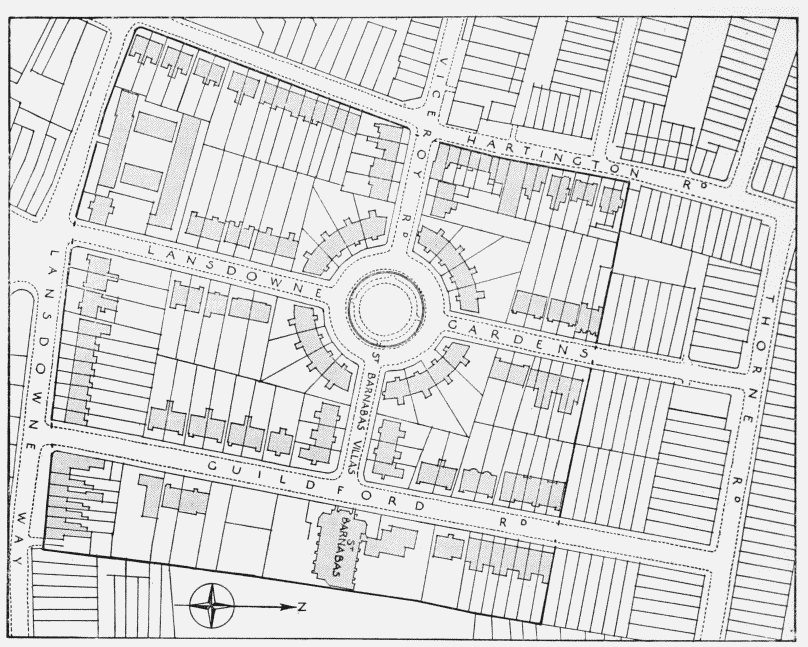 The church (Plate 51c, fig. 23) is placed axially on the road leading east from Landowne Gardens, and has a simple plan with a nave and aisles of six bays terminated by a shallow apse at the east end. The building is designed in the Early English Gothic style and externally faced with Kentish ragstone dressed with Bath stone. The nave is clerestoried and there is a slender bell-turret of octagonal plan against the south-west corner of the nave, which projects slightly beyond the aisles.
The interior is plain and dignified with tall two-light windows lighting the eastern apse. The graceful nave arcading, borne on alternate octagonal and circular stone columns with foliated capitals, supports a hammer-beam roof. The east window contains rich stained-glass portraying St. Barnabas and St. Paul.
The church was restored in 1948, and refurnished with the organ from All Saints' Church, Allen Edwards Road, and the pulpit from St. Augustine's Church, Clapham Road (fn. 65) (see page 83). All Saints' Church was designed by Alfred Bedborough (fn. 66) and erected in 1876–8, but after being damaged during the war of 1939–45 it was pulled down and most of the parish combined with that of St. Barnabas. The mission church of St. Silas, Dawlish Street, which was designed by A. D. Gough (fn. 67) and erected in 1862, (fn. 68) has also been demolished after war damage.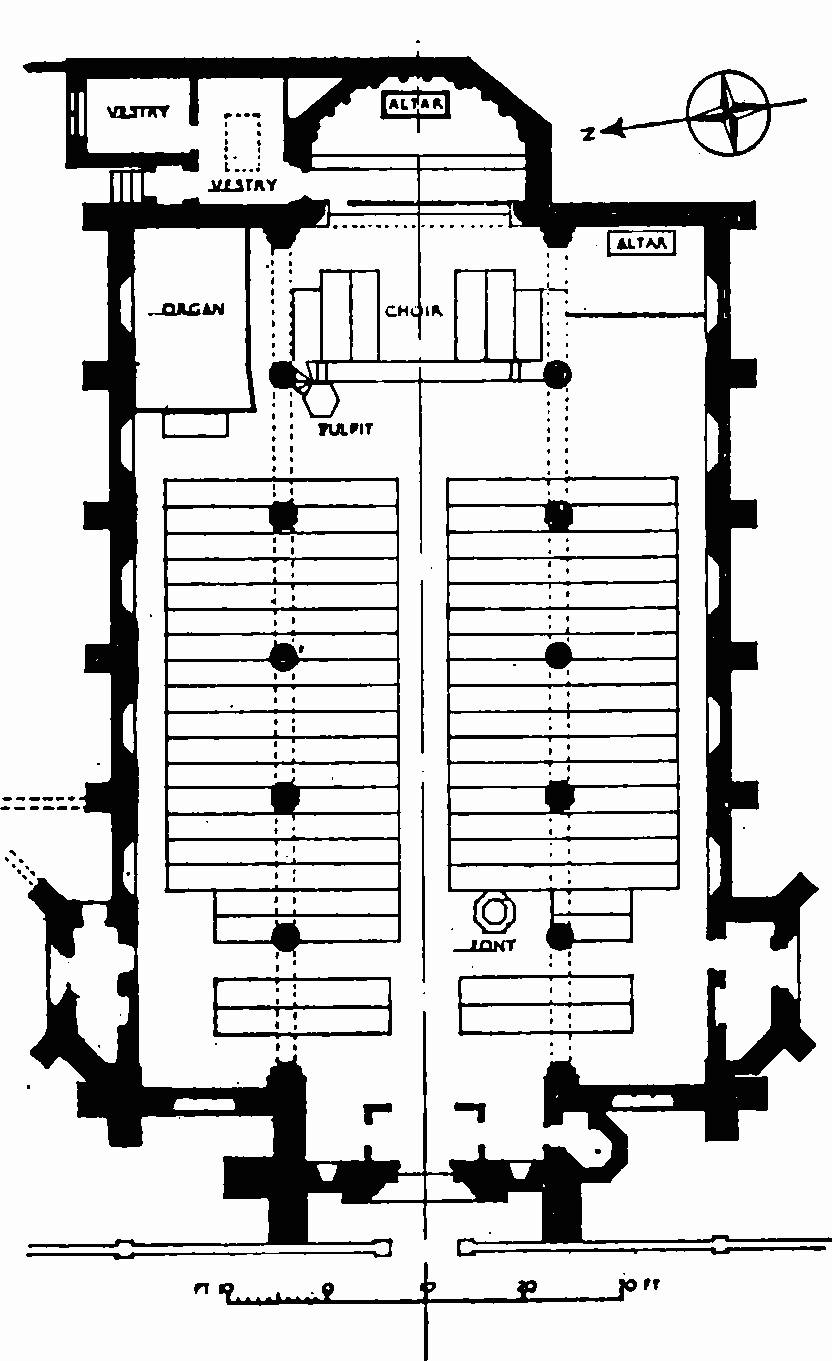 THE 32 ACRES AND BRICK CLOSE
In 1663 Foulke Bignall was admitted as a copyhold tenant to a messuage and 36 acres in South Lambeth, which had previously belonged to Philip Pinchon (fn. 69) or Pincheon. (fn. 1) The 36 acres included four acres called Brick Close which Foulke's son, Robert, sold in 1680 to William Kempe of Chelsea, yeoman; (fn. 70) in 1865 this land was enfranchised and sold to William and Sarah Bell of Lawn Place. (fn. 71) The probable site of Brick Close is indicated on the key plan (plot 33); it was said to abut on Caron Park on the west in 1680 (fn. 70) and on the east in 1822, (fn. 72) but evidence suggests that the earlier description is correct. The remaining 32 acres (plots 35, 36 and 40) were not split until 1806 when they were purchased by John Fentiman, the elder, of Kennington. (fn. 73) He sold about one and a half acres to Robert Orford, John Bridges and Sir Charles Blicke. Orford's piece fronted the Clapham Road, Bridges' piece was part of Home Field and Blicke's adjoined this on the north. (fn. 74) Fentiman also purchased most of Claylands (part of the demesne of the Manor) which abutted on the 32 acres (see page 60). The copyhold estate covered the area between Meadow Road, Fentiman Road, Clapham Road and Wilkinson Street. When Fentiman died in 1820 his sons did not sell his property as directed in his will but divided it between them; John Fentiman, junior, took the remaining 30½ acres of Vauxhall Manor copyhold; on his admittance in 1823 he was described as a brick merchant of Camberwell. (fn. 75) The estate was mortgaged and when John William Fentiman was admitted in 1857 it had dwindled to the land between Meadow Road, Fentiman Road, Palfrey Place and Dorset Road. (fn. 76) Dorset (formerly South Lambeth New) Road was probably laid out about 1806, when John Fentiman, senior, agreed that it should remain open for the use of the public for ever. (fn. 77) Both the Fentimans and Thomas Waite Marson, who held a mortgage on the estate, (fn. 75) granted building leases and the property was developed under these leases, chiefly by local builders.
Nos. 60–66 and 92–122 (even) Clapham Road
Formerly Nos. 16–3 (consec.) Dorset Terrace and Nos. 16–1 (consec.) New Dorset Place
Fig. 19, plot 40
These houses are examples of the original development on the Fentimans' copyhold estate, though their architectural poverty makes them otherwise unremarkable. Nos. 92–122 were erected about 1824, (fn. 78) probably by Thomas Coope; (fn. 79) they form a plain three-storey terrace with attics. Shops have been built across the front gardens of Nos. 106–110. Nos. 60–66 were erected a little later, in the 1830s, (fn. 78) and form a four-storey range with continuous cast-iron balcony railings on the first floor.