Pages 178-184
Survey of London: Volume 27, Spitalfields and Mile End New Town. Originally published by London County Council, London, 1957.
This free content was digitised by double rekeying and sponsored by English Heritage. All rights reserved.
CHAPTER XIII - The Wood-Michell Estate
This estate was developed between 1718 and 1728 by Charles Wood of Lincoln's Inn, esquire, and Simon Michell of Lin coln's Inn and the Middle Temple, esquire. (fn. n1) It had formed part of that southern section of Loles worth field which had been conveyed by William Wheler of Datchet in 1649 to Edward Nicholas and George Cooke in trust to raise portions for his seven daughters. The southern part of the Wood-Michell estate, including the north and south sides of Fournier Street, had formed, with other ground, one of the seven 'lots' into which the daughters' property was partitioned in 1675. In the later seventeenth century this southern part consisted mainly of a tenter ground and a row of houses called the 'Tenter Ground Range'. The larger northern part of the Wood-Michell estate had been known in the later seventeenth century as 'Joyce' Garden' and had been held since the partition by the daughters in undivided seventh parts. It was bounded on the north by Brown's Lane (now part of Hanbury Street), on the east by property of Joseph Truman and Henry Coates on the west side of Brick Lane and by Brick Lane itself, on the south by the 'Tenter Ground Range' (now represented by the north side of Fournier Street) and on the west by property on the east side of Red Lion Street (fig. 4o). (fn. n2)
In May 1672, after the decease of both William Wheler and his wife, their seven daughters, and the husbands of three of them, brought a petition in Chancery against Nicholas and Cooke. (fn. 3) This affirmed that the trustees had conspired with Thomas Joyce of London, merchant, to deprive the daughters of the benefit of a 'great part' of their property. This part was 'Joyce's Garden', forming in fact only a comparatively small part of the daughters' inheritance. The conspiracy was said to have been made under pretext of leasehold rights which Joyce claimed to possess by a lease of March 1648/9, granted by William Wheler of Datchet to one John Dashwood at a small rent. Joyce claimed to be entitled thereby to the land for thirty-one years from the expiry, in about 1670, of earlier leases.
The petitioners contested the validity of such leases, and further claimed that if they were in force it was only under conditions and limitations by which 'several buildings and improvements were to be made'. It appears from subsequent descriptions of the ground that it was occupied by Joyce as gardens.
From Joyce's answer it seems that the lease of 1648/9 included property granted by the Whelers in three leases of 1638–9 to William Wilton of Stepney, gardener, Thomas Stafford of Stepney, gardener, and Henry Coleman of Spital fields. By 1648 the ground appears to have contained a mes suage, garden, shed and two little houses (in all, three acres); a brick messuage, workshop, garden and two tenements; and two brick messuages and an orchard on which at least another six messuages had been erected.
Joyce recited the assignment of the 1648/9 lease to him by John Dashwood in February 1660/1 for £270: the cumulative term then had about forty-one years to run. Both parties to the suit of 1672 agreed that a Chancery decree, made in consequence of a complaint brought by Nicholas and Cooke and Jane Wheler in 1663, had ordered Nicholas and Cooke to make confirmatory leases to Joyce: this judgement had been confirmed in substance by a second judgement of May 1671.
Joyce claimed in 1672 that subsequent to this assignment of 1660/1 he had spent £800 on buildings, raising the yearly value of the property from £20 to £140 per annum. (fn. 3) There is, how ever, very little building shown on the ground in Ogilby and Morgan's maps of 1677 and 1681–2.
The precise outcome of this suit is not known, but Joyce appears to have remained in possession, under the leasehold tenure which expired in about 1701.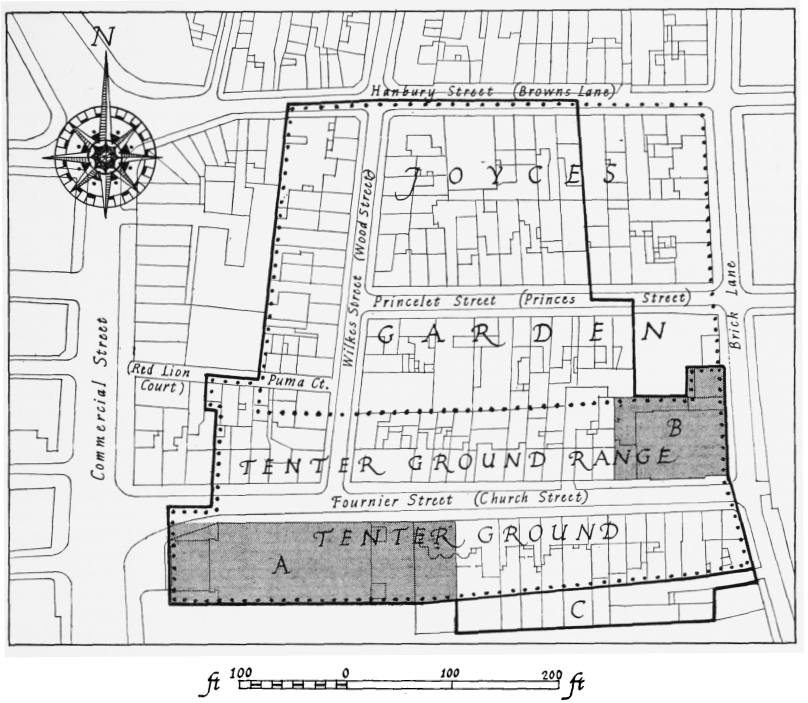 The means by which Wood and Michell acquired the freehold of Joyce's Garden, forming the northern portion of their estate, is not known in detail. By the beginning of the eighteenth century it was shared between six surviving daughters. One of these shares, that of Katherine Wheler who married John Balch, was acquired by Wood and Michell in July 1708, (fn. 4) and four other shares were probably acquired in August 1713, April 1714 and May and July 1716; (fn. 5) by March 1713/14 they certainly already had an interest in the second of these. (fn. 6) By August 1717 they were ible to make an agreement regarding building on the estate (see page 188). It IB not clear, however, why they had been able to sell part of Joyce's Gar den, as they did, by February I714/15 (fn. 7) (see page 221). In February 1718/19 they acquired the reversionary interest in another share; (fn. 8) they had, however, begun to build in the previous year.
Their ownership appears never to have included the north-eastern part of Joyce's Garden, fronting east on Brick Lane, and north and south on 120-foot frontages on Brown's Lane and the line of Princelet Street. In March 1712/13 this was owned by Joseph Truman, the brewer, who had bought it from Samuel Hannott and his wife Elizabeth in 1705. It had presumably formed part of the Wheler estate. (fn. 9) The eastern end of the south side of Princelet (formerly Princes) Street, occupied by the site of No. 26 in that street and of No. 63 Brick Lane, was also probably never in Wood's and Michell's pos session, while the eastern end of the north side of Fournier Street occupied by No. 39 and the Great Synagogue (formerly French Church) and school had been sold by them by February 1714/15. All this eastern part of the Garden is, however, included in this chapter together with the north side of Hanbury Street, west of Brick Lane, which was part of the Wheler estate never owned by Wood and Michell.
In a deed of May 1702 the Joyce's Garden property is described as separated from Brick Lane by a mud wall and from Brown's Lane partly by a brick wall and partly by a mud wall: houses are mentioned fronting Brown's Lane and on the south and west sides but the greater part of the property was not built on, as is shown on Gas coine's map of the following year, and was partly occupied by William Wilson, gardener. (fn. 10)
Wood and Michell acquired the southern part of their property through one of the seven Wheler daughters to whom it fell by lot in 1675. In that year the partition among the daughters of their part of Lolesworth field, excluding Joyce's Gar den, was decided on. In April/May one of the seven parts was conveyed to a daughter by William Bowdler and Henry Beresford, drapers of London, to whom Nicholas and Cooke had conveyed the daughters' inheritance in trust in February, (fn. 11) and doubtless the other six parts were conveyed at about the same time. (fn. 12)
Of the seven 'lots' or 'schedules' into which the daughters' property was divided, the seventh schedule contained the ground later forming the southern part of the Wood-Michell estate. This included the irregular row of houses shown by Ogilby and Morgan on the line of the later north ern side of Fournier Street, called the 'Tenter Ground Range', and the northern part of the tenter ground south of this range, containing houses and 'tenters' leased to 'Rawlins Tryan' (or Rowland Tryon), houses and ground leased to one Richards (previously to a Mrs. Williams), and a 'Spinning ground' leased to John Bennett. (fn. 13) Part of this tenter ground property was sold by Wood and Michell to the 'Fifty Churches' Com missioners to form the site of Christ Church, Spitalfields, and its rectory (see page 152 and Plate 7a), and the remainder was built or rebuilt as Church (now Fournier) Street. The seventh schedule also included ground in Smock Alley (now Artillery Passage and part of Artillery Lane, see Chapter XIV).
This schedule fell to the lot of Katherine Wheler. In March 1679 she settled it on trus tees, in contemplation of her forthcoming marriage to John Balch, a silk thrower, and also settled similarly her seventh-part of the reversionary interest in the unpartitioned land leased to Joyce. This reversionary interest had previously been conveyed to the seven daughters by Bowdler and Beresford in January 1678/9. (fn. 14)
After the death of John Balch, whose will was made in October 1682 and proved in February 1682/3, (fn. 15) the tenter ground and spinning groundproperty comprised in the seventh schedule descended to his daughter Elizabeth, described in 1702 as of the Old Artillery Ground, who mar ried John Atkinson and was dead without issue by July 1708. Her seventh-schedule property and her share in Joyce's Garden (and also her share in the site of Spitalfields Market) then came into the joint possession of two coheirs, distant relations of her father, Joan, wife of Henry Exon of North Cory, Somerset, yeoman, and Elizabeth (then aged about thirteen), the daughter of John Moore of the same place. (fn. 16) In July 1708 an agreement was made between Henry Exon and John Moore on the one hand, and Wood and Michell on the other, whereby the seventh schedule and other property was conveyed to Edward Haulsey of Staple Inn, gentleman, in trust for Wood and Michell. (fn. 17)
The connexions which Wood and Michell had with Somerset by birth (see above) and their ownership of property in that county, which appears in their wills, (fn. 18) may in part account for their acquisition of the property from Exon and Moore.
Balch had died in debt (fn. 19) and his daughter had raised mortgages on the property in 1701–3; these also were assigned in trust for Wood and Michell in July 1711. (fn. 20)
The possession by Wood and Michell of that moiety of the seventh-schedule property which descended to Elizabeth Moore was apparently liable to question. The precise form of the agree ment in July 1708 with her father, and Henry Exon, is not known. Elizabeth was then about thirteen years of age, and in the following month, when Wood and Michell agreed to convey the moiety of Spitalfields Market previously belonging to Joan Exon, they agreed only that they would cause Elizabeth Moore to convey the other moiety when she came of age. (fn. 21)
In 1713 part of the seventh-schedule property was sold to the 'Fifty Churches' Commissioners to provide the site of the rectory and church. The deed of sale recited that a few months earlier Elizabeth, still under age, had petitioned the Court of Chancery that she was entitled to one moiety of the property and that the whole was subject to a mortgage assigned to Wood and Michell. The Master in Chancery had reported that the proposed sale to the Commissioners was for her benefit, but that half the purchase money should, in consideration of her moiety, be applied towards paying off this mortgage. (fn. 20) On the same day that Haulsey, Wood and Michell, and John and Elizabeth Moore had conveyed the two moieties of the church and rectory site to the Commissioners, Wood and Michell and their trustee assigned to one of the Commissioners the mortgage of the same site. (fn. 20)
In one of the plans made for the Commissioners at the time of this sale part of the seventh-schedule property not sold, and later forming the south side of Fournier Street, is described as 'Ground to be lett to build on' (see Plate 7a). Building did not, however, follow immediately. A contributory reason may have been that clarification of Wood's and Michell's title perhaps had to await Elizabeth Moore's coming of age, which would have hap pened in about 1716. In August 1717 Wood and Michell were in a position to come to an agree ment with Samuel Worrall, carpenter, regarding building on the estate. (fn. 22) In April 1718, probably shortly before building actually commenced, Elizabeth Moore is said to have come to an agree ment to convey all the land she had from Elizabeth Balch, in possession or reversion, to Isaac Hull of Stepney, gentleman, probably as a trustee. No conveyance appears to have been made in com pliance with this agreement until April 1732, after the death of Charles Wood, when Elizabeth agreed to convey the property to a trustee for Simon Michell. (fn. 23) This conveyance was the sub ject of an action in the Court of Exchequer, and in 1737/8 an order of the House of Lords, reversing a decree of that Court, required Simon Michell and Charles Wood's heir to convey Elizabeth Moore's moiety of Spitalfields Market to representatives of her interest. (fn. 24)
Nevertheless, from 1718 Wood and Michell were able to grant building leases, and their property in Joyce's Garden and the tenter ground was built up in streets by 1728.
Not very much is known of the two joint owners responsible for the building-up of the estate. Charles Wood lodged in 1712'at one Mr. Brawnes … a Haberdashers in Chancery Lane'. (fn. 25) In 1729 he was one of the Commis sioners of Sewers for the Tower Hamlets. (fn. 26) In his will of December 1730, proved in April 1731, he described himself as of Lincoln's Inn, esquire, but left legacies to such servants 'as shall be living with me (in case I dye in Spittlefields) at the time of my death'. From the testimony given to the authenticity of the will, and other evidence, it appears that he was living in Spitalfields in July 1730 and at the time of his death. He left all his real and personal estate in Middlesex, Somerset and Devon to his only son, Henry Byam Wood. He appointed Byam Wood of Luckham, Somerset, esquire, Robert Vincent of Ludgate Street, stationer, and Edward Periam of Bartholomew Lane, gentleman, guardians of his son, and gave them authority to sell his estate in Middlesex. (fn. 27) (fn. n3)
Simon Michell was responsible, in addition to the building in Spitalfields, for the construction of Red Lion Street, Clerkenwell (partly surviving as Britton Street), in about 1719–21 on a site acquired by him in about 1715, (fn. n4) and for the re building of the church of the Priory of St. John of Jerusalem. (fn. 29) Nos. 21, 27, 54 and 59 Britton Street (fn. 30) have wooden doorcases with cornice-hoods and carved trusses, very similar to those of houses on the Wood-Michell estate built under leases to William Tayler, carpenter or joiner (No. 2 Wilkes Street and Nos. 16, 17 and 18 Fournier Street), and were perhaps also built by him.
Michell is said to have purchased in 1721 the church of the Priory of St. John of Jerusalem, and to have rebuilt it: in 1723 he sold it to the 'Fifty Churches' Commissioners, who converted it into the parish church of St. John Clerkenwell. (fn. 31) Michell, who in 1732 was a Commissioner of Sewers for Holborn and Finsbury, (fn. 26) is said to have lived in a large house in Red Lion Street and to have been one of the first churchwardens of St. John's parish. In 1903 the vestry-room of the church contained a portrait of him and his wife, and the church contained a mural tablet recording his arms, (fn. n5) and his descent from a Somersetshire family. (fn. 32) According to a historian of Clerkenwell writing in 1828, 'Notwithstanding that Mr. Michell was a liberal benefactory to St. John's, the populace, by whom as a magistrate he had been much disliked, were with difficulty restrained on his interment here, from committing outrage on his remains'. (fn. 33)
His will, made in May 1748 and proved in September 1750, mentions the organ set up by him in the church of St. John Clerkenwell, 'when a chapel belonging to me', before its conveyance to the Commissioners 'made by me and Mr. Richard Hatton deceased (who was my brother-in-law and trustee)'. It also mentions leasehold property in Turnmill Street, Clerkenwell, property in St. Sepulchre's parish, a copyhold estate at Fulham, and an estate at Alvington in Somerset. The residue of his estate (which would have included his moiety of the Spitalfields property, which is not specifically mentioned) was to be sold when his grandson John came of age and the money used to buy land, other than building-land or farmhouses: his trustees were in the meantime not to let the land for longer than twenty-one years. (fn. 34)
In the early years of the development of the estate Wood and Michell granted some outright conveyances of building sites on the north side of Princelet Street and south side of Hanbury Street, but subsequently granted only building leases. In Princelet Street these were sometimes for sixty or sixty-one years, but sometimes for ninety-nine years, and in the later development of Wilkes Street and Fournier Street leases for terms of ninety-six, ninety-eight or ninety-nine years seem always to have been granted.
When Wood and Michell acquired their interest in the estate it had roads already established on its eastern and northern borders, Brick Lane on the east communicating between Whitechapel and Bethnal Green, and Brown's Lane on the north connecting Brick Lane and Wheler Street. When the new church was built near the south-western corner of the estate the attractions of the area for residential purposes were increased and provision was made for the construction of the east-to-west street known as Church (later Fournier) Street. The first building by Wood and Michell was, however, in Princelet Street, to connect Brick Lane with the 'cross-street' called Wood Street (the southern part of the present Wilkes Street), which was constructed to run south from Brown's Lane to the new church. The construction of Church Street by the rebuilding of the old 'Tenter Ground Range' already existing on its north side and the building of its south side flush with the north side of the church was the last part of the estate to be completed.
In October 1718 Wood and Michell petitioned the Tower Hamlets Commissioners of Sewers for permission to make a sewer from houses they were then building in Princes or Princess (now Princelet) Street and Brown's Lane. In November they were granted permission to make a sewer along Brown's Lane 'and so from thence to return southwards crosse Joyces Garden towards the Church so far as their land extends', apparently along the line of Wood Street, and to make a sewer running 'from about the middle of the said intended Crosse sewer … thro Princesse Street' to the common sewer in Booth Street. The Commissioners reserved the right to allow anyone to make a drain from houses in Red Lion Street, across the land of Wood and Michell 'lying on the west side of the cross street intended to be built by them', that is, Wood Street. (fn. 35)
Builders on the Estate
Of the builders employed by Wood and Michell on their estate the most prominent was Samuel Worrall, a carpenter, whose yard and dwelling house (which last still survives with a rebuilt front) lay between Princelet and Fournier Streets. (fn. n6) He first occurs in an agreement of August 1717, to which reference is made in a deed of September 1718, between himself and Wood and Michell relating to building on all or part of Joyce's Gar den. (fn. 22) The details of this agreement are not known, but if it was intended to lease the whole property to Worrall as chief contractor this arrangement must have been abandoned as all the building leases were granted by Wood and Michell alone or with their trustees. Worrall, however, witnessed leases granted to William Tayler, as he did a deed concerning No. 30 Spital Square on the Tillard estate, and was probably the chief builder on the Wood-Michell estate. He was employed on the carpenter's work in Christ Church from November 1723 after the death of James Grove, the carpenter first employed. He was also em ployed in 1733–4 to build houses on the east corner of Tabernacle Yard (later Church Passage and now Nantes Passage) and Lamb Street, on the Wheler estate (see page 106 and Plate 64b). In 1723 he was elected overseer of the poor for the hamlet of Spitalfields (fn. 36) and in 1729 gave evidence, as churchwarden of the hamlet, to a Parliamen tary Committee on the readiness of the church for consecration. (fn. 37) In 1744 he was one of the trustees making an assignment of the parish almshouses in Crispin Street. (fn. 38) A Samuel Worrall of Spitalfields undertook in 1745 to provide seven of his work men in arms to resist the Young Pretender. (fn. 39) In 1747 'Mr. Samuel Worrall of Spittle fields, Sur veyor' was asked by the 'Fifty Churches' Com missioners to report to them on the value of work to be done at St. John's Clerkenwell, adjoining Michell's property there, (fn. 40) and in 1752 a Samuel Worrall was a member of a parish committee which considered the acquisition of the former French church in Black Eagle Street. (fn. 41) In 1755 Worrall assigned the lease of a house on the south side of Lamb Street as a 'carpenter and builder'. (fn. 42) He appears to have occupied his house at the back of Princelet Street until at least 1759. (fn. 43)
In July 1727 Worrall mortgaged his lease of Nos. 31–37 (odd) Fournier Street and of his dwelling-house and yard to Richard Michell, the son of Simon Michell, and another mortgagee, to secure £1,000. By September 1732 he had re deemed the mortgage. (fn. 44)
On Rocque's map of 1746 the yard in front of his house is marked as a 'timber yard'. This may represent an aspect of his business, as a Samuel Worrall of Spitalfields, timber merchant, witnessed a deed in January 1734/5. (fn. 45)
A Samuel Worrall was concerned with property in Kingsland Road, Shoreditch in 1725. (fn. 46)
In November 1739 a deed relating to property in Crispin Street, to which William Goswell was a party, was witnessed by a Samuel Worrall of Gloucester, notary public. (fn. 47) The relationship of this witness to the builder is not known, but it may indicate that the builder was connected with the Worrall family which was active in building enterprises in Bristol in the eighteenth century. (fn. 48) A West Country connexion might partly explain Worrall's employment by Wood and Michell who had Somerset origins and interests. (fn. n7)
The Spitalfields carpenter was undoubtedly re lated to the Samuel Worrall who was master of the Masons' Company in 1739 and who, together with John Worrall, provided the design for the Town Hall of Berwick-on-Tweed between 1750 and 1755, both being described as of London. (fn. 50) In 1735 the lease of the house built by Samuel Worrall, carpenter, on the corner of Lamb Street and Tabernacle Yard was assigned by Samuel Worrall, 'citizen and mason of London', to John Worrall of Spitalfields, carpenter. (fn. 51) The propor tions and design of the church-like Berwick Town Hall may be reminiscent of Christ Church, Spitalfields.
The Joseph Worrall of White's Row, carpen ter, who was elected headborough in April 1792 was perhaps also a relation. (fn. 52)
A 'Marmaduke Smith' (or Smyth) also occurs on a number of occasions as a builder on the estate. He was sometimes described as a carpenter of Spitalfields and sometimes as a citizen and black smith of London; it is not certain whether the same person is indicated by these designations. (fn. c1) No. 5 Princelet Street was occupied in 1724 and 1725 by Marmaduke Smith, carpenter, (fn. 53) the house having been built under a building lease to Marmaduke Smyth, citizen and blacksmith. No. 4/6 Fournier Street was built under a build ing lease to Marmaduke Smith, carpenter, in 1726 and was presumably thenceforward occupied by him as his initials are on a rainwater-head and in 1727 he was described as of Church (Fournier) Street: (fn. 54) he appears subsequently to have acquired the freehold. (fn. 43) The excellence of the ironwork, however, indicates that a blacksmith of some skill may have worked on the house. A Marmaduke Smith of Spitalfields, gentleman, witnessed a deed relating to a house in Spital Square on the Tillard estate in 1734 (see page 66), and a Marmaduke Smith similarly described in 1735 was a legatee under the 1715 will of Thomas Slemaker, probably the bricklayer employed on the founda tions of Christ Church. (fn. 55) (fn. n8)
The third builder conspicuous on the estate was William Tayler (or Taylor), sometimes described as carpenter of Spitalfields and sometimes as citizen and joiner of London, by which the same individual is almost certainly meant. The 'citizen and joiner' was granted the building leases of houses on the north side of Fournier Street and the west side of Wilkes Street, most of which are architecturally unremarkable and some of which, now rebuilt, may have been indifferently con structed: they include, however, some doorcases of good joiner's work similar to those built on the Michell estate in Clerkenwell (see above) and also similar to those of Nos. 16 and 18 Fournier Street, built under leases to the 'carpenter of Spitalfields' who was also responsible for the building of No. 14 Fournier Street, in which he lived, and which possesses the finest wooden door case in Spitalfields. He was described as 'gentle man' in July 1726 (fn. 57) and as 'esquire', of Church (Fournier) Street in September 1734. (fn. 58) He was doubtless the William Tayler (or Taylor) em ployed by the Weavers' Company in 1729, together with William Goswell of Norton Fol gate, to build their almshouses in that liberty.
Goswell himself built No. 6 Princelet Street and occurs as witness to a building lease of Nos. 23 and 25 Fournier Street.
Edward Grange of Spitalfields, carpenter, who built two houses in Fournier Street, was also employed in Norton Folgate, on the Tillard estate, in building the south side of Blossom Ter race. In the 1720's he was also active on the Bacon estate in Bethnal Green. In 1735 he was one of the overseers of the poor for Christ Church, Spitalfields, who took an assignment of the lease of the parish workhouse in Bell Lane. (fn. 59) He was perhaps the Edward Grange of Spitalfields who undertook in 1745 to provide six of his workmen in arms to resist the Young Pretender. (fn. 39)
Builders other than carpenters or joiners do not often occur in the building leases granted by Wood and Michell. Henry Conyers, bricklayer, occurs in Fournier Street, and Samuel Phipps, also a bricklayer, in Princelet Street, being des cribed in 1728 as 'bricklayer, citizen and ar mourer'. (fn. 60) In 1735 Phipps witnessed a deed to which Marmaduke Smith was a party, relating to property east of Brick Lane. (fn. 61) Edward Buckingham, mason, of St. Clement Danes, John Ummandine, citizen and glazier, and Daniel Bray, citizen and painter, also occur as grantees in Princelet Street only, but they may well have later worked on other houses on the estate.