Pages 119-127
Survey of London: Volume 39, the Grosvenor Estate in Mayfair, Part 1 (General History). Originally published by London County Council, London, 1977.
This free content was digitised by double rekeying and sponsored by English Heritage. All rights reserved.
First Changes
Since the plots at the western end of the Mayfair estate were slow to let, a date at which the original development was finished is hard to pinpoint. Beyond Park Street building proceeded very spasmodically, especially in the north-west. Though little of the old fabric in this sector survives in recognizable form, one or two characteristics can be determined. Where rows of houses were built, they deviated little from the norm. Park Lane, then an unimpressive thoroughfare with a high wall on the park side, was reached at one point by the early 1730's when King's Row, an ordinary set of small houses, was built at the end of Upper Grosvenor Street on the site of the present Nos. 93–99 (consec.) Park Lane. The lane in fact presented a considerable problem to would-be developers, since the original estate grid had taken no account of its irregular course; plots west of Park Street, therefore, were of very variable size. Towards the south end of the estate, between Mount Street and South Street, the houses on the west side of Park Street occupied deep plots running right through to Park Lane, so the inhabitants certainly, and the houses probably, were of quality, but none of the fabric here remains.
Further north in Green Street, there is equally scant record of the appearance of the terrace houses; surviving lease plans show the usual variety of plan-type here, which suggests irregularities too in the elevations. A chapel was built at the south-east corner of Green Street and Park Street (1762), but it also was of small architectural significance. In Norfolk Street (now Dunraven Street), developed in the late 1750's with a good class of house, especially on the west side, there was again little or no uniformity. The survivors here, though much altered, do provide some idea of the original scale and quality. The houses on the west side are not deep, since Park Lane is close behind, but they are reasonably wide, often with a frontage of thirty feet or more; Nos. 21 and 22 Dunraven Street, the only ones for which old plans are known but probably reasonable guides for several others, had front compartment staircases and canted bays at the back. It must be emphasized that because Park Lane was at this date so inconsiderable, these rear bays facing towards the park were quite simple and cannot have been thought of as alternative fronts. King's Row, the only terrace actually entered from the lane itself, had completely flat fronts at this date, sheltered behind a screen of trees (Plate 13a, 13b). In the 1750's and '60's very little new development occurred on the estate, except in Norfolk Street, already mentioned, and Portugal Street, a short thoroughfare between Mount Street and Chapel (now Aldford) Street, on the line of what is now Balfour Place, where a few modest but well-inhabited houses were erected. Then in 1773 began the construction of Hereford Street, marking the completion of the ordinary estate development. This street, running west from close to the northern end of Park Street beyond North Row, has been entirely obliterated; it occupied a large part of the site of the present Hereford House, but was quite distinct from development along the south side of the Oxford Road. Even at this late date, the old pattern of individuality was scarcely disrupted, with a number of houses on the north side of different extent and, presumably, appearance. But for the south side of Hereford Street the architect and speculator was John Crunden (1740–1835), a capable designer in the Adam manner, and responsible for Boodle's Club in St. James's Street at just about this date. Along the main frontage Crunden erected a series of highclass houses with what were probably quite conventional façades except at No. 13, which boasted a pediment, perhaps because it was the only house visible from Oxford Street. But on the return frontage to Park Street, illustrated in one of Soane's lecture diagrams (Plate 13c), he attempted something more ambitious, a group of three houses with fronts of stucco or stone, the central one having touches of attenuated classical detail and a pediment. Crunden lived in the corner house with Hereford Street, and the centre house was Mrs. Fitzherbert's.
It was on this western part of the estate that there also arose a number of big houses distinct from any terrace arrangement, which were to be the precursors of the later Park Lane palaces. The first of these, Lord Chetwynd's house in Upper Grosvenor Street, has already been mentioned (page 118). Close by were the Park Lane mansions of Lord Petre (later Breadalbane House) and of Lord Dudley, the latter on the northern half of the site occupied by the present Dudley House. Both were fivebay houses, with high but plain brick façades, as befitted what was still a modest right of way of little pretension. Breadalbane House, designed in 1769 by James Paine with a complicated plan because of its restricted site, had the advantage over Dudley House of a pair of brief recessed wings (Plate 13b). Abutting Dudley House to the south, at the corner with modern Culross Street, stood another substantial house in an up-to-date Palladian style, shown on an aquatint of 1801 (Plate 13a). This engraving well conveys the ragged but not unattractive medley of backs and fronts which made up this part of Park Lane at that date.
Higher up and closer to Oxford Street, there was space for more large houses, but they took longer to get under way: Sir Thomas Robinson advised Lord Bute in 1762 against building a house here or on the Portland estate north of Oxford Street on the grounds that it was 'too farr either from publick business or publick pleasure'. (fn. 1) John Phillips the master carpenter eventually took a large area here, and was responsible for Lord Bateman's house, later Somerset House, erected in 1769–70 on a site now covered by part of Nos. 139–140 Park Lane, and probably for the building of Thomas Pitt's Camelford House (1773–4) on a site squeezed in between this and the Hereford Street development. Despite their proximity, they were dissimilar houses. Somerset House (Plate 14b) was very much a builder's house, always asymmetrical and probably never distinguished in elevation, without a particularly grand front even towards the park. But the owner of Camelford House, Thomas Pitt, was an amateur architect of accomplishment and an intimate of the young John Soane; so his house was of some moment, though inconspicuous from Oxford Street or Park Lane. A selfconscious late-Palladian villa (Plate 14a), it boasted a courtyard before it like that at Lord Chetwynd's house, canted bays at front and back, a strictly symmetrical plan, and able neo-classical interiors.
With these houses of the western sector, the names of well-known architects begin at last to crop up. But before Paine, Crunden or others had been active here, the houses in and around Grosvenor Square were already undergoing alteration. Hardly a noble family would change its London abode in the eighteenth century without manifold rearrangements and re-upholsterings, and these often involved architects. As early as 1743 Henry Flitcroft was undertaking works at No. 4 Grosvenor Square for the Earl of Malton, who had just moved in; this was to be followed by a series of improvements up to 1764, when the ageing architect superintended the stuccoing of the back of the house. This was the kind of job that one might expect to have been undertaken by an architect of the younger generation, William Chambers or his great rival Robert Adam. In fact in 1763 Chambers, just then building his fine early villa for the Earl of Abercorn at Duddingston, did also renovate the Earl's town house at No. 25 Grosvenor Square. This was often how high-class architects came to be involved in houses on the Grosvenor estate, altering them in sometimes quite trifling respects following more important country house work for the same client. Adam was in the field straight after Chambers in 1764–5 with a larger job, the internal updating for the Earl of Thanet of the stately No. 19 Grosvenor Square, the pedimented house by Edward Shepherd on the north side (Plates 15b, 17a, 17b). Each architect went on to cap the other's work with further commissions in the square, Chambers by redecorating No. 20 in 1767 for the Duke of Buccleuch, Adam with what amounted to a rebuilding of No. 26 for Lord Stanley (later the Earl of Derby) in 1773–4: this was the famous Derby House. Chambers also worked at No. 28 Grosvenor Street, while the Adam brothers were involved in one capacity or another at Nos. 5, 12 and 28 Grosvenor Square, at No. 16 Grosvenor Street (Plate 16b), at Claudius Amyand's house on the corner of Berkeley Square and Mount Street (Plate 15c), and perhaps too at No. 75 South Audley Street, the town house of Robert's great Scottish patron Lord Bute. The Adams' list is the longer not just because of their popularity or their better documentation but also because they were well placed to cultivate their contacts; from 1758 to 1771 they lived at No. 76 Grosvenor Street, a house which they appear to have altered but which is now long demolished.
By the turn of the century, plenty of well-known architects had acted in alterations of one kind or another. Thus John Vardy spent lavishly at No. 37 Grosvenor Square for the Duke of Bolton (1761); Robert Taylor appears to have rebuilt No. 33 Upper Brook Street (fig. 8b) in about 1768; the shadowy Kenton Couse made alterations at two houses in Grosvenor Square, in 1774–5 at No. 2 and in both 1764–5 and 1774–5 at No. 29; Henry Holland worked with his early partner Capability Brown at No. 75 South Audley Street (c. 1775) and, it seems, alone at Bourdon House (c. 1783); the less-known George Shakespear made changes at No. 41 Upper Brook Street in 1776–7; James Playfair added a gallery at No. 34 Grosvenor Square for Sir George Beaumont (1790); John Nash was supervising work at No. 34 Grosvenor Street (1798); and John Soane was in almost constant employment on major or minor estate works, the chief of them being the gradual internal reconstruction of No. 49 Grosvenor Square (1797 onwards). Soane, the best documented of these architects, had dealings with at least seventeen different houses on the estate in the course of his long career, and a similar intensity of practice hereabouts may be presumed for others. Frequently they were working simply as surveyors, valuing properties, bargaining on behalf of their clients, or acting as estate agents. A document of the 1740's at the Drawings Collection of the Royal Institute of British Architects in the hand of the architect John Sanderson describes and gives rough plans of a number of town houses, several of them on the Grosvenor estate, which he had evidently looked over on behalf of an intending purchaser; (fn. 2) rather later, Robert Mylne's illuminating diary is full of little entries mentioning visits to houses in a similar capacity, (fn. 3) while some letters of P. F. Robinson show that as late as the 1800's it was still common for eminent architects to find town houses for their customers. (fn. 4) Holland, Soane, S. P. Cockerell and Wyatville are all also recorded as 'acting' for clients in negotiations with the Grosvenor Office, no doubt usually in hope of rather than in connexion with more remunerative work.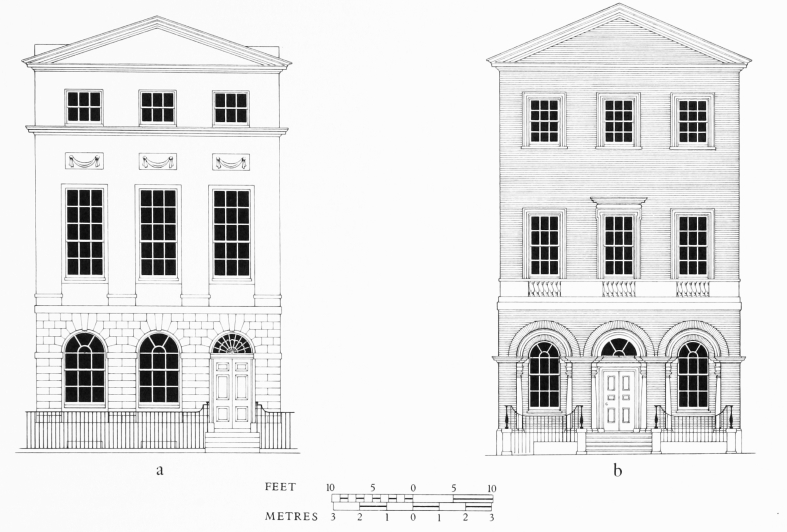 One architect whose work on the estate is worth more than passing attention is Samuel Wyatt, who until recently has lived in the shadow of his brother James's greater reputation. In the earlier and more thorough period of his career James Wyatt did indeed work on two major houses in Grosvenor Square, No. 16 for William Drake of Shardeloes (1773–4) and the larger No. 41 for the dissolute Peter Delmé (1778), and made minor alterations at a third, the Grosvenors' own No. 45 (1783–4). Both No. 16 and No. 41 had ornamental ceilings of the new Adam type, and No. 41 was one of the first houses to have its front stuccoed in Higgins's patent cement. Having been his brother's reliable assistant and principal contractor in these two houses and in several other jobs, Samuel Wyatt struck out on his own in the late 1770's, with great success. Thus on the Grosvenor estate he is found in 1778 stuccoing the basement of No. 66 Brook Street with Higgins's cement for Assheton Curzon, the brother of Wyatt's first patron under Adam at Kedleston Hall. (fn. 5) In the ensuing period he acted in at least three lease renewals, altered one house (the western of the two on the site of No. 10 Grosvenor Square, in 1801–3), and virtually reconstructed two others (No. 6 Upper Brook Street for William Weddell in 1787–9 and No. 45 Grosvenor Square for Lord Petre in 1803–6), Weddell's house was of the greatest interest; having employed Adam to remodel his country seat at Newby Hall, for his town house he opted for the versatility and practicality of Samuel Wyatt. Wyatt seems to have excelled himself, achieving some ingenious interiors behind a stone pedimented front of only three hays (fig. 8a). He even earned himself the hyperbolic title of the 'wonder-working Chip' from a friend of Weddell's, whose surviving letters enthuse, as work proceeds, over 'the fine curve of the Trunk Cieling in the sky light', 'the light and airy look of the Eating room with the new circular end behind the columns', and finally, 'the Chip's new invented design for lighting the staircase, a fanciful Machine, that pours forth such a blaze of glory, that the Sun in it's meridian splendor will shew to it but as a rush light'. (fn. 6) Of all this interior work there is now no record except a few photographs of detail (Plate 17d), but they are enough to show that No. 6 Upper Brook Street was exceptional, even within Wyatt's oeuvre.
Like that house, nearly all the results of this first epoch of alterations have been swept away today. There is nothing recognizably by the Adams left on the estate, nothing by Chambers, just one room with characteristics of Holland's touch at Bourdon House, a few presumed fragments of the work of Brown and Holland at No. 75 South Audley Street, and little by the assiduous Soane except for a balcony and parts of a porch at No. 22 Dunraven Street (Plate 19c). However there are two major mid-Georgian survivals, No. 33 Upper Brook Street, a rebuilding of c. 1768 almost certainly by Robert Taylor for John Boyd of Danson Park, and No. 38 Grosvenor Square, a reconstruction of c. 1780 done so much in Samuel Wyatt's manner that an attribution to him is hard to resist. These houses are very different but equally important. No. 33 Upper Brook Street shows what could occur when updated Palladianism was applied to a modest three-bay house of little depth. Taylor reorganized the façade (fig. 8b) by putting the door in the centre, setting it and its flanking windows between small engaged columns carrying semi-circular heads, emphasizing the first floor with a sparing use of ornamental dressings, and topping the house with a neat pediment (now obliterated). Inside, the ground floor had to be limited to just two units, a spacious plaster-vaulted entrance hall and stairs, and a large octagonal room behind. Because this kind of arrangement left little compass for manoeuvre, mid-Georgian architects more frequently adhered to the basic lopsidedness of the townhouse plans that they inherited. That is what occurred at No. 38 Grosvenor Square, where a front compartment staircase may have been removed, and a deep back wing with windows to the side was certainly added, stretching right through to the stable block and ending with a private stair between the suites of the master and mistress of the house (fig. 90). This wing was plastered over, and so also in all probability was the front to the square, since rebuilt. At the same time the interior was gutted throughout and refashioned with features of greater delicacy and lightness: a stone staircase with a lively iron balustrade and oval toplight, drawing-rooms with voluptuous marble chimneypieces (Plate 17c), and plasterwork ceilings incorporating inset allegories painted in the fashionable manner of the Carracci (Plate 16c).
Such also, to judge from plans, was the character of Samuel Wyatt's No. 45 Grosvenor Square, and also of Derby House, Robert Adam's great masterpiece at No. 26 Grosvenor Square. Here again in both houses was a main central staircase generously toplit, and a long rear wing with a bow culminating in a private stair (fig. 9a, b). All three of these houses, in fact, betray the new preference for central stairs; the days of the front compartment staircase were over by 1770 and would not return. But at Derby House, with that extra conviction and fertility that separate him from his followers, Adam transformed the resulting sequence of straightforward rooms, each in itself symmetrical, into an eventful suite, by introducing circular and oval apartments and by blurring the contours of the other rooms with bowed ends, niches, vaults and pillared screens, so producing the effects of light and shade dramatized in Pastorini's famous perspective of the third drawing-room (Plate 15a). The intention to create such a suite even within the confines of a terrace house of fifty-foot frontage, despite attendant difficulties, is confirmed by the commentary on Adam's published plans, which refers to Derby House as 'an attempt to arrange the apartments in the French style, which… is best calculated for the convenience and elegance of life … The smallness of the scites upon which most London houses are built, obliges the artists of this country to arrange the apartments of the ladies and gentlemen upon two floors. Accordingly Lord Derby's are placed on the parlour story: the French, in their great hôtels, with their usual attention to what is agreeable and commodious, would introduce both these apartments upon the principal floor; but this we can only do in our country-houses, where our space is unconfined.' (fn. 7) So by 1773 French influence was already beginning to invade the London terrace house.
Adam's published plans of Derby House (fig. 9a) show also that the function of rooms was becoming more specified. As in some earlier houses, the kitchen was to be found here in the basement of the stable block facing inwards towards the paved court; because of smells, noise, and the danger of fire, such a position or one actually under the garden was to become standard in all subsequent rearrangements. In the main block of Derby House the reception rooms consisted of a 'great eating room' and library downstairs, and three drawing-rooms above, with appropriate antechambers on each floor. The private suites in the rear part of the wing referred to above, were a survival from the days of the 'great apartment', a concept ably explained in Fowler and Cornforth's English Decoration in the 18th Century (1974); they are a reminder that intimate friends would be received as a matter of course in these more sequestered parts of the house. One further point about Derby House, originally made by Soane in his Royal Academy lectures, is worth repeating; the front elevation was scarcely altered by Adam and retained its modest brick earlyGeorgian character, in token of the proud 'disregard to external appearance' of which English noblemen liked to boast. (fn. 8)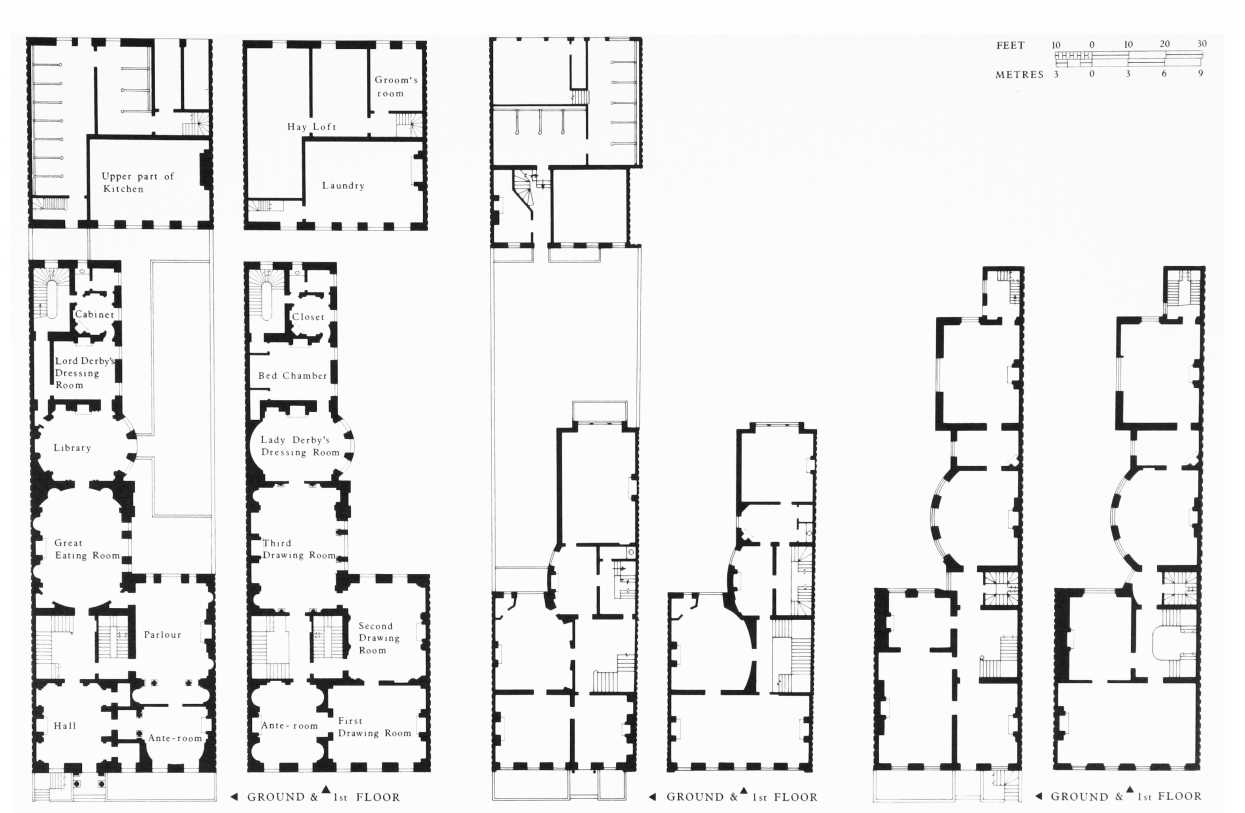 The 'Adam' style of interior decoration, exemplified by Derby House, looks radically new when compared with the efforts of Shepherd and his contemporaries. But there had certainly been a transition. Paine's ceiling design for the drawing-room of Lord Petre's Park Lane house (Plate 16a), published in the second volume of his Plans, Elevations and Sections of Noblemen and Gentlemen's Houses, combines the old deep compartments with a single painted roundel of the new type in the centre, and there is still a certain floridity to Adam's early ceiling designs such as that for Lord Hertford's drawing-room at No. 16 Grosvenor Street (Plate 16b). Nevertheless, the new style embodied archaeological sophistication of a kind that had been rare in earlier town houses. Not all designers could pick up its every resonance, but they were at least aware that a novel self-consciousness and unity were expected of their decorative schemes. This entailed the ousting of the heavy panelling that had been the hallmark of the original houses and a new supremacy for the more delicate skills of plasterer, painter, gilder, paperhanger, and last but not least, upholsterer.
Apart from a few master builders like Benjamin Timbrell and Edward Shepherd, the craftsmen responsible for the estate's original development remain shadowy figures. For the later Georgian period we are rather better informed. High-class architects like the Adams or the Wyatts brought with them experienced men whose practice was by no means exclusively metropolitan and who were no mere tradesmen. A few of them indeed appear to have enjoyed something of a monopoly within their trade. Thus the name of John Deval, mason (both father and son), appears in connexion with alterations at no less than five houses in Grosvenor Square (Nos. 2, 4, 16, 18 and 29) between 1736 and 1775, that is to say for almost all the houses in the square for which we have full records of work during the period. Sometimes this family firm was acting as mason-contractors, sometimes as specialized sculptors.
Another equally well-known name that constantly crops up is that of the great plastering concern of the two Joseph Roses. In 1764 Flitcroft was enthusing over the care taken by the elder Joseph Rose in stuccoing the back of No. 4 Grosvenor Square, which he thought would be 'an Example worthy of Imitation Mr Rose having taken great care in Chusing and mixing the materialls for it'. (fn. 9) Rose and his nephew went on to work in the 1760's and '70's at Nos. 16, 26, and 29 Grosvenor Square under James Wyatt, Robert Adam and Kenton Couse respectively, and doubtless did jobs at other houses of which we know nothing. By the turn of the century, plasterwork was in general becoming less elaborate, and the Roses had been superseded by men like the William Rothwells, Soane's favourite plasterers, and Francis Bernasconi, who executed large contracts for Samuel Wyatt at No. 45 Grosvenor Square (1803–6) and for William Porden at Grosvenor House (1806–8).
One or two other special craftsmen are worth particular mention. Sefferin Alken was the carver in three of the mid-century jobs in Grosvenor Square already mentioned, Thomas Carter the younger worked as sculptor at No. 16 Grosvenor Square under James Wyatt and also elsewhere; Richard Westmacott the elder sculpted a chimneypiece at No. 41 Upper Brook Street; and John Mackell occurs constantly as a smith in contracts towards the end of the century. The early nineteenth-century bills for No. 45 Grosvenor Square and Grosvenor House include two names which were to become increasingly familiar in the years to come, those of Bramah for water closets and other ironwork at both houses, and of Skidmore for cast iron at Grosvenor House. Men like these were laying the foundation of firms of industrialized craftsmen in the modern sense at about this time. At the opposite end of the scale were the decorative artists, who held a particularly high status and operated more or less on their own; such were Antonio Zucchi who painted door panels at Derby House, and Biagio Rebecca, James Wyatt's choice for ceilings at No. 16 Grosvenor Square.
As elusive as any of these craftsmen but far more important for the history of the estate were the cabinetmakers and upholsterers, ancestors of the modern interior decorator. For obvious reasons, their work hardly survives in town houses at all. Yet because of their concern with the finishings of houses, they dealt directly with clients and frequently wielded much authority. Furnishings in the latest taste might be destined to last perhaps only a very few years before they were supplanted by something more up-to-date. But the lure of a spick-and-span interior was compelling, and certainly more powerful in London, where the proximity of neighbours encouraged rivalries, than in the country. Thus in 1748 we find Mrs. Boscawen rattling on to her absent admiral husband about their new house at No. 14 South Audley Street. 'This afternoon I saw company in my dressing-room for the first time since its being furnished … and everyone admired my apartment, which is indeed a very pretty one and wants nothing but the approbation of its Lord.' Then a little later: 'My house is an hourly expense to me, as you may imagine … My furniture, which is now pretty complete, costs many a penny. So elegant am I, that my fender is a Chinese rail. Je connais des gens qui portent tellement envie à ma maison et à mes meubles qu'ils en sont presque malades, and worry their husbands night and day to go out of that odious, beastly house.' (fn. 10)
Though Mrs. Boscawen's letters mention papers, hangings, chintzes, muslins, carpets and mattings galore, she includes only one craftsman's name, that of the famous early paperhanger Thomas Bromwich. In its later forms, firstly Bromwich, Isherwood and Bradley, later Isherwood and Company, this firm also made papers for No. 29 Grosvenor Square (1777), No. 45 Grosvenor Square (1784) and for Grosvenor House (1807–8). In the later eighteenth century, wallpaper, as a cheaper and daintier background material, was increasing in popularity against hangings, and was available for quite humble houses. Surviving records of Joseph Trollope of Westminster reveal his firm at about the turn of the century papering houses of varying status, from Nos. 49 and 34 Grosvenor Street (the latter under Nash's guidance) to an evidently small house in South Audley Street, where Trollope was asked to 'take coals in return'. (fn. 11)
While very little is known of the earliest upholsterers who worked on the estate, the bills for alterations in houses in Grosvenor Square are soon full of the names of the most eminent concerns of the day: Vile and Cobb at No. 4 Grosvenor Square (1775 and later); William France, at No. 29 Grosvenor Square (1764); John Bradburn, paid £2576 for work at the Marquis of Carmarthen's house, No. 2 Grosvenor Square, in 1774–5; and Chippendale, for whom posthumous works by his firm are recorded at No. 29 Grosvenor Square (1781–2) and No. 16 Grosvenor Square (1789).
For the display of their wares, cabinet-makers and upholsterers such as these required a proper shop, which tended to be strategically sited, close to fashionable society: Soho, Oxford Street, Bond Street, or increasingly the Grosvenor estate itself. A modicum of high-class trade has always flourished at the east end of Grosvenor Street, and here the firm of William Campbell (later George Campbell), advertised as 'upholders', had premises between 1727 and 1785, the first of several such enterprises in the street. Not far away, on the north side of Berkeley Square (the only side on the Grosvenor estate), John Linnell, in succession to his father William Linnell, ran his famous workshops from 1763 until 1796. From here he was excellently placed to supply furniture to the local houses of the great, for example No. 16 Grosvenor Square in 1773–4, and No. 4 Grosvenor Square in 1776 and 1782–3. As a subcontracting carver to the building concern of John Phillips and George Shakespear, Linnell is likely to have done much other work on the estate. Then in Mount Street nearby was the establishment of William Marsh (Elward and Marsh), another celebrated upholsterer who from about 1795 was in partnership with Thomas Tatham, a close associate and legatee of Linnell. Marsh and Tatham may possibly have inherited the goodwill of Linnell's business. In the firm's later incarnations as Tatham and Bailey, later Tatham, Bailey and Saunders, it became one of the dominating forces in the world of decoration, and included in its orbit two architects, C. H. Tatham, Thomas's brother, who lived for several years on the estate but is not known to have done substantial work hereabouts, and John Linnell Bond, who altered the Tatham and Bailey shop in Mount Street. (fn. 12)
By the early nineteenth century, to digress further into the obscure but influential world of these upholsterers, the commercial parts of the Grosvenor estate together with Bond Street had become virtually their most important centre of activity. From c. 1795 to 1814 Gillows, the well-known cabinet-makers who decorated the interiors of Grosvenor House and Eaton Hall under William Porden, held a lease of the grand house at Nos. 11–12 North Audley Street, and they retained the yards and workshops behind; these were premises additional to their main Oxford Street shops not far away, on part of the present site of Selfridges. In the next generation Thomas Dow biggin had by 1816 started his very successful and high-ranking business in Mount Street, not far from Tatham and Bailey. For the following thirtyfive years Dowbiggin was to work widely on the estate, sometimes as a speculator, before being absorbed into Holland and Sons, a firm which has only recently disappeared. Lastly, Thomas and George Seddon of Aldersgate Street took and probably greatly altered the large No. 16 Grosvenor Street in 1824 as their West End branch. Houses like this and Nos. 11–12 North Audley Street must have been fitted up not as mere places of work, but as elaborate showrooms. Into such centres these firms could entice the local gentry and nobility and tempt them to extravagance in their own homes.
The extent of upholsterers' work at this time is rarely known except when short-term speculation was involved. The seasonal occupation of fashionable Mayfair houses encouraged firms to buy up leases, refurnish the premises and let them at exorbitant rents for short periods, especially near the end of leasehold terms, a practice which could lead to serious problems (see Appendix III). In 1792 when the parish vestry of St. George's, Hanover Square, debated a rating question, they noted that 'when Gentlemen go into the Country leaving Furniture and a Person in their House (which generally wants more or less Repair every Year) such Gentlemen pay Rates for the whole Year; also that Upholsterers and others who lett Houses ready furnished pay Rates for the whole Year though the Houses may be unlett for a great part of the Time'. (fn. 13) One example of such a house was No. 74 Grosvenor Street, for which the reputable cabinet-making concern of Mayhew and Ince are entered in the ratebooks 'for tenants' during the whole of the period 1778–1801; another may be No. 65 Grosvenor Street, where Taprell and Holland, ancestors of the firm of Holland and Sons, are entered between 1833 and 1847. It was a short step from this kind of practice, a perfectly normal one for upholsterers and house agents, to that of early hotels like Mivart's (later Claridge's) in Brook Street, by which an entrepreneur took on contiguous houses and let them to different clients for short periods, not just fully furnished but fully staffed as well.
After the Regency period, the advent of the professional builder began to scale down the broader activities of upholsterers, but in their heyday they are found acting on the Grosvenor estate as house agents and speculators far more often than architects, and quite frequently also as surveyors. In 1819 when the lease of No. 16 Grosvenor Street (the house eventually taken by the Seddons) came up for renewal, it was reported that 'three upholsterers have applied for the terms, viz Mr Key, Mr Rainy and Mr Johnston'. (fn. 14) No more is known of Rainy, but George Key was associated with a good cabinet-maker, Charles Smith, who had a house on the opposite side of Grosvenor Street, while John Johnstone of New Bond Street acted both as a major speculator (he took four houses in Grosvenor Street and one in Upper Brook Street between 1819 and 1824 (fn. 15) ) and also as agent and surveyor for the Duke of Newcastle in 1811, when the Duke was thinking of purchasing No. 75 South Audley Street. (fn. 16) Possibly the most ambitious speculator of this type was Charles Elliott, yet another well-known Bond Street upholsterer of high quality. Of the several large houses that Elliott took on, at least three radically altered or rebuilt by him between 1790 and 1810 survive: No. 66 Grosvenor Street, No. 18 Upper Grosvenor Street, and No. 65 Brook Street. One of them, No. 18 Upper Grosvenor Street, still has the appearance of a high-class speculative house of the 1790's, with its stucco façade (Plate 44d), neat central stone staircase, and Adam-style marble fireplaces; to these the original finishings would doubtless have added a spickand-span flavour.
Of course upholsterers were not alone in such speculations. Since the start of estate development, builders or other tradesmen had often been the holders of head leases, merely subletting to gentry. Now others bought up the ends of leases, especially of houses that were dilapidated. In the period 1797–1819, for instance, a speculator called Bartholomew bought up at least six houses at the Bond Street end of Grosvenor Street in this way, radically improved and relet them. (fn. 17) The system frequently provoked dissatisfaction among their clients, who were not too happy to be so dependent upon 'tradesmen'. Thus in 1811 the economist David Ricardo bought No. 56 Upper Brook Street, a small new house built as 'infill' behind Nos. 24 and 25 Grosvenor Square, from the builder Charles Mayor, the original lessee of Nash's Park Crescent and very soon a spectacular bankrupt. (fn. 18) Ricardo, ironically disregarding the laws of the market at the whim of his wife and children, paid Mayor what he considered an 'enormous' price and was soon lamenting his decision: 'that Mayor of whom I bought the house was a complete knave, and from the holes in the chimnies, and the communication between them and the beams, he perhaps intended that it should be destroyed by fire, so that no one might ever find out the total insufficiency of the materials to support the house.' (fn. 19)
One might think that these were the kinds of difficulty that led to Lord Grosvenor's appointment of an estate surveyor in about 1784. But the evidence is clear that the main brief was financial, to compile an accurate record of property values and to make satisfactory terms when leases were renewed. When in 1778–9 Robert Taylor and George Shakespear were employed by the Estate to survey the area north of Grosvenor Street and east of Davies Street in detail, the purpose cannot have been to see where estate improvements could be effected but to get adequate information about this part of the estate in case of lease-renewals. William Porden, Lord Grosvenor's eventual choice as surveyor, was a relatively unknown architect at the time of his appointment. His selection is possibly a little surprising, since John Jenkins, a local surveyor, had recently been employed in some small family jobs for the Grosvenors; Jenkins had also designed the Grosvenor Market (1784–5), a modest group of houses and shops with a covered way behind, on the triangular stretch of ground at the top of Davies Street and South Molton Lane (the present Boldings site). Porden may have been chosen because he had been a pupil of James Wyatt, who had also been working for Earl Grosvenor, if only in a minor capacity, at his main town house, No. 45 Grosvenor Square. In any case Porden soon proved his worth and his individuality and was to handle estate matters with a stout and hearty independence for thirty-five years and more. A number of large architectural jobs away from the estate showed that he could design too, and that with talent and idiosyncratic taste. From 1804 he was working for the Prince of Wales at Brighton, and had started reconstructing Eaton Hall for Lord Grosvenor on the most lavish scale, in the Gothic style that he made no bones about favouring. Then in 1806–8 he became equally busy with his one major work on the Mayfair estate, Grosvenor House. This was the reconditioning of Lord Chetwynd's old house in Upper Grosvenor Street, which had passed to the Duke of Gloucester and was acquired by Lord Grosvenor in 1806 for use as the family's London seat.
There is no reliable record of the appearance of Grosvenor House when Porden had finished with it in 1808. Though well over £16,000 was spent, the only major change to the outside of the house was the addition of a bow towards the garden (Plate 18a). Most of the work, in fact, was interior and decorative, since the house was intended to show off Lord Grosvenor's collection of pictures to best advantage, and Porden prided himself on his particular taste and care in such matters. There was inevitable (and instructive) friction with the upholsterer, Gillow, who was often consulted by Lord Grosvenor, doubtless because he was less independentminded than Porden. Disagreeing with Gillow about the colour of a dado, which he wanted 'sattin wood' in tone and Gillow a more dashing pink and white, Porden could damningly say of his opponent, 'in his own province, he is only governed by fashion'. (fn. 20) In the end, all turned out tor the best; when Grosvenor House was thrown open in 1808, the results earned for Porden society's accolade. The Times was at its most orotund: 'Never do we recollect to have seen a more judicious and pleasing application of classical enrichments to domiciliary character and accommodation.' (fn. 21) There was, however, an argument about Porden's fee. Still, in 1817 Porden was again chosen as architect to add a gallery to accommodate Lord Grosvenor's growing picture collection.
The places where Porden significantly influenced the appearance of the rest of the Mayfair estate were few. Unlike later surveyors, he does not seem to have required plans for new houses or alterations to old ones to be submitted to him, nor did he solicit employment on the estate as a private architect. In the early years of his tenure relatively few leases were falling in, so his opportunities to assert himself architecturally or to promote a coherent policy for improvements were small. But one example of a notion of Porden's eventually bearing fruit was the reconstruction of King's Row (Nos. 93–99 consec. Park Lane), by the Grosvenor Gate into Hyde Park. As early as 1791 he saw that the jumbled appearance of Park Lane could be improved in places. He therefore persuaded Lord Grosvenor not to renew leases in King's Row so that in due course better houses could be built there. In 1808 Porden once more counselled against premature renewals, but it was not until 1823–8, after his death, that most of the range was rebuilt. Though the designs adopted were not uniform, Nos. 93–99 Park Lane remain one of the estate's most charming and individual ranges (Plate 19a). The only architect known to have been involved, John Goldicutt at Nos. 98 and 99, certainly did not have overall control. Yet somehow, since the plots were very shallow, the promoters all took up the idea suggested by the backs of houses fronting Norfolk (now Dunraven) Street higher up and Park Street lower down the lane, and canted out the new façades with a delightful set of bays, bows, iron balconies and verandas (Plate 19; fig. 10). This conception of backs turning into fronts was the vital factor in transforming Park Lane into a thoroughly fashionable address. Up and down the park frontage, bigger and better bays started to sprout on existing houses, while beyond the estate the reverberations reached Tyburnia.
In his last years as surveyor, Porden was sometimes represented at the Grosvenor Board by his son-in-law, Joseph Kay. (fn. 22) He retired in 1821, shortly before his death. By then the emphasis of Grosvenor estate development had shifted to Belgravia, the main sphere of activity of his successors, the Cundys. From their tenure of the surveyorship, a new phase in the character of the Mayfair estate may be dated.