Pages 127-140
Survey of London: Volume 39, the Grosvenor Estate in Mayfair, Part 1 (General History). Originally published by London County Council, London, 1977.
This free content was digitised by double rekeying and sponsored by English Heritage. All rights reserved.
The Reign of the Cundys
In September 1821 Thomas Cundy of Pimlico, architect and builder, succeeded Porden as the second Earl Grosvenor's surveyor. Cundy may have been recommended by his predecessor, as like Porden and Kay he had been a protege of S. P. Cockerell, the district surveyor of St. George's, Hanover Square. He was certainly conversant with the Mayfair estate already, having altered two houses in Grosvenor Square, No. 7 (1808) and No. 30 (1815–16), acted in lease-renewals for two others (Nos. 11 and 29), and applied for the lease of at least one property close to Grosvenor House. His brother, the engineer Nicholas Wilcox Cundy, had also lived briefly first in Brook Street just off the estate, then in Norfolk (now Dunraven) Street. (fn. 1) But the decisive factor must have been Thomas Cundy's connexion with the 'Five Fields' area of Pimlico, towards which all eyes were now turning as the next logical place for expansion on the Grosvenor estates. By 1811 serious plans had already been laid for the development of Belgravia; (fn. 2) there were at least two false starts, but by the time that Cundy became estate surveyor development was about to take off, and since he operated from Ranelagh Street (now Beeston Place and the eastern end of Ebury Street) he was well placed to superintend affairs. For the next forty years Mayfair was to take a back seat, as a style both of development and of architecture was evolved for Belgravia and Pimlico, and then reflected back upon the older estate. The principal early figures in this evolution were the speculative builders, the great Thomas Cubitt, Seth Smith, and to a lesser degree Joseph, James and Thomas Cundy II, the sons of the estate surveyor. (fn. 3) But though Thomas Cundy I must have matured the layout of Belgravia, and certainly had a hand at the start of his sons' speculations there, he died in 1825 before matters were at all advanced. Thomas Cundy II, his eldest son, now took over the surveyorship to Lord Grosvenor, an appointment he was to hold for over forty years and then pass on in turn to his third son Thomas Cundy III, who retained the post until 1890. Day-to-day architectural control of the London estates was thus in the hands of the same family for nearly seventy years.
Officially the briefs of Thomas Cundy I and II seem to have exceeded Porden's in one important respect only. This was that the Cundys began to consider and approve plans for any new buildings or rebuildings undertaken by tenants. This duty, obviously evolved with Belgravia in mind, was to become vital on the Mayfair estate as well. Here a new era of general rebuilding, small perhaps compared to the volume of development further south, but still significant, was ushered in with the retirement of Porden. If the falling-in of Mayfair leases was partly the cause, the Cundys must also have encouraged this distinctly new policy, as it offered them greater opportunities as well as more responsibilities. The family certainly took their early chances in Belgravia while Thomas Cundy I still lived, and though Thomas Cundy II relinquished his interest in his brother Joseph's 'take' of land round Chester Square on becoming surveyor, (fn. 4) he probably continued designing for the family speculations, as his father had done.
How much Thomas Cundy II designed on the estates during the first twenty years of his surveyorship, before the accession of the second Marquess in 1845, is hard to say. Well before his father's death he had been engaged in the architectural side of the practice, and for works of the mid 1820's their hands are indistinguishable. What is undoubtedly true is that their most lucrative Mayfair commissions of this period were undertaken for the Grosvenors themselves. The first one, the reconstruction of Nos. 15 and 16 Grosvenor Square as Belgrave House, has hitherto escaped notice, but was a large business. In 1819 the second Earl Grosvenor's heir, Viscount Belgrave, had married Lady Elizabeth Leveson-Gower; the wealthy couple soon had children and wanted for a substantial London house. The answer was the pair of houses in the middle of the north side of the square, which between 1822 and 1824 were transformed by the Cundys into a regular palace, at a cost of over £12,000. They acquired a new stucco front some seventy-five feet in length, with four giant engaged columns running through first-and second-storey levels (Plate 20a). This illustrious mid-terrace composition must have been an influence on the façades of Belgrave Square, which were being evolved shortly after this date. The interior of Belgrave House, though modest on plan, can scarcely have been less magnificent, as John Davis, a Brook Street cabinet-maker, presented a bill for £3829 for work done here.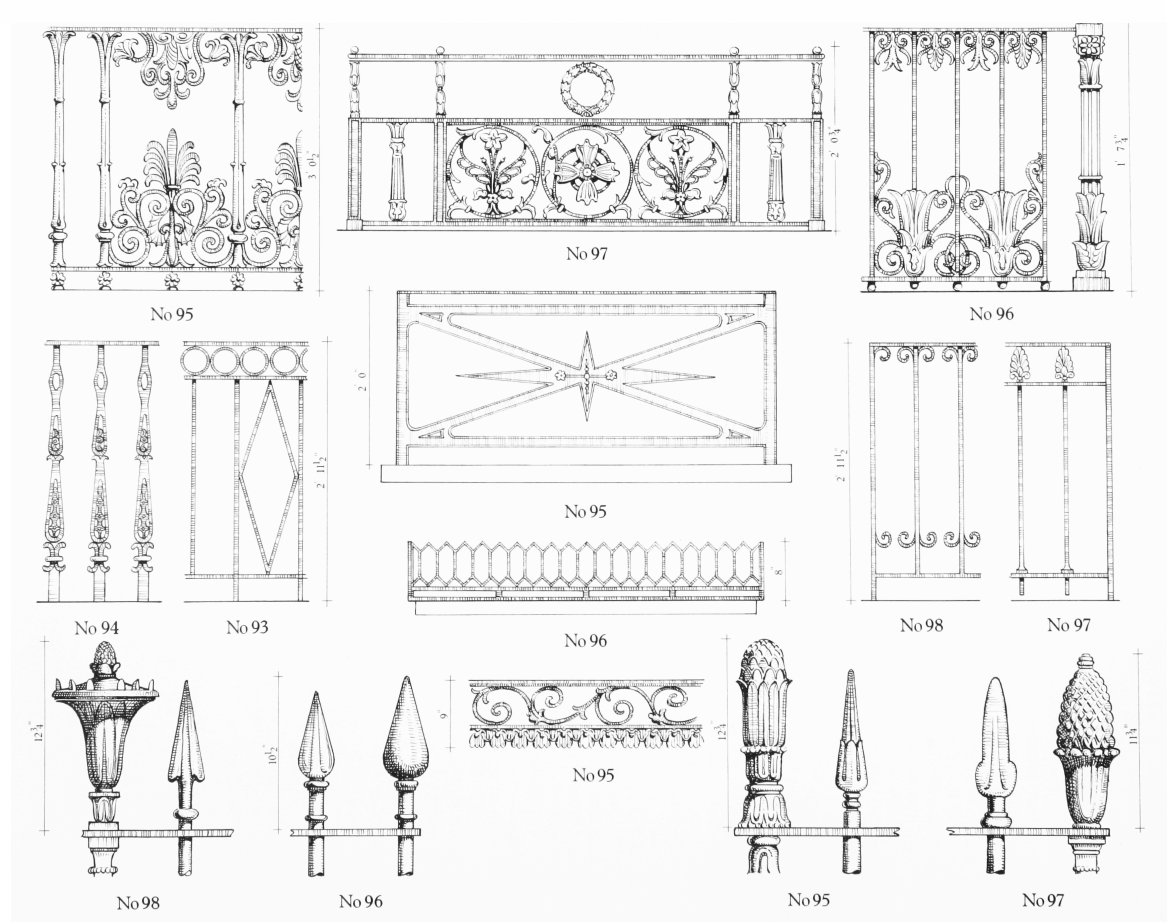 Immediately afterwards, in 1824, Earl Grosvenor initiated an even more massive rebuilding scheme for Grosvenor House itself. Porden had reconditioned the house but had scarcely enlarged it, and this was what the Cundys now prepared to do. Thomas Cundy I must have been a party to the scheme's inception, but all extant drawings date from after his death. The only major addition actually erected, the great picture gallery of 1826–7, was certainly in the hands of Thomas Cundy II, assisted in the execution of the work by his brothers, the short-lived mason James and the soon-bankrupted carpenter Joseph. As architects, the first two Cundys had neither the sophistication nor the individuality of a Porden: their Grosvenor House scheme, therefore, though lavish and imposing, was essentially pedestrian, relying much upon engaged columns for exterior effect (Plate 18a, 18b). In contrast to this heavy Roman effort, a chaster scheme submitted (without invitation) by Smirke makes one sigh for more imaginative patronage on the part of the second Earl Grosvenor (Plate 18c). Later, in 1842–3, Thomas Cundy II added a noble screen equipped with florid iron gates to front the courtyard towards Upper Grosvenor Street. Though modelled on Holland's Carlton House screen, it has been translated into the same sober Roman idiom (Plate 20c).
Still, the second Cundy does appear to have had a lighter side at times, if the façade of the Grosvenor Office at No. 53 Davies Street, a fresh and cheerful essay of the 1830's in the stucco of Belgravia, can be taken as his (Plate 20b). There is no evidence for the authorship of this engaging composition, enlivened by touches of Greek detail, but Cundy is the obvious candidate, and stylistic parallels with the demolished Belgrave House, also fronted in stucco, seem to suggest his hand. Meanwhile, he was also well supplied with out-of-town work for the Grosvenors, for instance at Moor Park in Hertfordshire, where over £15,000 was spent by Earl Grosvenor between 1828 and 1831. (fn. 5)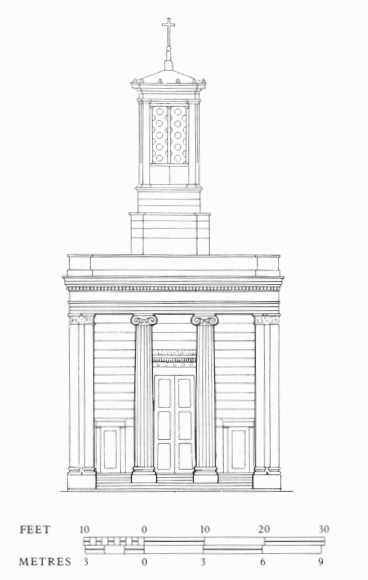 With the Cundys at the helm, the Greek Revival scarcely got an airing on the Mayfair estate. The chief exception is the work of that rare architect, J. P. GandyDeering. He was the winner in 1824 of a competition for the new church of St. Mark's, North Audley Street. The surviving portico and pronaos of his church (fig. 11) display able scholarship and exceptional purity of detail, and go some way to explain why the extant designs of another competitor, John Goldicutt, were not chosen. Goldicutt also participated in the redevelopment at Nos. 93–99 (consec.) Park Lane, but there was nothing very Greek in the outline of this range (Plate 19a). Here and elsewhere, lessees were mostly content to display the new fashion, as far as exteriors were concerned, in pretty castiron balconies and verandas on the fronts and backs of their houses (figs. 10, 12b). Again, Gandy-Deering was the exception. A unique and highly fashionable terrace of houses designed by him in c. 1825–35 at Nos. 14–24 (even) South Street (Lord Melbourne lived in one of them) manifested the same careful discipline and sense for proportions as his St. Mark's designs (Plate 24c; fig. 12c). So it is lamentable that only two forlorn houses in this row remain, while of other work by Gandy-Deering in the South Street area virtually nothing survives. (fn. c1)
Another architect employed on the western halt of the estate was William Atkinson. His rebuilt Dudley House (1827–8) is the most important house of this period to remain. Its stucco façade follows the lead of some of the simpler Regent's Park terraces, whilst some handsome passages of its interior decoration mark the point of transition from a chaste Greek style to the more fulsome manner associated with the Italianate of Charles Barry (Plate 21).
In the 1820's one or two interesting architects had their homes upon the estate, a circumstance which easily led to their employment here and there. One such was George Stanley Repton, son of the landscape gardener, who in 1821 was encouraged by his banking friends the Loyds to come and live close to them in Norfolk (now Dunraven) Street. His house, overlooking the park, has been demolished, but in the early 1820's he designed stabling in Wood's Mews for Samuel Jones Loyd, the future Lord Overstone (Plate 22c), and is likely to have done more work, either for Loyd or for himself. P. F. Robinson, an affable and ingenious ex-assistant of Porden's who is best known for his books of picturesque cottage designs, lived and worked for many years at a house on the site of the present No. 80 Brook Street; he altered Somerset House, Park Lane, in 1819 and on various occasions acted for his regular clients, the Osbaldestons, in their search for a Mayfair house; (fn. 6) an instructive account of one such episode, in connexion with No. 51 Brook Street, will be found in Appendix III. Though the houses of Repton and Robinson have disappeared, the more original residence of Jeffry Wyatt (Sir Jeffry Wyatville) still survives at No. 39 Brook Street (Plate 22a). Wyatt moved into this pleasant and unusually planned early Georgian house in about 1802, at which time he was partner in a building business with premises behind in Avery Row and Brook's Mews. As his architectural practice expanded he seems to have relinquished the building side, and shortly after 1821 he smartened up the old house substantially by remodelling several rooms, constructing a small circular entrance hall, and adding a large and long toplit gallery at first-floor level behind on the Avery Row side. The character of this work is classic in the manner of Soanc, but far more subdued. Wyatt also acted in lease-renewals and altered several houses in Grosvenor Square, principally No. 6 in 1809 for the Marquess of Bath, his patron at Longleat, and he may also, like Robinson, have made a small addition at Somerset House, Park Lane (1811).
Other leading architects of the period are less well represented on the estate. Smirke's scheme for Grosvenor House was never seriously considered and his only other known design, a small addition at Camelford House, does not seem to have been built. The substantial works done by C. R. Cockerell at No. 88 Brook Street in 1824 have been swept away, and the house he altered for his brother at No. 1 Upper Grosvenor Street has been demolished. In Grosvenor Street there are few traces of the internal alterations made by Decimus Burton at No. 18 (1835–6), but rather more of those by Lewis Vulliamy at No. 51 (1836). Anthony Salvin is said to have worked at Grosvenor House in 1835, but the nature and extent of his employment remain a mystery. As for Charles Barry, he appears to have been employed on the estate only in his later career, and again his two known works, both refrontings, have disappeared. That at No. 41 Brook Street (1852–3) was not particularly significant, but his recasing of No. 2 South Street in 1852 was a lavish affair. This house, which had been enlarged by the Duke of Orleans, the famous Philippe Egalité, during his English exile (1789–90), had a return front to Park Lane, by then a highly fashionable address. Barry therefore dressed the building in a noble outfit of Italianate stucco façades with a festive and ornamental frieze, rather in the manner of some of the houses in Kensington Palace Gardens (Plate 22b).
In general, the reign of the second Earl Grosvenor and first Marquess of Westminster (1802–45) brought few drastic changes to the fabric in the smartest parts of the Mayfair estate. Since leases were often renewed without particular conditions, rebuilding occurred only as and when the lessees desired and was rarely prompted by the estate. Apart from the recasting of Belgrave House, only one house along the main sides of Grosvenor Square is known to have been completely rebuilt between 1804 and 1854, and that was No. 47, reconstructed in 1814–15 because of its poor state to the designs and under the superintendence of a little-known builder, Thomas Martin.
Yet elsewhere there was no shortage of building activity, a fact which is partly obscured by the spate of subsequent reconstruction in the first Duke's day. To take the clearest instance, a good deal of Davies Street and of the small streets south of Grosvenor Street and north of Brook Street was transformed in the 1820's and 1830's. The main operators were Seth Smith and, to a lesser extent, Thomas Cubitt, famed as developers in Belgravia. But both had built on the Mayfair estate before turning to Belgravia, Smith on the west side of Davies Street between Brook Street and Three Kings Yard (1818–20), Cubitt at the north end of Berkeley Square, next to the corner with Davies Street (1821–2). Cubitt was of course to outstrip Smith in Belgravia, but in Mayfair Smith was the bigger speculator. Yet of the sixty-three small but decent houses he put up between 1822 and 1833 in the Gilbert Street, Binney Street and Weighhouse Street area, possibly to the designs of William Maberley (Plate 23a), only a single one, No. 27 Gilbert Street, survives (fig. 12a); even his dissenters' chapel has disappeared. Cubitt's slightly later developments have fared no better. In 1837–40 he rebuilt much in the Grosvenor Hill-Bourdon Street area, a group of houses on the west side of Davies Street, and three substantial houses in Grosvenor Street. None of these remains. In Cubitt's case these enterprises may have been intended to take up the slack from his undertakings elsewhere, but Seth Smith's smaller workforce was more probably stretched by his Mayfair developments.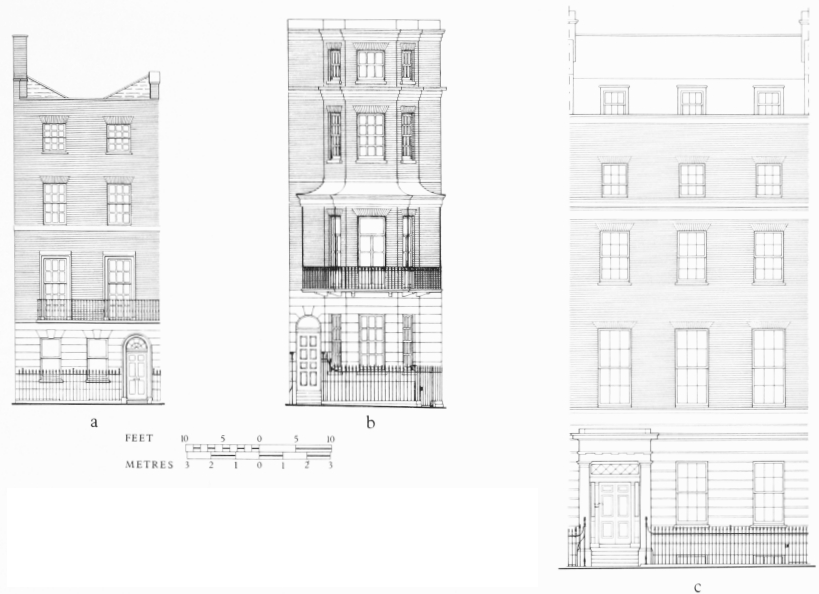 A third, much smaller improvement in this area that happily survives is the Running Horse public house together with Nos. 52–54 (even) Davies Street of 1839–40 (Plate 24b). This originally comprised the pub, a pair of houses, and building workshops behind, erected by the small contracting firm of Joshua Higgs and Company as their headquarters. Though the business here never seems to have grown to great proportions, a nephew of Joshua Higgs apprenticed here was to become co-founder of the much bigger Higgs and Hill. (fn. 7) Also, in the year of the firm's establishment at this address, 1839, a son, Joshua Higgs junior, submitted to the Select Committee on Metropolis Improvements an elaborate scheme for improving the north end of Davies Street with shops and a chapel in the Grecian style of Regent Street (Plate 24a). But the scheme came to nothing, and the top of Davies Street had to wait another fifty years for its improvement.
Two other districts underwent major change at this time. One was the Green Street area, where the presence of several minor architects and surveyors such as Samuel Erlam, Edward Lapidge and Daniel Robertson was a stimulus to rebuilding activity in the 1820's. A principal builder-speculator here was John Elger (Plate 23c), a native of Bedford who form about 1825 had a yard on the estate in South Street, east of South Audley Street. Over the following twenty years he took a substantial number of good sites in different parts of the West End, and he was also the builder of Thomas Cundy II's screen at Grosvenor House (1842–3). Elger's niece was to marry Thomas Cundy III, and in the 1840's his South Street premises were passed on to John Kelk, who in his turn relinquished them in about 1862 to George Smith and Company. (fn. 8) All these are highly reputable names in the London building world of the time, and all are frequently met with on the Mayfair estate. The connexions between these figures, though often unclear to us, were evidently crucial to their operations. Yet despite Elger's importance, the only estate work of his to survive in any recognizable form is No. 138 Park Lane (Plate 19c), a house at the corner with North Row, originally two premises but united by him in 1831–2.
The last district to be substantially redeveloped at this time, South Street, Chapel Street (now Aldford Street) and Portugal Street (now Balfour Place), also brings up its individuals, but by and large they are more obscure. The Gandy-Deering developments in the western part of South Street have already been mentioned. One of his associates here was James Gallier, who soon became bankrupt and departed to America, where he won some fame and fortune as an architect in New Orleans. (fn. 9) Gallier's chief backer was John Robson, who had a large coach manufactory behind the north side of South Street and the west side of South Audley Street and built houses hereabouts. In the late 1820's Robson, a Mr. Arber and Thomas Oliver divided a good deal of the ground round here for redevelopment, but there were other figures too such as William Skeat on the south side of Mount Street close to Park Lane (Plate 23b). Oliver and his successor John Feetham appear to have been the largest operators; they did much work in Portugal Street and Chapel Street and among the larger houses which Feetham took was No. 74 South Audley Street, where he altered the main house, pulled down the old Portuguese Embassy chapel behind, and erected stables on the site, which survive as the present No. 26 South Street (1833). It was probably also at this time that the Grosvenor Chapel acquired its present external dressing of stucco; major works were undertaken by William Skeat in 1829–30, after the chapel had become the property of the parish.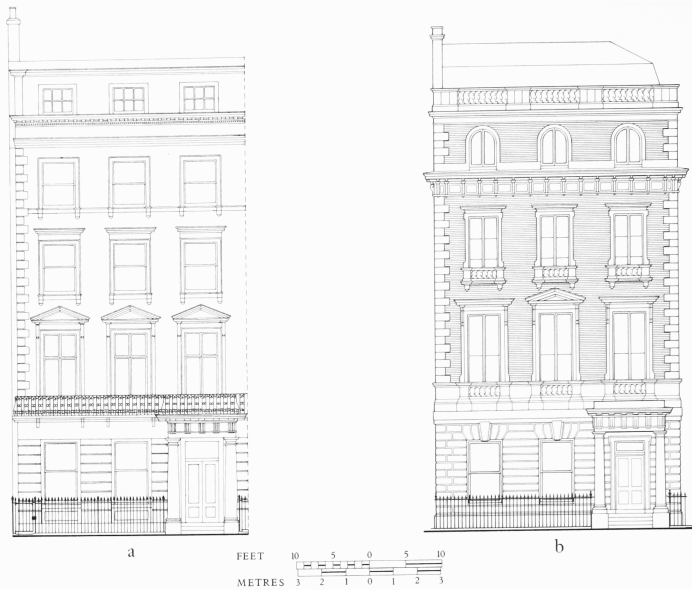 The developments in this district also mark the first appearance of Wright Ingle, for nearly forty years a speculator upon the Mayfair estate. In the 1820's his activities were modest in scope, but they gradually enlarged. Between 1841 and 1851 he was absent from the estate scene, but in the following eleven years he was constantly at work altering or reconstructing one house or another, his largest single task being the rebuilding of No. 42 Grosvenor Square (1853–5). He eventually died in 1865, full of years and riches, and was buried in his native town of St. Ives, Huntingdonshire. (fn. 10) The two survivors from Ingle's speculations are Nos. 11 Upper Brook Street and 20 Grosvenor Street, a pair of similar small houses both of 1852–3. It is significant that though Ingle is sometimes described as a builder, he was not one in the ordinary sense of the word at least in his later years, nor so far as is known was he an architect. His enterprises of the 1850's were invariably erected by other building firms and usually, it appears, designed by Henry Harrison, an architect who lived for some years in Park Street and had experience of designing for speculative builders. In about 1843 James Ponsford, a major speculator in Tyburnia, now developing apace on the other side of Hyde Park, called in Harrison to design a pair of large houses at Nos. 10 and 11 Upper Grosvenor Street (fig. 13a) and a smaller one behind at No. 62 Park Street. Those in Upper Grosvenor Street are among the few remaining examples on the Mayfair estate to adopt the full Belgravia manner: completely stuccoed with Italian porches, pedimented first-floor windows and iron balconies, and spaciously planned so as to include ample public space and internal light-wells. Harrison may also have designed a set of houses erected by Ponsford in North Audley Street (all now demolished), and he certainly altered Hampden House, No. 61 Green Street, and Derby House, No. 26 Grosvenor Square. Under Ingle's aegis he was responsible for Nos. 11 Upper Brook Street, 20 Grosvenor Street, and 42 Grosvenor Square, except for the façades. These, in accordance with a policy that must now be discussed, were the work of Thomas Cundy II (figs. 14, 15, 17).
The death of the first Marquess of Westminster in 1845 marked the start of a twenty-two-year heyday for Thomas Cundy II. Just like his father before him and his son after him, the second Marquess celebrated his accession with an outburst of building. In the country, his principal architects were William Burn, who altered Eaton once again and designed a new house on the family's Fonthill estate in Wiltshire, and T. H. Wyatt, who scattered a handful of Grosvenor-financed churches across the Salisbury diocese, churches being the enthusiasm of the age.
But in London the Cundys still ruled supreme. Thomas Cundy II had already been laying his plans, for in 1844 he obtained the consent of the first Marquess to a proposition for adding stuccowork, porticos, window dressings, cornices and balustrades in Grosvenor Square to 'such of the houses as may be thought to require it. The terms for renewal in all houses to contain stipulations to this effect and a drawing to be submitted by the parties applying.' (fn. 11) This was more than a vague idea, it was a proposal for refronting on a vast scale. In May 1845 measurements were being taken from the façades of the south-side houses, the new Marquess telling inhabitants 'I am anxious to obtain a correct design for some proposed improvements'; (fn. 12) four years later, Cundy produced to the Grosvenor Board 'a drawing showing his suggested alterations' for all the houses along this side. (fn. 13) There is also more than a suspicion that Cundy prepared a uniform elevation for the north side of the square. In 1855, at the time that substantial reconstruction on this side first became a practical proposition, an elevation of the whole frontage as existing was drawn; moreover, the houses eventually rebuilt here, No. 10 at the east end (fig. 15) and Nos. 20 and 21 at the west (Plate 25b), were allotted unusual and matching pilastered fronts, as though they were to form flanking wings to Nos. 15–16, formerly Belgrave House. (Soon after the Marquess had moved into Grosvenor House in 1845 this house became free. It had then been taken by a speculative businessman, Kensington Lewis, and divided back into two in 1848–9, with some alterations to the front.) It appears therefore as if the Marquess and Cundy now conceived their old Belgrave House as the centre of a splendid composition embracing the whole north side of the square.
Whether, as all this implies, there was serious thought of refronting the whole square over a long period so as to make the houses 'range uniform' in the Belgravia manner is not clear. But it soon became apparent that the new policy had no prospects of quick advancement. The first practical opportunity to refront a house in the square did not come until 1851. By chance it was the famous Derby House, No. 26; Henry Harrison was the lessee's architect, and not unnaturally wanted a slightly different front from the type prescribed by Cundy. In the event Cundy designed the new façade, but probably with some concessions. A similar compromise with the new estate rule must have been reached at the next house to be refronted, the surviving No. 38 Grosvenor Square (1854–5); unlike most of the square it already had a completely stuccoed front, and therefore Cundy had to provide different detailing (Plate 25a).
Soon, Cundy and the second Marquess, knowing there was no chance of a quick, clean sweep in the square, were also soberly applying themselves by means of compulsory clauses in terms for new leases to refronting almost every house in the main streets as it came up for renewal. The first house that appears to have fallen under this fiat was No. 18 Grosvenor Street (since refronted again), for which Cundy provided an elevation in February 1846. At first the policy was slow to get off the mark, but by the mid 1850's it was well under way, and between 1850 and Thomas Cundy II's death in 1867 almost fifty separate refrontings can be traced as having been carried out in the major streets, nearly all in conjunction with lease renewals.
Although these refrontings had to be proceeded with piecemeal, it is not improbable that a coherent design existed for the frontages in each major street, to which Cundy turned when an individual house was being renewed. In 1848 he produced a general design for the north side of Brook Street east of Davies Street, and the wording of the original terms of renewal for Nos. 41 and 43 on the south side suggests that he may have proposed another one for this side. There is indirect evidence too for such a design on the north side of Grosvenor Street, where a large number of houses between A very Row and Davies Street, some of them contiguous, were rebuilt or refronted with similar façades of a uniform height and with a distinctive frieze (fig. 14c). In Grosvenor Square nearly all the fronts rebuilt on the south and west sides had common characteristics, with stone dressings instead of the cement used in the side streets, harder and lighter bricks for the walling, and stone balustrades to the areas rather than iron railings (Plate 25). Even in South Audley Street, where little refronting took place in the Cundy era, the one block to be rebuilt, Nos. 53–55 (consec.) of 1858–60, had its special, markedly ornamental design, though only No. 55 (fig. 14b) has survived to tell the tale.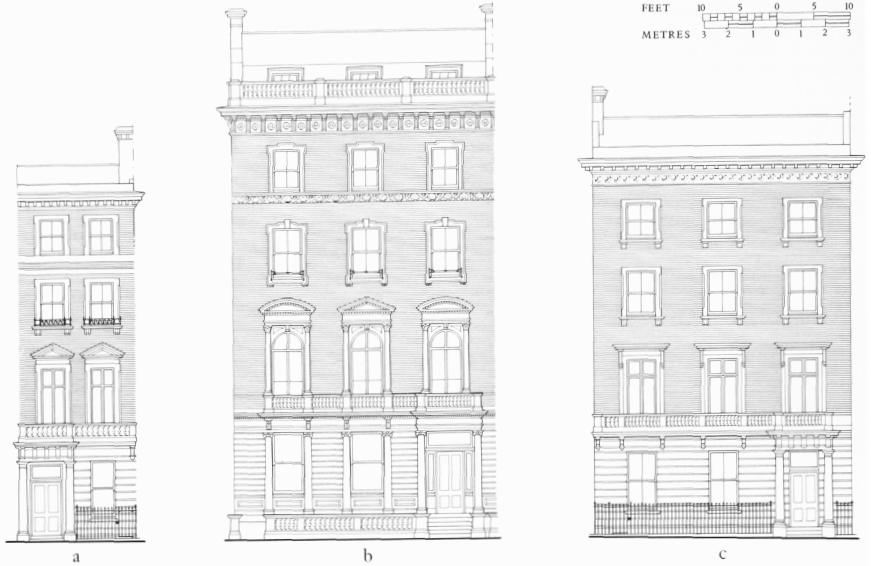 Inevitably there were exceptions to the policy, especially early on, as the cases of Nos. 26 and 38 Grosvenor Square have already shown. Some few lessees escaped the condition of refronting or successfully rejected Cundy's elevations. At No. 2 South Street his design was supplanted by that of the lessee's own architect, Charles Barry, no doubt because of the latter's superior prestige; at No. 41 Brook Street Barry again had his own way. At No. 50 Grosvenor Square, the home of the aged General Grosvenor, Lord Robert Grosvenor (the brother of the Marquess) took charge of the rebuilding deemed urgently necessary in 1847. He brought in (Sir) Matthew Wyatt, the developer of Victoria Square and of much of Tyburnia, who was allowed to build the whole house, and the Marquess was reduced to twice requesting Wyatt to simplify and tone down his elevation, presumably because the originals (fig. 13b) were too brash for the estate norm. Generally, however, the Marquess supported Cundy to the hilt. At No. 41 Upper Brook Street, Sir Henry Meux and his architect Samuel Beazley had to submit to the stone balcony insisted upon; and even so eminent a domestic architect as Burn, who had twice worked for the Marquess, had to employ an elevation by Cundy when he rebuilt No. 18 Grosvenor Square for Earl Fortescue in 1864–7 (Plate 54a).
The refronting policy raises several issues. What were the precedents? Were the Estate's motives primarily commercial or aesthetic? And was it the fruit of Thomas Cundy II's ambitions, or did it in the main reflect the desires of the tenants? Though the answers must in part be guessed, it is plain that Belgravia and its newer outliers westward, beyond Grosvenor land, lay at the root of Estate thinking. There, uniformity and the stucco style had proved an asset, not a liability, and there must have been some anxiety that Mayfair might go into decline unless something of the kind were tried there. Rebuilding, though frequently undertaken in the main streets and square during the period of the second Marquess, was often unrealistic, wasteful and unnecessary, and could deprive the estate of valued tenants; as there was no way of influencing internal alterations, refronting was the only other option. Nevertheless, the whole operation was to a degree eccentric. There was no obvious precedent, and the few successors, like the Bedford Estate's refronting of Russell Square at the turn of the century, were not strictly parallel. It was also a destructive policy. Thomas Cundy II and the second Marquess were not sensitive souls when it came to the architecture of the past, and in their anxiety to promote a revitalized Mayfair estate in good repair, not only did much of the Georgian appearance of the streets and square vanish, but many fine houses, including Derby House, were entirely destroyed. If the epochs of the second Marquess and the first Duke are compared, it cannot seriously be questioned that the first Duke built more that was of permanent merit and destroyed less of real value than his father had done.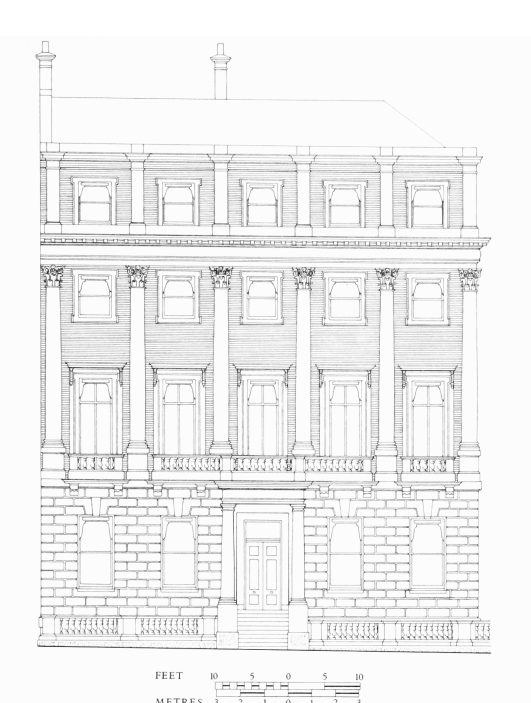 Still, many of Cundy's fronts (Plate 25; figs. 14, 15, 17) were able compositions in their own right, especially where plots were broad enough to allow him adequate space. One fine surviving example, at No. 52 Grosvenor Street, involved Lord Radnor in large expenditure in 1854–5. This front (fig. 17) is still in the strict Italian style, with a deep cornice upon consoles, individual balconettes to the first-floor windows, and the cement rustication running evenly up the sides of the building. Later on, these elements begin to change. Another big surviving elevation is that to No. 4 Grosvenor Square, in fact a complete rebuilding of 1865–8 (Plate 25d). Here the basic material is the hard, unyielding white Suffolk brick so fashionable during this period; upon this have been fitted the conventional appendages of refronting policy, i.e. deep cornice and roof balustrade, window dressings, rusticated quoins, pediments to the first-floor windows (here supported on columns), first-floor balconies, stuccoed ground storey, and projecting open portico. But by this time the various details have something of a French flavour, consistent with the appearance of Thomas Cundy III as an important power under his father. Thomas Cundy III, who was, as will be seen, a designer of distinctive Francophile tendencies, was in fact paid for drawings for No. 4 Grosvenor Square. His first recorded appearance on the Grosvenor estate was in 1854–6, when the very large job of rebuilding Nos. 20 and 21 Grosvenor Square, ascribed in The Builder to 'the firm of T. and T. Cundy', was in fact almost entirely the work of the younger man. (fn. 14) From then on he played an increasing part in matters of design on the estate, and from 1864 until he replaced his father as estate surveyor in 1867 it is likely that a good proportion of 'Cundy' designs were his.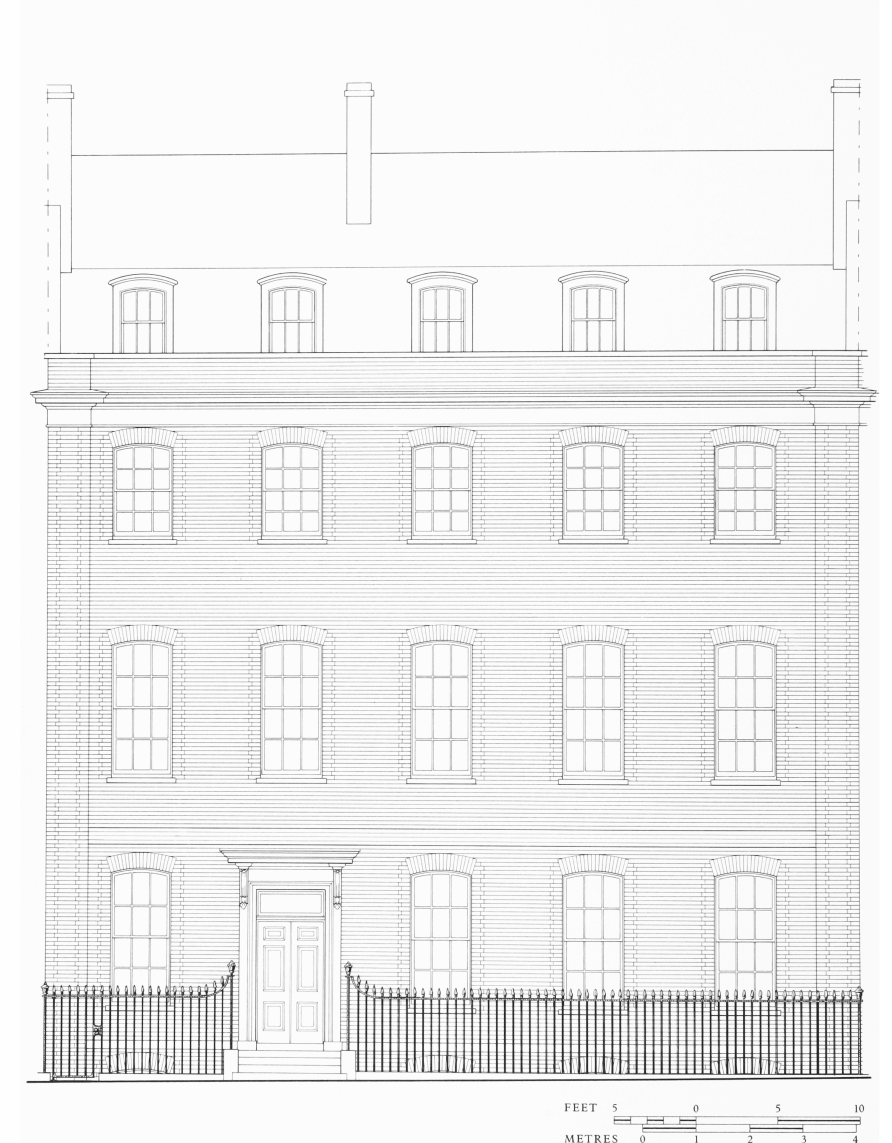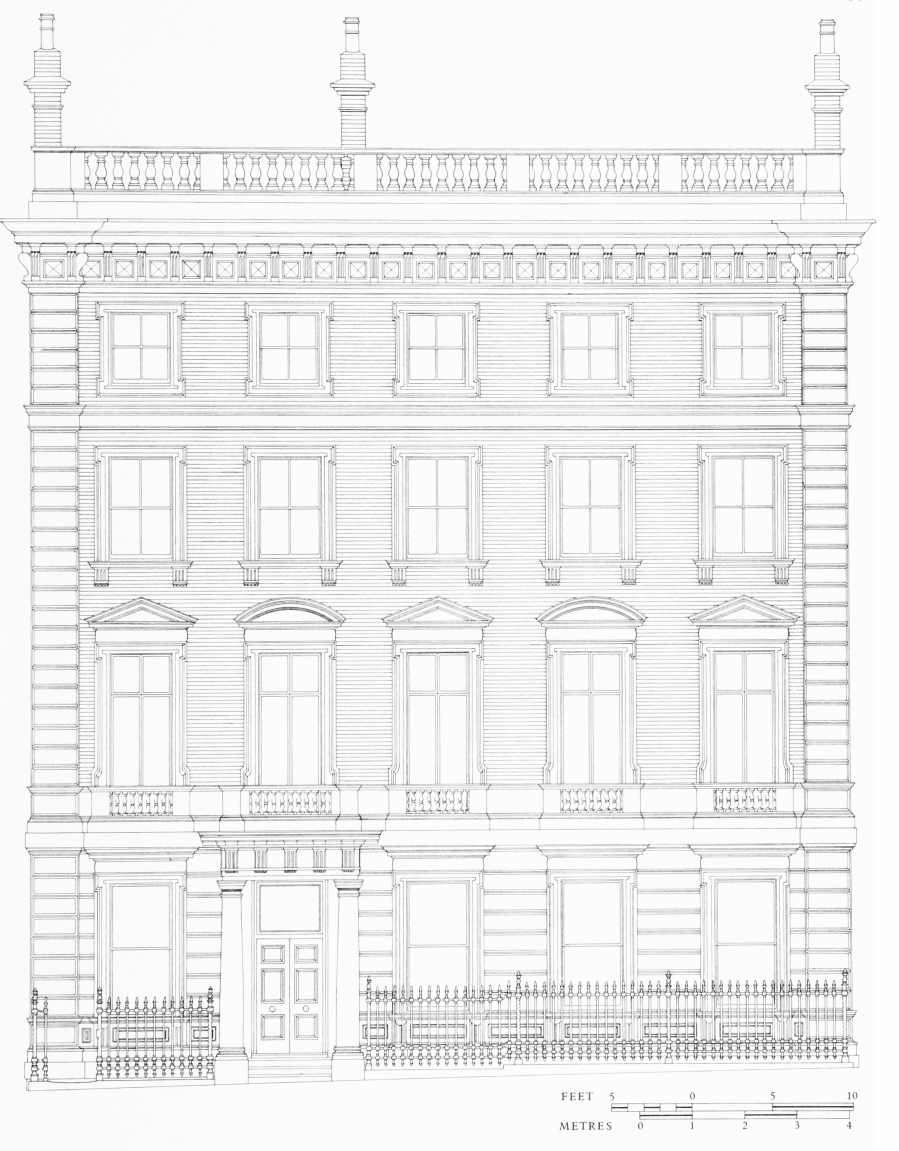 In the large majority of cases involving the Cundys, their role was confined to refronting, even where there was a complete rebuilding. Lessees and speculators acquiesced in this arrangement because they knew that Cundy designs would generally pass the increasingly stiff hurdle of acceptability for façades at the Grosvenor Office, while behind the fronts they could proceed much as they did elsewhere. As usual, we are best informed for Grosvenor Square (Plate 25). Here, out of ten reconstructions with Cundy fronts between 1853 and 1867, two actually were planned by the Cundys. These were Nos. 20 and 21, where they were employed directly by the tenants, no doubt through the mediation of the Grosvenor Office, and the successful builder, John Kelk, got the contract as the result of tendering for their already formulated plans. Only one other of these ten houses is known to have been planned by an independent architect acting directly for a client. This was No. 18, the house rebuilt by William Burn for Earl Fortescue. The remaining seven were probably all planned by large builders with experience in speculation, or more correctly by architects working under them according to an arrangement already common: No. 42 by Henry Harrison for Ingle, Nos. 10, 26 (the 1861–2 rebuilding), and possibly also Nos. 4 and 40 by William Tasker for Freake, and the other two by unknown designers, No. 2 under Kelk, No. 30 under George Trollope and Sons. Varying degrees of speculation were involved in these houses. Sometimes there was technically no speculation at all on the builders' part, as at No. 30 where it was the tenant who stood to gain, bringing in Trollopes and then selling on his own behalf the house that they built for him. In some other cases a client was found at an early stage, and not only was the lease granted to him but the finishings of the house and on occasions even the planning were determined by his requirements. Thus at No. 10 Grosvenor Square, Freake built a single house instead of the two he had originally contemplated for the site to meet the wishes of his client Lord Lindsay, who paid £35,000 for the privilege. At this house no less than four architects were involved in one way or another: Lewis Vulliamy, the Lindsay family's old architect, who was consulted over the planning at an early stage; Freake's architect Tasker, who actually provided the plans and was probably responsible for most of the interior; Cundy, who designed the fronts (fig. 15) on behalf of the Estate; and lastly a Mr. Young, a surveyor who was called in at the insistence of Lord Lindsay's solicitor to look over the specifications and proposed one major alteration. (fn. 15)
Nevertheless the critical role in most of these Grosvenor Square houses was that of the independent speculative builders, whose repute and reliability were vital to the successful carrying out of the refronting policy. Of Wright Ingle something has already been said. C. J. Freake was principally a Kensington figure, not widely active in Mayfair, but whose high status and respectability were affirmed by houses like those in Grosvenor Square: with Lord Lindsay, for instance, Freake could conduct his correspondence on a level almost of social equality. John Kelk too had broken through from the level of mere tradesman or entrepreneur to that of public benefactor and (eventually) baronet; his commitments on the estate were wider than Freake's. Trollopes on the other hand were an up-and-coming if somewhat faceless firm: they were to be incomparably the most important builders on the Grosvenor estate at the turn of the century.
But for the period of the second Marquess, the most significant and typical estate builder was none of these, but John Newson of Grosvenor Mews. According to tradition, Newson came to London in the 1830's from Woodbridge in Suffolk, took a contract for roadsweeping in Berkeley Square, and graduated via the making of trunks for maidservants into the building industry. Whatever the truth, he was big enough by 1835 to make a sizeable speculation in the Ebury Street district of Pimlico, where he built the delightful houses of Bloomfield Terrace in one of which he made his home. (fn. 16) He also had a Mayfair base and began here with a series of rebuildings near his workshops, in those parts of modern Grosvenor Hill and Bourdon Street that Cubitt had not touched. He then proceeded to larger works in the main streets, especially Grosvenor Street, where he rebuilt or worked on nine of the minor houses (Nos. 13, 14, 17, 23, 24, 25, 65, 79 and 80) between 1851 and 1857. Newson was small enough to employ outside architects. In the 1840's he had an association with the Mount Street cabinet-maker Thomas Dowbiggin, (fn. 17) while for the surviving No. 25 Grosvenor Street the recorded architect is F. W. Bushill, and for Nos. 79–80 Sydney Smirke (who had his office here). But Newson appears to have had a good understanding with Thomas Cundy II, and participated whole-heartedly in the refronting policy. Yet frequently, many of the surviving Newson houses with Cundy fronts turn out to be less than complete rebuildings and retain a few older features.
Though by no means an operator on the scale of Thomas Cubitt, and perfectly content to do contract as well as speculative work, Newson did well enough to build himself a country house, Haskerton Manor near Woodbridge, and buy other Suffolk property. On his retirement, one son took over his Mayfair interests, another his property and yards in Pimlico, and the latter side survives as W. H. Newson and Sons, timber merchants of Pimlico Road. (fn. 18) But what separates John Newson from the speculative builders of the previous generation is his interest in working-class housing. In the 1850's he built in Grosvenor Hill and Bourdon Street the first two blocks of an important series of 'model lodging houses' erected on the Mayfair estate: St. George's Buildings (1852–3) and Bloomfield Flats (1854–6), as well as the smaller Oxford House, Grosvenor Market (1860), now demolished. St. George's Buildings was for the newly formed St. George's Parochial Association, but Bloomfield Flats was Newson's own enterprise, and in both the initiative appears to have been his, at least according to Henry Roberts, who reports similar ventures by Newson elsewhere in London. (fn. 19) Roberts, the best-known of the early architects to specialize in working-class housing, was brought in to plan St. George's Buildings, an austere, galleried block of workman-like appearance (Plate 30a).
For the time the estate did not manifest much interest, but the second Marquess must have been impressed by the success of the experiment. In the 1860's he began to encourage much larger developments of working-class flats on his estates, at first with the Metropolitan Association for Improving the Dwellings of the Industrious Classes, later with the Improved Industrial Dwellings Company. Before the Marquess died in 1869 this campaign was mainly confined to Pimlico, so there are no I.I.D.C. blocks in northern Mayfair prior to Clarendon Flats in Balderton Street (1871–2). But in 1868–9 the St. George's Parochial Association did add to their previous ventures with a further block in Bourdon Street, Grosvenor Buildings, this time designed by R. H. Burden and built in two tones of brick to cheer up its essentially sober elevations (Plate 30b).
The last years of the second Marquess were ones of stylistic restlessness. Gothic had scarcely yet been seen on the estate, nor was it ever to secure more than a toehold. However when it did appear its teeth could be sharp, as was manifested in a chemist's shop at No. 26 South Audley Street, an eccentric and controversial creation of 1858 by Thomas ('Victorian') Harris demolished in the first Duke's rebuildings. Some of this kind of assertiveness percolated through to other styles deemed more suitable to town houses. In this context a number of significant schemes on the northern part of the estate, now almost entirely lost, must be mentioned. One was a single house. In 1866–9 Sir Dudley Marjoribanks rebuilt his residence at the corner of Upper Brook Street and Park Lane. The new Brook House was on the grand scale (Plate 27a); its architect was T. H. Wyatt, a choice possibly prompted by the Grosvenors (who had long patronized him in the country), and the style was rebarbatively French. It proclaimed for all Park Lane to see that the fustian classic of Thomas Cundy II had had its day upon the estate. But a little further north, larger developments were in the mid-1860's already springing up in confirmation of this message. These were the reconstructions of the whole of Hereford Street (soon to be called Hereford Gardens) and of a range nearby at Nos. 489– 497 (odd) Oxford Street (Plate 27b), while further east at Nos. 411–413 (odd) rebuilding of a similar kind was contemplated but could not yet be undertaken.
Hereford Gardens and the Oxford Street ranges are inseparable from the Grosvenor Place improvements, that is to say the rebuilding of properties along Grosvenor Place and the laying out of Grosvenor Gardens on the eastern edge of the Belgravia estate. All of these works as built betray the hand of Thomas Cundy III working untrammelled by the restrictions of previous estate policy. Grosvenor Place itself had a complicated history and was the last of these improvements to be undertaken, but for Grosvenor Gardens, initiated in 1863, Thomas Cundy III provided designs for the street fronts; behind these, highclass builders were allowed to proceed much as they pleased. Cundy's elevations here were of a French-style Second Empire character and of an elaboration and colourfulness hitherto unknown in London terrace architecture, with tall mansards and pavilion roofs, lavish stone dressings, and plenty of red brick, terracotta and polychrome slatework. Though his inspiration was no doubt the New Louvre, mediated through such recent buildings as Burn's Montagu House and Knowles's Grosvenor Hotel, Cundy showed that he had learned something too from the proponents of Advanced Gothic.
The Mayfair schemes matured at the same time as Grosvenor Gardens and by the same methods, with Thomas Cundy III as architect for the elevations once again, but because the developments were smaller and the neighbourhood of Oxford Street was less fashionable, the façades were somewhat more sober, but with a similarly animated roof-line (Plate 14b). Hereford Gardens, the only strictly residential development of the three, was originally to comprise nine houses, which were to be set back from Oxford Street with an open space in front. The terms for its development were taken by Trollopes, but at a high price just before a big building slump, and they were soon in trouble with the venture. To make them easier to sell, twelve houses instead of nine were built and the elevations of six of these were simplified, so that the final result as built between 1866 and 1876 had little of the brio of Grosvenor Gardens. By contrast Nos. 489–497 (odd) Oxford Street, a block of shops with accommodation over, proceeded without a hitch in 1865–6, Mark Patrick and Son being the builders for all the lessees. The appearance of this handsome range (Plate 27b), with an unanswered pavilion at the Park Street corner, suggests that it may have been the Estate's hope to rebuild the remainder of the block up to North Audley Street when leases fell in. Further east, Cundy also in 1864–5 provided modest French-style elevations (with proposed terracotta dressings) destined for a rebuilding at Nos. 411–413 (odd) Oxford Street; these were eventually extended to Nos. 407–409, and the block was carried out in 1870–4. This rather forlorn range is now the only survivor of French-style elevations in Mayfair, but it testifies to what may have been the start of a systematic attempt by the second Marquess to smarten up the bedraggled appearance of Oxford Street, a policy frustrated by difficulties with leases and by his own death.
If the French-style developments of the Oxford Street area and of Grosvenor Place marked the end of the long sway of Thomas Cundy II, they were also in their way a turning point for his son. For though Thomas Cundy III succeeded as surveyor to the second Marquess on his father's death in 1867 and held this post under the first Duke right up until 1890, he was never again so largely employed as an architect on the Mayfair estate. He certainly did some smaller designing jobs under the first Duke, but his role was mainly confined to that of a surveyor. In fact the Duke seems firmly to have shut Cundy out from the architectural aspects of the great rebuilding undertakings he was to initiate from the 1880's. With his accession in 1869 (at first as third Marquess) the whole refronting policy finally collapsed, and yet another distinctive epoch in the estate's architecture was ushered in.