Pages 140-161
Survey of London: Volume 39, the Grosvenor Estate in Mayfair, Part 1 (General History). Originally published by London County Council, London, 1977.
This free content was digitised by double rekeying and sponsored by English Heritage. All rights reserved.
Ducal Heyday
The first Duke of Westminster was one of English architecture's great private patrons. Bodley, Clutton, Devey, Douglas, Edis, Lutyens, Robson, Wade and Waterhouse were among the different distinguished Victorian architects whom he employed in a personal capacity. But the range of talents engaged through him on estate work was far wider. On his estates, the notable architectural achievements of the Duke and his servants were twofold. Round Eaton Hall, the Cheshire countryside was studded with a series of internationally acclaimed cottages and model farms from the picturesque pencil of John Douglas, while in London, many of the more down-at-heel streets of the Mayfair estate were taken by the scruff of the neck, and then scrubbed, polished and outfitted anew. From this latter transformation there emerged a remarkable batch of buildings, almost invariably in the fresh red brick personally insisted upon by the Duke, and usually approximating in style to the 'Queen Anne', that undogmatic town-house manner initiated in the 1870's. Individually, these buildings are a mixed bag, some brilliant, some worthy, and some poor; together, they then offered and still offer a sharp, invigorating contrast with the character of the rest of the estate, and please in accordance with the old canon of variety within uniformity. Duke Street and Green Street both have a share in these virtues, but the great success of the first Duke's rebuildings was undoubtedly Mount Street, a thoroughfare whose élan and cheerful homogeneity are unique not just on the estate but in the whole of the West End (Plate 34a, 34b).
In contrast to his father, the first Duke felt a special affinity with and concern for questions of architecture, as the detailed comments and suggestions he made on Douglas's drawings for estate buildings round Eaton show. (fn. 1) For his London estates the second Marquess had continued to prefer the Italianate fashionable in his youth, though we have seen a more lavish French manner beginning to creep in under architects like T. H. Wyatt and Thomas Cundy III. But his son was keen to explore new possibilities; his tastes were in fact broad and eclectic. In 1863, several years before his father's death, he had sauntered down from his home in Princes Gate to see the new brickwork of what is now the west side of the quadrangle of the Victoria and Albert Museum. (fn. 2) This visit may have fuelled his enthusiasm for red brick and terracotta. In 1875 the Duke was to ask for the use of these materials in connexion with the rebuilding of W. J. Goode's shop in South Audley Street, and to recommend Goode to view a certain house in South Kensington, no doubt one of the very recently erected ones by J. J. Stevenson or Norman Shaw. This suggests a partisanship for the idioms of 'South Kensington' and the Queen Anne revival, and certainly Mount Street and other developments testify to the sway that these styles were to enjoy upon the Duke's estates.
But he was no architectural dogmatist, except in this matter of brickwork being red. In the countryside, for instance, he was an avid enthusiast for half-timbering, a feature which he was sensible enough not to try and force upon his London estates. There is a suspicion, too, that it was he as Earl Grosvenor rather than his father who in 1864, as part of the improvements of the time in Belgravia and Pimlico, promoted an abortive limited competition for two blocks in Grosvenor Place, where it was his definite intention to live in a specially designed house. (fn. 3) The participants for the blocks were G. E. Street (Gothic), H. B. Garling (Gothic), Robert Kerr (French Renaissance with significant terracotta detailing) and Thomas Cundy III (designs lost, but presumably also French Renaissance), while E. M. Barry contributed an ornate villa design for a corner site, again in a French Renaissance style with terracotta details and presumably destined for the son and heir to the estates himself. Gothic designers like Street and Garling were not the sort of architects whom the second Marquess normally patronized, nor was competition his natural method of selection. Although the designs were set aside, the records show that Earl Grosvenor was involved before his succession in decision-making for all the big blocks actually erected by Cundy during this period, in Grosvenor Gardens (1864–9), Hereford Gardens (1866–76) and Grosvenor Place (1867–71). (fn. 4) No. 5 Grosvenor Place (now demolished), at the corner with Halkin Street, was indeed specially built in 1867–9 to Cundy's designs for the Earl, (fn. 5) though because of his father's death he appears never to have lived there. The French style of all these buildings, therefore, though not normally associated with his preferences, was probably one of the several facets of his catholic architectural taste, at a period when town-house styles were in a state of uncertainty and flux. At the least, the Earl was well versed in all questions of design upon the Grosvenor estates before his succession in 1869. His later patronage was to show that he was always more concerned to get the right architect for the right job, and to experiment accordingly, than to adhere to any one single man or style.
However, it is vital not to attribute too much to the personality of the first Duke. For a start, his important rebuildings in Mayfair belong only to the second half of his reign, from about 1885 to 1899, and were of course dependent upon the falling-in of leases, not upon personal initiative. Except in Oxford Street the years 1869 to 1885 were a reasonably quiet period on the Mayfair estate, during which the Duke had merely to maintain the smooth-running management machine perfected by the second Marquess, the Cundys and the Boodles. The only drastic change he made was to drop the refronting of houses, a policy which had already become something of a dead letter since the demise of Thomas Cundy II in 1867. He did indeed involve himself specially in the charitable projects inherited from his father, principally the campaign for better working-class housing in both Pimlico and Mayfair. But otherwise he was at first content to let the estate jog on much as before under the professionals.
Indeed as a dynast, a Liberal and a Balliol man, the first Duke was as much bound up with fulfilling the duties of family, politics, social life and conscience as with the artistic aspects of architecture. His patronage reflected these concerns and prejudices; Alfred Waterhouse, who rebuilt Eaton, was most likely the choice of the Liberal politician in him, while the very different Henry Clutton, architect for the Grosvenor House alterations, was probably the notion of the family man, as Clutton had worked for the Duke's father-in-law at Cliveden. Eaton and Grosvenor House were in fact set in train shortly after he had succeeded as third Marquess in 1869, the latter perhaps in compensation for the unoccupied mansion in Grosvenor Place. The Grosvenor House job, though modest in comparison with Eaton and hardly affecting the exterior at first, was certainly lavish. The whole of the Cundy wing and most of the reception rooms in the old house were being redecorated from top to toe in 1870–2, and were certainly finished before the third Marquess was created first Duke in 1874. Clutton's outstanding features were the ceilings, magnificently painted, gilded, and in part designed by J. G. Crace. They varied between dainty neo-classicism in the saloon, dining- and drawing-rooms, and exceptional muscularity and depth in the Rubens room and the gallery (Plate 28b). The awesome 'chain-link' ribs of the gallery ceiling were of cinquecento inspiration, but the handsome painted frieze beneath was by a Frenchman, F. J. Barrias, and the Rubens room and many of the fittings throughout were in a candidly Empire style.
It is instructive thus to see Clutton, a Goth by instinct though certainly a Francophile one, and the Duke, an Englishman to his marrow and client for the most confident Gothic Revival house of its day at Eaton, turning automatically to French classicism, in however imaginative a rendering, as the natural answer for the grand town-house interior. The gallery ceiling was constructed under a special fireproof iron framework and could if it became necessary be hoisted to a higher position, proof not so much of the Duke's delight in prudent ingenuity as of his plans for the future extension of Grosvenor House. But as with his grandfather this was not to be. In 1880–1 Clutton did add on a semicircular open loggia with Ionic columns at the newly conspicuous Park Lane end of the gallery wing, matching Cundy's exterior in general style and materials but once again using markedly French details (Plate 28a). Yet the fuller reconstruction of Grosvenor House forecast in 1871 never materialized, so that the interior, right up to demolition in 1927, remained much as Glutton had left it fifty years before.
Though the Duke's first thoughts were of rehousing himself, the claims of conscience and religion were being settled simultaneously. His uncle Lord Ebury had been instrumental in securing a favourable hearing for the Association in Aid of the Deaf and Dumb, when they brought their request for a chapel site before the Grosvenor Board in 1868. Earl Grosvenor, as the Duke then was, promised virtually for nothing a site in Oxford Street, upon which St. Saviour's Church was erected in 1870–3. The architect was Arthur Blomfield, brother-inlaw to one of the Association's trustees. It was a valuable commission to him, for he went on to design the reconstructions of St. Peter's, Eaton Square, St. Mark's, North Audley Street and the new church of St. Mary's, Bourdon Street, all on the Grosvenor estates. St. Peter's, in Belgravia, does not concern us here, but Blomfield's three Mayfair churches (Plate 29) all showed the resourcefulness that this frequently humdrum architect could muster when faced with a special brief. St. Saviour's, Oxford Street, though conventionally 'second-pointed' in style, was given a centralized plan to ensure maximum visibility for the deaf and dumb, and a wooden octagonal vault above. On the other hand St. Mark's (1878), where since 1851 the Reverend J. W. Ayre had pursued an industrious ministry directed particularly towards the poor of his parish, was a prestigious reconstruction job. Here, Blomfield kept Gandy-Deering's portico and pronaos, but rebuilt the body of the church in the Romanesque style that was one of his occasional specialities. The result is a fine high-roofed vessel of considerable dignity, with internal walling of coloured brickwork and some fittings and glass of merit, though there have been several alterations since Blomfield's time. The third church, St. Mary's, Bourdon Street, was a less ambitious venture, built for the poor of the Grosvenor Mews district and entirely paid for by the Duke. It was a simple church in a Gothic rather old-fashioned for its date (1880–1), but it had two distinctive features, passage aisles and concrete piers, concrete being an expedient Blomfield sometimes used for cheapness. Some of the same craftsmen worked at the three churches. Maceys were the builders of St. Saviour's and St. Mary's, in both of which there were windows by Blomfield's favourite firm of Heaton, Butler and Bayne; while Thomas Earp did carving and Burke and Company mosaic work at St. Mark's and St. Mary's. Blomfield also provided clergy houses for St. Saviour's (1876–8) and St. Mark's (1887–8), next to the respective churches. The St. Mark's vicarage survives at No. 13 North Audley Street, an unexceptional brick house unusual only as a rare essay by Blomfield in the full Queen Anne manner and because of its fine position at the head of Green Street. Later again in the Duke's reign, the estate was to become even better 'churched'. In Duke Street, the King's Weigh House Chapel replaced Seth Smith's Robert Street Congregational Chapel, while in Davies Street there rose the unusual church of St. Anselm's; both of these important designs will be discussed later.
Behind St. Mark's, two further buildings still to be seen in Balderton Street (Plate 30c) highlight the concern of both vicar and landlord for the lot of the local working classes. One is St. Mark's Mansions (1872–3), an unusual institution for the Church of England at that date, combining a club, kitchen, mission room, classrooms and apartments in the same functional brick building by R. J. Withers. Adjacent is Clarendon Flats, originally Clarendon Buildings (1871–2), the first of the Improved Industrial Dwellings Company's blocks upon the Mayfair estate, complementing several others erected in Pimlico in this period in accordance with a policy worked out in the late years of the second Marquess.
But though his son approved and carried out this block, as he did with the others in Pimlico, he was when Clarendon Flats were finished to express 'his dissatisfaction at the elevation as built'. (fn. 6) Consequently, when fifteen years later the I.I.D.C. came to construct the large series of tenement blocks round the present Brown Hart Gardens and east of Duke Street (1886–92), their habitual type of elevation was dropped in favour of something more cheerful in the red-brick idiom of which the Duke was so fond, with a modicum of gables and decoration (Plates 30d, 31a, 31b). However, with working-class housing the plans were what mattered. The later I.I.D.C. blocks (fig. 18) adhere to the complete self-containment for each flat that was a hallmark of this company, but drop the awkward contours of Clarendon Buildings and their similar early ventures elsewhere and go instead for greater linearity of plan, more even ventilation, and better light. Who designed these flats we do not know, but the principal throughout their construction was the I.I.D.C. secretary, James Moore. Though the 'coffee tavern' that was to accompany them never materialized, they did enjoy the unusual amenity of communal gardens. The 'Italian Garden' in the centre of what is now Brown Hart Gardens was soon replaced by the Duke Street Electricity Sub-station, but the quiet little garden dividing the two parts of Moore Flats survives as a pleasant urban oasis between Binney Street and Gilbert Street.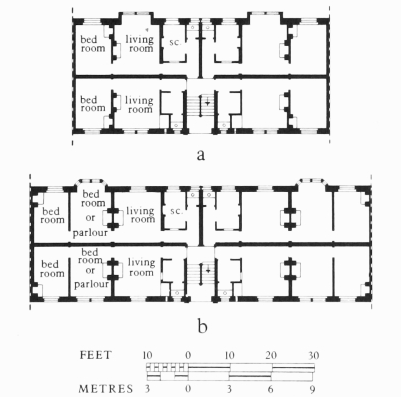 Meanwhile, there was further expansion of working-class housing by other bodies. In 1883–4 a small parish institute was erected in Bourdon Street in combination with model dwellings, designed by Joseph Peacock and now demolished; between 1887 and 1890 the Artizans Labourers and General Dwellings Company tucked in two small blocks by F. T. Pilkington, one at Nos. 20 and 22 Lees Place, still surviving, the other in Mount Row, now gone; and for the St. George's Parochial Association, a body distinct from the vestry itself, their secretary and architect R. H. Burden designed a substantial block in North Row (1887–9) and extended Grosvenor Buildings in Bourdon Street (1891–2). As Thomas Cundy III and the Estate were behind the Association's initiative, Burden's North Row Buildings, though peppered with a few more Queen Anne touches, keep to a basic idiom compatible with the I.I.D.C.'s Brown Hart Gardens blocks.
Returning now to the early period of the Duke's reign, only a few houses along the four major streets were rebuilt in his first years. One such was No. 78 Brook Street, destroyed by fire in December 1872. Its replacement by C. F. Hayward, a tall, gaunt affair (1873–5), shows the Estate's predilections of the time: minimally Gothic elevations of the 'prescribed' red brick and stone, with 'numerous projections' for light and air (Plate 33c). (fn. 7) The biggest single block along these streets to undergo major change in the 1870's was Nos. 37–40 (consec.) Upper Grosvenor Street (now demolished), the leases of which had been planned to fall in so that the Duke's stables in Reeves Mews could be improved. Yet significantly in the event only Nos. 39 and 40 were completely rebuilt (1875–7). Though both houses have gone, they were a landmark in the return of individualism for terrace houses. Both had porticos, but their elevations were by no means uniform; No. 39, by Clutton, had a stone front, while No. 40, the home of John Walter, proprietor of The Times, was in brick. When Walter had dabbled in architecture before, at his country house, Bear Wood, he had employed the 'gentleman's architect' Robert Kerr and had had his fingers burnt for his pains, so for Upper Grosvenor Street he relied upon his surveyor, one S. Deacon, perhaps supplemented by his own efforts. The only other big house to be rebuilt in these years was No. 3 Grosvenor Square (1875–7) by John Johnson for Sir John Kelk, with a rather restless front elevation again of stone, which the Duke was plainly prepared to allow if a tenant would run to it. Clearly it was drab stucco which he could not stomach, as he showed when he had the exterior of the Grosvenor Office painted orange in 1883.
If complete rebuildings of individual first-class houses were for the time rarer, the pace of internal reconstruction and redecoration never slackened. This was an age of large households and specialized servants, and Georgian town-house accommodation could not hope to meet Victorian requirements. Many tenants had long since begun adding extra storeys to answer this problem, and in 1874, when one of several attempts was being made to rationalize building regulations, a proposed height limit of sixty-five feet to the cornice was canvassed for London houses. E. M. Barry, giving evidence before the Select Committee on the eventually abortive Metropolitan Buildings and Management Bill, took as an example No. 66 Grosvenor Street, a house which he had just altered internally. This house then had a height to the cornice of 41 feet 6 inches, and Barry demonstrated how two good extra floors could be added and the main storeys raised behind a suitably embellished front, without exceeding the proposed limit. He also pointed out that the recently built Brook House, which actually exceeded the limits slightly, boasted merely two bedroom storeys below the cornice, whereas if pressed he could get in three at No. 66 within the limit, apart from the attics. (fn. 8)
If Brook House shows what spacious storey heights were then in vogue, the Grosvenor Street house is a typical instance of the predicament in which fashionable tenants found themselves. There was little they could do to alter the proportions of their reception rooms unless they undertook total reconstruction. Usually they had to content themselves with palliatives: building on at the back (though space here was at an increasing premium as more and more additions were made), putting on extra storeys, or rearranging the main rooms. Adding on servants' rooms was a rather anonymous sort of work, radically different from the great Grosvenor Square reconstructions of a hundred years before, in which leading architects had vied with each other. But occasionally distinguished men were still employed in additions or alterations; No. 49 Grosvenor Street was set about by Alfred Waterhouse in 1868–71, and in 1878–9 that rare architect Eden Nesfield is found engaged on one of his even rarer London works, the partial refurbishing of No. 26 Grosvenor Square. One development of these years was the more sensitive treatment, in some cases, of Georgian interiors, as at No. 19 Grosvenor Square, where Frederick Arthur presided in 1880 over a full restoration of the Adam work.
The coming of 'Queen Anne' in the mid 1870's gave a fillip to the staid progress of the Mayfair estate and heralded the estate revolution of the 1880's and 1890's. Its indubitable harbinger was W. J. Goode's china and glass shop at Nos. 17–21 (consec.) South Audley Street (Plates 32, 33a, 33b). Goode's is a powerful and picturesque if slightly ungainly building by Ernest George and Peto, in the reddest of red brickwork and tricked out with the complete panoply of the new domestic revival: carved and moulded brick dressings and panels of great elaboration, mighty chimneys, touches of half-concealed tile-hanging, blue and white pots in the Oriental taste to enhance the façade, and within, dapper aesthetic interiors mingling stained glass, ceramic tiles and leather paper. Two points need to be emphasized about Goode's. Firstly, it is not a single composition; Goode began rebuilding on the enclosed sites of Nos. 18 and 19 in 1875, added No. 17 on the corner shortly after, and only extended his premises to Nos. 20 and 21 together with the houses in Chapel Place in 1889–91. The original design, therefore, though short-lived as an independent composition, seems to have involved only a pair of terrace houses, and in this context one can make sense of the Duke's advice that Goode's architect should look at a particular house in South Kensington (probably No. 8 Palace Gate by J. J. Stevenson, less likely No. 196 Queen's Gate or Lowther Lodge by Norman Shaw), and of the designs then produced by George (fig. 19), slightly asymmetrical but kept in order by two regular gables. Secondly, if the Duke's advice was helpful, it fell on receptive ears, for Goode himself was an enlightened 'artistic' tradesman, eager to reflect the latest taste. To him must be credited the employment of Ernest George and the consequent architectural panache of the building. Goode's in fact was a double precedent; besides being the Grosvenor estate's first Queen Anne building, it was apparently George's own first full essay in a style that was to be the medium of many of his happiest inventions. From two more of these Mount Street was to profit, while in the 1890's George went on to rebuild Motcombe in Dorset for the Duke's brother, Lord Stalbridge.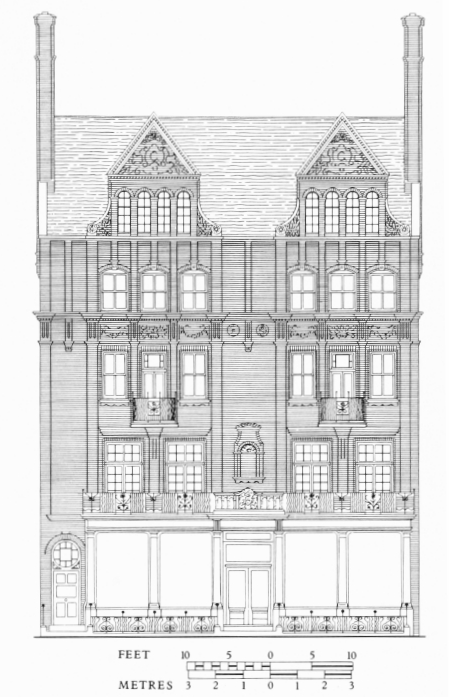 The street where the new manner was most quickly taken up was Oxford Street, where a systematic policy of rebuilding when the time was ripe appears to have been decided in the mid 1860's. The first rebuildings here had been in the French style favoured in the late days of the second Marquess, and Thomas Cundy III's Nos. 407–413 (odd) Oxford Street (1870–4) still survives as a reminder of the type. Under the first Duke, Queen Anne was soon to prevail, but if Goode's shows how well the new style could be applied to commerce, in Oxford Street it was often watered down and degenerated into banality. The most prolific architect here was T. Chatfeild Clarke, who designed a number of shops of variable style and merit, the best being the extant Nos. 385–397 (odd) of 1887–9 and the demolished Nos. 475–477 (odd) of 1887–8. But the first Queen Anne range appears to have been Nos. 443–451 (odd) of 1876–8, a perfunctory design by J. T. Wimperis notable only as an attempt at stylistic compromise between the French elevations provided for Oxford Street by Thomas Cundy III and the new preferences of the Duke. Wimperis, a prolific West End architect, was known to Cundy, and his later partner, W. H. Arber, came from a family of local surveyors equally established with the Grosvenor Board. Wimperis built quite widely on the estate, and a cousin of his was later to become its surveyor. He is a representative Queen Anne designer of varying accomplishment. His other surviving buildings include Nos. 130 Mount Street and 34 Berkeley Square (1880–2); Nos. 51–54 (consec.) Green Street (1882–3); Audley Mansions at the north-west corner of South Audley Street and Mount Street (1884–6); Duke Street Mansions, a block of shops and flats that straggles along the west side of that thoroughfare (1887–8); and the premises of John Bolding and Sons, the plumbers and sanitary engineers, in Davies Street (1890–1). The Berkeley Square house has a stylish interior; Audley Mansions (Plate 33d) is one of the earliest and not the least satisfying set of high-class flats on the estate; and at Boldings, Wimperis's chunky pink blocks of terracotta make up a dignified elevation for yet another corner site, and skilfully conceal the nature of the only major surviving factory building on the whole estate. Though J. T. Wimperis was often a speculating architect he could ascend the social scale too, making alterations at No. 23 Grosvenor Square in 1876 and 1879, and completely rebuilding No. 27 Grosvenor Square in 1886–8. In several of these works, lowly as well as high class, he found room for a little stained glass, as if to validate his claims to just a touch of aestheticism.
The work of J. T. Wimperis offers a preview of the building types and styles soon to dominate in the great reconstructions of 1885–99. At much the same time rebuilding began in three separate areas, centred upon Mount Street, Duke Street and Green Street. By the turn of the century the first two districts were substantially complete, but in Green Street west of Park Street building activity was to recommence just before the war of 1914–18. The methods by which these rebuildings were organized and architects chosen are explained on pages 54–60; here it remains to consider the results, beginning with Mount Street.
To understand the genesis of present-day Mount Street (Plate 34), the most representative and best sector to take is the range on the south side between South Audley Street and the cul-de-sac opposite Carlos Place. Ignoring J. T. Wimperis's two corner blocks mentioned above, one may say that the reconstruction of the street began when Albert J. Bolton won a limited competition of 1884–5 for a Vestry Hall on the site of No. 103 (in the centre of this block), the freehold of which had been recently bought by St. George's Vestry. Of the Vestry Hall, one of only two losses in Mount Street, we know little except that the Duke preferred a rival design. Nevertheless in 1889–95 Bolton was allowed to build the adjacent Nos. 87–102 (consec.) to the west, together with the deep return plot to South Audley Street and the library in Chapel Place North. For the first part of this long frontage, the Duke had hoped but failed to get Bolton to follow the lines of Ernest George and Peto's designs at Nos. 104–111 (consec.) Mount Street (1885–7), the Vestry Hall's neighbour on the other side and the first block to be reconstructed in the body of the street at the Estate's initiative. These two ranges (Plate 34a, 34b) are archetypal for Mount Street. Both consist of shops with chambers over; both, so far as overall uniformity of design permits, are divided into distinguishable units, to suit the wants of different parties among the consortia that built them; and both boast street fronts spectacularly decked out in bluff pink terracotta. The differences are almost more illuminating. Bolton contents himself with a straightforward elevational division between shops and upper floors, arranges his flats in an orthodox manner, and where necessary leaves out a little of his normally riotous façade ornament (fig. 20b). But Ernest George boldly chooses two different styles for his lessees, a simple late French or Flemish Gothic for W. H. Warner (fig. 20a), a gentle Jacobean for Jonathan Andrews. He then binds his block together with a continuous roof, corresponding storey heights, and a line of firm arches over the shops. He also experiments with the planning of the chambers, providing conventional bachelor apartments for Warner's tenants over Nos. 104–108, but a brilliant split-level arrangement of larger flats over Andrews's portion, Nos. 109–111. Then, when Andrews decides to take the corner site with the cul-de-sac in 1891–2, George is able to extend his design two bays eastwards to cover Nos. 112–113 without a visible break, and to vary his plan again, this time with another arrangement of bachelors' flats.
The problems raised by this collective method of architecture were formidable. On the whole the Mount Street designers solved them most creditably. Of the two big blocks that followed in 1886–7 hard upon Ernest George's brilliant lead, J. T. Smith's Nos. 116–121 (consec.) appears overloaded in comparison with W. H. Powell's Nos. 125–129 (consec.), a disciplined range in orthodox Queen Anne taste (Plate 34c), with good touches in the planning of the flats. A capable architect, Powell designed a pair of corner houses which the Duke admired at Nos. 33–34 Grosvenor Square (now demolished) at the same time, but disappeared from the metropolitan scene shortly afterwards. The other building to be noted on this part of the south side of Mount Street is No. 114 by the Catholic architect A. E. Purdie (1885–8), which includes, behind its somewhat lumpy terracotta façade, presbytery accommodation, a hall and a chapel, all for the Church of the Immaculate Conception in Farm Street.
In 1888–9 work began on the north side of the street, with George and Peto again in the forefront of affairs. There was to be less terracotta along this side, so the high façades that George devised here (to the plans of others) between Davies Street and Carpenter Street at Nos. 1–5 (consec.) were of brick, with neat cut and moulded brick dressings in his whimsical early Flemish or French Renaissance manner. The western half only of this range survives. Progressing further west, the opening out of Carlos Place, formerly Charles Street, was one of the major Estate undertakings of the early 1890's. The pleasant houses around the eastern curve here (Plate 34d) are to the designs of John Evelyn Trollope, working for his brother George Haward Trollope's building firm (1891–3); the same combination was busy simultaneously on houses at Nos. 45–52 (consec.) Mount Street, in the sector west of South Audley Street where the Duke had decided that trade should be barred, and a little later at the adjacent No. 53 Mount Street and Nos. 34–42 (even) Park Street. On the western side of Carlos Place rose in 1894–6 the rebuilt Coburg (now Connaught) Hotel. It was designed by Isaacs and Florence, and much of its rich, original interior survives behind a somewhat banal façade. Further along the north side of Mount Street, at the east corner with South Audley Street, Thomas Verity's Audley Hotel (1888–9) was a very different animal from the Coburg; a 'public house bar' was at first prohibited in the Coburg, but the Audley, as one of the few pubs that escaped the scythe of ducal temperance, was frankly a drinking establishment. This truth is reflected in the block's popularly beefy two-tone appearance, albeit moderated from Verity's first elevations, which the Duke had rejected as too 'gin-palace-y'. (fn. 9) Between these two havens is the latest and possibly the most charming of the Mount Street ranges, Nos. 14–26 (consec.) by Read and Macdonald (1896–8), in a Tudor style handled with a convincing flair for overall composition and with effective Arts and Crafts touches in the stone dressings, ironwork and shop fronts (Plate 34a; fig. 20c).
Both Verity and Read and Macdonald were to work again on the west side of North Audley Street, another thoroughfare much rebuilt in the first Duke's time. Verity's Nos. 24 29 (consec.) North Audley Street (1891–3) is a big block of flats much like the Audley Hotel and again incorporating a pub; while Read and Macdonald designed another pretty block in their Mount Street idiom, unfortunately now demolished, at the corner with Oxford Street (Nos. 453–459 odd Oxford Street and 22 23 North Audley Street, 1900–2), and the stone mansion at No. 22 Grosvenor Square stretching up North Audley Street as far as Lees Mews, a not altogether happy speculation of 1906–7 by Holloways the builders.
Duke Street is more easily dealt with. On the west side the dominant feature, J. T. Wimperis's Duke Street Mansions (1887–8), evidently sited so as to enclose the Improved Industrial Dwellings Company's new blocks built round Brown Hart Gardens, looks like a coarser and bigger version of one of the Mount Street ranges. Then, before the present Electricity Sub-station was built, came the Duke's 'Italian Garden', a welcome open space, and to the south of this, a pair of undistinguished rebuildings at Nos, 78–82 (even) flanking Chesham Flats, the biggest of the I.I.D.C. blocks.
Opposite, however, are three notable buildings. At the north end Nos. 55–73 (odd), a long range of shops stretching through to Binney Street, has a large central Dutch gable, refined brick detailing, and very picturesque roof treatment. Reminiscent of Ernest George at his most flamboyant, it is in fact an early work by W. D. Caröe (1890–2), who went on to design the more remarkable Nos. 75–83 (odd) Duke Street, south of Weighhouse Street (1893–5). This is one of the estate's most original buildings, a compact, asymmetrical composition whose square profile and chimneys, clipped roof line, well-organized windows and graceful shop arches are all features eloquent of the Arts and Crafts spirit (Plate 35b). The handling of materials on both blocks is delicate and careful. Caröe had doubtless been given these jobs by the Duke on the strength of another design of his a little further east, the Hanover Schools in Gilbert Street (1888–9). This now-demolished building was a more orthodox composition in the School Board manner, but with an idiosyncratic outline and touches of adventurous detailing.
Between Caröe's two Duke Street ranges rises one of Mayfair's chief landmarks, Alfred Waterhouse's King's Weigh House Chapel (now the Ukrainian Catholic Cathedral), built in 1889–91 and serving as a replacement for both Seth Smith's Robert Street Chapel and the old Weigh House Chapel, which had been displaced from the City. The Weigh House congregation was independent and, on the whole, wealthy; originality, therefore, was to be anticipated. Waterhouse, in one of his few ecclesiastical ventures, complied, with an elliptical galleried auditorium candidly expressed outside as well as in, and a Romanesque street front of brick and terracotta designed with his customary rigour and culminating in a tall, cleverly balanced tower at the street corner (Plate 35b; fig. 21). Round into Binney Street the composition continues with a presbytery and associated buildings, of which not the least interesting feature is a meeting room in the attics with a fine open-timber roof. Though a late work, the King's Weigh House Chapel conveys in both conception and detail the energy and compulsiveness so characteristic of Waterhouse throughout his career.
Where ranges of houses were built, rather than the shops with flats over that make up the bulk of Mount and Duke Streets, the results were by and large inferior, because the Grosvenor Board let direct to speculative builders and exercised less control over their designs. In any case. Queen Anne was a style evolved for individual houses, and rarely looked as well when strung out unrelieved along a domestic terrace. These are the reasons why Green Street is a duller and less distinguished thoroughfare than its commercial counterparts. As before, J. T. Wimperis was the Queen Anne standard-bearer here, with Nos. 51–54 (consec.) for Charles Fish the builder on the site of the Park Street chapel (1882–3). Most of the succeeding development of 1887–94 was opposite, on the north side, and neither the promoters nor the designers need to be individually mentioned here; the blocks uniformly consist of houses rather than 'chambers' or 'mansions', and are scarcely distinguishable from similar work elsewhere in London. The only prominent name is that of R. W. Edis, architect and speculator for Nos. 25–31 (consec.) Green Street and 105–115 (odd) Park Street (1891–4). Edis had been in high favour earlier on, having been employed by the Duke himself both at Eaton and at Cliveden and having rebuilt the prominent Nos. 59–61 (odd) Brook Street, opposite the Grosvenor Office, together with the long return to Davies Street in 1883–6. But as a result of his activities in Green Street he fell from grace, for by the 1890's the Grosvenor Board had decided against allowing independent architects to speculate on their own behalf. (fn. 10)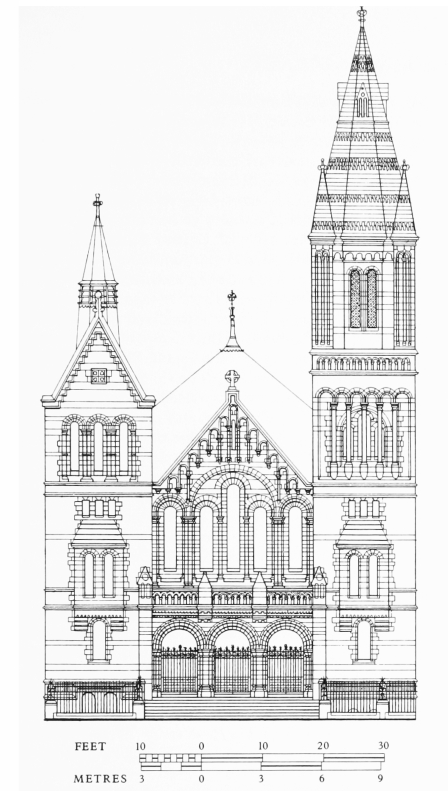 The fate of Edis raises anew the question of the choice of architects who worked on the estate at this period. With Thomas Cundy III firmly in his place as surveyor and no more, the Duke and his estate managers could often select architects themselves. From 1887, shortly after large-scale rebuilding began, a list of 'approved architects' was inaugurated, a practice which may have been shared by other contemporary estates. This list was made up in the main of architects who had already built on the estate and conducted themselves without signal incompetence. The original seven of 1887 comprised the two doyens of contemporary domestic architecture, Norman Shaw and Ernest George, four middle-ranking names, T. Chatfeild Clarke, R. W. Edis, Thomas Verity and J. T. Wimperis, and the rather dim figure of James Trant Smith, altogether an odd assortment. (fn. 11) Shaw's name was doubtless included out of pious hope; he never built anything on the Grosvenor estates, though he did at one stage sketch out a scheme for houses on the future Aldford House site.
Obviously the list was an amalgam of the Duke's suggestions, mainly aesthetic, and his advisers' business-oriented ideas. It was never exclusive, always haphazard and inconsistent, with names being inserted or dropped in an ad hoc manner. In 1891 Aston Webb and Ingress Bell were added, evidently at their own request and on the strength of their Victoria Law Courts at Birmingham, which the Duke 'highly approved of', (fn. 12) but they never worked on the estate. Basil Champneys, on the other hand, a leading Queen Anne architect, was never added to the list, although he applied for work on the estate and was championed by his friend and ex-pupil Eustace Balfour, the Duke's new estate surveyor. (fn. 13) At one stage Champneys prepared plans for reconstructing the Grosvenor Chapel, but these came to nothing, as did the suggestion that he should undertake part of Carlos Place.
In 1894 the revised list looked like this: J. Macvicar Anderson, Ingress Bell and Aston Webb, A. J. Bolton, H. C. Boyes, W. D. Caröe, T. Chatfeild Clarke, T. E. Collcutt, R. W. Edis, Ernest George and Peto, Isaacs and Florence, C. E. Sayer, J. J. Stevenson, and J. T. Wimperis. (fn. 14) Apart from Sayer, Webb and Bell, all these men had already worked on the Mayfair estate or were to do so in the future. Of those not already mentioned, Anderson and Collcutt seem only to have been involved in minor private house-alterations in Mayfair, but may have had work in Belgravia or Pimlico; Boyes designed a small and respectable block at Nos. 10–12 (consec.) Mount Street; and Chatfeild Clarke was active in Oxford Street, designing, besides his creditable Nos. 385–397 (odd), a long run of shops, all now demolished, between North Audley Street and Park Street: Nos. 461–463 (1886), 465 (1885), 467–473 (1885–6), 475–477 (1887–8), 479–483 (1883–4), and 485–487 (1883–4). He and (later) his son Howard also designed the large and ornate block at Nos. 64–70 (consec.) South Audley Street (1891–1900). J. J. Stevenson was responsible in 1896–8, by which time he had largely abandoned his early austere Queen Anne manner, for a small, select and ornamental little block of speculative houses for William Willett the builder, tucked away at Nos. 39–47 (odd) South Street.
Four men (H. Huntly-Gordon, E. W. Mountford, E. P. Warren and Howard Ince) were subsequently added to the list of 1894, most of them at their own request, but none of them is known to have worked on the Mayfair estate. (fn. 15) In fact the list was always something of a fiction. The real estate 'discoveries' such as the young W. D. Caröe owed their opportunities to the Duke's seeing something good by them and giving them a run for their money. Indeed the estate's appearance benefited more from the Duke's obsession with architecture and from his almost capricious desire to put a new architect or two through his paces every so often, than from the sound but staid advice of H. T. Boodle and the luminaries of the Grosvenor Office. Sometimes, of course, it was a lessee who came up with a good and previously unknown designer, as at Nos. 52–54 (even) Brook Street, where the young Percy Morley Horder displaced an incompetent architect and produced what must have been virtually his first work (1896–7), a neat brick design with mullioned windows in the manner of Voysey.
But a crucial contributor to the changing tone of the estate in the last years of the century was the new estate surveyor, Eustace James Anthony Balfour, who took over when the Cundy era finally came to a close with the retirement of Thomas Cundy III in 1890. Though a short list appears to have been made of candidates for the job, it was characteristic of the Duke that social and dynastic considerations in the end swayed his choice and led to his appointment of a man not on the final list. Eustace Balfour (1854–1911) was impeccably connected; his mother was a Cecil, his brother was A. J. Balfour the politician and future Prime Minister, his father-in-law was the eighth Duke of Argyll, and most critically of all his uncle by marriage was the Duke of Westminster himself. Balfour in fact was on terms almost of social equality with the Duke, and rather as in the case of Cecil Parker, the Duke's agent at Eaton and another of his nephews, this entitled him to a position of special eminence, since the estate, to quote Balfour's wife writing much later, 'was run, not as today on commercial lines, but more as a Principality'. (fn. 16) Balfour however was not an autocrat in the Parker mould, but a fastidious and to some extent withdrawn individual, with a strong feeling of class loyalty, an interest in shooting, and, at least in later life, a sense of commitment about his work with the army volunteer corps, in which he served as a colonel. Yet as a pupil of Basil Champneys he was also a conscientious and well-trained architect, he knew Burne-Jones, De Morgan, and others in early Arts and Crafts circles, and, having a horror of modern Gothic, he had been involved in some of the early work of the Society for the Protection of Ancient Buildings, a body with which his friend and partner since 1885, Hugh Thackeray Turner, had a lifelong association.
Thackeray Turner (1853–1937), a man of a reticence and modesty equal to Balfour's, had been brought up in Sir Gilbert Scott's office and then became his son George Gilbert Scott junior's trusted assistant. Deeply versed in English mediaeval churches, Turner ardently admired the principles of William Morris and the work of Philip Webb, and was a close companion of W. R. Lethaby, loyalties all discernible in his architecture, and most notably in the beautiful house he built himself at Westbrook outside Godalming in his beloved Surrey. Turner appears as the more active and abler architect of the two, and while Balfour was clearly in ultimate control of all the work they did on the Grosvenor estates, Turner seems to have been the busier at the drawing board.
Of designing the partnership had much to do, since the first Duke was disposed to give them the chances he had denied to Thomas Cundy III. The main area of their Mayfair activity was between Mount Street and Aldford Street. Here, and especially round the eponymous Balfour Place, they showed that Green Street was not an inevitability, in fact that one could combine with the speculative builder to get lively but disciplined street fronts in the brick style of the day. The first range by Balfour and Turner, Nos. 1–6 (consec.) Balfour Place (1891–4), is still tentative and unsatisfactory despite some imaginative planning. But the block bounded by Mount Street, Rex Place, Aldford Street and Balfour Place (1891–7), together with the stables on the east side of Balfour Mews (1898–1900), shows late Queen Anne elevations at their best, with delightfully shaped gables and individual touches of Arts and Crafts detailing and carving upon each house (Plate 35a). Further west, the firm designed another good range of houses fronting Park Street at Nos. 14–22 (even), which with A. H. Kersey's Nos. 2–12 (even) Park Street and Balfour and Turner's demolished Aldford House in Park Lane virtually completed the Duke's transformation of this sector. Elsewhere, they built Nos. 21–22 Grosvenor Street (1898–9) in brick with gay stone banding and a prominent pair of gables, the long range at Nos. 40–46 (even) Brook Street of 1898–9 (fig. 26a), the beautiful Webb-influenced stabling on the south side of Duke's Yard of 1900–2 (Plate 35c), and one odd house in the Green Street development, No. 10 of 1893–5, with delightful carving round the door probably by Thackeray Turner's sculptor brother, Laurence Turner, who worked on other of the firm's buildings on the estate. There were further works by Balfour and Turner under the second Duke, but none so characteristic as these. All convey an originality passing at times into self-conscious eccentricity, a mood particularly marked in their two major demolished buildings on the estate, St. Anselm's Church in Davies Street (1894–6) and Aldford House (1894–7).
St. Anselm's, a building which by repute was largely or wholly the work of Thackeray Turner, was a typical Arts and Crafts attempt at style-blending (or style-bending). The interior (Plate 38b) was basilican, with more than a hint of quattrocento Florence in the texture of grey stone coupled pillars against white-plastered walls, and a few bald and massive fittings; but the tracery was Gothic and the exterior uncompromisingly plain except for some big buttresses and a vicarage building squeezed on to the site at the corner between St. Anselm's Place and Davies Street. In fact for all its originality it was a little-loved church, and when its demolition was being canvassed in 1938 even H. S. Goodhart-Rendel had to admit that 'St. Anselm's has always seemed to me a purely personal record of Thackeray Turner's particular tastes'. (fn. 17) And so it disappeared, to be replaced by the far less worthy British Council building.
Aldford House, the diamond magnate Alfred Beit's grand tree-standing stone mansion in Park Lane, was also far from an unqualified success, partly because of difficulties over the site, partly because Balfour and Turner insisted on deploying the elements of classicism borrowed from nearby Dorchester House so casually and eccentrically. The result (Plate 38a), an ornate but stunted affair, earned a muted reception, soon dated like St. Anselm's, and therefore was the more easily demolished. There is no doubt that brick domestic buildings were the firm's forte on the Grosvenor estate, and these have happily nearly all survived.
Aldford House was one of the last-built of the Park Lane palaces, those ebullient mansions of the super-rich that adorned the park frontage from Marble Arch to Hyde Park Corner, interspersed among the more modest stucco houses. Though many were old, their halcyon days date from after the improvement of Park Lane as a thorough-fare about 1870. At the turn of the century those on the Grosvenor estate were as follows, from north to south: Somerset House, with Camelford House behind in its shadow (Plate 14); Brook House, which was to be transformed internally for the financier Sir Ernest Cassel in 1905–7; Dudley House, with its façade appearing by 1900 much as it does today (Plate 21a); Grosvenor House, whose westward aspect towards the park was opened out shortly before Clutton added his loggia in 1880–1; and finally Beit's Aldford House, below which Dorchester and Londonderry Houses raised their massive bulks.
Though Dudley House is the sole survivor from this galaxy, two grand houses of the 1890's still remain in 'also-ran' positions close behind the park frontage, to testify to its lure at that date. One is No. 32 Green Street, a corner house close to Park Lane, built for Lord Ribbles-dale in 1897–9 to the designs of Sidney R. J. Smith. Though a large, conventional edifice (Plate 36b), it is a valuable precursor of the subdued brick neo-Georgian soon to be so fashionable, and contrasts distinctly with the neighbouring Nos. 16–19 (consec.) Dunraven Street, where Smith allowed himself rein with some beefily detailed terrace housing. Much more spectacular is No. 54 Mount Street, on a similar corner site, but originally with an open view towards the park over the garden of Grosvenor House. This was the town house, built in 1896–9, of Lord Windsor, an affluent but discriminating client, whose profuse patronage fell on this occasion upon Fairfax B. Wade, never a prolific but, in his later practice, always an interesting architect. Wade's design (Plates 36a, 37) makes both Aldford House and No. 32 Green Street appear lacking in assurance. It has a festive pair of pedimented brick and stone elevations mixing French and English late seventeenth-century motifs, and a unique and forceful plan combining upper and lower vaulted halls, ample reception rooms, and unusually spacious office and sleeping quarters, all marked by many little originalities of conception and detail. Happily these palatial interiors still remain and must be counted one of the estate's surviving glories. They are possibly the only place on the Grosvenor estate where the true flavour of the late Victorian aristocracy at home still lingers on in Mayfair.
The other great survivor from this palmy period is Claridge's. This splendid and always exclusive hotel had long been operating in a handful of spacious houses stretching along Brook Street from the south-east corner with Davies Street when rebuilding was first contem-plated in 1889. The Estate willingly fell in with the idea, for though commerce was at best tolerated along the main streets, this had to be an exception. The classes for whom Claridge's catered were precisely those whose good opinion mattered to the Estate; and, in a period of already shrinking rented accommodation, the hotel fulfilled the specific needs of the many gentlemen, noblemen, magnates and potentates, British and foreign, who wished to stay in town for a limited season and would in former years have hired a house on the estate for the purpose. Caröe was appointed architect and devised a comprehensive scheme with a courtyard, but after the promoters had got into financial difficulties and were bought out by the Savoy Hotel Company in 1893, he was replaced by C. W. Stephens. The main part of the hotel as rebuilt in 1894–8 is the work of Stephens, whose tall and ruddy brick elevations (Plate 39a) call for no great notice. But the lavish decorations of the main reception areas (Plate 39b) were given to Ernest George and Yeates, and although these were drastically altered in the 1930's, in these august apartments, something of the gracious, unhurried life-style of that late Victorian golden age also still obtains.
If such sumptuous edifices are symptomatic of the imperial spirit of the 1890's, that epoch's luxurious but formal way of life can be traced, too, in the vast extent and expense of works privately undertaken between 1890 and 1914 in Grosvenor Square and the surrounding streets. This era saw the undoubted climax of the great houses of the estate, after which they were soon to decline and, nearly every one, fall victim to demolition or conversion. While the first Duke lived, there were indeed few entirely new terrace houses rebuilt along the main streets, but in the latter half of his reign, yet another tide of replanning and redecoration had begun to carry his smarter tenants along, until from the second Duke's accession in 1899 up to the war of 1914–18, the Mayfair estate was immersed in wave after frenetic wave of internal reconstructions and redecorations, sometimes engulfing the same house twice. For this period, records of many of these (to modern eyes) almost incredibly lavish conversions remain in photographs taken by the firm of Bedford Lemere after the work was done. From these a coherent picture of this part of Mayfair at the apogee of its fashion emerges.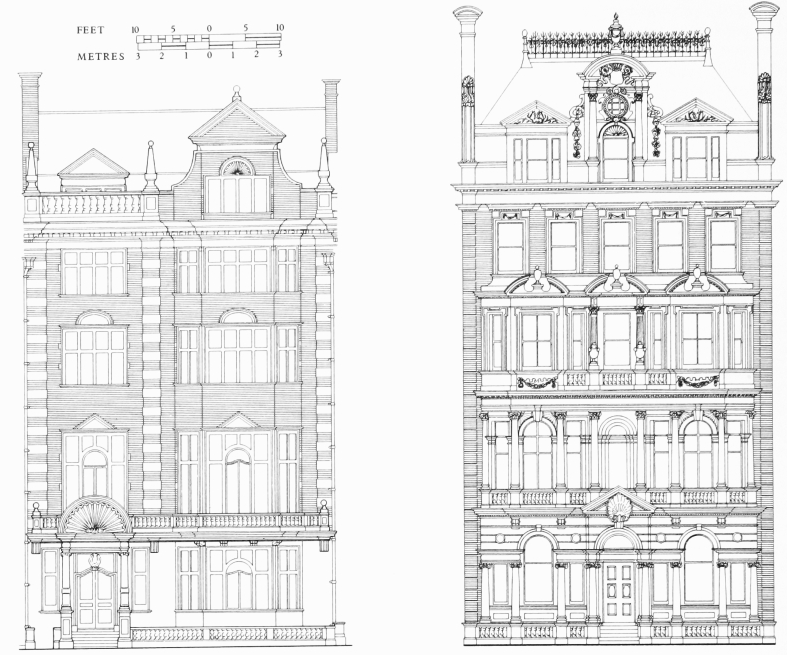 The lead-up to this great splash was tentative. Possibly because of the prevalent tone of existing houses, 'Queen Anne' never somehow caught on on the estate as a style for the houses of rich individuals, as it did in Kensington and Chelsea. There are really only three candidates, all rebuildings in Grosvenor Square between 1883 and 1888. George Devey's No. 41 for C. H. Wilson, later Lord Nunburnholme, (1883–6) and J. T. Wimperis's No. 27 for the Earl and Countess of Aberdeen (1886–8) were both political gathering points for prominent Liberals. Neither was as typical a Queen Anne composition as Nos. 33 and 34, a busy pair of houses by W. H. Powell in the south-west corner (1886–8), which sported ample terracotta dressings, and bay windows and gables. In contrast to this, Devey, nearing the end of his career as a progressive country-house architect, still believed, even in town, in an irregular Jacobean front with a prominent multi-storey bay and casement lights, while Wimperis invested in equal protuberance coupled with a more cautious symmetry and some distinctly French detail (fig. 22). Both houses had newly specialized plans, Devey in particular showing ingenuity in getting natural light to the stairs and securing a storey-and-a-half ballroom (though Cundy, noticing his poor arrangement of the offices, could surprisingly inform the Grosvenor Board that 'he does not think that Mr Devey can have had any experience in planning a large house'). (fn. 18) Wimperis, on the other hand, who had been brought in when the Duke insisted that the Aberdeens must have an architect, was well under the thumb of his employers, for whom an exotic 'Indian room' decorated by the firm of Liberty was devised at first-floor level next to the mews and accessible by a separate entrance, since it was destined mainly for meetings (fig. 24a). This is a token of how stable blocks were beginning to be squeezed out by expanding families at this period. By another late-Victorian innovation, dinner guests in the Aberdeens' 'Indian room' were accommodated at separate small tables, a change in fashion which opened up the possibility of new types of reception-room planning. (fn. 19) Yet by 1912 Wimperis's arrangements were sufficiently old-fashioned for No. 27 Grosvenor Square to require radical updating in both plan and décor.
Bedford Lemere's surviving photographs of No. 41 Grosvenor Square show this house at two dates, 1909 and 1926 (Plate 41). The opulence of interior finishing that they reveal is matched only by its transitoriness, and in this they may be taken as paradigms of the kind of continual renewal that so many of the houses in the square underwent in this era. Devey had indicated the lines that the decoration would have to follow, having designed the staircase details, fireplaces and panelling for at least some of the main rooms, and probably also the ceilings. But by a division of labour typical of the time, the main onus of the finishings must have been left to the professional 'interior decorator', as the old upholsterer was now beginning to call himself. His work, even more than that of the architect, was naturally subject to dramatic shifts in fashion. Thus by 1909 the Nunburnholmes' ballroom was given over to a riotous Viennese Rococo quite out of character with anything known about Devey; yet this in 1926 had in turn been ousted and the room redecorated in the cooler eclectic classicism of the years immediately after the war of 1914–18. By contrast the dining-room, an apartment still treated much in Devey's manner in 1909, with light-painted panelling up to dado level and framed tapestries above, had been enlivened seventeen years later by marbling parts of the panelling and fireplace, and by covering the whole of the upper walls with an old pictorial wallpaper.
Decorators' schemes such as these, characterized by their almost reckless extravagance and panache, were amazingly common on the estate during this era. Before 1914, however, they were invariably derivative in style, the common stylistic factor nearly always being France. The French taste lurks behind so many stages of the history of interior decoration in Britain since the seventeenth century, cropping up even in English architecture's most chauvinist periods, and its importance in Mayfair is so great that it calls for a short excursus.
French-derived interiors were always far commoner in London than in the country. Chesterfield House and Norfolk House were decorated in a French Rococo taste at the height of English Palladianism; Carlton House revealed the Prince Regent as a regular Francophile; and York (now Lancaster) House and Apsley House show the conquerors of Bonaparte transformed into enthusiasts for 'Empire'. For all these jobs the upholsterers and other decorators were of equal or greater importance compared with the architects, and the numerous French immigrants among them naturally passed on their skills to Englishmen. So by the 1820's at the latest all the big Mayfair cabinet-making firms such as Tatham and Bailey, Dowbiggin (the decorator of Apsley House) and Seddon, had a good grasp of the French style of interior. But at this time it connoted an exclusive style reserved for the court or the nobility, which the ordinary Mayfair resident either did not want or could not afford. Earl Grosvenor, for instance, might well have chosen such a manner for Cundy's picture gallery at Grosvenor House, or his heir for the refashioned Belgrave House (Nos. 15–16 Grosvenor Square), though what evidence we have suggests that they did not do so. In fact the first French scheme of decoration on the Grosvenor estate of which there is reliable record was at Samuel Daukes's ballroom for the first Earl of Dudley at Dudley House, finished off in a dazzling Empire splendour of glass and gilding in 1858, by the Paris firms of Laurent and Haber (Plate 40a). Though the ballroom has gone, many passages of French craftsmanship survive in the fabric of Dudley House and presumably date from this time.
From this epoch on, the French manner was to grow in popularity and make more of a specifically architectural impact. Many mid-Victorian country houses espoused one French style or another, but in London, under the influence of Haussmann's Paris and especially after the building of a number of grand mansarded hotels, the impulse to go French was particularly strong. Under Thomas Cundy III at Grosvenor Gardens, Grosvenor Place and Hereford Gardens, and in great mansions like T. H. Wyatt's Brook House (Plate 27a), there emerged briefly in the 1860's a fully fledged French architectural style for the high-class London town house. Though the Queen Anne revival succeeded in putting a stop to this kind of street architecture, it did not establish itself widely as an aristocratic style for interiors, and here the French manner was never seriously challenged, instead gradually and imperceptibly broadening its own appeal, particularly for the mercantile bourgeoisie. As an international style, equally idiomatic in Paris, New York, Vienna or London, it became particularly popular with the foreigners who in increasing numbers made their homes in Mayfair. Not just the peerage, but financiers, diplomats, industrialists and entrepreneurs of every variety were now crowding on to the estate, and lavishing more money than ever before on their town houses, in the attempt to make their mark on society. No longer was it merely tiresome tradesmen who were predictably uncivil to Boodle and the rest of the Duke's minions; magnates when making their whimsical alterations might also fret at estate restrictions, and more reverence had to be shown to them. Thus F. W. Isaacson, millionaire colliery owner, who in 1886 spent some £7,000 on improvements and decorations at No. 18 Upper Grosvenor Street, coupled a cheque for the renewal of his lease eleven years later 'with some expressions of a very offensive nature'. (fn. 20) What such persons in increasing numbers wanted and could now command was the French interior, which by 1890 was well on the way to becoming not just the natural idiom of the great Mayfair house, but a symptom of the conspicuous consumption of the day. Architects had either to learn how to manage the style or leave the job to the real professionals. Mostly they chose the latter course, and from this time dates the heyday of the interior decorator.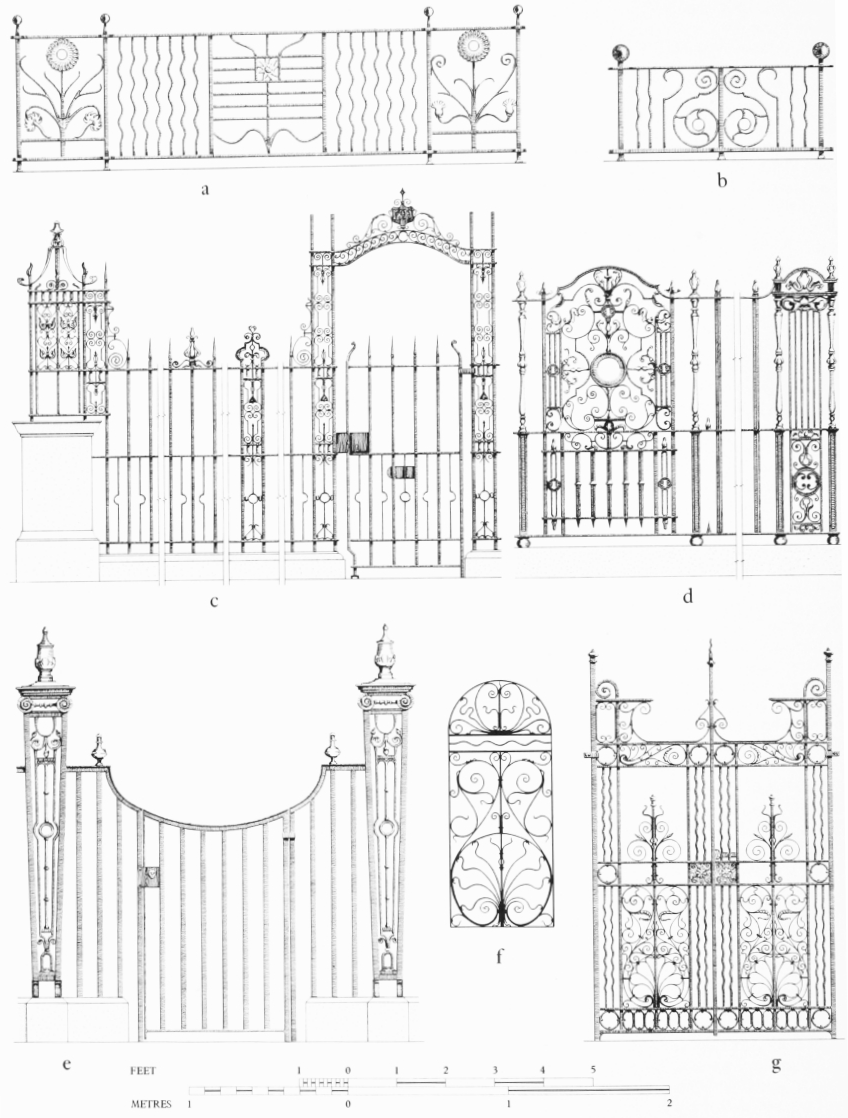 Two quite early but typical Grosvenor estate clients for the French interior were H. L. Bischoffsheim of Bute House, No. 75 South Audley Street, and Walter H. Burns of Nos. 69–71 (odd) Brook Street. Neither of them spared any expense. Bischoffsheim was a millionaire banker originally from Amsterdam, with close ties in Paris. Some time between 1873 and 1902, he transformed Bute House into a suite of immaculate dixhuitième rooms as a showcase for his famous collection of pictures and furniture (including the G. B. Tiepolo ceiling painting which found its way to the National Gallery in 1969). These interiors were to be supplanted in yet another French-style campaign of 1926–7; but Burns' palatial house in Brook Street survives behind a pair of unpromising exteriors as the Savile Club. Burns, an American who had married a sister of Pierpont Morgan and whose City job involved looking after the great financier's British interests, bought himself a country estate at North Mimms, Hertfordshire, where he employed Ernest George as his architect. Yet significantly for his town house Burns appears (in about 1890) to have put himself in the hands of a Parisian architect, the Dutchborn W. O. W. Bouwens van der Boijen, (fn. 21) who for the very extensive structural works relied heavily upon Trollopes the builders. The results (Plate 42b) were ornate, imposing, but haphazard, the climax being an enormous Louis XV ballroom now shorn of its once liberally frescoed ceiling.
There were various smart ways to procure a French interior. One was to buy original boiseries and other fittings—no problem for the big dealers like Duveen who now regularly dealt in 'period' rooms. Much panelling from decaying Parisian hôtels must have been shipped to England, cleaned, regilded, and neatly made up for the fashionable drawing-rooms of the period. One such beneficiary was No. 66 Grosvenor Street, fitted out in 1913–14 for Robert Emmett (after alterations by W. H. Romaine-Walker) with Louis XV panelling from the Hôtel Cambacères in the boudoir, and Louis XVI panelling from the Hôtel Prunellé in the drawing-room. (fn. 22) This is just one case for which the evidence survives; in many other houses on the estate, imported originals cannot be reliably distinguished from modern copywork, such was the stylishness and craftsmanship of the crack interior decorating firms of the day.
The old upholstering concerns were now fading into the background or changing their complexion. Several of the new firms founded in this period still survive today. Among these, pride of place must go to Turner Lord and Company of Mount Street, who have been involved in works on the Mayfair estate, many major, ever since the early 1890's, when they were busy redecorating the Aberdeens' ballroom at No. 27 Grosvenor Square and enlarging the veranda on the front of Dudley House. A typical example of their high standards is No. 33 Grosvenor Street, thoroughly recast by Turner Lord in 1912 for Princess Hatzfeldt with a new stone front and delicate interiors, part French and part English. At this date and just after the war of 1914–18, this firm boasted full-time architects (W. Ernest Lord and Sidney Parvin) on their staff, and could design, build and decorate complete houses, for instance Nos. 41–43 (consec.) Upper Grosvenor Street (1912–14) and Nos. 42–44 Hill Street (1919), though in each case the Grosvenor Board insisted on the involvement of independent architects as well. Some other familiar firms like Maples, White Allom, Green and Abbott, and Lenygon and Morant came to prominence during this era. White Allom and Company in particular were as prolific in this period as Turner Lord. Their largest job, the recasting of the interior of Brook House, will be mentioned a little later, but work by them at No. 128 Park Lane (1905), No. 17 Upper Grosvenor Street (1906–7) and No. 59 Grosvenor Street (1910) should also be recorded here. Another firm of comparable status which does not survive today was the cabinet-making concern of Charles Mellier and Company, by whom several big schemes of decoration, apparently all in the French style, are known: Nos. 45 Grosvenor Square (1897, Plate 42d), 14 Grosvenor Square (1901–2), 19 Upper Brook Street (1903–4), 58 Grosvenor Street (1908–9) and 27 Grosvenor Square (1912).
No. 19 Upper Brook Street, one of the more extravagant of these works, was undertaken by Mellier under the supervision of W. H. Romaine-Walker, one of the few English-trained architects to take a real interest in French interior work and therefore a popular choice among plutocrats; besides this house and No. 66 Grosvenor Street, Romaine-Walker altered No. 128 Park Lane for Henry Duveen (brother and partner of the famous dealer Sir Joseph Joel Duveen), two houses in Park Street (Nos. 34 and 46) for members of the Rothschild clan, and No. 1 Upper Brook Street for C. T. Garland. After some £20,000 had been lavished upon No. 19 Upper Brook Street, the Grosvenor Board felt obliged, not uniquely for this period, to warn the tenant that such reckless expenditure would not guarantee for him the renewal of his (very short) lease. The Board also noted that 'French workmen had decorated the house to fit and display his works of art', presumably under Mellier. (fn. 23) This was an old and by no means unusual tradition, dating back to Georgian times and beyond. On the estate, we have seen Parisian firms working at Dudley House, and by the Edwardian period this was a frequent occurrence. Thus Marcel Boulanger of Paris was commissioned in 1910 by Lady Essex (one of the many Americans who married into the English aristocracy at this period) for decorations at Bourdon House; he also carried out some decorations at Claridge's under the French architect René Sergent (1910), and worked at No. 27 Grosvenor Square (1912). The smartest thing, in fact, for a client to do if he could not command old French work was to command modern French craftsmen.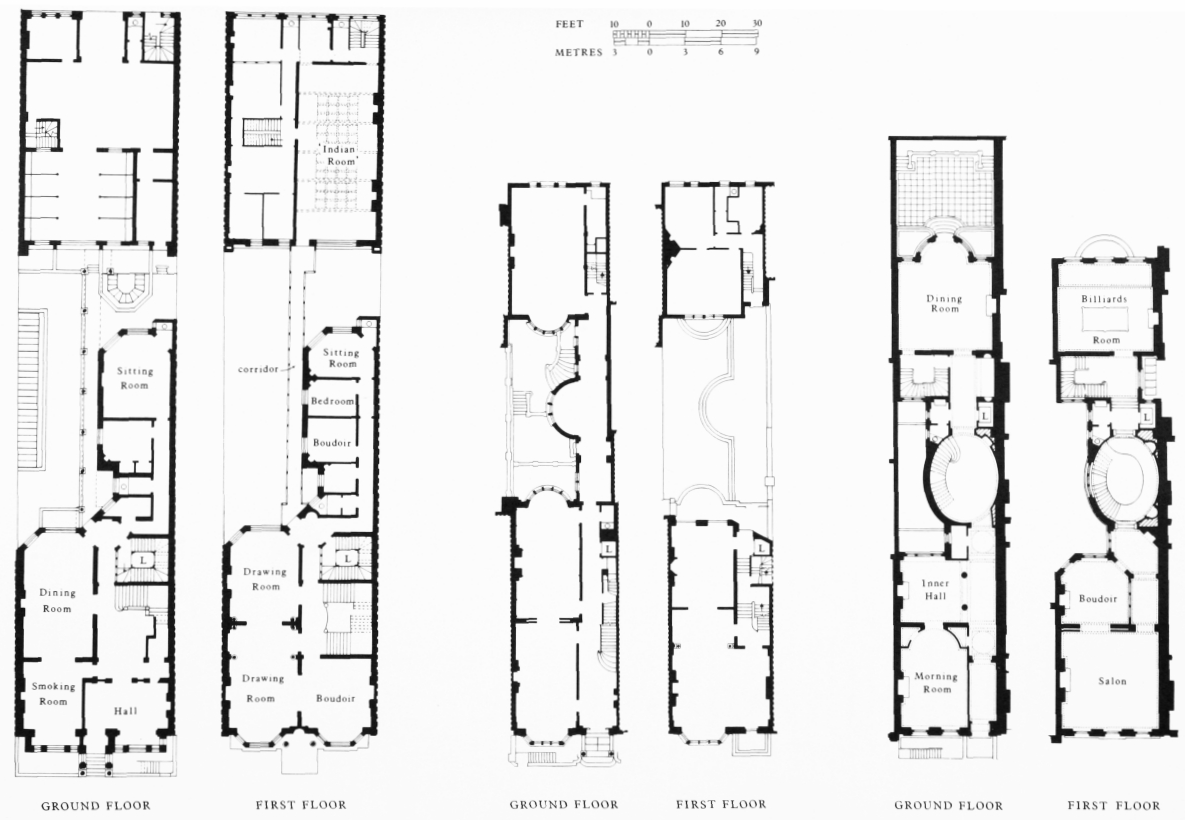 But a specifically late-Victorian and Edwardian development was the introduction of Beaux-Arts-trained architects as well as craftsmen. One such was Sergent at Claridge's, another Bouwens van der Boijen, mentioned earlier in connexion with Nos. 69–71 (odd) Brook Street. A third was Arthur J. Davis, English partner in the international firm controlled from Paris by Charles Mewès. Mewès and Davis, though best known for their great commercial successes like the Ritz Hotel, were also busy and capable domestic architects. From a number of estate jobs that fell to them, the remodelling of No. 27 Grosvenor Square in 1912 and an unbuilt speculative house design for Trollope and Colls at No. 42 Upper Brook Street (fig. 24c) excel in elegance and amplitude of plan. (fn. 24) But the outstanding survival is their complete rebuilding of No. 88 Brook Street, tactfully carried out behind the existing façade in 1909–10, and culminating in an architectural garden at the rear, small, sculptural, and tastefully chic. Such gardens, conservatories and verandas were now constantly being jammed into the few awkward remaining spaces between houses and mews, in an effort to instil yet more lushness into the tone of life in this palmiest of periods.
The most significant Beaux-Arts architect to appear on the Grosvenor estate scene was in fact a Frenchman, Fernand Billerey (1878–1951). Billerey came to England in about 1902 and joined up with Detmar Blow, an architect who, like his friend Lutyens, had struck out a line in very English small country houses and cottages, designed and constructed along fervent Arts and Crafts principles. Blow and Billerey were to feature largely in the twentieth-century history of the estate, and a fuller account of their careers will be found on pages 73–4. But at the time they went into partnership, Blow's only substantial independent job on the Mayfair estate was (and still remains) No. 28 South Street, the rebuilding of a stable as a private house, done in 1902–3 for a stockbroker, Sir W. Cuthbert Quilter of No. 74 South Audley Street. The best feature of this house is its neat front elevation (Plate 45a), executed in a reticent neo-Georgian notable for its date but quite characteristic of Blow's beliefs and previous practice. A few years later Blow secured the job of designing the second Duke's French hunting lodge at Mimizan, and by 1911 the established team of Blow and Billerey was working on the gardens at Eaton, had started designing a big block of houses for the building firm of William Willett looking into the garden of Grosvenor House at the corner of Upper Grosvenor Street (Nos. 37 and 38) and Park Street (Nos. 44 50 even), and was engaged on a large new house on the site of two old ones at No. 46 Grosvenor Street, for the ostentatious financier Sir Edgar Speyer.
Stylistic and documentary evidence alike point to Billerey as the design partner for these and other of the firm's London works. The contrast between Blow's quaint and almost pugnaciously English manner in the country, and Billerey's sumptuous Beaux-Arts urban confections, reflects the schizoid state of Edwardian architecture and, indeed, society. In his elevations for both the Willett block and Speyer's house, Billerey insisted upon rigidly disciplined classical elevations in stone, with refined though sometimes overscaled French detailing (Plate 46a; fig. 25). As so often with this type of architecture, this could only be achieved in each case at the expense of true logic of plan; the elevations had constantly to be juggled to make them fit, often at the last moment, which failed to endear the architects to either the London County Council or the Grosvenor Board. To achieve the 'easy certainty of grouping' that impressed Professor Goodhart-Rendel at the Willett speculation (1911–12), one bay of the main façade covering Nos. 44–50 (even) Park Street fronts no more than a light-well.
But this is nothing compared with what occurs at No. 46 Grosvenor Street (1910–11). Here, since Speyer was obliged by the Board to arrange his house so that it could be converted back into two houses at some future date, Billerey's heroic three-bay elevation conceals many an oddity of plan. Not only do two asymmetrical staircases start from opposite ends of the entrance hall, but they are clothed in two styles, with a riot of flamboyant Gothic woodwork such as might be found in the Musée de Cluny clambering up one side (Plate 42a), and more modest Italian Renaissance detailing on the other. Indeed the whole of Speyer's house passes from exoticism to exoticism with dazzling rapidity, mixing features genuine and antique upon its path, until the comparative calm and familiarity of Louis XV are reached in the first-floor music room. The astonishing woodwork of No. 46 Grosvenor Street appears to have been put in by a Paris firm, L. Buscaylet, and though some of the craftsmen were British, such as W. Bainbridge Reynolds for metalwork (he designed a silver bath for Speyer) and George P. Bankart for plasterwork, the frescoes in the music room must have been painted by a Frenchman, most likely Billerey's close friend Henri Tastemain. Other members of Billerey's regular team of French craftsmen may have worked on the architect's most satisfying later job on the estate, the final and complete internal remodelling of Bute House, No. 75 South Audley Street, as the Egyptian Embassy, done in c. 1926–7 after Blow and he had parted company (Plate 43a). The decorous Louis XVI and Empire interiors on the first floor here were far removed from the flamboyance of No. 46 Grosvenor Street, and happily they remain to this day appositely furnished and kept up in the old style. As for Billerey's other post-war role on the estate, in connexion with the rebuilding of Grosvenor Square, this must be deferred till later.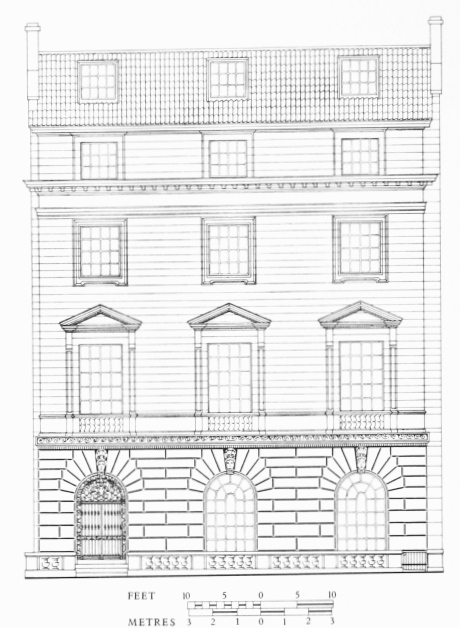 If the interior embellishment of Speyer's house is the ne plus ultra of the exotic vulgarian, it is also a reminder that other styles besides French ones were common currency in the Edwardian years. Often, inhabitants stuck to something discreetly English for ground-floor rooms and went French only up at drawing-room level. Such a house is No. 26 Upper Brook Street, rebuilt in 1908–9 by Arnold Mitchell (fig. 24b); on the ground floor the front room is in the Adam style, the dining-room behind and the room right at the back are panelled in Old English taste and allotted pretty plasterwork in the manner of the Bromsgrove Guild, but upstairs the inevitable French drawing-rooms appear. The decorators here may have been White Allom, who had in 1905–7 certainly done the lion's share of the work in transforming Brook House next door under Mitchell into yet another up-to-date magnate's palace, this time for Sir Ernest Cassel, financial confidante of Edward VII. Royal connexions with the estate were closer than ever at this time; indeed right at the end of the reign No. 16 Grosvenor Street became the home of Mrs. Keppel, after the typical fashionable renovation under F. W. Foster (1909–10). 'Adam' (often still termed 'Adams') such as Mrs. Keppel had here was the commonest rival to French, but there were plenty of other options. Beneath its French drawing-rooms, No. 24 Upper Brook Street boasted a series of rich ground-floor rooms (including a 'museum') hallowed by liberal helpings of polished and carved oak, half Jacobean and half Loire Valley in character, and no doubt the speciality of some interior decorator who held Ernest George in high regard (Plate 42c). Again, No. 33 Grosvenor Street was briefly fitted up in 1910 for Auguste Lichtenstadt, a stockbroker, with drawing-rooms 'in the German medieval style', (fn. 25) but these were expeditiously removed only a year later when Princess Hatzfeldt took the house. Best of all, perhaps, Mr. J. Bland-Sutton, surgeon, of No. 47 Brook Street, doubtless hoping to outdo his many medical neighbours, in about 1904–5 introduced as his dining-room a reproduction ('of course to a smaller scale') of the Palace of Artaxerxes at Susa. (fn. 26)
Turning from these interiors to the development of street architecture during the early years of the second Duke's reign, it has first to be remembered that there was a marked downturn in the volume of total rebuildings promoted between 1899, the year of his accession, and 1906. This hiatus, together with the fact that Eustace Balfour was less closely attuned to the second Duke's taste and to his casual and sporadic way of dealing with architectural questions, led to some uncertainty as to design policy. One sure trend, however, was the decline of red brick along the main streets in favour of stone. The first instance of this seems to have been at No. 18 Grosvenor Street, where the builder John Garlick in 1901–2 provided a new stone front. In Grosvenor Square, No. 45 was refronted in Portland stone on the tenant's initiative by Edmund Wimperis and Hubert East in 1902 (Plate 44a); and when in 1906–7 Nos. 22 and 32 were both rebuilt speculatively, the fronts were again of this material. Sir Edgar Speyer and Princess Hatzfeldt both adopted stone at Nos. 46 and 33 Grosvenor Street respectively, and in Upper Brook Street practically all the many rebuildings of 1905–16 were stonefronted: Nos. 1, 2, 16–18 (Plate 44b), 25, 26, 37, 39, 41, 49–50 and 51. There was one exception, the now demolished No. 54 (1912–13). This was Ernest George's swansong on the estate (fig. 26b), a delightful brick house handled in the seventeenth-century manner to which he had always inclined, but with a gentleness and understatement far removed from the exuberance of his earlier work at Goode's in South Audley Street.
The new liking for stonework is of particular significance in two places. One is in the ranges facing Grosvenor House, where the Duke naturally took an interest and the estate managers therefore exercised special prudence. Hence the appearance of a now seemingly purposeless full order and pediment on the prestigious stone block at Nos. 37–38 Upper Grosvenor Street and 44–50 (even) Park Street by Blow and Billerey of 1911–12 (Plate 46a). Across the road from the Grosvenor House screen, too, reconstruction of individual houses with stone fronts was proceeding apace from 1906 onwards (Plate 44d). Balfour and Turner acquired the first job here, the rebuilding of No. 17 Upper Grosvenor Street, and a typically interesting and idiosyncratic job they made of it, with large expanses of small-paned windows and plenty of naturalistic carving. No. 19 by Maurice C. Hulbert has an able individual elevation (fig. 27a) and plan in the French manner, while for No. 21 another considerable talent, Ralph Knott of County Hall fame (in partnership with E. Stone Collins), produced an attractively florid front with oval windows beneath the cornice (fig. 27b). Both Knott and the architects of the less interesting No. 20, probably Boehmer and Gibbs, came up against Balfour's opposition, for he plainly wanted small window panes throughout this range to match his own No. 17; but the pressures of the fashionable French style and of the social influences brought to bear upon his pliable master the Duke forced him to concede big plate-glass windows.
A little further east, at the north-west corner site between Park Street and Upper Grosvenor Street, comes an interesting illustration of the status by now attached to a stone front (Plate 46b). Here Caröe was chosen architect for a big speculative block at Nos. 37–43 (odd) Park Street, after the Estate had applied some pressure upon its undertakers, Higgs and Hill. Abandoning most of the stylistic mannerisms of his Nos. 75–83 (odd) Duke Street but retaining some similarities of outline, Caröe produced a design articulated in two separate parts. Both are in a wholehearted seventeenth-century French idiom, but with the ornate stone facades significantly confined to the corner site (No. 37 Park Street), while the northern portion, invisible from Grosvenor House, drops back quickly into a cheery red brick with stone dressings.
The other important set of stone fronts occurs in South Audley Street, near the southern boundary of the estate. Drastic reform in this area was contemplated in 1907, when a proposal to demolish the best houses on the east side, Nos. 9–16 (consec.), was after some indecision deflected by the Duke's innate conservatism. Opposite, on the west side, something like a Cundy refronting policy was followed, apparently for no more substantial reasons than fashion (Plate 44c). In 1906 H. L. Bischoffsheim, forced thus to set about the great No. 75, chose an obscure architect called Cyrille J. Corblet for the lushly classical façade which this house still presents (though the door has been moved); in 1908 Balfour and Turner refronted No. 74 in their idiosyncratic style; and in 1909 Paul Waterhouse followed with a new elevation to No. 73. But the policy went no further. Edwardian fronts of these years normally imply Edwardian houses behind. The rest of South Audley Street remained as it was, excepting for some major and controversial alterations to the interior of the Grosvenor Chapel by J. N. Comper in 1913.
By 1909 Balfour's constitution was breaking down, and a change in the surveyorship again became imminent. What Thackeray Turner and he had designed since the second Duke's accession, besides No. 17 Upper Grosvenor Street and the refronting of No. 74 South Audley Street, did not amount to much: an inconspicuous but pleasant building at Nos. 439–441 (odd) Oxford Street (1906–8) and a new wing at Bourdon House (1910), the latter on the personal initiative of the Duke. Balfour had, however, been instrumental in improving various designs which came before him in the course of estate work, notably C. Stanley Peach's Duke Street Electricity Sub-station (1903–4). This heroic replacement for the Italian Garden is the Mayfair estate's fullest flight in Edwardian Baroque. Peach was a practical architect of much ingenuity and a pioneer in the planning and design of electricity stations; in 1890–2 he had already erected a generating station and some not uninteresting flats on the estate (now demolished) at the corner of Davies Street and Weighhouse Street. But his more ambitious elevations for the Duke Street Sub-station (possibly in part designed by C. H. Reilly, who worked briefly for Peach at this time) did not satisfy Balfour until he had expended much effort on them.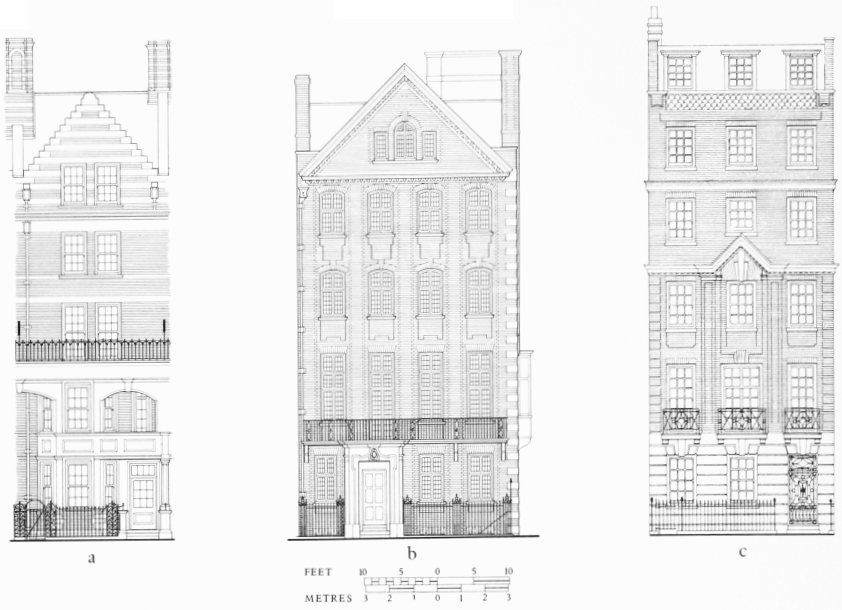 Balfour's successor as surveyor in 1910 was perhaps surprisingly not Detmar Blow, who had by now worked personally for the Duke, but Edmund Wimperis (1865–1946), son of E. M. Wimperis the painter, brother of Arthur Wimperis the playwright, and a cousin-once-removed and pupil of that J. T. Wimperis who had designed so much in Mayfair in the first Duke's day. At this date he was in partnership with J. R. Best at No. 61 South Molton Street and had already carried out a few substantial works on the estate: the refronting (with Hubert East) of No. 45 Grosvenor Square (1902, Plate 44a), a rebuilding at No. 1 Upper Brook Street (1907–8) and the first part of what was to be an attractive run of three stone elevations further west at Nos. 16–18 (consec.) Upper Brook Street (1907–16, Plate 44b). He it was who was to carry out the rebuildings now planned for the Green Street and Davies Street areas, and with his later partners W. Begg Simpson and L. Rome Guthrie to preside over the estate's gradual change of style to neo-Georgian.
No doubt because of their expense, the Edwardian liking for Portland stone façades was not shared by developers building on more than one plot. Therefore the only two ranges built on the estate in the period 1899–1906, Nos. 6–9 and 61–63 (consec.) Grosvenor Street (1900–1 and 1904–6), both adopt a rather dull late Queen-Anne brick style. Even in the square Joseph Sawyer's new No. 51 (1908–11), entered from Grosvenor Street, adhered to brick with stone dressings, out of loyalty to its neighbours. Edmund Wimperis's own first big undertaking is again in brick; it fronts Grosvenor Street at Nos. 55–57 (consec.), and Davies Street at Nos. 4–26 (even), where it stretches all the way back to Bourdon House. Though already architect (with J. R. Best) for this development before becoming estate surveyor, Wimperis was at the helm by the time it was actually built (1910–12). It is not an elegant or entirely coherent building (Plate 47a), but, foreshadowing as it does the bulky blocks soon to multiply upon the estate, it is an important one. The incoherence is due only partially to the division of the range between three separate developers, for it exhibits a measure of stylistic uncertainty as well. Minimally French or neo-Grec still in some of the details at the Grosvenor Street corner, along Davies Street the building shows study of Lutyens and a hankering for the flatter, suaver possibilities of elevation offered by neo-Georgian. With the arrival of W. Begg Simpson in 1913 as a partner, the neo-Georgian contribution begins to outweigh the subdued half-French, half-Greek detailing that seems to have been the urban idiom natural to Edmund Wimperis, and the firm's work quickly improves. Nos. 75 Grosvenor Street of 1912–14 and 26 Grosvenor Street of 1913–16 (fig. 26c) are indications of the ample scope that neo-Georgian was to offer for individual houses. Both façades are founded upon an entirely orthodox Georgian manner, but though they come closer than anything yet built on the estate to the original house-style of the area, their different proportions, subtle red-brick textures, and wooden window frames flush with the surrounds (a feature only legalized since 1894) make them distinctive. Yet if asked to design a front in stone, as at No. 39 Upper Brook Street (1913–15), elements of a more sober, less inventive classicism recurred in the work of Wimperis and Simpson.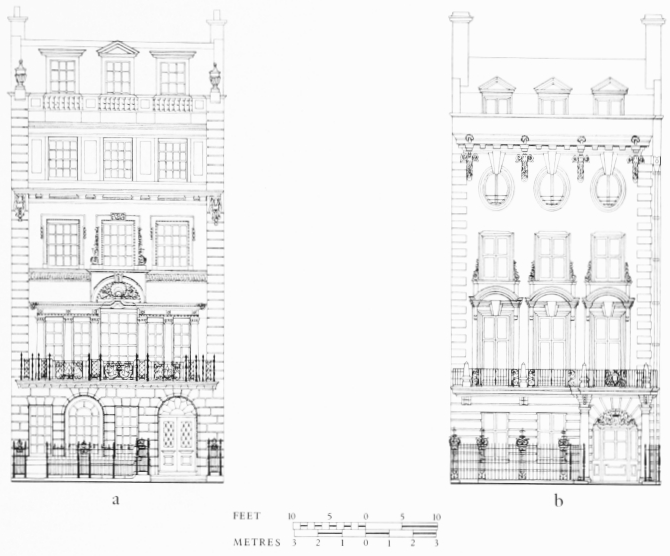 To trace the evolution of neo-Georgian on the Mayfair estate a stage further one must look at Green Street. Here Edmund Wimperis was the agent of a policy agreed upon under Balfour to rebuild, on the south side between Park Street and Norfolk (now Dunraven) Street together with the deep return along those streets, 'small or moderate sized houses, of much the same frontage as those now standing, with a large common garden in the centre, and a motor house or motor houses towards Woods Mews'. (fn. 27) A similar decision was made for the short section of Waverton Street on the estate together with the return frontages to South Street and Hill Street. Though the houses here were to be fewer and bigger, the principle of completely rebuilding a range with some allowance for individualism of plan and elevation but with a communal garden behind was again followed. These policies, interrupted by the outbreak of war, remained pre-war in conception. Wimperis's firm was to design both the pleasant South Street and the Green Street gardens together with most of the houses, that is to say Nos. 38–39, 41–44, 46 and 48 (consec.) Green Street, 91–103A (odd) Park Street, 40A and 40B Hill Street and, after the war, the mighty No. 38 South Street. Despite some variety in elevation, most of these houses are generically similar (Plate 47b), with bow windows towards the gardens and decent neo-Georgian façades, most of them in two tones of carefully textured brick. Where the level of design, exterior or interior, rises higher, it is usually, like No. 46 Green Street, the largest house in this section of the street, a design to meet an individual's requirements by W. Begg Simpson (Plate 45b). But most of the houses were undertaken directly for big speculative builders, and are therefore merely decent and simple.
Well before this time, indeed shortly after the great rebuildings began in the 1880's, the procedure by which large and respectable firms of builders could speculate upon the estate had been formalized, and it remains to look at the character and achievements of some of the principal contractors. Compared to earlier developers, their power was more limited because the Grosvenor Board took a more stringent line towards design and would often prescribe architects for them. But on the other hand it was now easier for good builders to get hold of large rebuilding plots and work out, in co-operation with the Board, a unified design for a whole range, or even an area. This could secure them a better return. The frequency with which builders were offered 'takes' by the Estate naturally depended upon their efficiency, their quality of work, and, because of the social tone of the area, upon their speed and discretion.
For the period 1890 to 1914, there is no doubt that of the builders regularly working on the estate George Trollope and Sons were foremost in all these virtues. Trollopes had long been connected with the Grosvenor estates, having been house agents for Cubitt in Belgravia before they entered into block contracting. (fn. 28) In the 1860's they had taken plots in Grosvenor Gardens and were responsible for the whole of Hereford Gardens, but the latter undertaking was nearly disastrous for them and made them unpopular in the Grosvenor Office. However, by 1890, under George Haward Trollope, they had recovered their credit completely. In the Mount Street rebuildings they secured on their own account the whole of the block fronted by the eastern curve of Carlos Place and, further west, Nos. 45–52 (consec.) and 53 Mount Street and 34–42 (even) Park Street. These were all erected to the very respectable designs of their own architect, John Evelyn Trollope (of Giles, Gough and Trollope), brother to G. H. Trollope, but the firm was just as ready to build to the designs of others. Fairfax Wade's No. 54 Mount Street, Balfour and Turner's Aldford House, W. D. Caröe's Nos. 75–83 (odd) Duke Street and C. W. Stephens's rebuilding of Claridge's were all works of the first importance carried out by them in the 1890's, while at Nos. 69–71 (odd) Brook Street Trollopes did the reconstruction for W. H. Burns under Bouwens of Paris. After the lull of 1899 to 1906 the firm took up their chances more selectively in the following new period of activity, here recasting a house direct for an aristocratic client (No. 20 Upper Grosvenor Street for the Countess of Wilton, or No. 44 Grosvenor Square for the Duchess of Devonshire), there going for designs to Edmund Wimperis (Nos. 2 Upper Brook Street, 75 Grosvenor Street) and even Mewès and Davis (No. 42 Upper Brook Street, unbuilt, fig. 24c), or, with greater orthodoxy, taking part of the block at Nos. 91–103A (odd) Park Street under Wimperis on lease from the estate. After the war of 1914–18 Trollope and Colls (as they had been since 1903) indulged little if at all in speculation but continued to do a lot of high-class private work. The reasons for their special reputation are not far to seek. They were a well-capitalized firm, relatively secure against fluctuations in building activity and therefore liable to be prompt in taking on, executing and completing contracts; they were diversified, including under their umbrella an estate agent's business which must have been the means of bringing them a proportion of their private work; they were staunch conservative builders with a tradition of opposition to the unions, which doubtless endeared them to much of their clientéle; and lastly, as specialists in high-class work, especially in superior joinery, they could always provide the elaborate materials and workmanship constantly specified in Mayfair but sometimes hard to obtain from lesser firms.
Other great concerns of comparable size to Trollopes did not on the whole work widely on the Mayfair estate at this time, though Higgs and Hill were the developers of A. H. Kersey's Nos. 2–12 (even) Park Street, W. D. Caröe's Nos. 37–43 (odd) Park Street and Joseph Sawyer's No. 51 Grosvenor Square, and William Willett of J. J. Stevenson's Nos. 39–47 (odd) South Street and the large Blow and Billerey block on the opposite corner to Caröe's in Park Street (Nos. 44–50 even) and Upper Grosvenor Street (Nos. 37 and 38), while Holloways promoted three separate major developments with Read and Macdonald as architects, Nos. 14 26 (consec.) Mount Street, 22 Grosvenor Square, and 453–459 (odd) Oxford Street together with 22 and 23 North Audley Street. Three smaller firms, however, deserve a special mention: Matthews, Rogers and Company, John Garlick and Sons, and F. Foxley and Company.
Matthews, Rogers had been building in Egerton Gardens, Kensington (under the name of Matthews Brothers), when in 1891 they took on their first Mayfair speculation at Nos. 25–29 (consec.) North Audley Street and 1–11 (consec.) Green Street. Thomas Verity was the architect appointed by the Estate for the North Audley Street elevation, but in Green Street the company was allowed to stick (except at No. 10) to its own architect, Maurice Charles Hulbert. Architecturally undistinguished, this range was very profitable and led Matthews, Rogers on to further developments fifteen years later, at Nos. 37 and 49–50 Upper Brook Street (1907–8), 19 Upper Grosvenor Street (1909–10) and 80–84 (even) Brook Street with 22–26 (consec.) Gilbert Street (1910–13). The surprise about these later houses is that they show the obscure Hulbert transformed from a dull builder's architect into a free and spirited interpreter of the Mayfair French Renaissance manner. Outstanding is the Brook Street range, which unites three large houses in a single composition built of judiciously picked orange-red bricks and creamy stone, with a row of smaller dwellings of equal quality running back into Gilbert Street (Plate 45d). Here and at No. 19 Upper Grosvenor Street the plans are as well and individually conceived as the elevations, while at Nos. 49–50 Upper Brook Street Hulbert showed what he could make of a pair of elaborate stone fronts in a more English style, Balfour having recommended that he 'take for a model the Adams house in St James Square formerly Sir Williams-Wynn's'. (fn. 29) Was Hulbert 'ghosted' for these excellent houses, as so many architects of the time reputedly were? The question, now virtually impossible to answer, should at least be raised.
John Garlick was a more prolific operator but visually his output is less striking. Garlick started out as a largescale public-works contractor based on Birmingham, but according to an obituary in 1910, 'in later years he had given special attention to West-end mansions, in connexion with which his name was well known on the Portman, Grosvenor, and Cadogan estates'. (fn. 30) His first known appearance on the estate was in 1897 when, already over sixty years of age, he took a lease of No. 35 Grosvenor Square. Between then and 1910 his activity, usually but not invariably speculative, was incessant, and it unusually bridged the gap of 1899 to 1906 when few other speculative developments were proceeding. Sometimes Garlick went to outside architects, for example Edward I'Anson III for Nos. 6–9 Grosvenor Street (1900–1), R. Stephen Ayling and Lionel Littlewood at No. 32 Grosvenor Square (1906–7) or Edmund Wimperis at No. 1 Upper Brook Street (1907–8), but R. G. Hammond was his regular man. Several of the plainer surviving fronts of these years are due to Hammond, not a designer of particular talent: Nos. 61–63 (consec.) Grosvenor Street (1904–6), 51 Upper Brook Street (1905–6), and 47 Upper Grosvenor Street (1905), while No. 25 Upper Brook Street (1907–8) is his work in association with another builder. On the other hand the façade of No. 18 Grosvenor Street (1901–2), evidently the first case of an Edwardian stone 'refronting' on the estate, looks less like Hammond, more like Ayling and Littlewood. When Garlick died in 1910 (worth £88,863) he had headquarters at No. 43 Sloane Street, Knightsbridge, a furniture shop at No. 40 North Audley Street, and substantial steamjoinery works in Manresa Road, Chelsea, for like other builders of this area he was a specialist in joinery. His son William J. Garlick continued the family's involvement in the area, building part of the big Wimperis block at Nos. 4–26 (even) Davies Street in 1910–12 and No. 26 Grosvenor Street in 1913–16, but after the war the firm faded from the Mayfair scene, though they still exist in Wandsworth today.
The third and last building firm of note begins to appear only late in the period. This is F. Foxley and Company, who from 1909 make frequent showings in the district surveyor's returns, mostly in the Green Street area and often in conjunction with F. W. Foster, architect and speculator. Foxleys built most of the Green Street houses designed by the Wimperis firm in the period 1913–16, together with much of the east side of Dunraven Street south of Green Street, but this apparently did not include the vast but not very accomplished Norwich House, No. 4 Dunraven Street (1913–16), a design by Foster based loosely upon Lutyens's No. 7 St. James's Square. The Foxleys-Foster relationship is unclear, but in 1914 Foster seems to have been using a firm of architects called H. H. Fraser and H. R. Peerless, suggesting that he himself was more of an entrepreneur than a designer. Foster was very busy in both Belgravia and Mayfair at this date and was responsible for No. 47 Grosvenor Square (1913–15), the last private house in the square to be completely rebuilt. He was badly hit by the housing slump when the war came, and disappears quickly from the scene. But the houses built by Foxleys are perfectly worthy, and Wimperis must have found the firm satisfactory, for they continued like Trollope and Colls to be trusted builders in the years after the war and to work often on the estate.
But along with much else, the war of 1914–18 spelt an end to the activities of the great self-capitalizing speculative builder. Soon the bottomless purse of the old Mayfair client began to close and as his servants slipped away one by one, the services of his town-house architect were in less and less demand. Though the interior decorator was to enjoy an Indian summer in the 1920's and '30's, the Mayfair house had started upon its inexorable decline.