Pages 326-329
Survey of London: Volume 40, the Grosvenor Estate in Mayfair, Part 2 (The Buildings). Originally published by London County Council, London, 1980.
This free content was digitised by double rekeying and sponsored by English Heritage. All rights reserved.
Mount Street: South Side
Nos. 68 and 69
Nos. 68 and 69 see page 334.
Nos. 78 and 79
Nos. 78 and 79 see page 333.
No. 84
No. 84 see page 303.
Nos. 87–102 (consec.) Mount Street and 25–33 (consec.) South Audley Street
Nos. 87–102 (consec.) Mount Street and 25–33 (consec.) South Audley Street (Plates 90c, 91b: see also fig. 20b in vol. XXXIX). This lengthy run of shops and flats, with a return front to South Audley Street, and the public library in the former Chapel Place North, were built in stages between 1889 and 1895 to the designs of Albert J. Bolton, previously architect of the neighbouring Vestry Hall. The eastern portion of the site, where Nos. 94–102 were subsequently built, was cleared in 1888. The rebuilding plots here were allotted to Henry Lofts (estate agent), Jonathan Andrews (builder), Charles Day (bookseller), J. T. Daintree (dyer) and Annie Armstrong (fishmonger), all tenants with previous premises in Mount Street. Bolton was chosen as architect so that the appointment might 'help to remove any difficulties with the Vestry', but the Duke's stipulation that he should adhere to the style of George and Peto's Nos. 104–111 Mount Street seems not to have been closely heeded except in the matter of heights. Instead, Bolton adopted a luscious François Premier style with elaborate terracotta trimmings to the gables, chimneys and mullions, hardly leaving room for his red-brick walling to show; the rear elevation towards the public gardens is simpler and more restful. The design was duly approved in 1889 and built over the following two years by G. H. and A. Bywater, with the exception of Jonathan Andrews' two sites; these buildings he constructed himself with bricks and terracotta obtained from the same source. (fn. 1)
In 1892 it was agreed to continue Bolton's design as far as the corner with South Audley Street and round into Chapel Place North, where the St. George's Library Commissioners were negotiating for a site, eventually leased by the Duke to the Vestry at a nominal rent. Bolton had just won a competition for another library on the Grosvenor estate in Buckingham Palace Road, and his brief was soon extended to this library, despite some reservations on the Duke's part. Tenants for the other sites were again chiefly chosen from tradesmen with premises nearby, though three plots were allotted to the decorators Turner Lord and Company for sub-letting; a similar firm, Aldam Heaton and Company, took showrooms which were specially decorated at No. 89 Mount Street. (fn. 2) Perry and Company built the range and J. Mowlem and Company the library in 1893–5. (fn. 3) In style, the range continued the exuberance of Nos. 94–102 Mount Street with effective tourelles at the corners and a slight reduction in ornament. The library (Plate 90c), which boasted oak furniture, a reading-room, reference library and lending library both for adults and 'for young people between ten and fourteen years of age', was a little more restrained in elevation, but was found worthy of a broad porch with a broken pediment and a variety of mullioned windows with leaded lights; its terracotta dressings have now been painted. (fn. 4)
No. 103 Mount Street.
Accounts of the workhouse which once occupied this site and of the Vestry Hall which succeeded it will be found on pages 316 and 319. The St. George's Vestry had bought the freehold of the hall from the first Duke of Westminster in 1884 but after the Vestry had been superseded by Westminster City Council in 1900 the hall had been let for commercial purposes. In 1929 the Estate approached Westminster City Council with a proposal to buy back the freehold, and this was agreed for £45,000 in 1930. (fn. 5) The present incongruous stone-faced office building was erected a few years later, in 1937–8, by Gee, Walker and Slater Limited, for whom Wimperis, Simpson and Guthrie acted as architects (fn. 6) (Plate 34b in vol. XXXIX).
Nos. 104–113 (consec.)
Nos. 104–113 (consec.) (Plate 89a, 89b, fig. 79: see also Plate 34b, fig. 20a in vol. XXXIX). This was in many ways the most interesting of the 'ranges' to be built in Mount Street. The workhouse had extended well to the east beyond the site of the Vestry Hall, and in 1885 it was agreed to divide this part of its old site between Jonathan Andrews, a local builder, and W. H. Warner of the Mount Street estate agents Lofts and Warner, for the construction of five shops with chambers above. The height was to be restricted to thirty-six feet to the cornice. Ernest George and Peto were selected as architects, perhaps at the suggestion of the Duke, who had approved of George's previous work at Goodes in South Audley Street. When building took place in 1886–7, Warner's premises (Nos. 104–108) were erected by Stephens and Bastow with Doulton's terracotta facings, while Jonathan Andrews built for himself at Nos. 109–111 and used a richer terracotta supplied by J. C. Edwards of Ruabon. (fn. 7)
The peculiarity of George's treatment was to make the whole range uniform in general architecture by means of a single roof, rounded shop arches and similar terracotta facings along the front, while unobtrusively switching the style from French Flamboyant with mullioned windows on Nos. 104–108 to an early French Renaissance at Nos. 109–111. This change is also reflected in the planning; Warner's flats were quite conventionally organized in groups of two or three per floor, whereas over Andrews' more confined frontage George and Peto devised a pair of cleverly interlocking flats, with kitchens in the upper storeys facing the back, directly accessible from private stairs. (fn. 8)
In 1890 a small addition was planned for this range in connexion with the short extension of Charles Street in front of the Farm Street Church. Jonathan Andrews was again awarded the site and built Nos. 112 and 113 Mount Street in 1891–2 to the design of George and Peto, who were content to add another bay to their original design for Andrews. This time the planning of the flats was more conventional. (fn. 9)
This range has not been greatly altered, but the upper parts of Nos. 104–108 have suffered the loss of the open tracery ornamenting the dormer gables.
No. 114 (Plates 89c, 91c).
The Jesuit Church of the Immaculate Conception had been built on the Berkeley estate in Farm Street in 1844–9. Since its congregation soon desired a better approach from the more important Mount Street, they purchased several leases on the Grosvenor estate including that of the sizeable No. 111 Mount Street (see page 318). As early as 1871 the Duke had intimated his assent to improving the approach, but the formation of a new road militated against another aim of the Jesuits, that of rebuilding No. 111 and its garden with a private 'sodality chapel' and other rooms. More than one set of plans to that end were prepared by Henry Clutton in the 1870's but all proved impossible to carry out, not least because the Grosvenor Estate was anxious to demarcate its boundary with Lord Fitzhardinge's Berkeley estate precisely. The arrangement eventually made was that the Jesuits contributed to the new cul-de-sac (which replaced four small houses), while the Duke granted to them on its east side a substantial building plot for a new presbytery and sodality chapel, without any shops. (fn. 10)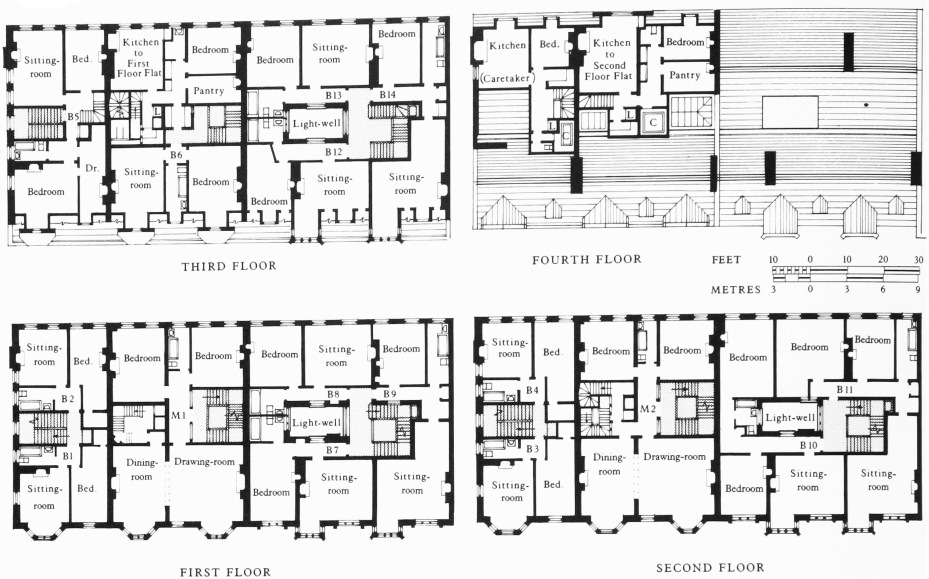 The Jesuits' architect for this new building was Alfred Edward Purdie, who submitted plans in 1885. Though revised after polite criticism from the Duke, the exterior of this large terracotta block, built in 1886–7 by Patman and Fotheringham, is somewhat heavy and harsh. It cost just over £16,000 excluding decoration. (fn. 11) Internally the chief features are a hall at ground level and the sodality chapel above, both facing Mount Street. The chapel is tall, light and airy; it has a pleasantly stencilled ceiling and a sculptured alabaster altar and reredos (Plate 91c).
Nos. 115–116 and 117–121 (consec.).
East of the Jesuits' presbytery, an unnamed U-shaped mews was made with entrances on either side of the range Nos. 117–121, which was built in 1886–7. For this group of shops with houses or chambers above, James Trant Smith was in 1885 chosen as architect, and his brief was extended to a single shop with a house (Nos. 115–116) to the west of the new mews, abutting on to No. 114. This shop was to be occupied by John Baily, a poulterer whose firm had traded in this part of Mount Street since the 1840's and still exists today. (fn. 12) In the main range the rebuilding tenants were Edgar Green (butcher), T. K. Salter (surgeon), W. W. Weir (upholsterer) and Andrew Tait (baker). (fn. 13)
The Duke found Smith's first designs 'very high and too elaborate in decoration', and though he passed his second attempt he could not refrain from calling it 'overdone and wanting in simplicity'. (fn. 14) No better description could be found of the farrago of Queen Anne and Franco-Flemish motifs in terracotta with which Smith enhanced his redbrick front elevation, though they give the range character and 'go' (Plate 89c). Tenders for the buildings were obtained in April 1886, but the lowest (from G. H. and A. Bywater) came to more than £34,000. (fn. 15) In the event the local builder John Morris erected Nos. 115–116, which was by contrast faced entirely in a lighter terracotta; the construction of Nos. 117–120 was done by William Weir, who had previously been in South Audley Street and was said to be 'experienced in building works', while at No. 121 Tait the baker preferred to use Stephens and Bastow as builders. (fn. 16)
Smith's design seems chiefly appropriate for butcher Edgar Green, who took the corner shop at No. 117 opposite Baily's. It was Green who, on the personal intervention of the Duke, won a famous fight allowing him to display his carcases prominently. (fn. 17) Though he died soon after and was succeeded by Robert Allen, carcases have been hung up here ever since, and the traditional shop displays here and at No. 116 provide one of the familiar sights of this part of Mount Street.
Photographs survive of some elaborate domestic interiors in a flat at No. 118, taken after a redecoration in 1894 by Herbert Hanks (fn. 18) (Plate 91a).
Nos. 125–129 (consec.).
For the four plots comprising Nos. 125–129, the rebuilding tenants were representatives of Miller, Owen and Company (saddlers), Allen and Mannooch (upholsterers), D. A. Lewis (linen-draper) and Henningham and Hollis (stationers). At this last site (No. 129) it had at first been intended to build a model 'sanitary house' on behalf of the National Health Society—a project abandoned owing to lack of funds. W. H. Powell was chosen architect in 1885 and duly produced designs which the Duke 'liked … very much'; these were in a disciplined Queen Anne style with straight gables and tall chimneys, though the shop fronts were perhaps not well related to the upper storeys (Plate 34d in vol. XXXIX). The facing materials, in bands of yellow brick with buff Doulton's terracotta, reminded The Builder of 'what profane persons used to call the "streaky-bacon style"'. Construction was undertaken by the builder George Shaw in 1886–7 and cost about £20,000. Inside, some of the flats retain splitlevel plans and elegant detailing, and were originally inhabited by persons of quality. (fn. 19)
No. 130 Mount Street and No. 34 Berkeley Square.
The rebuilding on this site, the first affecting Mount Street, enabled road improvements to be made at an important junction. The previous premises here stretched well out beyond the main building line of Berkeley Square's west side, and H. T. Boodle was in 1887 to make much of the Duke's sacrifice of 'very valuable houses' here for the sake of public improvement. (fn. 20) According to the scheme agreed with the Mount Street estate agent Henry Lofts in 1879–80, the projection was to be given up for road widening, a private house was to face Berkeley Square and towards Mount Street there was to be a large office with flats above. Lofts was a partner in Lofts and Warner, who had recently been appointed agents to the neighbouring Berkeley estate, but despite initial hostility from the Grosvenor Estate to his application on these grounds he was eventually allowed to proceed. (fn. 21)
Especially careful instructions from the Duke as to the materials and appearance of the new building were issued to Lofts' architect, J. T. Wimperis. Red brick with terracotta dressings was to be mandatory, the roof was to have dormer windows, the balustrading had to be in terracotta rather than wood, and the window dressings were not, after deliberation, to be painted white. (fn. 22) With these stipulations it is not surprising that Wimperis chose a Queen Anne treatment, with a prominent tourelle at the corner capped in copper (Plate 17a). The buildings were erected in 1880–2 by the Kensington builders Charles Aldin and Sons. (fn. 23) The interior of No. 34 Berkeley Square retains some pleasantly detailed rooms in a simple Queen Anne taste, and a fine stained-glass window on the stairs incorporating portrait roundels of Tasso and Rembrandt.