Pages 1-8
Survey of London: Volume 41, Brompton. Originally published by London County Council, London, 1983.
This free content was digitised by double rekeying and sponsored by English Heritage. All rights reserved.
CHAPTER I - Brompton Road: Introduction
As an official name, 'Brompton Road' did not exist until 1863. (fn. n1) It now denotes the portion of the old highway from London to Fulham stretching south-westwards from Knightsbridge as far as Pelham Street, beyond which it becomes Fulham Road. But until 1935 Brompton Road extended only as far as the junction with Thurloe Place (opposite the Brompton Oratory); after this, Fulham Road began.' (fn. 1)
Today the broad arterial Cromwell Road seems a more logical westward continuation of Brompton Road than the relatively tranquil offshoot between the Oratory and Pelham Street. But before 1855 there was no Cromwell Road, (fn. 2) while not till after 1939 did West Cromwell Road connect with Hammersmith via Talgarth Road and so provide a major thoroughfare between London and the west. Cromwell Road's construction, coinciding with the main period of building development in South Kensington and Earl's Court, made Brompton Road into one of the busiest highways of the capital and contributed to the bustling commercial identity that it enjoys today.
Nevertheless there was always much traffic on the old turnpike road, which linked London not only with Little Chelsea and Fulham but also (via Putney Bridge) with parts of Surrey as well, and which from 1726 to 1826 was maintained by the Kensington Turnpike Trustees. Anciently, the eastern end of this highway was known indiscriminately as the road to Fulham or the road to Brompton. The name 'Brompton', now used loosely, then applied most precisely to the settlement which lay westwards of what is now South Kensington Station, just off the turnpike road along the lane to Earl's Court. This lane, generally called Brompton Lane or Bell and Horns Lane, diverged from the main road at the Bell and Horns, an inn sited opposite the Orator, where Empire House now stands. After the frontages of Brompton Road nearer London had been built up, the original nucleus of Brompton became known as Old Brompton and Brompton Lane as Old Brompton Road—which name survives today except in the short stretch east of South Kensington Station, where its line is represented by Thurloe Place.
Before 1863 therefore, 'Brompton Road' was in general an unofficial term, usually to be construed as meaning the part of the Fulham turnpike road connecting Knightsbridge with Brompton Lane and thus with Old Brompton. (fn. n2) As with other main roads out of London, the different developments along its length had separate names and numbers, which were not abolished until 1863.
Brompton Road before Development
The ancient parish boundaries of Kensington enclosed a thin corridor encompassing the whole of Brompton Road up to Knightsbridge Green on the north, and up to the lane later to become Sloane Street on the south. On neither side of the road was the hinterland within the parish of much depth behind the frontages. Northwards, extending to Knightsbridge and its continuation to the old village of Kensington, was an outlying portion of the parish of St. Margaret's, Westminster; on the south side lay the parish of Chelsea. (fn. n3) But these administrative divisions did not coincide especially well with property boundaries at the time of first development. On the south side one major freeholder, the trustees of Smith's Charity, held lands both in Kensington and in Chelsea, while on the north side the boundary between Kensington and St. Margaret's, Westminster, divided another freehold of some antiquity, that of the Tathams and later of the Moreaus.
Until 1760 no special development had occurred on either side of the turnpike road. The character of the land was generally speaking horticultural. Since Brompton like much of Kensington was excellent nursery ground, it was intensively cultivated. Nurserymen, some very prosperous, feature often in early property transactions in the district, the most celebrated being Henry Wise of Brompton Park Nursery. (fn. 3) A surviving inventory of 1760 lists the effects of David Anderson, nurseryman, who tended lands in the region of the modem Beaufort Gardens, Beauchamp Place and Ovington Square; it evokes an air of quaint, rustic cottage life at Brompton which was then soon to be broken. (fn. 4) Another deed of 1763 concerning the garden of Sir Thomas Dyer (where Ovington Square now stands) requires the lessee, John Hooper, gardener, to reserve annually for Sir Thomas and his wife a peck of apples, a peck of pears and a quantity of cherries and plums, 'the best and choicest fruit and produce of two hundred standard trees growing or to grow on the said demised premises'. (fn. 5)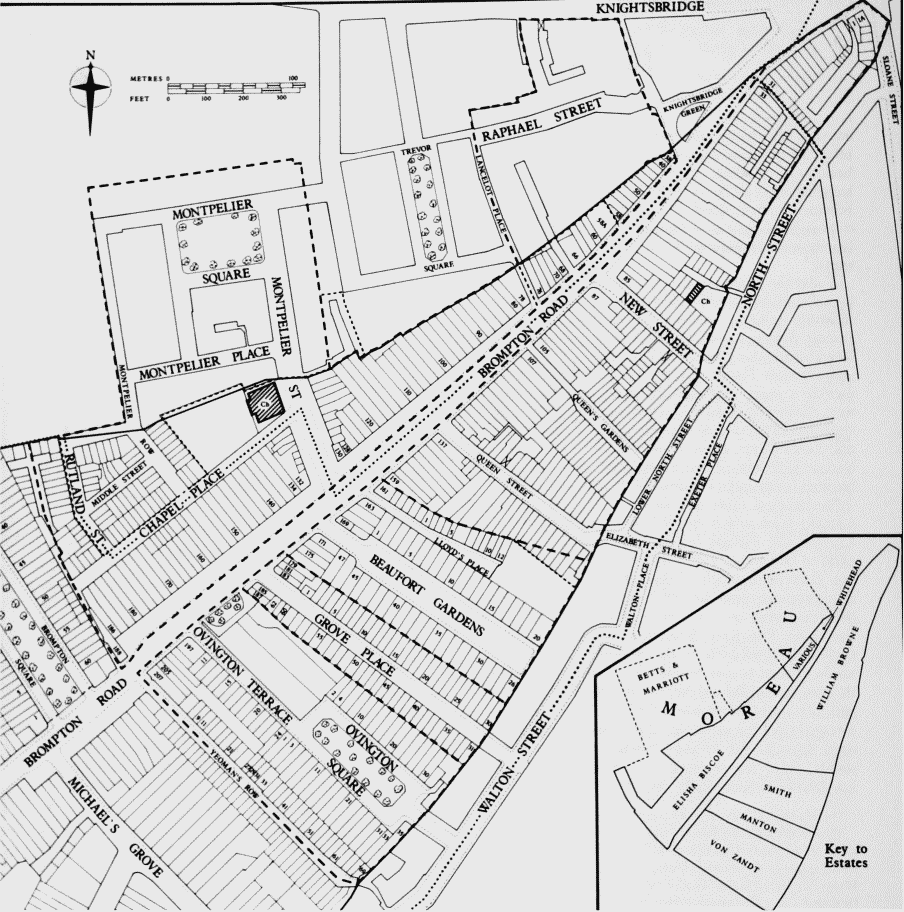 Interspersed between these walled nursery gardens were occasional cottages and, more particularly, frequent hostelries of the type that dotted the main thoroughfares around London. These grew commoner as the road approached Knightsbridge, a district well known in the early eighteenth century, not to say notorious, for its inns. Several of these clustered around the major junction next to Knightsbridge Green where the roads from Fulham and from Kensington met: the Swan, sited roughly on the present corner of Brompton Road and Sloane Street; the World's End (later the Fulham Bridge), set back from the north side of the road between Knightsbridge Green and what is now Lancelot Place; and the Rose or Rose and Crown, an important coaching inn facing Knightsbridge proper and therefore not in Kensington. By 1760 several further houses had been built around this junction, most of them in St. Margaret's parish, while Knightsbridge eastwards between here and Hyde Park Corner was beginning to attract ribbon development. Further west along Brompton Road, the main inn was the Bell and Horns at the corner of Brompton Road and Brompton Lane.
Early Development
With striking simultaneity, development commenced in about 1763–4 at several points along both sides of the eastern part of Brompton Road, as far as Yeoman's Row on the south and Brompton Square on the north. The coincidence tallies precisely with a well-attested building boom in London, but it is the worthier of remark because it took place on three separate freeholds and on one large tract of copyhold land.
The landholdings along Brompton Road were at the time quite fragmented (fig. 1). On the south side, proceeding westwards from what is now Sloane Street, the first holding was that of William Browne: his eleven acres of copyhold land are now represented along the frontage by Nos. 1–159 (odd) Brompton Road, with a depth to the parish boundary a little to the north of the present Basil Street and Walton Place. There followed three small freeholds, now covered respectively by the sites of Beaufort Gardens, Beauchamp Place and Ovington Square, before the extensive properties of the trustees of Smith's Charity began west of Yeoman's Row. On the north side of Brompton Road, the whole frontage westwards from Knightsbridge Green as far as what is now Cheval Place, with a sizeable holding behind in both Kensington and St. Margaret's, Westminster, was until 1754 in a single freehold ownership, latterly that of the Moreau family. West of this large property, where Brompton Square, Holy Trinity Church and the Oratory now stand, was a twelve-acre site which until 1749 was held as a single copyhold. Beyond the Bell and Horns began what was to become the Alexander estate, whose frontage to Brompton Road extended as far as what is now the south end of Alexander Square; after this came further lands of Smith's Charity. These last estates are discussed in detail in subsequent chapters.
The development of the 1760's was preceded by a small flurry of property transactions on these lands. Of these, the most important was the sale at auction in 1759 and ensuing break-up of the large estate of the Moreaus along the north side of the road. The largest purchaser, Elisha Biscoe, was a lawyer practised in speculation and connected by family with the Brownes and Braces who owned much property hereabouts (see fig. 2 on page 11). In conjunction with Thomas Rawstorne, ironmonger, Biscoe from 1764 undertook ribbon development all along the frontage between the present Lancelot Place and Cheval Place. Some of the original houses of Biscoe's Buildings (later Brompton Row) survive, albeit in much altered condition. A proprietary chapel behind the houses in Rawstorne (now Montpelier) Street provided Brompton with its first place of worship, which was not to be supplemented until Holy Trinity Church was built in 1826–9.
On the south side of the road, the frontage of William Browne's copyhold estate was developed from 1764 under the auspices of two main builders, Joseph Clark(e) and William Meymott. Besides the several terraces built along the main road here (known most generally as Queen's Buildings) were some side streets and courts, among them Queen's Gardens (later obliterated by Harrods) and Queen Street (now Hans Road). The whole of the frontage up to the present No. 159 Brompton Road was by no means completed when the building boom faded in about 1770, so that development dribbled on here until the early 1790's. West of Browne's land was a small three-and-a-half-acre freehold (where Beaufort Gardens now stands); this was bought in 1763 by Thomas Smith, musical instrument maker, and promptly developed with a short terrace facing the main road called Brompton Grove. The last and perhaps most interesting of these early developments came a little further west, on the site of Ovington Gardens and Square and the cast side of Yeoman's Row, all then the freehold of Sir Thomas Dyer. Here from 1765 a terrace arose along Yeoman's Row, but facing Brompton Road three sizeable detached houses were built by William Southall, carpenter.
Excepting Southall's Buildings, these early developments of the 1760's were almost all orthodox houses in long or short terraces. Those facing the turnpike road tended to have long front gardens to shield them from dust and noise; these were reduced almost to nothing later on by road-widenings and the growth of single-storey shops in front of old houses. But at first few of these houses functioned as shops. They were good-class homes taking advantage of Brompton's reputation for good air and salubrity. The smaller dwellings and workshops were concentrated on William Browne's land in the back courts and streets, which in the nineteenth century were to degenerate.
For half a century from 1770, much of the new building along Brompton Road consisted of modest infilling and completion. On the north, a handful of new houses were built in about 1777–80 and 1794–6 east of Lancelot Place, on ground close to the Fulham Bridge tavern. Opposite, Henry Holland between about 1781 and 1791 helped finish development on William Browne's estate, laying out New Street (now the northern end of Hans Crescent) and completing Queen Street (Hans Road) so as to allow good communication between Brompton Road and his personal undertaking of Hans Town at the northern tip of Chelsea (Plate 3). The effect of Hans Town and its later outliers within the large Cadogan estate in northern Chelsea upon the district of Brompton Road was in the long term great. Some of those who worked in Brompton when building on a large scale recommenced in the 1820s were based in Chelsea or had connexions with Holland and his circle. Further, the strategic position of Knightsbridge and Brompton Road in relation to fashionable addresses like Cadogan Place and Hans Place was to make them a magnet for shopping and aid in the growth of stores like Harrods.
One important development did occur along the south side of Brompton Road at the end of the eighteenth century, this was the construction between about 1785 and 1800 of Michael's Place, Michael's Grove and Brompton Crescent on Smith's Charity land west of Yeoman's Row. The brainchild of the theatre architect Michael Novosielski, it was probably more ambitious in terms of design than anything previously built in the locality. But little is known of its appearance, and the crescent was completed after Novosielski's death in 1795. It was certainly no success financially. Yet it may have been this development which first attracted theatrical and musical personalities to Brompton, their suburb par excellence for much of the ensuing century.
The Growth of 'New Brompton'
A survey made by Joseph Salway in 1811 to show drainage along the turnpike road to Fulham well records the appearance of 'New Brompton' (as the district was sometimes now called to distinguish it from Old Brompton further west) just before a new wave of building occurred (Plates 4, 5). The houses along the north side of Brompton Road are all shown in elevation; most have good gardens, some with trees, and few as yet are shops. Shortly after this, in the boom of the 1820's, the buildings became denser and the character of ribbon development began to be lost. On the south side, Grove (now Beauchamp) Place filled up the gap between Brompton Grove and Southall's Buildings, though it progressed slowly at first. On the north side there was more activity, anticipated by nine houses built between 1818 and 1824 close to Knightsbridge Green (later Nos. 42–58 Brompton Road). West of this, the back lands behind Brompton Row were developed at the same time as Trevor Square and Montpelier Square were going up in St. Margaret's parish, while in Kensington proper Brompton Square was started in 1821. Beyond the Bell and Horns, Alexander Square and the surrounding streets were laid out from 1826, and on Smith's Charity land, Onslow Terrace was the precursor of larger developments to follow in the 1830's. The principals in these several undertakings were closely linked. The central figure was James Bonnin, a builder involved at Trevor Square, Brompton Square, Alexander Square, Onslow Terrace and Grove Place; his career is given in some detail on pages 61 and 101.
In 1826–9 'New Brompton' acquired its own church in the shape of Holy Trinity, just west of Brompton Square. The suburb by now boasted some coherence, individuality and prosperity. A directory of 1827–8 lists altogether a hundred 'nobility, gentry and clergy' inhabiting Queen's Buildings, Brompton Grove, Brompton Square (as yet unfinished) and Brompton Row; of these, forty-three lived in Brompton Row. (fn. 6) Tradesmen and craftsmen were concentrated particularly in Queen's Buildings. Several 'professors' and teachers, two attorneys and a scattering of journalists and minor writers made their homes in Brompton at this period. But the most distinctive inhabitants were musicians and actors, especially comedians, whose genial presence enlivened the district well into the late Victorian era (see Appendix).
In the 1830's and '40's the Brompton Road district, though engulfed now in the broader development of London, remained prosperous and residentially desirable. Canvassing for a new parish school in 1841, the vicar of Holy Trinity wrote: 'Brompton will never, 1 am persuaded, require poor schools for more than 300 children. The neighbourhood increases in respectability, as well as numbers: and two squares are projected which will take away a large number of our present back streets.' (fn. 7) Though this last remark betrays concern for improvement, the new developments of Ovington Square and Thurloe Square did not touch the area most in need of reform, around New Street. Ovington Square and Terrace (1844–52) however, in superseding Southall's Buildings, set the pattern for later building, namely reconstruction with shops facing the main road and houses behind.
In 1844 a local antiquarian, T. Crofton Croker, perambulated the whole turnpike road and published an amiable, illustrated account of what he saw in Fraser's Magazine (fn. 8) Afterwards collected as A walk from London to Fulham (1860), his essays afford a clear picture of the Brompton and Fulham Roads shortly before commerce took a dominating hold of the main frontages. Another celebrant of the locality's charms at this period, W. Carew Hazlitt (grandson of the essayist), regretted from the vantage-point of the 1890's the vanished Brompton of his youth, and particularly Old Brompton, 'the ancient mansions which abounded there, the historical sites or records, the fine residences in grounds, the market gardens, and, best of all, the old Vale', (fn. n4) all of which had given place to 'a dismal moraine of bricks and mortar'. 'I judge it to have been one of the truest pleasures of my life, if not one of its greatest privileges, to contemplate with my own eyes the beautiful hamlet of Old Brompton, as it appeared prior to the Exhibition of 1851, which virtually destroyed it,' added Hazlitt. (fn. 9)
Communications became an issue in Brompton from the 1830's. In 1836 a scheme was devised in connexion with the Birmingham, Bristol and Thames Junction Railway (architect, William Hosking) for bringing in a line to a terminus at Knightsbridge Green, with a large triangular market and arcade at the angle between Brompton Road and Knightsbridge (Plate 10c). The object of this enterprise, stated the promoters of the Knightsbridge Market Company, was to establish a point 'to which the produce of the north and west of England, of Wales, and Ireland, as well as that of the market gardens about Hammersmith and its vicinity, can be brought with the greatest rapidity and at the smallest possible cost'; and they prophesied for the venture 'a great pre-eminence over every other metropolitan market yet established.' (fn. 10) Alarmed, the Bromptonians united in opposition. For this and many other reasons, the line and market were never built. Yet at later dates up to 1846 proposals continued to be canvassed for bringing in a railway to a terminus at Knightsbridge Green, and the prolonged uncertainty may have affected property values along the north side of Brompton Road between Brompton Square and Knightsbridge Green close to the projected course of the line. (fn. 11)
Brompton Road itself started slowly to improve in surface though not yet in width, after its management passed in 1826 from the Kensington Turnpike Trust to the Commissioners of Metropolis Turnpikes. The very heavy wear on this and other local 'lines' was ascribed in the 1840's particularly to the traffic of 'Omnibus and Market Garden Carriages' bearing 'produce from market gardens and heavy return loads of manure'. (fn. 12) Along some portions of the road, the difference of levels between the worn-down highway and the made-up ground supporting ribbon development on either side was quite dramatic; opposite Brompton Row, the roadway ran narrowly through 'a sort of gorge' between the still-ample front gardens of the flanking houses. (fn. 13)
Two things focussed increasing public attention upon the state of Brompton's roads in the 1850's and 60's. One was the growth of official 'South Kensington' round Exhibition Road, deriving from the Great Exhibition of 1851 and confirmed by the establishment of the South Kensington Museum in 1856–7. Henceforward, Brompton Road became the main thoroughfare leading to London's new cultural quarter, and any deficiency in the district was loudly and publicly complained of. The columns of The-Builder (whose editor, George Godwin the younger, was a lifelong inhabitant of Brompton) were particularly prolific in suggestions for street improvements. (fn. 14)
The other change came about through the formation of Cromwell Road, started in 1855 to serve the rapid growth of residential South Kensington, that 'city of palaces' which arose in these years, in the words of William Pepperell, 'under the magic touch of capitalists and builders like Mr. Freake and others'. (fn. 15) This wide new road (not carried to its full length for over twenty years) connected with the eastern end of Brompton Road via Thurloe Place, highlighting a growing difference between the sections west and east of the old Bell and Horns. From now on the upper part of the old highway began to take on a candidly commercial character, whereas the section between the Bell and Horns and Pelham Street was quieter and still predominantly residential.
This distinction was confirmed by the first significant widening of Brompton Road, which was started in 1862 to improve access to the International Exhibition of that year. As this exhibition was situated just off the new Cromwell Road (where the Natural History Museum now stands), it affected Brompton Road more directly than its-predecessor. The improvements carried out between 1862 and 1873 were between Knightsbridge Green and Thurloe Place only. On the section so widened, various small strips of ground in front of Brompton Row and Queen's Buildings disappeared and the private gardens were drastically curtailed. (fn. 16) The main frontage thus ceased to be residentially desirable, although the property behind remained eligible. In 1860, for instance, Brompton Grove was pulled down and replaced by a row of dour shops facing the road hut with a 'square', Beaufort Gardens, behind. Again, in 1866–8 further frankly commercial buildings arose at Nos. 187–195 (odd) Brompton Road in place of the remnant of the old Southall's Buildings, but a row of large private houses was built along the cast side of Ovington Gardens behind.
In confirmation of these changes, the name of Brompton Road became official in 1863 and the old terrace names and numbers disappeared. Henceforward commercial activity gathered pace. Tattersalls, the great horse auctioneers, removed in 1864 from Hyde Park Corner to a large site in St. Margaret's parish right behind Nos. 38–58 (even) Brompton Road, so perpetuating the association with horseflesh peculiar to these environs since the days of the coaching inns and affecting several local shops and pubs. Opposite, C. D. Harrod was between 1860 and 1889 in the process of transforming a small grocer's shop into a great department store. The instance of Harrods was not an isolated one; in Knightsbridge further east, Woollands and Harvey Nichols went through similar stages in the same years. Knightsbridge and Brompton Road, or at least their southern sides, were thus becoming fashionable for shopping. By 1884 Harrods' custom could be described as 'world-wide'. (fn. 17) Vet its premises then consisted of motley additions to the original houses built on William Browne's estate a hundred years before.
Brompton Road since 1890
Between 1893 and 1908 there occurred, not before time, a great rebuilding of the whole south side of Brompton Road between Sloane Street and Brompton Place, including Harrods. In 1859, thinking of this district, George Godwin the younger (who had been brought up in New Street) had contrasted in The Builder the generally good amenities of Brompton with 'rows of houses just behind all the gay, airy surface, which art absolute hot-beds of disease. Each room is occupied by a family, at a high rent, and the doctor is a constant visitor.' (fn. 18) At this time William Browne's old estate was in the hands of Lord Kensington's creditors and was so heavily encumbered by debt that little could be done with it. The problems of its ownership were finally resolved in 1888, when the freehold effectively passed to the Goddard family, who undertook rebuilding as soon as the leases expired.
The dominant achievement of this reconstruction was the new Harrods, which for exuberance and scale (if not for architectural finesse) rivals anything in London. The designer of Harrods, C. W. Stephens, was also active on neighbouring sites at Nos. 79–85 and 137–159 (odd) Brompton Road, making his much the most powerful hand in this part of the street. But the reconstruction of the estate, excepting two houses by Voysey and one by Mackmurdo at Nos. 12–16 (even) Hans Road, was adjudged by contemporaries to lack architectural quality. Writing in 1905, A E. Street lamented that, despite a general improvement in street architecture, 'Brompton Road is perhaps peculiarly unfortunate: a thoroughfare of unusual breadth, with ample room for good-sized trees on one side, it was not without possibilities of being made a stately approach to the region of big churches and palaces beyond. Commercialism, however, has decreed otherwise, and nowhere is the particular stamp of architecture which one connects with the big, braggart, unregenerate shop more noticeable than here.' (fn. 19)
This rebuilding and the several pieces of infilling that occurred on the north side of Brompton Road in the same period by no means drummed the lowlier tradesman out of the area. Some small shops and public houses were indeed still built (for instance between Nos. 33 and 61 in 1898–1900), while most of the older shops remained modest; Beauchamp Place, for example, remained plain and unaffected in character until well after 1945. But along the main frontage they were increasingly overshadowed by grander concerns, drapers like Tudor Brothers, Gooch, Owles and Beaumont, and of course the overwhelming emporium of Harrods. There were also daintier small shops like Spikings the bakers with its tea room (No. 108) and, close to Knightsbridge, a rash of arcades: Park Mansions Arcade on the north side of the street (1897–1900), Brompton Arcade (1903–4) and the Knightsbridge Station Arcade (1903–4) opposite. This last was built in connexion with the Piccadilly tube railway, which opened in 1906. As this line originally offered two stations close together, 'Knightsbridge' at Nos. 29–31 and 'Brompton Road' at No. 206, it swelled still further the road's commercial significance. Hitherto Brompton Road had been served only by horse omnibus, but from now on the shopping district was quick to reach. All photographs of this part of Brompton Road taken since 1900 during the working week show crowded pavements and busy traffic. This boom seems to have been unanticipated when rebuilding took place on the Goddard estate, where shopkeepers appear to have been confined to two floors of retailing at most, with flats above. At Harrods, for instance, the directors were already anxious in 1912 to displace some of the flats they had so recently built on upper floors along Brompton Road and Basil Street—a process which took many years to carry out in its entirety.
Meanwhile further west, the old houses of Michael's Place were demolished in the late 1880's and succeeded between Nos. 209 and 251 (odd) by Brompton Road's first taste of the Queen Anne style. Here the conflict of commercial and residential pressures was resolved by having shops along the frontage but making the houses above accessible from a separate street behind. Further back were two further rows of houses sharing a cramped communal garden. By contrast the grand Mortimer House, built in its own grounds with a high brick wall on two sides, together with the gardens of Alexander Square opposite helped to perpetuate the old-style, suburban character of this part of the street. The difference between Brompton Road's western half and the commercial section to its east was now more than ever marked, a dramatic point of demarcation being from 1880 the bulk and from 1892–3 the alien seicento façade of Herbert Gribble's Brompton Oratory, entirely eclipsing the impoverished appearance of the established church's secluded Holy Trinity behind. On the opposite corner, the Bell and Horns and the old buildings behind it survived until 1909–15, when most of the present Empire House, Hotel Rembrandt and flats were built.
The history of Brompton Road since 1918 broadly confirms previous trends. Big blocks of flats arose at Nos. 78–94 (1934–5) and 197–205 (1929–30), but there were no new department stores to rival Harrods, merely a scattering of smaller smart shops, the harbingers of today's boutiques. In the squares and residential areas behind, there was some infilling and much conversion of small houses in streets like Rutland Street, Fairholt Street and Montpelier Walk into 'bijou' dwellings.
Since 1945, rebuilding has taken place on a much enlarged scale, with office blocks predominating now over flats. Few of these, particularly on the north side, have blended well with earlier development. A very large comprehensive scheme of rebuilding carried out in 1955–60 on the Tattersalls site and adjoining land between Knightsbridge Green and Lancelot Place seems especially wanton in its disregard of the street frontage. Yet this development would have been dwarfed in scale had the 'Knightsbridge Intersection Scheme' gone ahead. This project, fathered in the late 1950's by Capital and Counties Property Company Limited (which by then owned the frontage of Brompton Road between Sloane Street and Hans Crescent), would have imposed upon the complicated junction where Brompton Road meets Knightsbridge a huge traffic circulation system. Vast swathes of property on all sides of this junction would have come down in favour of office blocks, and a large 'island' development in the centre was to crown the whole. Plans for carrying out this scheme were well advanced in 1964 when the advent of a Labour Government committed against further office building in central London caused its withdrawal. (fn. 20)
Further west, the surviving houses of the old Brompton Row have suffered from the intermittent insertion of office buildings between Montpelier Street and Cheval Place. By contrast, an attempt was made at Nos. 190–212 (even) Brompton Road, following further road-widening, to return the south end of Brompton Square to something loosely resembling its original character.
Changes on the south side of Brompton Road, though considerable, have been less drastic. The numerous boutiques, notably between Sloane Street and Hans Crescent and in Beauchamp Place, make a fascinating study in the ephemeral fashions of window-display and shop-front. Between them, the unchanging bulk of Harrods offers a reassuring token of permanence and prosperity.
Brompton Road, Existing Buildings
Since the frontage of Brompton Road is divided into separate estates treated in several different chapters, the following list is appended of existing buildings along its whole length, together with their dates of original erection and their architects and builders, where known. Sources are given only if more detailed information is not supplied elsewhere.
South Side (odd numbers)
Nos. 1–9 (with Nos. 1, 2 and 2a Sloane Street). W. Duvall Goodwin, architect, 1903–4; alterations by W. Curtis Green and Partners, architects, 1932–4. (fn. 21)
Nos. 13–27 (with Nos. 2–8 Basil Street and Brompton Arcade). Shops and arcade by G. D. Martin, architect, and Perry and Company, builders, 1903–4; superstructure by G. D. Martin and W. F. Harber, architects, 1909–10.
Nos. 29–31 (with Basil Street Hotel). Ground flour (converted) originally Knightsbridge Station, by Leslie W. Green, architect, 1903–5; superstructure by Delissa Joseph, architect, 1910–11.
No. 33. Riley and Glanfield, architects, 1957–8. (fn. 22)
No. 35. James D'Oyley, architect, Lilly and Lilly, builders, 1893. (fn. 23)
No. 37. W. Reason, builder, 1898. (fn. 24)
Nos. 39–41. T. H. Adamson and Sons, builders, 1898. (fn. 25)
Nos. 43–45. Martin Wells and Company, builders, 1898–9. (fn. 26)
Nos. 47–49. James Smith and Sons, builders, 1899. (fn. 27)
No. 51. G. R. Tasker and Sons, ?architects, 1899. (fn. 28)
No. 53. Eedle and Meyers, architects, 1898. (fn. 29)
No. 55. .Architect and builder unknown, c. 1898–9.
No. 57. James Smith and Sons, builders, 1899–1900. (fn. 30)
No. 59. William Downs, builder, 1899–1900. (fn. 31)
No. 61. Percy Henry Adams, architect, William Downs, builder, 1899–1900. (fn. 32)
Nos. 63–77. Martin, Wells and Company and James Carmichael, builders, 1903–4.
Nos. 79–85 (with Nos. 46–54 Hans Crescent). C W. Stephens, architect, James Carmichael, builder, 1903–4.
Nos. 87–135 (Harrods). C. W. Stephens, architect, John Allen and Sons, builders, 1901–5.
Nos 137–159 (with Nos. 2–10 Hans Road). C. W. Stephens, architect, Holloway Brothers, builders, 1903–6.
No. 161. G. A. Burn, architect, Thomas Stimpson, builder, 1860–1. (fn. 33)
Nos. 163–169 (Collier House). Industrial Investment Services Limited with Gilbert Ash Limited, builders, 1961–2. (fn. 34)
Nos 171–175 (with Nos. 48–51) Beaufort Gardens). Igal Yawetz and Associates, architects, 1974–6. (fn. 35)
No 177. G. A. Burn, architect, Richard Batterbury, builder, 1860–1. (fn. 36)
Nos. 179–181. Built in 1825 and leased to William Farlar, ironmonger, in 1831.
No. 183. Ernest R. Barrow, architect, Lawrence and Sons, builders, 1927. (fn. 37)
Nos. 185–187. Leased to George Benjamin Sams, statuary and mason, 1825.
Nos. 187A–191. Clifford Derwent and Partners, architects, 1964. (fn. 38)
Nos. 193–195 (Hereford House, with No. 11 Ovington Gardens). Denis Clarke Hall and Partners, architects, 1963–4. (fn. 39)
Nos. 197–205 (Ovington Court, with Nos. 1A–7 Yeoman's Row). Murrell and Pigott, architects, 1929–30. (fn. 40)
No. 207 (The Bunch of Grapes) Leased to lames Walters, victualler, 1845. (fn. 41)
No. 209 Leased to Charles Patrick Smith, upholsterer. 1887
No. 211 R J. Worley, architect, G. and G Green, builders, 1886–7.
Nos. 213–215. Samuel Chaten, builder. 1886–7.
Nos. 217–225. Mark Manley, builder, 1886–7.
Nos. 227–235. Alexander Thorn, builder. 1886–7.
Nos. 237–249. S. and R Cawley. builders, 1888.
Nos. 251. Matthews Brothers, builders, 1889.
The Hour Glass. Sidney Castle, architect, 1936.
No. 285. c. 1830. largely rebuilt in 1981.
No. 287. c. 1808. probably rebuilt or altered c. 1830.
Nos. 289–293. c. 1830.
Nos. 295–301. Architect unknown, 1934–5.
Nos. 303–307. Temple and Foster, builders, 1871.
Nos. 309–313. Probably rebuilt c. 1835; refronted 1871.
No. 315 c. 1808. altered.
North Side (even numbers)
Nos. 2–22 (Park Mansions, with Nos. 127–151 knightsbridge). G.D. Martin, architect, A. Kellett, builder, 1897–1900. (fn. 42)
Nos. 24–21. (formerly All Saints' Schools). Leased in 1839, much rebuilt c. 1885. (fn. 43)
Nos 44–58 (Caltex House, with No. 1 Knightsbridge Green). Stone, Toms and Partners, architects, 1955–7.
Nos 58A–64 (Silver City House). Frank Scarlett, architect, 1955–7.
Nos. 66–76 (Lionel House). Gunton and Gunton, architects, 1960.
Nos 78–94 (Princes Court), G. Val. Myer and F. J. Watson Hart, architects, 1934–5.
Nos. 96–104 (Trevor House) William H. Rohbins, architect, 1959–60. (fn. 44)
Nos. 106–110. Sheppard Robson and Partners, architects, Costain Construction Limited, builders, 1981–2. (fn. 45)
No 116. Rebuilt by Kenneth Gibson, architect, 1955–6. (fn. 46)
Nos. 118–122. Largely rebuilt by Elgood and Hastie, architects. 1932–3. (fn. 47)
Nos. 124–126. Hubbard Ford Partnership, architects, Crouch Construction Limited, builders, 1982–3. (fn. 48) (fn. c1)
No 128. Leased to William Rose, carpenter, 1767; altered.
No 130. Rebuilt c 1850, builder unknown.
No. 132 (The Crown and Sceptre). Leased to Thomas Rawstorne, ironmonger, 1766; altered.
Nos. 134 and 136. Leased to George Longstaff, bricklayer, 1766 (No. 134 much rebuilt).
No 138. Leased to Thomas Longstaff, mason, 1766; front rebuilt.
Nos. 140–148. Duke, Simpson and MacDonald, architects, Harry Neal, builders, 1980–2. (fn. 49)
Nos. 150 and 152. Leased to George Gibbons, carpenter, 1766.
No 154. Battley Sons and Holmes, builders, 1905. (fn. 50)
No 156. Leased to George Gibbons, carpenter, 1766.
Nos 158–166. C. H. Elsom and Partners, architects, 1959–60. (fn. 51)
No. 168. Leased to Joseph Clark, carpenter, 1768; much rebuilt c.1835.
Nos. 170–174. Leased to Joseph Clark, carpenter, 1767–8.
Nos. 176–178. Wills and Kaula, architects, 1954–5. (fn. 52)
Nos. 180–186. A. J. Fowles and Partner, architects, 1963. (fn. 53)
No. 188. Leased to Joseph Clark, carpenter, 1768.
Nos. 220–244 (Umpire House, with Nos. 1–7 Thurloe Place). Paul Hoffmann, architect, 1910–16.
Nos. 250–262 (St. George's Court and Garage). Robert Angell and Curtis, architects, Sir Lindsay Parkinson and Company, builders, 1934–5.
Nos. 264–268. John Mechelen Rogers, architect, Henry R. Wagner, builder, 1879–80.
Nos. 270–280 (Crompton Court, with Nos. 91–93 Pelham Street). C. Stanley Peach, architect, W. Moss and Sons, builders, 1933–5.