Pages 9-32
Survey of London: Volume 41, Brompton. Originally published by London County Council, London, 1983.
This free content was digitised by double rekeying and sponsored by English Heritage. All rights reserved.
CHAPTER II - Brompton Road, South Side
Nos. 1–159 (odd) Brompton Road, Hans Crescent and Hans Road
All these properties, stretching from the corner of Sloane Street to the present No. 159 Brompton Road and to the parish boundary with Chelsea behind (see fig. 1 on page 2), were first developed between about 1764 and 1793 on the site of Long Close or Long Field. Until 1842 this ground was copyhold land held of the manor of Earl's Court. In the early seventeenth century Long Close had been part of the very extensive local landholdings of Sir William Blake. After Blake's death in 1630 it was among lands which descended to his son, grandson and subsequently to his great-great-granddaughter Anna Maria Harris (fig. 2). On her death in 1760, the bulk of her property descended to Harris Thurloe Brace, her only son by her second marriage; this became the Alexander or Thurloe estate. But Long Close was inherited instead by William Browne of Cursitor Street, the grandson of Anna Maria's first marriage to John Browne of the City, leather seller. It was under William Browne's auspices that development of this estate began shortly after 1760. (fn. 1)
The Development of William Browne's Estate
The one important structure on Long Close before 1760 was the Swan or New Swan inn, which occupied a group of buildings facing the lane later enlarged into Sloane Street, with a tap house (later the Clock House inn) facing Brompton Road (Plate 7b). The inn dated back at least to 1699, but had been largely rebuilt in 1755–6 when a new lease was granted by Anna Maria Brace and William Browne to Joseph Barnham, innkeeper. (fn. 2) There was a yard with stables and coach-houses stretching to the west roughly up to the present Hooper's Court, beyond which the rest of Long Close was probably used as garden land in connexion with the inn.
The rebuilding caused a dispute between the vestry of Kensington and that of St. Margaret's, Westminster, in whose parish a small portion of the inn lay. According to Kensington sources, the 'officers' of St. Margaret's cunningly cut down the tree that was the 'ancient land mark' between the parishes, 'with a view to depriving the parish of the benefit of the tree and by that means to take in the New Inn Coach Houses Stables and outhouses lately built by Mr Joseph Barnham and to deprive this parish of any benifit'. (fn. 3)
Development started in the immediate environs of the inn. Here twelve houses known initially as Gloucester Row were erected under building leases of 1764 from Joseph Barnham to Joseph Clark(e), carpenter, and William Meymott, carpenter. Clark's contributions to the district are discussed below; he built the four houses next to the Swan, all leased in 1764. (fn. 4) Meymott, a substantial builder based in Southwark and Bermondsey, built the following eight, leased in 1764–7. (fn. 5) Like most of the houses along the frontage of Brompton Road, these were small and orthodox Georgian terrace houses.
In 1766 William Browne was formally 'admitted' to the copyhold tenure of the property and began immediately to develop those portions of his estate not covered by the lease of 1755 to Barnham, that is to say the whole frontage west of Hooper's Court. (fn. 1) He now signed articles of agreement with Joseph Clark to develop the remainder of Long Close as far as its westward boundary next to the Red Lion inn, which stood at the entrance to the present Brompton Place. (fn. 6) By this agreement Clark was to receive seventy one-year leases from midsummer 1766 of any houses he erected, with the possibility of a later twenty-one-year extension. Here described as 'of Brompton Road, builder', Clark was the most prolific developer in the boom years of 1764–8 hereabouts. A deed of 1772 refers to him as Joseph Clark 'the elder' and therefore presumably distinguishes him from Joseph Clark 'the younger' of St. Margaret's, Westminster, builder, who erected houses at Prospect Place, Old Brompton, in association with Jacob Leroux in 1764. (fn. 7) Besides the houses he built under lease from Browne, the elder Clark also developed part of the east side of Yeoman's Row (known initially as Clark's Buildings) and in 1766–8 constructed fourteen houses in Brompton Row (Nos. 158–188 on the north side of Brompton Road, some of which survive). Little activity is known on his part after 1770.
Clark at first called his whole development here Queen's Buildings, in honour of Queen Charlotte. His original idea appears to have been to fill the frontage along Brompton Road as far as the Red Lion without substantial breaks for streets, since in 1766 no development on Lord Cadogan's lands to the south was envisaged. What is now Hans Crescent, therefore, was not conceived at this time. However one or two courts were required for access to the back lands; here the early development was undertaken particularly by William Meymott and by John Hooper of Knightsbridge, gardener. Near the eastern and Hooper's Court was laid out by Hooper and Meymott in about 1767–8 with small houses and stables, originally in a T-shape. (fn. 8) Behind this they built a tiny terrace called Garden Row, which briefly enjoyed pleasant views south wards, before North (now Basil) Street was laid out on Lord Cadogan's land immediately adjoining. Further west. Queen's Gardens was developed in about 1768–70, debouching into the Brompton Road roughly in the centre of the present site of Harrods. Here Meymott built some thirty small houses, with a public house (the Buttercup) and two other houses facing the main road at the north end. (fn. 9)
Clark himself built both at the east end of Queen's Buildings, where some sixteen houses (on the site of Nos. 29–61 Brompton Road) were leased to him or his nominees in 1766–7, (fn. 10) and at the west end next to the Red Lion where some eight or nine houses arose in 1768–9 (where are now Nos. 137–159 Brompton Road). (fn. 11) East of these a street was planned, originally Queen Street (now Hans Road), but Clark made little progress with this. (fn. 12)
The development was therefore completed by other undertakers in sporadic bursts of activity up to about 1793. In 1775–8 ten further houses were added along the frontage. Continuing Clark's eastern terrace westwards were five quite substantial houses (Plate 7a), three of which were leased to Laurence Laforest, victualler, and one each to Crispus Claggett, builder, and Henry Gandy, esquire; (fn. 13) (fn. n1) further west and stretching westwards from Meymott's buildings at the corner of Queen's Gardens a further five were built, three under agreement with Thomas Callcott of Kensington, bricklayer, and one each under lease to James Humphrey, gentleman, and John Moore, carpenter. (fn. 15)
The remainder of the frontage was completed between 1781 and 1791 under the auspices of Henry Holland, the celebrated architect. His intervention in Long Close stemmed from his much larger commitments in developing Hans Town on Lord Cadogan's land to the south. Though planned by an agreement of 1771, the major works at Hans Town (including the laying-out of Sloane Street and Hans Place) were not started until towards the end of that decade. (fn. 16) Holland was doubtless keen to arrange good communications between Hans Town and Brompton Road to its north, and this seems to have been the main object of his activities on William Browne's land. Firstly however he-developed a small plot of land along Brompton Road east of Queen's Gardens (now on the site of Harrods) with six houses. These were leased in 1781–3, chiefly to Holland's nominees (William Yale, bricklayer; Reuben Jackson, plumber; Richard Paine, carpenter). (fn. 17) The one house leased to Holland himself may have been of interest; a photograph of c. 1900 shows it as stuccoed, with the remnants of a pediment over the second floor (Plate 26a). Of the others little can now be said.
Then in August 1789, with Hans Town well on the way to maturity. Holland accepted two further 'takes' from William Browne. One involved Queen Street, where William Birks, a local tallow chandler, had recently undertaken some development on the west side. (fn. 18) Holland now took the whole east side from Brompton Road as far south as the boundary with the Cadogan estate. This, with the remaining frontage along the main road between Queen's Gardens and Queen Street, was quickly developed under sub-leases by Birks under Holland. (fn. 19) Probably Holland's main purpose here was to ensure a good width for Queen Street as far as his own Elizabeth Street, which extended southward into Hans Place. Further east, he took another tract for similar reasons, but here he had to construct a street not previously planned to join his Exeter Street on Lord Cadogan's land. This tract consisted of the remaining frontage along Brompton Road between his own buildings of 1781–3 and Crispus Claggett's house of 1775, with the whole depth to the estate and parish boundary. New Street was laid out down the centre to connect with Exeter Street (both together now form Hans Crescent). The west side of New Street was let out to tradesmen in small plots, but two small courts (Richmond Buildings and New Court) were also formed here. The east side was leased directly by Browne to Richard Holland, Henry's builder brother, who kept a large plot at the back for a timber-yard (accessible from North Street) and sub-let most of the rest. Eight houses were built along Brompton Road east of New Street and two to its west, all in 1790–1. Their lessees were the Reverend John Trotter; Robert Ashton, statuary and mason; Arthur Wilson, bricklayer; John Herman, glazier; Thomas Zieltzke, pastrycook; and William Warwick, builder. (fn. 20)
Finally, a small piece of infilling occurred in about 1809–10 on the site of the Hollands' timber-yard, which by then was the property of Henry Holland's nephew, Henry Rowles the builder. Under an agreement of 1809 with Rowles, the young James Bonnin took the yard, which was renamed Sloane Place, and built a series of six small houses on its eastern side, accessible from North Street. (fn. 21) Bonnin was to be an important figure in Brompton developments of the 1820s; his career is discussed on page 61. Facing these houses, a small Wesleyan place of worship was built, known as the Sloane Place Chapel. Little is known of this chapel, which held only a hundred people. William Pepperell, visiting it in about 1871, pronounced it dwarfed, dingy and situated in about the lowest part of 'a very low neighbourhood'. (fn. 22)
By the time that Sloane Place was built Holland's conception of Hans Town was virtually realized, so that the development of Long Close was no longer isolated but merged with the streets of northern Chelsea immediately behind. Horwood's map of 1794 (Plate 3), for instance, shows building well advanced along both sides of North Street (now Basil Street), while not long afterwards houses sprang up all along Exeter Street and Elizabeth Street, respectively the continuations of New Street and Queen Street.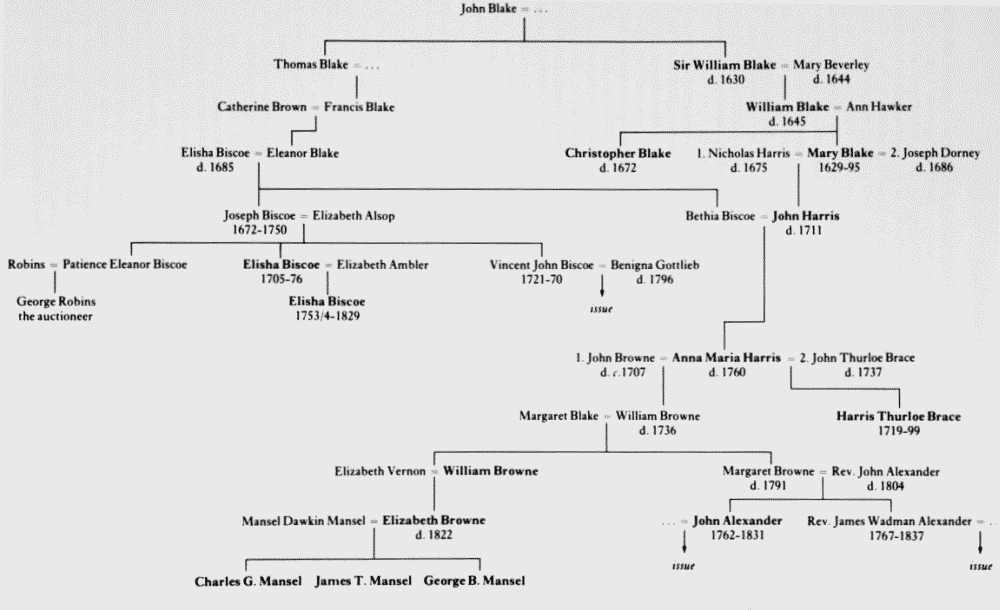 The original name of the whole frontage along Brompton Road from Gloucester Row to the Red Lion was Queen's Buildings, but this quickly became confusing as different terraces arose at different dates. New names therefore soon appeared, but these rather added to the confusion than detracted from it. On Horwood's map of 1794 the houses between Gloucester Row (or Buildings) and New Street are shown as Queen's Row; those between New Street and Queen's Gardens as Queen's Buildings; those between Queen's Gardens and Queen Street as The Terrace or Brompton Terrace; and those between Queen Street and the Red Lion as Boston Row. But these relatively simple distinctions were soon abandoned. From about 1800 Gloucester Row became most frequently known as Queen's Buildings, Knightsbridge; Queen's Row as Queen's Buildings, Brompton; the stretch between New Street and Queen Street as Middle Queen's Build- ings (with tour houses next to the corner with Queen Street numbered separately as in Brompton Terrace); and Boston Row became Upper Queen's Buildings. (fn. 23) The situation was mercifully rectified in 1864, when the whole road was renumbered and the motley assortment of terraces became Nos. 1–159 (odd) Brompton Road.
Queen's Buildings and its shallow hinterland composed the nucleus of late-Georgian Brompton and in early years had something of the cohesion and independence of a 'London village'. None of the houses built here was large, but most were at first decently inhabited. T. C. Croker, writing in 1845, mentions five artists or engravers, one writer and one doctor of note as having lived in Queen's Buildings, while in one of the houses lived the incumbent of the Brompton Chapel, the Reverend Richard Harrison. (fn. 24) Most of the houses along Brompton Road, especially west of New Street, enjoyed substantial front gardens to shield them from the traffic. After about 1830, however, the district began to deteriorate. Shops began to take over the frontage and single-stores erections to cover the front gardens, while the back courts and streets slipped into multi-occupation. As fashionable development moved westwards the area gained some notoriety, and George Godwin, whose boyhood had been passed in a house on the west side of New Street, inveighed in The Builder against the district's insalubriousness. (fn. 25)
The Ownership of the Estate, 1799–1898
In 1799 William Browne settled the whole of Long Close upon his only child, Elizabeth Browne, who was then about to marry M. D. Mansel, esquire. After her death in 1822 the estate passed to her three sons, and in 1842 they, as the copyhold tenants, sold it for £26,000 to the second Lord Kensington, who was the lord of the manor of Earl's Court and therefore, in 'feudal' terms, their overlord. The copyhold tenure was thereby extinguished, and the property became freehold. (fn. 26)
From 1842 until 1888 the Brompton estate, as Long Close was now always called, formed part of the second Lord Kensington's estate, the history of which will be described in Survey of London volume xiii, and which for these years need only be summarised here.
In the early 1840's Lord Kensington was 'in a state of hopeless and irretrievable insolvency'. (fn. 27) His principal purpose in buying the Brompton estate was perhaps to create a fresh asset, unencumbered by any previous family settlements, which his innumerable creditors could use as an additional security for their money. He may also have hoped for a rise in value of this land when and if the West London Railway (in which he was himself heavily interested) built a branch through to a terminus at Knightsbridge Green, a project in serious contemplation between 1836 and about 1844 (sec page 5).
To pay the purchase money Lord Kensington immediately mortgaged the estate for £27,000 to the London Assurance Loan Company, a second mortgagee advanced another £12,000, (fn. 28) and scores of creditors having registered judgments for debt against him quickly fastened upon this new property. (fn. 29) When he died in 1852 Lord Kensington had certainly never himself received a single penny from his Brompton estate. In 1892, when it and Lord Kensington's remaining unsettled estates in Wales were still in the hands of receivers acting on behalf of the mortgagees and other creditors, the mortgages stood at some £64,000 (fn. 30) The judgment debts amounted to over £56,000, annuities totalling £2,231 per annum were still outstanding, and there were arrears of interest of over £117,000. (fn. 31)
But by this time the value of the Brompton estate was beginning to rise. In the early 1840's many of the original leases granted in the 1760's had been renewed by the mortgagees for terms of forty-four years, and by around 1890 these had expired; (fn. 32) and many other leases had been renewed in or about 1858. (fn. 39) One sagacious creditor, John Goddard, formerly an actuary for an assurance company, had evidently foreseen all this, and in the 1870's and '80's he had been buying up many of the annuities and judgment debts, his long-term aim being clearly to obtain possession of the estate. (fn. 31) In 1888 William Watkins, a friend of Goddard's apparently acting on his behalf, brought a successful action for foreclosure against the second Lord Kensington's surviving trustee, and was granted the equity of redemption of all the remaining unsettled estates (including that at Brompton), subject to the claims of the mortgagees and other creditors. (fn. 33)
In 1892 John Goddard died, leaving his estate, valued at some £64,000, to his son, John Goddard II, a merchant in the City (fn. 34) Since 1876 John Goddard had received any surplus rents from either the Brompton or the unsold Welsh estates that might remain after payment of the mortgagees' interest, (fn. 35) and now these were paid to his son. (fn. 36) The Goddards were not yet, however, involved in the management of the Brompton estate, lease-renewals for which were between 1888 and 1898 granted by Wat- kins as equitable owner in fee and or by the mortgagees' solicitor. (fn. 37)
The Goddards' long campaign to acquire possession of the Brompton estate finally triumphed in May 1898 when Watkins transferred his equity of redemption in this and the unsold Welsh lands of the second Lord Kensington to John Goddard II. (fn. 38) Goddard's title was, however, still subject to the old mortgages for £64,000 and to the payment of the annuities and judgment debts, many of which he already owned. (fn. 39)
The Rebuilding of the Estate
The reconstruction of the Brompton estate was doubtless contemplated immediately after William Watkins and John Goddard I effectively acquired the freehold in 1888. All attendant circumstances indicated rebuilding. At that stage the existing fabric between Sloane Street and Lloyd's (now Brompton) Place was mostly over a hundred years old. Nearly all the buildings along the frontage to Brompton Road had been converted to retailing and had undergone heavy wear, while many of the properties in the side streets and back courts were in candid truth slums. Brompton Road itself, thanks chiefly to the presence of the everexpanding Harrods, was beginning to prove a magnet for fashionable shopping, so that handsome ground rents could be expected.
At the same time, the tone of the Hans Place district southwards was improving markedly, as rebuilding there and on other northerly parts of the Cadogan estate gathered pace in the 1880's. In 1889 Earl Cadogan, temporarily in financial straits, parted with the freehold of a sizeable segment of land north of Hans Place which included both sides of North Street and bordered on the estate of Watkins and Goddard; leases here expired in the early 1890's. (fn. 40) In 1892 this property came into the hands of Ralph Vivian of Hans Place, who in conjunction with the estate agents Sidney Marler and Herbert Bennett of Sloane Street formed a company called the Belgravia Estate Limited. This syndicate promoted a rebuilding from 1894 onwards with the assistance of C. W. Stephens, an architect who had been prominent in the redevelopment of Hans Place over the previous decade. (fn. 41)
On the Brompton estate the first intimation of rebuilding occurred in 1888–9, when Kensington Vestry bought from Watkins a strip of land in front of Nos. 35–45 (odd) Brompton Road for street widening. (fn. 42) There followed in 1894–5 an agreement for a new building line all along Brompton Road from Hooper's Court westwards to Brompton Place. (fn. 43) Reconstruction of the whole estate proceeded in stages between about 1892 and 1908, according to the expiry of outstanding leases. Throughout, the freeholders (that is to say Watkins before 1898 and John Goddard II thereafter) depended upon the professional advice of the mortgagees' solicitor, T. E. Jennings, and their surveyors, at first Arthur Garrard and then after his death his son A. Norman Garrard, both of V. Buckland and Garrard, a very experienced firm in all matters of estate development. Their policies were naturally more dictated by questions of value than of appearance, but an important effort was made to promote coherence with the Belgravia Estate Limited's rebuildings to the south and to resolve the problems created by parish and estate boundaries here. To this end, a strip of land all along the north-west of North (now Basil) Street east of New Street (now Hans Crescent) was acquired from the syndicate in 1898 so that the respective freeholders could develop their lands to mutual advantage. (fn. 44) In addition, Watkins and Goddard co-operated with the complicated rebuilding plans of Harrods, whose premises crossed the boundaries of the two estates. C. W . Stephens, already architect to the Belgravia Estate Limited and to Harrods, was also entrusted by Goddard with the rebuilding of much of the Brompton Road frontage, an appointment which doubtless helped to simplify affairs.
Apart from this arrangement, no especial desire to promote architectural coherence can be detected. The policy of the freeholders was in essence to erect shops along Brompton Road, some singly and some in blocks, with flats or offices above. Of the side streets New Street (from 1904 part of Hans Crescent) took its character chiefly from Harrods, but Hans Road was at first reserved for houses. Where special buildings arose, as at Harrods or Nos. 12–16 Hans Road, this was due to developers or lessees, not to the freeholders.
Along Brompton Road east of Hans Crescent, rebuilding began in small blocks of loosely Queen Anne character, starting with the 'Daisy' and adjacent premises at Nos. 33 and 35, next to Hooper's Court (Plate 20a). (fn. 45) Westwards from here, Nos. 37–61(odd) were variously rebuilt by an assortment of architects, builders and clients between about 1898 and 1900 (Plate 20b, 20c). Brief details of the surviving buildings here may be found on page 7. The feature worthiest of remark was at No. 59, where Kodak Limited took the lower floors in 1900 and fitted them out with some decorative art nouveau interiors contributed by their architect, George Walton (Plate 22a, 22c); these have all gone. (fn. 46)
East of Hooper's Court, reconstruction up to the corner with Sloane Street started later, in 1903–4. Here development was marked by a penchant for fashionable shops in arcades, but complicated by the intrusion of the Great Northern, Piccadilly and Brompton Railway (now the Piccadilly Line). This line, first proposed in 1897 and mostly built in 1902–5, passed hereabouts under the southern frontage of the street. Its first Knightsbridge Station was built in 1903–5 at Nos. 29–31 Brompton Road. Designed by Leslie W. Green in the railway company's beloved ox-blood-red faience and decked out with an unusual amount of ornament, it boasted a small shopping arcade but at first had no superstructure (Plate 14d). (fn. 47) Next to this, a major development of shops and flats (Imperial Court) with another arcade (Brompton Arcade) was planned at Nos. 13–27 on behalf of the successful Oxford Street draper D. H. Evans. The architect here was G. D. Martin, who had just in 1897–1900 erected the large block opposite at Nos. 2–22 (even) Brompton Road, including the 'Park Mansions Arcade'. But because of disputes with the railway, only the shops and the arcade were built in 1903–4. The upper storeys followed on later, in 1909–10, and then to a prettier and less lofty design by Martin's assistant and successor, W. F. Harber, incorporating not flats but showrooms for Tudor Brothers the drapers, who occupied many of the shops below (Plate 19b). (fn. 48) At the same date the superstructure of Nos. 29–31 was added to the design of Delissa Joseph, as part of the Basil Street Hotel behind. (fn. 49) Later, the ground floor of the old station building was reconstructed, and in 1933 new entrances to Knightsbridge Station were made at the corners of Sloane Street and Hans Crescent. (fn. 50)
From No. 63 Brompton Road westwards as far as No. 159, the rebuilding again took place in larger units. Architecturally this part of the frontage, together with both sides of New Street (Hans Crescent) as far as Basil Street, appears to have been under the control of one man, C. W. Stephens, whose career is outlined in the account of Harrods below. Besides the dominating bulk of Harrods itself, stretching all the way from Hans Crescent to Hans Road and south-east to the estate boundary, Stephens certainly designed the large flanking blocks fronting Brompton Road at Nos. 79–85 and 137–159 (odd) on either side of Harrods, as well as Nos. 32–44 Hans Crescent.
The first of these, Nos. 79–85 Brompton Road with a return at Nos. 46–54 Hans Crescent (1903–4), was a speculation of shops and flats (Hans Crescent Mansions) on behalf of Stuttaford and Company, wholesale merchants in capes. (fn. 51) Here Stephens seems to have taken the general lines of the new Brompton Road front of Harrods (built in 1901–5) as a guide, so that the building has shop windows up to the first floor and a turret at the comer, while the entrance to the flats in Hans Crescent directly faces a similar entrance to flats originally constructed over Harrods opposite (Plate 21c). Here however the facings are of red brick and stone and lack the terracotta brio of Harrods. South of this building, Nos. 32–44 Hans Crescent (mainly of 1908), with a warehouse at the rear (Plate 21b), was Harrods' manufacturing building, details of which are given on page 22. It was replaced in 1972–4 by a development sponsored by Capital and Counties Property Company Limited, for whom Dallas A. Mailer was project architect. (fn. 52) Further west beyond Harrods, the large site at Nos. 137–159 Brompton Road and Nos. 2–10 Hans Road up to the estate boundary was undertaken by Holloway Brothers the builders in 1903–6. (fn. 53) Development took place in stages and comprised two blocks with flats (Hans Court) over and shops facing the main road. Stephens' elevations here, of red brick with giant attached columns and blank rusticated arches in stone, differ radically from those of Harrods (Plate 26d).
The one building along this part of the frontage for which the architect appears unrecorded is Nos. 63–77 Brompton Road, but again it is likely that the responsibility was Stephens'. Here Gooch the outfitters, in their time a rival to Harrods, rebuilt in 1903–4 to a unified, neatly gabled and bayed Tudor design with their shops below and 'Knightsbridge Mansions' above. Later, a good new shop front along the whole length was installed during major alterations of 1928, to a design by G. Alan Fortescue. (fn. 54) Gooch's later ceased trading and the shop front disappeared, to be replaced by individual fascias.
Between Hans Crescent and Hans Road, the complete quadrilateral from Brompton Road to Basil Street was reconstructed between 1894 and 1911 by Harrods, which dominated the entire district. The gradual rebuilding of this vast emporium is considered below. Here however it must be said that when redevelopment was first planned in the early 1890's, nobody ever envisaged that Harrods would occupy the whole of its present site—or indeed much property west of the old Queen's Gardens. Matters here were complicated by the alienation of a sizeable freehold site on the west side of Queen's Gardens to the London School Board in 1874. But the Queen's Gardens School, built to designs by E. R. Robson in 1874, did not prove popular. Harrods opened negotiations to buy the site in 1896, but did not obtain possession until 1902. (fn. 55)
Hans Road
The unforeseen growth of Harrods profoundly influenced the fate of Hans Road, the only part of John Goddard's estate to be rebuilt with private houses. Reconstruction began here in 1892 with the expectation that this would provide a smart residential address. There was indeed some talk of renaming the street Hans Gardens; one architect involved here, Basil Slade, in advocating this suggested planting 'a few lime trees on the sidewalk' to 'lend tone to the name', and subsequently reported that the name was unanimously supported by his syndicate, who 'are nearly all residents on the Cadogan Estate and know the proper tune to play in the neighbourhood'. (fn. 56) These hopes were not to be fulfilled.
The east side of Hans Road, where the houses erected survived less than twenty years, may be briefly dealt with. Here perhaps fourteen houses were built: Nos. 9 and 11 (built by A. Bush and Sons, 1894), Nos. 13–19 (built by J. J. Messor, 1895), Nos. 21 and 23 (built by A. Bush and Sons and designed by Basil Slade, 1893–4), and Nos. 25–35 (built by C. A. Daw and Son, 1893–4). (fn. 57) These were good houses; long leases of five of Daw's houses fetched an average of £3,550 and the sixth, the larger No. 25, was sold for £5,425. (fn. 58) At the comer of North (Basil) Street next to the entrance to the Queen's Gardens School, the Friend at Hand public house was rebuilt in a cheerful stripey style by Dear and Winder, architects, in 1894. (fn. 59) All these buildings disappeared in 1908–12, as Harrods bought up the leases and expanded on to the sites. Possibly the external walls of some of the houses were re-used and merely reclothed in terracotta, but if so their plans were altered out of all recognition.
On the west side of Hans Road the houses survive. They merit full discussion, since two were designed by C. F. A. Voysey and one by A. H. Mackmurdo, while surviving records of the firm mainly responsible for development here, C. A. Daw and Son, shed some light on proceedings.
A building agreement for both sides of Hans Road (as Queen Street became in 1886) between the corner blocks at either end was secured in 1891 by Thomas Newcomen Archibald Grove. This gentleman already had some experience in local property dealings but was also interested in progressive causes, being founder and editor of the New Review. From 1892 he sat intermittently as a Liberal M.P. Grove promptly in 1891 underlet most of the west side here to Daws, covering the sites of Nos. 18–34 (even), and kept the remainder for himself, intending to occupy one of three houses (Nos. 12–16) to be constructed there. (fn. 60) At this stage the plan was that Grove's original architect, William C Marshall of Marshall and Vickers, should design the whole street elevation. But by November 1891, dissatisfied with Marshall's elevation, Grove had dispensed with his services and hired in his place the as yet little-known C. F. A. Voysey. (fn. 61) By the spring of 1892 Voysey had matured his plans for Nos. 12–16 but Daws had already begun building at Nos. 18–26, probably following Marshall's outline designs, so that a sad discrepancy in storey heights and character occurred. Daws did not continue with Marshall either but with Frederick G. Knight, an architect responsible for much good-quality Queen Anne work on the Cadogan estate. Knight designed the interior features and perhaps some external details of Nos. 18–26, probably must of No. 28, and evidently the whole exterior of the handsome and richer Nos 30–34 (Plate 21a). (fn. 62) Of these buildings Nos. 18–26 were built in 1892–3, Nos. 28–34 apparently in 1894–5. (fn. 63) Except for No. 34, a small group of flats, the> were all private houses; Nos. 18–26 sold for prices varying from £4.350 to £4,750. (fn. 64)
Meanwhile Archibald Grove's own houses at Nos. 12–16 were running into difficulties. These were perhaps as much due to Voysey's inexperience of speculative architecture as to Grove's fickleness. Under the contract agreed between them, Voysey was to have 5 per cent on the cost of No. 12 and only 21/2 per cent on the other two. But in 1892 Grove decided temporarily to postpone No. 12, the slightly larger house which he had earmarked for himself. When therefore Nos. 14 and 16 were finished, Voysey insisted on charging 5 per cent on one of them. Grove refused this, and Voysey instituted proceedings. So when in the summer of 1893 Grove became ready to go forward with No. 12, he turned instead to another Arts and Crafts firm of architects, Mackmurdo, Hornblower and Walters. Voysey was thus supplanted for the third of his houses by a colleague whom he had known and pre viously admired, A. H. Mackmurdo. In compensation he was awarded £127 at law, a proportion of his claim. (fn. 65)
This dispute (doubtless as much the result as the cause of soured relations between architect and client) sorely reduced the quality of this still-exceptional group of houses. Voysey's original scheme ingeniously adapted his customarily horizontal tidied-up Tudor idiom of architecture to the needs of London terrace housing. Its casual discipline, clever placing of bay windows and slight asymmetries show study of Norman Shaw's houses on Chelsea Embankment and Queen's Gate. In an early elevation the upper storeys were to be roughcast and the eaves of the green-slated roof were to overhang (Plate 23a), (fn. 66) but on revising the project in May 1892 Voysey toned down this rustic element, accepted red brick and Ketton stone dressings forthe fronts, and above the third-floor windows designed a parapet that sloped neatly up to the party walls (fig. 3). A similar parapet occurs at the back, which though plainer is hardly less effective (Plate 23b). When the chance of No. 12 was lost, some of the delicacy of this scheme disappeared. As executed, Nos. 14 and 16 were perfectly symmetrical, though because one window has been lowered and another added to the mezzanine at No. 14 this is no longer the case.
In planning the houses (fig. 3), Voysey justified his reputation as an original but practical and economical architect. The levels of the reception rooms at Nos. 14 and 16 were split, a low-ceiled mezzanine room being inserted at the front of the houses between the hall and the smaller drawing-room, while the dining-room and the main drawing-room at the back were higher. Yet all the rooms were well lit and there seems to have been no extravagant recourse to iron in the sections. The houses were built by Thomas Gregory and Company at the modest costs of £3,418 and £3,618. (fn. 67) Internally, the finishings were simple, with oak-boarded Moors, sunk and painted panelling to frieze height and plain fireplaces, above which were spaces for'Mr. F. Holker's photographs of the works of Burne Jones'. (fn. 68) The staircases were characteristic of Voysey, with sturdy tapering newel posts and stout square balusters (Plate 23d). At first-floor level might be found, at least at No. 16, a quaint metal stair-guard with four bucolic figures in silhouette. The only other special decorative features were two relief panels by Conrad Dressier, perhaps those at first intended for the hoods over the front doors; these are now placed within the porches (Plate 23c). The houses were soon tenanted and the first occupant of No. 16, the novelist Julian Sturgis, was to commission a small country house from Voysey at Puttenham, Surrey, in 1896. (fn. 69)
At No. 12, A. H. Mackmurdo faced the unenviable task of replacing Voysey's projected third house without plagiarizing his design. His solution, though skilful, was perhaps not quite skilful enough. Like much of Mackmurdo's architecture it has an awkward originality. (fn. 70) The motifs of the front (Plate 22b, 22d), which is formal and symmetrical, derive closely from the Queen Anne houses of Cheyne Walk, so that the pedimented porch, keystones and strong plaster cornice seem obtrusively classical besides Voysey's elevation. Yet Mackmurdo adhered to Voysey's storey levels, and the prominent oriel over the porch evidently derives from the smaller versions next door. Internally, the plan and finishings also faithfully follow upon Voysey's lead, though the introduction of a modicum of classical detailing everywhere betrays Mackmurdo's more eclectic decorative sympathies. (If anything, there is less of English art nouveau in Mackmurdo's house than in Voysey's pair.) This house was again built by Thomas Gregory and Company; it was erected in 1893–4 and first occupied in 1895, though not by Archibald Grove, who after brief residence in a house on the other side of Hans Road moved away from the district. (fn. 71)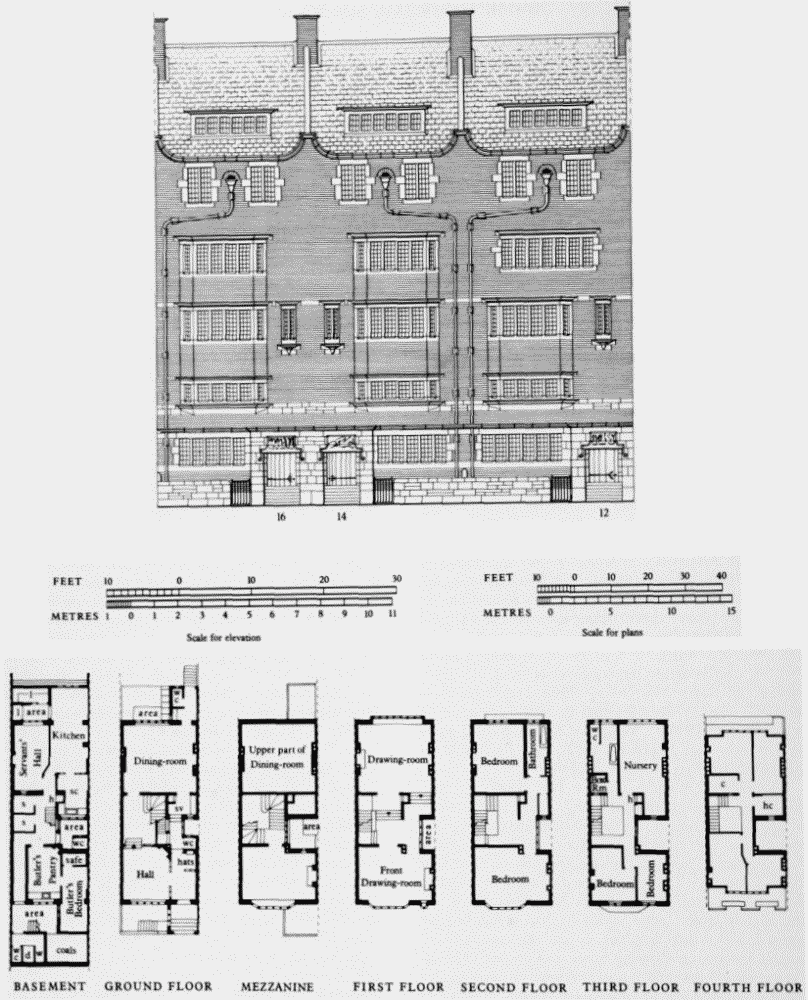 The Estate in the Twentieth Century
John Goddard II died in 1906 with 'effects' valued at £986,000. This great wealth stemmed originally from the fact that Lord Kensington had had an absolute title to the Brompton estate upon which he had been able to pile huge debts; and with this disastrous example no doubt in his mind, John Goddard II had tied up his estates as strictly as any far-sighted landowning aristocrat. A trust with the much-favoured term of five hundred years was established, from which ample provision was made for his family, and subject to this his only son, John Goddard III, was to have a life interest only in all his real property, with the remainder to the latter's eldest son. (fn. 72)
By 1909 John Goddard III had increased his father's mortgage on the Brompton estate from £30,000 to over £117,000. (fn. 73) In 1921, however, Harrods Limited (who had hitherto held the greater part of their island site only upon leasehold tenure) bought the freehold of their premises from the trustees of the will of John Goddard II. The purchase price was £263,850, of which some £64,000 was paid to the heirs of Lord Kensington's mortgagees, some £119,000 to John Goddard Ill's mortgagees, and the balance of some £80,000 to John Goddard II 's will trustees. Thus all the mortgages were redeemed; but the annuities and judgment debts were still being paid in 1921. (fn. 74)
When John Goddard III died in 1953 his settled land was valued at the enormous sum of £754,000, a figure which doubtless owed much to the continuing commercial prestige of the Goddard Knightsbridge Estate, as the estate was now most usually called. (fn. 75) His son John Lemuel Goddard became tenant in tail in possession, but in 1956 sold almost all the remainder of the estate for approximately two million pounds to Capital and Counties Property Company. (fn. 76) The chairman of this company at that date was Leslie S. Marler, grandson of Sidney Marler, one of the directors of the Belgravia Estate Limited which had since 1894 owned much of the adjacent land to the south. Most of this land had passed into the hands of Capital and Counties, and a principal object of the purchase of 1956 was to amass property in the district in preparation for a large redevelopment project known as the Knightsbridge Intersection Scheme, of which brief details arc given on page 7. This scheme, which would have involved the demolition of all the buildings along the frontage of Brompton Road from Sloane Street to Hans Crescent, tell through in 1965. (fn. 77) In 1977 Capital and Counties sold most of their properties hereabouts, excluding the west side of Hans Road and Nos. 137–159 (odd) Brompton Road, to the B.P. Pension Fund for forty-five million pounds.
Harrods
Harrods is untypical of the great London department stores in having risen not from a drapery or general goods business but from a grocer's shop. In 1853 Charles Henry Harrod, previously a wholesale grocer and tea-dealer of Cable Street, Stepney and of Eastcheap, took over from Philip Henry Burden a small house and grocery facing the Brompton Road and then known as No. 8 Middle Queen's Buildings. (fn. 78) (fn. n2) Then and for many years afterwards the district was not conspicuously salubrious. Queen's Gardens, a narrow lane two doors away from the shop, contained a few little cottages and a large woodyard where in 1886 rats abounded, while at the same date North Street behind was said to be 'a mass of filth from one end to the other'. (fn. 80) Along this sector of Brompton Road the shops were single-storey erections tacked on to the fronts of the original houses of 1781–3 (Plate 26a).
From about 1860 C. H. Harrod's energetic son Charles Digby Harrod began to take over the running of the business. In 1864 (when the premises became known as No. 105 Brompton Road) the son married a fellowgrocer's daughter, and a few years later the father retired to York Cottages, Thurloe Place nearby. (fn. 81) The firm was now making its first advances, especially in tea, upon which according to C. 1). Harrod's brother they built up 'a very nice counter trade which you know was when I left it [c 1866] about 200 to 250 per week and very profitable'. (fn. 82) These profits allowed Harrod to add his first new departments, build a new shop front, move his family away to Eshcr, and in 1873 to add a two-storey extension at the back. (fn. 83) The key to this expansion was his adoption of the 'co-operative' or 'civil service' method of retailing, whereby the shopkeeper was able to charge low prices by taking cash only and refusing credit, thus saving considerable sums. Most such early establishments were limited companies run by costly boards of directors, but Harrod saved here too by keeping the business in personal ownership. He also attracted custom by delivering all goods free of charge. (fn. 84)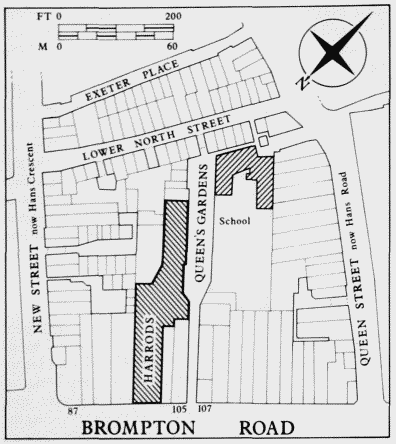 In 1879 Harrod took over Nos. 101 and 103 Brompton Road adjacent to the east. (fn. 69) Considerable rebuilding followed and further departments were added. In the early 1880"s the number of employees rose from a hundred to nearly two hundred, and in 1883 the separate departments included 'groceries, provisions, confectionery, wines and spirits, brushes and turnery, ironmongery, glass, china, earthenware, stationery, fancy goods, perfumery, drugs, etc. The provision department was the leading feature of the Stores'. According to The Chelsea Herald, Harrod's business 'which at one time was a purely local one, is now world-wide, and his clients—or customers—rank from the "Peer to the peasant" (fn. 85)
During the course of additions at the back in December 1883 a devastating lire virtually burnt out the shop, causing some £30,000 to £50,000—worth of damage. (fn. 86) Harrod was equal to the crisis, hired temporary premises and reputedly fulfilled all his Christmas orders. (fn. 87) In 1884 the old site was hastily reconstructed to the design of Alfred Williams, assistant district surveyor for Kensington, who had been Harrod's architect since at least 1881. (fn. 88) The rebuilt store was little more handsome than its predecessor and perpetuated the single-storey extension towards the street (Plate 26a), but it stretched back to embrace many of the old cottage sites on the east side of Queen's Gardens and was of course built on a "thoroughly fire-proof principle", General provisions, meat, flowers and fruit were sold at ground level. In the 'warehouse' above were silver goods, lamps, china, saddlery, turnery, ironmongery and brushes. On the second floor along with games were the departments 'sure to find favor with the gentler sex', namely perfumery and patent medicines, while in the attic were beds and bedding. At an intermediate level was a large furniture department. (fn. 89)
The next landmark was 1889, when Harrods became a limited company under the chairmanship of Alfred James Newton, a reputable City merchant, with a capital of £141,400. Soon afterwards C. D. Harrod retired. His place as general manager was taken by Richard Hurbidge, who had previously been with Whiteleys and other stores. (fn. 90) Almost immediately a more forward-looking phase of expansion began. Further new departments opened, adjoining properties were secured, and a depository was acquired at Barnes. Following a further surge in trade the board determined in 1894 on erecting premises 'of very substantial character'. (fn. 91)
This decision proceeded from the knowledge that rebuilding was then being contemplated on the whole of the quadrilateral now occupied by Hanods (fig. 4). As is explained in greater detail on page 13, the main site of Harrods lay on the freehold estate of John Goddard I and William Watkins, whose long-delayed rebuilding plans for the whole of their Brompton Road frontage were afoot by 1892. Behind this, the equally decrepit south end of Queen's Gardens and the whole of North Street came in 1892 into the hands of the Belgravia Estate Limited, which co-operated with Goddard and Watkins on a mutual plan of reconstruction. One of the directors of this syndicate, Herbert Bennett of Marlcr and Bennett, estate agents in Sloane Street, was also a director of Harrods. (fn. 92) This connexion enabled Harrods to negotiate an arrangement whereby the Belgravia Estate Limited rebuilt this portion of North Street (subsequendy Basil Street) on a line further south and Harrods took most of the new street's northern frontage, thus extending its premises southwards into Chelsea and stopping up the old south end of Queen's Gardens. (fn. 93)
As yet however the company does not seem to have thought generally of expanding west of Queen's Gardens, where they held no leases. The presence here of a small but quite recent London board school, erected in 1874 to the design of E. R. Robson, constituted one difficulty. (fn. 94) This school never proved popular, perhaps because of a plethora of local voluntary schools; but despite rumours of its demolition as early as 1892, Harrods did not secure the promise of a sale until 1897 and entered into possession only in 1902, when the school was finally amalgamated with another in Marlborough Street, Chelsea. (fn. 95) A graver problem was that from 1893, under the rebuilding plans of Watkins and Goddard, good new houses were being erected all along the east side of Hans Road (see page 14).
The architect chosen for the reconstruction of Harrods, C. W. Stephens, confirms the link with the Belgravia Estate Limited's activities to the south. At this point in his curiously obscure carter, Stephens' reputation was wholly local. He had been to the fore in the 1880's, partly on behalf of Sir Herbert Stewart and other local residents but partly too on his own account, in the redevelopment of Hans Place close by on the Cadogan estate, and he had his office in the short southern section of Hans Road beyond North Street. (fn. 96) His buildings here and elsewhere in the district were of a banal Queen Anne character, but presumably he was a competent businessman and an effective planner. Stephens was the architect employed by the Belgravia Estate Limited to lay out the new Basil Street. (fn. 97) In 1892 he designed a new chimney shaft for Harrods, having also worked recently for the store's nearby rival, Harvey Nichols of Lowndes Terrace, Knightsbridge. (fn. 98) But 1894 was the annus mirabilis for Stephens, bringing him not only the prospect of reconstructing Harrods but also the huge and fashionable commission of Claridge's in Mayfair (1894–8). Later there came other sizeable projects, including the two buildings flanking Harrods along the Brompton Road at Nos. 79–85 and 137–159 (see page 14). From 1913 until his death in 1917 Stephens was in partnership with E. J. Munt, previously his assistant. (fn. 99) All his commercial buildings belong to the ornate, eclectic school of late Queen Anne architecture which continued to flourish well after the first proponents of that style had moved on to chaster effects. But Harrods, bulging expansively out of its rich casing of Doulton's terracotta, is unique among them.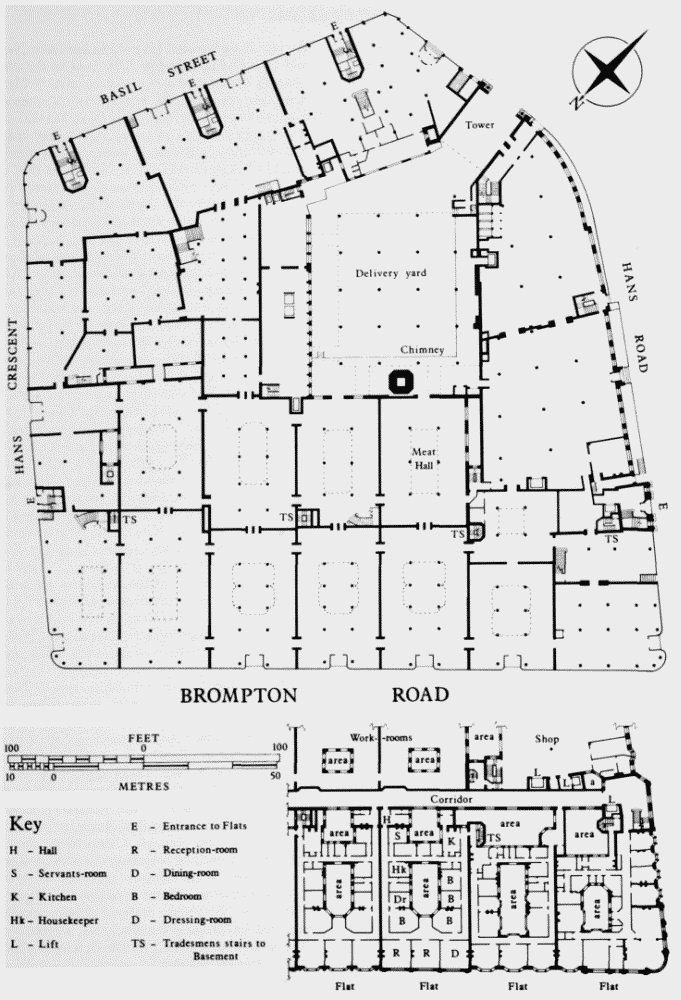 The transformation of Harrods into the vast department store known today was a piecemeal business, since sites were acquired only gradually, business had to be kept going, and building regulations required that such large undertakings had to be divided into several structurally separate entities. Generally speaking, the rebuilding proceeded anti-clockwise from 1894 until 1912, from Basil Street and Hans Crescent round into the Brompton Road and so finally into Hans Road. Throughout, it was Stephens' arduous task to combine the requirements of each individual sector with a semblance of unity.
The first site at Harrods known to have been rebuilt by Stephens was in the middle of Hans Crescent, where in 1894 the properties then called Nos. 8 and 9 New Street were redeveloped to give a new side entrance to the existing shop. (fn. 100) Part of this elevation survives, incorporating a pediment. It is of the pink Doulton's terracotta characteristic of the whole reconstruction, but is less ornamental than some later portions. Shortly afterwards in 1895–6 John Allen and Sons of Kilburn, contractors for most of the rebuilding, began the first large work along the north side of Basil Street and at the corner with Hans Crescent; (fn. 101) and in 1897–8 the gap in Hans Crescent between this block and the side entrance of 1894 was filled. The elevations here have all disappeared but followed the style established in 1894, with pavilions at the corner and centres and a turret at the end of Basil Street. Significantly, the shop was confined to the ground floor, with five storeys of income-generating flats above. (fn. 102)
The rebuilding of the Brompton Road frontage came next (Plate 26). Here Harrods had gradually expanded in the early 1890's until by 1895 they occupied all but one of the old shops between Hans Crescent (then New Street) and Queen's Gardens (the final shop, at the corner with Queen's Gardens, was not secured until 1901). But beyond this, leases on the further stretch westwards from Queen's Gardens to Hans Road (Nos. 111–135 Brompton Road) were also due to expire, and a new building line including the whole frontage from Hans Crescent to Hans Road had been established in 1894–5. In 1897 therefore Harrods acquired promises from the Goddards' represent-atives of leases for the whole of this extended frontage, and from the London School Board of the sale of the school site on the west side of Queen's Gardens. (fn. 103) These agreements paved the way for a rebuilding of almost all the modern site, less only the east side of Hans Road.
Stephens must now have produced a design for rebuilding along the Brompton Road according to a more ornamental elevation and with superior flats above the store, which was here to occupy not only the ground but the first floor as well. In 1901 the general lines of this design were agreed with the London County Council and the first instalment, at the corner of Hans Crescent and Brompton Road, was built by John Allen and Sons. (fn. 104) The idea, perhaps not followed precisely, was to undertake a block 200 feet by 120 feet in area every summer until the new front was complete. (fn. 105) Meanwhile in 1902–3 Aliens also erected on the school site in the centre of the quadrilateral the well-known meat hall and, behind this, a covered delivery yard with four storeys of warehouses and offices above, accessible from Hans Road. The Brompton Road front was completed to the corner of Hans Road in 1903–5, technically in five blocks of building. (fn. 106) This campaign included construction of the prominent terracotta dome and richly sculptured pediment over the centre of the front. In the case of at least one block the two storeys of shop were erected first, temporarily roofed in and opened for business, leaving the superstructure of flats to be added a little later (Plate 26b, 26c).
The last stages of the rebuilding were in Hans Road, where difficulties in acquiring some of the new-built houses occasioned delay and a specially incoherent elevational design, which may prompt suspicion that some of the houses may not have been wholly reconstructed (Plate 27b). The site of Nos. 13–23 nearest the corner with Brompton Road seems to have been rebuilt first, by James Carmichal in 1908–9. (fn. 107) The remainder, from No. 25 Hans Road southwards to Basil Street, arose in two stages in 1910–12 again through Carmichaels. Here several problems occurred. A projected 'Coronation Tower' over the entrance to the delivery yard had to be curtailed because residents and lessees opposite objected (Plate 27a); a pub, the Friend at Hand, had temporarily to be rehoused on the new premises; but a restaurant and a short-lived roof garden (the 'Rock Tea Gardens') here were eventually allowed. (fn. 108)
By 1912 therefore Harrods had been to all intents entirely reconstructed and occupied the whole of its present site (Plate 27b, fig. 5). Already claimed by Richard Burbidge in 19DS as the largest building of its kind in London under one roof, (fn. 109) it still continued to exceed all its rivals seven years later. Only one small portion of the old Harrods remained, on the north side of the delivery yard. Nevertheless there was little internal unity to the building. An American observer, Joseph Appel (a manager with the great Philadelphia store of Wanamaker's), commen ted in 1906: 'Harrods is totally unlike American stores in construction being simply a series of separate stores side by side connected by archways. Goods are sold only on two floors as building laws do not permit going any higher'. (fn. 110)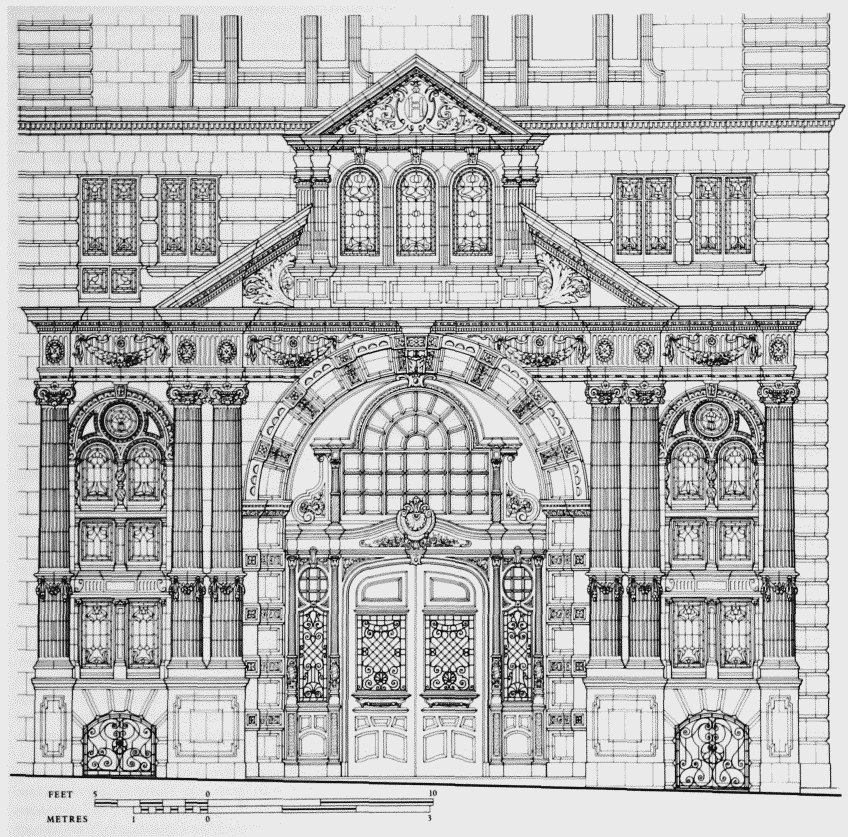 Though this was not quite accurate, legislation did materially influence the store's internal planning. Under the London building acts of this period, all buildings over 250,000 cubic feet in capacity had to be subdivided with party walls and fire-resisting doors. Exemptions were granted only with reluctance, particularly to buildings over sixty feet in height, like Harrods. The London County Council (General Powers) Act, 1908, amended the position slightly but still invested the Council with discretion an authority over 'additional cubical extent', for which Harrods was frequently obliged to apply. (fn. 111) The London County Council was also the ultimate arbiter of what were for the time very stringent escape provisions at Harrods under the Factory and Workshop Act, 1901. These regulations led to a number of costly disputes. When for instance Harrods wished in 1911 to arrange a kitchen high up on the Hans Road front, they were for a time baulked by the London Fire Brigade's long-standing opposition to the 'general tendency to increase the height of buildings in all large stores and emporiums'. (fn. 112)
Because of these laws large London buildings of this period were slow to adopt the type of steel-framed construction and open interior increasingly common elsewhere. In contrast to, for instance, L. C. Boileau's Bon Marche building in Paris (1872–87), Messel's Wertheim Store in Berlin (1896), or Sullivan's Schlesinger and Mayer Store in Chicago (1899–1912), where the shop extended well upwards in the building and the interiors were relatively unrestricted, London department stores of the period were planned with retailing on the lower floors alone. Above them might be wholesale departments, accommodation for the workforce or separate flats, depending on the locality and the policy of the management. The important thing was that access to these upper floors had to be wholly separate, so as to evade the limitations on 'cubical extent'.
At Harrods the company decided to build flats, which Stephens arranged with particular attention to providing natural light for the store below. The most elegant flats faced the Brompton Road, had at least fifteen rooms and a superficial footage of over 5,000 square feet each, and rented at £400–500 per annum. (fn. 114) They enjoyed ample space for circulation and were arranged around large light-wells, which descended to illumine skylights over the first-floor showrooms (fig. 5). Beneath these skylights were well-holes allowing light to the ground floor (Plate 29a). (Naturally this source had in many parts of the store to be supplemented by arc lamps.) For the gentry, access to the flats (which were named Hans Mansions) was from lifts or staircases within entrances in Hans Road (fig. 6) and Hans Crescent, but by a makeshift device the service staircases rose from a dingy sub-basement through the store itself, from which they were entirely enclosed.
The original finishing of the shop interiors was very lavish, too greatly so for Joseph Appel, who in 1906 caught himself 'admiring the fixtures and really not seeing the goods . . . Mr. Burbidge says they get the land so cheap—ground rent— that they can afford to spend money on luxurious fittings. But really it is because they are among such elaborate surroundings in London, beautiful public buildings, elaborate castles and private homes, and so on, that they have to decorate more luxuriously than we do.' (fn. 113)
Appel emphasises particularly the copious use of glass, intended no doubt to make essentially small spaces look larger and lighter, and the ubiquity of carpets. Old photographs show very ornate plasterwork to the ceilings and to the capitals of the many interior piers and columns (Plates 28, 29). A booklet produced by Harrods in 1909 also mentions rich marble and woodwork, the latter 'mainly composed of natural Ancona Walnut, Mahogany, inlaid Satinwood and Oak', and adds: 'the ceilings and frescoes are worthy of special note, being painted and modelled by French Artists in the Renaissance style. (fn. 105) These Frenchmen were employed by the shoptitters Frederick Sage Limited, the firm chiefly responsible for the interiors. 'For five full years, from 1900 to 1905', says this firm's history, 'the House of Sage devoted almost the whole of its resources to Harrods and thereby consolidated its own reputation as the first name among shopfitters'. (fn. 114) Among Sage's works almost certainly were the art nouveau shop fronts on the ground and first floors, for which glass was supplied by Pilkington and Company. (fn. 113)
The old interiors and their equipment (which included a very early 'escalator' in the form of a moving belt installed in 1898) have nearly all disappeared. The one notable exception is the meat hall, described by Appel as 'probably the most magnificent in the store and handsomely painted with large designs and figures'. (fn. 113) Doultons, the suppliers of terracotta for the facades, were commissioned to line this part of the building with their tiles and entrusted the designs to W. J. Neatby. (fn. 115) His scheme of 'ceramic murals', carried out early in 1903, leaves the piers and arches relatively plain and concentrates decoration on the upper walls surrounding the light-well, which display bold and colourful roundels of animal life beneath trees conceived in a luxuriant art nouveau taste (Plate 30b, 30c). There arc also some small almond-shaped scenes on the main walls and a series of bulbous marble counters (not in their original positions).
During the rebuilding of Harrods, trade was continually expanding. The cost of the works doubtless exceeded a million pounds (three quarters of which sum had been spent by 1905), but this was amply justified by returns. Between 1890 and 1910 yearly profits rose steadily from £13,50(1 to just over £210,000, and turnover in 1906 was put at £2,100,000. So many new departments were opened that before reconstruction was complete there was already pressure for further expansion. (fn. 116)
The company already had small manufacturing premises and a warehouse on the east side of Hans Crescent at Nos. 34–36 and behind; in 1908 Stephens rebuilt this with the rest of the block down to the corner with Basil Street, so that the whole of Nos. 32–44 Hans Crescent were available for these facilities. This coarse, bayed building (Plate 21b) was demolished in 1972. (fn. 117)
Close by, on a site in Chelsea bounded by Pavilion Road, Rysbrack Street and Stackhouse Street, Stephens erected a further building in 1912, while across Brompton Road large premises for storage went up in 1912–13 on the south side of Trevor Square. These buildings were variously interconnected with each other and with the main store by subway. (fn. 118)
Despite these attempts to keep manufacturing, warehousing and wholesaling out of the main building and thus preserve the flats, the pressure to expand upwards there proved inexorable. In 1908 occurred the first of an increasing stream of major alterations to Stephens' as yet unfinished building. In 1912, just as the quadrilateral was complete, the first of the flats on the Brompton Road frontage were abolished. Others gradually followed, until in 1927 a policy was formally adopted to bring the whole building into commercial use. (fn. 119)
So frequent were the alterations at Harrods that from 1913 at the latest the firm employed a 'house architect', M. Mosryn Brown, who at first worked in conjunction with Stephens. (fn. 120) His successor from 1920, Louis D. Blanc (later architect for the new D. H. Evans store in Oxford Street), made many important internal changes. His most extensively visible scheme for Harrods was carried out in 1929–30, when as part of the campaign to abolish the flats the whole of Stephens' elevation to Basil Street was reconstructed. (fn. 121) The result was a handsome classical front somewhat in the manner of the new Selfridges, with giant pilasters of a primitive order running through the upper storeys (Plate 27c). The materials are brown Doulton's terracotta or faience (then unfashionable, but chosen to cohere with Stephens' elevations) above a ground floor of granite unclosing fine bronze shop windows supplied by Frederick Sage Limited. (fn. 122) Later, in 1934, Blanc reconstructed a large block in the heart of the store including the banking hall, which was rebuilt to a chaste, classical taste but has since been removed (Plate 30a). Soon afterwards he was replaced by John L. Harvey, who in 1939 extended Blanc's Basil Street elevation round into Hans Crescent and built a large escalator hall behind the facade here. (fn. 123)
The complete reconstruction of this front along Hans Crescent then intended has, however, never materialised.
Until 1921, most of the main island block on which Harrods is situated was still held on leasehold from the Goddard family and their trustees, but in that ear the company secured the whole of this site freehold at a cost of £263,850. (fn. 124) Much later, in 1959, Harrods together with the several other stores then forming part of the Harrods group came into the ownership of the House of Fraser. Of the various structural alterations made to the interior since that date, the most important has been the installation of a bank of escalators on the west side of the stores in 1981. (fn. 124) By contrast, the external appearance of the building has changed little since 1945.
Nos. 161–177 (odd) Brompton Road, Brompton Place and Beaufort Gardens
In the earlier eighteenth century the site now covered by these properties was a small freehold parcel of land, some three and a half acres in extent, called Skitts or Scottish Close (see fig. 1 on page 2). This close was one of several scattered properties in Kensington owned by Henry Hassard (or Hazard), who died in 1706. All of these eventually passed in 1730 to Sir Thomas Reynell, baronet. Skirts Close included two 'messuages' in the north-east corner near the entrance to the present Brompton Place, but most of it was leased and cultivated as garden ground by a succession of nurserymen, latterly David Anderson, who took a twenty-one-year term from Reynell in 1741. (fn. 126) Soon afterwards Reynell disposed of his Kensington prop erties, which came in 1744–6 into the hands of Isaac Preston of Beeston St. Lawrence, Norfolk, and Thomas Preston of Friday Street, City of London, merchant. (fn. 127) The Prestons gradually sold off the various holdings; Skirts Close was bought in 1760 by Barbara Oram, a local widow, who in turn sold it in 1763 to Thomas Smith of Piccadilly. (fn. 128) Smith, a musical instrument maker, was perhaps a figure of some substance; he is described in his one known publication (of 1766) as 'Musical Instrument Maker to His Majesty'. (fn. 129)
Brompton Grove and Brompton Place
The lease to Anderson having now expired. Smith prepared to develop the land. In 1764 he granted ninety-nine-year leases (from 1761) of most of the ground to Charles Ross, a well-known carpenter of St. James's, Piccadilly. (fn. 130) By then Ross was clearly well advanced with a row of seven terrace houses along the frontage to Brompton Road, set back behind a drive and common garden (Plate 3). All were occupied by 1766, two by members of the Gideon family, the widow and daughter of the wealthy stockbroker Sampson Gideon—a sufficient indication of a good class of house. (fn. 14) The land at the rear was left vacant, doubtless affording long gardens and an unimpeded prospect. The houses became known as Brompton Grove, a name later extended also to buildings further west. Nothing is known of their appearance, though at the time of their demolition in 1860 they were described as 'a block of dull, heavy houses with palings. (fn. 131) To their east, the old houses in the north-east corner of the land were excluded from the ground let on long lease to Ross; instead they were wholly or in part transformed in about 1765 into the Red Lion inn, henceforward an important public house in this area of Brompton. (fn. 14)
In 1801 the freehold of this small estate was sold by Thomas Smith's widow Cecilia and his grandson Thomas Gate, 'Staffordshire warehouseman', to a neighbour of theirs, Martin Lloyd of Gloucester Place, St. Maryle bonc. (fn. 132) Sixteen years later Lloyd (by now of Sudbury, Middlesex) granted a new lease of parts of the Red Lion standing on the east side of a passageway which from about this time became known as Lloyd's Place (now Brompton Place). (fn. 133) This appears to have allowed land at the back of the inn to be released for building, for in 1825 Nos. 1–6 Brompton Place, the first of twelve small surviving cottages, were built on the same side of this passageway, followed in 1830–2 by Nos. 7–12. All these were leased by Lloyd to William Paul of Sloane Street, plumber and glazier, for terms expiring in 1885. (fn. 134) They are uniform brick two-storey cottages, noteworthy only for their survival (Plate 8c).
Beaufort Gardens
Eventually the title of the estate passed from Martin Lloyd to his cousin Richard Lloyd, a builder, who in 1843 renewed the leases of the Red Lion and adjacent properties so as to fall out along with the original leases to Ross in 1860. But he died in 1859, just one year before this occurred. His trustees, Charles Cartwright Quentery (a nephew) and Thomas Howard (builder), and his executor William Cartwright Quentery (another nephew) now prepared to redevelop the estate. (fn. 135) A plan was submitted in March 1860 by George Adam Burn, an architect who had been chief assistant to Thomas Hopper and latterly had had some experience in designing iron churches. (fn. 136) By this plan, the narrow passageway into Lloyd's Place was to be realigned and widened, the Red Lion (hitherto occupying premises on both sides of this passageway) rebuilt on the eastern corner site, Brompton Grove demolished, and eight new houses with shops built along the frontage to Brompton Road (Plate 18a). The shops were to be in two groups of four, with a new forty-foot gated roadway between them leading to an elongated square behind, which was intended to be called Brompton Grove and to contain forty-seven houses. (fn. 137)
Work began immediately. In 1860–1 the Red Lion was duly rebuilt to Burn's designs by the local builder Thomas Stimpson on behalf of Robert Lathbury, victualler. (fn. 138) It still survives as No. 161 Brompton Road, with the upper floors rendered on top of the original stock brickwork (Plate 18b). Behind it and at the end of Lloyd's Place (where an exchange of ground was made with Lord Kensington's estate to the north-east so as to regularize the boundaries), stables were built or rebuilt by John Baker, livery stable keeper. (fn. 139) Along Brompton Road, Burn's eight shops were built at a cost of some £11,000 by Richard Batterbury and leased in 1861 to Robert Lathbury and Charles Stedman, both victuallers. (fn. 140) They were briefly called Nos. 1–8 Grove Terrace East, but in 1864 became Nos. 163–169 and Nos. 171–177 (odd) Brompton Road. Of these No. 177 alone survives, considerably changed in elevation.
The new square (which, The Builder sardonically observed, 'will present two permanent sanitary adjuncts, a liven stable and dung-yard at one corner, and a busy slaughter-house at another' (fn. 141) ) was not much slower to be developed. Four houses on the western side, Nos. 44–47, were leased to Burn in October 1861 and a further one, No. 43, in February 1863. (fn. 142) In the latter month the Quenterys, having changed its name from Brompton Grove to Beaufort Gardens, sold the undeveloped remainder of the freehold to Jeremiah Little, a substantial builder with a proven record of success in North Kensington. (fn. 143) Jeremiah's son Henry Little promptly undertook the development under his father, and both sides were complete by 1870. Some of the Littles' houses were let on long leases for prices in the region of £2,300 each, but others were sold freehold. (fn. 144) At Jeremiah Little's death in 1873, he owned only fourteen from a total of forty-two built on his land. (fn. 145) Directories show that early inhabitants were of high standing, with two Members of Parliament, one dowager countess and several officers from the services residing in Beaufort Gardens in 1870. At the time of the 1871 census, 311 persons were in residence in the forty two inhabited houses of Beaufort Gardens (Nos. 21–26 being as yet untenanted). These ranged from No. 20, where the eighth Viscount Midleton's household consisted of nine members of his family and twelve servants, to several households with small families and only two or three servants. (fn. 146)
The houses of Beaufort Gardens are of an orthodox high-class Kensington type, with four main storeys and a full attic above ground, light-brick walling, porticoes and plentiful Italianate 'compo' dressings (Plate 18d). G. A. Burn's five houses (Nos. 43–47) present a slightly simpler appearance than those of the Littles, but the general similarity makes it probable that he designed all the houses in Beaufort Gardens as well as the shops and the Red Lion along the Brompton Road.
Burn's commercial buildings along the frontage of Brompton Road have all gone, with the forlorn exceptions of No. 161 and No. 177. For many years Nos. 163–169, having acquired a coating of stucco over the original stock brickwork (Plate 18c), was the seat of Owles and Beaumont, a large local drapery store, but the shop closed in 1960 and the block was then demolished; Nos. 171–175 followed on a few years later. The buildings which replaced them are listed on page 7. Beaufort Gardens, by contrast, survives virtually intact though now almost entirely occupied as flats.
The freeholds of the properties in Lloyd's Place were sold by the Quenterys in 1871. (fn. 147) The livery stables at the south end are now garages for Harrods, but Paul's cottages of 1825–32 remain in residential occupation. The name of Brompton Place was substituted for Lloyd's Place in 1938.
Nos. 179–187 (odd) Brompton Road and Beauchamp Place
One-time inhabitants of Beauchamp Place might marvel were they to know the esteem in which their street is currently held. 'Once it was just another turning off Knightsbridge,' enthused the Evening Standard in 1974 with scant topographical precision. 'Now it's become a soft but steady pulse-beat of London fashion.' (fn. 148) 'A delightful narrow street chock full of antique shops', it was termed in another journalist's panegyric of similar date; (fn. 149) and in 1972 Beauchamp Place won the London Tourist Board's Clean Trophy for the best shopping street in the metropolis. (fn. 150)
This destiny has been arrived at from modest but not uneventful beginnings. The thin two-acre site of the street (see fig. 1 on page 2), fronting Brompton Road and stretching south-east to the parish boundary, is blank on the maps of Horwood (1794) and Starling (1822), when at least along the main road all around had been thoroughly built up (Plates 2a, 3). Its eighteenth-century history is obscure. In 1763, when development was just starting on a Brompton Grove and Southall's Buildings immediately to the east and west, the nephew and heir of William Oram, deceased nurseryman of Brompton, sold the freehold of what was probably this site to one Joseph Kaye. (fn. 151) But effective control of it soon passed to the Aitkens family of Mayfair, carpenters. In 1768 Alexander Aitkens, as administrator of the effects of David Anderson (another nurseryman who had cultivated much of the ground hereabouts), assigned to John Aitkens, of Market Street, Mayfair, the remainder of a ninety-nine-year term on the land dating from 1724. (fn. 152) Then in 1794 John Aitkens, by now apparently the freeholder, died, leaving a life-interest in the as-yet undeveloped land to his daughter Mary Ann Manton. (fn. 153) She was the wife of Joseph Manton (1766–1835), gunmaker, of Davies Street, Berkeley Square.
'Joe' Manton was celebrated as the most ingenious and elegant sporting gunsmith of his day; his career has been meticuloush chronicled by W. Keith Ncal and D. H. L. Back. (fn. 154) In 1819, when at the height of his fame, Manton moved his shop from Davies Street to larger premises in Hanover Square. But because of a fall in demand for his guns and high legal fees arising from lawsuits over patents, he from about this time met with increasing financial pressures which at first he seems to have been unwilling to heed. As a result his business began to fail, he was briefly imprisoned for debt in November 1825 and in January 1826 he was declared bankrupt. Following further bouts in detention as a debtor in the King's Bench Prison in 1828–9 and 1830–1, Manton with his family's aid resumed work for a time. He died intestate with effects of only £100 in June 1835 and was buried at Kensal Green Cemetery. (fn. 155)
Manton's financial crisis coincided with and greatly disrupted the first development of his wife's land, following expiry of the lease of 1724 in 1823. Perhaps to raise money on mortgage by improving the property, the Mantons fast set about development. Under agreements of November 1824 a new street called Grove Place (after Brompton Grove nearby) was to be laid out and houses built under the authority of a local attorney, John Henry Goodinge of Brompton Grove, who was to receive ninety-nine-year leases. The beneficial interests of Manton's many children were safeguarded, but Manton himself was to receive £420 in rent per annum. The building agreement stipulated that the houses facing Brompton Road were to be of at least the third rate and were to be stuccoed on the ground storey, while those in Grove Place behind were to be of at least the fourth rate. The whole development was to be complete by Christmas 1828. The plan and elevations were provided for Goodinge by Robert Darley of Jermyn Street, the obscure architect probably also responsible at just this time for the design of Brompton Square opposite (see page 40). Manton's professional representative was Samuel Lahee, an auctioneer, surveyor and house agent of New Bond Street. (fn. 156)
None of these parties was able to mitigate the forthcoming disaster, and none perhaps was specially skilled in the delicate business of speculative house-building. In May 1825 Goodinge mortgaged his agreements in this and another site nearby in Montpelier Street to Joseph Del-evante of Kimbolton Place, Fulham Road, for £1,600. (fn. 157) Meanwhile sixteen of the houses, five called Nos. 1–5 Grove Terrace (now Nos. 179–187 Brompton Road) and eleven in Grove Place (now Nos. 1–9, 50 and 51 Beauchamp Place) were in course of building. All except No. 183 Brompton Road survive; they are plain and orthodox, of three storeys above ground in Beauchamp Place and four in Brompton Road. The original ground storeys, now mostly replaced by shop fronts, were all stuccoed (Plate 15).
Immediately before Manton failed, at a time when the gunmaker was raising money wherever he could, eleven of these houses were leased on 10 November 1825 to the building tradesmen responsible for them, presumably in an attempt to avoid lawsuits and claims under the agreement of November 1824. (fn. 158) (fn. n3) Six days later Manton was committed to the King's Bench, leaving five houses built but unleased.
Following Manton's failure, development in Grove Place ground to a halt for fifteen years. But the five unleased houses (Nos. 179, 181 and 183 Brompton Road and Nos. 50 and 51 Beauchamp Place) proved a great source of trouble. William Farlar, the freeholder and developer of Brompton Square opposite, had been responsible for the three facing Brompton Road. Though he made repeated attempts to obtain his leases from Manton and Goodinge, he met with no success, for in November 1826 Manton had been obliged to make over his life interest in the estate to Sir Richard Sutton, a prominent sportsman who had advanced him a large sum to help him out of his difficulties. In addition Goodinge, having for some time failed to pay the full ground rent due from him as developer to Manton's creditors and assignees, was himself declared an insolvent debtor in February 1828. Faced with this situation, Manton with his creditors obtained an action for ejectment against all those occupying parts of the estate as yet unleased. Ever sanguine, Manton himself seems to have supposed that he might thus regain title even to the houses built by Farlar and by Thomas Harrison (the undertaker of Nos. 50 and 51 Beauchamp Plate). He was sharply reprimanded by Sir Richard Sut ton's lawyer in these terms: 'If' by the ejectment you expect to recover possession of the Houses which Farlar and Harris[on] have built in the honest Confidence that as soon as finished they would have their Leases, you will 1 am persuaded find yourself wrong. Yet supposing you were right in strictness of law surely you do not seriously contemplate such a piece of wickedness and injustice as to attempt to wrest the possession of the Houses from the individuals who, under your Eye, have laid out thousands in building them, and you have not expended one far thing. The action for ejectment proved the last straw for Farlur, who promptly undertook a Chancery suit to obtain the long-sought leases; these were finally awarded to him and to Harrison in 1831
Also in 1831, matters righted themselves sufficiently for John Baker of Chatham, gentleman, and George Godwin of Alexander Square, surveyor, to lake over the estate in trust forthe Manton family. But the arrangement did not quicken the pace of development. .No further building look place until 1841, six years after Manton's death, when leases for eight further small houses, Nos. 52–59 Beauchamp Place, were granted by his daughter Caroline Manton to John Hellworthy. At much the same time Nos. 60–62. three two-storey houses, were put up on land attached to No. 185 Brompton Road.
Soon alter this, the street was practically completed down to the parish boundary under further leases granted by Caroline Manton. The main undertaker was Thomas Holmes of Belgrave Street South, a builder prolific at this time elsewhere in Kensington, particularly at Hereford Square. Holmes over-extended himself and came to grief in 1847, but by then his activities in Beauchamp Place appear completed. All the leases (of Nos. 10–30 on the north-east side and Nos. 33–49 on the south-west side) were granted between June 1844 and March 1846, mainly to Pimlico builders and tradesmen associated with Holmes. He himsell took few leases directly but in several cases assigned houses to John lirannan Quick, paper-hanger, and took sub-leases back under him. Some other builders were involved, for instance William Kmmins, who erected Nos. 28–30. (fn. 164) Two further houses at the south end, Nos. 31 and 32, were added by john Gooch, builder in 1850. (fn. 165) (fn. n4)
The later houses built in Beauchamp Place were again ordinary, with stucco ground floors and surrounds to the windows. Those at the south-east end of Beauchamp Place (Nos. 26–30 on the north-east side and 31–36 on the south-west side) have extra storeys, all seemingly original. A smattering of houses appears to have included shops from the start, but these were in a minority. Most were modest middle-class homes, though the Kensington Vestry did receive a complaint in 1864 to the effect that two houses in the street 'are kept as common brothels'. The Grove Tavern, now prominent at Nos. 43–44, seems to have made its appearance in about 1867. (fn. 167) The census of 1871 shows that at that time more than half the dwell ings were occupied by more than one household; there were lodging-houses in abundance, and one house, No. 33, was inhabited by no less than nineteen people. (fn. 168)
By the 1870's the freehold interest in the estate was in the hands of Thomas Randall, a solicitor, and various representatives of the Manton family, who were mostly living near Melbourne following the emigration of Joseph's son Frederick Manton to Australia. The Mantons' share appears to have been bought out in 1875–6 by agents of the Lygon family. (fn. 169) In honour of the chief title held by this dynasty, Grove Place was renamed Beauchamp Place in 1885. Photographs taken at the turn of the century show many but by no means all of the houses functioning as shops (see Plate 15a). The transformation into a street almost exclusively of shops and restaurants is a post-war phenomenon and its fashionable status more recent still.
Along Brompton Road, the few old houses of Grove Terrace (from 1864 Nos. 179–187 Brompton Road) rather surprisingly survive, with the exception of No. 183, which was rebuilt to designs by Ernest R. Barrow in 1927. (fn. 170)
Nos. 187A–207 (odd) Brompton Road, Ovington Square, Ovington Gardens, and the east side of Yeoman's Row
These sites today centre upon Ovington Square. In itself a typical enough small early-Victorian development of 1844–54, it possesses a rare interest because the reminiscences of its main entrepreneur, William Willmer Pocock, survive, shedding light on facets of nineteenth century house-building that are commonly obscure. First however, something must be said of the somewhat individual mixed development that preceded Ovington Square and the other buildings around it.
Southall's Buildings, Yeoman's Row and Other Early Developments
The freehold interest in this whole site of just over five acres between Yeoman's Row (an ancient lane leading to the Quail Field in the parish of Chelsea) and the boundary of the field on which Beauchamp Place was built (see fig. 1 on page 2), was vested in the early eighteenth century in Edward Starke of Brompton. From him it descended to his daughters Eleanor and Elizabeth, and after the latter's death to her daughter Elizabeth Jones (d.1777), who in 1735 married Sir Thomas Dyer, fifth baronet (1695–1780). (fn. 171) Like other lands in this vicinity, much of it was cultivated before his death in 1760 by the local nurseryman David Anderson and used chiefly for fruit trees. It may possibly at one time have been a nursery garden for Brompton Hall, a large house at Old Brompton further west at one time owned by the Dyer family. (fn. 172) After Anderson died, his house in the north-western corner of the site passed to a City broker, William Shergold. (fn. 173)
In 1763 Sir Thomas and Lady Dyer granted the whole of this 'garden ground' on an eighty-one-year lease to John Hooper of Knightsbridge, gardener, who was also active in developing Long Close further east. Hooper promptly made an agreement whereby William Southall of Newman Street, St. Marylebone, carpenter, would take most of the land for the remainder of the term but lease back to Hooper a strip at the west end next to Yeoman's Row. (fn. 174)
Instead of the terrace houses which arose elsewhere along the main road, Southall proceeded to erect three substantial houses. These were at first called Southall's Buildings but later Brompton Lower Grove, Lower Brompton Grove or merely Lower Grove, and numbered in succession to the houses in Brompton Grove to the east. The westernmost and largest house, with a frontage of a hundred feet to the road, was leased in March 1765 to Bartholomew Gallatin of Park Street, Mayfair, Colonel of the 2nd Troop of Horse Grenadiers. (fn. 175) Known as Grove House, Brompton, (fn. n5) or No. 11 Brompton Grove, it was a handsome detached house of five windows' width and three full storeys. An unusual appendage was the complete riding house ninety foot by thirty' on the west side next to the stables; it was deemed suitable for 'age or youth that are learning to ride, or wish to take exercise on horse back in bad weather'. (fn. 176) Grove House was always well inhabited. Following Gallatin's death in about 1782 his widow sub-let the house to Sir George Savile the politician, who died there in 1784. (fn. 177) In 1793 it was bought by Sir John Macpherson, who had briefly and somewhat dubiously governed India in succession to War ren Hastings. (fn. 178) Known locally as the 'Gentle Giant', Macpherson occupied Grove House (which he used as part security for a mortgage of £10,000 from the East India Company in 1805 (fn. 179) ) until his death in 1821; during his tenure a single-storey drawing-room was added on the east side, allegedly for entertaining the Prince Regent. (fn. 180) Subsequently the house was briefly tenanted by William Wilberforce (1823–5) and then by the literary editor William Jerdan. (fn. 181) It was pulled down in about 1844, and its site is now occupied by the present roadway of Oungton Gardens together with some of the houses on its west side.
Southall seems to have been less successful with his other two houses here and was soon encumbered by mortgages, finally ceding control of all these properties in 1771. (fn. 182) In 1769 however he had leased the house to the cast of Gallatin's, later No. 10 Brompton Grove, to Sir John Astley, baronet; (fn. 183) between about 1826 and 1828 this was the home of the composer and pianist Muzio Clementi. (fn. 14) Next door, No. 9 Brompton Grove was completed at about the same time and first occupied by Thomas Jemmett; from about 1782–3 until his death in 1797 it was the residence of James Petit Andrews, lawyer, antiquarian and reformer, and later of John Sidney Hawkins, antiquary (d. 1842). (fn. 184) Little is known about these houses, but they were ample in size and compared favour ably with other dwellings hereabouts. They survived until about 1866.
Though these three houses had good gardens, none stretched as far as the parish boundary. The ground behind in part remained unbuilt on (Plate 3). But a narrow lane or 'driftway' on the west side of Grove House led out of Brompton Road down to The Hermitage, a secluded house in its own grounds just south of the original terrace of houses in Yeoman's Row. This house's history is obscure. It was on the portion of ground leased to South-all, but no very substantial house seems to have been built here by him. Horwood's map of 1794 shows a small square building, but on Starling's map of 1822 it has been much extended. This enlargement may have been due to the celebrated diva Angelica Catalani and her husband and manager Paul de Valabregue ('uomo avido e senza scrupoli'), whose brief tenure in 1811–14 coincided with the height of her British popularity and with a rise in The Hermitage's rateable value. (fn. 185) Subsequently the house was used as an asylum for the insane, and it was pulled down when Ovington Square was constructed in 1846. (fn. 186) A lithograph of about 1840 suggests an extensive, rather rambling, two-storey house, possibly stuccoed, with three modest 'Venetian windows' on the garden front (Plate 1a). (fn. 187)
The strip of land between Yeoman's Row and the 'driftway' leading to The Hermitage which had been retained by John Hooper in 1763 was soon developed, chiefly by the prolific Joseph Clark, carpenter, in about 1765–6. Facing Brompton Road were two plots extending to a depth of about 130 feet. On the eastern one, adjacent to the driftway, he built a public house set back from the road with extensive stabling behind; appositely called the Carpenter's Arms, it soon ceased being a pub and became No. 13 Brompton Grove. (fn. 188) (fn. c1) The house later had literary occupants (John Banim, editor, 1822–4; Gerald Griffin, Irish novelist and dramatist, 1824 (fn. 189) ) and was demolished in about 1844. Next to it at the corner with Yeoman's Row stood the house tenanted by the Shergold family. This, having perhaps been reconstructed by Clark, was sub-let by him to Henry Cooley. (fn. n6) By 1770 there was a pub here known as the Bunch of Grapes, which name was retained when it was rebuilt in 1844. (fn. 191)
Behind these properties a row of fourteen small cottages sprang up on the east side of Yeoman's Row. These were at first called Clark's Buildings, but in 1768 the name of Yeoman's Row first appears for them in the ratebooks. Joseph Clark built the ten northernmost houses, which were leased to him or his nominees by Hooper in 1766–7; (fn. 192) the remainder were apparently all leased to John Stuttard of Kensington, carpenter, in about 1771. (fn. 193) Nine of Clark's cottages survived until about 1960 as Nos. 9–25 (odd) Yeoman's Row (Plate 9a, 9b). They were of two full storeys with an attic and a basement. By a pleasing arrangement, the houses alternated between wider frontages of three windows' width with pedimented doorhoods, and narrower ones of two windows' width with straight-headed hoods. South of these, Nos. 27–33 (odd) are the only survivors now of the original mid-Georgian development along the south side of Brompton Road (Plate 9d). They arc simple houses of three storeys with basements which still incorporate the core of Sturtard's original work; at least one (No. 29) still has a tolerably original interior, with plain panelling throughout the main rooms. The present facing and stucco doorcases of these houses perhaps date from 1879, when they are known to have been altered. (fn. 194)
Ovington Square and Later Development
By the 1830's the freehold of all the properties described above had passed to Sir Thomas Richard Swinnerton Dyer, seventh baronet. On his death in 1838 they were inherited by his widow Elizabeth, daughter of John Standerwicke of Ovington House, Hampshire. She promptly married Frederick, Baron Yon Zandt, a Bavarian nobleman, but remained childless when he too died in 1842. (fn. 195) As Baroness Von Zandt, she presided between 1844 and 1852 over the redevelopment of most of this small estate, including Ovington Square, Ovington Terrace (now the west side of Ovington Gardens), the sites of Nos. 147–207 (odd) Brompton Road and Grove Cottages on the east side of Yeoman's Row at its southern end. After her death in 1864 the freehold passed to her first husband's cousin. Sir Thomas Richard Swinnerton Dyer, ninth baronet. (fn. 196) He it was who with his second son Henry Clement Swinnerton Dyer oversaw the completion of what was to become Ovington Gardens and Nos. 187a–195 (odd) Brompton Road.
The main developer of Ovington Square and Terrace, William Willmer Pocock (1813–99), was an architect, the son of William Fuller Pocock of Trevor Square, Knightsbridge. also an architect. A staunch Wesleyan, the elder Pocock had been long connected with Knightsbridge and Brompton and promoted family alliances with other dissenters prominent in the local building world. In 1840 W. W. Pocock married Sophia, daughter of Samuel Archbutt, a prosperous builder who operated extensively in Belgravia and Chelsea, while in 1844 his brother Thomas married a daughter of the yet more successful builder Seth Smith. After working for a time with his father William Willmer Pocock began striking out on his own, usually in conjunction with the Archbutt family. In 1839 he built houses with Samuel Archbutt junior, a lawyer, in St. Luke's Street, Chelsea, and in about 1842 he took on from his father-in-law a plot in Lowndes Street, on which he had cleared £1,500 by midsummer of 1844 (fn. 197)
At this point Pocock was looking for further ventures. The leases of Lower Grove, as Southall's Buildings had come to be called, were falling in and Baroness Von Zandt was looking for bids for redevelopment, but she did not or was not in a position to offer all the land together. Pocock therefore at first considered Grove House and its large garden on their own, but concluded that 'the land for building purposes was not worth as much as the house would let for'. But hearing afterwards that Baroness Von Zandt was willing also to lease the adjacent site of The Hermitage and its large garden, 'I at once put on my boots, and leaving the house with my informant, but keeping my own counsel, I then and there went to the Agent and made an offer that was accepted for the whole of the land.' Promptly he involved Thomas Archbutt, the builder son of Samuel; 'I let him nearly half my land at Brompton, at a small advance of rent beyond what I was to pay, and between us, we had got 20 houses fairly on the way before the year was out, tho' I had only taken land from the Michaelmas. 'They acted so quickly because the Metropolitan Building Act of 1844 was due to come into force in the parish at the end of the year, Kensington having been exempt from previous London building regulations. So strong was the building boom in 1844 on this account, records Pocock, that he and his father took brick fields in Battersci to ensure supplies. Few of these bricks, however, were used here. (fn. 197)
The site divided itself into four parts, most of which became Pocock's preserve. In the rebuilding that took place along Brompton Road north-east of Yeoman's Row he was not the sole operator. Here the Bunch of Grapes public house on the corner (now No. 207 Brompton Road) was rebuilt by other parties together with the adjacent property (now the site of Nos. 203 and 205) in a plain stock-brick style, with livery stables behind (Plate 16c, 16d). All these were leased in 1845. (fn. 198)
East of No. 203 was the site of Grove House, part of Pocock's take and regarded by his father as 'the cream of the whole'. Here in 1844–5 he constructed three houses with shops on the old forecourt, 'forming the openings to fit the doors, windows etc., from the old house I had marked for the purpose, they being of a superior character'. These shops, Nos. 197–201 (odd) Brompton Road (now demolished), were stuccoed and had vigorously rusticated Gibbs surrounds to the upper windows (Plate 16a). (fn. 199)

A second but minor area of operations was the east side of Yeoman's Row. Here Baroness Von Zandt relet the old cottages immediately south of the Bunch of Grapes to a local builder, George Brown. Beyond these, Pocock in 1846–8 built a row of eighteen cottages on the site of the Hermitage and its garden. Most of these were leased to local small builders who worked with Pocock and Archbutt, principally Henry Thomas Adams, bricklayer, and William Chapman, carpenter. They were called Grove Cottages and have now all been demolished, their sites being occupied by Nos. 35–57 (odd) Yeoman's Row. (fn. 200)
The heart of Pocock's project lay on the ground behind the frontages. Here he laid out an access road from Brompton Road with houses at first on its south-west side only, originally Nos. 1–14 Ovington Terrace (later Nos. 11–24 Ovington Gardens), all leased in 1845. (fn. 201) This led to Ovington Square, a thinnish rectangle inserted behind the remaining houses in Brompton Lower Grove, which for the time being survived. All but two of the original thirty-five houses in the square occupied the long sides (Nos. 1–33 on the south-west, Nos. 2–32 on the north-east). (fn. 202)
Architectural formality was attempted here but hardly achieved, for despite the pace of first building Pocock did not complete the square (begun in 1844) until 1852. The greatest coherence appears along the south-west side of Ovington Gardens, where a pilastered, mildly Grecian elevation centres upon the present No. 18 (Plate 17c, fig. 7). During the building of these and the first houses in the square, Pocock and Thomas Archbutt occupied The Hermitage, whence Pocock and his family moved briefly into No. 3 Ovington Square in about 1846. Thereafter Archbun fades from the picture, having secured leases only of Nos. 8–1l Ovington Terrace (now Nos. 18–21 Ovingion Gardens) and - under Pocock - of Nos. 2–14 (even) on the north-east side of the square. In the event Pocock had to finish some of Archbutt's houses. He comments: 'had he been content with this one "speculation", he would have done very well'; presumably therefore his partner overreached himself elsewhere. (fn. 203)
Pocock alone proceeded to demolish The Hermitage and finish the square, which was completed with two individual houses, Nos. 34 and 35, Hanking a short exit road (known until 1881 as Vincent Street) leading out over Smith's Charity land to Walton Street. This land (in the parish of Chelsea) he took 'almost on my own terms, as 1 could give an equivalent in means of access to the whole. With very little trouble and outlay, I cleared perhaps, £5,000 out of this in a few months.' This refers to the houses in Vincent Street, now known as Nos. 36–42 (even) and 37–43 (odd) Ovington Square; they were built by Pocock in conjunction with Samuel Archbuti junior in about 1849–51, following on from olher development by him along the north side of walton Street, also on the Smith's Charity estate in Chelsea, around this time. (fn. 204)
Ovington Square proved a success for Pocock. His houses were occupied promptly and fetched good prices; in 1852 he was paid £1,250 for a seventy-two-year term on No. 30 Ovington Square, one of the last houses to be completed and one of the few to be provided with stabting (fn. 205) Pococl himself seems not to have had to part with many head leases or to incur an especial number of mortgages. Capital for the initial development came from profits on earlier undertakings along with a small loan from Thomas Knight of Thistle Grove; later on there were advances from W . F. Pocock, Knight and others as trustees of the Chelsea Building Society. (fn. 206) The best testimony to Pocock's success is his own: 'I happened to mention to Mr. Thos. Cubitt how much per acre 1 had given for the Land, and he seemed to think it too much. I mentioned it to Mr. Seth Smith, and he said 1 should make £10,000 out of it in seven years. It was virtually completed in less than 5 years, and my gains greatly exceeded his estimate.' (fn. 197)
All the houses thus erected apart from Nos. 34 and 35 at the end of the square have orthodox plans, with two rooms on each floor, Italian ate stucco fronts and four full storeys above ground, and all are about eighteen fed in width (Plate 17a, 17b). Some have two windows on the upper floors, others display a species of single Venetian window. At the ends and in the middle of the two ranges in the square are pillared porticoes, but the balconies and other details are not consistent, not do the ranges match precisely. Some of these infelicities were doubtless due to changes during development. Internal details naturally vary also, but all conform to the Italian or late Grecian styles popular in the 1840's.
The thirty-five houses in the terrace and square inhabited in time for the census of 1851 contained on average five persons each, mainly minor gentry or professional people with two or three servants per household. The one aristocrat. Lord Arthur Lennox at No. 21, enjoyed the largest complement, with five servants and five members of his family; next door at No. 22 were the landscape painters William and Emma Sophia Oliver, at No. 18 the Sicilian-born artist Guglielmo Faija, and at No. 4 could be found a fading actress, Mrs. Nishett (Lady Louisa Boothby), under the care of her mother. (fn. 207) The first occupant of No. 33 was another painter, James Go(o)dsell Middleton, who in 1852, shorly after his arrival, exhibited portraits of W. W. Pocock and his wife at the Royal Academy. He was succeeded by a better-known artist, Edwin Long, who lived at No. 33 from about 1860 to 1875. (fn. 208)
The central garden was leased to Pocock in 1854. (fn. 209) No further development occurred from then until Elizabeth Yon Zandt died ten years later. Her heir, Sir Thomas Richard Swinnerton Dyer, ninth baronet, and his son Henry Clement Swinnerton Dyer now promoted the development of the remnants of Brompton Lower Grove in agreement with Charles Aldin, the well-known Kensington builder. Here, immediately across the roadway from Ovington Terrace, Pocock had 'reserved and planted a small strip of land to mask an ugly wall belonging to my Freeholder and prevent a nuisance'; he now received from Aldin 'nearly £1,000 for giving this up, to enable houses of a superior class to be erected on the land behind it'. Under his plan of about 1866, Aldin built ten houses (Nos. 1–10 Ovington Gardens) facing Ovington Terrace. Behind these he laid out a mews, while on the site of the houses facing the main road arose six shops with accommodation above (Nos. 187a–195 Brompton Road). All these buildings were leased to Aldin or his nominees in 1867 or 1868 and occupied evpeditioush. (fn. 210) They were built in a downright orthodox stock-brick style with stone dressings and had four storeys above ground (Plate 17d). In 1869 the street became formally known as Ovington Gardens; seven years later the older houses were renumbered to allow for the newcomers, Nos. 1–14 Ovington Terrace becoming Nos. 11–24 Ovington Gardens.
Later reconstruction along Brompton Road has led to the demolition of both Pocock's and Aldin's shops and to the disappearance of Nos. 11 and 12 Ovington Gardens from the original composition of Ovington Terrace. The present Nos. 187A–195 (odd) Brompton Road date from 1963–4 (Plate 24a); (fn. 211) brief details of these buildings will be found on page 7. West of these is Ovington Court (Nos. 197–205 Brompton Road and Nos. 1a–7 Yeoman's Row), a large block of flats designed by Murrell and Pigott in 1929–30. (fn. 212) In the square, little has changed. The narrow mews between Nos. 32 and 34 in the south-east corner allowed the modest No. 32A,_designed for W. I. Turner by Clough Williams-Ellis, to be inserted in 1924. (fn. 213) Nearby, Nos. 22–26 (even) were replaced in 1957 after war damage by steel-framed, brick-faced flats designed by Walter and Eva Segal for Apex Properties (Plate 17b). (fn. 214) This building respects the scale of the surrounding houses, though not their style.
It remains to say something of the history and character of Yeoman's Row since 1850. By that time some thirtyfour cottages had been built on the west side on the Smith's Charity estate (see pages 92 and 97), and the street had become a refuge for a large and almost exclusively working-class population. The census of 1851 shows that within the sixty-eight little houses in Yeoman's Row there lived 1,020 inhabitants—a figure substantially larger than that of all the residents (including servants) in the great houses of Grosvenor Square in Mayfair. The average number of inhabitants in each house was 15, but in one case there were 28 people, forming 6 separate households. Only two houses were in undivided occupation, one of the householders here being ' a proprietor of houses'. Male householders included building tradesmen (48), coachmen or grooms (21), labourers (18), coachworkers and shoemakers (11 each), tailors (9), and gardeners and furniture workers (5 each). Female householders included laundresses (12), charwomen (5) dressmakers (4) and nurses (3). (fn. 215)
By 1881 the total population had fallen to 888 and the average number of inhabitants in each house to 13. The number of householders in the building trades had declined to 30, while labourers had increased to 27; and five policemen now lived in Yeoman's Row. Otherwise there was little change. (fn. 216)
Nos. 27–33 (odd) arc of particular interest as they are now the only survivors of the houses enumerated in the census of 1881. At that date Nos. 29 and 33, with 25 inhabitants in each, had the highest number of residents of all the houses in the street. At the former there were seven separate households and at the latter four. Despite having been 'altered' (and presumably improved) in 1879, a condition forthe renewal of the sub-lease of all four houses in 1890–1 was that they should be 'put in thorough repair and kept so'. (fn. 217) In 1905–6 each of the four floors of No. 27 was in separate occupation, the weekly rents ranging from 5s. 6d. to 7s. (fn. 218) As late as 1938 the Kensington Borough Council was considering declaring all four houses 'to be a clearance area'. (fn. 219)
The long process whereby this overcrowded sump assumed its exclusive modern chic began in the 1890's with the appearance of middle-class studios on the Smith's Charity estate on the west side. The tension which evidently existed between the residents on either side of the street came to a head in 1931–2 when the London County Council was induced to act against various sheds and pigeon-houses on the forecourts of the old Grove Cottages, which were decidedly raffish. A studio-dweller opposite, however, wrote in defence of one of the L.C.C.'s victims in these terms: 'the majority of the people down here are a very ignorant and dirty crowd and this man is a distinctly different class and quite an acquisition to the street … the pidgeons with their cooings are quiet compared with the usual quarrelsome dogs and cats to say nothing of the usual sample of owner! (fn. 220)
All this heralded impending gentrifitation. Neo-Georgian brick houses in smart pairs duly anise on the sites of Nos. 35–57 to designs by E. Walcot Bather, Nos. 35–49 being built in 1937–8 and Nos. 51–57 following on in 1953–4. (fn. 221) Further north, the old Georgian Nos. 9–25 survived a threat of 1938 but finally succumbed in 1960, when they were replaced with a neat row of houses in similar style by J. J. de Segrais, architect (Plate 9c). (fn. 222) With these disappeared what John Betjeman at the time called 'the last glimpse of the village of Brompton, when it stood in the market gardens of Knightsbridge'. (fn. 223)
Nos. 209–251 (odd) Brompton Road
The land between Yeoman's Row and the entrance to Crescent Place, extending as far as the former parish boundary on the south, belongs to the Smith's Charity estate, and the history of the present and former buildings on the site is described in Chapter VI.
Nos. 275–315 (odd) Brompton Road
The group of buildings between Crescent Place and Draycott Avenue consists of a small neo-Georgian public house (the Hour Glass) and a range of shops of various dates, each with two or three storeys of residential accommodation above. Except where later rebuilding has taken place the upper storeys are generally rendered and have a variety of window dressings. The history of the buildings is as obscure as their appearance is undistinguished.
The strip of land on which they stand has a long frontage to the main road, but is shallow and of uneven depth. At the end of the eighteenth century it appears to have been either waste land or copyhold of the manor of Earl's Court. (fn. 224) At that time only two buildings stood here—a small structure, perhaps a shop, which had been erected in about 1798 (fn. 14) approximately where No. 285 now stands, and a larger but probably hardly more substantial building of earlier date on the site of the present No. 315, at the corner of Blacklands (or, on some maps, Whitelands) Lane, later Marlborough Road and now Draycott Avenue. On the other side of the lane stood the Admiral Keppel tavern (in the parish of Chelsea) and the building at No. 315, which had a low rateable value, may have been no more than a shop or other adjunct of the tea garden which was one of the attractions of the inn. (fn. 225) The greater part of the land was probably enfranchised at some time between 1783 and 1831, a period for which the court rolls of the manor are no longer extant, but the site of this building remained copyhold until 1866. (fn. 226)
No building activity of note took place until 1806 when a sixty-year lease of most of the land was granted to one James Duddell, (fn. 227) and a fair-sized detached house, double-fronted but of little depth, was built in the middle of the plot and shortly afterwards assigned, together with the leasehold interest, to a John Gray. At about the same time the southernmost house at No. 315 was rebuilt and let to a greengrocer, and, in the absence of any evidence of further rebuilding, may still form the core of the present building there. Other premises, which were occupied by a milkman, were erected on the site of, and may likewise form the core of, the present No. 287. Lastly, in this initial phase of building activity, four small houses were built in 1809 to the north of, and adjoining, the southern corner house. Perhaps little more than small shops which are barely visible on Starling's map of 1822, this range was originally known as Keppel Place. (fn. 228)
In 1817 the freehold or copyhold of the whole plot (including the copyhold of the site of No. 315) was acquired by George Willmer, who occupied the detached house for the next seven years before moving to King's Parade, King's Road, Chelsea. (fn. 229) Shortly after his departure the house was demolished and between 1826 and 1832 eight houses were erected in its place, of which only Nos. 289–293 survive in any recognisable form. The rebuilding was organised by Thomas Gray of Marylcbone Street near Golden Square and later of Piccadilly, a stationer, who had succeeded to the lease of 1806, and in about 1830 the name Gray's Place was adopted for his range of buildings instead of Keppel Place. (fn. 230)
In 1831 Willmer granted a lease to George Godwin the elder of the narrow strip at the northern end of the ground (occupied at the present time by the Hour Glass and No. 285), which had not been included in the land leased in 1806. (fn. 231) Godwin seems to have rebuilt No. 285 (which, however, was largely rebuilt again in 1981 (fn. 232) ) and also erected other small houses and lock-up shops, now demolished, on the site. (fn. 14) Finally, this second phase of building was brought to an end in 1835 when the four houses near the southern end of the frontage, which had been built in 1809, were rebuilt or substantially enlarged. (fn. 14) The three southernmost of these may form the basis of the building fabric of Nos. 309–313 despite later alterations.
By the mid 1830's the whole frontage was occupied by some nineteen buildings, mostly of a nondescript character, and all apparently with shops on the ground floor. (fn. 233) The buildings at the northern end, which were leased to Godwin, were numbered from north to south as 1–5 (consec.) Crescent Place, Fulham Road (not to be confused with the houses of the same number which were erected later in Crescent Place itself on the Smith's Charity estate), and the remainder were numbered from south to north as 1–14 (consec.) Gray's Place. In 1862 they were all renumbered as 35–75 (odd) Fulham Road. from north to south, and in 1935 renumbered again as 275–315 (odd) Brompton Road when this part of Fulham Road was incorporated into Brompton Road. The enlarged Hour Glass now occupies the sites of Nos. 275–283.
In his will, which was proved in 1832, Willmer left all his freehold and copyhold property to the children of his daughter, Sarah, who had married James Wilkin. The prolific Sarah Wilkin had several children and the administration of the will proved a complex affair for Willmer's trustees. (fn. 234) The problem was partly resolved in 1867 when the Metropolitan District Railway Company bought the southern half of the ground in order to construct its railway line, which had been authorised by Act of Parliament in 1864. (fn. 235) Only three houses had to be demolished, however, and these were replaced in 1871 by the present Nos. 303–307 (odd), which were built by Temple and Foster of Paddington in a florid Franco-Italian manner with elaborate architraves to the windows and a high, mansarded attic storey. (fn. 236) In the same year Nos. 309–313 (odd) were apparently refronted with coarse stone or cement ornamentation; (fn. 237) No. 313 has since been further altered.
In 1934–5 Nos. 295–301 (odd) were rebuilt as a pair of shops with three storeys of flats above in brown brick with projecting stone bays, (fn. 238) and in 1936 the Hour Glass public house, which had begun life as a beer shop in the 1830's, was rebuilt on an enlarged site in a simple neo-Georgian red-brick manner to the designs of Sidney Castle. (fn. 239)