Pages 33-49
Survey of London: Volume 41, Brompton. Originally published by London County Council, London, 1983.
This free content was digitised by double rekeying and sponsored by English Heritage. All rights reserved.
CHAPTER III - Brompton Road, North Side
On the north side of Brompton Road, the modern borough of Kensington now stretches no further east than Montpelier Street, the frontage beyond up to Knightsbridge Green having been ceded to the City of Westminster in 1900 (see fig. 1 on page 2). Anciently a thin strip of Kensington extended as far east as Knightsbridge Green, but in terms of land ownership the parish boundary with St. Margaret's, Westminster, hereabouts was never (of great significance. From the earlier seventeenth century until 1759 a very substantial tract of land in both parishes here was in a single freehold block. This holding (some twenty-five acres in extent) was bounded by Brompton Road on the south, where it stretched west from Knightsbridge Green to the point where Cheval Place now debouches into the road east of Brompton Square; the only exception on this side was a narrow strip of the Brompton Road frontage reaching westwards from Knightsbridge Green about half way to the present Lancelot Place, which seems until 1705 to have been in other hands. On its north side the boundaries were not so regular, but some portions extended up to the western continuation of Knightsbridge and another detached piece occupied the site of the present Ennismore Gardens. The holding comprised portions of the fields or closes known as Wellfield, Greenfield and West or Wett Meads. (fn. 1)
Like much of eastern Kensington, this property belonged in the early seventeenth century to Sir William Blake, being part of the hundred acres of meadow and pasture land in St. Margaret's Westminster, Chelsea, Knightsbridge and Kensington which that gentleman owned at his death in 1630. (fn. 2) Subsequently it passed to the Tatham family, which by 1675 also held thirty-three acres of copyhold land in Kensington, including the thirteen acres adjoining westwards to this freehold, where Brompton Square, Holy Trinity Church, and the Oratory now stand. (fn. 3) By 1691) the freehold property belonged to Thomas Powell of Hackney, citizen and cutler of London, and his wife Elizabeth, daughter of Henry Tatham of Clapham. (fn. 4) They disposed of it in 1717 to Peter Laroche, and he duly resold it the following year to Philip Moreau (1656–1733), who since 1705 seems to have been the owner of the thin strip of land previously referred to immediately south-west of Knightsbridge Green, later the site of Nos. 38–58A Brompton Road. (fn. 5)
The property remained in the hands of the Moreau family until 1759. They were prosperous Huguenot merchants who maintained strong European connexions. (fn. 6) But Philip Moreau, who died worth 'near £50,000', (fn. 7) and his son James Philip Moreau (c.1681–1748) both lived on their Knightsbridge estate. Their large house (Plate 4a) lay just in St. Margaret's parish, fronting the west side of Knightsbridge Green (where Caltex House is now entered). It had been occupied at some point in the late seventeenth century by the celebrated Katherine, Viscountess Ranelagh, but was 'new built' again by James Philip Moreau. (fn. 8) Later it was to become a boarding house, known confusingly enough as Grosvenor House, Knightsbridge; (fn. 9) it was finally demolished in about 1864.
Of the several other buildings on the estate before 1759, much the most important was the large and ancient Rose or Rose and Crown inn, on Knightsbridge itself close to Knightsbridge Green, with various adjacent stables and dwellings, all in Westminster. There was another inn, the World's End or Fulham Bridge, just in Kensington (where No. 66 Brompton Road later stood), and a scatter of smaller houses, of which two sheltered behind a walled garden along the strip of Kensington between the Fulham Bridge and the house of the Moreaus, on the property which had been separately held until 1705. (fn. 10) Most of the estate however was still garden or meadow land in horticultural use and much of it w as tenanted by local innkeepers.
After James Philip Moreau's widow, Esther, died in 1753, the estate passed to their grandson, Charles Frederick Moreau (1735–84). He appears not to have lived at Knightsbridge, which was slowly being encumbered with suburban development. On coming of age, he raised mortgages of over £5,000 on the property in 1757–8 and put up the whole for auction in 1759. (fn. 11) By this time he had taken holy orders, accepted a living in Dorset and married, but his subsequent behaviour belied these promises of a settled existence. By 1773 he had arrived on his own in South Carolina, where in 1778 he became the second rector of St. Michael's, Charleston. (fn. 12) (fn. n1) Meanwhile his wile Ann was left in London unprovided for, and reduced to petitioning for relief from small debts. (fn. 14) Moreau died at Charleston in 1784, leaving a very modest estate; (fn. 15) where and how the proceeds of the sale of 1759 were dissipated remains a mystery.
The auction of 1759 divided the .Moreau property into nine lots. The estate was therefore dismembered and the parts then in Kensington fell into three separate freeholds. These consisted of the short frontage along Brompton Road from Knightsbridge Green as far as what became No. 58 A Brompton Road; an equally small section from here up to the comer of what is now Lancelot Place; and a much larger property stretching westwards from Lancelot Place as far as No. 188 Brompton Road, together with Montpelier Street, Cheval Place and lands behind in both parishes. For reasons of size and convenience the first two freeholds are taken together below.
Nos. 38–76 (even) Brompton Road
The purchaser in 1759–60 of the modest freehold immediately south-west of Knightsbridge Green with its two small houses was Joseph Pickles, a brushmaker of the City of London, acting here on behalf of two paper-stainers in partnership, Benjamin Crompton and William Spinnage. (At the same time they also bought the important staging inn on Knightsbridge itself, the Rose and Crown, which probably interested them more.) (fn. 16) In time the ownership was consolidated in the hands of Spinnage's son and daughter-in-law, who lived in the more easterly house next to Knightsbridge Green. Some low and insignificant cottages, at first known as Gibbon's Rents after their lessee of 1797, Eleazar Gibbon, and depicted on Salway's survey of 1811, were built on part of the Spinnages' garden (Plate 4a). To the west of the various houses here a portion of garden ground, later the site of the Brompton National School, for the time being survived. (fn. 17)
Excepting this last-mentioned ground, the different interests were all bought up by a lawyer, Nathaniel Gostling, between 1803 and 1808. In 1817 he disposed of them for £1,999 to William and John Whitehead of Little Cadogan Place, Chelsea, builders. (fn. 18) The Whiteheads were considerable developers, chiefly in Chelsea, where their name is commemorated in Whitehead's Grove; they probably had enjoyed close links with Henry Holland and were involved in building some of the outer areas after the original nucleus of Hans Town had been completed. (fn. 19) Here the Whiteheads elected to build a terrace of nine plain four-storey brick houses with shops (later Nos. 42–58 even Brompton Road) immediately west of the corner house facing Knightsbridge Green (Plate 7d). One deed indirectly connects the surveyor-architect George Godwin the elder (who certainly worked with the Whiteheads in Chelsea) with these houses, though whether he designed them does not transpire. (fn. 20) Responsibility for building them was divided between four separate undertakers (Edward Dolman, Charles Jewell, William Harding and William Jones), who received leases of varying length from William Whitehead. (fn. 21) Construction proceeded slowly between 1818 and 1824, at which date the Whiteheads sold the freehold of the whole for £3,500 to William Beach of Sloane Street, with whose family the property long remained. Rather later, in 1841£2, the comer house facing Knightsbridge Green came 'in hand' and its site was rebuilt with two further houses on Beach's behalf by George Todd of Marlborough Road, Chelsea, builder, to the designs and meticulous specifications of one Charles Downes, architect. (fn. 22) These later additions (Nos. 38 and 40 Brompton Road) matched well with the houses adjacent to the west.
The houses of the Whiteheads and of Beech were initially called Nos. 1–11 Brompton Road, at a time when the street had no such official name; they became Nos. 38–58 (even) Brompton Road in 1864. They were doubtless much affected when the new Tattersalls horse mart was built immediately behind them (in St. Margaret's parish) in 1864, but survived until about 1955.
West of the properties bought by Crompton and Spinnage, the land as far as Lancelot Place (then a small 'driftway' leading to the Rose and Crown) was purchased in 1759–60 by William Wildman Barrington, Viscount Barrington. (fn. 23) The large World's End or Fulham Bridge tavern was the one building here, with stabling behind it in St. Margaret's parish. Barrington promptly disposed of it in 1762 to its licensee, the victualler John Butcher, who in turn assigned it in 1776 to Edward Snape, farrier. (fn. 24) In about 1777–80 the Fulham Bridge itself appears to have been rebuilt and three small brick houses (Nos. 60–64 even Brompton Road) were added immediately to its east (Plate 7c). At the back of part of these premises appeared 'a certain Ride for Exercising and Shewing of Horses' and a forty-three-stall stable, harbingers perhaps of the time when Tattersalls was to move its auction rooms from Hyde Park Corner to this district in 1864, and evidence that dealing in horses was then already an established tradition in the locality. (fn. 25) From the early nineteenth century the entrance to Fulham Bridge Yard was known as Tullet or Tullett Place after a licensee of the time, Richard Tullet. By 1794 a house also existed at the corner with Lancelot Place (No. 76 Brompton Road), and in about 1795–6 four higher houses (Nos. 68–74 even) were built between this and the Fulham Bridge Yard under the aegis of Obadiah Reeve of Limehouse, timber merchant, thus completing a short terrace known until 1864 as Brompton Place (Plate 4a). (fn. 26) A few years later, in about 1810, Lancelot Place obtained its name and dignity as a means of access to the new Trevor Square in St. Margaret's parish behind.
The one remaining piece of vacant ground here, between Nos. 58 and 60 Brompton Road, lay vacant until 1841–2, at which date the Brompton National School was (in Crofton Croker's words) 'wedged in there'. (fn. 27) Early incumbents of Holy Trinity, Brompton had had some difficulty in securing a permanent school site, but in 1841 purchased this confined plot, formerly known as the 'Melon Ground', from George Watson Wood. (fn. 28) A picturesque but symmetrical small edifice in Tudor style (Plate 10b), the school was designed by George Godwin the younger and built by James Bonnin junior for £1,100; it accommodated just over two hundred girls and two hundred boys. (fn. 29) It survived until about 1889–90, when the school moved to the old Brompton Chapel in Montpelier Street, It was then acquired and demolished by an art dealer, William Benjamin Creigh, who promptly replaced it with No. 58a Brompton Road, an over-scaled tall, red-brick building in Queen Anne taste (Plate 14c). .Ambitiously styled 'The Art Workshops', it evidently included craft studios. But in 1893 the business was wound up, and henceforward No. 58a was used as a depository. (fn. 30) (fn. c1) Among later alterations were a shop front and ornamental doorway designed in about 1921 by E. Vincent Harris when the ground floor was converted for the use of Macfisheries Limited. (fn. 31)
Further changes occurred along this short stretch of Brompton Road between 1885 and 1910. The Fulham Bridge (No. 66) underwent alterations in 1888 when its lease was renewed (Plate 7c), and in 1894 changed hands for £20,000. (fn. 32) Next to it at Nos. 60–64 (even), the existing small houses were knocked down and ornate showrooms and flats fronted in red brick with dressings of Doulton's terracotta were erected in 1905–6 for Humber Limited, motor and bicycle manufacturers, to designs by R. A. Briggs (Plate 14c); John Allen and Sons of Kilburn were the builders. (fn. 33) Further west, the fronts of Nos. 68 and 76 (even) Brompton Road had been stuccoed and altered by 1900, while in between, Nos. 70–74 (even), a virile building of brick and stone with oriel windows and in a forthright mixture of styles, went up in 1896 for Cooper and Company, grocers and tea-dealers (Plate 14a). The builders here were Sampson and Company and the architect F. E. Williams. (fn. 34)
Severe bomb damage having been incurred between Nos. 58 and 66 Brompton Road, the whole section of Brompton Road from Knightsbridge Green to Lancelot Place with Tattersalls behind was scheduled for comprehensive redevelopment after the war of 1939–45. All the existing premises were demolished from 1955 onwards and the present office buildings were erected thereafter. They include the very substantial Caltex House (No. 1 Knightsbridge Green and Nos. 44–58 Brompton Road), designed by Stone, Toms and Partners and built in 1955–7 for Edger Investments Limited; (fn. 35) Silver City House of 1955–7 (Nos. 58a–64 Brompton Road) by Frank Scarlett for Beaufort Estates- (fn. 36) and Lionel House (Nos. 66–76 Brompton Road) by Gunton and Gunton for the City of London Real Property Company Limited (1960). (fn. 37) None calls for much notice, though Caltex House (Plate 24c) boasts a large external sculpture of sea horses, designed by F. Belsky and executed in reinforced concrete covered with a coating of plastic metal. (fn. 38)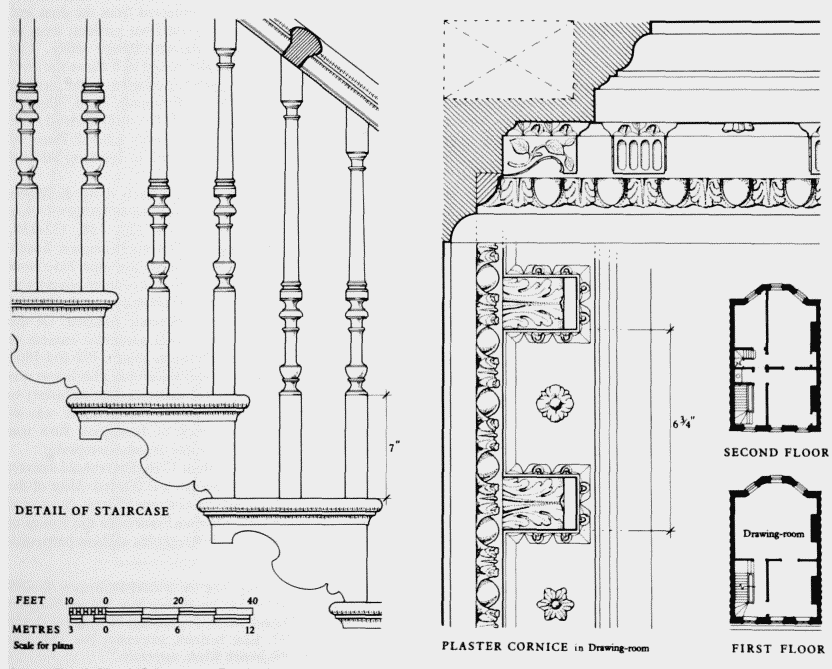 Nos. 78–188 (even) Brompton Road (formerly Brompton Row)
West of what is now Lancelot Place the estate of the Moreaus consisted of five 'closes', described in the auction particulars of 1759 as 'rich Meadow Land, and well situated for Garden Ground, or for building'. (fn. 39) This substantial tract (see fig. 1 on page 2), at that time partly used by tenants of the Rose and Crown inn, was bought by Elisha Biscoe of Bedford Row, the Inner Temple and Heston, Middlesex. (fn. 40) Biscoe (1705–76), a prosperous attorney well versed in property speculation, was connected through his grandmother with those Alexanders, Braces and Brownes who owned much of the local land (see fig. 2 on page 11). (fn. 41) He had witnessed both mortgages of the Moreau estate in 1757–8 and therefore knew it previously. (fn. 42)
Plainly Biscoe wished to develop the land as soon as was practicable. In 1764 he signed articles of agreement with Thomas Rawstorne of St. Martin in the Fields, ironmonger (and later of Islington, where Rawstorne Street, Finsbury, perpetuates his name). (fn. 43) By this agreement Rawstorne was to organize the building of houses, fifty-six in all, along the frontage of Brompton Road. A new street, originally Rawstorne Street but from 1862 called Montpelier Street, was to debouch into Brompton Road approximately halfway along. East of this street the shallowness of Biscoe's property made a mews behind impracticable. But west of Rawstorne Street a mews lane (originally Chapel Row) was projected behind the houses, terminating at the 'driftway' which marked the western boundary of the development. In due course (probably in the 1820's when Brompton Square was built) the short section of this driftway between Brompton Road and the mews became known as Cheval Place, a name in 1910 extended also to Chapel Row (or Place). All the land to be built on initially lay in Kensington, leaving about seven and a hall acres in Biscoe's possession as yet undeveloped, most of it in St. Margaret's parish but some of it then still in Kensington.
The development was at first named Biscoe's Buildings, but by 1790 had become known as Brompton Row. Most of the houses along the main frontage were put up by building tradesmen and leased to them quickly and efficiently between 1766 and 1768. (fn. n2) The terms varied, but were mostly a little shorter than the 105—year period suggested in the original articles of agreement. Many of the houses were mortgaged back immediately to Elisha Biscoe's brother Vincent John Biscoe (1721–70), a West India merchant. (fn. 45) Characteristically, the first building to be leased was a public house, the Crown and Sceptre at No. 132 Brompton Road, on the western corner with Montpelier Street. (fn. 46) The largest undertakers were Joseph Clark(e), carpenter and builder, who erected all sixteen of the westernmost houses (Nos. 158–188 Brompton Road) (fn. 47) and William Rose, carpenter, who was involved with fourteen of the sites in the eastern sector of the development (Nos. 104–130 Brompton Road). (fn. 48) In Rose's case however all may not have gone well. After mortgaging many of his properties to a timber merchant, he became bankrupt and was dead by 1771. (fn. 49) Like several other of the craftsmen involved here, Rose had been previously based in St. Marylebone.
Biscoe's Buildings were the most substantial of the terrace houses built in Brompton during the boom of the 1760's. Salway's plan of 1811 (Plates 4c, 5b) shows all except two as of three windows' width, while most enjoyed four storeys above ground, some having dormers and some full attics. The houses were protected from the dust and noise of Brompton Road by good front gardens, trees or shrubs, and in some cases shared carriage drives. The more westerly houses were also raised well above the level of the roadway, a feature perpetuated today in the stepped pavement along this portion of Brompton Road. The last house at the extreme western end (No. 188) differed from the rest in extending westwards over Cheval Place by means of an archway (Plate 6b) and in breaking forward from the main building line.
Of these houses (Plates 4c, 5b, 6, 8a, 8b, 8d, fig. 8), fifteen at the time of writing retain discernible traces of their original size and form (Nos. 120, 122, 128, 132–138, 150, 152, 156, 168–174 and 188 even Brompton Road). All these have been grievously altered and most have been stuccoed, but several retain sufficient of their interiors to show that they varied in plan (some had three-sided bays at the back) and were quite handsomely finished. Of the survivors one, No. 168, commands particular interest as the experimental residence between about 1798 and 1802 of Benjamin Thompson, Count Rumford. This house was sufficiently unusual and well-documented for its history to be discussed in detail below. No other house was of comparable interest, but much of Brompton Row was originally well inhabited by people of some prosperity.
After Elisha Biscoe's death in 1776 the freehold interest in the Brompton Row properties was divided. Most of the houses west of Montpelier (Rawstorne) Street descended through his daughter Catherine Frances to the Rolfes of Heacham Hall, Norfolk. The freeholds of these properties were bought by Charles Goodwin of King's Lynn in 1837 and began to be sold off just before the original leases expired. The eastern houses and the remaining undeveloped land behind the frontage passed to Elisha Biscoe junior (1753/4–1829). (fn. 50)
Along Brompton Road itself, alterations naturally occurred over the years; many of the houses were stuccoed and the front gardens of all were severely curtailed by road widenings. The only house that seems to have been entirely rebuilt before the leases fell out round about 1870 was No. 130 at the east corner with Montpelier Street. In 1868–9, Nos. 142–146 were acquired by the novelist and playwright Charles Reade with a view to building a theatre here, but the scheme came to naught (fn. 51) Not until the Edwardian period did other of The old houses start to disappear. In the eastern sector three adjacent houses (Nos. 108–112) were rebuilt and a fourth (No. 114) was refronted, all in red brick and stone, at this time. Of these Nos. 108 and 110 (1902–3) were designed by the architects Louis A. Blangy and Frans van Baars (Plate 8a). No. 108 was the model premises of a fashionable local baker. Spiking and Company, and included a small refreshment gallery where shoppers could take sustenance after an arduous afternoon at Harrods (fig. 9). It retained some fashionable Art Nouveau touches until its demolition in 1982. (fn. 52) Further west. No. 154 was rebuilt in 1905. (fn. 53)
A first substantial change in scale came in 1934–5 when the houses between Nos. 78 and 94 Brompton Road were replaced by Princes Court (initially Knight's Court), a large block of steel-framed flats designed on behalf of F. L. Griggs by G. Val. Myer and F. J. Watson-Hart (Plate 24b). (fn. 54) Among the shops on the ground floor was one at No. 78 designed by Wells Coates for Cresta Silks. A few years previously, in 1929, Coates had installed on the ground floor of the old No. 78 the first of a celebrated series of shops for this firm, but the rebuilding necessitated a new design. (fn. 55) Cresta Silks continued to occupy the shop until 1979–80, but latterly none of Coates's work remained.
Since 1945 the surviving portions of the first development have been inexorably whittled away, with blocks of offices and shops arising along Brompton Road at Nos. 96–104 (1959–60), 106–110 (1981–2), 124–126 (1982–3), 140–148 (1980–2), 158–166 (1959–60), 176–178 (1954–5) and 180–186 (1963). Brief details of these buildings are given on page 8.
Brompton Chapel
In conjunction with the houses of Brompton Row, Elisha Biscoe and Thomas Rawstorne also erected a proprietary chapel at the north corner of Rawstorne (Montpelier) Street and Chapel Row (Cheval Place). It was built under an agreement of April 1768 between Rawstorne, the Reverend Richard Harrison of Tottenham Court Road and the Reverend Seth Thompson of Kensington, and leased to the three of them in the following year. (fn. 56) The agreement stated that a chapel was 'thought necessary and of great utillity' to the development and stipulated that the partners were to contract with proper persons for building and furnishing the chapel. Shares in the enterprise were divided into six parts. Harrison, who held two of the sixth shares, was appointed the first 'Morning Minister' at £80 per annum and Thompson, with one sixth share, the first 'Afternoon Minister' at £40; Rawstorne retained the other shares, and the pew rents were divided between the parties after deducting the expenses. Harrison, a preacher of some note, continued here until his death in 1793. (fn. 57)
A modest, square brick building entered from Rawstorne Street, the Brompton Chapel was dignified with a pediment and a small bellcote (Plate 10a). Within were galleries on three sides resting on columns, and a minimal projection for a sanctuary at the west end. (fn. 58) After Holy Trinity, Brompton, was opened in 1829 the chapel (sometimes now known as St. John's Chapel) probably became less frequented. In 1832 the freehold was sold for £440 to the Reverend George Allan of Brompton. (fn. 59) When William Pepperell made his survey of places of worship in Kensington in about 1871, he found the chapel 'strictly Georgian in its character, Georgian indeed to the backbone…It is simply ugly outside, and very little more maybe said of it inside … It has successfully resisted all modem innovations; no alterations of any kind have taken place, excepting that a coating of stucco has been bestowed upon the front. The same is true of the character of the public service. (fn. 60)
The chapel was for sale again in 1878, and in 1888 it became a church school when the Brompton National School building at No. 58a Brompton Road was closed. The architect for this conversion was C. H. M. Mileham and the builders were Dove Brothers, who also made later alterations. (fn. 61) The school finally closed in 1939, at which date the building's elevations were still essentially unchanged. But drastic alterations were made subsequently for W. and F. C. Bonham and Sons Limited, auctioneers, particularly by J. Newton-Smith of Haynes and Carpenter, architects, in about 1953–4. (fn. 62) The building still survives in carcase as Bonham's Montpelier Galleries, but has been raised by a storey, re-stuccoed in a rather Germanic manner, and bereft of all its Georgian features, internal and external.
No. 168 Brompton Road
Benjamin Thompson, Count Rumford (1753–1814), scientist, philanthropist and domestic reformer, bought No. 45 Brompton Row (as that house was then called) in the summer of 1798. (fn. 63) At this point in his quixotic career he was severing his connexions with the Court of Munich, where he had spent most of the previous fifteen years, and intending to settle permanently in Britain. Soon after moving to London he inaugurated the Royal Institution, which he conducted more or less as a personal enterprise before falling out with the managers and withdrawing in 1801. At this period he lived at least partly in the Institution's rooms in Albemarle Street and also travelled widely, and therefore he may have been little at Brompton. Indeed he appears to have resided there permanently for only a year or so, in 1801–2. (fn. 64) Yet at about the time that he was losing control of the Royal Institution, Rumford embarked on a series of internal alterations at Brompton Row to make his house a model of modern domestic convenience. These works were complete by June 1801, when the Swiss scientist M. A. Pictet stayed with Rumford at Brompton and wrote a long account of the house. They were undertaken by Rumford himself with some help from Thomas Webster, the architect whom he had employed at the Royal Institution. (fn. 65)
As described by Pictet, (fn. 66) the house remained orthodox in plan, with two rooms on each floor. On ground level were parlour and dining-room, on the first storey drawingroom and bedroom, on the second bedrooms, and on the third a bedroom and surprisingly, Rumford's study, which enjoyed a view to open country northwards out of a bowed window. The outbuildings towards Chapel Row (now No. 41 Cheval Place) included besides the usual stabling and 'offices' a chemical laboratory, probably that described in 1802 as 'the Octagon room in New Building'; (fn. 67) they were connected with the house by a covered way warmed by heating pipes. (fn. n3) The most visible eccentricity of the house was the double-glazing of the front windows, effected by means of three-sided projecting glass cases in which plants could be placed.
Inside, Rumford arranged the main rooms so as to conceal the services as far as was practicable. Thus the chimney-breasts, which contained 'close stoves' of brick and earthenware rather than the standard fireplaces or cast-iron stoves, did not protrude, having cupboards and hinged flaps for tables on either side. In summer the stoves were hidden by frames of cloth painted to look like panelling. In the bedrooms, the beds could be converted to form sofas during the day; in the dining-room, a folding screen enabled the space to be made larger or smaller and meals to be served in greater privacy; while in the kitchen, described by Rumford in one of his essays, (fn. 68) the roaster, boiler and other devices could be concealed behind panels of sheet-iron so that 'on entering it, nobody would suspect it to be a kitchen'.
Pictet also adverts opaquely to Rumford's colour scheme for the house. 'Even in the choice of colours it can be seen that the owner's taste has been aided by the physical principles of the mixture of colours; these, as he has discovered, are always harmonious to the eye when they are respectively the complement of the colours that the whole prismatic spectrum can offer. You see how the discoveries of Newton can be applied to the choice of a ribbon as to the system of the world.'
Rumford never stayed long enough at Brompton to make full use of his improvements. In May 1802 he went to Paris, to all intents on a short visit, but he returned, if at all, only for brief periods. (fn. 69) The house was let at first on short tenancies under the supervision of his housekeeper Bessey Williams and was rated to Rumford until 1807, when the Reverend William Beloe, translator of Herodotus, took it on. (fn. 70) The head lease remained with Rumford's daughter until at least 1831, when much of his furniture and effects was sold. (fn. 71) At about this time a thorough reconstruction of the house appears to have occurred. Nothing now seems left of his schemes, though the south-facing front of the stable block retains an essentially mid-Georgian appearance.
Cheval Place and Montpelier Street Area
In 1824 Elisha Biscoe junior sold the freehold of some seven and a half acres of the remaining undeveloped land immediately north of Brompton Row; this passed through the hands of the auctioneers John and Joseph Robins to John Betts of Brompton Row, esquire, and Thomas Weatherley Marriott of Knightsbridge, ironmonger. (fn. 72) Most of this ground, which crossed the parish border, was empty and lay in the parish of St. Margaret's, Westminster; here Betts and Marriott set about the development of Montpelier Square, beginning with its south side. (fn. 73) But the part of it immediately north of Chapel Row (Cheval Place) then belonged in Kensington parish (though in 1900 it was transferred to the City of Westminster). Here a number of small streets sprang up, mainly apparently under the aegis of Marriott, Betts having sold his interests. (fn. 74) Many of the first houses, which were leased between 1825 and 1830, survive on the north side of Cheval Place (west of Montpelier Walk), both sides of Fairholt (until 1936 Middle) Street, the southern portions of Montpelier Walk (originally Montpelier Row) and the east and south sides of Rutland Street (the east-west section of which was until 1874 known as Rutland Terrace). (fn. 75) They are mostly small houses of two windows' width and two original storeys above ground, stuccoed at least up to first-floor level (Plate 13c).
Under whose supervision these streets were laid out and by whom, if by any individual, the houses were designed docs not seem to be known. Edward Evans Marriott, a brickmaker and the brother of T. W. Marriott, was much involved in the development and is described at least once as 'surveyor'; (fn. 76) while Ernest Oswald Coe, an architect otherwise known only for a few topographical drawings, witnessed leases of two houses on the east side of Montpelier Walk in 1829. (fn. 77) The lessees were generally small tradesmen of no especial note. The small section of this estate west of Rutland Street was developed by William Farlar of Brompton Square and sold to him in 1830 (see page 44). (fn. 78)
Since the war of 1914–18, these houses have been much 'gentrified' and some have been wholly rebuilt. Perhaps the most interesting examples are on the north side of Fairholt Street, where Nos. 3, 4 and 5 were rebuilt for Ethel Snagge in 1925–8 by the architects Baillic Scott and Beresford, with early–Georgian sashes but retaining the old rough brick facings (Plate 13d). (fn. 78)
East of Montpelier Walk, the north side of Chapel Row immediately west of the Brompton Chapel had been let by Elisha Biseoe to Thomas Rawstorne in 1770 and formed no part of the sale of 1824. (fn. 80) The few houses built here were probably demolished alter the original lease ran out, and the present Nos. 2–10 (even) Cheval Place with Relton Mews behind were erected in a simple polychromatic brick style in 1873–5. (fn. 81) One of the houses, No. 2 Cheval Place with Nos. 12 and 13 in Relton Mews, was extended and converted for use as the Knightsbridge station of the Metropolitan Fire Brigade in 1879 at a cost of £1,192, but reverted to other use when the station in Basil Street came into operation in 1907. (fn. 82) At the corner of Montpelier Walk, Nos. 16–22 Cheval Place have recently been rebuilt.
In Montpelier (Rawstorne) Street itself the undeveloped portions of Biscoe's land were gradually built up after 1800. In about 1808–9, chiefly under the auspices of William Jones, plumber, small brick houses were built along its eastern side as far as what is now Montpelier Mews; these included the surviving Nos. 2–8 (even) Montpelier Street. (fn. 83) The more northerly of these houses were later demolished and replaced by a nurses' home for St. George's Hospital at No. 14 Montpelier Street, erected by Higgs and Hill to designs in a Queen Anne style by Stephen Salter in 1895–6. (fn. 84) Opposite, the land on the west side of the street behind the Crown and Sceptre was partly sub-let for building in 1776 to John Hooper, gar dener, (fn. 85) but the sunning houses (Nos. 1–11 odd Mont pelier Street) appear to date from between 1867 and 1871.
Brompton Square Area
This area now consists principally of Brompton Square, an elongated rectangle with a crescent at the north end, laid out and built up with terrace houses under the auspices of William Farlar, ironmonger, between 1821 and 1835. With it are associated some smaller properties in the surrounding hack streets and more recent buildings along Brompton Road, erected following successive road-widenings here (fig. 10).
This district, together with the adjacent lands westwards where Holy Trinity Church and the Brompton Oratory stand, amounts to approximately twelve acres. In the early eighteenth century all this land was called Oldfield and was copyhold of the manor of Earl's Court. By 1700 the 'customary tenant' or copyholder was Henry Tatham of Clapham, of the Tatham family which had also owned the freehold of the lands immediately eastwards (see page 33). After his death his holdings here passed in 1747 to 'the young gentlewoman whom he had brought up from infancy, called Mary Tatham', by this time the wife of John Erskine of the Middle Temple. (fn. 86) Soon afterwards Erskine was ordained, and after residence at Foxearth and Gosfield in Essex subsequently became Dean of Cork.
In 1749 and 1768 the Erskines disposed of their interests in the future sites of Holy Trinity Church and the Brompton Oratory respectively, leaving only the easternmost five acres in their hands. These were inherited after their deaths in the 1790's by a minor, Mary Tatham Browne, perhaps their grand-daughter and certainly the daughter of Arthur Browne (d. 1805), a prominent academic at Trinity College, Dublin, and the last Prime Serjeant of Ireland; she also owned other holdings further west in Old Brompton (in the vicinity of the present Gledhow and Wetherby Gardens) which had descended to her by a similar path. (fn. 87) In 1812 the five acres at 'New Brompton' were enfranchised and therefore became the freehold of Mary Tatham Browne. (fn. 88)
From 1762 this land had been tenanted as garden ground by John Butcher of the Fulham Bridge tavern and a succession of occupiers on short leases. (fn. 89) Development overtook the five acres from 1820 onwards, a decade of widespread building activity in London generally and Brompton in particular. It seems impossible now to determine who first decided to build a square here or when, but among those involved at an early date were James Bonnin, the prolific local builder whose career is described on page 61; William Farlar, who is discussed in some detail below; and John Henry Goodinge, a local attorney and developer. (fn. 90) The square was probably planned and the houses were in some sense designed by a surveyor-architect of considerable obscurity, Robert Darley of Jermyn Street. Darley, who left property in Dublin when he died in 1833, was probably a member of the family of architect-builders of that name which built widely in Ireland in the eighteenth and early nineteenth centuries and which had particular connexions with Trinity College, Dublin; (fn. 91) at Brompton Square, he was regularly Farlar's representative between 1822 and 1828, but the Irish connexion prompts the possibility- that he acted originally on behalf of Mary Tatham Browne. Darley, Farlar, Goodinge and Bonnin, it is worth adding, all had a hand in developing Beauchamp Place opposite, which was started in 1824, soon after Brompton Square (sec page 25).
The first evidence for activity dates from March 1821, when work on a house on the east side of 'Brompton Square' had been started by Bonnin, who at this point was also building in Trevor Square, Knightsbridge. (fn. 92) Bonnin began building here on the promise of a ninety-nine-ycar lease of the frontage along Brompton Road between Cheval Place and Cottage Place to a depth of some 165–190 feet, in other words as far north as the present No. 9 on the west side and No. 54 on the cast side of the square, together with further ground to the west of the square. Then in September 1821, with the earliest houses well advanced, a new principal came to the fore. This was William Farlar (1786–1867), who came originally from Isleworth in Middlesex. Farlar had a substantial furnishing ironmongery business in the West End, based initially in Wardour Street and later in Piccadilly. At this time he was just finishing a small speculation in Ebury Square, Pimlico, which he seems to have taken over from the builder Alexander Robertson in 1819; he therefore had some experience of speculative development, having probably started as a supplier to Robertson. (fn. 93)
Under the new arrangement, Bonnin was to build houses on the land he had agreed for, as before, but he was now to receive his leases from Farlar. The eastern portion of his 'take' was to form the south end only of the projected square, of which evidently Farlar was expecting soon to become the freeholder and main promoter. (fn. 94) This came about early in 1823 when, with the scheme well under way, Farlar purchased the whole freehold from Mary Tatham Browne and granted many ninety-seven-year leases for completed houses. (fn. 95)
The plan under which Farlar and Bonnin proceeded envisaged the square in accordance with its present form, except at the north end. In addition two groups of buildings were projected on Bonnin's 'take' in the south-west corner of the property: Brunswick Place, a group of six houses and shops facing Brompton Road immediately west of the square; and Cottage Place, six further dwellings in three pairs on the east side of the lane that separated the estate from the adjacent property to the west (Plate 13b).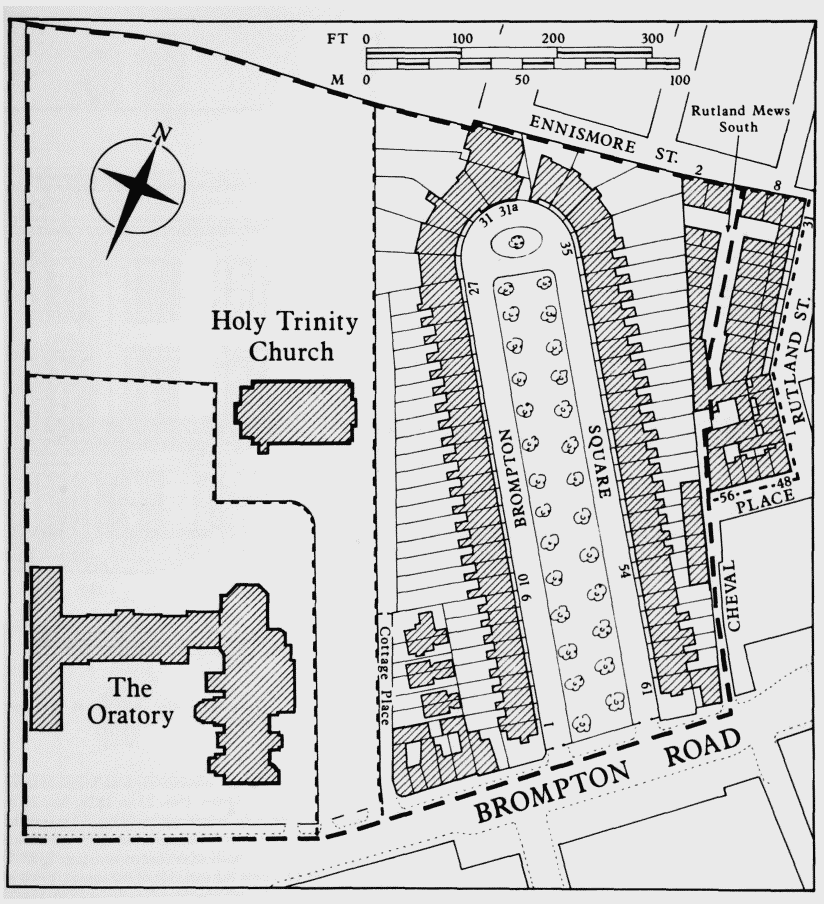 For the time two areas were left unplanned: a large plot at the north end of the square abutting northwards on the Earl of Listowel's lands in St. Margaret's parish, and a thinner remnant behind the east side (where Rutland Mews South was later built).
Construction on what was termed the Brompton Square Estate proceeded apace between about 1821 and 1826, by which time all the houses of Brunswick Place and Cottage Place and thirty-one in the square had been let on long terms to a variety of building tradesmen and indi- viduals. (fn. 96) (fn. n4) Bonnin probably controlled development on the land he had originally agreed for. comprising Cottage Place, Brunswick Place and the south end of the square (Nos. 1–9 and 54–61). His agreement with Farlar stated his intention of living at No. 1. which he did for a short period in 1823–4 before moving on to other developments; the house was probably occupied in conjunction with an office and yard next door in Brunswick Place. Two other houses in the square (Nos. 58 and 59) were leased to him, but with the houses north of his 'take' he had nothing to do. (fn. 97)
Farlar himself perhaps undertook mans of the houses, having given up his ironmonger) business when he purchased Brompton Square and become in some sense a builder as well as a developer. But several other building tradesmen were involved; after Bonnin, William Barrat of North Street. Brompton, builder, was connected with the leasing of the largest single number, six in all (fn. 98) Most interesting of the head lessees was the well-known comedian William Farren (1786–1861), who successively took leases of three houses in Brompton Square (No. 23 in 1825. No. 25 in 1826 and No. 30 at the north end in 1837) (fn. 99) He was the first of a long line of early-Victorian actors whose residence enlivens the sober chronicle of the square (see page 253) (fn. 100) Farlar himself lived on the east side of the square, firstly at No. 48 (c 1823–35) and latterly at No. 36 (c. 1835–51). (fn. 101)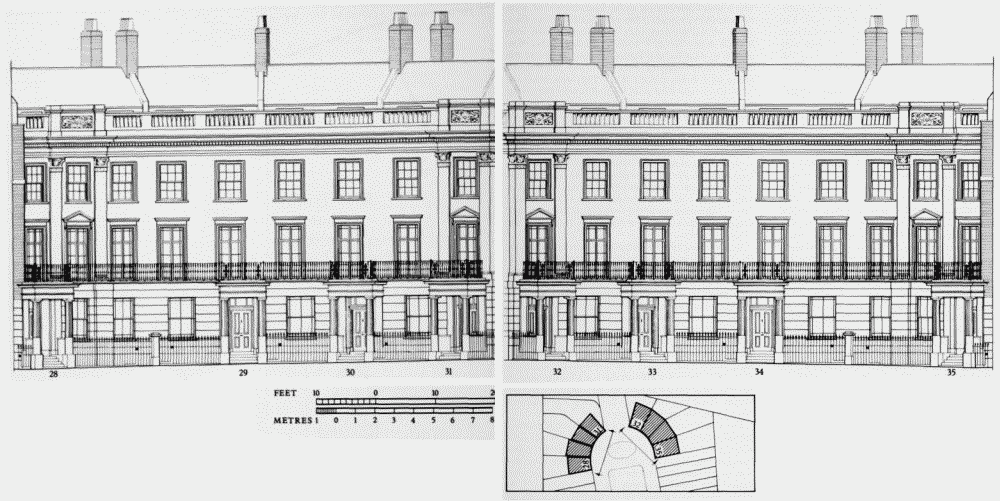 Robert Darley's contribution to the development of Brompton Square emerges only through his applications to the Westminster Commissioners of Sewers to build drains on Farlar's behalf. (fn. 102) The draining of Brompton Square proved problematic, because the main sewer ran into an old and inadequate sewer in Yeoman's Row which was unequal to the extra task. So Farlar and the early inhabitants, of the square got up a petition in November 1825 to the Commissioners, urging them to rebuild the Yeoman's Row sewer. In it they claimed that 'the Brompton Square sewage is wholly inoperative and is serviceable only as a Cess-pool to the adjoining Houses containing a continual Depth of Water and Filth to the extern of three feet above the bottom of the Sewer by which the Houses of your Petitioners are rendered damp and unwholesome and the foundations injured in various respects… Your Petitioners cannot but look forward to the approaching Winter with the ulmost uncasiness… (fn. 103)
The houses built in the square were of a plain, unvarnished urban character, having the orthodox stuccoed ground storey and three levels above (Plate 12a, b). Their frontages of between sixteen and eighteen feel allowed only two windows for each house. In plan too they were conventional, having only small single-storey back projections. Bonnin's houses at the south end of the square, following the model already set by him in Trevor Square, had dormer windows above the second floor, whereas those further north enjoyed full attics; hut there is no especial difference in the detail of the elevations between Bonnin's 'take' and the portions which Farlar developed himself. There were no porches or other pretentious features, but Farlar did provide handsome entrance gates, lamps and piers at the entrances from Brompton Road (Plate 11d). For the management of the square itself with its 'pleasure garden' Farlar secured a private Act of Parliament in 1824. (fn. 104)
By 1826, when a national slump in house building slowed down the pace of many developments, the greater part of Brompton Square had already been completed. The whole of the west side (Nos. 1–27) was finished and all the houses there were occupied, while on the east side nearly all the houses up to No. 45 were tenanted; northwards of No. 45 a few new houses stood empty. The completion of the east side (up to No. 36) proceeded more slowly, but all the houses here were built and most were occupied by 1830, apart from Nos. 36–38. Along this eastern range, it seems that more of the later houses were disposed of on short terms or yearly tenancies. (fn. 105)
Behind the east side of Brompton Square, Farlar's original freehold was restricted, allowing very little room for stabling, of which only Nos. 62–72 (even) Cheval Place had been built by 1825. He therefore arranged with Thomas Weatherley Marriott, since 1824 the owner and developer of the neighbouring Montpelier estate, to take the west side of Marriott's projected Rutland Street and the short section of the north side of Chapel Row (now Cheval Place) to its west. Having built a set of stables and other buildings here, he purchased the freehold from Marriott in 1830 to add to his own. Most of these buildings survive in altered guise, the ten tiny cottages at Nos. 11–29 (odd) Rutland Street having a quaint charm owing to latticework (not an original feature) in their windows (Plate 13a). South of these was a group, now Nos. 1–9 (odd) Rutland Street and 48–60 (even) Cheval Place, which in 1839 included stables and coach-houses, 'police' and engine stations', a National School (at Nos. 56 and 58 Cheval Place) and Farlar's own works in the mews at what is now No. 60 Cheval Place. Here he had a smith's shop, workshop, warehouse and an engine intended for pumping water to his estate and the vicinity. To its north was a tract which for the time being remained vacant. (fn. 106)
Farlar's buildings in Rutland Street were probably in the main erected by William Aslat, bricklayer and builder, a shadowy figure closely associated with Farlar in this second phase of the Brompton Square estate. Aslat was described between about 1829 and 1832 as of Rutland Street, but in 1834 he briefly had an address at No. 20 Vale Place, Hammersmith, where Anthony and Edward Aslat were also builders. (fn. 107) In Brompton Square, William Aslat received leases of the last houses built on the east side, Nos. 36–38, in 1832 (by which time Nos. 36 and 38 had already been tenanted for two years). At the same time Farlar leased to him the north end of the square, as yet entirely undeveloped. (fn. 108) For this large plot, Farlar had most probably at first intended a single substantial villa set in its own grounds, perhaps for himself. But by the time that building finally took place here, development on the Manners estate (Rutland Gate) to the north-east was getting under way, while on the Earl of Listowel's lands immediately to the north of Brompton Square it was probably being talked of. The idea of providing access from the Brompton Square estate to the prospective streets northwards and thence to Hyde Park beyond seems therefore to have weighed with Farlar and Aslat (if after 1832 the latter continued to be involved).
The plan therefore followed was to construct two small quadrants of four houses each on the rather cramped site (fig. 11); between them space was left for a future road which would debouch on to the lands northward when building there proceeded. The two stuccoed groups (Nos. 28–31 on the west and Nos. 32–35 on the east) were built in about 1834–5. (fn. 109) It seems likely that they were started by Aslat but not finished by him, for at just this time his name disappears from the records and that of a young local architect, John Blore (1812–82), enters the story. Blore, who lived close by in Michael's Place, later listed among his works 'the Completion of a Crescent of Houses opposite my own residence'; the phrase can bear more than one interpretation, but unquestionably connects Blore with these particular buildings. (fn. 110) Most probably, Blore was responsible for their Greek external detailing. Each house has a porch with Doric columns, and there are giant Ionic pilasters at the end against the upper storeys with ornamental cartouches above in the attics (Plate 12c). Several have now been disfigured with extra storeys, and the symmetry of the composition has been lately damaged by the extension of No. 31a in the style of the original elevations.
Besides being larger than earlier houses in the square, those in the crescent possessed unusual structural interest. An auction notice of 1842 speaks of 'bar iron plates and bonds to the extent of 40 tons in weight placed within the walls of these abodes' and pronounces their quality 'a refreshing contrast to modern buildings' (fn. 111) The rationale for such a contrivance is not clear, but it may be borne in mind that Farlar had been in the iron trade and that his brother John remained in the business after William's retirement. An ultimately abortive branch of the Birmingham, Bristol and Thames Junction Railway which was from 1836 planned a little to the north of the crescent probably came too late to influence the construction of the houses. But it may have made them harder to sell, since several were not leased for some years. (fn. 112)
For whatever reasons, Farlar's financial position deteriorated steadily from the time of his association with Aslat in the early 1830's. In 1832 Aslat and he had together mortgaged the site of the north end of the square together with Aslat's Nos. 36–38 on the east side. Over the next few years Farlar drew increasingly on these securities. (fn. 113) In 1835, when he claimed to be deriving 'upwards of £2,200' annually from the estate, his application to an insurance company for a loan of £28,000 was refused. (fn. 114) Then in 1838–9 matters came to a head. In quick succession the estate was re-mortgaged and the greater part (including the main sides of the square but excepting Nos. 36–38) then sold outright to a solicitor, William Batty. (fn. 115) In 1840 Farlar, doubtless expecting bankruptcy, assigned his remaining interests in Nos. 36-–38 to his daughter Mary. (fn. 116) In 1842 the crescent and the properties in Rutland Street were auctioned and mostly bought by John Squire of Pall Mall East, who proceeded to sell off many freeholds individually. (fn. 117) By one means or another Farlar delayed entire failure and went on living at No. 36 until 1848, when he was declared bankrupt and imprisoned for eight months. (fn. 118)
Farlar was discharged from bankruptcy in 1849, returned for two years to No. 36 Brompton Square, perhaps lived briefly also at No. 61 at the south end of the square, but then moved away in about 1852 to Hammersmith. (fn. 119) He never recovered from his reverses, and the rest of the Farlar family tale is a sorry one. In 1851 Mary Farlar died in Whitechapel; her father fruitlessly contested her will, but in the end it turned out that she left little except debts. John Farlar, William's brother, died in 1857, also worth virtually nothing, and in 1867 William Farlar himself died at No. 3 Ashley Terrace, Hammersmith, with effects under £50. The affairs of all three Farlars remained unsettled for several years after their deaths. (fn. 120)
Meanwhile at Brompton Square, William Batty and a colleague in 1849 bought the outstanding interests in the crucial gap between the houses in the crescent, (fn. 121) doubtless intending to open the road out of the square north-wards, where development was now proceeding. (fn. n5) But John Elger, the principal promoter there, wishing to defend the exclusiveness of what is now Ennismore Gardens, firmly refused to countenance the opening. There followed intermittent acrimony in the columns of The Builder, where George Godwin championed the 'Bromptonians', 'Thurlovians, Oratorians and Montpellierians' in their desire to promote a through road northwards (Exhibition Road did not then exist) and re-establish lost links with 'the aroma of the Serpentine and other verdant influences of the Hyde'. A Bill was even promoted in Parliament in 1854, but it failed. (fn. 123)
All this time Elger remained adamant against the suggested road, and in 1854 he was able to secure from Batty for his own use the controversial empty segment in the crescent along with the remaining vacant land between Rutland Street and the cast side of the square. (fn. 124) On the former he built a motley set of north-facing structures (Nos. 36–38 Ennismore Gardens, with a narrow back elevation called No. 31A Brompton Square) which earned further execration from The Builder and to this day disfigure the north end of Brompton Square. On the latter site he laid out Rutland Mews South 'not leaving a foot of garden—no, not for half a yard of cabbage', editorialized Godwin. (fn. 125) Access from Brompton Square and Cheval Place to these developments was firmly shut off. Regarded as disastrous at the time, this mischance proved modern Brompton Square's salvation, since no through traffic clogs the square.
A brief resume of the census of 1841 adequately conveys the character that Brompton Square maintained (or much of the rest of the century. At the time of that census sixty of the sixty-one houses in the square were inhabited, mostly by families of 'independent' means with about two or three servants each. Besides the actors previously mentioned, there were two lodging-houses and three educational establishments with living-in pupils; those at Nos. 55 and 61 were small 'seminaries' with tour and three pupils each respectively, at No. 14 lived a governess with two assistants and four charges, but at No. 28, one of the houses in the crescent, was a fully fledged girl'' school with two schoolmistresses, five assistants, twenty-six pupils, a housekeeper and four servants, making no less than thirty-eight inhabitants altogether. (fn. 126)
One early resident of note in Brompton Square was the social reformer Francis Place, who took No. 21 'on a lease of 7–14–21 years' at £60 a year in 1833. He commented: 'The house had been let at 80£ a year but it was sadly out of condition and the putting it into condition the expense of removing fitting up the library carpets etc. cost me 360£.' Place chose Brompton Square because his second wife, the actress Louisa Simeon Chatterley, had lived at No. 15 from about 1825 until their marriage in 1830. This house Place pronounced 'neat in good condition and rather elegantly fitted up and furnished. The square was occupied by genteel quiet people, and was nicely kept. The House was well situated the front in the Square, the back looking over a small garden had an uninterrupted view as far as Chiswick, and was so circumstanced in respect to situation that it was not at all likely it would be built on.' Despite this idyllic picture. Place's own residence in Brompton Square was not happy. He was plagued by financial problems, separated from his wife in 1851, and moved to Earl's Court in 1853 shortly before his death. (fn. 127)
The later history of the Brompton Square estate has not been specially eventful. A Blue Plaque at No. 6 draws attention to the fact that the young French poet Stephane Mallarmé resided quite briefly at a lodging-house here in 1863, just before and after his marriage to Marie Gerhard, a German governess. (fn. 128) Though many houses in the body of the square have been heightened, extended at the back and in particular have received new front windows on the ground floor, only one has been visibly rebuilt: No. 26, refronted in a subdued Queen Anne manner in 1889–90 by Frederick Horton, architect, on behalf of the builder John Garlick, and now whitewashed. (fn. 129) Next door to this, No. 27 is noteworthy for an altered rear elevation exhibiting Gothic details of powerful ferocity, probably dating from around 1860. At the south end lacing Brompton Road the changes have been more extensive. At a quite early date (between 1843 and 1852), the south-facing elevations of both the end houses, Nos. 1 and 61, were tidied up, raised by a storey and dignified with porches. On the west side, Nos. 1 and 2 together with portions of the old Brunswick Place were demolished in 1881 and replaced by a branch of the London and Westminster Bank, a late Italianate building in Portland stone designed by F. W. Porter and built by J. T. Chappell (No. 200 Brompton Road and Nos. 1 and 2 Brompton Square). (fn. 130) West of this, four further houses in Brunswick Place and the two southernmost ones in Cottage Place disappeared when the Brompton Road Station of the Great Northern, Piccadilly and Brompton Railway was built, in the characteristic full-blooded faience of the early tubes, in 1906. (fn. 131) Not much later the two remaining pairs of semi-detached houses in Cottage Place were demolished, leaving only the much-altered Gladstone public house at the corner (latterly No. 212 Brompton Road) to testify to the original development here.
Opposite, on the east side of the square, No. 61 Brompton Square and an associated shop at No. 190 Brompton Road were pulled down in 1893–4 as part of a roadwidening scheme. The reduced site remained empty for some years; building operations on some flats started in 1900 but came to naught. The properties were auctioned in 1902 and in 1907–8 Nos. 190–196 Brompton Road (Saville Court), a small block of shops and flats, were put up by J. J. Wheeler, builder, to designs by R. J. Worley's firm (Worleys and Armstrong). (fn. 132)
More recent alterations at the south end of Brompton Square have stemmed from further road-widening in Brompton Road by the Greater London Council. Following a decision of 1968, all the buildings along the frontage between Cheval Place and Cottage Place, comprising Nos. 190–212 (even) Brompton Road, were demolished. A new neo-Georgian southern flank wall was provided for No. 60 Brompton Square, while at the corner with Cottage Place a small building was erected in similar style for the Territorial Army, which by this time occupied the disused Brompton Road Station. The designs for these were provided by the G.L.C. Architect's Department, Historic Buildings Division, the job architects being Norman Harrison and William Garner. This left an empty site where the bank had stood at the south-west corner of the square. This was disposed of by the G.L.C. and filled in 1979–81 by a new house, No. 2 Brompton Square, designed by Heber-Percy Parker Perry Associates. Though steelframed, this house imitates the old elevation of neighbouring houses towards the square, while towards Brompton Road it follows with variations the flank elevation provided by the G.L.C.'s architects at No. 60 Brompton Square. (fn. 133)
At the north end, the appearance of the crescent was further confused in 1981–2, when the narrow No. 31a Brompton Square was refronted and extended eastwards into the 'gap', as part of a rebuilding of Nos. 36–38 Ennismore Gardens for the Government of Malaysia by King and Pache, architects. (fn. 134) The new south-facing elevation respects the style of the old houses but makes it hard to discern their original arrangement and extent, and only partly fills the gap between them.
Of other alterations outside Brompton Square only one calls for comment. This is the conversion of the stables at the north end of Rutland Mews South into four small but handsome Tudor town houses, now Nos. 2–8 (even) Ennismore Street. This was effected with much skill in 1921–2 by A. M. Cawthorne, architect. (fn. 135)
Holy Trinity Church, Brompton
This church was built in 1826–9 to designs by T. L. Donaldson and has been variously extended since, principally by Arthur Blomfield in 1879–82. It occupies a site which, including the 'avenue' approach from Brompton Road to the south and the open burial ground to the north, comprises some three and a half acres in all.
In the early eighteenth century this land, together with the ground on either side where Brompton Square and the Brompton Oratory now stand, was copyhold of the manor of Earl's Court, the 'customary tenants' being from 1747 the Reverend John Erskine of Foxearth, Essex (later Dean of Cork) and his wife Mary (née Tatham) (see page 40). But in 1749 the Erskines sold their interest in the future site and surroundings of Holy Trinity, then a piece of 'garden ground' with a narrow means of access from Brompton Road, for £460 to the Governors of St. George's Hospital for use as a 'Common Burial Place for the use and benefit of such poor sick and lame persons and objects of Compassion as then were or thereafter might come to said Hospital'. (fn. 136) For the sixteen previous years since its foundation at Hyde Park Corner, the hospital had used burial facilities within the parish of St. George's, Hanover Square, but had been asked in 1747 by that parish's authorities to find an alternative site. The new ground was promptly paled in and given new gates, and a chaplain was appointed at £20 per annum to bury the dead. But the previous occupants of the ground, James and Mary Hoare, were retained to help with the burials and maintenance. They also grew vegetables on the portion of the ground not required for burials, and for years 'greens' from the site were regularly served up to patients at Hyde Park Corner. (fn. 137)
In 1822 the Kensington Vestry set up a committee to augment church accommodation in the parish with the aid of money from the Commissioners for Building New Churches. Some altercation ensued as to which end of the parish should be thus favoured, but after 'tumultuary discussion' it was resolved in 1823 to build a church on an unspecified site 'between Old and New Brompton' and plans were publicly solicited. (fn. 138) Subsequently an increase in funds voted by Parliament to the Commissioners made it possible also to erect a 'chapel' (later St. Barnabas, Addison Road) in the western district of the parish, but the church at Brompton generally enjoyed some priority of funds and attention. Under an arrangement of February 1825, the Commissioners agreed to grant £10,000 if both churches were built and this sum were matched by the parish. In the event the total expense to the parish for both churches came to nearly £16,000. (The cost of building Holy Trinity, Brompton, was computed in 1833 at nearly £10,734, of which the Commissioners contributed some £7,407. The site cost £4,000, of which £3,000 was for the copyhold interest and £1,000 for enfranchising the freehold.) (fn. 139)
By 1825 the burial-ground site at Brompton had been agreed for with St. George's Hospital and the lord of the manor, Lord Kensington. (fn. 140) In April 1826 the land was duly conveyed to the Church building Commissioners, and two months later plans for the church were submitted by the young architect Thomas Leverton Donaldson, whose scheme had been selected from several sent in. Work proceeded between 1826 and 1829 without notable event. There was however some trouble towards the end of the work with the contractor, Archibald Ritchie, whose 'very peculiar character' and dilatoriness obliged Donaldson in 1828 to reinstate a foreman over his head. (fn. 141) The church, which had 1,505 sittings (606 free and 899 rented), was consecrated on 6 June 1829, when the Reverend Percival Frye (a nephew of Kensington's vicar, Archdeacon Pott) was instituted as incumbent. (fn. 142) In the following October a large district was assigned to it, stretching west as far as the Kensington Canal and north to the Kensington Turnpike. (fn. 141)
Donaldson's design (Plate 31a) exemplified 'Commissioners' Gothic' at its baldest. It consisted of a five-bay clerestoried nave with two aisles, a small projecting sanctuary flanked by vestries and a west lower with lobbies on either side containing stairs to the galleries. There was a porch in the centre of the southern aisle and an entrance to the vaults at the same point on the northern side. The windows were uniformly Lancets without tracery or significant moulding, a group of three serving to dignify the east end. The materials were stock bricks with Suffolk facings and Bath stone dressings, while the roofs, of Bangor slates, were everywhere hidden behind what one critic termed a 'paltry coping'. (fn. 143)
The interior, of which no view survives, appears not to have been quite so coarse. The most individual feature was the open-timber nave roof. According to the same commentator this was 'panelled by ribs, which rest on corbels representing busts of both sexes in every variety of costume, and the intermediate spaces are plastered, and pierced with quatrefoil apertures at intervals, as ventilators; the whole design, as well as the application of the corbels in such a situation, is perfectly new, and peculiar to the modem taste'. (fn. 144) This does not survive, but the aisle roofs do; these rest on similar corbels, are tied and cross-braced and have cusped tracery of early Tudor character between the struts. Also remaining from Donaldson's interior are the three galleries (with altered fronts), the arches to the tower, chancel and nave arcade, and the piers to the arcade (Plate 32a, 32b). To judge from the details of these features, Donaldson had undertaken basic but not extensive study of Early English forms. The west gallery originally included seats for the choir and an organ in the tower arch beneath an ogee canopy. The font, a 'hemispherical basin', stood in the middle of the nave closely boxed in by seats, while the pulpit and desks were at the front of the nave. The altar table had no reredos, the customary inscription being on the east wall. The seating was all of deal.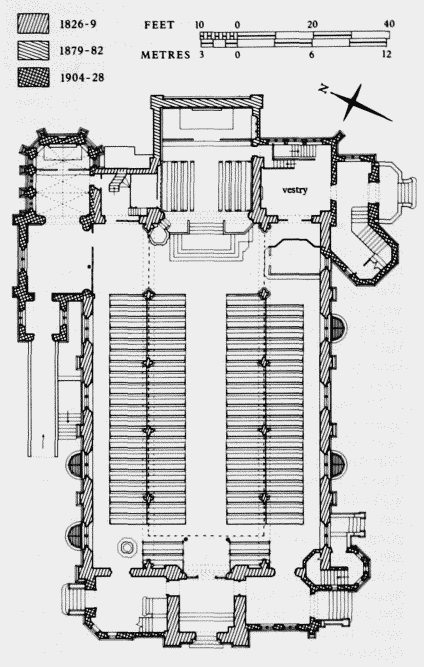 From the start nobody seems to have been happy with the appearance of Holy Trinity, Brompton. In the year of the consecration the churchwardens may be found pleading with the Church Building Commissioners for the 'addition of some architectural ornament' and in 1830 E.J. Carlos, the critic before referred to, savaged Donaldson's design in The Gentleman's Magazine, dubbing it a 'complete specimen' of what used to be called Carpenters' Gothic and comparing it adversely with J. H. Taylor's 'excessively faulty' church of St. John's, Walham Green. (fn. 145) The planting of a handsome avenue Leading from Brompton Road in about 1831 helped to beautify the church's environs, but did nothing for the building itself. (fn. 146) After some few years of endurance a youthful new vicar, the Reverend William J. Irons, promoted improvements to the value of about £800 in which one of the churchwardens, Stroud Lincoln (an important figure in the financing of development in Alexander Square and Pelham Crescent), played a prominent part. The local architect John Blore was called in and from 1843 installed tracery in the aisle windows (Plate 31b, d), substituted a completely new window in place of Donaldson's obtrusive main southern entrance and porch, and refurbished the little chancel with a wide reredos, sedilia, stalls and stained glass by William Warrington. The results were found satisfactory but, commented The Builder, the church 'will require a large expenditure … to give anything approaching to an ecclesiastical appearance to its most unsightly exterior'. (fn. 147)
The only significant addition known in the next thirty years occurred in 1863, when to designs by E. C. Hakewill the present font was installed (Plate 32d) and at the east end of the south aisle a circular window was put in as a memorial to Stroud Lincoln, with glass again by Warrington. This is the only one of the earlier stained windows fixed in the church to survive. By 1872 also the old high pews had given way to lower ones in oak. In that year George and Henry Godwin prepared plans for a vicarage to be built near the church's south porch, but the proposal came to nothing. (fn. 148)
The inevitable major enlargement and alterations were delayed until 1879–82. They were promoted by a new vicar, William Covington, who in February 1879 asked (Sir) Arthur Blomfield to report on the capabilities of Holy Trinity, Brompton. At first Covington wished to delay works till the new Brompton Oratory building was finished lest 'a strong appearance of competition and rivalry' be given, (fn. 149) but it soon transpired that this would prolong affairs too much. A building committee was therefore formed, subscriptions were solicited, and in August with a tender of £1,990 Dove Brothers won the contract for the first phase of the work, an extended chancel with a parish room beneath. These were effectively finished by Christmas 1879. (fn. 150) Structurally, Blomfield merely pushed out from the old building by a few feet and built up over the north vestry, but internally the whole was transformed. The new chancel, in correct Early English style, was raised well above the nave, faced internally in two colours of brick with stone dressings, and given a handsome five-light east window of stepped lancets (Plate 32c, fig. 12). The floor was at first of plain Minton tiles and there were few costly fittings.
Gradually further improvements were made. In 1880 Brindley and Foster supplied a new organ, and in 1881 an open stone pulpit was procured from Thomas Earp, a lectern given, and stained glass by Heaton, Butler and Bayne placed in the chancel windows as part of a general scheme of decoration. This year also saw a gateway in Dumfries stone erected to a design supplied by H. D. Shepard, an independent architect who assisted Blomfield in these works in some capacity. The gateway was originally sited at the south end of the avenue facing Brompton Road but was later moved (in 1908) to the north boundary of the churchyard. In 1882 Blomfield and Dove Brothers set about improving the nave for an estimated £1,530. This involved a clever new tripartite wooden vault under a roof of higher pitch, improved gallery fronts and seats, and alterations under the tower. As part of this work the clerestory windows were simplified, slightly enlarged, and reglazed with clear glass. (fn. 151)
The broad reredos in gold mosaic, with many figures, was designed by J. R. Clayton of Clayton and Bell, made in Italy (probably by Salviati) and installed early in 1885 (Plate 32c). In the following year Arthur Blomfield designed a new west window, which was promptly stained by Heaton, Butler and Bayne. The same firm proposed a scheme of glass for the aisle windows in 1891, but few seem to have been inserted before 1900. (fn. 152)
In 1899 a new vicar, the authoritative A. W. Gough, arrived. He remained until his death in 1931, and during his prosperous cure much extension and embellishment were undertaken. In 1901 a proposal for a new south-east porch was first mooted and plans procured from Arthur Blomfield junior of Sir Arthur Blomfield and Sons; this, in revised form so as to include a vestry, staircase and other rooms, was eventually erected in 1906 by the builders J. Dorey and Company for £1,259. (fn. 153) It has crenellated parapets and is the first of several extensions to the church to adopt a later style of Gothic. Internally, two large paintings by G. W. Ostrehan were installed in the chancel in 1903. (fn. 154) Shortly after this, the architect Harry Wilson advised on altering one of these and supervised some minor changes. The only feature in the church definitely known to be Wilson's is the figurative bas-relief over the sedilia, executed to his designs in plaster by E. Lanteri in 1906. The Byzantinizing marble chancel steps and screen wall were inserted in 1914, but the handsome matching pulpit is, surprisingly, of 1927, designed by J. B. Mendham with help from Francis Eeles. (fn. 155) Later fittings in the chancel, including desks, stalls and panelling, are mainly of 1953.
The current south-western and north-western porches were first proposed in 1910, when the obscure R. W. Knightley Goddard presented plans for rebuilding the vestibules here with two 'small towers' for the stairs to the galleries. W. Downs the builder undertook the southern porch for £1,123 in 1913, but its northern counterpart was delayed by the war. (fn. 156) Subsequently, Gough's priority was for a memorial chapel, for which Goddard first produced an unsolicited design in 1917. But it seems most likely that this, the adjacent northern transept and indeed the north-western porch also were all ultimately designed by Arthur Blomfield junior. The small vaulted memorial chapel was built in 1920, the north-western porch probably in 1924, and the north transept with its own small porch in 1926–8. (fn. 157)
The church's interior has been several times redecorated since 1945, and much of the structural woodwork is now painted a light colour. An altar and other appurtenances were erected at the east end of the south aisle in 1959, and the organ from St. Mark's, North Audley Street, was introduced with new cases in 1978–9, at a cost of some £60,000. (fn. 158)
In the north-west corner of the churchyard a 'church house', erected to designs by Laurence King, was dedicated in 1965. It replaced a small infants' school built in 1871 at the expense of C. J. Freake the builder to supplement the main parish school, then in Brompton Road. (fn. 159) The churchyard itself, said to have been the last provided adjacent to a church in central London, was closed as early as 1854; a century later most of the gravestones were removed and the dead reinterred at Brookwood Cemetery. (fn. 160)